September 5, 2017 at 12:27 pm PDT | by Michael K. Lavers
Trump administration to end DACA
The Trump administration on Tuesday announced it will end a program that has allowed roughly 800,000 young undocumented immigrants to remain in the U.S. and obtain work permits.
Attorney General Jeff Sessions made the announcement on Sept. 5 about the Deferred Action for Childhood Arrivals (DACA) program at the Justice Department.
"I am here today to announce that the program known as DACA that was effectuated under the Obama administration is being rescinded," Sessions told reporters.
Former President Obama in 2012 enacted DACA.
Sessions told reporters the Justice Department "has advised" President Trump and the Department of Homeland Security that it "should begin an orderly, lawful wind down" of DACA that includes "the cancellation of the memo that authorized this program." He also noted Acting Homeland Secretary Elaine Duke "has chosen, appropriately, to initiate a wind down process."
DACA is set to expire on March 5.
The Trump administration will no longer process new DACA applications. Current DACA recipients have until Oct. 5 to apply for a renewal of their status for a two-year period.
"To have a lawful system of immigration that serves the national interest, we cannot admit everyone who would like to come here," said Sessions. "That is an open border policy and the American people have rightly rejected it."
"Therefore, the nation must set and enforce a limit on how many immigrants we admit each year and that means all can not be accepted," he added. "This does not mean they are bad people or that our nation disrespects or demeans them in any way. It means we are properly enforcing our laws as Congress has passed them."
Trump, in a statement he issued after Sessions spoke to reporters, said he has "provided a window of opportunity for Congress to finally act."
"As president, my highest duty is to defend the American people and the constitution of the United States of America," said Trump. "At the same time, I do not favor punishing children, most of whom are now adults, for the actions of their parents. But we must also recognize that we are [sic.] nation of opportunity because we are a nation of laws."
The Trump administration announced it will end DACA on the same day it faced what CASA, a Maryland-based immigration advocacy group, has described as an "arbitrary deadline" that Texas Attorney General Ken Paxton and nine other state attorneys general gave the White House to rescind the program.
Trump last month endorsed a bill that would, among other things, reduce the number of people who will be allowed to legally immigrate to the U.S. each year. Trump earlier this year signed executive orders banning citizens of seven-predominantly Muslim countries from entering the U.S. for 90 days, spurring the construction of a wall along the U.S.-Mexico border and paving the way for cuts in federal funding to so-called "sanctuary cities" that protect undocumented immigrants.
National Center for Transgender Equality Executive Director Mara Keisling is among the hundreds of immigrant rights advocates who were gathered in front of the White House when Sessions announced the administration would end DACA.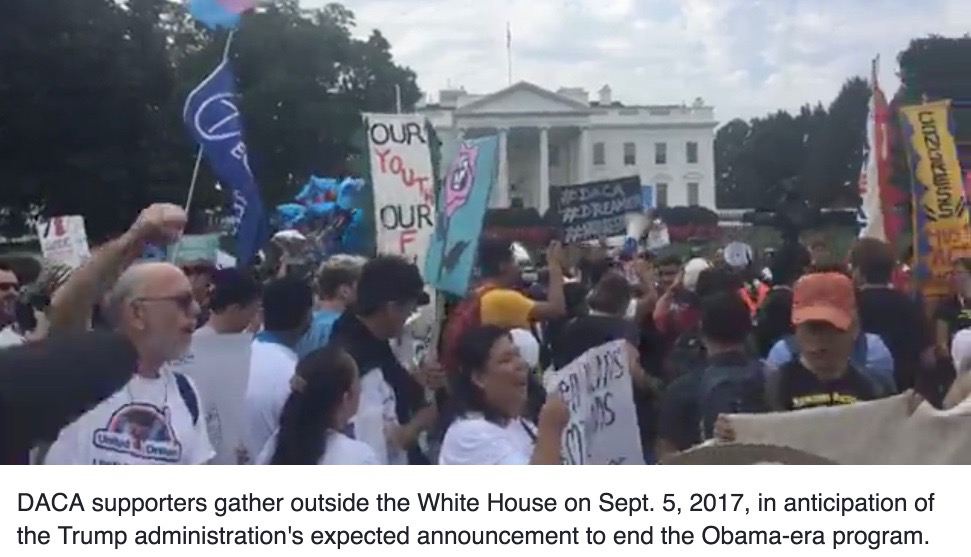 Roughly 100 DACA supporters stood along H Street, N.W., in front of Lafayette Park earlier in the day when Vice President Pence's motorcade drove past. One protester directed an obscene gesture towards Pence, while another stood silently as she held a sign.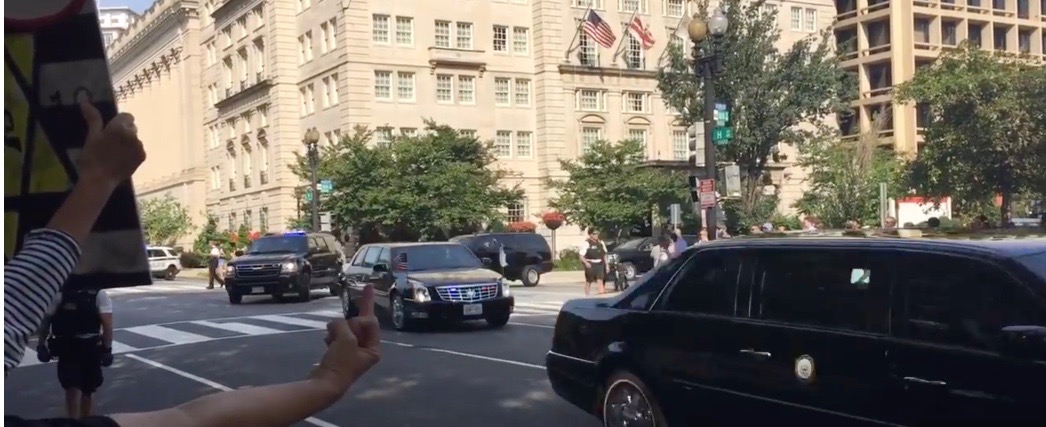 "Appealing to his most xenophobic base, Trump is risking the lives of 800,000 young people, including more than 75,000 LGBTQ people who deserve to live and work free of fear," said Gay and Lesbian Victory Institute CEO Aisha Moodie-Mills in a statement. "It's cruel and cowardly — and fits with a pattern of implementing racist, xenophobic and anti-LGBTQ policies that target core American values and move our country backward."
D.C. Council member David Grosso (I-At-Large) described the administration's decision to end DACA as "heartless." U.S. Sen. John McCain (R-Ariz.) in a statement said "children who were illegally brought into this country through no fault of their own should not be forced to return to a country they do not know."
"Today's decision is a giant setback for America, because all of our children should feel safe and accepted in a country that belongs to them," added Los Angeles Mayor Eric Garcetti. "Deferred Action for Childhood Arrivals has allowed close to 800,000 ambitious, patriotic young people to start careers, stay in school, and give back to our communities without fear of being torn from the people they love."
House Speaker Paul Ryan (R-Wis.) last week indicated Trump should allow DACA to remain in place. The Wisconsin Republican on Tuesday nevertheless said in a statement that "ending this program fulfills a promise that President Trump made to restore the proper role of the executive and legislative branches."
"But now there is more to do, and the president has called on Congress to act," added Ryan. "The president's announcement does not revoke permits immediately, and it is important that those affected have clarity on how this interim period will be carried out."
Ryan said "young people who came to this country through no fault of their own, and for many of them it's the only country they know." are at the "heart of this issue."
"Their status is one of many immigration issues, such as border security and interior enforcement, which Congress has failed to adequately address over the years," he added. "It is my hope that the House and Senate, with the president's leadership, will be able to find consensus on a permanent legislative solution that includes ensuring that those who have done nothing wrong can still contribute as a valued part of this great country."