Allure of a Palm Springs mid-century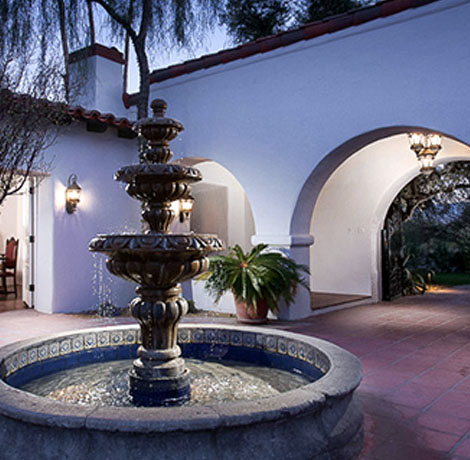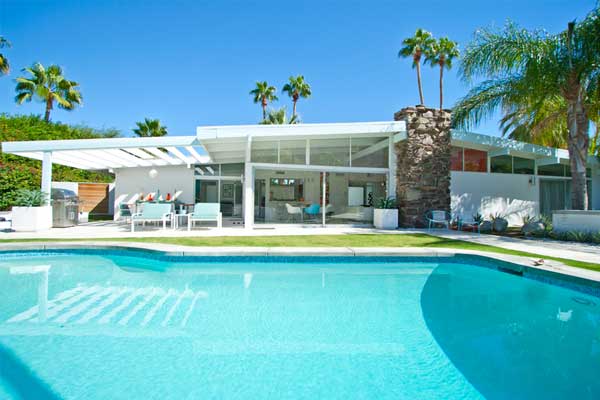 Tourists come from all over the world to gaze at the distinctive midcentury modern architecture, historical monuments, and the former homes of movie stars in Palm Springs. But what about a driving tour of places gay celebrities once lived and played? We thought we'd highlight a few.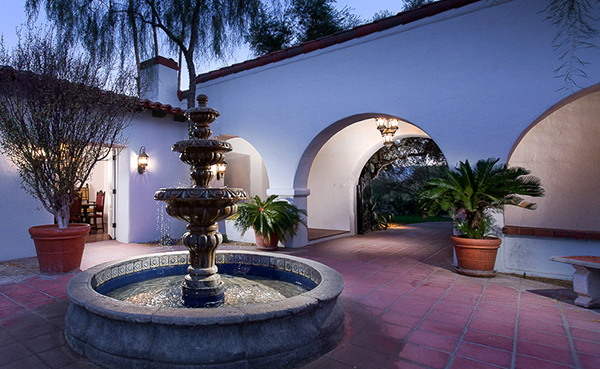 Though later known as "Mr. Palm Springs" — he served as the town's mayor from 1948 to 1953 — hunky Charles Farrell first made a name for himself as a silent film actor. In The River (1928), Farrell became the first known American actor to appear nude on film. Though married to actress Virginia Valli from 1931 until her death in 1968, Farrell (who, with bestie Ralph Bellamy, opened The Palm Springs Racquet Club in 1934 and has a major Palm Springs street named for him) was rumored to be gay. And his Racquet Club hotel (2743 N. Indian Canyon Drive) was notorious for hosting gay parties attended by Hollywood's elite. Farrell himself lived in a nearby compound comprising two adjacent homes, the first at 630 E. Tachevah Drive, the second around the corner at 1120 N. Via Miraleste.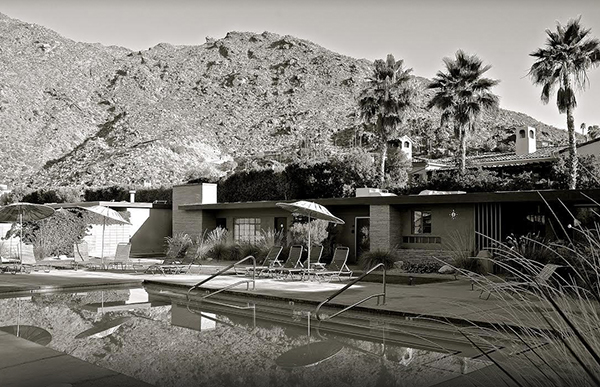 Speaking of gay parties and ground-breaking nudity, in the mid-1950s openly gay film director James Whale (who was immortalized in the 1998 film Gods and Monsters) owned the eight-unit Town & Desert Hotel in Palm Springs (now The Hideaway), located at 370 W. Arenas Road. It was here that Whale — who reportedly had a fear of water and in 1957 committed suicide by drowning himself in the backyard of his Los Angeles home — allegedly enjoyed filling the pool with naked young men, making it the area's first known clothing-optional resort.
In his 2005 biography Tab Hunter Confidential: The Making of a Movie Star, Hollywood's sexiest blond of the 1950s not only came out as gay but revealed that he and actor Anthony Hopkins (of Norman Bates fame) had a long-time relationship. The lovers reportedly spent weekends hiding out at the Desert Inn (123 N. Palm Canyon Drive), where Hunter would also pose shirtless poolside for fan magazines like Photoplay. The site is now a shopping center. In early 2003, Hunter bought a small, one-bedroom condo at 130 West Racquet Club Road #419, but by this time, in his early 70s, he was apparently uncomfortable with the desert heat — both the weather and the constant attention he received from men looking to hook up with the former American idol.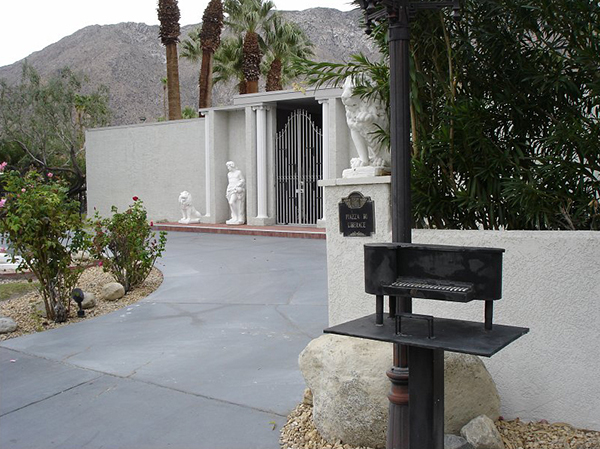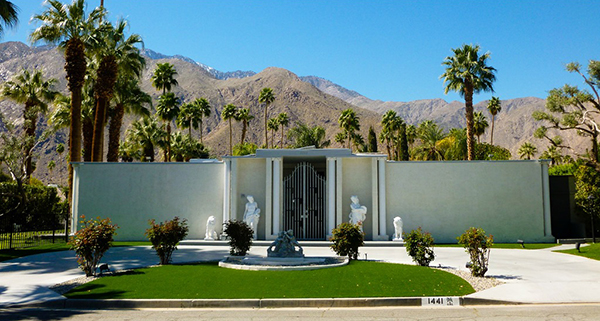 It seems neither Liberace nor Merv Griffin had similar concerns. According to Darwin Porter's 2009 book Merv Griffin: A Life in the Closet, the famed TV host was a regular at the all-male parties thrown by his friend and former lover, Liberace. Over the decades, the musician and master showman owned four homes in Palm Springs. Piazza de Liberace (1441 N. Kaweah Road) is among the most distinctive, with its extant piano-shaped mailbox. The home depicted in the movie Behind the Candelabra is located at 501 N. Belardo Road and reportedly featured theme rooms and a master suite big enough to house a small house. In addition to partying here, Liberace reportedly passed away here in 1987.
Another closeted movie star who enjoyed desert romps with a bevy of beautiful men was Rock Hudson. His friend George Nader had a four-bedroom house in Bermuda Dunes (42520 Stardust Place). "H" gates mark the entrance to a citrus grove and side yard, according to a recent real estate listing, which lists "a huge party area" as one of the home's benefits. Following emergency quintuple heart bypass surgery in 1981, Hudson recuperated here. What else the pair did here is anyone's guess, but it's assumed the house saw plenty of action.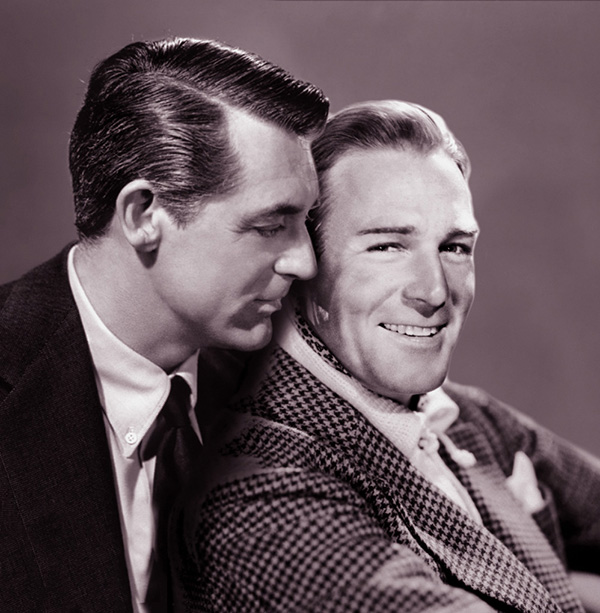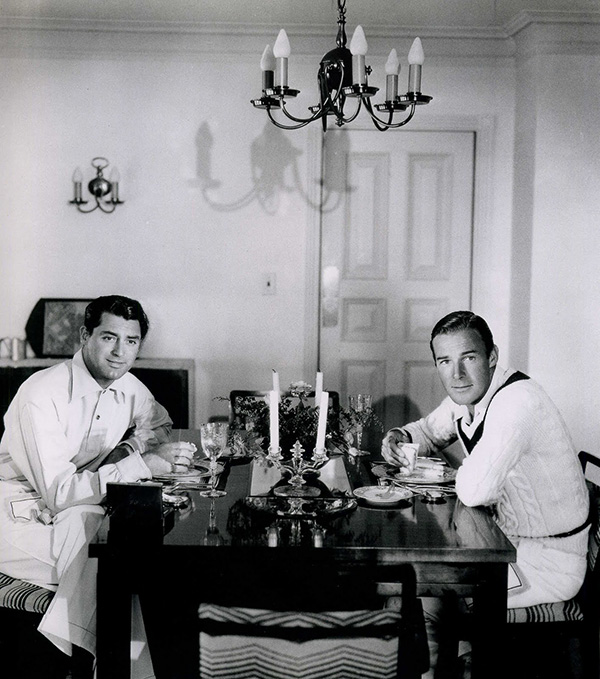 The notoriously private Cary Grant was evidently not-so-private about his affection for fellow actor Randolph Scott. After flaunting their "closeness" in a series of photographs posed in the Santa Monica beach house they shared — sharing a diving board, working out, enjoying a candlelit dinner for two (with their butler!) — it's believed their relationship eventually relocated to the desert. Grant purchased a Palm Springs house known as Las Palomas (928 N. Avenida Palmas) in the Movie Colony neighborhood with wife number three, Betsy Drake. (Frank Sinatra and wife Ava Gardner lived nearby at 1148 E. Alejo Road, where visual remnants of the couple's notorious knock-down-drag-outs, such as chipped countertops, are said to remain.) But rumor has it that after each of Grant's marriages went south, he and Scott (who bought a place in nearby Indian Wells) would rekindle their relationship. Despite their other romantic partnerships (Scott was married twice, the latter union lasting from 1944 until his death in 1987) Grant and Scott's relationship — whatever the nature of it may have been — purportedly lasted for the rest of their lives.
At the height of their fame, shamed TV evangelist Jim Bakker and his wife, Tammy Faye, owned a house on Greenbriar Lane in Palm Desert. In Palm Springs Babylon: Sizzling Stories From the Desert Playground of the Stars, author Ray Mungo writes that it was "well known within the gay community" in the 1980s that Bakker attended gay events like whipped cream wrestling at Daddy Warbucks, a long-gone gay club in Cathedral City (68891 Highway 111), and made frequent appearances at the leather hangout formerly known as C.C. Construction Company (68449 Perez Road, Cathedral City). "His indiscretions were legendary," according to Mungo.
There are plenty of other worthwhile places to drive by: Truman Capote lived at 853 Paseo el Mirador in Palm Springs in the 1960s and '70s, while the notoriously private Greta Garbo (a known lesbian in Hollywood circles) kept a secret hideaway at 287 W. Racquet Club Drive. And writer Moss Hart (whose homosexuality was reportedly known to just about everyone, including Kitty Carlisle, his wife of 15 years) died of a heart attack on the lawn of the home he shared with Carlisle at 467 W. Via Lola.
Gay celebrities still flock to Palm Springs. TV personality Ross Matthews and his partner, stylist Salvador Camarena, own a home here, as do Arrow star John Barrowman and his husband, Scott Gill. It was here that Barrowman, live streaming from his hot tub on Facebook, inadvertently provided the world a look at Gill's goods when he appeared in the background, dropped his towel, and climbed in au naturel. (Gill didn't seem to mind, and neither did the fans who viewed the video again and again.)
Here's to hoping for more interesting tales from the Barrowman house and others.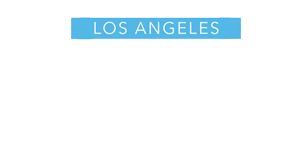 Top five events during Palm Springs Pride Week Nov. 2-5
Tickets are not required but a great way to give back by donating to the local nonprofit Pride organization

PALM SPRINGS, Calif. – Following are the top five events happening during Palm Springs Pride Week Nov 2-5. Make plans now! There's something for everyone.
Kylie Sonique Love, Nov 5 | 1:50PM
Hornitos Stage
Iconic singer, actress, model, and showgirl Kylie Sonique Love headlines Palm Springs Pride.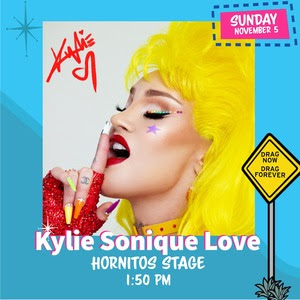 Kylie Sonique, Love, RuPaul's Drag Race All Stars 6 Winner and the first transgender person to ever come out on any reality TV show, and the first trans person to win RuPaul's Drag Race in America, is coming to Palm Springs Pride. Kylie will be on the biggest stage in the biggest venue, headlining Sunday, Nov 5, on the Hornitos Stage at 1:50 p.m.

Other headliners in the lineup include Idina Menzel, Sat, Nov 4 |8PM, 10,000 Maniacs, Sun, Nov 5 |3PM, Lisa Lisa Sat, Nov 4 | 7PM
ARENAS DISTRICT OFFICIAL PARTY of PRIDE
Featuring White Party Global DJs
Arenas Road between Indian Canyon Drive and Calle Encilia, Palm Springs
Presented by KGAY 106.5, Gay Desert Guide and White Party Global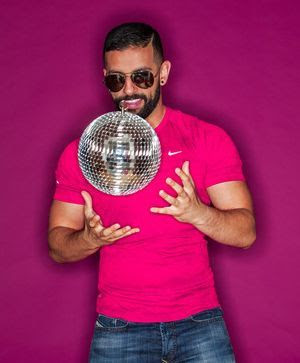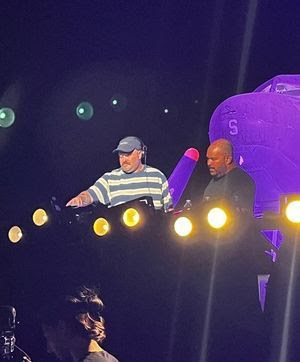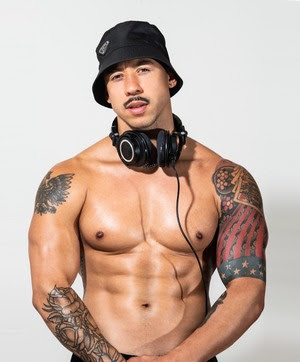 This block party is a signature event focused on the heart of the Palm Springs gayborhood … a celebration of Pride as well as the symbolic embrace of Arenas Road. LGBTQ+ bars and local businesses pack to the rafters and spill onto the streets for the biggest free LGBTQ+ street party in Palm Springs. The Official Party of Pride features White Party Global DJs DJ JAE FUSZ, and DJ MOHAMMAD. Join Pride revelers and dancers at the open-air beverage lounge. The block party invites residents and visitors to discover all that the Arenas District has to offer. 
ENDEAVOR WITH PRIDE: A PRE-PARADE WORKOUT
Sunday, Nov 5 | 8:30AM
La Crema Wines Pride Parade Stage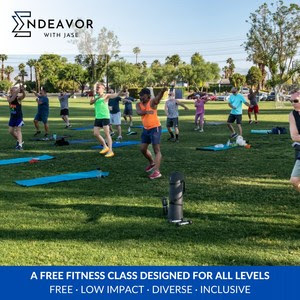 Kick off your day with ACE Certified Group Fitness Instructor Jase Nagaia in a special workout that'll get your blood flowing and energy soaring. Groove to good music while enjoying a low impact workout, setting the perfect tone for an unforgettable parade day! 

Embrace the true spirit of pride as we come together in celebration of diversity and inclusion. This event is more than just a workout – it's a chance to foster unity among all backgrounds and orientations, building connections that go beyond the workout mat.

Create a vibrant tapestry of voices, experiences, and stories, all while breaking a sweat and having a blast. Let's celebrate pride together with a morning of movement, joy, and community. 
Hornitos Stage Special Performances Saturday, Nov 4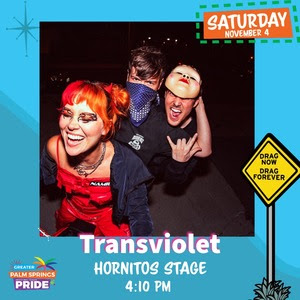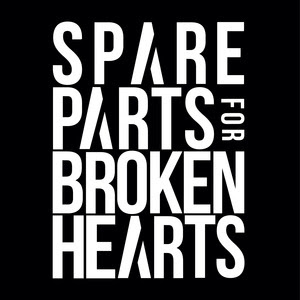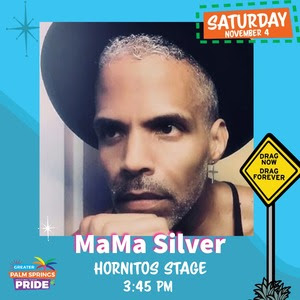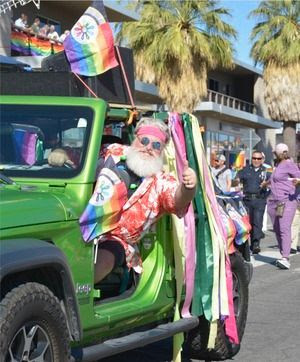 GREATER PALM SPRINGS PRIDE PARADE
SUNDAY, NOV. 5 | 10 A.M.-12:30 P.M
Palm Canyon Drive between Tachevah Drive and E Amado Road, Palm Springs Known for its skies and year-round sunshine, the city of Palm Springs comes alive during the annual Pride celebration. Thousands of spectators gather along palm tree-lined streets to cheer and support local organizations, activists, and themed floats along historic Palm Canyon Drive.
Enjoy emcee commentary as parade contingents pass by official reviewing stands.
The La Crema Wines Parade Stage, located at E Granvia Valmonte and N Palm Canyon Drive, is hosted by television personality Manny dela Rosa and guests.
Broadcast Reviewing Stand is located at Thompson Palm Springs, 400 North Palm Canyon Drive. Host and Emcee Nicholas Snow.
The Deaf Pride reviewing stand is north of E Amado Road at N Palm Canyon Drive and features sign language Interpretation. Seating is available for the Deaf community on a first-come-first-served basis. 
Palm Springs Pride 2023
Nov 2-5, 2023
37th Anniversary Celebration
Nov 2 – Latin Pride in the Arenas District 5 pm-10 pm
Nov 3 – Arenas District Block Party – 6 pm – 11 pm
Nov 4 – Festival Marketplace and Entertainment 11 am -11:30 pm
Nov 5 – Festival Marketplace and Entertainment 11 am – 6 pm
Nov 5 – Parade 10 am – Palm Canyon Dr from Tachevah to Amado (click here for parade details)
Tickets are not required but a great way to give back by donating to the local nonprofit Pride organization. Donations help keep Pride free and accessible to everyone.