Los Angeles Blade 4/20 Gift Guide
To celebrate 4/20, The Los Angeles Blade has a variety of cool items that happily provide calm and relaxation.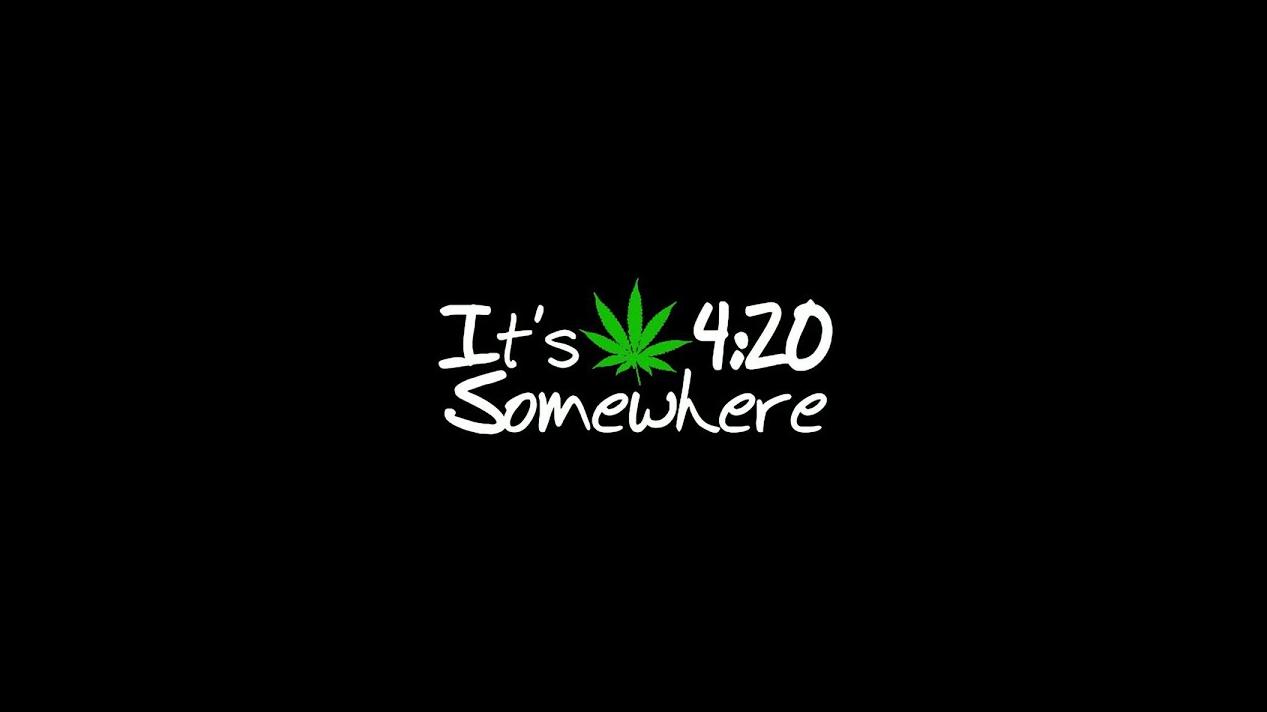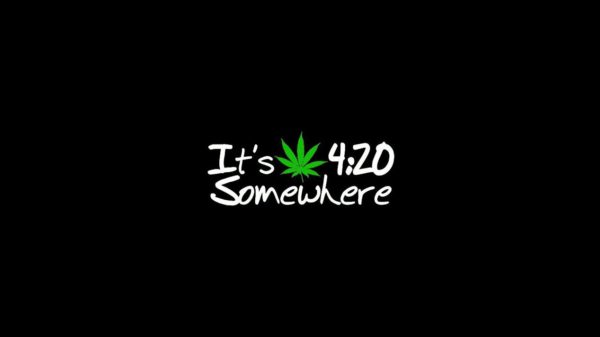 By Susan Hornik | To celebrate 4/20, The Los Angeles Blade has a variety of cool items that happily provide calm and relaxation. If you are looking for a way to celebrate today in a blissful way, read on! 
SKY WELLNESS CBD SLEEP SOFTGELS ($11.99)
Sky Wellness CBD products are designed to make you Feel Better, naturally.
Sleep is essential to the mind and body, including its ability to remain healthy and fight disease. It is no secret that almost everyone has struggled with our sleeping habits. Whether it's busy schedules or anxiety, there's probably not a single person that hasn't had sleep issues over the past year.
Sleep debt is absolutely "a thing" and Sky Wellness is here to help you make a deposit with CBD Sleep Softgels.
Sky Wellness Sleep Softgels at 25mg of CBD per softgel is just what you need to unwind your mind, relax your body, and dive into a gratifying and restful sleep. Softgels are great because they're easier to swallow, and they're fast acting.
Sky Wellness Sleep Softgels' unique and effective formula works to boost your restfulness, plus you get the added benefits of CBN – the minor cannabinoid for sleep support. CBN benefits have been studied for anti-insomnia effects, and is considered one of the strongest cannabinoids in promoting healthy sleep habits.
A good night's sleep just got easier, naturally.
A few facts about sleep…
Poor Sleep is strongly linked to weight gain – see study here.
Those who get adequate Sleep tend to eat few calories than those who don't due to Sleep affecting hormones that regulate appetite – see study here.
Good Sleep can help with cognition, concentration and performance – see study here.
Sleep duration can have a major effect on many health factors and chronic diseases, including heart disease – see study here.
Fifth Element (5E) High Performance Hemp products are specifically designed for your active-lifestyle and post work-out recovery. Packed with 5000mg of full-spectrum hemp, 5E products promote balance in your daily recovery and are the strongest and most effective full-spectrum hemp products available.
All 5E products are handmade in Boulder, CO, using advanced in-house formulations. 5E is proudly endorsed by boxing legend Floyd Mayweather Sr. and other major sports athletes.
Visit www.5ehemp.com to view all of the available 5E high-performance hemp products
Luxury Cannabis Pipes and Accessories
www.greige.co
Price: Pipes from $129, embellishments extra
Greige.co handmakes a range of stylishly grown-up one-hitter pipes they call, "The World's Most Beautiful Smoking Experience." The company improved the function and aesthetics, which make these pipes ideal for anyone interested in design or controlled dosage. Customize pipes with sterling silver or cut stone embellishments.
Release Date: Spring 2021 | Pre-Order or Coming Into Stock
Natural Dye Hand Block Printed Bandanas
Link: www.greige.co
Price: $49
Heritage Bandanas from Plants & Minerals
These wonderful hand block printed natural dye bandanas revive a 400-year-old artisan technique that uses only plants, minerals and heritage processes to durably print color and pattern on cloth. These are truly sustainable fashion made by 3rd generation artisans. Super soft. Great, large 24" x 24" size.
Price: $49
High On Love is a woman-owned, luxury sexual wellness and cosmetic brand. Their products are crafted with premium-grade cannabis seeds and essential oils and each product is crafted in small batches to ensure the highest quality.
Products:
Stimulating Sensual Oil: A sensuous fusion of all-natural oils and premium grade cannabis seed oil made to revolutionize the way you love by igniting a more intense and profound intimate experience. Use this exhilarating blend to massage the intimate area in order to moisturize it and help awaken the senses that will take you to uncharted territories. HighOnLove® Stimulating Oil was designed to be transformative for those experiencing vaginal dryness, discomfort, and a decreased libido. Thoughtfully created for women and blissfully appreciated by couples. 100% natural. Made in small batches to guarantee the highest quality.
Stimulating O'Gel for Women: Incredibly smooth and luxurious, HighOnLove® Stimulating O'Gel is a fusion of natural ingredients with premium cannabis seed oil designed to make each glide and touch more exhilarating, taking your climax to the next level. This water-based blend is transformative for those experiencing vaginal dryness, discomfort, or decreased libido.
Sensual Massage Oil: Revolutionizing the future of foreplay, this delectable blend of selected all-natural oils with premium quality cannabis seed oil nourishes the skin while simultaneously bringing harmony to the body and soul. Massaging the skin with this alluring oil will leave it to feel velvety smooth while helping you to enjoy tenderness in intimacy. HighOnLove® Sensual Massage Oil glides heavenly to the touch and brings a whole new meaning to romance. 100% natural.
Sensual Bath Oil: Welcome to the ultimate in self-care! An enticing blend of all-natural oils infused with premium-grade cannabis seed Oil. HighOnLove® Sensual Bath Oil releases a calming scent while being quickly absorbed into the skin to nurture and nourish the body. Indulge and let yourself sink into this Oh-So-Luxurious concoction that will leave your mind and body feeling completely enlightened! To be enjoyed alone or shared with a partner. 100% natural.
Lip Gloss for Couples: Combining sexy and pleasure, HighOnLove's lip gloss was designed to plump and hydrate the lips making it feel irresistibly kissable while enhancing foreplay by increasing sensitivity and exciting the intimate areas.
Dark Chocolate Body Paint: The art of play and making love takes a new meaning with HighOnLove® Dark Chocolate Body Paint. Designed as an aphrodisiac in itself, this luscious and rich dark chocolate is made with premium-grade cannabis seed oil giving couples a satisfying taste for more. The effects of HighOnLove® Dark Chocolate Body Paint takes intimacy to a whole other level by releasing euphoric sensations and pure delight.. Inspired by the distinguished chocolatiers in Brussels!
Sensual Massage Candle: Turn up the heat and set the mood for a sensual massage with the HighOnLove® Sensual Massage Candle. This delightful soy-based candle, blended with cannabis seed oil and coconut oil, allows the alluring scent of rosebud to seduce your senses, and the sensation of warm oils on your body encourages playfulness and openness to loving exploration. Prepare your body for relaxing romance! Made with premium, 100% natural ingredients, HighOnLove® products contain no parabens, allergens, or colorants.
Objects of Desire Gift Set: A HighOnLove® X CalExotics collaboration: the Objects of Desire Gift set includes our full- size (30 ml) Stimulating Oil and the JOPEN Palm Massager (a mini massager with sparkling crystal adornments, ergonomic curved shape and sensational vibrations for a one-of-a-kind pleasure experience).
Dry Body Oil: Discover the magic of HighOnLove® Dry Body Oil, with non-greasy nourishment for your skin and hair that absorbs quickly – for all the glow and no unwanted shine. Thanks to the added benefits of cannabis seed oil – containing essential fatty acids, including omega-3s and omega-6s – this Dry Body Oil blend softens and hydrates skin to make you feel like a goddess. Show your skin some love! HighOnLove® products contain no soaps, parabens, allergens or colorants.
Expand your knowledge this 4/20 with Smarty Plants premium cannabis flower available in six strains – indica Ice Cream Cake and hybrids Fatso, Cherry Punch, Rolls Choice OG, Stardawg, and Lava Cake. Each eight-ounce jar includes a unique QR code linking to "free knowledge:" fun obscure topics on Smarty Plants website that pair well with a few puffs and conversation to make your 4/20 celebration an interesting one.
Sensi Products Newly Launched "The Puck" : The Puck is 100% vegan, gluten-free, and lower in sugar than other gummies. The Puck gummy is fortified with Omega 3 which enhances the cannabis experience by 2x or more. The Puck uses all natural ingredients, real fruit extracts, and comes in 3 flavors and strain types; Sativa – Fresh Strawberry, Hybrid – Tropical Mango, and Indica – Blue Raspberry. Oh and did we mention it is very strong!
Green Roads CBD | Award-Winning, Pharmacist-Formulated CBD
Green Roads CBD: Green Roads is driven by our desire to help every person find the healthiest version of themselves through the power of plants. This commitment to our customers has made us the gold standard for quality CBD since the earliest days of the industry. Browse our collection of premium CBD oils, CBD edibles, CBD softgels, CBD capsules, CBD topicals, CBD coffee, CBD tea, and more.
Dr. Dabber, an award winning developer and retailer of smoking and vape accessories, is hosting their first ever glass blowing competition, the Dr. Dabber Glass Games.
They're accepting submissions globally for custom glass artwork designed for their newest eRig, the Boost EVO.
Submissions are open from April 2nd until June 1st, at which point public voting will begin.
Dr. Dabber- Dr. Dabber Boost EVO – Achieves the perfect dab every single time you use your vaporizer. The Boost EVO has a patent pending temperature control sensor built in, unlike anything else on the market.
Dr. Dabber SALE – 4/20 Dates – 4/12-4/23 – 20% off flagship products, 30% off everything else. Boost EVO – $275 flat price – will run from 9 pm PST 4/19 to 12 am on 4/22.
Lifted Made:
Delta-8 THC Products:
Lifted Made's Urb all-in-one disposable vapes are made with premium delta-8 THC distillate and are available in various terpene profiles. If edibles are preferable to vapes, Lifted Made also makes Urb Delta-8 THC gummies, which come in a variety of flavors and contain 25mg of delta-8 THC distillate per gummy.
Dip Device Little Dipper Dab Straw Vape– This product is for a 2-pack of Little Dippers in four colors! Little Dipper is the newest product from Dip Devices and is their most affordable. Little Dipper offers Dip Devices' signature direct-to-concentrate Vapor Tip technology in a small compact and portable form. Little Dipper won Best New Product at the HQ Event 2021.
LA County Parks' popular summer tradition is back at a park near you!
Parks After Dark (PAD) is back in action! is open to all ages and provides the perfect outdoor setting to reconnect with family and friends.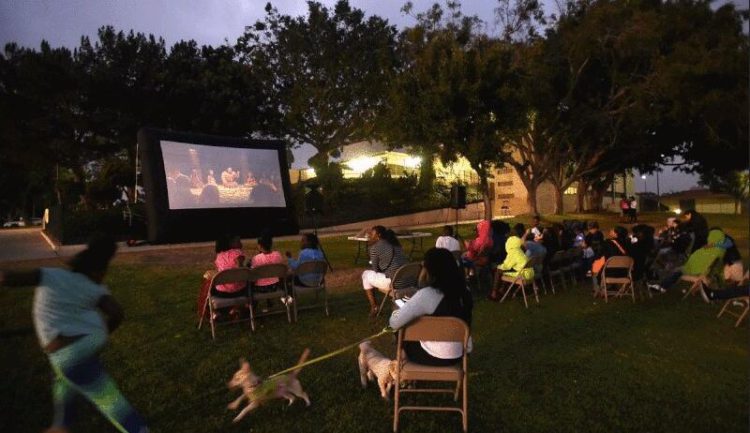 LOS ANGELES – Parks After Dark (PAD) is back in action! The Los Angeles County Department of Parks and Recreation is excited to welcome back this award-winning program at 33 parks this summer across LA County and invites you to join us for Friday night movies, activities, art and health workshops, and Saturday night live concerts!   

PAD is open to all ages and provides the perfect outdoor setting to reconnect with family and friends. The program offers over 250 movie screenings and 200 free concerts throughout the summer. Grab some snacks, your favorite picnic blanket and your loved ones as you plan enjoy fun evenings at a park near you, all summer long!

The schedule and lineup varies by park each week. For locations, schedules and more, please visit our website at: parks.lacounty.gov/PAD.

Parks After Dark provides youth and their families expanded opportunities to experience healthy recreation and active lifestyles. Since starting in 2010 at just three parks, PAD has expanded to 33 parks, enabling thousands of community members to participate and enjoy quality programming outdoors at their local park.

The program is led by the Los Angeles County Department of Parks and Recreation, with strong support from partners, including the Los Angeles County Board of Supervisors, Department of Arts and Culture, Probation Department, Department of Public Social Services, Sheriff's Department and Chief Executive Office. 

Follow us on Facebook @parks.lacounty.gov and Twitter & Instagram @lacountyparks for updates for Parks After Dark and other LA County Parks programming updates!
Leon Elias Wu, president of SharpeHaus is very, very tired'
To combat the darkness, Wu focuses on the light.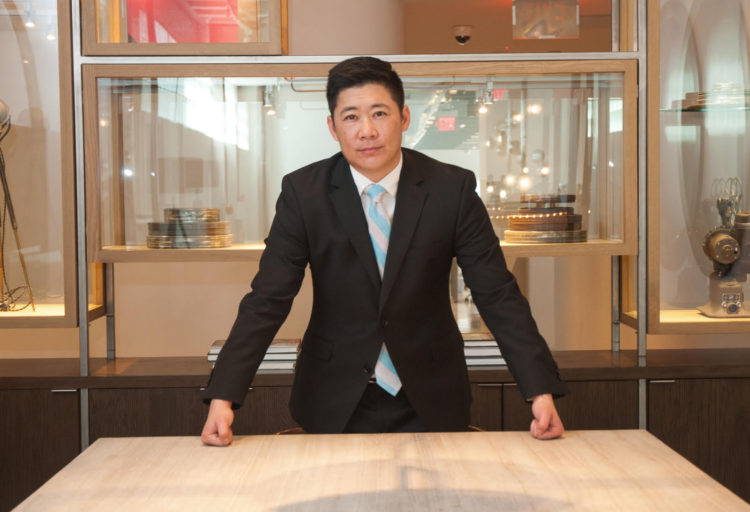 By Susan Hornik | LOS ANGELES – In a world where trans hatred and Asian hate crimes are at an all time high, Leon Elias Wu, president/ceo of SharpeHaus (formerly Sharpe Suiting) is very, very tired.
"The recent news about attacks on AAPI people has been very emotional and exhausting," acknowledged the trans activist/designer. "I go through emotions of feelings of extreme anger and wanting to retaliate, to wanting to bury these feelings for now and deal with them later."
This hate is something that Wu has experienced his entire life.
"AAPI hate and disrespect have been a long-standing issue which I've felt and experienced since I was a kid, where people perceived me as a 'woman' and now as a visible Asian man. Being a trans and LGBTQ activist through all my work at Sharpe, I have not felt like I had the additional energy to manage another layer of activism to fight against AAPI hate, when a lot of the violence started breaking out during the pandemic and then more frequently this year."
He continued: "A BIPOC person can feel like they have certain rulesets to live by to feel safe in our country. The ruleset is different, depending on your gender and ethnicity, whether you are seen as a black woman, black man, Asian woman or Asian man. Then being transgender or non-binary is another layer. It can be exhausting to break these rules and barriers down."
Growing Up
Wu was born in a small town in Oklahoma and then subsequently, two LA valley cities, Northridge and Arcadia. "My parents immigrated from Taiwan before I was born. Ever since I can remember, I identified with masculinity. and wanted to play sports with boys and wear boy clothes. I used to sneak into my father's closet and try on his massive dress shirts, blazers and try to finagle a necktie around my neck to make it look fairly like the crisply-tied neckties I'd watch him do in the mornings."
Wu didn't have trans folks around him growing up, which made him feel uncomfortable about speaking.
"I did not know how to express myself and often felt like I was hiding something that was wrong with me. I went along life thinking that I must make-up for this wrong by doing everything right. I tried my best to do stellar work in school and most importantly tried to fit in wherever possible."
Wu came out at the tail end of college as lesbian, gay or queer.
"Upon graduating UCLA, activist at heart, I quickly attached myself to a group of dumpster-diving, rallying lesbian artists/activists who hung out on the eastside of Hollywood. At that time, I was the only visible trans-identified person within their class and within OutClass – a Stern NYU organization which advocates and creates a safe space for LGBTQ+ members within the Stern community."
In Spring 2008, while traveling abroad with some fellow students to China as part of an NYU Stern international class trip, he conceptualized the idea of Sharpe Suiting.
"I felt uncomfortable wearing a women's suit from Ann Taylor to my interviews. With the suggestion and support of my finance peers, I bought my first-ever custom suit from the world famous Sam's Tailor in Hong Kong. For the first time, I felt like myself in clothing. I felt extraordinary. At that moment, I knew I wanted to bring that feeling to my community."
Fashion Projects
To combat the darkness, Wu focuses on the light.
Back in April, the company rebranded as SharpeHaus and launched "The MixTape Capsule," a series of 80s music videos on YouTube and cover songs on Spotify, Apple and iHeart Radio, which raises visibility in diverse music artists.
The project also supports Cyndi Lauper's True Colors United, a non-profit organization in the fight against LGBTIQ+ youth homelessness around the world. The visual activist campaign was produced in lieu of the company's activism on the runway, as both LA and NY Fashion Week were cancelled due to the pandemic.
"I focus on art that makes me feel positive, like our new initiative, 'The Mixtape Capsule.' By producing music and videos, I get to infuse modern identities into songs I grew up listening to as a child. It's very healing. And then I hope my art can inspire and heal others too."
The company is ready for action: Sharpe is a presenting designer for Women's Freedom Festival held by L-Project LA. The fashion show segment of Women's Freedom Festival is curated and produced by gender shoe and accessory designer NiK Kacy. This virtual fashion show will be the first fashion show they have participated in since the pandemic lockdown.
"We are excited to bring the audience 8 years of HERstory on the runway. Get your tickets today and tune in on June 19th," he enthused.
SharpeHaus will be flying to South Carolina to help Greenville ring in and celebrate its first pride festival ever.
"This will be an all-town occasion produced by Erika Taylor, Terena Starks, Carolina Soma, Caroline Caldwell & David Hawkins. And you better believe we are doing it runway style! We are calling all non-binary, trans, queer femme and LGBTQ+ models to participate in the Greenville's Gender Expansive fashion show."
Tickets can be purchased at https://www.eventbrite.com/e/greenvilles-gender-expansive-fashion-show-tickets-156944642651 starting at $15. Nikki Eason (SharpeHaus Charlotte Designer) will be lead model on the runway.
The Best Poured Pride Plans with Casamigos
For the bar-going crowd in West Hollywood a successful Pride weekend requires your best bar buddies and a solid game-plan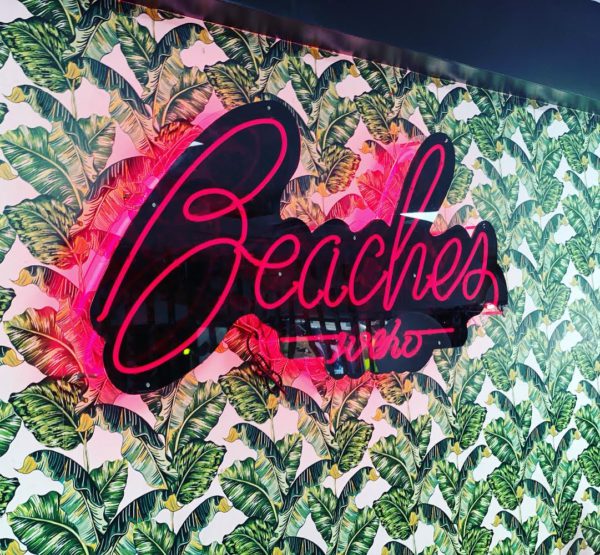 By Alejandro Cervantes | WEST HOLLYWOOD – I'll set the scene: denim short shorts, molting feather boa and a black tank top with "Jean Smart" bedazzled on the front – I've independently decided to help her Emmy campaign. A group of my nearest and dearest, a loud bunch of girls, gays and theys, strut down Santa Monica Boulevard – it's Pride weekend, and our world is back open for business.
For the bar-going crowd in West Hollywood a successful Pride weekend requires your best bar buddies and a solid game-plan – you can't leave one of the busiest gay weekends up to chance. It's a safe bet that where they pour the best drinks you'll find the best party – cue Kristin Clark, the vivacious National Mixologist and LGBT+ bar rep for the company. She's the reason why your favorite gay bars have got your favorite tequila, and this past Pride weekend we followed alongside her and her team for the perfect Weho bar crawl.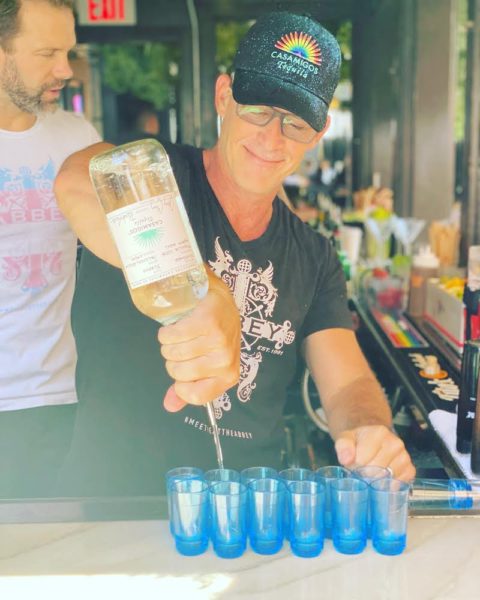 The day begins at The Abbey. The sunny outdoor patio is a sea of rainbow as late brunch goers finish mimosas and prepare to launch their Saturday festivities. It's a scene of a city newly healed, with go-go dancers wiggling and Abbey owner David Cooley tending to tables. The Casamigos crew is stationed at a large table in the center, applying glitter and toasting to the day ahead – the best way to start any Pride Saturday.
It's been over a year since crowds have been able to enjoy all that local bars have to offer, so you can imagine the buzzing energy. Everyone in the bar is bumping into someone – old friends, favorite drag queens and past acquaintances – aka hookups you forgot the name of. Kristin brings a tray of shots for the new arrivals and whisks her posee off to the next spot: Beaches.
West Hollywood is set up like a game of gay monopoly, one bar next to another making it easy to bounce from one to the next. Beaches sits just around the corner from The Abbey, and is known around town for their saucy drag shows from LA legend Rhea Litré and their celebrity filled parties with the likes of Gigi Gorgeous and many a drag race alum.
The Casamigos team is perched on the second floor balcony, and it doesn't take long for them to pull out the party's secret weapon: ski shots. Imagine a rainbow ski with 4 shot glasses attached.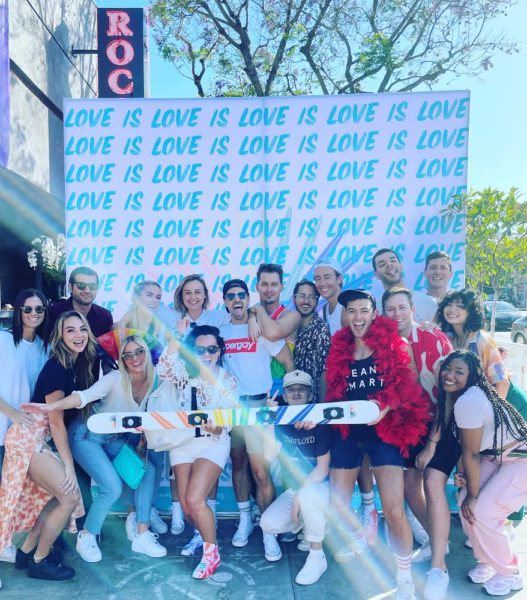 West Hollywood loves Casamigos, and in the words of Drag Race All Stars contestant Scarlet Envy, "the feeling is mutual". What started as a side hobby for George Clooney and his friends became one of the world's, and West Hollywood's, most in-demand beverages. Casamigos wasn't originally created for sale – it was a passion project begun by those who love a good glass of tequila. After years of tinkering and steady evolution in Jalisco, Mexico, the Casamigos creators arrived at the blend and bottle you're familiar with.
The Casamigos crew makes their rounds, inviting almost every table in Beaches a free round of shots on the ski. After a little more glitter, and dancing to "Rain on Me", the group advances to its next stop: Rocco's.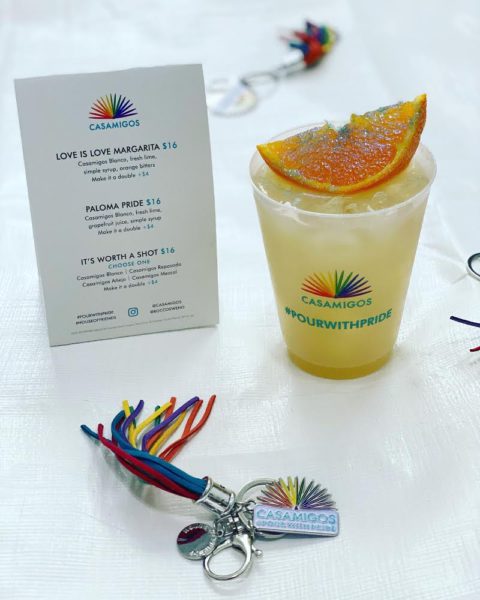 Thank God Lance Bass decided to get in the gay bar business. When Rocco's opened in 2019 it immediately became a favorite of the Santa Monica strip – with a sleek design, friendly bartenders and a wrap-around outdoor patio where guests can mingle, flirt and holler at friends passing by the sidewalk below. If the title of "West Hollywood's watering hole" didn't sound like a double entendre they could make it their catch phrase.
Rocco's is also one of the largest consumers of Casamigos – period. A feat Kristin proudly shares with another toast. The group sips tequila sunrises and snacks on the staple: Rocco's pizza. I tell as many people as I can to watch Jean Smart in 'Hacks', Kristin shares the best way to dye your own Pride sneakers and once again, we all dance to "Rain on Me".
The party carried on through the night, with the group hopping from Revolver to Tom Tom to Pump to Hi Tops and Hamburger Mary's; each spot offering specialty Casamigos cocktails, bottle service and shots.
There is so much written on what Pride is, but this past Saturday it was about reconnecting with a community that survives off the love and celebration of chosen family, and getting to do so over some terrific cocktails. Call up your best Judy's – whether you got to see them this past Pride weekend or you celebrated together in Pride weekend's past – and raise a glass to the great times shared and the better times to come, and then tell them to watch "Hacks" on HBO.