West Hollywood Chamber of Commerce, Pride June 25 – June 27
Virtual Programming
June 25 – June 27
West Hollywood Pride Play Reading Festival
Music in Action for The Equality Act by the Los Angeles LGBT Center
QueerWise presents Queer/Women+
NonBinary NuMoon Circle for nonbinary and genderqueer Jews to gather, connect, learn, and grow
LGBTQ+ History in Comics – A virtual panel with comics readings from creators 
Shaped By Sylvester: Tiki Spills the Tea
In-Person Programming
Friday, June 25
Sutton Pride Celebration hosted by Sutton Stracke with special guest Jai Rodriguez
Meet & Greet with TS Madison at Kanep CBD
Beaches Weho Presents Pride Island with a huge outdoor dance stage, drinks, and Gogo's
The Chapen at the Abbey Presents Summer Nights with Music by Gary Stewart
Paul Nichols with Beau Bryon & Murray Swanby Present GTFO WeHo Pride at Rocco's
New Art Installation at Santa Monica Smokes, "Angel Wings" for Instagram
Pride Weekend at SUR Restaurants with feature sounds by DJ Mickey until 2am
Saturday, June 26
Dogpound 2021 Pride Workout at La Peer Hotel – benefits Los Angeles LGBT Center
Mecca Rooftop LA Pride event for women by women, enjoy women DJ's and entertainers
Hawt Honey Pool Party for WeHo Pride at La Peer Hotel
Hugo's WeHo Pride $5 Happy Hour
Drag Me to Paradise at Rocco's for WeHo Pride
Paul Nichols Present Signature Saturdays, WeHo Pride Edition with DJ Morning Star and DJ Parker
Pride inspired Bubble Spectacular at Beverly Center
Chicas Tacos will have CoolHaus Scoop Truck set up in front. Stay and try the Pride Menu
Beaches Weho Presents Pride Island
the collective Realty 8th Annual Pride with cocktails and DJ Ben Castro. Raise money for LGBT Homeless
My 12 Step Store Pride Sober Event with Water and Ice-Cream for a donation benefitting Van Ness Recovery House plus Dunk a Hunk Sink a Twink
Hamburger Mary's WeHo Brunch with Divas and bottomless Mimosas
Special Pride Pop-up at the GBK Brand Bar with complimentary Neft Vodka cocktails and treats
Pride Weekend at SUR Restaurant with sounds by DJ Mickey until 2am
Sunday, June 27
The 14th Annual Pride Rooftop Party by Chad Hudson Cre8tive at La Peer Hotel
Pearl Pride Party at Montrose West Hollywood benefitting LGBTQ Youth
Los Angeles Blade presents the Next Generation of Pride Celebration
Hugo's WeHo Pride $5 Happy Hour and they will be giving out FREE WeHo Pride Water Bottles
Beaches WeHo Presents Pride Island
Beau Bryon Present Rocco's Rocc-ettes
Hamburger Mary's WeHo Brunch with Divas and Bottomless Mimosas
Pride Weekend at SUR Restaurant with sounds by DJ Mickey
Support your local charities for WeHoPride21!
Purchase your Pride Lives Here gear by 12noon PDT, June 30th.
100% of the net proceeds from WeHo Pride 2021 merchandise will be split 50/50 between Unique Woman's Coalition and ProjectQ. 
Pride Special Offers
Take advantage of these special PRIDE offers next time you shop!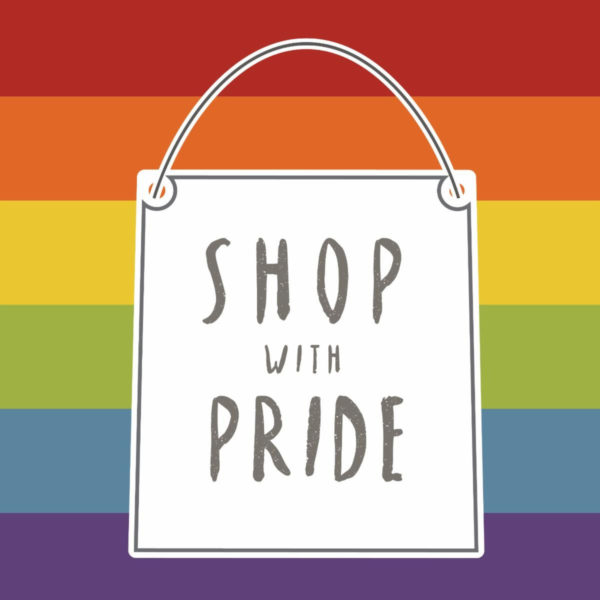 LA County Parks' popular summer tradition is back at a park near you!
Parks After Dark (PAD) is back in action! is open to all ages and provides the perfect outdoor setting to reconnect with family and friends.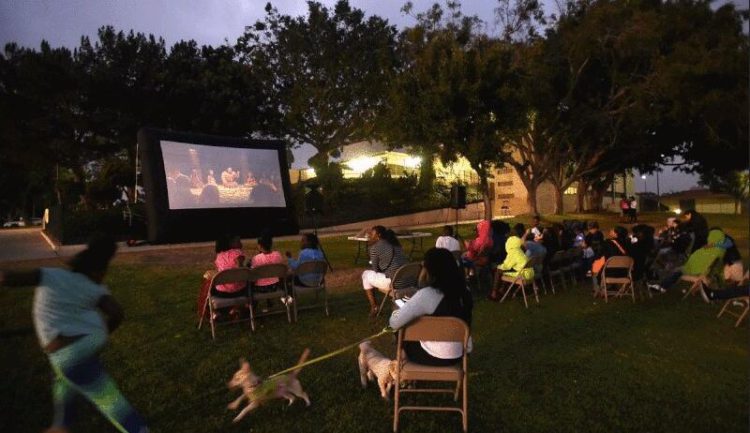 LOS ANGELES – Parks After Dark (PAD) is back in action! The Los Angeles County Department of Parks and Recreation is excited to welcome back this award-winning program at 33 parks this summer across LA County and invites you to join us for Friday night movies, activities, art and health workshops, and Saturday night live concerts!   

PAD is open to all ages and provides the perfect outdoor setting to reconnect with family and friends. The program offers over 250 movie screenings and 200 free concerts throughout the summer. Grab some snacks, your favorite picnic blanket and your loved ones as you plan enjoy fun evenings at a park near you, all summer long!

The schedule and lineup varies by park each week. For locations, schedules and more, please visit our website at: parks.lacounty.gov/PAD.

Parks After Dark provides youth and their families expanded opportunities to experience healthy recreation and active lifestyles. Since starting in 2010 at just three parks, PAD has expanded to 33 parks, enabling thousands of community members to participate and enjoy quality programming outdoors at their local park.

The program is led by the Los Angeles County Department of Parks and Recreation, with strong support from partners, including the Los Angeles County Board of Supervisors, Department of Arts and Culture, Probation Department, Department of Public Social Services, Sheriff's Department and Chief Executive Office. 

Follow us on Facebook @parks.lacounty.gov and Twitter & Instagram @lacountyparks for updates for Parks After Dark and other LA County Parks programming updates!
Leon Elias Wu, president of SharpeHaus is very, very tired'
To combat the darkness, Wu focuses on the light.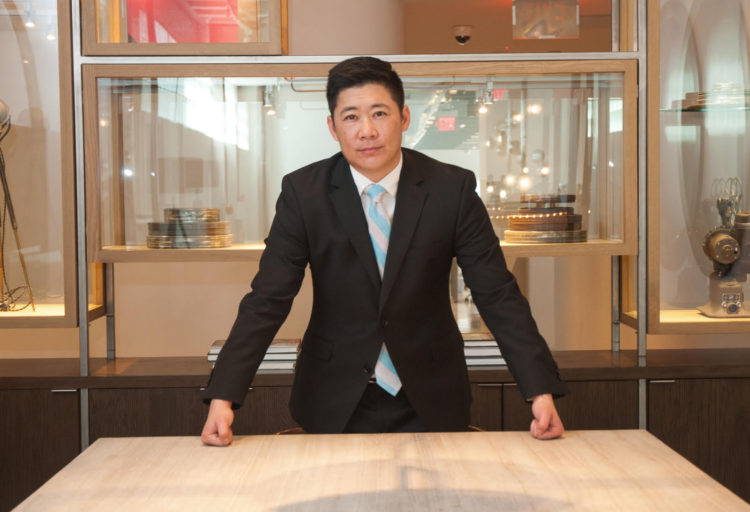 By Susan Hornik | LOS ANGELES – In a world where trans hatred and Asian hate crimes are at an all time high, Leon Elias Wu, president/ceo of SharpeHaus (formerly Sharpe Suiting) is very, very tired.
"The recent news about attacks on AAPI people has been very emotional and exhausting," acknowledged the trans activist/designer. "I go through emotions of feelings of extreme anger and wanting to retaliate, to wanting to bury these feelings for now and deal with them later."
This hate is something that Wu has experienced his entire life.
"AAPI hate and disrespect have been a long-standing issue which I've felt and experienced since I was a kid, where people perceived me as a 'woman' and now as a visible Asian man. Being a trans and LGBTQ activist through all my work at Sharpe, I have not felt like I had the additional energy to manage another layer of activism to fight against AAPI hate, when a lot of the violence started breaking out during the pandemic and then more frequently this year."
He continued: "A BIPOC person can feel like they have certain rulesets to live by to feel safe in our country. The ruleset is different, depending on your gender and ethnicity, whether you are seen as a black woman, black man, Asian woman or Asian man. Then being transgender or non-binary is another layer. It can be exhausting to break these rules and barriers down."
Growing Up
Wu was born in a small town in Oklahoma and then subsequently, two LA valley cities, Northridge and Arcadia. "My parents immigrated from Taiwan before I was born. Ever since I can remember, I identified with masculinity. and wanted to play sports with boys and wear boy clothes. I used to sneak into my father's closet and try on his massive dress shirts, blazers and try to finagle a necktie around my neck to make it look fairly like the crisply-tied neckties I'd watch him do in the mornings."
Wu didn't have trans folks around him growing up, which made him feel uncomfortable about speaking.
"I did not know how to express myself and often felt like I was hiding something that was wrong with me. I went along life thinking that I must make-up for this wrong by doing everything right. I tried my best to do stellar work in school and most importantly tried to fit in wherever possible."
Wu came out at the tail end of college as lesbian, gay or queer.
"Upon graduating UCLA, activist at heart, I quickly attached myself to a group of dumpster-diving, rallying lesbian artists/activists who hung out on the eastside of Hollywood. At that time, I was the only visible trans-identified person within their class and within OutClass – a Stern NYU organization which advocates and creates a safe space for LGBTQ+ members within the Stern community."
In Spring 2008, while traveling abroad with some fellow students to China as part of an NYU Stern international class trip, he conceptualized the idea of Sharpe Suiting.
"I felt uncomfortable wearing a women's suit from Ann Taylor to my interviews. With the suggestion and support of my finance peers, I bought my first-ever custom suit from the world famous Sam's Tailor in Hong Kong. For the first time, I felt like myself in clothing. I felt extraordinary. At that moment, I knew I wanted to bring that feeling to my community."
Fashion Projects
To combat the darkness, Wu focuses on the light.
Back in April, the company rebranded as SharpeHaus and launched "The MixTape Capsule," a series of 80s music videos on YouTube and cover songs on Spotify, Apple and iHeart Radio, which raises visibility in diverse music artists.
The project also supports Cyndi Lauper's True Colors United, a non-profit organization in the fight against LGBTIQ+ youth homelessness around the world. The visual activist campaign was produced in lieu of the company's activism on the runway, as both LA and NY Fashion Week were cancelled due to the pandemic.
"I focus on art that makes me feel positive, like our new initiative, 'The Mixtape Capsule.' By producing music and videos, I get to infuse modern identities into songs I grew up listening to as a child. It's very healing. And then I hope my art can inspire and heal others too."
The company is ready for action: Sharpe is a presenting designer for Women's Freedom Festival held by L-Project LA. The fashion show segment of Women's Freedom Festival is curated and produced by gender shoe and accessory designer NiK Kacy. This virtual fashion show will be the first fashion show they have participated in since the pandemic lockdown.
"We are excited to bring the audience 8 years of HERstory on the runway. Get your tickets today and tune in on June 19th," he enthused.
SharpeHaus will be flying to South Carolina to help Greenville ring in and celebrate its first pride festival ever.
"This will be an all-town occasion produced by Erika Taylor, Terena Starks, Carolina Soma, Caroline Caldwell & David Hawkins. And you better believe we are doing it runway style! We are calling all non-binary, trans, queer femme and LGBTQ+ models to participate in the Greenville's Gender Expansive fashion show."
Tickets can be purchased at https://www.eventbrite.com/e/greenvilles-gender-expansive-fashion-show-tickets-156944642651 starting at $15. Nikki Eason (SharpeHaus Charlotte Designer) will be lead model on the runway.
The Best Poured Pride Plans with Casamigos
For the bar-going crowd in West Hollywood a successful Pride weekend requires your best bar buddies and a solid game-plan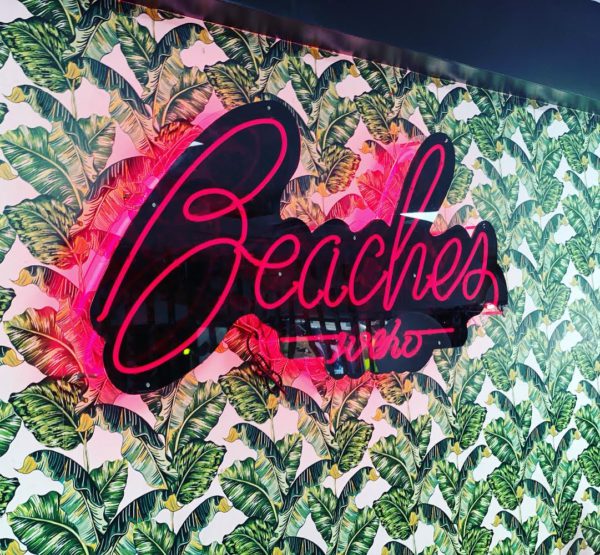 By Alejandro Cervantes | WEST HOLLYWOOD – I'll set the scene: denim short shorts, molting feather boa and a black tank top with "Jean Smart" bedazzled on the front – I've independently decided to help her Emmy campaign. A group of my nearest and dearest, a loud bunch of girls, gays and theys, strut down Santa Monica Boulevard – it's Pride weekend, and our world is back open for business.
For the bar-going crowd in West Hollywood a successful Pride weekend requires your best bar buddies and a solid game-plan – you can't leave one of the busiest gay weekends up to chance. It's a safe bet that where they pour the best drinks you'll find the best party – cue Kristin Clark, the vivacious National Mixologist and LGBT+ bar rep for the company. She's the reason why your favorite gay bars have got your favorite tequila, and this past Pride weekend we followed alongside her and her team for the perfect Weho bar crawl.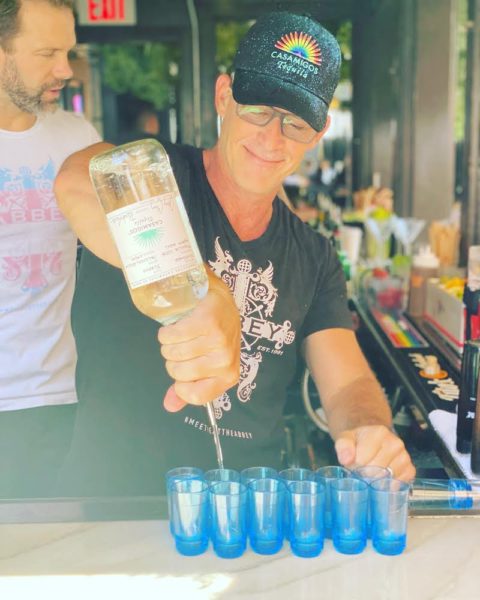 The day begins at The Abbey. The sunny outdoor patio is a sea of rainbow as late brunch goers finish mimosas and prepare to launch their Saturday festivities. It's a scene of a city newly healed, with go-go dancers wiggling and Abbey owner David Cooley tending to tables. The Casamigos crew is stationed at a large table in the center, applying glitter and toasting to the day ahead – the best way to start any Pride Saturday.
It's been over a year since crowds have been able to enjoy all that local bars have to offer, so you can imagine the buzzing energy. Everyone in the bar is bumping into someone – old friends, favorite drag queens and past acquaintances – aka hookups you forgot the name of. Kristin brings a tray of shots for the new arrivals and whisks her posee off to the next spot: Beaches.
West Hollywood is set up like a game of gay monopoly, one bar next to another making it easy to bounce from one to the next. Beaches sits just around the corner from The Abbey, and is known around town for their saucy drag shows from LA legend Rhea Litré and their celebrity filled parties with the likes of Gigi Gorgeous and many a drag race alum.
The Casamigos team is perched on the second floor balcony, and it doesn't take long for them to pull out the party's secret weapon: ski shots. Imagine a rainbow ski with 4 shot glasses attached.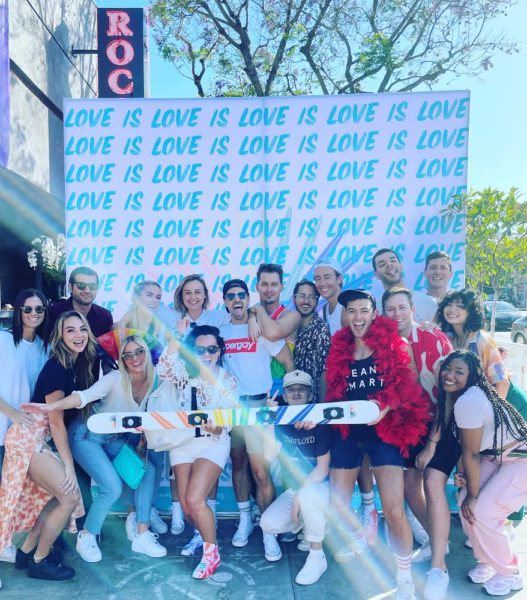 West Hollywood loves Casamigos, and in the words of Drag Race All Stars contestant Scarlet Envy, "the feeling is mutual". What started as a side hobby for George Clooney and his friends became one of the world's, and West Hollywood's, most in-demand beverages. Casamigos wasn't originally created for sale – it was a passion project begun by those who love a good glass of tequila. After years of tinkering and steady evolution in Jalisco, Mexico, the Casamigos creators arrived at the blend and bottle you're familiar with.
The Casamigos crew makes their rounds, inviting almost every table in Beaches a free round of shots on the ski. After a little more glitter, and dancing to "Rain on Me", the group advances to its next stop: Rocco's.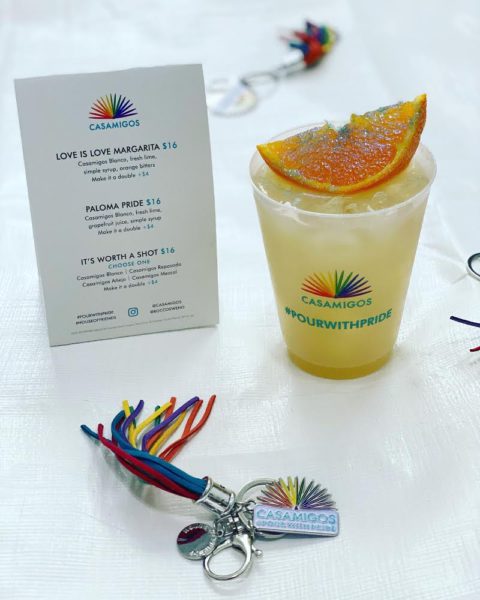 Thank God Lance Bass decided to get in the gay bar business. When Rocco's opened in 2019 it immediately became a favorite of the Santa Monica strip – with a sleek design, friendly bartenders and a wrap-around outdoor patio where guests can mingle, flirt and holler at friends passing by the sidewalk below. If the title of "West Hollywood's watering hole" didn't sound like a double entendre they could make it their catch phrase.
Rocco's is also one of the largest consumers of Casamigos – period. A feat Kristin proudly shares with another toast. The group sips tequila sunrises and snacks on the staple: Rocco's pizza. I tell as many people as I can to watch Jean Smart in 'Hacks', Kristin shares the best way to dye your own Pride sneakers and once again, we all dance to "Rain on Me".
The party carried on through the night, with the group hopping from Revolver to Tom Tom to Pump to Hi Tops and Hamburger Mary's; each spot offering specialty Casamigos cocktails, bottle service and shots.
There is so much written on what Pride is, but this past Saturday it was about reconnecting with a community that survives off the love and celebration of chosen family, and getting to do so over some terrific cocktails. Call up your best Judy's – whether you got to see them this past Pride weekend or you celebrated together in Pride weekend's past – and raise a glass to the great times shared and the better times to come, and then tell them to watch "Hacks" on HBO.