The Best Poured Pride Plans with Casamigos
For the bar-going crowd in West Hollywood a successful Pride weekend requires your best bar buddies and a solid game-plan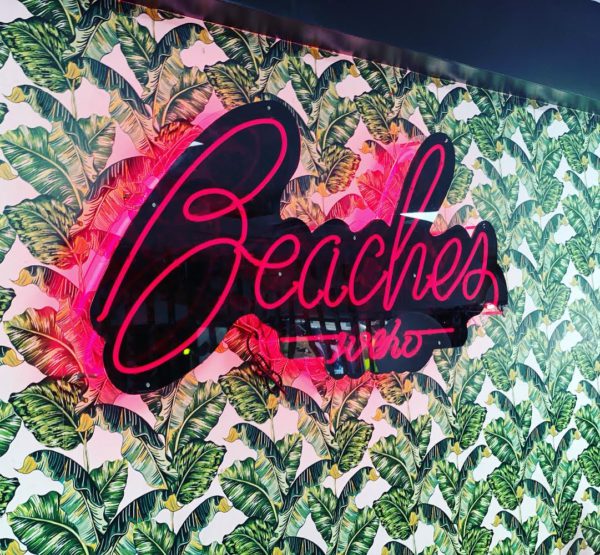 By Alejandro Cervantes | WEST HOLLYWOOD – I'll set the scene: denim short shorts, molting feather boa and a black tank top with "Jean Smart" bedazzled on the front – I've independently decided to help her Emmy campaign. A group of my nearest and dearest, a loud bunch of girls, gays and theys, strut down Santa Monica Boulevard – it's Pride weekend, and our world is back open for business.
For the bar-going crowd in West Hollywood a successful Pride weekend requires your best bar buddies and a solid game-plan – you can't leave one of the busiest gay weekends up to chance. It's a safe bet that where they pour the best drinks you'll find the best party – cue Kristin Clark, the vivacious National Mixologist and LGBT+ bar rep for the company. She's the reason why your favorite gay bars have got your favorite tequila, and this past Pride weekend we followed alongside her and her team for the perfect Weho bar crawl.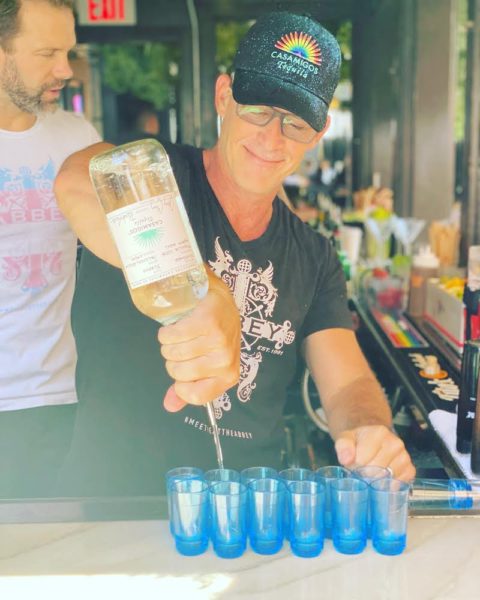 The day begins at The Abbey. The sunny outdoor patio is a sea of rainbow as late brunch goers finish mimosas and prepare to launch their Saturday festivities. It's a scene of a city newly healed, with go-go dancers wiggling and Abbey owner David Cooley tending to tables. The Casamigos crew is stationed at a large table in the center, applying glitter and toasting to the day ahead – the best way to start any Pride Saturday.
It's been over a year since crowds have been able to enjoy all that local bars have to offer, so you can imagine the buzzing energy. Everyone in the bar is bumping into someone – old friends, favorite drag queens and past acquaintances – aka hookups you forgot the name of. Kristin brings a tray of shots for the new arrivals and whisks her posee off to the next spot: Beaches.
West Hollywood is set up like a game of gay monopoly, one bar next to another making it easy to bounce from one to the next. Beaches sits just around the corner from The Abbey, and is known around town for their saucy drag shows from LA legend Rhea Litré and their celebrity filled parties with the likes of Gigi Gorgeous and many a drag race alum.
The Casamigos team is perched on the second floor balcony, and it doesn't take long for them to pull out the party's secret weapon: ski shots. Imagine a rainbow ski with 4 shot glasses attached.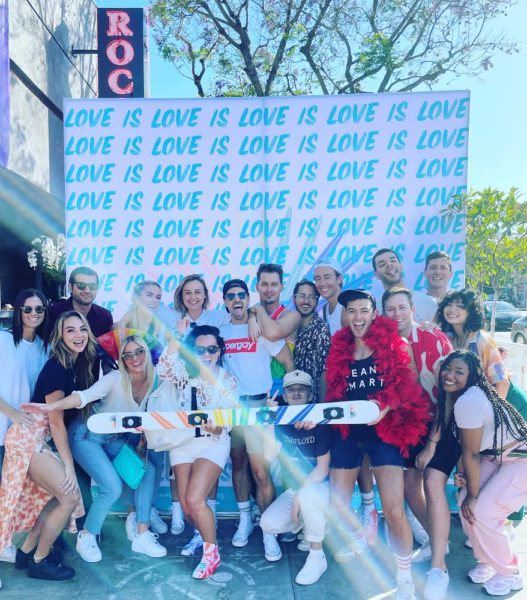 West Hollywood loves Casamigos, and in the words of Drag Race All Stars contestant Scarlet Envy, "the feeling is mutual". What started as a side hobby for George Clooney and his friends became one of the world's, and West Hollywood's, most in-demand beverages. Casamigos wasn't originally created for sale – it was a passion project begun by those who love a good glass of tequila. After years of tinkering and steady evolution in Jalisco, Mexico, the Casamigos creators arrived at the blend and bottle you're familiar with.
The Casamigos crew makes their rounds, inviting almost every table in Beaches a free round of shots on the ski. After a little more glitter, and dancing to "Rain on Me", the group advances to its next stop: Rocco's.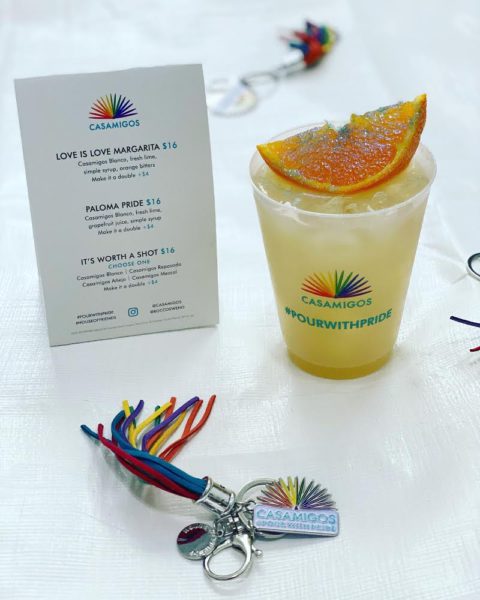 Thank God Lance Bass decided to get in the gay bar business. When Rocco's opened in 2019 it immediately became a favorite of the Santa Monica strip – with a sleek design, friendly bartenders and a wrap-around outdoor patio where guests can mingle, flirt and holler at friends passing by the sidewalk below. If the title of "West Hollywood's watering hole" didn't sound like a double entendre they could make it their catch phrase.
Rocco's is also one of the largest consumers of Casamigos – period. A feat Kristin proudly shares with another toast. The group sips tequila sunrises and snacks on the staple: Rocco's pizza. I tell as many people as I can to watch Jean Smart in 'Hacks', Kristin shares the best way to dye your own Pride sneakers and once again, we all dance to "Rain on Me".
The party carried on through the night, with the group hopping from Revolver to Tom Tom to Pump to Hi Tops and Hamburger Mary's; each spot offering specialty Casamigos cocktails, bottle service and shots.
There is so much written on what Pride is, but this past Saturday it was about reconnecting with a community that survives off the love and celebration of chosen family, and getting to do so over some terrific cocktails. Call up your best Judy's – whether you got to see them this past Pride weekend or you celebrated together in Pride weekend's past – and raise a glass to the great times shared and the better times to come, and then tell them to watch "Hacks" on HBO.
Santa Monica-based wellness center creates peak male health and performance clinic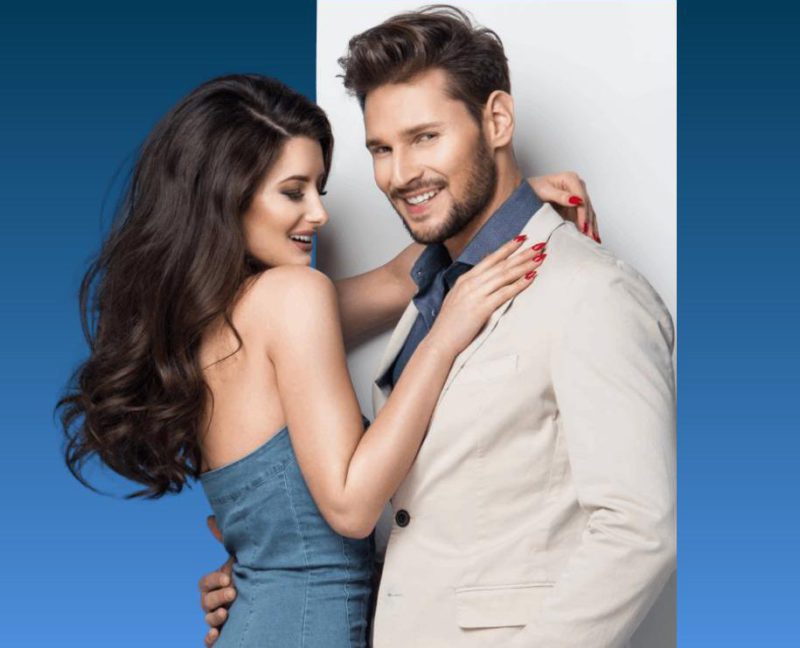 SANTA MONICA – Compelled by COVID-19 to shelter in place, the many months spent on "Pause" mode gave mankind a lot of time for navel gazing. For some men, that gazing continued south, just past the navel—and forced them to face some hard truths about certain shortcomings. Night after night, like New Year's Eve on a loop, resolutions were made to get some help in the personal growth department, as soon as the world at large was up for it.
At roughly the same time, a former ER trauma surgeon whose Santa Monica-based wellness center specialized in regenerative and anti-aging healthcare was busy creating a stand-alone practice dedicated to peak male health and performance.
Flash forward to the present, and Total Male is the new boutique offering from Dr. Daniel Moghadam, or "Dr. D, as his patients like to call him. At the center of Total Male (actually, a bit south of center, just past the navel) is a time-tested, well-vetted, permanent penis enlargement procedure that has improved the sexual lives and everyday confidence of its many recipients.
Best of all, the procedure is non-surgical, carrying none of the risks associated with going under the knife. That means no stitches, cutting, or general anesthesia. The instantaneous results appear natural and are permanent.
"The procedure is done with a topical numbing agent and the collagen injection creates permanent tissue growth that can be built upon with multiple procedures, if that's what the patient wants," explains Total Male intake specialist Cameron. "If you've gained an inch or girth when you're flaccid, you're going to be that much bigger when you're erect." Although you can go right back to most regular activities right after the procedure, you'll need a 30-day period without sexual activity, so the college can settle.
In addition to those who simply want a noticeable improvement in girth, the enlargement procedure has been an effective option for those who've suffered the results of botched penile surgeries or issues like erectile dysfunction, anxiety, or other factors most men deal with at some point in their lives.
But Dr. D's Total Male practice is more than just the marquee penis enlargement procedure. "We also do PRP injections, and that helps with blood flow," notesCameron, of the many add-on options. "We find that helps a lot of our patients get to the next level on their quest to achieve peak sexual performance. If that's not enough, we also recommend testing hormone and testosterone levels, and then design a course of treatment for those factors if need be."
Stress, an understandable component of living in the era of COVID-19 and its Delta variant, is also a factor Dr. D takes into account. In fact, all aspects of mind and body are involved in diagnosis and treatment, making Total Male as much of a mission statement as a brand name.
"His background as an ER doctor has exposed him to many traumas and problems," says Cameron of Dr. D, noting, "He's been able to pinpoint seemingly minor or unrelated problems and reverse them. And because of his education in anti-aging hormones and his aversion to having a patient go under the knife, he comes at the whole spectrum of male performance with a different perspective than, say, a plastic surgeon or a psychologist."
So if you've been putting off taking the first step toward gaining the normal confidence that comes with above average circumference, book a consultation with the Total Male team. Each consultation includes information on a variety of finance options, and a detailed description of the patient's role in a recovery process that will produce permanent results.
Call 805-608-4711 or visit http://www.drdenhancement.com/