Kyiv Pride march draws thousands
Event took place without violence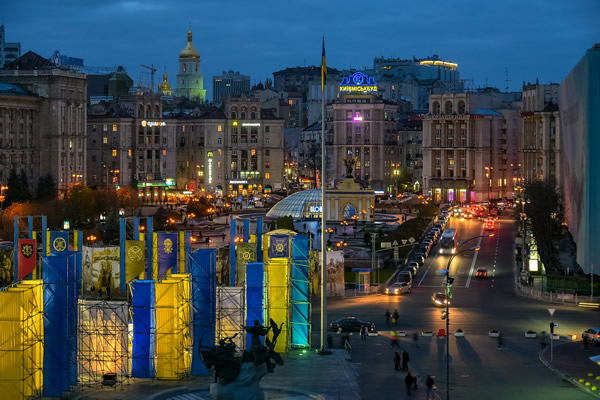 KYIV, Ukraine — Upwards of 7,000 people on Sunday took part in the Ukrainian capital's annual Pride march.
The Associated Press reported Kyiv Pride participants, among other things, demanded the country's lawmakers allow civil partnerships for same-sex couples and create a law against hate crimes based on sexual orientation and gender identity.
The Ukrainian Cabinet of Ministers has introduced a measure that would make the country's hate crimes law LGBTQ inclusive.
НАС БУЛО 7000! pic.twitter.com/gL91I61RBW

— KyivPride (@KyivPride) September 19, 2021
"We've grown tired of waiting for change and enduring systematic intimidation, pressure, disruption of peaceful events, attacks on activists and the LGBT community," said Kyiv Pride in a statement to the Associated Press. "We demand changes here and now, as we want to live freely in our own country."
The march took place less than a month after President Volodymyr Zelenskyy publicly said his government will continue to fight discrimination based on sexual orientation and gender identity.
"With U.S. support, Ukraine will continue to advance respect for human rights, civil liberties and fundamental freedoms in accordance with international standards and obligations, as well as to fight racism, xenophobia, anti-Semitism and discrimination against the LGBTQI+ community," reads a joint statement the White House released on Sept. 1 after Zelenskyy met with President Biden. "Ukraine plans to strengthen accountability for violence against all persons regardless of gender, race, ethnicity, religion, sexual orientation, or political views, including through legislation."
Far-right extremists in 2019 attacked several people who attended Kyiv Pride. Members of a Ukrainian nationalist group in 2015 injured nine police officers who had been deployed to an LGBTQ rights march that coincided with Kyiv Pride.
Sunday's march took place without violence.
Activists in Ukraine to celebrate Pride
March scheduled to take place in Kharkiv on Sept. 25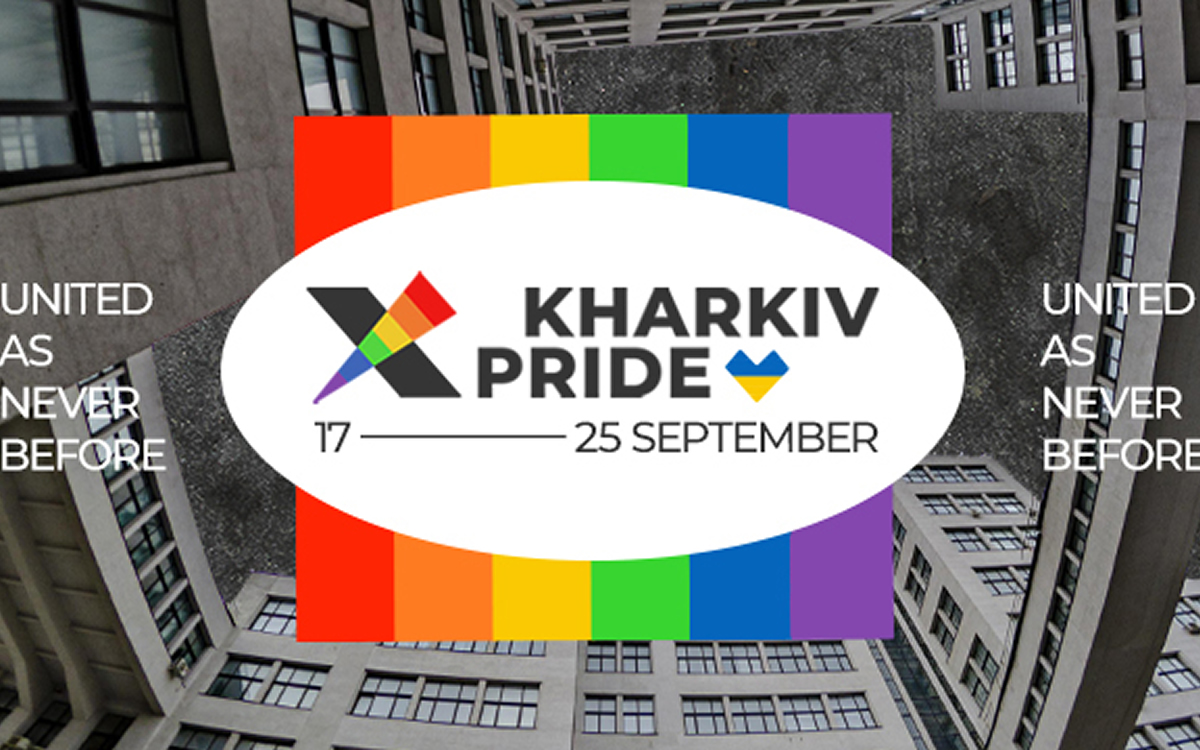 KHARKIV, Ukraine — Activists in the Ukrainian city of Kharkiv will hold a series of Pride events in the coming days.
A press release that Kharkiv Pride released notes events that will take place from Saturday through Sept. 25 include a march, a performance that highlights efforts to extend marriage rights to same-sex couples in Ukraine and a "Memorial Day" for "LGBTQI+ people killed by the Russian Federation."
Kharkiv Pride and Kharkiv with You Charitable Foundation, a local NGO, will also hold "a crowdfunding campaign to collect money for the needs of women serving near Kharkiv."
"Just as Kharkiv stands at the forefront of Ukraine's struggle for freedom and democracy, Kharkiv Pride actively resists at the forefront of the battle for human rights," said Kharkiv Pride. " Because this is our principal position, and this is the difference between Ukraine and the totalitarian regime of the Russian Federation."
We announce the events of Pride Week in Kharkiv📣
⠀
KharkivPride is not only a march, it is a whole week of pride events dedicated to the current topic of the LGBTGI+ community in the Kharkiv region and throughout Ukraine.https://t.co/mDQPlBTf7u pic.twitter.com/7nophxQobD

— KharkivPride / Sphere NGO (@KharkivPride) September 14, 2022
Kharkiv, which is Ukraine's second-largest city, is less than 30 miles from the Russian border in the eastern part of the country.
A Russian airstrike on March 1 killed Elvira Schemur, an LGBTQ+ and intersex activist who was a volunteer for Kharkiv Pride and Kyiv Pride.
Ukrainian forces in recent weeks have recaptured large swaths of territory east of Kharkiv that had been under Russian control. Kharkiv Pride will also take place less than two months after Ukrainian President Volodymyr Zelenskky announced his support for a civil partnership law for same-sex couples.
Ukraine president backs civil partnerships law
Volodymyr Zelenskky responded to Kyiv Pride petition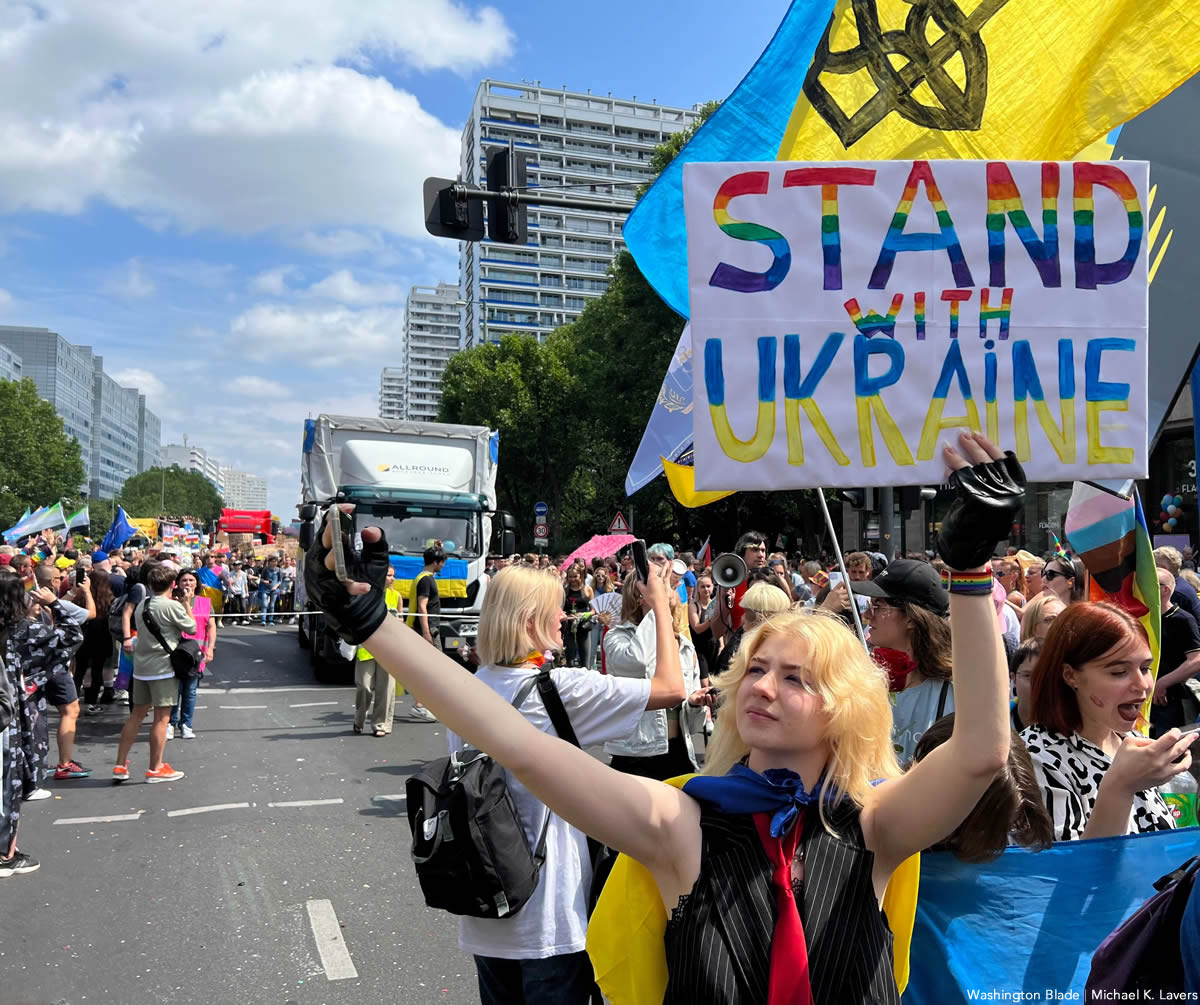 KYIV, Ukraine — Ukrainian President Volodymyr Zelenskky on Tuesday said he supports a civil partnership law for same-sex couples.
Kyiv Pride backed a marriage equality petition that was submitted to Volodymyr Zelenskky on July 12 with more than 28,000 signatures, which is higher than the legal threshold that requires him to consider it. 
Zelenskky in his response to the petition notes his support for marriage equality, but acknowledges the Ukrainian constitution defines marriage as between a man and a woman and it cannot be amended while the country is under martial law. Zelenskky on Tuesday nevertheless directed his government to submit a report on whether same-sex couples can enter into civil partnerships through the country's existing legal framework or a bill that would go through Parliament.
"I appealed to the prime minister of Ukraine with a request to consider the issue raised in the electronic petition and report about the relevant results," said Zelenskky.
Zelenskyy last year pledged his country would continue to fight discrimination based on sexual orientation and gender identity after he met with President Joe Biden at the White House.
Anastasiia Baraniuk and Yulia Mulyukina, a lesbian couple who once lived in the Ukrainian city of Dniper, are among the millions of people who have fled the country since Russia began its war on Feb. 24. Baraniuk and Mulyukina last month told the Washington Blade in Berlin the fact that they are unable to legally prove they are in a relationship has prevented them from asking for asylum in the U.S. and Canada because the countries' immigration systems are based on whether they are married or "common-law partners" respectively.
"Right now we are looking for a way to get the proof that we are a couple," said Baraniuk. "We don't want to stay in Berlin."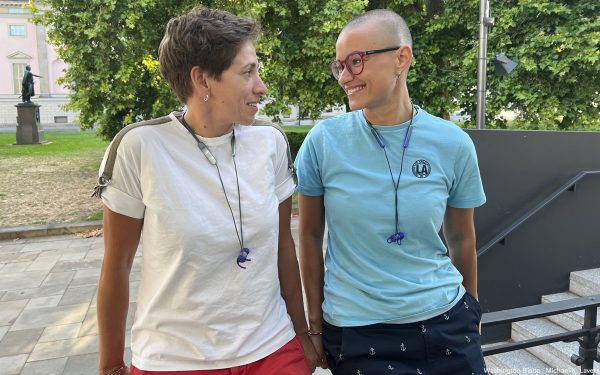 Kyiv Pride on Tuesday welcomed Zelenskyy's announcement.
"Congratulations to the community, the Pride movement," tweeted Kyiv Pride. "Thank you to the authorities."
ОДНОСТАТЕВИМ ПАРТНЕРСТВАМ В УКРАЇНІ – ТАК! Zelenskyy said yes to same-sex partnerships!

Офіс Президента відповів на петицію: планується розробити законопроєкт щодо реєстрових партнерств для ЛГБТ+ пар в Україні!

Вітаємо спільноту, прайд-рух та дякуємо владі! 🌈 pic.twitter.com/cZEmmSsIUU

— KyivPride (@KyivPride) August 2, 2022
Maksym Eristavi, who chairs Kyiv Pride's board of directors, desribed Zelenskyy's announcement as "historic."
in a historic move president zelenskyy has just promised queer ukrainians to put forward a civil partnerships law with an open road to marriage equality after the martial law ends

— maksym.eristavi 🇺🇦🏳️🌈 (@maksymeristavi) August 2, 2022
LGBTQ+ pride parade in Bucharest draws ten thousand plus people
Dancing & waving rainbow, trans, and progress flags, participants protested proposed legislation that would ban future Pride gatherings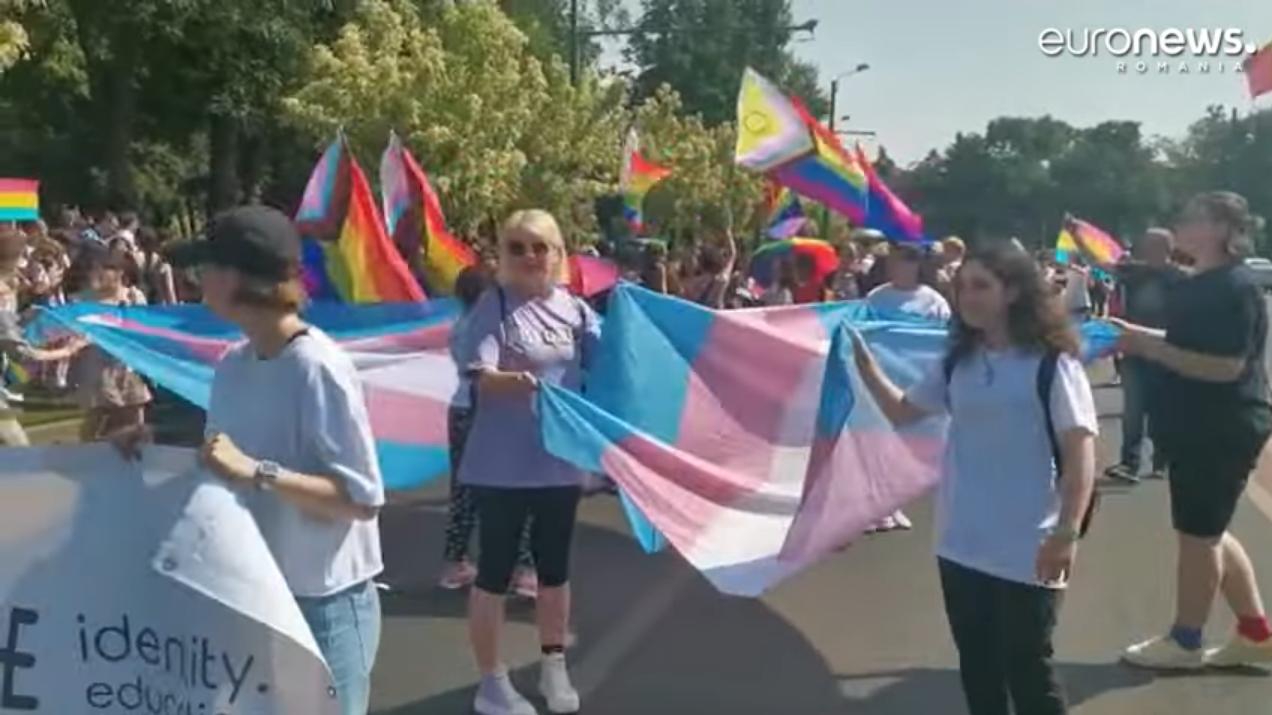 BUCHAREST, Romania – Supporters and activists of the LGBTQ+ movement numbering an estimated ten thousand people took part in Bucharest Pride 2022, marching along Calea Victoriei to Izvor Park in the city's center Saturday afternoon into evening.
Pride was organised by ACCEPT, the non-governmental human rights organization in Romania that defends and promotes LGBTQ+ rights.
Dancing and waving rainbow, trans, and LGBTQ+ progress flags, participants protested proposed legislation in the Parliament of Romania that could potentially endanger future LGBTQ+ Pride parades and foster further anti-LGBTQ+ discrimination.
A bill already approved by one body of lawmakers in Parliament would bans so-called "gay propaganda" in schools, mirroring similar legislation in Hungary and Russia.
EURONEWS Romania: Bucureștiul, scena a două marșuri, Bucharest Pride și "Marșul pentru normalitate":