BYU reignites war on LGBTQ+ students as Feds investigate
Taxpayer-supported Utah private university attacks LGBTQ people. Mormon university BYU bans dating, protesting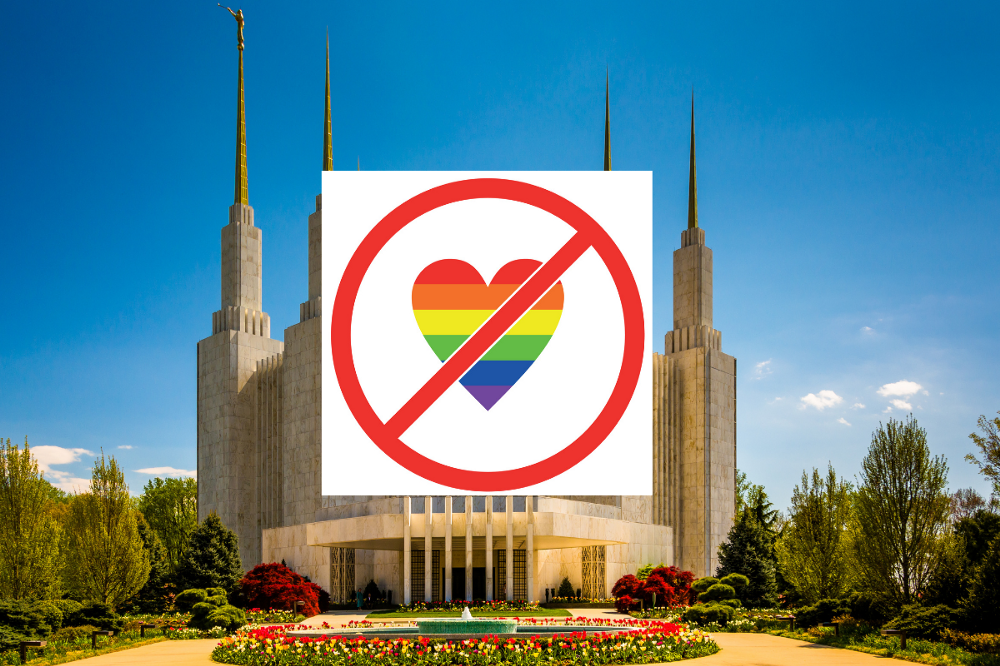 By James Finn | DETROIT – In a move straight out of Bob Jones University's racist playbook, from an era when Christian schools and universities routinely barred white students from dating Black students, Brigham Young University (BYU) has strengthened a ban on students dating members of the same sex. BYU, which is privately owned by the LDS (Mormon) Church, accepts federal funds and benefits from Department of Education (DOE) programs.
In response to student complaints, the DOE has opened a civil rights investigation, seeking to determine if the university is violating Title IX, which prohibits schools that accept federal funds from discriminating "on the basis of sex." BYU claims the right to be exempt from Title IX based its religious status.
LGBTQ dating ban at Brigham Young University probed in federal investigationSALT LAKE CITY – The U.S. Department of Education has opened a civil-rights investigation into how LGBTQ students are…www.usatoday.com
In a further escalation, BYU just announced a policy that will prohibit LGBTQ students from protesting on campus.
Before considering the protest ban, let's back up and examine how a cease fire has reignited into a hot war. Up until a year ago, LDS homophobic bigotry seemed to be thawing. In 2019, the Church withdrew its odious 2015 "November Policy" that branded married LGBTQ people as "apostates" and had the practical effect of encouraging families to break apart.
Some BYU students began taking cautious steps out of the closet, saying they could be Mormon, love the LDS Church, and be gay or transgender at the same time. Administration reaction was mixed, but the general position seemed to be cautious acceptance, a sort of quiet campus détente in which people agreed to disagree.
Many LGBTQ Mormons say the centrality of BYU in their lives and social spheres made this thaw critically important. They believed they were finally allowed to be more fully part of the communities they were born into.
Then just a few months ago, everything blew up.
A full-scale war against LGBTQ students reignited, probably in response to an August campus speech in which senior LDS leader Jeffrey R. Holland blasted BYU student Matt Easton in intensely personal terms, characterizing him as selfish, immoral, and immature for coming out as gay in his valedictory speech … even though he had the full approval of faculty advisors.A Shocking New Speech Has Plunged Mormons Into Another Furious Battle Over Gay RightsOn Aug. 23, Jeffrey R. Holland, Brigham Young University's former president and a senior apostle in the Church of Jesus…slate.com
Many Mormons, noting Holland's frequent gun metaphors, have characterized his speech as a "call to war" against LGBTQ people. Writing for Slate, Haley Swenson agrees, calling the speech "shocking" and "crushingly cruel."
His words were unmistakably a call to arms: Holland used the word "fire" 10 times, "musket" eight times, and made multiple references to "friendly fire," "wounds," and "scarring." In particular, he called for "more musket fire" from BYU's faculty to defend Mormonism's official position on the inferiority and social dangers of same-sex relationships and marriages.
LGBTQ students at BYU say they feel tricked and even lied to
The federal civil rights investigation that came to light just over a week ago centers around the dating ban, and may be a response to what students say was a bait and switch in 2020, when the university amended its "honor code" to eliminate language banning same-sex dating. Many LGBTQ students came out publicly after that language was removed, only to be shocked short weeks later when administrators announced LGBTQ students in relationships would still face harsh discipline, under a different set of rules.
Students protested the reversal, saying they felt tricked into coming out. The federal investigation from the DOE's Office for Civil Rights began late last year, reportedly in response to student complaints, though it might also be a response to a lawsuit by the Religious Exemption Accountability Project (REAP).
BYU students have sued, demanding the university comply with Title IX
Last March, former BYU students joined REAP and 33 other LGBTQ plaintiffs from 25 religious colleges and universities suing the DOE for not enforcing Title IX, seeking "to put an end to the U. S. Department of Education's complicity in the abuses and unsafe conditions thousands of LGBTQ+ students endure at hundreds of taxpayer-funded, religious colleges and universities."
Also last March, on the evening of the 4th, dozens of LGBTQ BYU students and allies gathered in silence under BYU's iconic "Y" after lighting it in rainbow colors with LED flashlights to express solidarity with queer students on campus and across the country.
Many students quietly prayed while others wept openly. The demonstration was part of Rainbow Day, an annual event organized by Color the Campus, a BYU student-led organization for LGBTQ people and allies. BYU did not discipline any students involved but did announce the rainbow display had not been "authorized."
Days after the federal investigation came to light, BYU lowered the hammer again
Administrators just announced rules prohibiting student demonstrations on the hillside where the "Y" sign is located, as well as locations within university buildings, near places where minors or "vulnerable populations" are present, and locations where "safety is at risk." BYU has defined a demonstration as "an event that occurs on university property that is not sponsored by the university in which two or more people gather to raise awareness about, or express a viewpoint on, an issue or cause."
LGBTQ students say Rainbow Day has been effectively canceled, unless students wish to participate under threat of academic discipline up to and including expulsion. Leaders say they are angry administrators are trying to frame the demonstration ban around safety concerns. They such a framing is disingenuous and dishonest, a violation of the "honor code" students are expected to live by. They say concerns about risks to minors is insulting, sending a stereotypically false message that LGBTQ people are dangerous to children.
BYU accepts hundreds of millions of federal taxpayer dollars
BYU is claiming a "religious exemption" from Title IX, and they badly need an exemption if they don't intend to comply with the law. The university's private status is a fiction. BYU accepts hundreds of millions of federal dollars every year, irrespective of their claims to be largely independent of federal money.
In 2018 alone, BYU accepted a 6.8 million dollar DOE grant to facilitate language-learning and study-abroad programs. This was just one of several similar grants that year alone. BYU cooperates with federal agencies to facilitate federal grants and loans BYU students use to pay tuition and other fees. According to Forbes, half of all BYU students pay tuition with federal Pell grants or other federal grants. This figure does not include federally guaranteed student loans, which almost all BYU students take advantage of.
The reality is, if the federal government cut off taxpayer dollars, BYU would find itself on the edge of bankruptcy if not in immediate collapse. Without taxpayer dollars, they would have to go out of business or downsize dramatically while charging far higher tuition to students.
Punishing LGBTQ students for who they love is unacceptable in a free democratic society
My tax dollars and yours keep BYU running. They claim to be exempt from laws that prohibit discrimination against transgender and gay people, but so did Bob Jones University back in the 1960s and 70s when they expelled and otherwise punished students for dating outside their race.
BYU's treatment of LGBTQ students is not morally morally distinguishable from Bob Jones'. The IRS pulled Bob Jones' tax exempt status in 1976, telling the university in effect that if they wished to engage in racist practices they justified with "sincere religious belief," they would have to do as a truly private institution, with no taxpayer dollars, not even tax-exempt status.
Bob Jones sued but lost at the Supreme Court. They eventually changed their racist practices, largely as a result of the extreme financial pressure the federal government brought to bear.
Can the same tactic work with BYU? Probably not. Not unless the federal LGBTQ Equality Act, which would do away with most religious exemptions, passes Congress. Since that's not to going to happen anytime soon, BYU is probably going to have a free hand for the time being to be horrible to LGBTQ students.
The hot war they reignited this year is probably going to get hotter. DOE's investigation is encouraging. Maybe they can find some way around the religious exemption BYU is wielding as a musket, in the words of the thoroughly horrible Jeffrey Holland. REAP's lawsuit is also encouraging, but the odds are not good.
The real fight, the one we can win, is a struggle for hearts and minds, a struggle to encourage people of good will to accept LGBTQ people as good, decent, loving, and deserving of equality.
What does BYU stand for, bigotry and oppression, or love? Do they really want to be seen as the moral equivalent of Bob Jones University with its appalling racist practices?
Dear reader, that's a question I ask you to pose to LDS leaders every time you get the chance. You can make a difference. You really can.
********************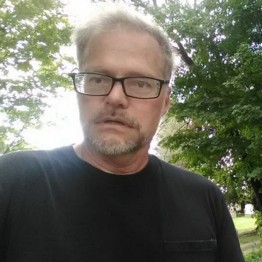 James Finn is a former Air Force intelligence analyst, long-time LGBTQ activist, an alumnus of Queer Nation and Act Up NY, a frequent columnist for the LA Blade, a contributor to other LGBTQ news outlets, and an "agented" but unpublished novelist. Send questions, comments, and story ideas to [email protected]
********************
The preceding article was previously published by Prism & Pen– Amplifying LGBTQ voices through the art of storytelling and is republished by permission.
LGBTQ People: Canaries in a Violent Coal Mine as Democracy Teeters
We see it clearly, as do other marginalized people, because we're targets of politically inspired violence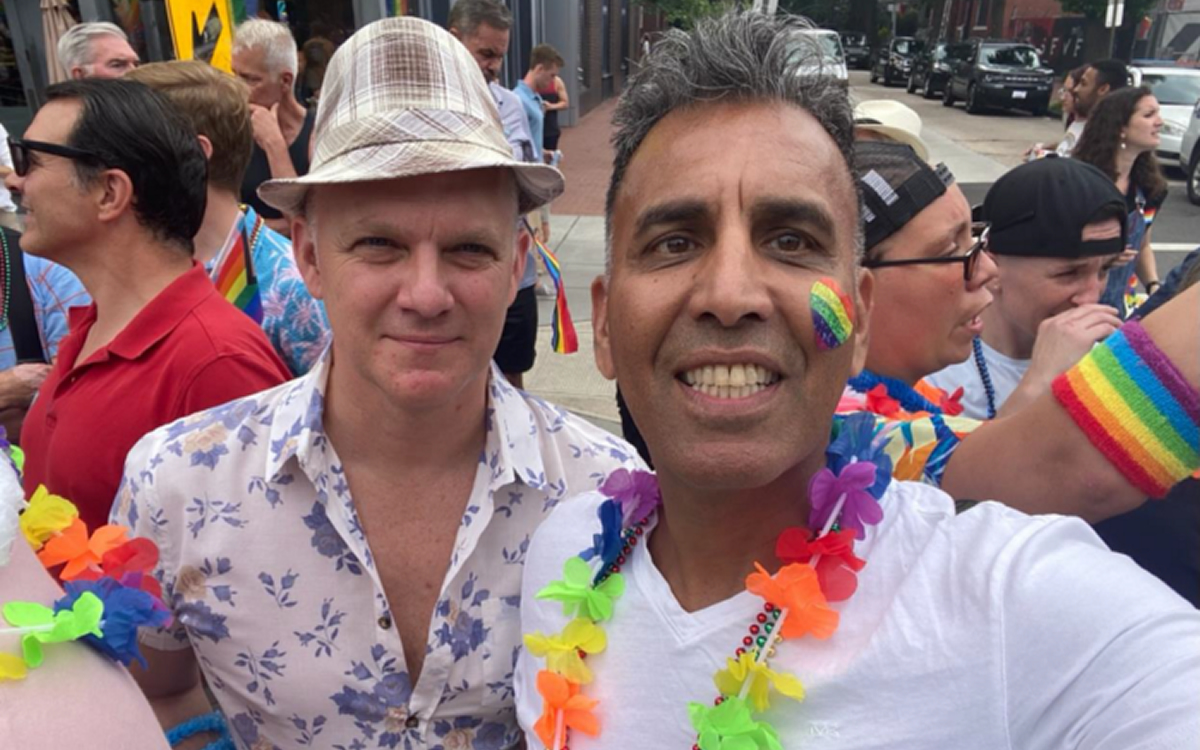 Warning: this article contains anti-LGBTQ slurs and images/descriptions of violence readers may find traumatizing.
By James Finn | DETROIT – Did you read about the group of staid U.S. historians who just met privately with President Biden to warn him that U.S. democracy is teetering? They told him we're closer to civil war and authoritarian rule than at any point in history since the 1860s.
Guess who knew that already? Queer people. Black people. Immigrants. Women. Politicians on the right are using us as punching bags, and violence is breaking out everywhere.
It's not in our imaginations, and I'll show you the data in just a minute to back that up. Then I'll explain what that has to do with the breakdown of democracy.
But first, let's meet some canaries.
See the two men above? They're a gay couple brutally attacked this summer.
Chuck Johnson and J.P. Singh recently told the Washington Blade a group of young men spotted them holding hands steps away from their Washington D.C. home. As the couple were returning from an evening out, the group shouted that there were "faggots" and punched them both. The couple ran, but the men chased them down. They knocked Chuck to the ground, punching and kicking him.
— Facebook and Twitter are doing almost nothing to counter growing waves of anti-LGBTQ hate speech on their platforms. —
Responding to J.P.'s 911 call, EMS rushed Chuck to the hospital where he was treated for a broken thumb and underwent surgery for a jaw broken in two places.
According to the Blade, another gay couple were attacked in D.C. under similar unprovoked circumstances on August 7, chased down by random strangers who objected to them holding hands, then called them "monkeypox faggots," knocking them to ground, brutally punching and kicking them.
Chad Sanford, a transgender teen in Florida, is another canary.
According to Pink News, Chad was first attacked when she was 14 years old in May 2021 at Florida's Deerfield Middle School. That attack was captured on cellphone video and went viral. Chad received a lot of support and several of her attackers were arrested, but she told family she was struggling with suicidal thoughts.
On August 9th, she was attacked again by a different group of youths in her new Dania Beach neighborhood. They told her, "Don't come around with that gay shit."
If you click on the link in the caption, you can watch video of the attack. But fair warning, it's shocking in its depiction of unrestrained violence and raw hatred.
Reports about Chad's physical and mental health after the second attack are unclear, but her family are working with local LGBTQ support groups to get her counseling.
Jacob and Christian, pictured above, are also canaries.
They're a gay couple who were attacked while standing at the end of Christian's driveway in a suburb of Salt Lake City, Utah in July. A group of young men in a car spotted them hugging. They jumped out, yelling, "We don't like gay people in our street."
Christian tried to defend Jacob from violence by stepping in front of him. He ended up on the ground, beaten so badly he landed in the hospital diagnosed with brain swelling.
I interviewed Christian and his family earlier this month and learned that he often puts up with anti-gay slurs shouted at him in the street by random strangers.
In the last 5 days, Libs of Tiktok has tweeted and retweeted 14 posts about Boston Children's Hospital. As a result, BCH providers are being inundated in death threats and harassing calls and emails. It's now affecting their services. This is stochastic terrorism, full stop. pic.twitter.com/CEMlRsX6S4

— Alejandra Caraballo (@Esqueer_) August 15, 2022
Healthcare workers at Boston Children's Hospital are canaries, receiving death threats from strangers.
Over the past week, nurses and doctors in Boston have received a barrage of hateful phone calls and text messages, including at least one bomb threat, inspired by anti-LGBTQ extremist Chaya Raichik of Brooklyn who tweets as Libs of Tiktok. Raichik objects to parents choosing gender-affirming care for transgender teens, and she objects to medical providers delivering that care. She used Twitter to unleash an army of Proud Boys and other haters.
Slate reporter and Harvard Law instructor Alejandra Caraballo tweeted this yesterday: "In the last 5 days, Libs of Tiktok has tweeted and retweeted 14 posts about Boston Children's Hospital. As a result, BCH providers are being inundated in death threats and harassing calls and emails. It's now affecting their services. This is stochastic terrorism, full stop."
When I saw the tweet, I called a friend of mine who practices internal medicine at a different Boston hospital. As I asked him for a comment, he reminded me that we watched the 2016 election returns together at a bar in Detroit.
"I won't say I told you so," he said. "But I told you so."
I remembered how fearful he became the night Donald Trump was elected. "I'm from Lebanon," he reminded me, "and my last name broadcasts 'Arab' loud and clear. Trump is going to make my life hell, and since you're a gay man, you'd better be as worried as I am."
He told me in 2016 that minorities always become targets in nations ruled by autocrats, dictators, or wannabees. I dismissed his concerns, insisting American democracy was too strong for one man to destroy.
"So what about Boston Children's," I asked last night. "Have you heard about the death threats?"
"Every doctor and nurse in Boston has heard about them," he said. "People are getting phone calls at work and even at home, just the most random shit like my friend who picked up her phone and heard, 'We know you're a pedophile and we're coming for you.' She took some sick days and left town. Can you blame her?"
"Is service really being affected?"
"Kids with cancer are having appointments deferred because of staffing shortages. What do you think?"
Politicians are encouraging hatred of LGBTQ people, it's spreading online, and hurting real people in the real world.
Libs of Tiktok is the tip of the iceberg on Twitter, where attacks against LGBTQ people are constant background noise, and where community standards meant to prohibit slurs and attacks are rarely enforced. Caraballo asks in her tweet thread, "When will Twitter do something about [Libs of TikTok] and their ability to rile up massive harassment campaigns against their targets? Last time it was Nazis at pride and drag events. This time it's threatening pediatricians."
According to a new study released on August 10 by the Human Rights Campaign and the Center for Countering Digital Hate, "discriminatory and inflamatory "grooming" content surge by over 400% across social media platforms" in response to Florida's Don't Say Gay law.
According to Christopher Kane writing in the Los Angeles Blade, major social media platforms including Facebook and Twitter are doing almost nothing to counter growing waves of anti-LGBTQ hate speech on their platforms. Both platforms claim their rules prohibit users from calling LGBTQ people pedophiles or groomers, but neither platform routinely removes such slurs, not even when users report the slurs.
Hatred is not confined online
According to Alexandra Martinez writing in Prism (no relationship to Prism & Pen), anti-LGBTQ arson and frequent street attacks in New York City have left queer people this summer living with a gnawing feeling of unease.
It's not just New York City. She notes that 2021 was the deadliest year on record for LGBTQ people in the U.S., and that violence rates are surging higher in 2022.
Remember Ricky Shiffer who was shot and killed last Thursday after he tried to shoot up an Ohio FBI office? He was outraged that the FBI searched Donald Trump's Mar-a-Lago resort. He urged people to arm themselves and join him.
Did you know hatred of LGBTQ people is one of the reasons he supported Trump? Read this tweet, in an account deleted after his attack:
"We need to be ready for war against the communists who chemically nueter [sic] prebuscent [sic] children and call it gender transitioning, not bellyache about the arguments of 30 years ago. Save ammunition."
That brings us back to our canaries and teetering democracy
Large majorities of Americans say they support LGBTQ equality. Large majorities of Americans say they believe our nation should stand for freedom and liberty for all, including for marginalized people. Large majorities of Americans support women's reproductive freedom, support taking steps to lift up Black people, and support immigrant rights.
Large majorities of Americans want to live in a diverse, pluralistic society where everyone is free to pursue happiness and live in peace.
I wrote this column from the perspective of a queer person, but my Lebanese-American doctor friend could have written something similar from his immigrant perspective. My writer friend
Allison Gaines could have written from the perspective of a Black woman.
We share a common fear: that politically and religiously conservative white men are working as hard as they can to sow fear of the Other for personal power and privilege. Men like Donald Trump, Florida Governor Ron DeSantis, Texas Governor Greg Abbott, and many more are plying the demagogue's trade.
Leaders are spouting hate, seeking to establish or maintain minority rule, and historians are warning President Biden that they may very well succeed.
Chuck Johnson, J.P. Singh, Chad Sanford, Jacob Metcalf, Christian Peacock, and a score of nurses and doctors at Boston Children's Hospital already know. They've been the targets of extreme violence in the past few weeks, directed by people using hatred of the Other to prop up their own privilege and power.
I opened this article by writing about the historians who told President Biden that we're at a place we haven't been since the 1860s. In the same meeting, they made a more frightening comparison.
They warned the president we're at a very similar place to where Germany found itself in the 1930s when a demague took power by demonizing the Jews. They say a war like the one that destroyed Europe could repeat itself soon, only with the U.S. in the driver's seat.
We queer people feel like canaries in the coal mine
We worry the rest of you don't see and hear the hatred directed against us. We worry that you're too complacent. We don't think you appreciate the gravity of the crisis facing our nation. We fear apathy will let the the Republican Party seize Congress and state governments this November, unleashing a process that could cement minority rule for generations.
Extremists in the Republican Party are already quietly taking over state election offices, something the Washington Post warned about last November.
Will Democratic voter turnout this November be overwhelming? Will it be enough to stop the assault on our teetering Democracy?
Only you can help make that happen. Will you?
************************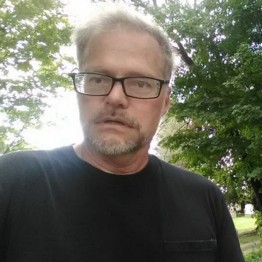 James Finn is a columnist for the LA Blade, a former Air Force intelligence analyst, an alumnus of Queer Nation and Act Up NY, and an "agented" but unpublished novelist. Send questions, comments, and story ideas to [email protected]
********************
The preceding article was previously published by Prism & Pen– Amplifying LGBTQ voices through the art of storytelling and is republished by permission.
Mar-A-Lago is Stonewall? Gay Republicans grovel for Trump
Trump today supports the most right-wing, anti-trans, anti-gay candidates for state office the nation has ever seen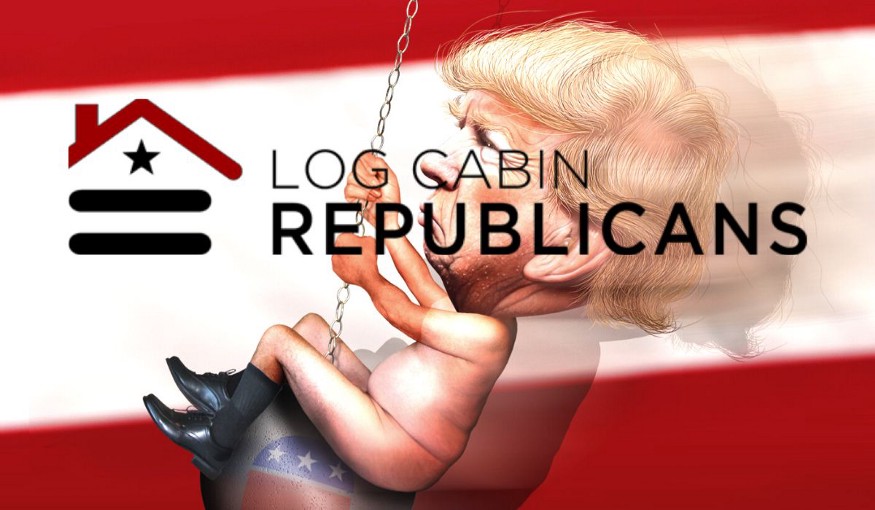 By James Finn | DETROIT – If you can't guess from my headline, I don't much care for the Log Cabin Republicans. They're an advocacy group of gay men and a smattering of lesbians who support Republican politics and say they deserve a place at the GOP table.
I don't dislike the Log Cabin crowd because I'm a Democrat, though. When they formed in 1977 to fight as GOP insiders against a California law banning gay teachers in public schools, they were doing vital equality work. When they they stood up for same-sex marriage nationally, they accepted a damaging political cost.
The Log Cabin Republicans of today, however, are nothing like who they used to be.
I don't dislike them because they're Republicans; I oppose their implacable opposition to genuine equality for LGBTQ Americans. I recoil at their recent, rapid (rabid?) embrace of anti-transgender rhetoric imported from the U.K.-based LGB Alliance, which calls supporting trans people "homophobia" and "conversion therapy."
Mostly though, I'm shocked at Log Cabin's unquestioning embrace of former President Donald Trump. They endorsed him for president in 2020, and they've made clear they'll support him in 2024. They're encouraging him to run again, claiming he's a great friend to them and other LGB (but not T) people.
The truth is that Trump presided over a federal LGBTQ equality rollback that gave landlords the nod to evict gay and trans tenants, let employers freely discriminate, told business owners they could refuse to serve trans and gay customers, let medical professionals do the same, and encouraged religious people of all stripes to treat gay and trans people as second- or third-class Americans.
Trump today supports the most right-wing, anti-trans, anti-gay candidates for state office the nation has ever seen — or "like we've never seen" to mimic Trumpian rhetoric.
Yesterday, the Log Cabin Republicans sank to a new low, comparing Donald Trump's Florida resort to the Stonewall Inn
The Log Cabin crowd joined a chorus of Republicans yesterday complaining about the FBI executing a search warrant on Trump's Mar-A-Lago golf resort, where he lives during the winter. Details are available in this news story from the Los Angeles Blade.
For background, the National Archives have been negotiating with Trump for months, asking him to comply with federal law (enacted in response to the corrupt Nixon administration) that makes all presidential communication property of the federal government. They say Trump and his aids illegally removed dozens of boxes of official documents from the White House, and they want them back.
However, sources inside the Department of Justice, speaking to reporters on background, say the federal warrant is NOT about routine documents.
They say the FBI is seeking top secret, compartmentalized intelligence (SCI) products with the potential to severely damage national security by revealing our most closely held sources and methods. For perspective, when I worked in national security as an Air Force intelligence officer, I was often briefed in dire terms that removing SCI documents from approved storage facilities would (not could) result in a long prison sentence, even in the absence of ill intent.
What do the Log Cabin Republicans think about the FBI investigation? See for yourself in a message they tweeted a few hours after Trump denounced the investigation.
Just as the patrons of Stonewall were not intimidated by police, we will not be intimidated by the weaponization of the FBI and DoJ against President Trump or his home, Mar-A-Lago…

…where (as we announced hours ago) we will be holding our annual gala later this year! 👊

— Log Cabin Republicans (@LogCabinGOP) August 9, 2022
Can we talk about The Stonewall Inn?
New York City cops raided the gay bar in 1969 as part of a routine arrangement with its Mafia owners. Mob bosses owned almost all gathering places for queer people in NYC in those days. The mob paid a regular kickback to the corrupt NYPD. In exchange, they didn't enforce laws that banned people from wearing clothes of the "opposite" sex and that banned same-sex couples from dancing together in places where alcohol was served.
Once in a while, the NYPD would stage a raid for show, to let the public think they were enforcing vice laws. Usually, they tipped the bar off in advance and staff would warn patrons to go elsewhere for the evening. Probably by mistake, that warning didn't happen on June 28, 1969. The NYPD showed up with a paddy wagon to find lesbians, gay men and "street queens" packing Stonewall.
When the cops started arresting the queer people who used the bar as a safe haven, a riot started that consumed Greenwich Village for three days and nights. It wasn't the first time relatively powerless queer people fought back and refused to go peacefully to jail, but the incident captured the national imagination and fueled a movement to fight for freedom and equality.
Stonewall stands for freedom for the powerless. The Mar-A-Lago warrant fights privilege for the powerful
Donald Trump is angry that a federal judge approved a warrant seeking evidence of a serious felony. His supporters are just as angry, some of them calling for violence, with the hashtag #lockandload trending on Twitter.
Clearly, Trump believes he's so powerful that he's above the law, and so do his supporters. They're claiming Trump is being persecuted by political opponents, suggesting the FBI executed the warrant to plant evidence.
But that seems more than far fetched.
The Democratic Party has been funding primary candidates Trump supports, on the (some say dubious) theory that they will be easier to beat in November. The Democratic establishment WANTS Trump to run again in 2024, believing they'll trounce him more soundly than in 2020.
The FBI investigation is apolitical, premised on the idea that no politician is so powerful that the law does not apply to them. It's led by FBI Director Christopher Wray, a Trump appointee and Republican who is a member of the very conservative Federalist Society.
Trump has a long history of holding himself above the law, plus a history of releasing classified intelligence in the face of national security requests not to do so. Obviously, national security officials want to make sure he can't harm U.S. interests. He arguably had that prerogative as president. He does not today as a private citizen.
Trump almost certainly violated national security laws
Legal experts told Business Insider on background that the FBI likely found "pulverizing" evidence when searching Trump's Mar-A-Lago office. They wouldn't have sought a warrant if they weren't sure what they'd find.
As USA Today columnist and former federal prosecutor Michael J. Stern tweeted today, "I have written hundreds of search warrants. Lawyers and people whose homes are being searched are routinely not present during the search. That Trump is now talking about "planted" evidence means he knows there is something damning they found."
I have written hundreds of search warrants.

Lawyers and people whose homes are being searched are routinely not present during the search.

That Trump is now talking about "planted" evidence means he knows there is something damning they found. pic.twitter.com/7Z7KKs5HUy

— Michael J. Stern (@MichaelJStern1) August 10, 2022
The Log Cabin Republicans don't care if Trump is guilty. They've joined the GOP cult of personality.
It's bad enough that the Log Cabin crew have abandoned their own principles, or at least what used to be their principles. But what they're doing today is worse. They're endorsing the Trump personality cult, seeking personal power at his coattails rather than fighting for freedom and equality for LGBTQ people.
They join many other Republicans praising Trump no matter what he says or does. They join a loud GOP chorus singing the praises of a man who would be dictator, a man who told General John Kelly that he wished his other generals would be loyal to him like Nazi generals were loyal to Adolf Hitler.
Log Cabin joins a chorus of loyalists who cheered and whistled at last week's CPAC convention in Texas as Trump spoke for two hours providing what Texas Monthly calls "A Violent Blueprint for Seizing Power," including sweeping plans to replace civil servants with Trump loyalists.
At the same convention, Hungarian prime minister Viktor Orbán earned whistles and cheers as loud as Trump's, praising authoritarian nationalism antithetical to American democratic ideals. An eastern European despot shared a Texas stage with Trump, and Republicans cheered them both.
Perhaps Log Cabin Republicans should think a little harder about Texas, where they were recently barred from participating in the state Republican Convention, which produced a platform calling gay people "abnormal" and rejecting trans identities.
That's the Republican Party Trump is empowering. Those are the candidates he's endorsing. Orbán's rabid anti-LGBTQ ideology is WHY he was at CPAC, why he was cheered so loudly.
So, what's up, Log Cabin Republicans? What have you done with your principles and integrity? Why are you slavishly supporting a man turning the GOP into a howling pack of anti-gay, anti-trans wolves?
Ask yourselves that as you think about the raid on the Stonewall Inn, about how it was an attempt by the powerful to crush the freedom of the marginalized and the powerless.
Think about that as you consider how powerful Republicans today are rallying behind Trump to try to crush us again.
The rest of you? Please get out in November and vote Democrat like your lives depend on it. Because they just might.
************************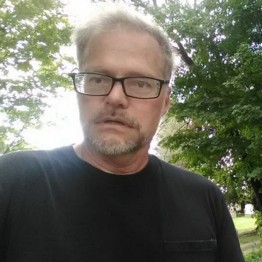 James Finn is a columnist for the LA Blade, a former Air Force intelligence analyst, an alumnus of Queer Nation and Act Up NY, and an "agented" but unpublished novelist. Send questions, comments, and story ideas to [email protected]
********************
The preceding article was previously published by Prism & Pen– Amplifying LGBTQ voices through the art of storytelling and is republished by permission.
Legislation may negatively impact LGBTQ+ kids already feeling isolated
Why our policymakers should think twice before passing legislation that may inhibit access for queer teens to social media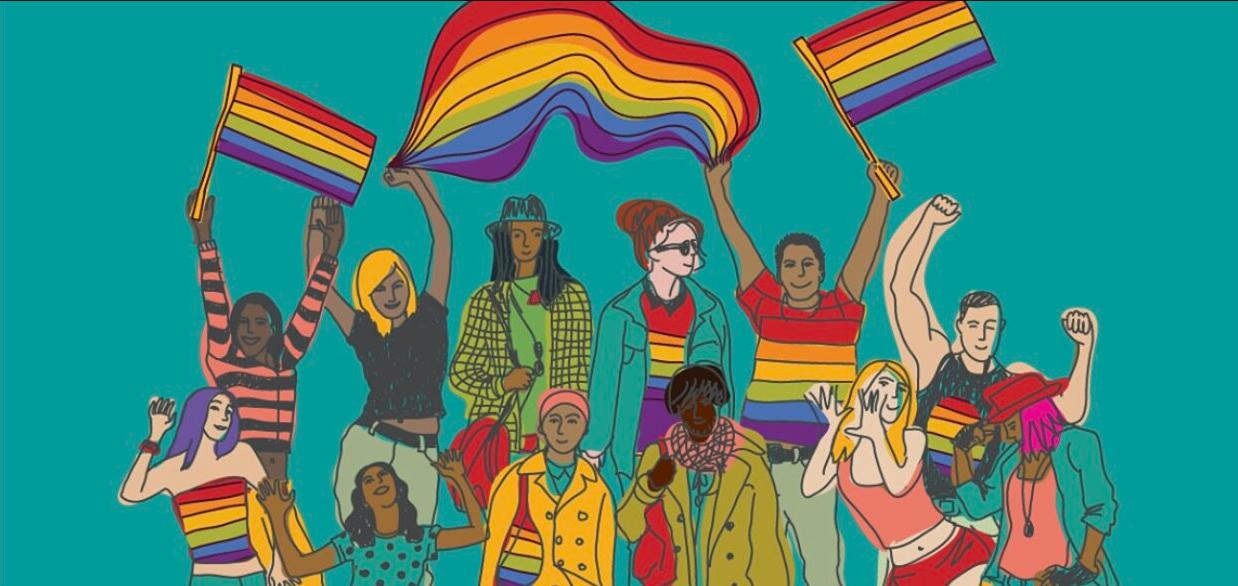 By Isaias Hernandez | LOS ANGELES – It seems difficult to comprehend that living in California in 2022, coming out as queer is still terrifying. With homophobic and transphobic legislation being introduced and passed in states across the country, including Florida's law that allows parents to sue a school district if a teacher says the word "gay," it is easy to assume that the state of California is far removed from that.
Unfortunately, laws like these in California are not an impossibility. Let's not forget, it was just a short 14 years ago that Golden State voters chose to ban same-sex marriage by passing Proposition 8. It's an unfortunate reality, but the decision to fully come out may never feel completely safe for many of us – which is why finding a community where we feel welcomed and accepted when we are young is so important, and why our policymakers should think twice before passing legislation that may inhibit access for queer teens to social media.
Like many other queer teens who are also people of color, my high school years were hard. I did not feel safe being myself at home or at school, and on the precipice of adulthood, instead of finding my voice, I retreated and shrank myself to fit the role I thought I was expected to play. And then finally in 2019, I created a place where I could be my true self: a queer, brown, environmental justice fighter.
When I created my Instagram account, @QueerBrownVegan, I was told that I shouldn't talk about my queerness and that my environmental activism would be diminished by my queer identity. Knowing what I do about LGBTQI+ communities and the outsized impact the climate crisis and environmental injustices have on this vulnerable population, though, solidified my choice to keep my queerness front and center.
I relied on the social connectedness of Instagram to create my online presence and to discover people who had similar interests as me. The photos, videos, and accounts I searched for would lead to recommendations of other like-minded people. It opened an entirely new world to me – and led to me feeling accepted and seen. This platform has also helped me to hold space for others, too. When young, queer environmentalists find my account, they too can feel like they've finally found a space of their own where they won't feel judged or be bullied for being who they truly are.
The community I have built on Instagram is one I wish I could have found when I was a teenager. This community has not only allowed me to be myself but also to forgive myself for the years I spent hating who I was. Social media gives teens from marginalized communities – brown, black, queer, disabled, fat, whatever and whoever they are – a place to find a community where they feel less alone and less marginalized.
Recently, there has been a discussion in California's Capitol about how to best keep teens safe on social media. To Sacramento, I say this: Queer teens are not safe when they are being ridiculed at school, they are not safe when their parents abuse them for a sexuality or gender they did not choose, and queer teens are not safe when they cannot be themselves. Social media is sometimes the safest space for queer teens who have nowhere else to be themselves.
Bills like California Assembly Bill 2408 (AB 2408), that would impose strict standards on social media companies, could prevent young people from using social media at all, and that could have a dire impact on an already isolated young person who is looking for information or support from a community of people they otherwise may never find. With 45% of LGBTQ youth having seriously considered attempting suicide in the past year, that is not a risk lawmakers should be willing to take.
I urge lawmakers to think about queer youth and youth from other marginalized communities – listen to their stories and understand the importance of being able to create a community where they can finally be themselves, unapologetically.
**********************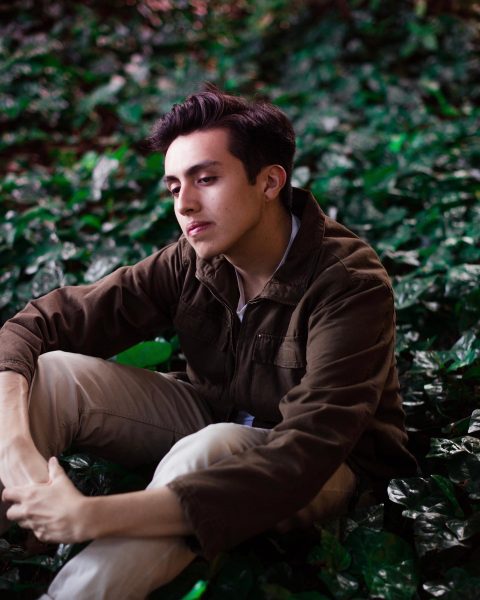 Isaias Hernandez is an environmental educator & founder of QueerBrownVegan.
Queer Brown Vegan is an environmental media platform that discusses the intersections around climate, LGBTQ issues, and food.
He seeks to advance the discourse around climate literacy through an intersectional media lens.