June 16, 2017 at 9:04 pm PDT | by Troy Masters
Embracing The Pride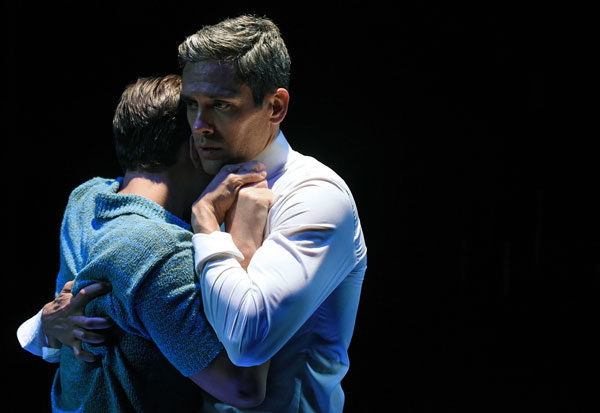 Whenever the subject of "The Gay Experience" is addressed within our entertainment culture, with it also comes a heavy burden of expectation. To put it simply, you just can't please everybody.
That's not a value judgment; it's simply a matter of fact. How can any single vehicle give expression to the multi-faceted perspectives of the entire LGBTQ community? No matter how well-intentioned, large segments of the population inevitably end up feeling left out. Remember the polarizing reactions to HBO's Looking?
On its surface, The Pride, with its tiny cast of white cis-gender actors, may not appear to aspire toward inclusivity; nevertheless, this remarkable 2009 play by British wordsmith Alexi Kaye Campbell (currently onstage at the Wallis Annenberg Center for Performing Arts) not only undertakes such a goal but endeavors to convey a particularly wide perspective through an unusually intimate microcosm.
Set mostly in a single London apartment, it's a piece which juggles three characters between two distinctive time periods, fifty years apart. In 1958, Philip (Neal Bledsoe) is married to Sylvia (Jessica Collins), an illustrator who is collaborating on a children's book with Oliver (Augustus Prew); the two men are attracted to each other, but the restrictive societal mores of their time and place are insurmountable obstacles to their union. In 2008, the two men are a couple, but their relationship is threatened by Oliver's infidelity; addicted to kinky sex with anonymous partners despite his deep love for Philip, he turns to his best friend Sylvia for guidance as he tries to overcome the inner demons that drive his behavior.
The premise is immediately fascinating, evoking myriad implications. The most obvious, of course, is that these three characters, obviously different and yet somehow the same in both settings, parallel and echo each other as their separate stories play out; they want the same things, but their roles shift, their dynamics change, and the actions they take reflect events in both time periods. All of this serves to underscore a symmetry across (or perhaps outside) time, with ripples within it emanating from a singular traumatic event at its center.
So, how does all this reflect a larger view of the aforementioned Gay Experience?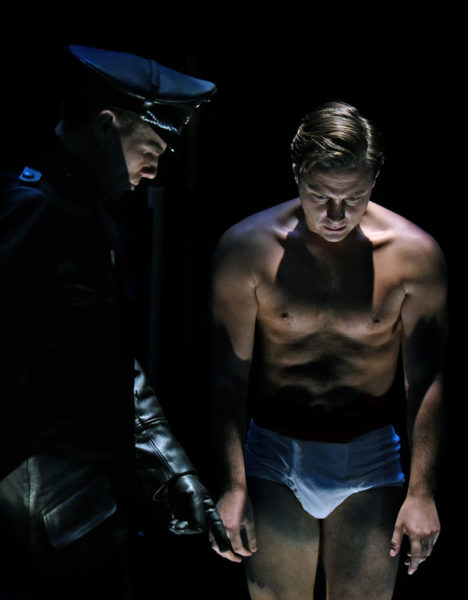 The Pride moves back and forth in time, from an era in which homosexuality was illegal to one in which two men could live openly as a couple; yet the repression of one still casts deep shadows upon the other. The modern characters are haunted by the pain endured by their earlier counterparts; it fuels their fears and shapes their choices, even when a happier life is within their reach.
Within this fictional framework, the connections between past and present take on something of a mystical significance, stretching the characters' linked destiny across lifetimes until it reaches a kind of closure – or at least the possibility of a new beginning. With this carefully-woven tapestry, The Pride suggests that our ever-evolving cultural identity is similarly connected through time to the hardships of our history; but it also reminds us that there is a similar thread which pulls us forward to the promise of a better future.
Weighty ideas notwithstanding, there is a light tone to Campbell's script. Crackling with the witty banter of a Noël Coward comedy, yet laced with the pregnant subtext of Harold Pinter, it is an inherently English play; and true to its heritage, it revels in its use of language. Its literate text bristles with wordplay, and a keen ear is essential to mining the play for the riches contained within its depths.
Unfortunately, the cast struggles with this aspect of the dialogue; the words fly surely enough from their lips, but often seem separated from any intention besides the need to speak them quickly. They don't seem to be talking with each other so much as at each other, and this impairs them in building the kind of chemistry which is necessary to provide the emotional payoffs that come later in the play.
That doesn't mean that they fail; though their technical proficiency may be lacking, their commitment to honesty in their roles is not. The Pride delivers its most powerful moments when the characters are stripped of artifice and allowed to exist as their truest selves, and this cast proves well capable of that challenge.
Collins stands out in her ability to communicate between the lines; her two Sylvias are distinct, yet bound by an inner reality that makes her (them?) arguably the most likable character in the mix. Bledsoe seems out of his depth, at times, and Prew has a tendency towards one-noted nebbish-ness; but each of them rises to the occasion when it counts the most, eloquently portraying their flawed characters' emotional pas-de-deux and ultimately making us care a great deal for each of them.
A fourth player deserves special mention: Matthew Wilkas, who portrays three peripheral characters throughout. Free from the burden of carrying a story arc across two separate timelines, he creates complete and engaging personas for each of his roles; alternately hilarious and moving (often within a single beat), he also displays a dexterity with the script's linguistic challenges that is a much-appreciated bonus.
The real champion of The Pride, though, is director Michael Arden. It's a potentially murky piece, with profound and swirling themes wrapped inside an exterior that is both cerebral and stylish, but he identifies the elements of deepest importance and brings them to light with his steady guidance.
Part of this is achieved by helping the actors navigate their way through the characters' esoteric journey, to be sure, but his staging is equally essential; by mounting his production in the round (an intimate choice seemingly at odds with such elevated material) he breaks down the barrier of theatricality and gains an up-close and personal advantage in peeling back the show's stylistic conceits to reveal the powerful insights at its core.
Besides the gifted director and his cast, not much else is needed to breathe life into Campbell's ingenious play. The elegantly ethereal scenic design adds its own flavor to the mix; its white-neon-lit transparent furniture and reflective glass flooring suggest a repetition of patterns and provide a suitably ghostly setting for the comings and goings of its time-hopping inhabitants. Also lending support are the subtly self-referential choices of costume and music, which provide their own sly commentary on the action.
What provides possibly the greatest impact to the Wallis' production (which is the long-overdue Los Angeles premiere of this award-winning play) is its timing. Planned to coincide with Pride Month, it is a welcome effort by the theater to reach out to the LGBTQ community, certainly; but it also takes place in a world where regressive backlash, fueled by the divisive rhetoric of the current political environment, threatens to push back against the progress made by that community in its struggle for freedom and equality.
Viewing the show from the perspective of this treacherous time casts its message into stark relief; in order to break free from the oppressive mindset of the past, and keep it from infecting our future, we must find the self-respect – the pride – that calls out from the better world we must believe lies ahead of us.
It is that which makes The Pride a worthwhile trip to the theater. Though there may be quibbles about some aspects of its execution, those are eclipsed by the sincerity of its powerful message; and though its non-diverse cast may not represent the specific viewpoints of every faction, its message addresses the journey from oppression towards acceptance – a condition of our LGBTQ history that unites us all.
See it with someone you love.
The Pride performances continue through July 9
Lovelace Studio Theater at the Wallis Annenberg Center for the Performing Arts
9390 N. Santa Monica Blvd, Beverly Hills, CA, 90210
Tickets:
Single tickets: $40 – $75 (prices subject to change)
Online – TheWallis.org
By Phone – 310.746.4000
Box Office – Wallis Annenberg Center for the Performing Arts Ticket Service
9390 N. Santa Monica Blvd, Beverly Hills, CA, 90210