West Hollywood's 'Out On Robertson' official launch
The Robertson program is having its official ribbon-cutting ceremony, Saturday, May 1, 2020, at 7 p.m.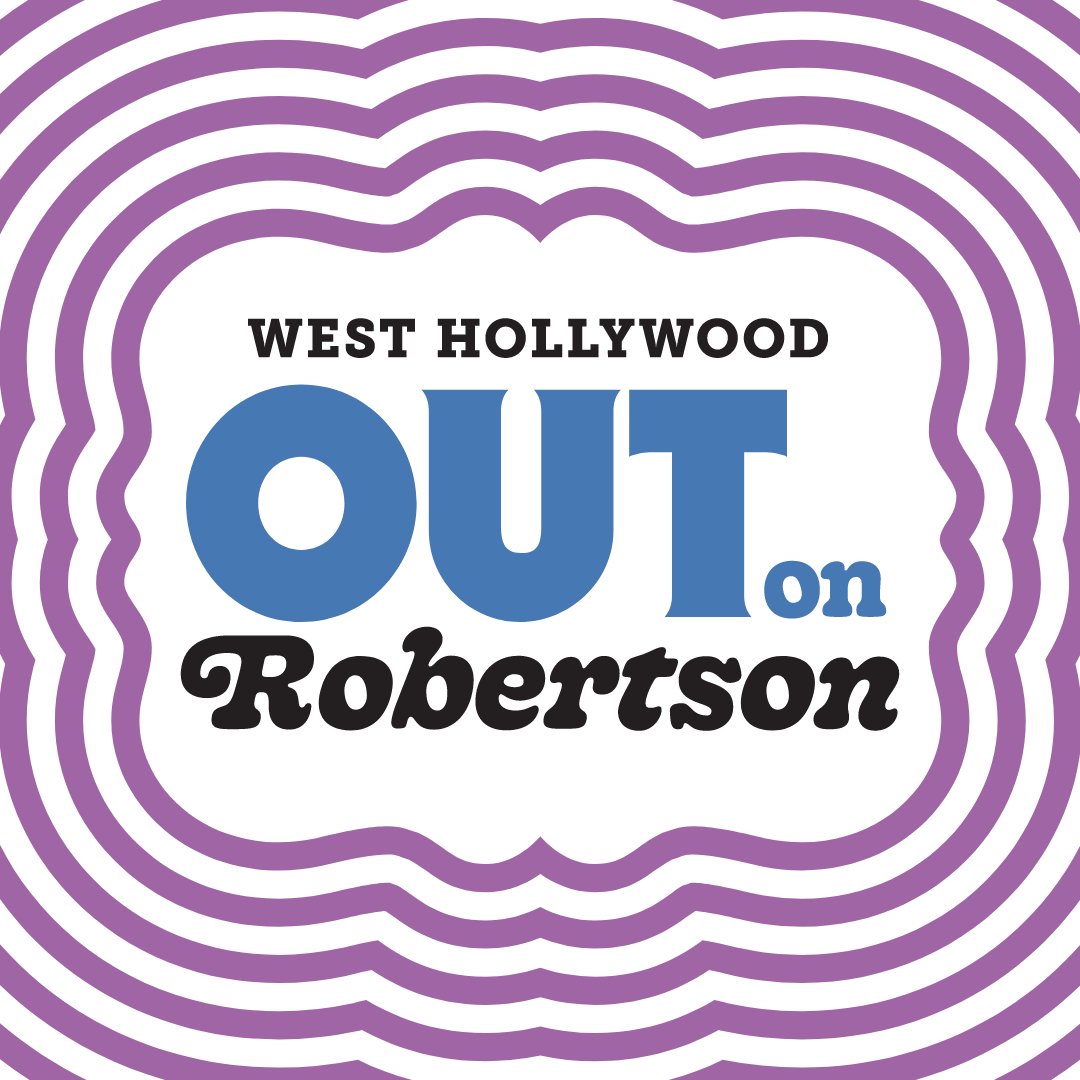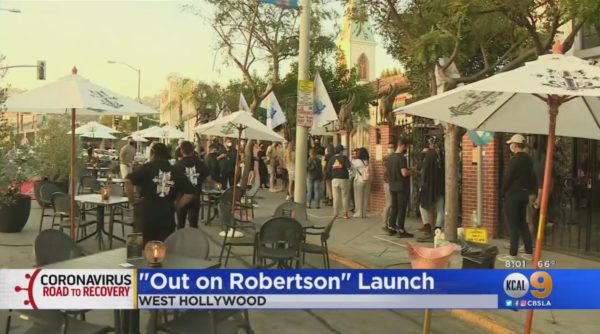 WEST HOLLYWOOD – Mayor Lindsey P. Horvath, Mayor Pro Tempore Lauren Meister, and city council members John D'Amico, John M. Erickson, and Sepi Shyne are set to celebrate the official launch and ribbon cutting of WeHo's OUT on Robertson program May 1.
Because of the impact of the coronavirus pandemic on local businesses, especially restaurants, in August 2020, the City began its Temporary Outdoor Expansion Permit program, known as OUT Zones, by offering streamlined approval for businesses to use sidewalks, on-street parking spaces, and private parking lots as areas to expand operations.
Starting Saturday, April 17, the City expanded that program with a 'soft launch' of OUT on Robertson, a pilot program that closes N. Robertson Boulevard south of Santa Monica Boulevard and north of Melrose Avenue to vehicular traffic each Saturday and Sunday, between 6 p.m. on Saturday and late-night on Sunday, in order to transform the restaurant/retail area into a pedestrian zone with COVID-19 safety protocols.
"Closing this highly trafficked and bustling stretch of Robertson will provide a pedestrian-safe space that allows for appropriate social distancing as the Public Health Department eases capacity restrictions while still monitoring the spread of the virus," said City of West Hollywood Councilmember John M. Erickson. "COVID is not over and we all must remain vigilant about protecting our own health, and the health of others. I'm looking forward to safely seeing you — at a distance and with your most fabulous masks on — OUT on Robertson!"
The Robertson program is having its official ribbon-cutting ceremony, Saturday, May 1, 2020, at 7 p.m.
OUT on Robertson will embrace, on weekends, what compact OUT Zones throughout the City have been offering for months: a place to enjoy sunny days and balmy nights while maintaining social distance, aligning with the Los Angeles County Department of Public Health's health and safety protocols, and supporting community businesses.
People exploring West Hollywood's OUT on Robertson are reminded that the City of West Hollywood has a mandatory face-covering requirement and people are urged to be mindful of maintaining six feet of social distancing for dining, shopping, and personal care under the sun and stars
Plentiful parking is available in the five-story West Hollywood Park structure located at 625 N. San Vicente Boulevard, adjacent to the West Hollywood Library. Additional parking is also available at 650 N. La Peer Drive. For those using rideshare services, the City has established Drop Zones at the corner of Melrose Avenue and N. Robertson Boulevard.
A conversation with Rick Chavez Zbur: it's about service to others
"In order to improve the lives of LGBTQ people, we need to focus on all the vulnerable communities that we're a part of"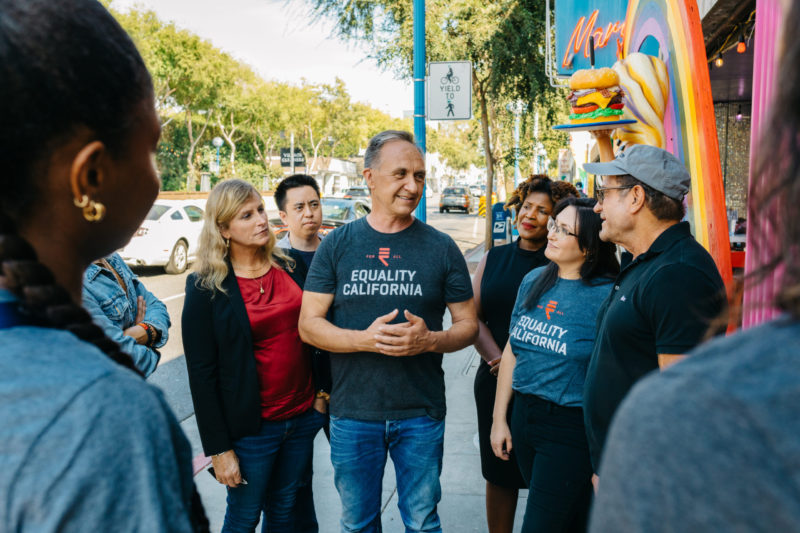 LOS ANGELES – Rick Chavez Zbur has left Equality California, the nation's largest statewide LGBTQ+ civil rights organization, much different than he found it. The group has quadrupled in size, been at the forefront of passing some of the most progressive LGBTQ+ rights bills in the country and taking on the Trump administration.
Earlier this month he passed the reins over to a new leadership team led by Tony Hoang who succeeded him as Executive Director on October 16, 2021.
Zbur is proud of his work at Equality California. From passing legislation that made PrEP and Pap available to challenging the Trump administration's trans military ban, he was upfront and center for it all — championing social justice for the whole LGBTQ+ community, even when there were questions about if that model would work.
"Will your membership and your base continue supporting an organization that has much more of a social justice mission?" Zbur recalls hearing when he took over Equality California in 2014.
He tells the Blade he thinks the stereotypes and misperceptions about the LGBTQ+ community being primarily white and affluent led to the skepticism. But "that's not the case," he said. "Our community supports equality, and everyone understands that in order to improve the lives of LGBTQ people, we need to focus on all the vulnerable communities that we're a part of."
Now, Zbur is ready for a new challenge: running for Assembly District 50. The death of his sister Jackie, who lost her three year battle with ALS in September 2020, was at the forefront of his decision. He recalls his sister sitting him down to make him promise he would try to find some way of doing something in public service.
"Since Jackie passed, I've thought long and hard about the next phase of my life — how I can make the greatest impact on the toughest issues our communities face: healthcare, the environment, civil rights and economic inequality," he writes on his campaign website.
One of the most significant factors contributing to his decision was watching his sister's struggle financially after her diagnosis.
"By the time she got ill, she had saved up enough to put down a down payment on a very modest two bedroom condo and was starting to save for her retirement," said Zbur. "And then she got sick. When that happened, she couldn't work anymore, so she quickly got on Social Security disability, which was $2,100 a month. — it was barely enough to pay her mortgage. She quickly spent down her savings, and that's when I started helping her."
"I was, luckily, someone with great privilege and had those years of savings from when I was at Latham & Watkins as an attorney, but what do what do average people do when they're in similar circumstances, if they don't have the resources themselves or someone in their family, they can sort of step up?" he said. "That's part of the reason why we have so many people in wheelchairs that are sitting out on the streets."
Since he was a child, Zbur has been interested in politics, handing out literature at polling places with his father when he was as young as 10 years old. "I remember watching the 1968 Democratic convention as a kid and just being glued to the tube," he said. "I always thought that I would do something in government somehow."
How he would come to work in politics was less clear, however. Zbur grew up in a rural farming community in New Mexico. His father, Richard Thomas Zbur, dropped out of high school to support his family. He would later join the Air Force and serve in the Korean War before moving to New Mexico. Zbur's mother, Erlinda Chavez, came from poor farmers who lived in the Rio Grande Valley for generations.
His father attended college in New Mexico and graduate school in Utah, largely thanks to the GI bill. Zbur and his family ended up moving back to New Mexico to care for his aging grandparents. The farm and parents taught him the values of hard work — values he learned well as he became the first person in his small hometown to attend an Ivy League university.
"I mean, they didn't even administer the ACT or the SAT because there were not enough kids in my graduating class," he said.
Growing up in rural New Mexico also brought its fair share of problems. "I think I knew back in my bones that I was probably gay," said Zbur. "The farm community was really oppressive — you couldn't admit that you were gay."
"I wanted to get out," he said.
He wouldn't start to reckon with the fact he was gay until law school. "I just wouldn't even let myself think about it because of my background, coming from this little farm community," he said. "It was just something that was viewed with such a stigma that I wouldn't even let myself go there. But as I started getting older, I started grappling with it. I had my first relationship, and I told my sister and a few friends."
In realizing he was gay, he also realized there was not a clear path forward in government. "Other than Harvey Milk, who seemed really far away, no one in the country could run and win as an openly gay person."
After graduating from Yale and Harvard Law School, Rick moved to Los Angeles and joined Latham & Watkins, one of the nation's most respected law firms. He stayed for over 25 years, becoming one of California's leading environmental and government law attorneys. He didn't think much about politics much during his first few years at the firm — that was until the AIDS epidemic.
"I was just angry about it," said Zbur. " And I was a relatively idealistic, unsophisticated, young person, and I decided that I was going to try to take my Congressman out."
He lost the race, not realizing how difficult it would be to defeat a sitting incumbent, but he did win the Democratic primary. "I decided that I tried the government service thing, and now I was going to go back and just really try to contribute through the organizations that I cared about," he said.
Since then, Zbur says he has learned plenty of lessons and feels more than ready to serve the people of Assembly District 50.
"It'll be an honor and a privilege to be able to serve the community in this capacity," he said. "Should I have the privilege of being elected."
First Trans Amazon introduced by DC Comics In 'Wonder Woman'
DC Comics-Warner Brothers became more LGBTQ+ inclusive with the introduction of the character of Bia, a Black trans woman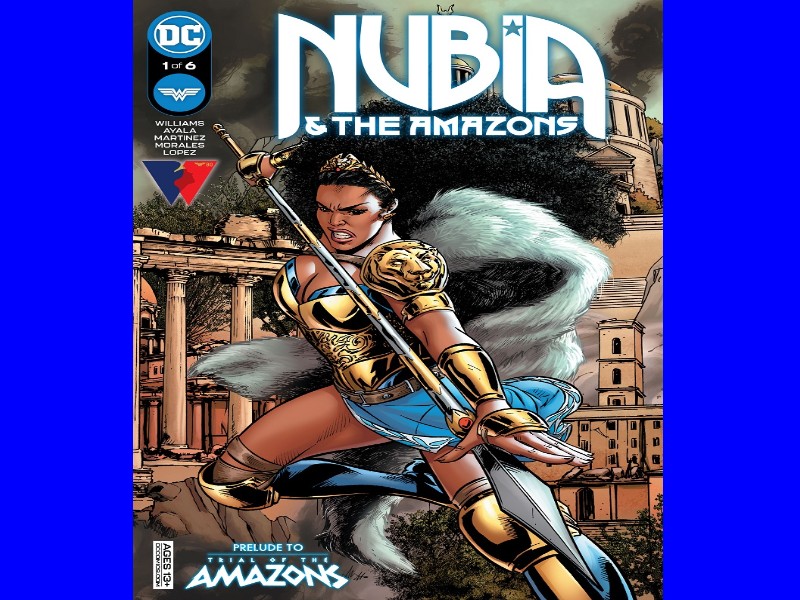 BURBANK – The world of DC Comics-Warner Brothers became more LGBTQ+ inclusive this weekend as the venerable comic book franchise of Wonder Woman expanded with the introduction of the character of Bia, a Black trans woman, in the first issue of the series Nubia & The Amazons.
Earlier this month on National Coming Out Day, the canon of the Superman series changed for the life of Jon Kent, the Superman of Earth and son of Clark Kent and Lois Lane, taking a bold new direction. After initially striking up a friendship with reporter Jay Nakamura, he and Jon become romantically involved, making Kent an Out bisexual character.
In this latest offering, Stephanie Williams and Vita Ayala, writers and creators confirmed that Bia is a Black Trans woman. They stressed that she "isn't a box to tick … [she] is important to her community. Just as Black trans women are important to us in real life."
We didn't want to make An Announcement because we wanted to introduce the character in an organic way, but it is not a secret! We are glad people picked up on it, but if y'all hadn't we would have made sure to say it so it wasn't hand-twaveable subtext! https://t.co/XsHp5wGBLv

— ✊🏾🇵🇷Vita 'Emancipated Blacula' Ayala🏳️‍🌈🎃 (@definitelyvita) October 21, 2021
Of special significance to the introduction of the character in the DC Comic worlds was the endorsement of actress Lynda Carter who played the title role of Wonder Woman on television based on the comic book superheroine, which aired on ABC and later on CBS from 1975 to 1979. Earlier in the week Carter tweeted her support of Trans women;
Trans women are Wonder Women. End of story.

— Lynda Carter 🎃 (@RealLyndaCarter) October 19, 2021
Writing for the DC Comics-Warner Brothers website blog, co-creator Stephanie Williams said;
"It's been a dream to work with the likes of Vita Ayala, a non-binary Afro-Latinx comic writer who has been making quite a name for themselves. And then there is the illustrious and widely talented and dedicated Afro-Latina artist Alitha Martinez who is already in the comic hall of fame for all-time greats. Her passion for Nubia is unmatched. It shows in every cover and panel from Nubia's Future State story written by L.L. McKinney, her Infinite Frontier #0 story written by Becky Cloonan and Michael Conrad, and now the Nubia and the Amazons miniseries written by myself and Vita Ayala."
"I'm so excited about the history we're creating, adding to, and remixing. The foundation has always been there, but needed some TLC. As Nubia embarks on this new journey as Queen of Themyscira, I hope her rebirth will be met with open arms and the desire to keep her always at the forefront. Nubia, now being queen, is poetic in so many ways, but one that stays on my mind is the very personal connection I feel. As I help to add to her legacy, she's opened the door wider to my own," Williams said adding:
"Long may Queen Nubia reign, forever and always."
Nubia and the Amazons #1 by Stephanie Williams, Vita Ayala and Alitha Martinez is now available in print and as a digital comic book.
Along with co-writing Nubia and the Amazons, Stephanie Williams writes about comics, TV and movies for DCComics.com. Check out more of her work on Den of Geek, What To Watch, Nerdist and SYFY Wire and be sure to follow her on both Twitter and Instagram at @steph_I_will.
Ebony Power 100: Deputy White House Press Sec. Karine Jean-Pierre
Her position is historic as the first Black Lesbian who is speaking for the nation's chief executive as Deputy Press Secretary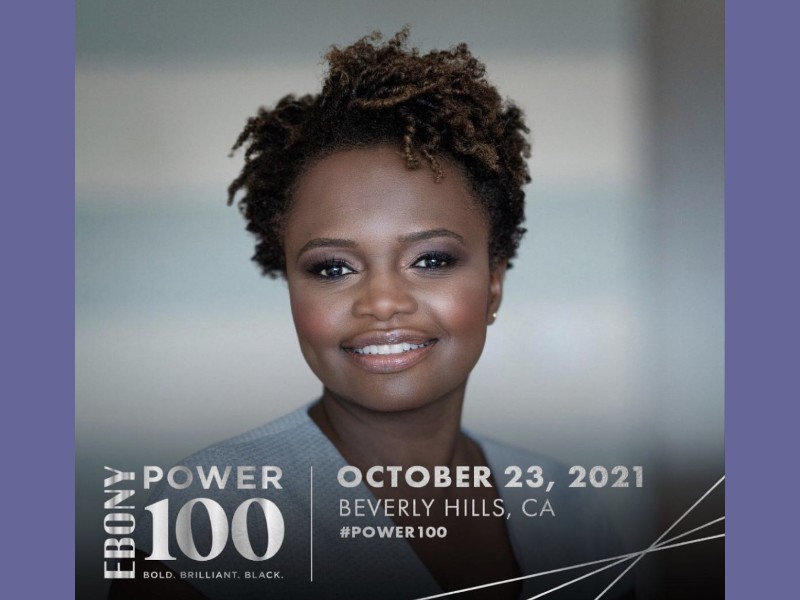 BEVERLY HILLS – Ebony Magazines' iconic annual Power 100 awards ceremony, honoring those individuals who have had a positive impact on the African-American community is making its 2021 post coronavirus pandemic return airing Saturday, October 23 from Los Angeles and hosted by Wayne Brady.
Brady, a television personality, comedian, actor, and singer, will also give a special performance during the broadcast, and he is slated to receive Ebony's Vanguard Award for his decades-plus career "as a consummate, all-around entertainer and performer."
Included in the distinguished list of honorees is principal Deputy White House Press Secretary Karine Jean-Pierre, who is listed in the magazine's category of 'Ceiling Breakers.' As the principal Deputy White House Press Secretary Jean-Pierre conducts the daily press briefing in the Brady Press Room in the West Wing standing in as needed for White House Press Secretary Jennifer Psaki and also she conducts what are referred to as 'gaggles.'
"Gaggles" refers to informal briefings a White House press secretary conducts with the daily press pool rather than the entire White House press corps.
President Joe Biden's selection of Jean-Pierre was a first in the history of presidential administrations. Her position is seen as historic from the perspective of being the first Black Lesbian to hold forth behind the podium of the James S. Brady Press room in the West Wing speaking for the nation's chief executive.
Jean-Pierre has been with the Biden administration since she joined the Biden-Harris campaign in May of 2020 and then accepted the position of Chief of Staff to Senator Harris in August. In late November of 2020, then President-elect Joe Biden named seven women to his incoming White House Communications Team to include naming Jean-Pierre as the Deputy White House Press Secretary.
The daughter of immigrant parents from Haiti, Jean-Pierre was born in Martinique and later raised in Queens, a borough of New York City. A longtime activist and communications specialist, she has a Master's in Public Affairs conferred on her by New York's Columbia University School of International and Public Affairs, where she has taught as an adjunct professor and lecturer in international and public affairs since 2014.
During the first Obama admkistartion term, Jean-Pierre, 43, served as the regional political director for the White House Office of Political Affairs.
Speaking with the Advocate magazine in June of 2011 Jean-Pierre reflected on her tenure working for the Obama Administration as an openly LGBT staffer. "What's been wonderful is that I was not the only; I was one of many. President Obama didn't hire LGBT staffers, he hired experienced individuals who happen to be LGBT," she told the Advocate. "Serving and working for President Obama where you can be openly gay has been an amazing honor. It felt incredible to be a part of an administration that prioritizes LGBT issues."
Speaking with NBC News journalist Tim Fitzsimons; "The sun was setting and the lights got much more prominent," she said, referring to late June 2015, when she watched the White House lit in rainbow colors to mark the historic Supreme Court Obergefell v. Hodges ruling that legalized same-sex marriage nationwide. "People had signs and people were crying, and there was just so much joy."
"I remember thinking how proud I was of this administration, that I had worked for that," Jean-Pierre, said. "It really brought together, in that one moment, how important LGBTQ rights were and how much that administration fought for our rights."
In 2016 after her White House stint, Jean-Pierre served as a Senior Advisor and National Spokesperson for Washington D.C. based MoveOn, a progressive non-profit public policy advocacy group and political action committee. Her primary portfolio at the non-profit was addressing President Trump's rhetoric and platform of hate, violence, racism, immigrant-bashing, and women-bashing.
She also served as the deputy campaign manager for former Democratic Maryland Governor Martin O'Malley's 2016 campaign run for the Oval Office.
Jean-Pierre received national recognition after a June 1, 2019 incident during the MoveOn Big Ideas Forum she was moderating in San Francisco, when 24 year-old Aidan Cook, a member of the animal right activist organization Direct Action Everywhere (DxE), rushed the stage grabbing the microphone out of then California U.S. Senator Kamala Harris's hand. The Senator was a candidate for the 2020 Democratic presidential nomination at the time of the incident.
Jean-Pierre, who had jumped in between Cook and the Senator after he took the microphone kept the activist away from Harris until security arrived and removed him. At the time of the incident, Harris, like most other candidates in early stages of the primary process, didn't have a U.S. Secret Service detail for protection.
Jean-Pierre, her partner, CNN correspondent Suzanne Malveaux, and their daughter reside in Washington D.C.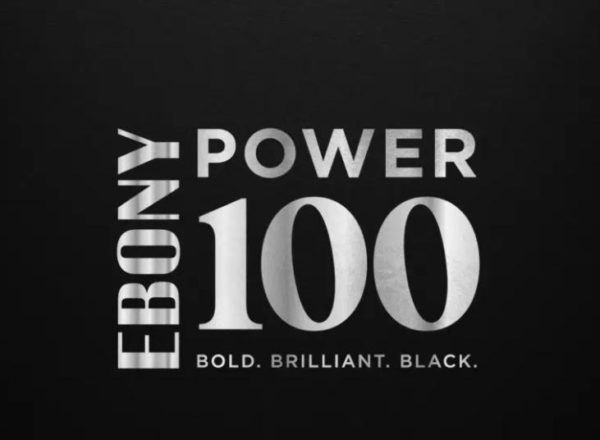 The EBONY Power 100 ceremony also is marking the culmination of Ebonys 75th anniversary year.
For the complete list of honorees please head over to here. (Link)