January 11, 2018 at 12:07 pm PDT | by Susan Hornik
Ricky Martin is ready for his closeup
Once upon a time, Ricky Martin was "Livin La Vida Loca." Nowadays, the gay actor/singer has more of a family life, recently marrying his partner, Jwan Yosef, and is a loving dad to his nine year old twin sons. He is also very involved with charity work, raising millions of dollars to fight human trafficking and help Puerto Rico.

"There is so much vulnerability now in Puerto Rico and that makes the kids there very vulnerable to human trafficking. These people come in and try to win over their confidence so they can suck them in. We must do whatever it takes to combat this."

Fans are eagerly awaiting his new FX series, "The Assassination of Gianni Versace: American Crime Story," which debuts on January 17th. Martin plays Antonio D'Amico, Versace's partner of 15 years.

At the Television Critics Press Tour, Martin talked about his first very thought after hearing gay executive producer, Ryan Murphy was focusing on the murder of the iconic designer for his "American Crime Story" series: he wanted to know who was going to portray Versace's sister, Donatella.

"He told me, 'No one knows, but it's Penelope [Cruz].' And I peed a little bit!" Cruz and Martin have been longtime pals and have been collaborated on charity work.

Martin talked about his first conversation with the real D'Amico.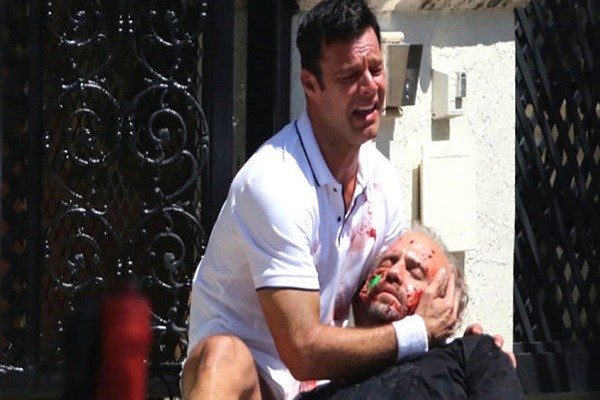 "The first thing that came out of my mouth when he picked up the phone, I said, 'I'm so happy we're talking.  And I just want you to know that this is treated with utmost respect.'

He continued: "More than anything, there is a level of injustice with this story.  I said, 'If I have the opportunity to even talk about it and shed some light into this… It's such an unfair scene for the world of fashion…'And I want you to know that I will make sure that people fall in love with your relationship with Gianni.

"That is what I'm here for.  I really want them to see the beauty and the connection that you guys had.'"  Martin said that D'Amico was "extremely happy" about the conversation.

Murphy cast Martin to play D'Amico, partially because Édgar Ramírez, who plays Versace, is close friends with Martin.

"You were probably the first person I told that I was doing Gianni," Ramírez said to Martin, during the panel. They made plans to have a celebratory dinner when Martin got the call from Murphy.
"I received a phone call from Ryan that said, 'We need to meet.' I'm like, 'Okay, when and where? I'll be there. Édgar is who I'm having dinner with tonight, so clearly something is in the air.'  
During their dinner, Ramírez realized what was happening: "You're going to be Antonio, I'm sure."

They were all my first choices," Murphy said. "I did not know they were friends….I've worked with Ricky before and love him. I took him out to the Tower Bar and Grill. I really think he was texting with Edgar under the table."

"I had a sixth sense they would have wonderful respect and camaraderie and they did," Murphy enthused.

"I know Edgar. My brother, I love him," Martin said to Murphy at dinner, to which Murphy replied, "That's what I needed to hear. You've got the part."

Unfortunately, Versace's family has not been pleased with the series.

In a statement released to the press, they wrote: "The Versace family has neither authorized nor had any involvement whatsoever in the forthcoming TV series about the death of Mr. Gianni Versace. Since Versace did not authorize the book on which it is partly based nor has it taken part in the writing of the screenplay, this TV series should only be considered as a work of fiction."

Fox 21 Television Studios and FX Productions put out their own statement in response.

"Like the original American Crime Story series, "The People v. O.J. Simpson," which was based on Jeffrey Toobin's non-fiction bestseller, The Run of His Life, FX's follow-up, "The Assassination Of Gianni Versace" is based on Maureen Orth's heavily researched and authenticated non-fiction best seller, Vulgar Favors, which examined the true life crime spree of Andrew Cunanan. We stand by the meticulous reporting of Ms. Orth."

In addition to Murphy, Nina Jacobson, Brad Simpson, Brad Falchuk, Alexis Martin Woodall, Dan Minahan, Tom Rob Smith, Scott Alexander and Larry Karaszewski are executive producing the series, which is based on Orth's book,  "Vulgar Favors: Andrew Cunanan, Gianni Versace, and the Largest Failed Manhunt in U.S. History."