Trump's HHS appoints anti-trans activist to protect trans health
Severino a former staffer with the anti-LGBT Heritage Foundation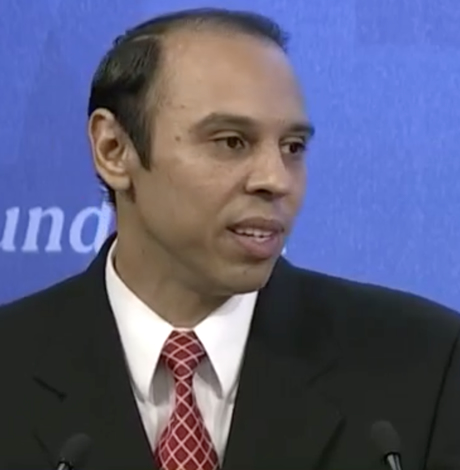 Much to the consternation of LGBT rights supporters, the Trump administration has appointed to head the civil rights division of the Department of Health & Human Services and a former staffer with the anti-LGBT Heritage Foundation who wrote extensively against the civil rights of transgender people.
A series of statements from LGBT advocates came out Thursday over the appointment of Roger Severino, who until this week was director of the DeVos Center for Religion & Civil Society for the Heritage Foundation.
Winnie Stachelberg, executive vice president for external affairs at the Center for American Progress, gave no quarter in a statement over the Severino's appointment and its implications for transgender health.
"Frankly, it is sick that President Trump would appoint Roger Severino to lead OCR – putting a man who made his career opposing healthcare non-discrimination laws in charge of enforcing those very same protections," Stachelberg said. "Before the Affordable Care Act, insurance companies routinely denied equal treatment to same-sex couples and more than half of private insurance plans explicitly discriminated against transgender patients, with more than a quarter of transgender people reported being denied medical care by a provider. Severino's writing makes it clear that he wants to take us back to the days when 1 in 4 transgender people was refused medical care outright."
Among the posts Severino wrote for The Daily Signal, the blog for the Heritage Foundation, were in opposition to LGBT people, especially transgender rights. After the White House came out against a provision in a congressional defense spending package that would have allowed anti-LGBT discrimination among federal contractors, Severino wrote a post called "Obama Threatens to Veto Military Bill Because It Protects Religious Groups." After the Pentagon lifted its ban on openly transgender service, Severino wrote a post called "Pentagon's Transgender Policy Defies Common Sense."
Severino also defended North Carolina's anti-LGBT House Bill 2, which prohibits transgender people from using the restroom in schools and government buildings consistent with their gender identity. Decrying the "unrelenting and coordinated attacks" against the state for enacting the law, Severino criticized former U.S. Attorney General Loretta Lynch for filing a federal lawsuit against the measure, which he said amounted to progressives "using government power to coerce everyone, including children, into pledging allegiance to a radical new gender ideology."
The Washington Blade has placed a call in with the Heritage Foundation seeking comment on whether Severino would uphold civil rights of transgender Americans despite his writings at the organization.
As head of the HHS civil rights division, Severino would be charged with enforcing Section 1557 of Obamacare, which prohibits discrimination on the basis of race, sex, disability and age in health programs. The Obama administration interpreted the prohibiting on sex discrimination to bar discrimination against transgender people in health care, including the refusal of gender reassignment surgery.
Wade Henderson, outgoing CEO of the Leadership Conference on Civil & Human Rights, said in a statement the office of civil rights at HHS requires "strong and experienced leadership" to enforce Section 1557, and Severino is "not that leader."
"Since enactment of the ACA seven years ago today, members of The Leadership Conference have strongly advocated for the full and complete implementation of Section 1557," Henderson said. "In his previous position at the Heritage Foundation, Mr. Severino repeatedly denounced and actively worked to oppose OCR's implementation of Section 1557. These actions call into question his ability to fully enforce the ACA and protect communities of color and other underserved populations, who are most at risk for unequal access to health and health care."
It should be noted U.S. District Judge Reed O'Connor has enjoined the enforcement of the Obamacare regulation interpreting Section 1557 to apply to transgender people. The Trump administration missed a deadline to appeal the decision to the U.S. Fifth Circuit Court of Appeals, but the American Civil Liberties Union is seeking to intervene to defend the regulation.
Harper Jean Tobin, policy director for the National Center for Transgender Equality, said Severino could still do "a number of things" to impact transgender protections under Section 1557 as litigation proceeds.
"The government will now have to make a decision, and OCR is ostensibly the client DOJ in this decision, as to whether to ensure, as the government normally would in a case like this, that federal law and the federal regulation interpreting it and applying the federal law is defended, that a rule overturning it is reviewed by a higher court," Tobin said. "I think the fear is that OCR and DOJ could sort of work together to have this injunction made permanent without any review by a higher court, which would be highly unusual and really inappropriate."
After a rule-making process consisting of many years and with two separate comment periods, Tobin said letting the injunction against the regulation stand would be "tantamount to repealing the regulation without going the required rule-making process and instead just acceding to a fringe legal position by one district court judge."
Tobin added OCR has other responsibilities related to transgender health, such as the federal health care privacy law, or HIPAA, which assures privacy for transgender people in health care settings.
"Up until now, OCR has in cases involving transgender people, just as it does for everybody else, acted to enforce the laws to protect their privacy, but given Mr. Severino's aggressively hostile work to dismantle any kind of legal protections for transgender people, we're worried about what kind of direction the agencies would take on those bedrock protections," Tobin said.
The Blade has placed a request in with the HHS seeking comment on whether Severino would seeking to protect the health of transgender people during his tenure at HHS.
Matt McTighe, executive director of Freedom for All Americans, said in a statement Severino appointment to HHS and his anti-trans history spells trouble for transgender health.
"Roger Severino has a proven track record of opposing fair and equal treatment for the transgender community," McTighe said. "He is a dangerous pick for a position that is meant to enforce critical civil rights protections. This is yet another example of the Trump administration's failure to live up to the president's campaign promise of protecting LGBT people and it will have devastating consequences for transgender people across the country."
Race to the Midterms: Christy Smith & Tony Hoang
Karen Ocamb & Max Huskins along with the Los Angeles Blade present a limited YouTube series "The Time is Now: Race to the Midterms"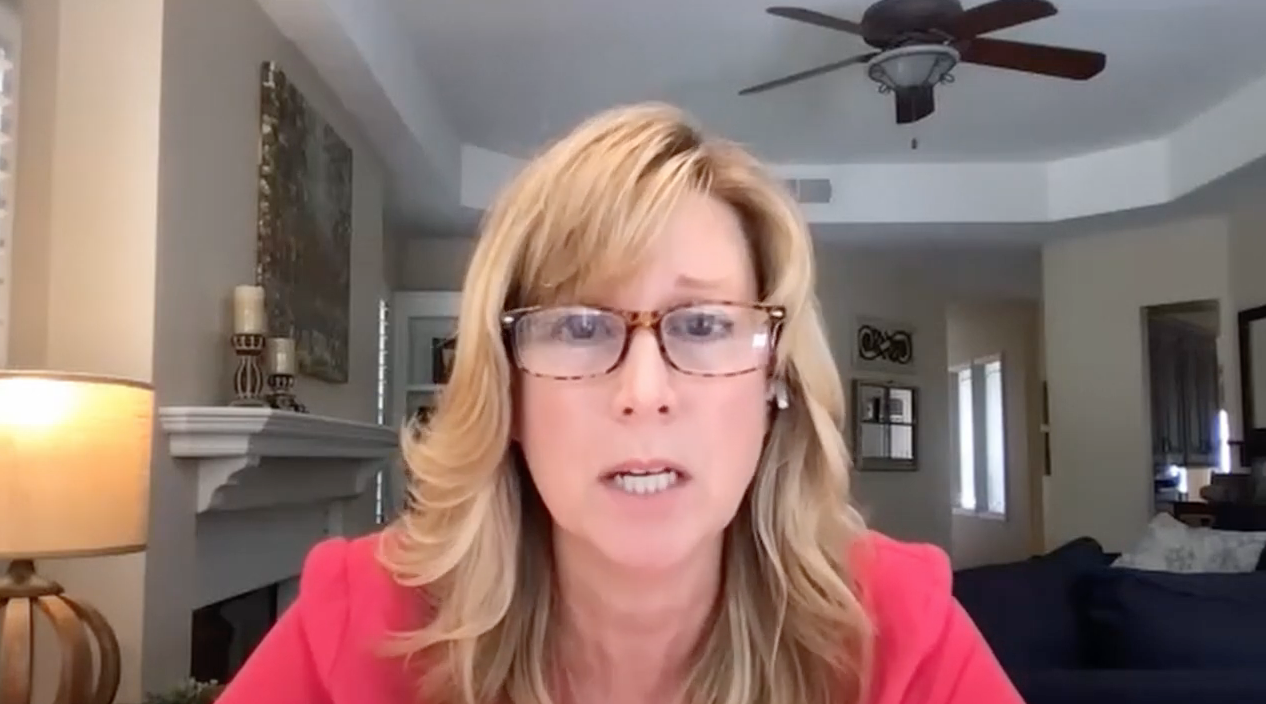 By Karen Ocamb | WEST HOLLYWOOD – The unimaginable is happening. Two years ago, Marc Elias, founder of the voting rights and elections-watcher Democracy Docket, warned that "we are one or two elections from losing our democracy."
Complete and comprehensive voting rights legislation was needed to prevent that. Nothing happened and now several states are running slates of Trump cultist election deniers and MAGA Republican are "flooding the system" with anti-voting lawsuits. "It's getting worse. It's not getting better," Elias told MSNBC's Nicole Wallace on Friday.
"The real threat to America's electoral system is not posed by ineligible voters trying to cast ballots. It is coming from inside the system," the New York Times Editorial Board wrote Friday, Sept. 23.
"All those who value democracy have a role to play in strengthening and supporting the electoral system that powers it, whatever their party. This involves, first, taking the threat posed by election deniers seriously and talking to friends and neighbors about it. It means paying attention to local elections — not just national ones — and supporting candidates who reject conspiracy theories and unfounded claims of fraud. It means getting involved in elections as canvassers or poll watchers or precinct officers….And it means voting, in every race on the ballot and in every election."
A warranted panic is slowly moving through minority communities across the country — but there is still little concerted national outreach to LGBTQ voters who have our very lives, rights and future at stake in the upcoming Nov. 8 midterm elections. Not that LGBTQ organizations and candidates don't want to reach out – it's just incredibly hard to break through all the news noise.
That's why we — Karen Ocamb and (ally) Max Huskins — have teamed up with the Los Angeles Blade to produce a limited YouTube series "The Time is Now: Race to the Midterms." Our intention is to bring visibility to candidates and organization leaders and encourage LGBTQ people to get engaged, donate, do whatever they can to ensure a huge turnout for both local and statewide candidates and ballot measures, as well as electing candidates who will keep the US House of Representatives and the US Senate in Democratic hands.
If MAGA Republicans win, Trump wins and we can kiss our democracy and our freedom goodbye. Think this is an exaggeration? No one really thought the US Supreme Court would overturn Roe v. Wade and put politicians in charge of women's bodies – but they did. The unthinkable is happening.
Meet Tony Hoang, Executive Director of Equality California. During the height of the AIDS crisis, the disease was perceived to be isolated to the gay community and gay meant "white." The result was that many people of color avoided seeking prevention and help. Today, California is a minority-majority state and EQCA has a rainbow staff that reflects that. "We really want to make sure that we reflect the diverse communities that we serve, whether that's around gender, gender identity, race and ethnicity," Tony says during the Zoom interview.
Equality California Votes, their new 501.C4 political action committee, just posted their first ad for out gay candidate Will Rollins (see our interview with Will in Episode 1). "Obviously, this is one of the most consequential election cycles in our lifetimes. And if we want to protect the pro-equality majority that we have in the House, that road runs through California. And so, CA-41, the district where Will Rollins is in, is one of the most important congressional flip opportunities in California. His opponent, Congressman Ken Calvert, for 30 years has voted against things like lowering prescription drug costs for seniors, against abortion rights and reproductive freedom and LGBTQ equality."
It would be a "sweet irony" for LGBTQ voters to turn this red seat blue.
Tony also talks about working with Planned Parenthood to explain why abortion rights is an LGBTQ issue and the importance of voting for Proposition One on the California ballot.
Tony is our first interview in tomorrow's show.
Full disclosure: since I am no longer a journalist, I get to express my own opinions and make endorsements. My first endorsement was for former EQCA executive director Rick Chavez Zbur, who I've known forever and who's now running for the state Assembly. My second-ever endorsement was for Christy Smith.
Meet Christy Smith, candidate for the CA-27. Christy ran for Katie Hill's seat after she resigned. That race against Mike Garcia was so nail-bitingly close, she ran again. That race was also heartbreakingly close. But Garcia has gone from a dullard Republican to a major Trump fanboy, hanging around with cultists like Marjorie Taylor Green. He was among the MAGA Republicans who signed the amicus brief to the US Supreme Court asking them specifically to overturn Roe v. Wade.
"Subsequent to that," Christy says in our interview, "he's one of the people who coauthored 'The Life Begins at Conception Act, which — don't let them fool you — is their roadmap for a national abortion ban. So, while my opponent now tries to hide in safe spaces and say, 'Well, abortion is safe in California — why are you so upset?' Really? They have clearly signaled — and Lindsey Graham the other day just doubled down on the fact that they plan to pursue a national abortion ban.
"But even aside from that," she continues, "we should never live in the kind of dystopian country where any person's rights vary from state to state. And you and I both know — we saw that for a very long time with gay marriage rights in this country, right? Where depending on where you live determines whether or not you can marry the person they love."
Flipping this seat is a necessity.
But one of the aspects about Christy Smith that folks may not know is that she's a policy nerd – and a policy nerd who likes to get things done.
Here's a quick clip of Christ talking about how climate change is a paramount national security issue. Please check back here Sunday for our full Episode 2 show of "The Time is Now: Race to the Midterms."
Pennsylvania Republicans advocating broader 'Don't Say Gay' law
"The intent of these bills seems to be to wipe out any discussion and pretend that [LGBTQ people] don't exist"
HARRISBURG – A conservative self described 'Christian Mom' Republican lawmaker along with other members of her party championed a anti-LGBTQ 'parental rights bill' Tuesday during a rally at the Pennsylvania State Capitol building.
State Rep. Stephanie Borowicz (R-Centre/Clinton) along with Republican Cumberland County Rep. Barbara Gleim as co-sponsor introduced House Bill 2813, Bororwicz telling rally attendees that the measure is set to guarantee parental oversight and control over the availability of school materials that she portrayed as increasingly obscene.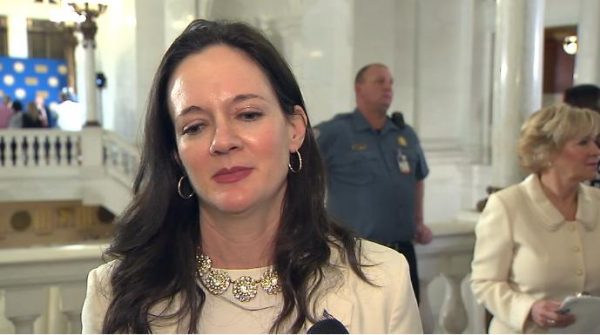 "Many of the mothers joining us today in the state Capitol Rotunda have discovered sexually explicit content and pornographic images in children's books in school libraries," Borowicz said. "Passage of my (bill) will fundamentally guarantee that our children can remain children by allowing parents to vigilantly protect their innocence for as long as possible."
"This is a bill to protect our children from gender ideology and sexual orientation being taught in our schools," Borowicz added.
Critics of the measure labeled it another Republican "don't say gay" law effort, arguing the language goes even farther than the controversial Florida legislation which inspired it.
"It is patterned after the Florida bill, but mine goes further," Borowicz acknowledged.
Pennsylvania Patriot News reported that the key part of the bill states that any public or charter school "may not offer instruction on sexual orientation or gender identity to a student in kindergarten through fifth grade."
Florida's bill, which became law earlier this year, contains nearly identical language, but applies it only through third grade. Borowicz made it clear Tuesday that her desire would be to extend the prohibition all the way through high school, even though the current text of her bill goes only through grade five.
"It really needs to be protected up through 12th grade, we need to go all the way," she told reporters, voicing support for the similar Senate Bill 1278, which would allow schools to be sued for material that is "not age-appropriate or developmentally appropriate" at any grade level.
"This will really add to the existing targeting and bullying of LGBTQ kids in schools," said Sharon Ward, senior policy advisor for the Education Law Center of Pennsylvania. "The intent of these bills seems to be to wipe out any discussion and pretend that [LGBTQ people] don't exist."
Victor Madrigal-Borloz, a Harvard Law school researcher who authored an independent United Nations Human Rights Council study titled; " "Violence and Discrimination based on Sexual Orientation and Gender Identity," in his research noted "The adoption of comprehensive sexuality education inclusive of sexual orientation and gender identity can significantly reduce physical and psychological health risks for LGBT and gender-diverse youth."
Far-right influencers are creating new barriers to trans health care
Right-wing media's campaign against children's hospitals is making it harder for trans people to access lifesaving medical care


By Ari Drennen | WASHINGTON – Just days after the FBI arrested a suspect in the bomb threat against Boston Children's Hospital, Libs of Tik Tok and The Daily Wire's Matt Walsh resumed their campaign against children's hospitals that provide lifesaving care to trans people, directing followers' attention this time to Akron Children's Hospital and Vanderbilt Children's Hospital.
Right-wing media have established a playbook for inundating hospitals with harassment and forcing them to delete information intended for trans patients from their websites — thus creating yet another barrier for trans people seeking medical care. 
Libs of TikTok first targeted Boston Children's Hospital on August 11, sharing a video about gender-affirming hysterectomies with an incendiary caption claiming that the procedure was available to "young girls." The hospital was forced to quickly delete the video, but the narrative had been set in right-wing media, and criticism of the hospital intensified.
On August 15, Walsh made the false and incendiary claim that children's hospitals across the country were "butchering, mutilating, and sterilizing their young patients." These attacks were followed by violent threats including threats to "execute" doctors and at least one bomb threat against Boston Children's Hospital.
FBI's Joseph Bonavolonta: BCH "has received dozens of hoax threats, including harassing phone calls and emails, individual threats, and threats of mass-casualty attacks. This behavior is nothing short of reprehensible, and it needs to stop now." pic.twitter.com/kSBqHpUYNB

— Ari Drennen (@AriDrennen) September 15, 2022
Members of the right-wing media initially dismissed the threats, with Infowars' Owen Shroyer calling it a "false flag," Chaya Raichik, who runs Libs of TikTok, asserting it was "probably a left-wing person trying to get me suspended," and Walsh suggesting that it could be a left-wing hoax. It apparently was not. On September 15, the FBI announced the arrest of a suspect who allegedly called hospital operators from her personal cell phone, calling them "sickos," saying that a bomb was on the way, and demanding that everyone evacuate.
By September 18, Libs of TikTok had returned to the campaign against children's hospitals that provide gender-affirming care, posting a tweet disclosing that Akron Children's provides puberty blockers and cross-sex hormones before misleadingly noting that the hospital treats patients as young as 7.
On September 20, Walsh made similar claims about Vanderbilt Children's Hospital, saying it makes "lots of 'services' available to children, including chemical castration."
Misinformation about treatments is rife on social media and in the right wing media, but 7-year-olds do not receive cross-sex hormones and are given puberty blockers only if another underlying disorder is causing precocious puberty. Cross-sex hormones are safe, studied, and effective treatments for gender dysphoria that dramatically reduce symptoms of depression and anxiety in trans people.
Information about where to seek out medical care is vital for trans people. Nearly half of all trans people report experiencing mistreatment from medical providers, including verbal or physical abuse. According to a 2016 study, the biggest obstacle to obtaining safe and effective health care for trans people is a lack of knowledge by medical providers.
The removal of public information intended for patients in the face of a vicious hate campaign creates a new barrier. In addition to Boston Children's and Akron Children's, Children's National in Washington, D.C., and Vanderbilt Children's in Nashville, Tennessee, have recently been forced to remove information for trans patients. Lurie Children's hospital in Chicago canceled in-person meetings of a support group for trans youth because of security risks.
It's not just Boston Children's Hospital. In August, Libs of Tiktok and Matt Walsh went after Lurie Children's Hospital in Chicago. Today, families were notified that a support group for trans youth cancelled due to threats and harassment. pic.twitter.com/RbXG9wKSms

— Alejandra Caraballo (@Esqueer_) September 15, 2022
Without resistance, the barriers to effective care for trans people could grow further. According to freelance journalist Sydney Bauer, multiple medical providers have said that their worry is that these tactics will lead hospitals to drop gender-affirming care, shifting coverage to private clinics with less resources that could then be endlessly picketed and threatened — exactly the tactic that the right has used against abortion providers. Despite this, or perhaps because of it, Raichik has targeted multiple hospitals this year. After earning a weeklong suspension for violating Twitter's policies prohibiting hateful conduct, Raichik only vowed to double down. "We are not just reporting on this," said Walsh in a tweet. "We are going to put a stop to it."
Among the items posted by Libs of Tik Tok about Akron Children's Hospital is an article with a photo of a 13-year-old girl. Her hair is long and blonde and she's posed, smiling, next to a horse. They're sharing a blanket — red, with a white snowflake pattern. The article says that this teenager knew from age 3 that she was transgender, and that with the help of the providers at Akron Children's, she was able to become her true self.
She's a cheerleader. She rides horses. She says that she didn't want to develop facial hair or for her voice to deepen. This is a story familiar to many trans people. A 2022 study from Stanford Medicine showed that trans people who accessed gender-affirming care as teenagers were less likely to experience major mental or substance abuse disorders than those who were denied care or forced to wait until adulthood.
But for Chaya Raichik, this is a horror story, and her 1.3 million followers flooded the article with hate, misgendering the trans girl and calling her "Buffalo Bill in the making," a reference to the serial killer from the 1991 horror film The Silence of the Lambs. The article from Akron Children's closes with a line from that teenager: "If you're transgender, show it. Tell people," she said. "It will help other transgender people feel not so alone." The article has since been deleted.
*******************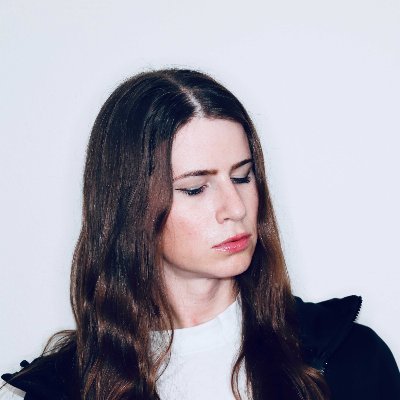 Ari Drennen is the LGBTQ program director for Media Matters, where she has worked since January 2022. She has a bachelors degree in political science and economics from Middlebury College. Previously she worked at the Center for American Progress and the League of Conservation Voters
*******************
The preceding article was previously published by Media Matters for America and is republished by permission.