Hawaii is just the ticket
There's a place for us in Oahu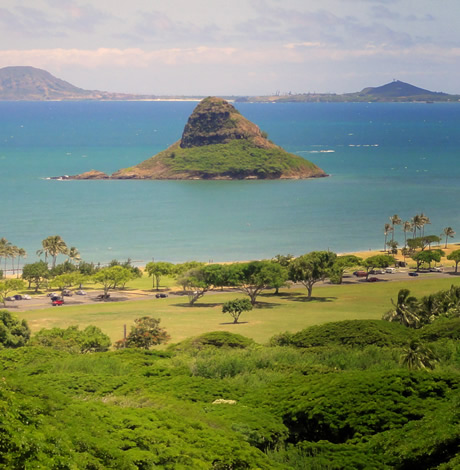 Last month, I was in the middle of the hustle and bustle of Waikiki and in less than an hour's bicycle ride later, hiking through a tropical rainforest. While the Waikiki section of the island of Oahu – a few minutes south of downtown Honolulu – is very much an urban beach tourist destination, it doesn't take long to get away to a more rural Hawaiian experience.
About 70 percent of Hawaii's 1.4 million people live on Oahu. As the population center of the state, Oahu supports a vibrant gay nightlife and a variety of LGBT organizations.
If you haven't visited before, the most popular part of Hawaii for tourists is Honolulu's Waikiki neighborhood, about a 30-minute ride south of the Honolulu airport. That is where you will find the iconic high-rise hotels that line the beach with spectacular views of the long extinct Diamond Head volcano. Waikiki is also where almost all the island's LGBT nightlife is situated, all within about a 10-minute walking radius.
Waikiki is also a good home base to explore the island. Various tour companies offer a wide variety of excursions from full day, circle island bus tours to bicycle and Segway tours that focus on sights closer to Waikiki and downtown Honolulu.
If you are staying in Waikiki, you are better off without a car. Hotels charge $30 or more per day to park. If you want to take a daytrip outside the area, you could rent a car in Waikiki and return it the same day for about what it would cost to park.
You can get just about anywhere on the city's bus service, The Bus. Check out its website for directions, scheduling, and real time information about when the next bus is coming (thebus.org). The cash fare is $2.50. Be sure to ask for a transfer if you need to connect with another bus so you don't have to pay another fare. Each transfer is good for two bus connections.
Beaches
Queen's Surf Beach in Waikiki is still the most gay-popular beach on Oahu, but it is not as popular as it was years ago before gays felt more comfortable and accepted on the main beaches. The beach is next to the Diamond Head section of Waikiki Beach, near lifeguard station 2F, in front of the concession stand and next to Kapiolani Park and the Honolulu Zoo. The beach itself has gotten narrower and rockier over the years as the surf washed away much of the sand. Many people who use the beach hang out on the grassy and shady area of the park close to the concession stand.
If you keep walking toward Diamond Head from Queen's Surf Beach, you will run into Sans Souci Beach, which is just past the War Memorial. It is also gay-popular but with a lot more sand. If you want to enjoy a quiet and isolated beach but still in walking distance to Waikiki, check out Makalei Beach Park, along Diamond Head Road. It is a small beach, but fewer people know about it so it is seldom crowded.
If you keep walking along Diamond Head Road, take Beach Road, to the right, which will take you down to Diamond Head Beach Park. The expansive park includes the gay-popular Lighthouse Beach. It was once considered a nude beach even though it was never legal but few people swim without a bathing suit there now. It is also very popular with people who are homeless, who have set up tents on the hillside over the beach just below the lighthouse.
A walking trail from the Lighthouse Beach goes up to Diamond Head Road, where you will get a good view of the Diamond Head Lighthouse. Unfortunately, the lighthouse itself and its picturesque grounds are closed to the public but you can still get a partial view of it from the surrounding hillside and fence.
Beyond the beach
Besides the beach, the city's main drag, Kalakaua Avenue, is known for its high-end shopping catering to foreign tourists. Its newest shopping mall is the International Market Place, which opened just before Labor Day last year and is drawing rave reviews. The mall is in place of the old International Market Place. It kept the name but the open air mall is now very modern and upscale, but with some of its old charm, including the Market Place's landmark banyan tree, complete with a selfie spot for visitors to take the perfect shot to annoy their non-vacationing friends back home.
Waikiki's gentrification is showing no signs of slowing down. The trendy, upscale shopping along Kalakaua Avenue has spread a block inland to Kuhio Street, which was once a place that some feared to walk at night. One of the best examples of Waikiki's makeover can be found on the side of the Prada store on Kalakaua Avenue. You can buy a $300 shirt in the shop and walk down the narrow alley on the left side of the store and find a sex shop with private video booths upstairs from the tiny, but well-loved gay bar, In Between.
Just outside of Waikiki, the hike to the summit of Diamond Head is a must-do attraction for any visitor to Oahu. You can drive or take a bus through a tunnel into the center of the old volcano crater. From the crater floor there is a great hike to the summit. The trail meanders through the tunnels and gun stations built by the military shortly after the U.S. government bought the property in 1905. The summit offers a spectacular view of Honolulu. Bring a flashlight or plan on using the flashlight app on your phone to make it a little easier navigate the dark tunnels. Also, bring water. The hike will be a lot easier early in the morning before it gets too warm.
If you want to experience being out in the Hawaiian countryside without having to go too far outside of Waikiki, check out Manoa Falls. It takes about 25 minutes to drive to the base of the Manoa Falls trail from Waikiki, a little less than an hour to bicycle there, or about an hour and 20 minutes on The Bus. A number of organized tours also include a hike to the falls.
Hanauma Bay State Park showcases a sheltered ocean inlet created by a volcano crater. The bay features some spectacular snorkeling views of the colorful tropical fish attracted to the bay that is a natural barrier against the bigger predatory fish. It is closed on Tuesdays and the park's parking lot fills up very early in the morning, so if you go, The Bus or an organized tour is a good idea. Admission is $7.50 and you have to wait in line to view an educational film that cautions visitors to not touch or stand on the coral, which damages the environment and can cause injury. You can bring snorkeling gear or rent it at the concession on the beach for $20. The park offers information on shuttles that leave Waikiki daily and include snorkel gear rental for $25, which is a reasonable deal considering that it what it would cost if you took The Bus and rented your snorkels and fins there. The shuttle includes an instructional narration along the way.
Lanikai Beach, on the rugged North Shore of Oahu, in the town of Kailua is about a 45-minute drive outside of Waikiki, or about an hour and 20 minutes on The Bus. The beach is known for its very white, wind-whipped sand and turquoise water. The beach and the surrounding town have become increasingly popular with tourists, prompting some locals to fear that it might become a second Waikiki and lose some of its old Hawaiian charm.
Nightlife
All of Oahu's LGBT nightlife is in Waikiki with the exception of Scarlet, which is in Chinatown. While mostly gay male, all the LGBT nightspots are lesbian- and trans-friendly.
The legendary Hula's Bar and Lei Stand is one of the most beautiful gay bars in the world, if nothing else because of its open-air view over Kapiolani Park next to Queen's Surf Beach. Hula's first opened in 1974 along Kuhio Avenue, nearly 1.5 miles from its current location. It traded in its trademark banyan tree for an ocean view in 1998. You can sit by the windows and enjoy a drink or meal in the bar's cafe, while socializing and listening to music.
People who want to make the night last a little longer head down Kuhio Avenue to Fusion, a dance club that stays open until 4 a.m. Fusion also includes drag shows and is popular with Oahu's transgender community.
Tapas Restaurant and Lanai Bar is a great gay bar and restaurant just behind Fusion. It is famous for its karaoke and friendly staff and customers. It opens every Sunday at 9 a.m. during football season for NFL Sundays.
Bacchus Waikiki is a friendly second-floor pub on Lewers Street, just a block from Fusion and Tapas. The bar draws a crowd even during the slower weekday nights. A small outdoor balcony is a great place for smokers or anyone who wants to watch the world go by on Lewers Street.
Wang Chung's is a hip, modern bar and restaurant in the Stay Hotel. Like Tapas and In Between, it is known for karaoke. Wang Chung's is very straight-friendly and is known for its colorful cocktails .
Scarlet Honolulu is Oahu's newest and largest gay nightclub and the island's only LGBT space outside of Waikiki. It opened in July 2015 in the city's Chinatown neighborhood, adjacent to downtown. From Waikiki it's about 15 minutes to drive or about 25 minutes on The Bus. Scarlet is open weekends and features live entertainment, drag shows, and dancing.
Accommodations
Since the mainstreaming of Cabanas Waikiki several years ago and Hotel Honolulu years before that, there are no longer any exclusively gay hotels in Oahu, but you would be hard-pressed to find any that are not gay-friendly.
The boutique Shoreline Hotel in the heart of Waikiki is one of the sponsors of Honolulu Pride, held in October. It offers Pride attendees a discount and donates $10 from each guest night to the organization that runs Pride. The hotel is a great option any time of year. Rates start at a very reasonable $135 during the slowest times of year, which are generally the months of April, May, and from Labor Day through early November. Shoreline doesn't charge a resort fee if you book directly through its website. To get the cheapest rates, you would need to book in advance and stay six nights. Included are free Wi-Fi, beach towels, and use of the rooftop pool. A car rental company is just behind the hotel, making a day rental a snap. The hotel's restaurant, Heavenly Island Lifestyle, is one of Waikiki's most popular breakfast spots and does a good business until it closes every night at midnight.
Surfjack is another great boutique hotel operated by the Aqua-Aston chain, which has long supported the LGBT community. The slogan written on the bottom of the pool says it all: "Wish you were here." Surfjack is a sponsor of the Honolulu Rainbow Film Festival. One of the hotel's great unique amenities is free bicycle rentals. The hotel is just a couple of blocks from the beach and conveniently located next door to Bacchus Waikiki, so you won't have to go far to hang out with your peeps. The Aqua-Aston hotel group offers an "Out and Proud" 10 percent discount if you book through its LGBT site and a free Mai Tai at Hulas.
For more information, visit Oahu's official tourism website.
'A Transparent Musical,' pioneering queer series for the stage
The show, now performing its world premiere run at LA's Mark Taper Forum through June 25, is a retelling of the story of the Pfefferman clan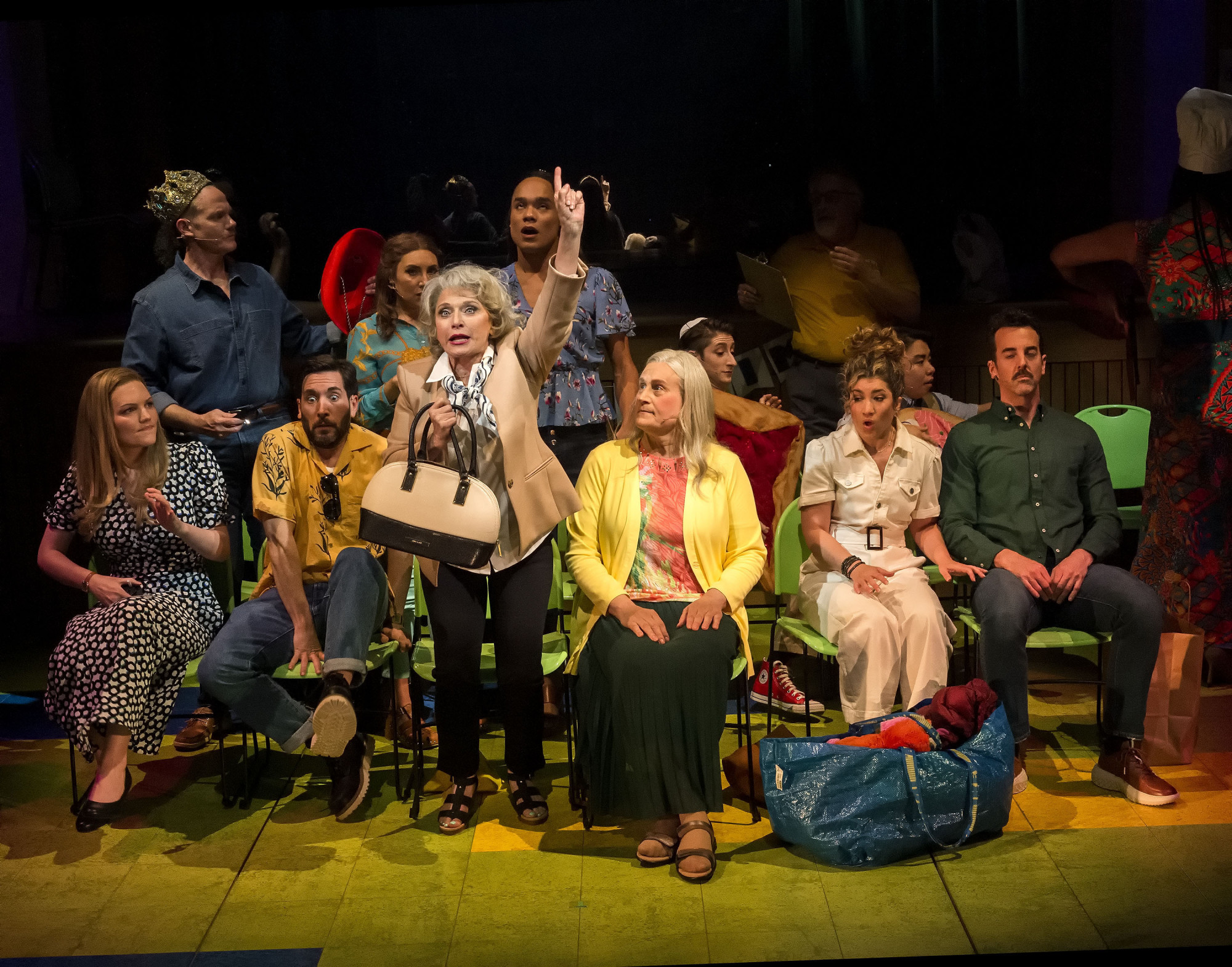 LOS ANGELES – It might seem a little out of the ordinary to begin a review of a theatrical production by discussing a TV series – but in the case of "A Transparent Musical," it's the logical place to start.

The show, now performing its world premiere run at LA's Mark Taper Forum through June 25, is a retelling of the story of the Pfefferman clan, the secret-laden, deeply dysfunctional and very Jewish LA family at the center of "Transparent," a now-iconic, pioneering Amazon series that premiered in 2014 and ran for 4 critically-acclaimed seasons before ending with a special feature-length "Musicale Finale" in lieu of a fifth.
In its original form, the saga began with the coming out of Maura Pfefferman to her children as a trans woman – a bombshell revelation that that sends the privileged, self-absorbed family reeling. From there, it charted Maura's transition into the proud trans matriarch she always knew was inside her, as well as the struggles of her former spouse (Shelly) and their children (Josh, Sarah, and Ali) to navigate life – both as a family and as individuals – in the aftermath.
In later seasons, the focus shifted more to youngest child Ali and the search she undertakes for her own identity, and after the controversial departure of series star Jeffrey Tambor, the tale finally culminated with Ali's creation of a musical about her family's history.
While the final episode won its share of critical praise and accolades and gave fans of the series some form of closure, many viewers couldn't help but feel a sense of anti-climax; for them, the circumstances around Maura's departure from the narrative (which we won't go into here, you can look it up if you don't remember) left something of a bitter taste in the air, and while the renewed sense of hope and healing it delivered for Ali, her siblings and her mom were appreciated, the fact that Maura wasn't allowed to get there with them felt, well, unfair.
While the actor who played her may no longer have been suitable to continue the journey, the character deserved a much better fate, and the audience who had rooted for her over the course of four seasons deserved her to have it, too.

With that in mind, one might go into "A Transparent Musical" – co-written by series creator Joey Soloway and MJ Kaufman, with music and lyrics by Soloway's sibling Faith – with reserved expectations. Indeed, what would a musical adaptation of this sprawling narrative, with its complex social and cultural themes and its extended cast of intertwined characters, even look like? Could it even be possible for them to fit 41 episodes of television storytelling into a two-and-a-half-hour stage version?

As it turns out, they didn't even have to try. Instead, "A Transparent Musical" reimagines the entire story of the Pfeffermans into a streamlined, standalone experience that can be enjoyed and appreciated without any knowledge of the series whatsoever. Instead of placing Maura (played here by Daya Curley) at the center of the story, it's young Ali (Adina Verson) who becomes our point of entry; tasked with helping to mount a play for her Jewish Community Center's Purim carnival, she finds herself drawn into a voyage of self-discovery, recalling key moments in her family's past and drawing connections between their story and the multi-faceted cultural and ethnic heritage that sprawls out behind them.
Gone are most of the side trips taken by the series, along with many of the non-Pfefferman characters, and what's left is a scaled-down retelling that manages to feel just as complete – if not more so, given that Maura is now allowed to be included in the ending – as the series that fans grew to love.

Of course, trimming things down to that extent inevitably means sacrificing a lot of nuance, and that has an impossible-to-ignore impact on the show's first act, which is lengthy to begin with but feels even lengthier because of it.
One of the challenges of "Transparent" was that its protagonists were all messy, self-centered, unreasonable, compartmentalized, dishonest, stubborn, spiteful, even sometimes deliberately cruel to each other – in short, all of them, including Maura (sometimes especially her), were often difficult to like.
The saving grace was the show's ability to let us see into the deepest corners of each of their lives, where we could recognize and relate to the wounded humanity hiding behind all those walls of defense; here, without the luxury of such detailed exploration, their unpleasantness sometimes makes it tough to care whether they work things out for themselves or not.
But of course, one doesn't have to like or even care about characters to find aspects of oneself reflected in them, and their relatability goes a long way toward keeping us invested enough to stick around after intermission – and that's fortunate, because it's in the second act that "A Transparent Musical" blossoms into the fully realized manifestation of Soloway's story we never knew it needed to become.
Without giving spoilers, the second half employs flights of fancy – devised and expanded from elements included in the series – to bring together all the Pfeffermans' struggles and crystallize all the story's themes into one cathartic bundle.
By the time it's over, the acceptance, forgiveness, and yes, transcendence that has happened on stage leaves us to ponder questions of our own identity, and how being seen for who we really are makes a big difference in our ability to see others that way, too.
As directed by Tina Landau, the production bursts with colorful, exciting imagery and inventive staging that helps us easily follow the jumps in time and place that occur within the show's immersive setting – which, designed with tongue-in-cheek authenticity by Alan Rigg, puts the audience in the middle of a JCC auditorium.
Faith Soloway's songs may not linger melodically in your brain in the way typically expected of showtunes, but their lyrics are clever, insightful, funny, and successfully transmit complicated threads of language and ideas without letting us lose track of any of them; coupled with James Alsop's crisp, high-energy choreography, it's a combination that delivers a welcome injection of high-spirited musical theatre fun.
As for the cast, a diverse and talented ensemble that seems to be having the time of their lives, they are uniformly excellent. Verson deserves special mention for carrying the show's narrative responsibilities without distancing themself in the process, as does Curley for inhabiting Maura so completely that we easily forget any previous incarnation of her.
Liz Larsen has multiple show-stopping moments as "what about me?" mom Shelly, as does Peppermint (in the dual role of Davina and Darlene), whose powerful vocal prowess brings down the house more than once – a feat also accomplished by Kasper as Ezra. Standout moments aside, however, the entire company should truly be considered joint stars of the show.
It could go without saying, perhaps, that a show like "A Transparent Musical" is highly important to be seen in a time like ours, as vicious backlash from extremist bigots grows ever more alarming and politicians pander to homophobia with regressive and harmful legislation.
There are moments in the show that address this growing volatility, an element which brings a fresh sense of urgency to its message of acceptance – something it makes much easier to swallow by showing us that feeling comfortable in your own skin is an essential human need extending far beyond the importance of gender, sexuality, race, or any of the other external factors we use to divide ourselves from others.
Even so, and despite multiple themes that are bound to be uncomfortable – even potentially triggering – for many audiences, "A Transparent Musical" is not a bleak show, nor does it dwell on the political terrors of the larger world, even if it acknowledges that they are there. It goes without saying that many of our readers will consider it a must-see piece of theatre, simply by virtue of its messaging and the need to be visible; rest assured that even if you're going because you feel like you have to, you're probably still going to enjoy it, too.