Los Angeles Events Calendar April 7-15
Coachella, brunch, a scavenger hunt, a film festival and more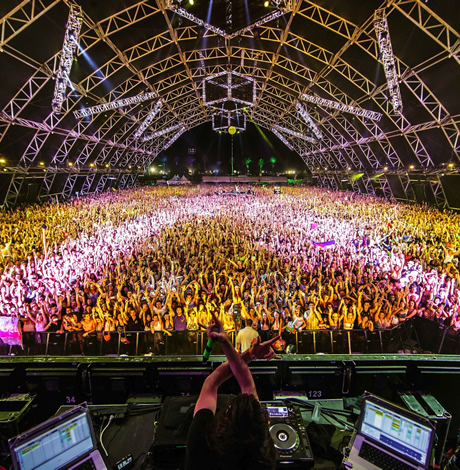 Friday, April 7
DAN SAVAGE'S HUMP! FILM FEST L.A., Fri Apr 7 @ 6-11 PM at The Downtown Independent – (251 S Main St). HUMP! is home-grown short film porn for wannabe porn stars. You'll enjoy a cornucopia of body types, shapes, ages, colors, sexualities, genders, kinks, and fetishes-all united by a shared spirit of sex-positivity. Check out humpfilmfest.com.
THE RISE AND FALL OF ZIGGY STARDUST – Fri Apr 07 @ 8:00PM – 08:00PM at Renberg Theatre – ( 1125 N McCadden Pl). HUMANS OF EARTH! BREAKING NEWS — we have five years left to cry. It's true… Earth is really dying, but we can make it all worthwhile! The superstars of Trans Chorus of Los Angeles – TCLA, in their debut stage performance, present the smash hit musical "The Rise and Fall of Ziggy Stardust & the Spiders from Mars". Stepping directly out of the music of David Bowie, the chorus tells the iconic story of his alter ego, Ziggy Stardust, a rock star who acts as a messenger for extraterrestrial beings. This production is presented in partnership with the Los Angeles LGBT Center's Lily Tomlin / Jane Wagner Cultural Arts Center.
Saturday, April 8
OUT IN TECH L.A. SOCIAL -Sat Apr 8 @ 4-7 PM at Revolver (8851 Santa Monica Blvd). One year ago Out in Tech launched in LA. Come join us as we celebrate a year of wonderful Out in Tech LA events, professional contacts, and new friends. RSVPs are required, but free. oitlaanniversaryparty.eventbrite.com.
Sunday, April 9
EQUALITY CA BENEFIT BRUNCH 11 AM-2 PM at a Los Angeles private residence. Join the Los Angeles Gay & Lesbian Chamber of Commerce for a benefit brunch on at a beautiful mid-century modern view estate in the hills of Bel Air, and support the work of Equality California Institute. Address will be provided upon RSVP at this link. Tickets are $100.
LGBTINSEL TOWN WALKING TOUR, 11 AM-1:30 PM at The Hollywood Museum – (1660 Highland Ave). You'll start your LGBTinsel Town Tour with a Champagne welcome at The Hollywood Museum featuring the most extensive collection of Hollywood memorabilia in the world – all housed in the historic Max Factor building. From there we'll hit the streets to dig up the dirt on decades of closeted stars, underground pansy bars, and gay rights battle scars. From the initial footfalls of the LA's first Pride parade to the secret tunnels that lie under the Walk of Fame that the locals don't even know about – Out & About Tours and The Lavender Effect.
8TH ANNUAL WEHO SCAVENGER HUNT, 2-6 PM at Gym Sportsbar – (8737 Santa Monica Blvd). WeHo Dodgeball, W*A*R, and Rainbow Rex are thrilled to bring you a fantastic day of fun and adventure. In the 8th Annual WeHo Scavenger Hunt, you and three of your friends will race around West Hollywood and the surrounding area trying to complete our diabolically challenging list of photo and item objectives!  $10 per person or $40 per team. Visit wehoadultrecreation.com.
A SIMPLE TEA DANCE, 2 PM-9 PM at A Simple Bar (3256 Cahuenga Blvd W.).Come dance the afternoon away at Superstar's monthly LGBTQ Tea Dance at A Simple Bar. Well drinks at Happy Hour prices all night long.
Wednesday, April 12
GAY MALE AND FRIENDS SPRING MIX N'CONNECT, 7-9 PM at Pitfire Artisan Pizza (801 N Fairfax Ave #101). Whether you are new to Los Angeles, in the mindset of meeting new friends, wanting to network, or maybe wanting to meet someone professional for possible romance, we're hosting a fun event with Pitfire Pizza in West Hollywood. We'll have our own private area out on the patio. $20 at the door.
GO RAINBOW SKATE NIGHT AT MOONLIGHT ROLLERWAY, 8-11 PM at Moonlight Rollerway (5110 San Fernando Rd). Great Outdoors LA invites you to roll, bounce the night away. Admission: $10.25 Skate rental: $5.
Thursday, April 13
SELF-DEFENSE WORKSHOP FOR SENIORS, 1-2:30 PM at Triangle Square Apartments (1602 Ivar Ave). Former boxer and trainer George will teach basic self-defense methods, including how to protect yourself from blows and how not to be a victim. Free.
Friday, April 14
CARE BEAR CAMPOUT #SpringBreak 2017, 8 AM-12 PM at Crystal Lake Cafe (9877 N Crystal Lake Rd). Care Bear Campers will take adventure once again this spring April 14 & 15 checking out Sunday the 16. This year we celebrate our seven-year anniversary. All campsites are $12 per vehicle, eight people per campsite. Contact Crystal Lake Cafe, 626-910-1029.
COACHELLA VALLEY MUSIC AND ARTS FESTIVAL 2017 (through April 17), 11 AM-midnight at Coachella @ Empire Polo – (81-800 Ave 51). We all know Coachella, the crazed, global festive near Indio. Go for the weekend or for the day. It's worth the trip to see some of the greatest musical acts of our time. Visit coachella.com for details.
Saturday, April 15
ONE EYED Monster (Homo Massive), 10 PM-3 AM at The Globe Theatre. A Huge Throbbing Dance Ball with a huge throbbing you know what featured everywhere. Call 818-622-7278 for details.
— Powered by gayinla.com, John McHugh- Dennis
'Maestro' captures passionate essence of queer musical giant
Cooper's titanic performance honors the legendary composer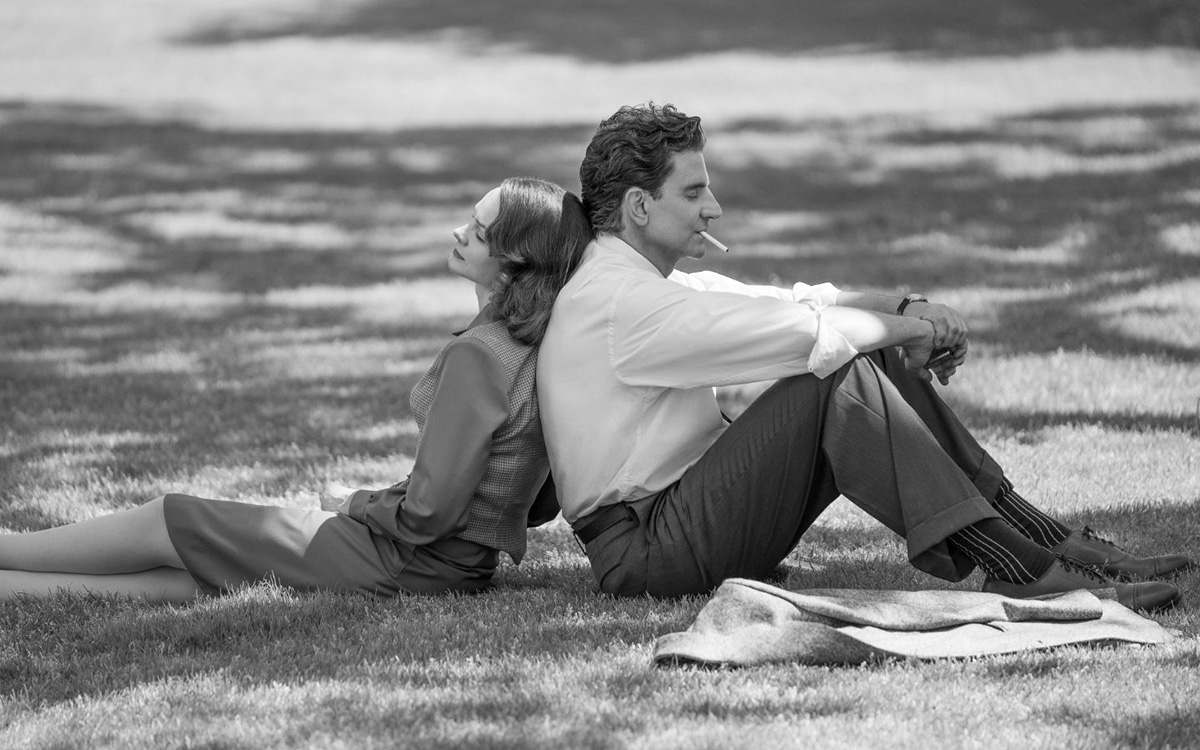 It's hard to think of a modern celebrity who holds an equivalent place in popular culture to the one held in his day by Leonard Bernstein – the subject of Bradley Cooper's ambitious biopic "Maestro," now in theaters ahead of a Dec. 20 drop on producing studio Netflix's streaming platform.
A "highbrow" musical prodigy who gained mainstream celebrity after a spectacular debut as a substitute conductor for the New York Philharmonic, he forged a path as an orchestral leader and composer of masterpieces across a range of genres, from symphonies to film scores to Broadway musicals. Youthful, erudite, passionate, and handsome, he brought classical musical education to the masses via popular television broadcasts, becoming identified with the sophisticated culture of intellectual humanism epitomized by the hopeful "Camelot" of the Kennedy era.
Of course, the Bernstein known to the public in those heady days was not the real Bernstein – or not all of him, anyway – and the story behind the scenes is part of what Cooper, who not only directed and stars in "Maestro," but co-wrote the screenplay with Oscar-winner Josh Singer ("Spotlight"), aims to illuminate. Picking up the narrative in the early days of its subject's fame, it conveys the essence of his professional career in broad strokes, but concerns itself mostly with his private life. More specifically, it focuses on his marriage to actress Felicia Montealegre (Carey Mulligan), whom we meet as she enters his life in the wake of his sudden success. There's a definite chemistry – but there's also Bernstein's involvement with musician David Oppenheim (Matt Bomer), with whom he shares both an apartment and a bed. 
Nevertheless, and with full knowledge of what they're getting into, the two eventually marry; through specific episodes in their life, it tracks the inevitable ups and downs – from the soul-mate joy of their special intimacy to the strain imposed on their bond by a parade of male companions brought into the household across the decades – to present a portrait of an unorthodox marriage between two unorthodox people whose bond ultimately transcends conventional notions of love, sexuality, and commitment.
That doesn't mean things don't get messy, however, and it must be admitted that the last third of the movie devolves a bit into domestic melodrama tinged with a touch of histrionics, and then threatens to go full tearjerker, to boot. But then, so does life, sometimes, and "Maestro" brings enough compassion, insight, and authenticity to the complex emotions at play that it is able to go deep, in the end, for the save.
Indeed, some of this melodramatic flair might be a function of Cooper's stylistic approach, which blends fact, fantasy, and flights of fancy – such as a surrealistic "dream ballet" sequence inspired by "On the Town" (Bernstein's first Broadway hit), as well as shifting from black-and-white to color and presenting much of the movie in an old-fashioned 1:33 aspect ratio – to form a sort of impressionistic view of Bernstein's life. The elegant flamboyance of the film's visual and narrative style flows naturally from the lavish mid-century aesthetic that informed the cinema that sprung from the cultural movement of which he was a part; and as for the man himself, his florid conducting style, to say nothing of the sweeping and dissonant passion of his compositions, were ample evidence that he would never be averse to tugging at a few heartstrings before building to a "wow" finale, so allowing a little indulgent sentimentality to assert itself along the way seems perfectly apropos.
At the same time, there is little about Cooper's performance in the title role that could be called sentimental, or indulgent for that matter, despite the obvious license to "chew the scenery" when playing a flamboyantly bigger-than-life figure like Bernstein. Executed with a clear attention to detail and a fully invested personal connection to the character, Cooper's portrayal expertly captures his intelligence and charm, as well as a remarkable level of chameleonic mimicry – enhanced by a dazzling physical transformation from makeup designer Kazu Hiro – that never once feels like "showboating," and wins us completely with an unvarnished candor in depicting his less noble qualities.
Perhaps most impressive (especially in a biopic), at neither end of the "moral" spectrum does it ever feel as the actor is bringing any judgment to the role, only observation. It's a titanic performance, even without the reenactments of Bernstein's conducting prowess, which honors the legendary composer simply by rendering him as a flawed, if exceptional, human being.
Yet as superb as his work might be, and despite "Maestro" being ostensibly about Bernstein himself, the movie's star turn comes from Mulligan, whose top-billed performance as Montealegre is employed as the story's emotional core. It's her journey, from bold best friend to supportive muse to estranged "ex" and back again, that give the film its meat. She takes it from start to finish without a misstep, and in the process almost makes Cooper's Bernstein a foil in his own movie. It's a testament to his own artistic integrity that he allows, even amplifies, every opportunity for her to do it.
For queer audiences, of course, it might be a disappointment that the movie chooses to center itself on Bernstein's heterosexual marriage instead of exploring any of his now-well-known same-sex affairs – little time or development is spent on any of those relationships, not even with Oppenheim. Still, it makes no effort to hide or downplay his sexual identity; indeed, it is at the center of the conflict which drives the entire film, and it reflects with compassionate honesty the reality of living as a queer person in a time and culture in which one's queerness must be kept hidden as a matter of simple survival. What emerges instead of a cold dissection of a fraudulent "marriage of convenience is an idea of love that exists beyond the constraints of sexuality or gender – and that lifts "Maestro" above such moralistic notions, allowing it to celebrate the commitment between two people willing to live beyond them, even when things get tough.
The film is loaded with memorable performances from others, too; in particular, Bomer – especially powerful in the scene where he is introduced to the woman he already knows will take his lover away from him – reminds us how good he can be when afforded material that stretches him beyond his pretty-boy looks, and comedian Sarah Silverman has some rich moments as Bernstein's sister, Shirley. So too, it is distinguished by a comprehensively detailed production design, which traces the evolving look and feel of the era it covers in succinctly evocative detail, delivered through outstanding cinematography by Matthew Libatique. In the end, however, it is Bernstein's music itself that stands as the key element in capturing the irrepressible passion – the "singing of summer" inside him – that made him an incomparable artist and informed his life as a whole.
In the end, that's what Cooper's movie wants us to take away, more than any insights into its subject's musical genius or the difficulties of navigating a divergent sex life among consenting adults in a time where such things were beyond taboo: the importance of embracing and expressing our lives to the fullest, whether by creating art or simply experiencing the raw truth of our existence in the moment, for better or for worse, in all its contradictory, beautiful glory. The Bernstein it shows us is, like all of us, impossible to define in a single quality; rather it strives to depict a life made whole and complete through the interplay of myriad conflicting passions.

"Maestro" might be a big, glossy biopic that – on the surface, at least – sometimes falls into familiar tropes, but it's worldly and wise enough to get that right, which is enough to elevate it above at least 90 percent of other films in its genre.