Turning the King into a Queen: "The Legend of Georgia McBride"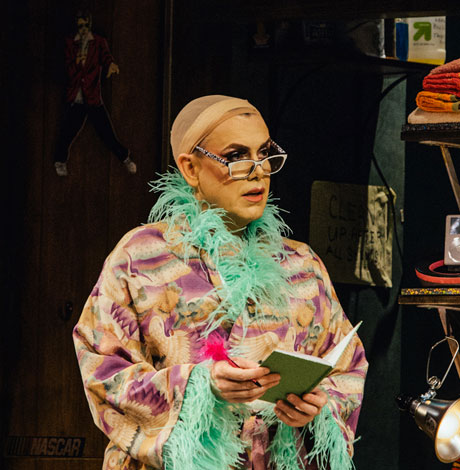 Drag and the theatre go together like fishnet stockings and stiletto heels.  After all, cross-dressing on stage was standard practice even before Shakespeare (by legal necessity) wrote all those great tragic heroines to be played boys.  
The decades since Stonewall have seen a proliferation of shows about drag: "Torch Song Trilogy," "La Cages" and "Kinky Boots," to name just a few, have overcome cultural homophobia to become substantial hits.  
So how does one find a new way of exploring the drag experience when so many have done it before?  
Playwright Matthew Lopez, whose New York hit, "The Legend of Georgia McBride", is now at the Geffen Playhouse, has found an excellent answer to that question.
The title refers to the eventual drag persona of Casey (Andrew Burnap), a young dreamer who earns his living- just barely- as an Elvis impersonator at a Florida bar.  He's damn good at it- but unfortunately, not many people care enough about the King to find that out.  Looking for a bigger draw, his boss decides it's time to change the program and hires a drag performer named Miss Tracy Mills (Matt McGrath) to replace him.  Suddenly out of a job, Casey- whose pregnant wife waits for him at home in an apartment with overdue rent- has only one chance to keep himself afloat: to don drag himself and join her show.
With a set-up like that, it's clear that "Georgia McBride" is intended to be an evening of campy laughs.  It's also clear from the very beginning who its target audience is; during the pre-show, its attractive young leading man comes onstage and begins to warm up with some shirtless pushups.  The entire package- with its naïve-straight-boy-meets-jaded-queen premise, "Redneck Riviera" setting, and rack full of glitzy and glittering costumes- is designed as a crowd-pleaser for gay (and gay-friendly) theater-goers of all ages.  
It certainly succeeds – but it also rises above the level of well-done burlesque by turning the "drag success story" trope inside out.
On both stage and screen, we've seen countless young gay men battle their internalized homophobia in order to claim their inner fabulousness (not that it isn't a story that needs to be retold); but here, Lopez flips the situation to give us an honest-to-goodness straight boy faced with the same conflict.  It's a refreshing change of perspective, and combined with the unexpected depth of all the characters, it makes for a show which not only touches us but reminds us that the struggle for acceptance is a truly universal one.
Don't worry, though. "Georgia McBride" may devote some of its 90-plus minutes to small moments of personal truth, but it still has plenty of time for the over-the-top production numbers, acid-tongued one-liners, and epic shade-throwing expected of any good drag show; and its small cast of performers- aided by Mike Donahue's well-tuned direction and Paul McGill's witty choreography- are more than capable of bringing it.  
Burnap's Casey is adorable, yes, but also much more: his character's evolution (both in and out of drag) rings completely true, and his charm and vulnerability shine in every scene – whether he's reveling in domestic bliss with his bride, learning to trade barbs with his drag mother, or attempting Piaf's "Padam, Padam" like a deer in the headlights.
McGrath, the other half of this star duo, burns just as brightly as the unsinkable Tracy: equal parts nurturing mentor and domineering diva, he balances both extremes as effortlessly as he dances in heels and finds all the subtleties in between as he goes; and when he eventually appears sans drag, he brings another layer that reveals the character's even deeper strength.  Both actors are superb; together, they're an unstoppable team.
Credit also goes to Nija Okoro, touching as Casey's sweet-but-practical wife, Jo; and Searcy masterfully underplays his turn as bar owner Eddie.  But it's Larry Powell who manages to steal some thunder from the stars; as Tracy's hot-mess drag sister, Rexy, he owns every scene he's in from the moment he skates onto the stage.  He makes her a force to be reckoned with, and ultimately ends up with what may be the play's most memorable (and surprising) moment when he "reads" Casey over his lack of respect for the heritage of drag.
It's there where Lopez may be expressing the purpose of his play.  Drag, he says, is a protest, a raised fist.  That's an idea that crosses boundaries; anyone who has ever felt pushed down by the world can relate to it. "Georgia McBride" crosses those same boundaries; by taking a straight man down a road usually walked by his gay brothers and sisters, it demonstrates that we are more the same than different, and turns the seemingly exclusive domain of drag into a place where all are welcome.  It invites us to celebrate our own authentic selves, whoever they may be.
It's also invites us to a fabulous time at the theater – and that's an invitation that should never be refused.
"The Legend of Georgia McBride"
April 12 – May 14
Geffen Playhouse, Gil Cates Theater
10886 Le Conte Avenue
Los Angeles,CA 90024
Box Office Line: (310) 208-5454
www.geffenplayhouse.org
Captivating topic, great cast, but falls short on real issue
Rogue Machine Theatre's recent run of "A Great Wilderness" is reviewed by the founder of the Conversion Therapy Dropout Network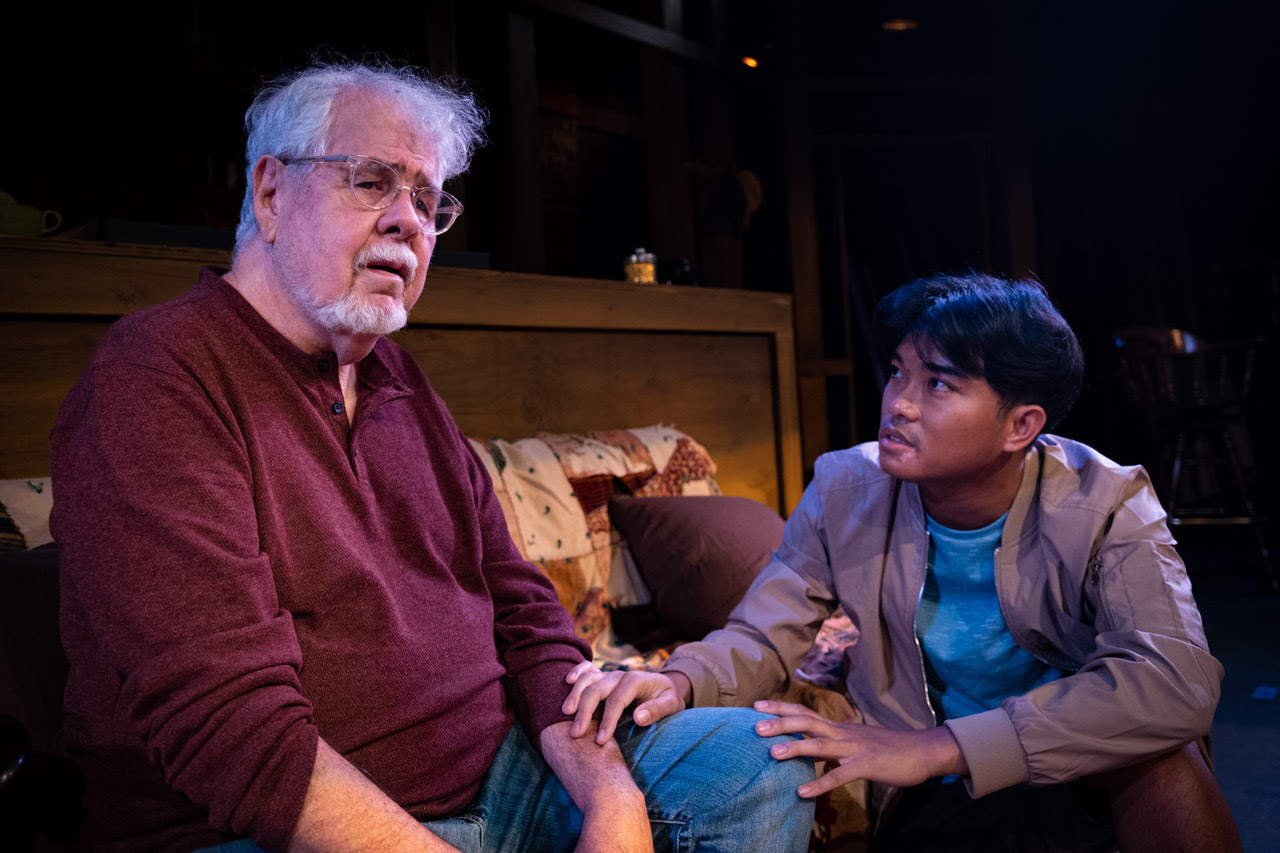 By Curtis Galloway | LOS ANGELES – Rogue Machine Theatre's recent run of "A Great Wilderness", written by Samuel D. Hunter and directed by Elina de Santos, was a harrowing story, to say the least. It explores the complex ideas behind conversion therapy or sexual orientation and gender identity change efforts.
As a conversion therapy survivor, I knew that I needed to see this production as I am always more than happy to see conversations about this topic. While the cast was excellent and the overall theatrical presentation was entertaining and very engaging, I feel that the script itself lacked direction and proper handling of the main topic, conversion therapy.
The show opens in an old cabin, which we will stay in for the duration of the story, with the two main characters, Daniel & Walt, standing off in silent opposition. Daniel, a teenager, has just been sent away to a remote cabin run by Walt, an elderly man that is about to be moved into an assisted living home. We learn quickly that Daniel was sent there by his mother after he was caught watching homosexual pornography, and Walt is known for "helping" kids change their sexual orientation through religious means. To be plain, Walt is a "conversion therapist" and has been running a conversion camp with his friend Tim and ex-wife Abby.
Over the course of two hours, Daniel goes missing in the woods, Abby and Walt reveal that their son was gay and committed suicide due to their attempts to have his sexual orientation changed, and Daniel's mother seemingly prefers her son stay missing rather than face the world that she knows is unkind to "people like him".
There is no doubt, that the show had a fantastic cast. The six characters were neatly defined as their own individuals with distinct personalities and lives of their own. Each action was meaningful and thought out, to the smallest detail. The emotion brought through each character enticed you to believe that it was actually happening before your eyes. It was everything good casting should be.
My main issue with the production sat in the script, specifically the sympathy it garnered for Walt as a conversion therapist.
From personal experience, when talking about conversion therapy and specifically the conversion therapist, we need to be careful not to create a sympathetic tone. A Great Wilderness focused too much on the life and struggles of a conversion therapist that, in his old age, is trying to come to terms with his life, the mistakes he has made, and his past attractions.
This brings feelings of sympathy and emotional connection to the character, that does not deserve sympathy. One character notes that they knew Walt through the community as a weird old man that abuses children in his cabin by trying to make them straight. They noted that as they grew to know him they realized that people will say what they want, but they knew he "never harmed those kids".
Toward the end of the show, we get the initial beginnings that Walt is starting to doubt the conversion therapy he has been providing his whole life, but we never really get to him denouncing it or talk directly about it.
At the end, we finally get to see Daniel stumble back into the cabin after being missing in the woods. He describes seeing flames (from a wildfire nearby) and having a revelation from God that he can change and that he wants to pursue what Walt initially set out to do, make Daniel straight.
For me, this left the door way too open for interpretation that, yes, conversion therapy is bad, but what this guy did really wasn't. It misses the whole point and ideology behind why conversion therapy exists in the first place. Anti-LGBTQ sentiments that something is wrong with the individual are at the heart of all of it, and no amount of feel good cabin, "I just want to help" can cover that up.
Overall, the production of "A Great Wilderness" was captivating and fantastic. The cast did an amazing job and they should all be proud, as should the theatre. I left having mixed feelings, as you have now read, but I stand by my evaluation that it casts too much sympathy on a character that has spent his life making other's lives worse and more confusing.
************************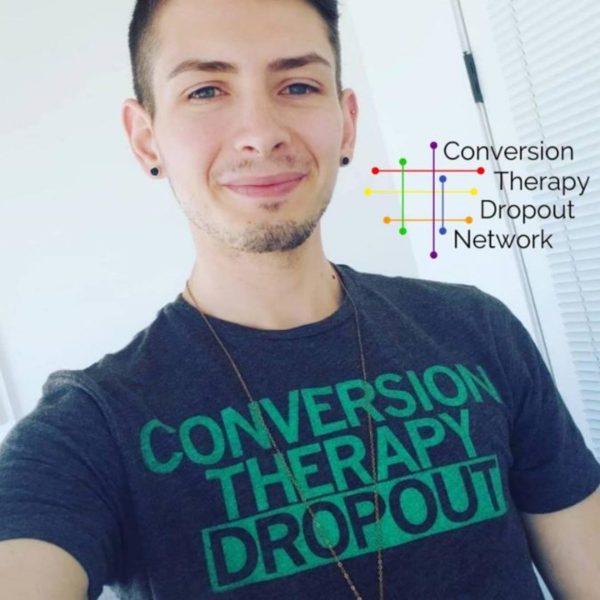 Curtis D. Galloway is the Founder & President of Conversion Therapy Dropout Network in Los Angeles, California. Curtis grew up in a small town in Southern Illinois. When he was 16 years old he was subjected to conversion therapy; an experience he was later able to use to ban conversion therapy in his home state.
Now living in L.A., Curtis has taken his activism to the next level and founded the Conversion Therapy Dropout Network to bring survivors of conversion therapy together in community and solidarity.