The distinctive beauty of 'Guys Reading Poems'
A dark night of the soul becomes a celluloid catharsis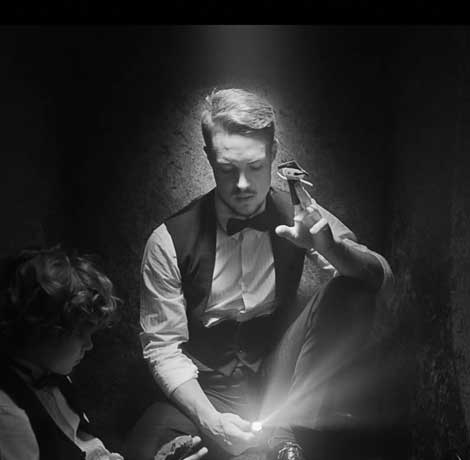 "WHEN you have tidied all things for the night, 
And while your thoughts are fading to their sleep, 
You'll pause a moment in the late firelight, 
Too sorrowful to weep."
So begins "Solitude," by Harold Monro, one of 32 works that comprise most of the spoken poems in Hunter Lee Hughes' new feature film "Guys Reading Poems."
The film tells the story of a boy whose unstable mother imprisons him in a puppet box and builds an art installation around him; to cope, the boy imagines a group of young men who read poetry to him, and these recitations echo through scenes of his past, his future, and his fantasies.  
This ostensible premise serves as the centerpiece in a complex jigsaw puzzle charting the reverberations of a traumatic childhood, through which the resulting psychological fallout — fear and grief, anger and sorrow — is evoked both by the masterful language of the poems and by Hughes' haunting black-and-white visuals.
It's an ambitious undertaking to pack so much heavy emotional content into an average-length movie; many filmmakers have tried to channel these kinds of demons into some kind of celluloid catharsis, only to fall short of the mark. Such efforts are often constructed either as overwrought psychodramas that offer trite resolutions for the sake of closure, or else as fantasies that obscure the issues behind mythological tropes and pseudo-symbolic whimsy.  
Hughes has taken a middle path; "Guys Reading Poems" is both drama and fantasy, which means that it is also neither. Instead, it walks a line between realism and artistic conceit; multiple layers emerge from each other as a progression of imagery takes us from past to present to future, through reality and fantasy and places in between.
The storytelling is elegantly simple, and almost entirely visual; a prologue depicting the courtship of father and mother plays like a lovely pantomime of archetypes, and the rift that develops between them later — as well as the conflict it creates in their child — is eloquently communicated by body language and artful cinematography.  
As for the reciting interlopers, they may be somewhat disorienting, at first, but soon become a comfortable presence. Like a Greek Chorus, they give voice to the soul of the story. It's largely due to them that the film's elevated stylization can yield an authentic emotional connection, allowing both plot and purpose to be revealed like a lotus flower blossoming in a dream.
The array of poems incorporated includes works by Blake, Whitman, Wordsworth, Dickinson, Yeats, and WeHo poet laureate Steven Reigns, among many others; no less crucial, however, is the visual poetry achieved by Hughes and cinematographer Michael Marius Pessah. Lushly lit and richly photographed, "Guys Reading Poems" is a movie that revels in its black-and-whiteness, evoking a noir sensibility that pays homage to its cinematic heritage and makes every frame feel like a deeply embedded memory.  Combined with a flair for artistic design and a deft use of symbolism (which avoids heavy-handedness without sacrificing clarity), this results in a movie of distinctive style and beauty that lingers in the mind's eye long after viewing.
As for the on-screen talent, they face the task of communicating complex relationships mostly without the aid of dialogue, and they succeed admirably. At the center is young Luke Judy as the boy, moving and endearing in a performance as refreshingly natural as any of his adult co-stars; but it is Patricia Velasquez as the mother — brooding and cold, yet vulnerable and tragic — who, appropriately, dominates the screen. Rounding out the principal cast is Alexander Dreymon as the father; charismatic, and impossibly handsome, he balances tenderness with a hint of swagger as he provides an embodiment of the elusive masculine ideal.
Of course, the movie is called "Guys Reading Poems," so the true stars of the show are the ensemble of young men who fill those title roles. Their soulful delivery provides the movie's beating heart, and gives weight to what might otherwise be nothing but a succession of pretty vignettes. Each of them provides a differing perspective, standing in for various aspects of the young protagonist's psyche as he makes sense of his experience and each of them, like Dreymon, are stunning examples of the male aesthetic.
In fact, the preponderance of maleness, along with an underlying current of unrequited yearning for masculine affection (piercingly established with the departure of the boy's beloved father), inevitably suggest a gay subtext. This tale of a boy locked away in childhood provides an unmistakable allegory for a life shaped in the closet; the isolation from family and society, the entwined longing and resentment, the combination of loneliness and self-sufficiency — all these themes have deep resonance within the LGBTQ community, and all are intricately woven into every fiber of "Guys Reading Poems." Never overt, but vivid nonetheless, it's a layer of meaning that makes this a full-fledged addition to the queer cinema canon.
Even so, Hughes' film has a universal appeal. By channeling the pain of damaged youth into a unique filmic meditation, he has created a touchstone for anyone who struggles to reconcile these psychic scars within their own life. It's an interior landscape that can be recognized by almost anyone, of course; and by treating it with candor, acknowledging its dark beauty, and honoring its inseparability from identity, Hughes has given us a movie which illuminates the path to transcendence.
"Guys Reading Poems" is unequivocally an art film, and as such unlikely to achieve widespread success at the box office; but for those of us who appreciate the bravery required not only to confront these difficult issues, but to explore them in such a public and honest manner, it is a much-appreciated effort and worthy of being sought out. It deserves to be called essential viewing.
'Jeopardy!' champ helps 83-year-old accept Trans people
Schneider recognized the challenges that come with being an openly Trans woman on national TV, but noted: "I thought it would be worse"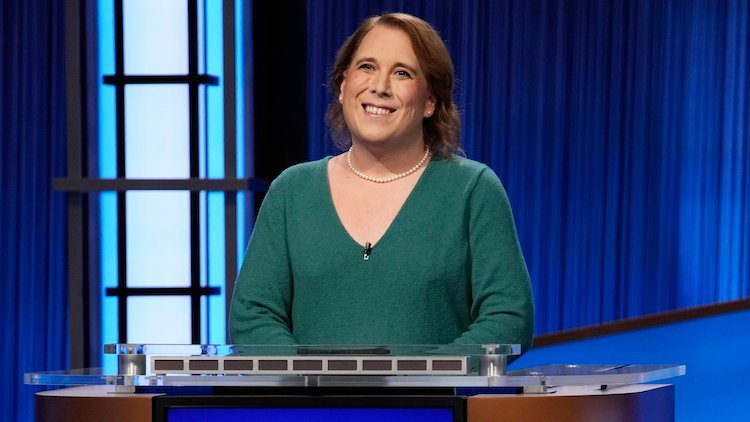 OAKLAND – Trans "Jeopardy!" champion Amy Schneider, the most winning woman in the show's history, opened up in a recent interview about learning that her TV presence helped an 83-year-old man learn to accept Trans people. 
In an interview with NPR, Schneider recognized the challenges that come with being an openly Trans woman on national TV, but noted: "I thought it would be worse."
Though Schneider has dealt with her fair share of transphobic comments on the internet, she told NPR's Ari Shapiro that she stays out of the comment sections because it's better for her mental health.
However, she did recall receiving one Twitter post that highlighted the positive impact of her visibility.
"After two to three years of conversation, you being on "Jeopardy!" every night has taught my dad to be accepting of Trans people," the post said, according to Schneider. "You're the first person he's used correct pronouns with, an 83-year-old man saying, this isn't too hard. Thanks for your message of love." 
"That is just one of the best things I could hear," Schneider said. "And that I've been able to do that, give people that experience – and if I'm helping them, that's what I want to do most of all."
On Friday, Schneider won her 33rd straight game, the third-longest winning streak in "Jeopardy!" history, amassing $1,111,800 in winnings.
Recently, the history-making contestant returned to Twitter after a brief hiatus sparked by being robbed at gunpoint over the New Year's weekend.
"Hi all! So, first off: I'm fine. But I got robbed yesterday, lost my ID, credit cards, and phone," she said, adding: "So, I doubt I'll even start writing tonight's game thread today, and if I keep winning, it may take a bit for me to get caught up. Thanks for your patience!"
Schneider, an engineering manager from Oakland, has been an inspiration to many during her historic run on the show. 
"Seeing Trans people anywhere in society that you haven't seen them before is so valuable for the kids right now that are seeing it," she told ABC affiliate KGO-TV in November, adding: "I'm so grateful that I am giving some nerdy little Trans kid somewhere the realization that this is something they could do, too."
Tom Daley: Bad Dad Jokes!
Terrible jokes, but I love them! Not sure if Lance does…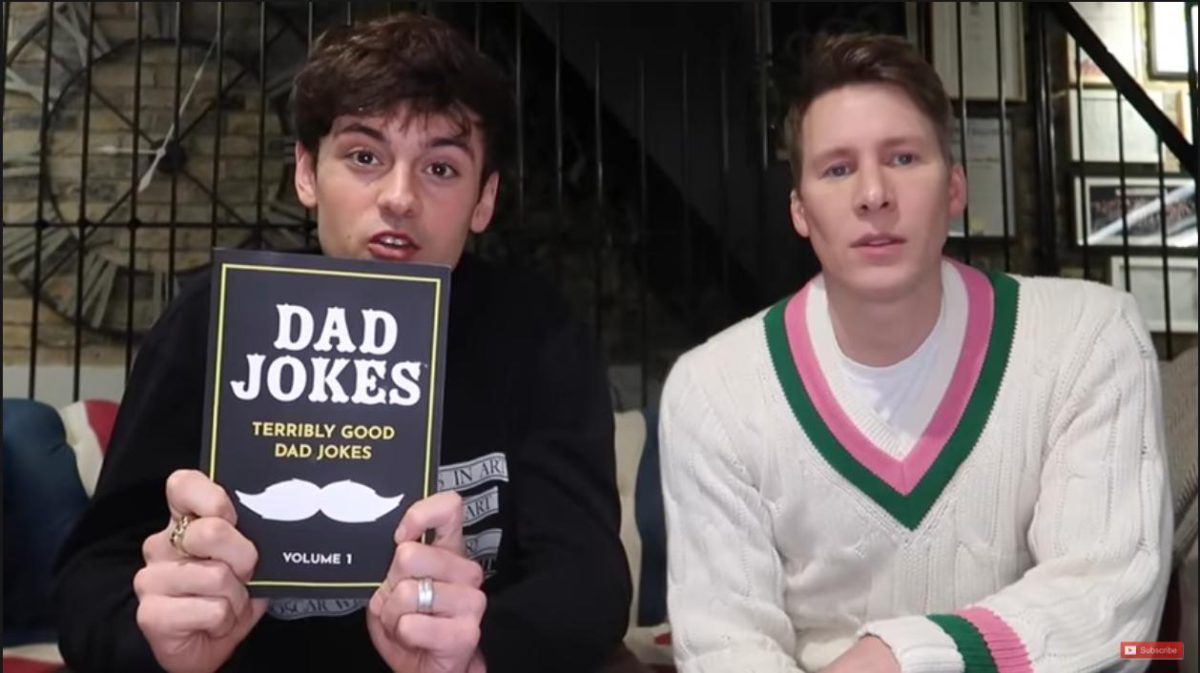 LONDON – British Olympian and gold medalist diver Tom Daley along with his husband D. Lance Black pass along some really terrible 'Dad' jokes.
Out Trans Munroe Bergdorf is covergirl as Cosmopolitan UK celebrates 50
"I believe the people want trans inclusion, racial equality, to end misogyny so women and girls feel safe walking home at night"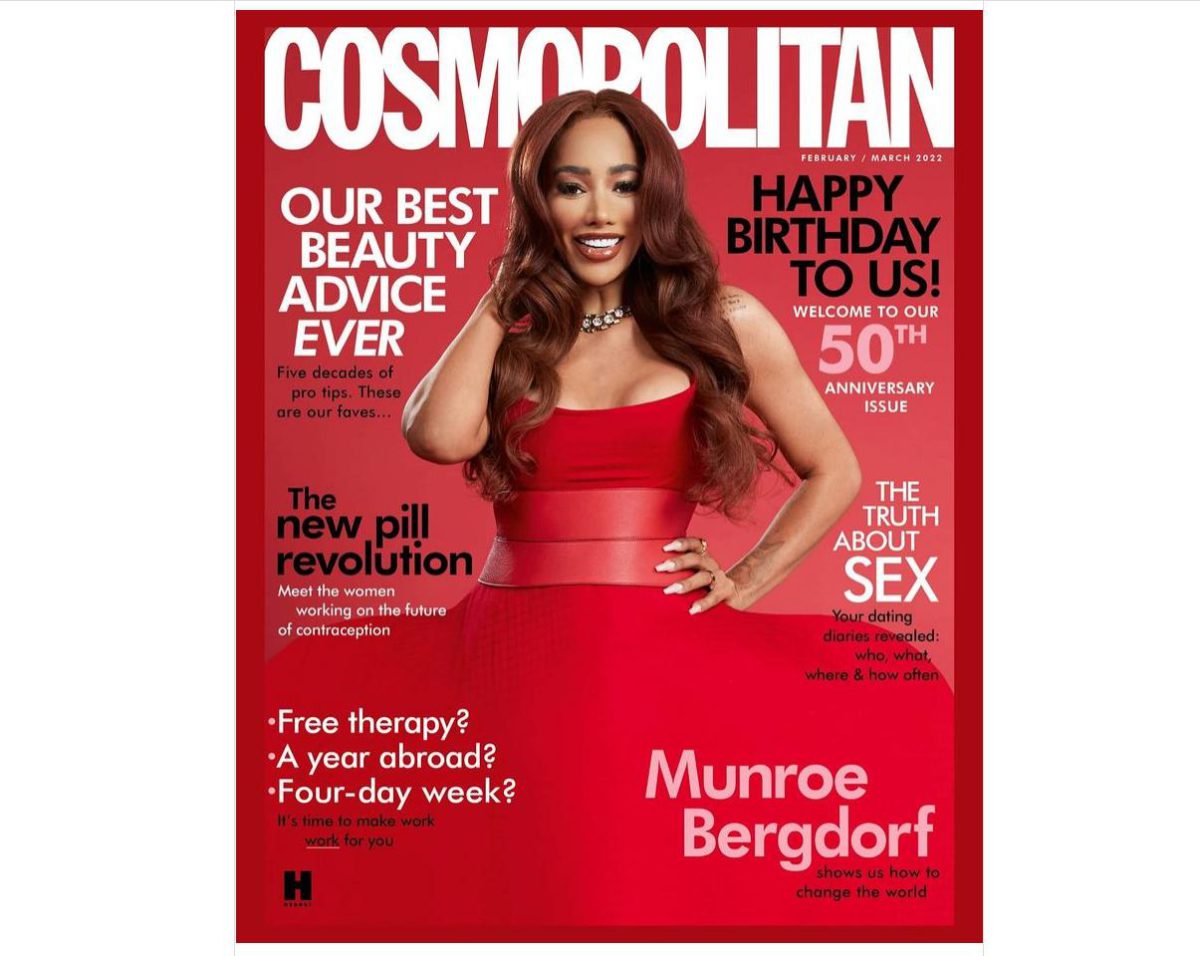 LONDON – Starting this upcoming Friday, January 21, customers standing in the queue at checkout tills and newsstands across the United Kingdom will be greeted by the sight of model and Out Trans activist Munroe Bergdof smiling back at them from the cover of the 50th anniversary special edition issue of Cosmopolitan UK.
In the cover story interview conducted by PinkNewsUK gender and identity journalist Vic Parsons, Salvadoran-American filmmaker, actor, model, and intersex rights activist River Gallo, along with writer, stylist and consultant Aja Barber, Bergdof discusses career, climate change and global warming, cancel culture, pronouns and the future of Trans rights.
"I hope there's a young trans girl looking at this cover thinking: 'I can do it too and who I am is not going to hold me back,'" she says.
Bergdorf adds: "I believe the people want trans inclusion, racial equality, to end misogyny so women and girls feel safe walking home at night."
"I don't think we have ever been as enlightened as a people as we are now, even if there is a lot of misinformation around. I do feel like the spark has been lit. Less people are passively accepting what they have been presented with and that's an incredible thing."
In a commentary piece written for London-based fashion and cultural media outlet Grazia in February 2018, Bergdorf noted;
"A woman is more than a vagina, than her ability to bear children, the gender she was assigned at birth, a socio-economic class, marital status or sexual history – yet every one of these points has been used to define and control a woman's place in society. This is why feminism must serve as an inclusive tool of liberation for all female identities and experiences, not just some. This is where so many women are still getting it wrong."
[…]
"I long to see more cisgender women in positions of influence standing up for trans women, making people aware of issues that may not affect all of us, but that we should all care about deeply."
[…]
"We must learn to see all women's experiences as worthy of being listened to within feminist discourse. Because the fact is not all women possess a functioning reproductive system, not all women have a vagina, not all women's vaginas are pink. So, when 'pink pussies' are used as imagery intended to unify all women, what they are actually doing is excluding a large amount of women from feeling like they have a voice within feminism."
Bergdof deleted her Twitter account due to the torrent of transphobic abuse she received on the social media platform PinkNewsUK reported.
"Tired of being a punching bag. Twitter is not a safe app for transgender people," she wrote.
The activist called on social media platforms take more action to combat the abuse directed at transgender people and women online.