The distinctive beauty of 'Guys Reading Poems'
A dark night of the soul becomes a celluloid catharsis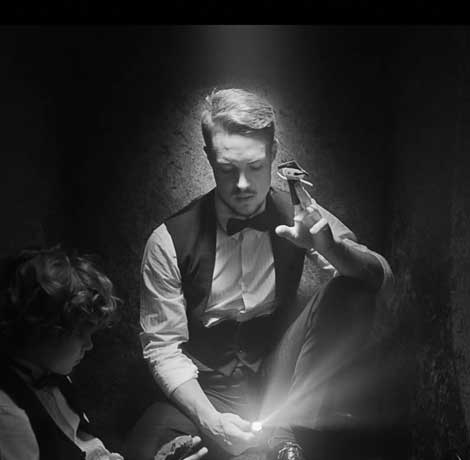 "WHEN you have tidied all things for the night, 
And while your thoughts are fading to their sleep, 
You'll pause a moment in the late firelight, 
Too sorrowful to weep."
So begins "Solitude," by Harold Monro, one of 32 works that comprise most of the spoken poems in Hunter Lee Hughes' new feature film "Guys Reading Poems."
The film tells the story of a boy whose unstable mother imprisons him in a puppet box and builds an art installation around him; to cope, the boy imagines a group of young men who read poetry to him, and these recitations echo through scenes of his past, his future, and his fantasies.  
This ostensible premise serves as the centerpiece in a complex jigsaw puzzle charting the reverberations of a traumatic childhood, through which the resulting psychological fallout — fear and grief, anger and sorrow — is evoked both by the masterful language of the poems and by Hughes' haunting black-and-white visuals.
It's an ambitious undertaking to pack so much heavy emotional content into an average-length movie; many filmmakers have tried to channel these kinds of demons into some kind of celluloid catharsis, only to fall short of the mark. Such efforts are often constructed either as overwrought psychodramas that offer trite resolutions for the sake of closure, or else as fantasies that obscure the issues behind mythological tropes and pseudo-symbolic whimsy.  
Hughes has taken a middle path; "Guys Reading Poems" is both drama and fantasy, which means that it is also neither. Instead, it walks a line between realism and artistic conceit; multiple layers emerge from each other as a progression of imagery takes us from past to present to future, through reality and fantasy and places in between.
The storytelling is elegantly simple, and almost entirely visual; a prologue depicting the courtship of father and mother plays like a lovely pantomime of archetypes, and the rift that develops between them later — as well as the conflict it creates in their child — is eloquently communicated by body language and artful cinematography.  
As for the reciting interlopers, they may be somewhat disorienting, at first, but soon become a comfortable presence. Like a Greek Chorus, they give voice to the soul of the story. It's largely due to them that the film's elevated stylization can yield an authentic emotional connection, allowing both plot and purpose to be revealed like a lotus flower blossoming in a dream.
The array of poems incorporated includes works by Blake, Whitman, Wordsworth, Dickinson, Yeats, and WeHo poet laureate Steven Reigns, among many others; no less crucial, however, is the visual poetry achieved by Hughes and cinematographer Michael Marius Pessah. Lushly lit and richly photographed, "Guys Reading Poems" is a movie that revels in its black-and-whiteness, evoking a noir sensibility that pays homage to its cinematic heritage and makes every frame feel like a deeply embedded memory.  Combined with a flair for artistic design and a deft use of symbolism (which avoids heavy-handedness without sacrificing clarity), this results in a movie of distinctive style and beauty that lingers in the mind's eye long after viewing.
As for the on-screen talent, they face the task of communicating complex relationships mostly without the aid of dialogue, and they succeed admirably. At the center is young Luke Judy as the boy, moving and endearing in a performance as refreshingly natural as any of his adult co-stars; but it is Patricia Velasquez as the mother — brooding and cold, yet vulnerable and tragic — who, appropriately, dominates the screen. Rounding out the principal cast is Alexander Dreymon as the father; charismatic, and impossibly handsome, he balances tenderness with a hint of swagger as he provides an embodiment of the elusive masculine ideal.
Of course, the movie is called "Guys Reading Poems," so the true stars of the show are the ensemble of young men who fill those title roles. Their soulful delivery provides the movie's beating heart, and gives weight to what might otherwise be nothing but a succession of pretty vignettes. Each of them provides a differing perspective, standing in for various aspects of the young protagonist's psyche as he makes sense of his experience and each of them, like Dreymon, are stunning examples of the male aesthetic.
In fact, the preponderance of maleness, along with an underlying current of unrequited yearning for masculine affection (piercingly established with the departure of the boy's beloved father), inevitably suggest a gay subtext. This tale of a boy locked away in childhood provides an unmistakable allegory for a life shaped in the closet; the isolation from family and society, the entwined longing and resentment, the combination of loneliness and self-sufficiency — all these themes have deep resonance within the LGBTQ community, and all are intricately woven into every fiber of "Guys Reading Poems." Never overt, but vivid nonetheless, it's a layer of meaning that makes this a full-fledged addition to the queer cinema canon.
Even so, Hughes' film has a universal appeal. By channeling the pain of damaged youth into a unique filmic meditation, he has created a touchstone for anyone who struggles to reconcile these psychic scars within their own life. It's an interior landscape that can be recognized by almost anyone, of course; and by treating it with candor, acknowledging its dark beauty, and honoring its inseparability from identity, Hughes has given us a movie which illuminates the path to transcendence.
"Guys Reading Poems" is unequivocally an art film, and as such unlikely to achieve widespread success at the box office; but for those of us who appreciate the bravery required not only to confront these difficult issues, but to explore them in such a public and honest manner, it is a much-appreciated effort and worthy of being sought out. It deserves to be called essential viewing.
The death of Irene Cara and the broken promise
Her final professional projects were gifts to other women musicians of color- but her voice inspired my gay generation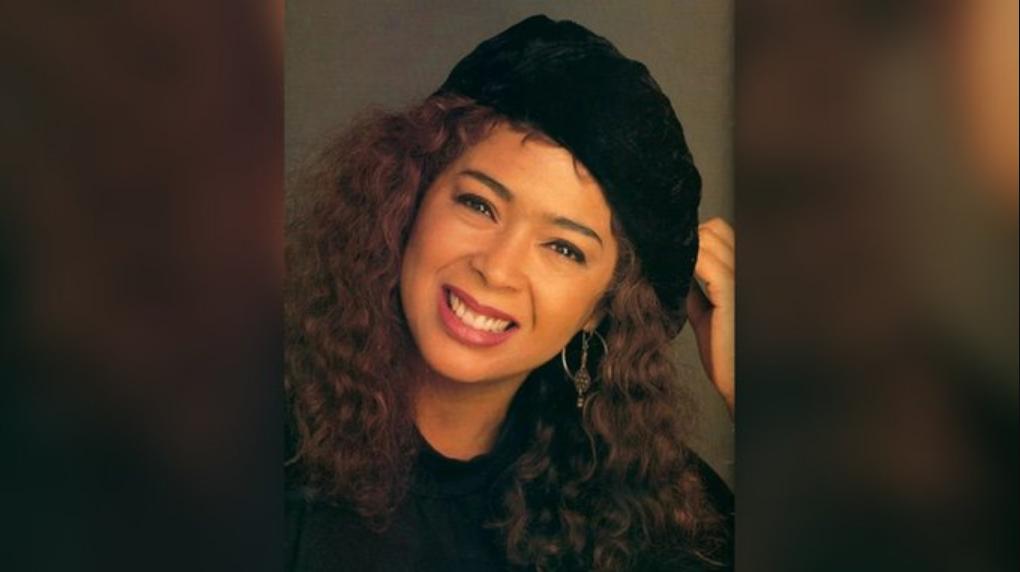 HOLLYWOOD – As I walked down the dark alley towards the glowing light, the opening bridge of the song called to me. "Baby, look at me and tell me what you see, You ain't seen the best of me yet, Give me time, I'll make you forget all the rest, I got more in me…" 
The movie Fame had just come out and its anthem theme song was HOT. The glowing light that night was a gay disco, tucked away from heterosexual view, while gay bashers circled in trucks a few blocks away. That safe haven in the dark alley allowed me, a 20-year old youth, a path out of the closet in which I emotionally and sexually had residence. To me, the words of the song Fame, and its overwhelming delivery, was my inner drive and conviction that I could be me, and my own personal superstar.
The young woman delivering the song was barely an adult herself. Irene Cara had been a child performer and was now breaking into the fame she was singing about. She was "instantly" famous thanks to Fame. Amongst other accolades, she was nominated for a Best New Artist Grammy. The song itself won the Oscar that year.
The Grammy nomination put a public trapping on what we all knew: She was a star, and had all the makings to become a superstar, an icon.
For LGBTQ people, her work that year spoke to our souls and our optimism. As "Randy 503" shared on the Joe.My.God site, "I was a deeply closeted and lonely kid in my early 20s. Not lonely because I didn't have friends (had tons of them), but lonely because I refused to admit I was gay and kept away from all that. I saw the movie and was transfixed. Bought the album and played it all the time, especially her songs. Her voice was so strong, and so expressive, it really touched me."
Cara's second song in the movie also resonated with the gay audience. While Fame spoke to the sassy optimism of embracing our outstanding selves and taking the world by storm, Out Here On My Own spoke to the dark loneliness of the closet. "Sometimes I wonder where I've been, who I am, do I fit in… when I'm down and feeling blue, I close my eyes so I can be strong and be with you…I dry the tears I've never shown, Out here on my own."
Randy points out, "Out here on my own always left me in tears. It hit so close to home, and I could feel sadness on it. It's a great song sung by one of the best."
After the success of Fame, Cara ventured into a sitcom pilot and a freshman album, "Anyone Can See." Neither caught the world on fire, as apparently only some of us could actually "see" her real worth.
It was not long after however, where Cara's apparent life mission to deliver culture changing anthems, came calling again. She was recruited to help out with the new Flashdance movie, and to work with iconic gay producer Giorgio Moroder for its theme song. Cara was reportedly reluctant. She had already been criticized as a second tier Donna Summer with Fame, and was hesitant to get into that musical lane. Later she would work with John Farrar whom she credited as being responsible for ALL of Olivia Newton John's hits. It seems that her superstar aspirations were more to be Pop Princess than another Queen of Disco.
She did sign on board with Moroder and Flashdance, and made history. Her song Flashdance… What a Feeling went to #1 for six straight weeks. It affected American culture in style, attitude and substance. On Academy Awards night, Cara made history again. (She had already made history in a minor way a few years before as the first person to ever perform two nominated songs in one evening.) This time, she became the second African American woman to win an Oscar – the first being Gone With the Wind's Hattie McDaniels.
Cara was the first African American woman to ever win a non-acting Oscar ever.
The anthem Flashdance…What a Feeling spoke to LGBTQ audiences of the 80s, in a way that Fame had. "First when there's nothing but a slow glowing dream that your fear seems to hide deep inside your mind. All alone, I have cried silent tears full of pride in a world made of steel, made of stone, Well, I hear the music, close my eyes, feel the rhythm wrap around, take hold of my heart. What a feeling, being is believing I can have it all.."
Online, Joe.My.God reader BearlvrFl shared, "LUV the song "Out Here On My Own" I call "Flashdance: What A Feeling" my coming out song, popular on the dance floor very close to the time I finally came out at the age of 22. I could relate to "Take your passion/And make it happen." Super simple lyric, but it's timing was everything for me, having been closeted for so long."
This time, AIDS had brought a very dark cloud over the community, however. Its ravage was starting to take widespread hold. It made the line in the song "now I'm dancing for my life" even more poignant and relevant.
The darkness that was falling over the LGBT world was on a parallel track in Cara's own life. As she picked up Oscars and Grammys, there was a sadness in her eyes above the smile on her face. She shared later that the public glory was matched with a behind-the-scenes horror story. Her record company was keeping her from garnering any success from her accomplishments. Columnist Liz Smith stated in a 1993 piece that Cara earned only $183 in royalties.
Cara inspired women of her generation. Patti Piatt shared on Twitter, "I am from a generation of women who thought anything was possible because of Irene Cara. She gave us so much joy. We all danced to her songs, didn't matter if we could dance, we danced because she made us want to dance."
In spite of singing THE anthem of women empowerment, Cara became an example of a woman destroyed by the male dominated music industry. As she fought back for earnings due her, she became black-listed, and her trek to superstardom halted. They made her all but disappear. A decade later, she won, but by that time, the damage had been done.
Her final solo album subconsciously called out her professional demise with songs titled "Now That It's Over", "Get a Grip" and the ultimate defeatist title "Say Goodnight Irene."
"I know well enough this is going nowhere… Might as well say goodnight, Say Goodnight, Irene."
In the end, she seemed to find peace. Her final professional projects were gifts to other women musicians of color. She comfortably settled into what she called "semi-retirement" and her Florida home with a steady stream of funds from her hard-earned residuals.
The promise of becoming a superstar eluded her, but she busted the ceiling so it might not elude others. Painfully for fans, the promise from the song Fame, "I'm gonna live forever" also did not come true.
Let's instead, think of her making "it to heaven" and lighting "up the sky like a flame."
For those trying to find final meaning from her life, and the un-fulfilled promise of what could have been for her and for us, may do so in the words from her lesser-known anthem. Here we swap out a promise instead for The Dream:
"We can all be free, we hold the key, if we can see what we want to be. Life is never easy, you get no guarantees, why not give your all and see what you can find?"
And, yes.
Irene Cara, we will always remember your name.
The Dream
*************************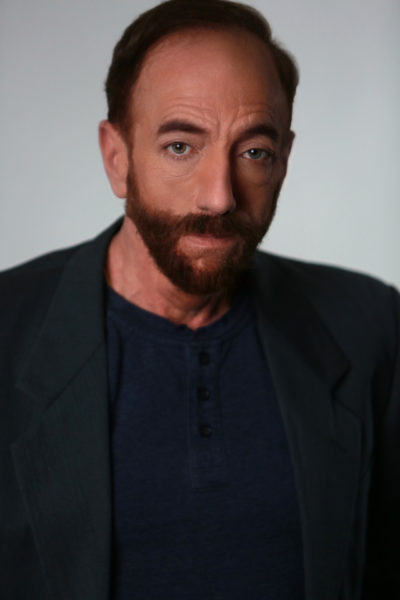 Rob Watson is the host of the popular Hollywood-based radio/podcast show RATED LGBT RADIO.
He is an established LGBTQ columnist and blogger having written for many top online publications including Parents Magazine, the Huffington Post, LGBTQ Nation, Gay Star News, the New Civil Rights Movement, and more.
He served as Executive Editor for The Good Man Project, has appeared on MSNBC and been quoted in Business Week and Forbes Magazine.
He is CEO of Watson Writes, a marketing communications agency, and can be reached at [email protected] .