LGBT groups prepare for fight over Trump 'religious freedom' EO
Equality California is sponsoring Unity Rally Against Anti-LGBT Trump Executive Order on Thursday in Los Angeles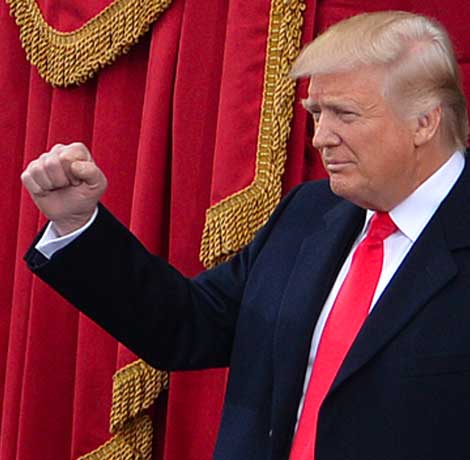 In the wake of a media report that President Trump is preparing to sign a "religious freedom" executive order on Thursday, LGBT groups are making plans to fight over the measure on the assumption it will enable anti-LGBT discrimination.
The Human Rights Campaign is planning a rally and news conference at noon Wednesday at Lafayette Square outside of the White House to raise awareness for a directive that the organization says would puts millions of LGBT people at risk of discrimination.
"Donald Trump's rumored unconstitutional action is nothing more than a license-to-discriminate order that puts millions of LGBTQ people at risk," Griffin said. "There is no religious freedom crisis in America today, but there is a crisis of hate and discrimination. At a time when two-thirds of all LGBTQ people report having experienced discrimination, Donald Trump is making the problem worse by giving legal cover to perpetrators. By even considering this discriminatory order he has broken his promise to be a president for all Americans."
According to Politico, President Trump has invited conservative leaders to the White House on Thursday for the signing of an executive order timed with celebration of the National Day of Prayer, which the administration was planning to celebrate with faith leaders.
The report cites two senior administration officials confirming Trump would sign the order on Thursday, although "one cautioned that it hasn't yet been finalized, and noted that lawyers are currently reviewing and fine-tuning the draft language."
A draft "religious freedom" executive order has circulated among federal advocacy groups and would enable discrimination on the basis of religious objections to same-sex marriage, premarital sex, abortion and transgender identity. The proposed measure would gut former President Obama's 2014 executive order barring anti-LGBT workplace discrimination against federal contractors, even the White House issued a statement indicating Trump had planned to keep the order intact.
Media reports have said Ivanka Trump and Jared Kushner convinced Trump not to sign the order, but White House Press Secretary Sean Spicer has said the administration would "have something" on it. Just last week, USA Today reported a group of 51 House Republicans have sent a letter to Trump calling on him to sign the "religious freedom" executive order.
Politico reported the draft executive order Trump plans to sign is being tightly held, but quoted an influential conservative who saw the text said it "hasn't been dialed back much – if at all – since the February leak" and has language that is "very, very strong."
Asked about any plans to sign a "religious freedom" order, Sarah Huckabee Sanders, a White House spokesperson, told the Washington Blade, "Nothing to announce at this time."
The American Civil Liberties Union issued a statement on Tuesday threatening the administration with a lawsuit after news broke about Trump's plan to sign the executive order.
"The ACLU fights every day to defend religious freedom, but religious freedom does not mean the right to discriminate against or harm others," said Louise Melling, deputy legal director of the American Civil Liberties Union. "If President Trump signs an executive order that attempts to provide a license to discriminate against women or LGBT people, we will see him in court."
Peter Montgomery, senior fellow for the People For the American Way, said in a statement the executive order would be "very bad news for real religious liberty" if the directive is along the lines of the anti-LGBT draft order.
"The Religious Right has been working for years to stretch and distort the concept of religious liberty into a tool they can use to discriminate against anyone who doesn't think like them, especially LGBTQ people," Montgomery said. "Religious liberty should be a shield that protects every American's religious freedom; but the far Right is trying to transform it into a sword to attack and harm others. It's deeply disappointing, although not particularly surprising, that Donald Trump is once again willing to give extreme anti-gay activists exactly what they want."
On the same day news broke that Trump would sign the order, Faith in Public Life published a full-page letter in Politico signed by more than 1,300 faith leaders urging Trump to reject the measure.
"As clergy and faith leaders who serve diverse communities across the United States, we write to you to express our deep concern over the draft religious freedom executive order that some have urged you to sign," the letter says. "Although it purports to strengthen religious freedom, what this order would actually do is misuse this freedom, turning it into a weapon to discriminate against broad swaths of our nation, including LGBTQ people, women, and children in foster care. We urge you to turn away from all proposals that would abuse religious freedom, including any executive orders on this issue that are currently under consideration."
Nebraska to force "non-affirming therapy" on trans kids
In guidelines released by the state, trans youth will have many requirements to start care, including one likened to conversion therapy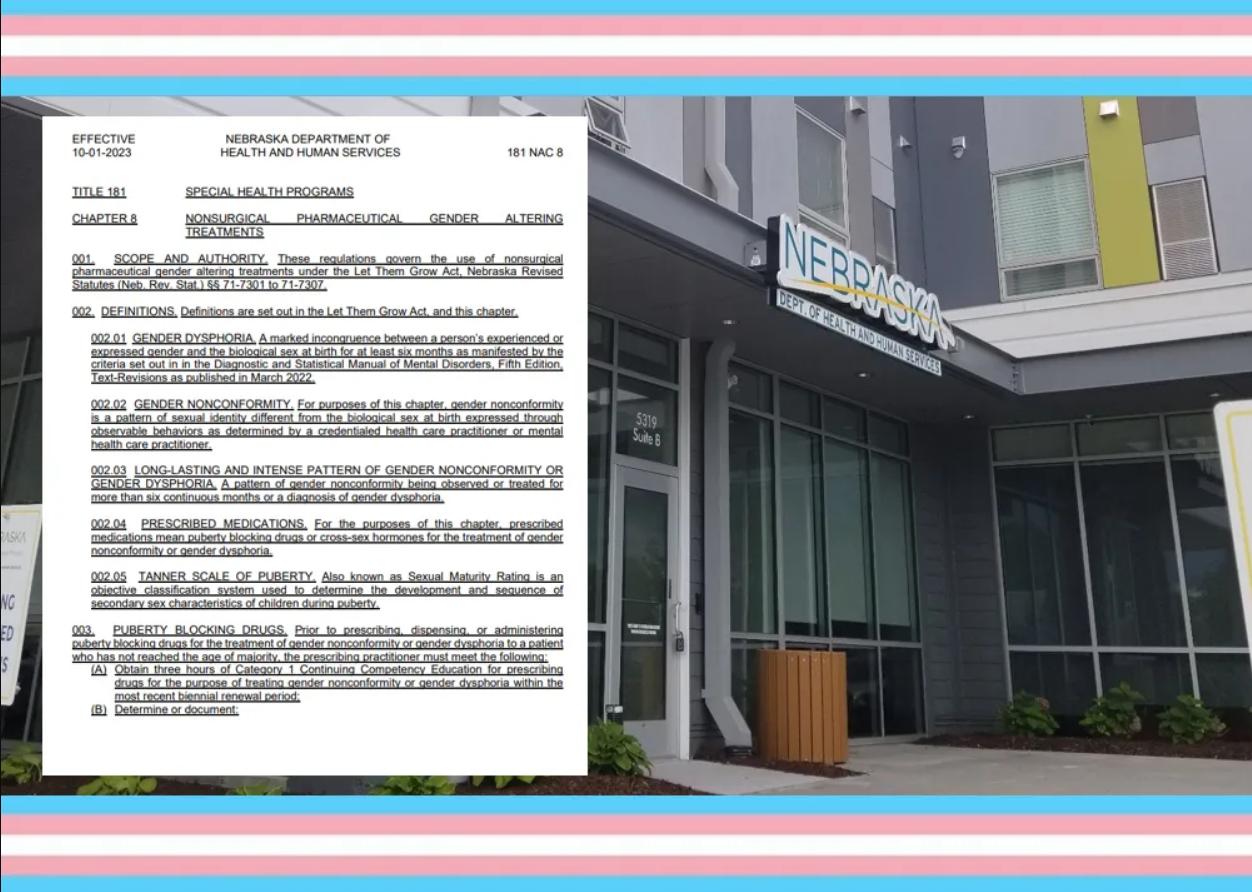 Editor's note: Important update- The regulations have been removed from the website but can be found in an archive here.
By Erin Reed | LINCOLN, Neb. – A new set of regulations released on Monday morning by the Nebraska Department of Health and Human Services spells out several new restriction on transgender youth in the state.
The restrictions, allowed under a new law passed by the Nebraska legislature this year, would curtail gender affirming care for those under the age of 19, the age of majority in the state. While several restrictions are poised to create hurdles for those seeking care, one in particular stands out as especially troubling: a mandate that all trans youth seeking treatment undergo five months of therapy that is "not in a gender affirming context," a nod to a novel form of conversion therapy championed by those opposed to gender-affirming care.
The new regulations delineate a series of hurdles that transgender youth must navigate to access care. One rule, for instance, mandates that trans youth must have been fully out and living as their gender identity for six months prior to treatment, a throwback to an archaic and decades-old standard of care. This standard was discarded following criticisms that requiring transgender individuals to present as their gender identity, before hormones could facilitate such presentation, was psychologically painful and not linked to improved outcomes. Another stipulation demands that only a trans youth's parents may collect their prescription, which must be labeled for gender dysphoria. Additionally, these youth must be handed obligatory medical misinformation forms, proclaiming the medication to be risky and promoting "alternatives" to care.
Most troublesome, however, is a particular regulation on the mental healthcare of transgender youth. The document states that transgender youth must obtain 40 hours of therapy, with a maximum of two such hours per week, that is "not in a gender affirming context." Read literally, this could involve forcing transgender youth to be misgendered and their old names used for months before obtaining care. Such a regulation may put therapists and providers in legal jeopardy merely for practicing the basic respect and dignity of their patients. The guidelines also state that the therapy has to probe for other "mental and physical health conditions" that the guidelines claim may be "driving the patients distress."
You can see the guidelines around therapy here:
Collectively, these guidelines champion a new form of conversion therapy dubbed "Gender Exploratory Therapy." Despite its innocuous name, this therapy seeks to explore all possible causes for a transgender person to experience gender dysphoria other than genuine transness.
It's important to highlight that the patient being transgender is never deemed an acceptable conclusion. Treatments are perpetually dangled just beyond reach until the trans youth believes they are not actually transgender, that too much time has elapsed and puberty has induced too many changes for a successful transition, or they turn 18 and age out of care.
Mirroring crisis pregnancy centers, these tactics are deployed under the pretense of "alternative care" and "neutral treatment," despite the deception inherent in the care provided. The duplicity surrounding gender exploratory therapy is evident in its founders, its practitioners, and on the Gender Exploratory Therapy Association's (GETA) own website.
One of GETA's co-founders, Lisa Marchiano, was implicated in leaked emails of a working group seeking to ban gender-affirming care nationwide. In these correspondences, she employs the far-right doxxing website Kiwifarms to relay information about a transgender activist to Fox News.
Although the GETA website presents the practice as "care without pushing a political agenda," it conspicuously displays a brief aimed at blocking Title IX anti-discrimination protections for transgender youth. Evidently, "value neutral, non-ideological care" is a misnomer for this form of therapy.
Many accounts of patients going through gender exploratory therapy can be found in a widely-viewed thread soliciting patients experiences, and the practice of delaying transition through the associated practice of "watchful waiting" is is explicitly condemned by the American Academy of Pediatrics. Because of widespread harm caused by this kind of therapy, the practice has been recognized as unethical in medical ethics journals.
Collectively, these new guidelines were put in place after the passage of LB547, the "Let Them grow Act." Fittingly with the comparisons to the way these kinds of practices are levied at those seeking abortions, the bill was a combination bill banning abortion up to 12 weeks as well while also containing the provisions allowing for these kinds of restrictions on trans youth. It passed the Nebraska legislature by a narrow supermajority after Democrats filibustered the law for three months.
These new policies were developed under the guidance of the state chief medical officer, Dr. Timothy Tesmer, an appointee by Governor Jim Pillen, who called gender affirming care "Lucifer at its finest." These policies were released on an emergency basis pending the adoption of permanent regulations and will go into effect immediately. A hearing is planned on November 28th on the permanent rules for gender affirming care under the new law.
****************************************************************************
Erin Reed is a transgender woman (she/her pronouns) and researcher who tracks anti-LGBTQ+ legislation around the world and helps people become better advocates for their queer family, friends, colleagues, and community. Reed also is a social media consultant and public speaker.
Follow her on Twitter (Link)
Website here: https://www.erininthemorning.com/
******************************************************************************************
The preceding article was first published at Erin In The Morning and is republished with permission.