LGBT groups prepare for fight over Trump 'religious freedom' EO
Equality California is sponsoring Unity Rally Against Anti-LGBT Trump Executive Order on Thursday in Los Angeles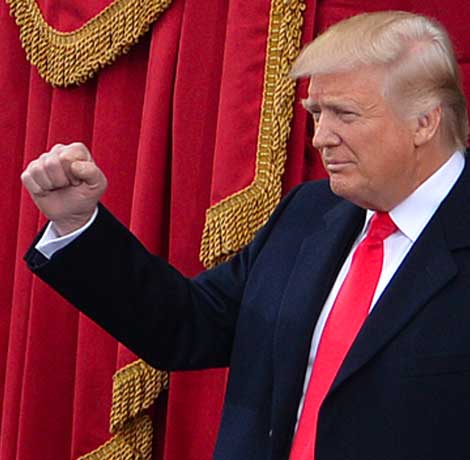 In the wake of a media report that President Trump is preparing to sign a "religious freedom" executive order on Thursday, LGBT groups are making plans to fight over the measure on the assumption it will enable anti-LGBT discrimination.
The Human Rights Campaign is planning a rally and news conference at noon Wednesday at Lafayette Square outside of the White House to raise awareness for a directive that the organization says would puts millions of LGBT people at risk of discrimination.
"Donald Trump's rumored unconstitutional action is nothing more than a license-to-discriminate order that puts millions of LGBTQ people at risk," Griffin said. "There is no religious freedom crisis in America today, but there is a crisis of hate and discrimination. At a time when two-thirds of all LGBTQ people report having experienced discrimination, Donald Trump is making the problem worse by giving legal cover to perpetrators. By even considering this discriminatory order he has broken his promise to be a president for all Americans."
According to Politico, President Trump has invited conservative leaders to the White House on Thursday for the signing of an executive order timed with celebration of the National Day of Prayer, which the administration was planning to celebrate with faith leaders.
The report cites two senior administration officials confirming Trump would sign the order on Thursday, although "one cautioned that it hasn't yet been finalized, and noted that lawyers are currently reviewing and fine-tuning the draft language."
A draft "religious freedom" executive order has circulated among federal advocacy groups and would enable discrimination on the basis of religious objections to same-sex marriage, premarital sex, abortion and transgender identity. The proposed measure would gut former President Obama's 2014 executive order barring anti-LGBT workplace discrimination against federal contractors, even the White House issued a statement indicating Trump had planned to keep the order intact.
Media reports have said Ivanka Trump and Jared Kushner convinced Trump not to sign the order, but White House Press Secretary Sean Spicer has said the administration would "have something" on it. Just last week, USA Today reported a group of 51 House Republicans have sent a letter to Trump calling on him to sign the "religious freedom" executive order.
Politico reported the draft executive order Trump plans to sign is being tightly held, but quoted an influential conservative who saw the text said it "hasn't been dialed back much – if at all – since the February leak" and has language that is "very, very strong."
Asked about any plans to sign a "religious freedom" order, Sarah Huckabee Sanders, a White House spokesperson, told the Washington Blade, "Nothing to announce at this time."
The American Civil Liberties Union issued a statement on Tuesday threatening the administration with a lawsuit after news broke about Trump's plan to sign the executive order.
"The ACLU fights every day to defend religious freedom, but religious freedom does not mean the right to discriminate against or harm others," said Louise Melling, deputy legal director of the American Civil Liberties Union. "If President Trump signs an executive order that attempts to provide a license to discriminate against women or LGBT people, we will see him in court."
Peter Montgomery, senior fellow for the People For the American Way, said in a statement the executive order would be "very bad news for real religious liberty" if the directive is along the lines of the anti-LGBT draft order.
"The Religious Right has been working for years to stretch and distort the concept of religious liberty into a tool they can use to discriminate against anyone who doesn't think like them, especially LGBTQ people," Montgomery said. "Religious liberty should be a shield that protects every American's religious freedom; but the far Right is trying to transform it into a sword to attack and harm others. It's deeply disappointing, although not particularly surprising, that Donald Trump is once again willing to give extreme anti-gay activists exactly what they want."
On the same day news broke that Trump would sign the order, Faith in Public Life published a full-page letter in Politico signed by more than 1,300 faith leaders urging Trump to reject the measure.
"As clergy and faith leaders who serve diverse communities across the United States, we write to you to express our deep concern over the draft religious freedom executive order that some have urged you to sign," the letter says. "Although it purports to strengthen religious freedom, what this order would actually do is misuse this freedom, turning it into a weapon to discriminate against broad swaths of our nation, including LGBTQ people, women, and children in foster care. We urge you to turn away from all proposals that would abuse religious freedom, including any executive orders on this issue that are currently under consideration."
Christian lawyers take case of anti-trans athletes to appeals court
Besides campaigning for a national abortion ban, Alliance Defending Freedom aims to ban trans girls competing in girls' high school sports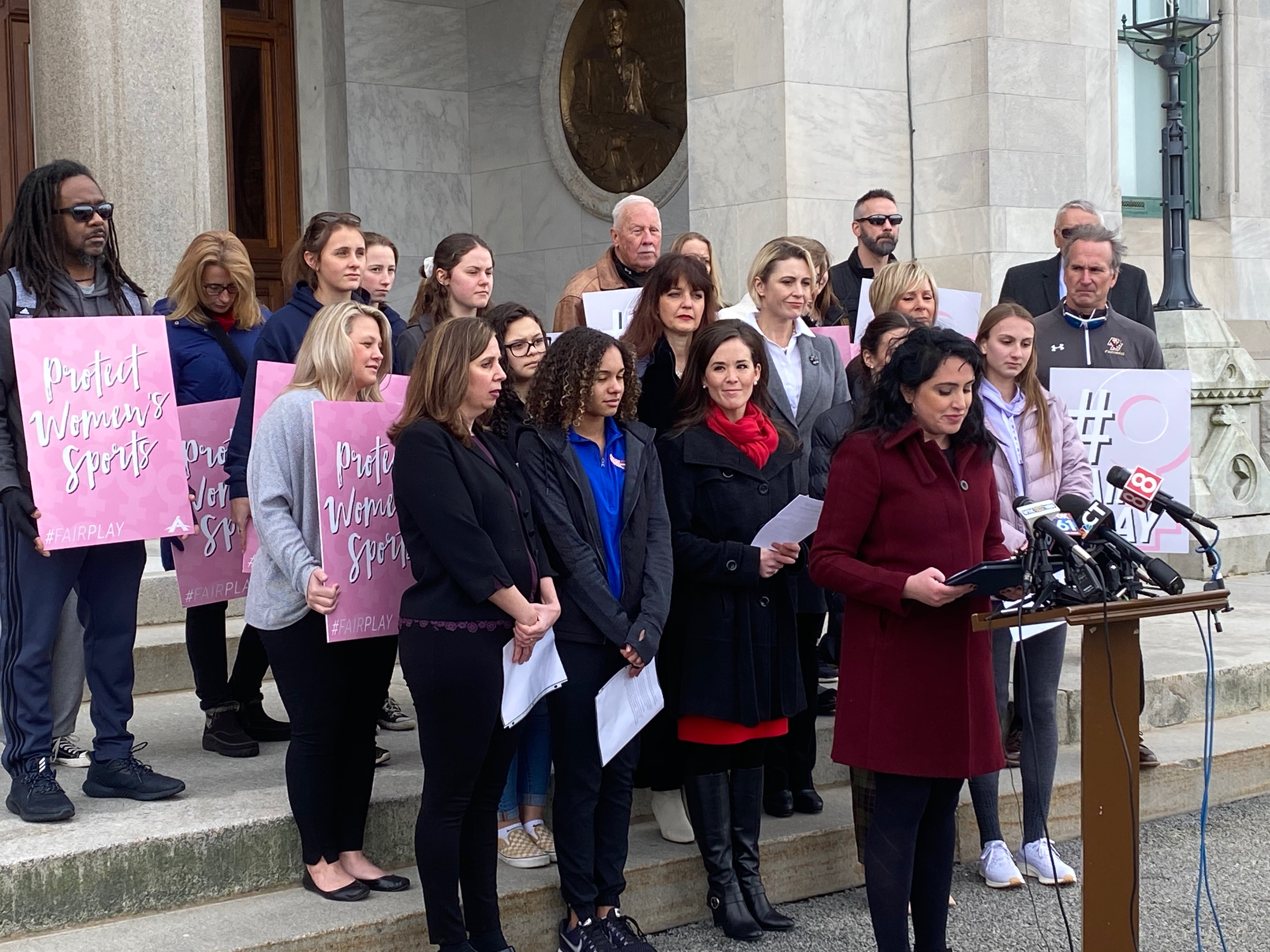 NEW YORK – A federal appeals judge in New York City on Thursday listened to attorneys arguing for and against a ban on transgender athletes in high school sports, the first federal case challenging a policy of inclusion.
Now it's up to Chief Judge Debra Ann Livingston of the Second Circuit of the U.S. Court of Appeals to decide whether a landmark case should be retried or tossed out.
The case, brought by the Alliance Defending Freedom in February 2020, was dismissed by a federal judge in Connecticut in April 2021.
The ADF, a conservative Christian law group labeled an extremist hate group by the Southern Poverty Law Center, is appealing the decision by U.S. District Judge Robert Chatigny. The ADF claims he was biased in favor of the defendants, the Connecticut Interscholastic Athletic Conference and several Connecticut boards of education.
Their original lawsuit and this appeal claims that by permitting transgender student-athletes to compete according to their gender identity, the CIAC and the schools discriminated against the plaintiffs: cisgender women who were track and field athletes in high school in Connecticut. They have all gone on to win collegiate sports scholarships: Selina Soule, Chelsea Mitchell and Alanna Smith.
"Today we argued that my clients, Selena, Chelsea and Alanna, their records and achievements matter, and we ought to be able to prove our case in court," said ADF Senior Counsel Christiana Kiefer outside court in Manhattan. "And so, we're asking that the judges here allow the case to continue to move forward."
A fourth plaintiff, Ashley Nicoletti, was added to the case last year. The women claim they couldn't win against trans girls, and because they were forced to compete with trans girls, they were "denied the chance to be champions."
They also want the court to order the state to change its track and field records and championship-winning results and erase the names of two transgender athletes: Andraya Yearwood and Terry Miller.
In their appeal, and in their press release following today's hearing, the ADF attorneys repeatedly misgendered the two young Black women, referring to them as "boys" and "biological males." Yearwood and Miller are not named in the suit, but American Civil Liberties Union attorneys represented them at the hearing.
The ACLU tweeted what the organization called "the facts" of the case, responding to the ADF's arguments, including that Mitchell and Smith did in fact beat Yearwood and Miller and that three of the four plaintiffs actually did win championships.
"Connecticut's laws preventing discrimination against trans youth in school and sports are consistent with federal law," said Elana Bildner, ACLU Foundation of Connecticut senior staff attorney, in a statement. "For years now, Andraya and Terry have carried more on their shoulders, as two Black trans youth, than most adults face in a lifetime."
"The plaintiffs' argument is filled with hypotheticals about a dystopia where cisgender girls disappear from the podium, but the court must rely on facts," said ACLU attorney Joshua Block. "The facts are that these plaintiffs repeatedly outperformed Andraya and Terry and won an impressive collection of first place trophies in the process. There is enough room on the victory podium for transgender girls too. Under Title IX, all girls, including transgender girls, should be able to participate fully and equally in athletics, in accordance with who they are."
Yearwood and Miller's records and the lawsuit naming them have been cited in several states across the U.S. where legislatures have considered and enacted bans on trans student-athletes. Outside court, Block called this case "sort of Exhibit A," in that effort. "It's held up as an example of the dangers that would happen if transgender girls were allowed to participate. And the reality is that that's based on a completely false premise, because there's no cisgender girls getting pushed off the victory podium. The plaintiffs in this case have been on the victory podium on multiple occasions."
Miller and Yearwood did not win any sports scholarships to colleges and are not pursuing track and field following their graduation from their high schools.
You can read the filing by ADF by clicking here.
The ACLU's statement is here.
Think tank shuts down: Study shows little LGBTQ impact on military
After 24 years of researching LGBT military service bans, the Palm Center announced September 19 it was closing its doors on September 25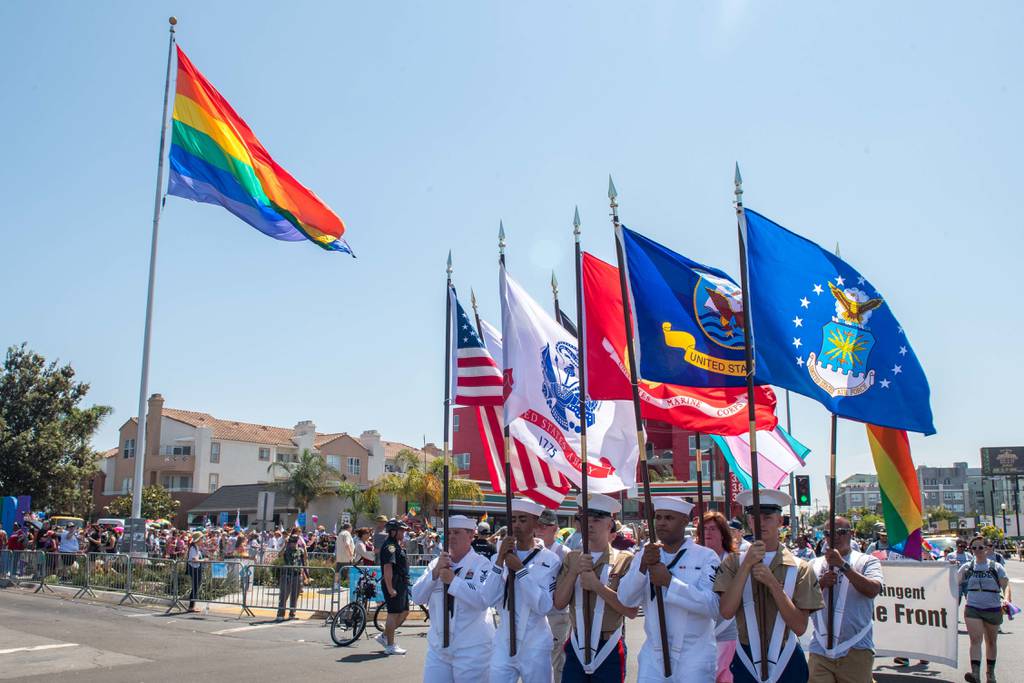 GOLETA, Ca. – The Palm Center, a think tank founded in 1998 at the University of California, Santa Barbara, which researched military policy concerning LGBTQ service members, most notably during the ongoing policy debates that led to the repeal in 2011 of the Clinton era policy known as "don't ask, don't tell," (DADT) announced it is shutting down.
After 24 years of researching LGBT military service bans, the independent research institute, which worked with numerous partner organizations carving out a research niche that involved conducting and publicizing studies that were leveraged to overturn two longstanding bans on service by openly LGBT troops, announced September 19 it was closing its doors on September 25.
In press statement released the Palm Center listed some of its accomplishments:
Spearheading hard-hitting communications campaigns grounded in research, such as uncovering data on Arabic linguists fired for being gay and discovering that the Pentagon was sending gay troops to war, only to fire them upon their return from battle
Paving the way for repeal of the military's transgender ban by dismantling medical arguments that sustained discrimination, and receiving White House recognition for being one of the organizations most responsible for helping the military lift its transgender ban
Cultivating support for inclusion from top leaders such as former Chairmen of the Joint Chiefs of Staff and former U.S. Surgeons General
Conducting 65 research studies, many of which were published in top peer-reviewed as well as military journals
"Few organizations figured out how to move the needle on military opinion so effectively as the Palm Center," said U.S. Navy Admiral Mike Mullen, then-chairman of the Joint Chiefs of Staff, after the repeal of "don't ask, don't tell."
"Its research and policy guidance were invaluable in showing that inclusive service was not complicated and would not harm readiness," he said. "The Palm Center reframed the national conversation over LGBT military service, using facts and research to conclusively demonstrate that inclusion makes our armed forces, and our country, stronger."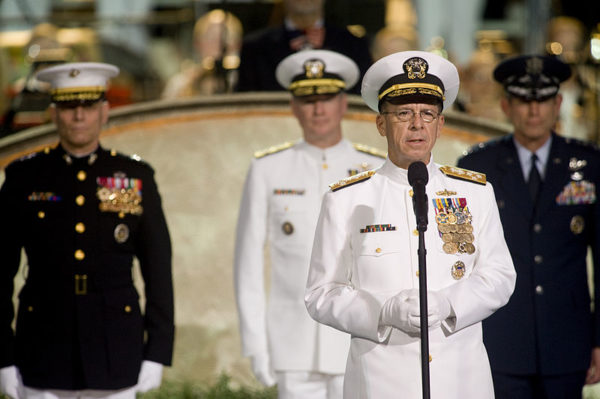 Mullen, who became an LGBTQ hero when, as Chair of the Joint Chiefs of Staff, he testified before the Senate Armed Services Committee in support of repealing the harmful anti-gay Don't Ask, Don't Tell (DADT) policy.
"Mr. Chairman, speaking for myself and myself only, it is my personal belief that allowing gays and lesbians to serve openly would be the right thing to do," Mullen said. "No matter how I look at the issue, I cannot escape being troubled by the fact that we have in place a policy which forces young men and women to lie about who they are in order to defend their fellow citizens."
"For me, personally, it comes down to integrity — theirs as individuals and ours as an institution," he said. "I also believe that the great young men and women of our military can and would accommodate such a change," continued Mullen. "I never underestimate their ability to adapt."
Earlier this month the Palm Center highlighted a 196-page document, published in 2021 by the Joint History and Research Office, which provides support to the Chairman and Vice Chairman of the Joint Chiefs of Staff and to the Joint Staff, that found that opposition to open service by gay, lesbian, and bisexual troops was based on overblown fears among both military leadership and the rank and file.
The study also found that found that concerns about combat effectiveness and unit cohesion were basically unfounded.
The study began in 2012, Joint Chiefs of Staff spokesman Joe Holstead told Military Times this week, in recognition of "the historical significance of the 2010 decision to repeal 'don't ask, don't tell,' " and released ― but not publicized ― in April 2021.
The study, "Repealing Don't Ask, Don't Tell: A Historical Perspective from the Joint Chiefs of Staff," is a public document that appears to mirror a 2016 classified report with the same title. It is unclear why the report was originally classified. The Palm Center sought comment from the Joint History and Research Office but did not receive a response.
"Time and again, opponents of equality have claimed that inclusion would harm America's most important institutions and threaten the nation itself," said Aaron Belkin, director of the Palm Center. "And time and again, that's turned out to be false. This official military study makes clear the yawning gap between fearmongering and reality, and should guide dialogue about similar claims in the present, such as fears that inclusion for transgender Americans is somehow a threat to our society."
The report describes dramatic fears of harm to readiness during the 2009-10 lead-up to the ban's repeal, and contrasts them with consistent findings of no impact. A section entitled, "A Nonissue," reports that some of the service chiefs who had opposed repeal or predicted harm to unit cohesion and effectiveness, conceded that their concerns were unfounded, and that readiness concerns were often based on misperceptions and stereotypes.
General James Amos, Commandant of the U.S. Marine Corps and the most vociferous opponent of inclusion in the upper ranks of the military, had told Congress at the time that repeal "has strong potential for disruption at the small unit level as it will no doubt divert leadership attention away from an almost singular focus on preparing units for combat."
Yet "two months later, General James Amos told reporters that the policy change had been a 'non-event'" and that he was "very pleased" with how the policy change had gone.
Similarly, when the military's combatant commanders were asked to assess the impact of repeal on readiness, effectiveness, cohesion, recruiting, and retention two months after the ban ended, they "reported no impact on any of these categories."
Gen. Martin Dempsey, Chairman of the Joint Chiefs of Staff after Mullen, told Defense Secretary Leon Panetta in 2013 (two years after repeal) that he agreed with the combatant commanders' conclusion that the policy change had "no impact" in undermining readiness.
Federal jury indicts doctor & her spouse: Passing info to Russia
They received public attention in 2015 after becoming the first known active-duty Army officer to come out as transgender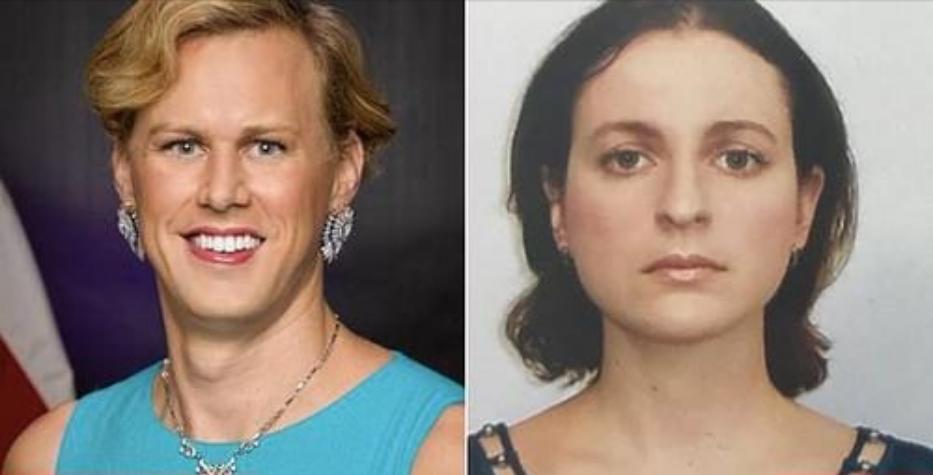 BALTIMORE – A federal grand jury on Wednesday handed down an indictment of a Johns Hopkins anesthesiologist and her spouse, a doctor and major in the U.S. Army, with conspiracy and for the disclosure of individually identifiable health information related to their efforts to assist Russia in connection with the conflict in Ukraine.
The United States Attorney's office for Maryland in a press release stated that the indictment charging Anna Gabrielian, age 36, and her spouse, Jamie Lee Henry, age 39, both of Rockville, Maryland, both of whom had secret clearances, were attempting to provide medical information about members of the military to the Russian government.
Gabrielian and Henry met with an individual they believed to be associated with the Russian government, but who was, in fact, a Federal Bureau of Investigation Undercover Agent.
In court documents filed Gabrielian told the FBI agent posing as a Russian operative that she had previously reached out to the Russian embassy by email and phone, offering Russia her and her spouses' assistance.
According to the U.S. Attorney's office Gabrielian told the FBI agent that, although Henry knew of Gabrielian's interaction with the Russian Embassy, she never mentioned Henry's name to the Russian Embassy.
In the narrative released by the U.S. Attorney's office, on August 17, 2022, Gabrielian met with the FBI at a hotel in Baltimore. During that meeting, Gabrielian told the FBI she was motivated by patriotism toward Russia to provide any assistance she could to Russia, even if it meant being fired or going to jail.
She proposed potential cover stories for her meeting with the "Russians" and stressed the need for "plausible deniability" in the event she was confronted by American authorities. Gabrielian also told the FBI that, as a military officer, Henry was currently a more important source for Russia than she was, because they had more helpful information, including how the United States military establishes an army hospital in war conditions and information about previous training provided by the United States military to Ukrainian military personnel.
Gabrielian's spouse is U.S. Army Major Jamie Lee Henry, who identifies as a transgender military physician on their Twitter account.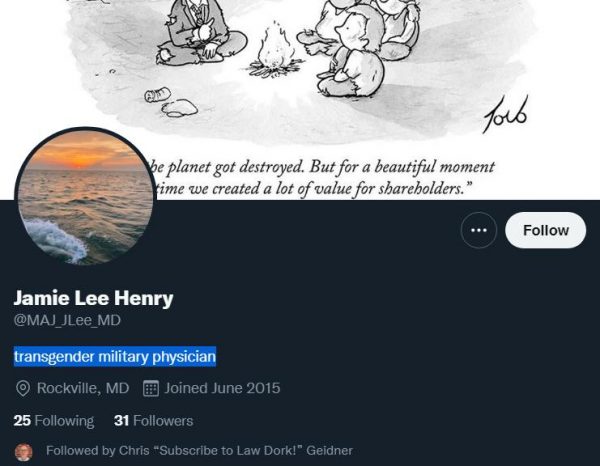 Henry received public attention in 2015 after becoming the first known active-duty Army officer to come out as transgender.
Henry was at one point a member of SPARTA, the nation's largest nonprofit representing actively-serving transgender U.S. servicemembers. A spokesperson for SPARTA, in an emailed statement, commenting on the announcement of the arrest and indictment of Henry and their spouse told the Blade:
"Transgender people are as diverse as the societies to which they belong. One's gender identity neither increases nor decreases a propensity towards alleged criminal activity."
As stated in the indictment, Gabrielian is an anesthesiologist and worked at Medical Institution 1, located in Baltimore, Maryland. Henry, a Major in the United States Army, who held a Secret-level security clearance, is Gabrielian's spouse and a doctor. During the time of the alleged conspiracy, Henry worked as a staff internist stationed at Fort Bragg, the home of the Army's XVIII Airborne Corps, headquarters of the United States Army Special Operations Command, and the Womack Army Medical Center.
Gabrielian was scheduled to have initial appearance at 11:30 a.m. Thursday in U.S. District Court in Baltimore before U.S. Magistrate Judge Brendan A. Hurson.  Henry is also expected to have an initial appearance today, although a time has not yet been set.
Full statement from SPARTA:
"SPARTA, a non-profit advocacy organization representing transgender Service members in the United States, is saddened to learn of the arrest and indictment of Jamie Lee Henry, an officer in the United States Army and a medical doctor.
SPARTA has long advocated for the inclusion and total equity for transgender persons throughout the United States uniformed services. Today, thousands are serving honorably and authentically at home stations worldwide.
The actions alleged in the indictment do not reflect Henry's identity as transgender. Their alleged actions are those of an individual and should not be taken as a representation of transgender people broadly or transgender members of the military specifically.
All people in the United States are entitled to the same rights, including due process and the presumption of innocence in this case. SPARTA does not condone any actions alleged in the indictment and expects the process to play out fairly and equitably as it would for anyone accused of a crime."