Trump Blasted for Silence on Gay Atrocities #EyesOnChechnya
Trump, like Putin, remains silent as gays are brutalized, rounded up and sent to concentration camps in Chechnya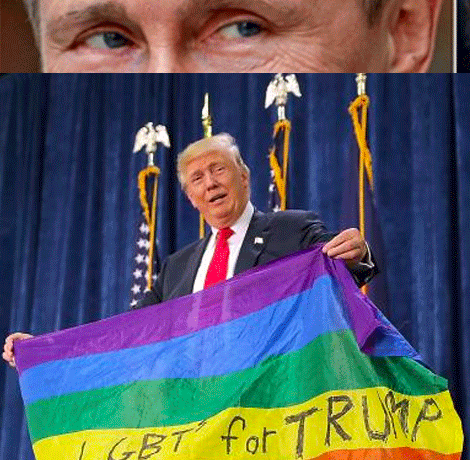 The anniversary of the massacre at the Pulse nightclub in Orlando is just weeks away.
Presidential candidate Donald Trump and more recently, French presidential candidate Marine Le Pen, used the murder of 49 and the wounding of 53 mostly gay Latinos on June 12, 2016 by an American killer sympathetic to ISIS as campaign fodder to get gay votes, suggesting they'd be tough on anti-LGBT terrorists.
And yet since assuming the presidency, Trump has remained silent about the government-ordered atrocities against the LGBT community in the Russian Republic of Chechnya. And some Los Angeles leaders are calling him out.
With the shocking revelations about Trump's ties to Russia, the anti-gay pogroms have been largely overshadowed. The crackdown started in early April, reported by the independent Russian newspaper Novaya Gazeta, after the Moscow-based GayRussia.ru applied for Pride parade permits in four Caucasus cities, sparking religious protests.
At least three gay men were reported killed, according to Human Rights Watch—one died during his torture with the other two dying at the hands of relatives as "honor killings" upon release. About 100 gay men were arrested, tortured and locked in concentration camps. The Russian LGBT Network later said as many as 20 men may be victims of extrajudicial killings.
"Once they bring you there," a survivor told Ekaterina Sokirianskaia, project director for Russia and the North Caucasus at International Crisis Group about the secret prison, "they immediately start the beatings and electrocutions, demanding information about who you were dating."
The chilling prospect of a brutal, deadly purge of gays from Chechnya was revealed in late April when gay Conservative Sir Alan Duncan, Minister of State for Foreign and Commonwealth Affairs, told the British parliament: "Human rights groups report that these anti-gay campaigns and killings are orchestrated by the head of the Chechen republic, Ramzan Kadyrov. He has carried out other violent campaigns in the past, and this time he is directing his efforts at the LGBT community. Sources have said that he wants the [LGBT] community eliminated by the start of Ramadan," which begins May 26.
On May 12, Rep. Adam Schiff, Los Angeles City Council members Mitch O'Farrell, Mike Bonin and Paul Koretz and LA LGBT Center CEO Lorri L. Jean held a news conference at LA City Hall to highlight the dire situation, condemn the violations of human rights, and call on the Trump administration to take action.
"Life, liberty and security are fundamental human rights that we are all entitled to, regardless of who we are, or who we love, and the United States must speak out against these attacks on fellow human beings. We cannot be silent and look the other way — the United States must serve as a beacon of hope for vulnerable populations around the world. We must recommit ourselves to protect and promote the human rights and dignity of all persons," said Schiff, ranking member of the House Intelligence Committee.
Trump is "completely tone deaf," said O'Farrell. "The Trump administration must act and act now, and world leaders must speak in one voice. If the President will not do this, then we will do it ourselves."
And that's happening through a new Twitter hashtag – #EyesOnChechnya, with news of rallies and other events.
After the news conference, O'Farrell, Bonin and Koretz introduced a Resolution condemning Putin and calling on the Trump administration to take action beyond the statements issued by the State Department. After all, British Prime Minister Theresa May condemned the gay persecution as "utterly barbaric." and foreign ministers from Germany, Britain, the Netherlands, France and Sweden sent a joint letter calling on Russia to investigate the atrocities. On May 2, German Chancellor Angela Merkel stood next to President Vladimir Putin at a joint news conference in Sochi and told reporters she had called on the Russian government to investigate, as well.
Putin held a televised meeting with the Chechen leader on April 19 during which Kadyrov called the news reports of an anti-gay pogrom "libelous." Alvi Karimov, a spokesperson for Kadyrov, claimed the reports were false because there were no gay people in the Muslim-majority region.
"It's impossible to persecute those who are not in the republic," Karimov said, according to the state news agency RIA Novosti. "If there were such people in Chechnya, law-enforcement agencies wouldn't need to have anything to do with them because their relatives would send them somewhere from which there is no returning."
After the meeting with Kadyrov, Putin's spokesperson, Dmitri S. Peskov, told journalists that the Russian authorities had found no evidence that the Chechen police had arrested gay men.
Meanwhile, Trump cozied up with Russian foreign minister Sergey Lavrov and Russian ambassador, Sergey Kislyak in the Oval Office on May 10. Discussion of the persecution of LGBT people in Chechnya was not on the agenda.
But with Ramadan fast approaching, LGBT people and allies around the world are not waiting. The L.A. City Council members' resolution noted that "Los Angeles has been and continues to be a welcoming city to refugees and asylum seekers from all parts of the world, including those who have suffered persecution for being LGBT in Russia."
However, since Chechnya is a majority Muslim country with a history of being a "breeding ground for terrorists," gay Muslims escaping Chechnya may not be welcoming in Trump's America, with or without a "Muslim ban" on refugees and asylum-seekers.
On May 17, California Rep. Barbara Lee, working with Human Rights First and other LGBT and human rights organizations, introduced a Congressional Resolution with more than 50 cosponsors supporting International Day Against Homophobia and Transphobia (IDAHOT).
"Over the past decade we have made tremendous progress against hatred, exclusion, bigotry, violence and discrimination against members of the LGBTQ community," said Lee, founding member and Vice Chair of the Congressional LGBT Equality Caucus, in a statement. "Sadly, homophobia, transphobia and discrimination against the LGBT community is a reality that persists across the nation and around the globe. We need look no further than the atrocities in Chechnya for proof that ensuring the safety and health of our LGBT family and friends must remain our highest priority.  
"As we mark International Day Against Homophobia and Transphobia, my resolution shows the terrible effects of anti-LGBT violence, homelessness and health disparities, especially related to mental health, substance abuse and HIV/AIDS," Lee continued. "This resolution is another step in the direction of full equality and acceptance for all."
"The U.S. and other countries must now focus on helping members of the LGBT community flee the tragic situation unfolding in Chechnya. Simply moving to another part of Russia will not be sufficient. Indeed, the presence of a Chechen diaspora throughout Europe means that for many real safety will only be achieved by relocating farther away, including in the United States," Shawn Gaylord, out Advocacy Counsel for Human Rights First, told the Los Angeles Blade.
There are other efforts underway, as well. A Change.org petition called for the Russians to investigate the detentions and torture, which resulted in five LGBT Network activists being arrested May 11 as they tried to present the petition to Russia's Prosecutor General in central Moscow.
New Jersey-based Fred Erick created American Friends of Rainbow Railroad on social media, to support the Canadian organization Rainbow Railroad in helping LGBT people escape and settle in Canada and other safe host countries.
"We are partnering with the Russian LGBT Network to help persecuted individuals in Chechnya," the Rainbow Railroad told OutBuzz. "Currently, 30 gay men have escaped to safe houses in Russia and we have helped 2 of these men escape the region altogether to safe countries. However, this is just the beginning of our work."
Alturi, an American online organization dedicated to helping fund global LGBT activism, created a campaign on behalf of ILGA Europe and KPH Poland to help evacuate gays.
"The money we raise will be sent to organizations who work with gay and bisexual Chechens on the ground. It will finance their travel, visa and subsistence costs until they arrive at their final, safe destinations," says A. Chaber, Executive Director of KPH Poland and Treasurer at ILGA-Europe of the Save a Life in Chechnya campaign.
"It has been great to see the global response to the situation in Chechnya," Charlie Rounds, Executive Director of Alturi told the Los Angeles Blade. "As an American, I am extremely happy that even as we are under daily attack by our national, state, and local governments tens of thousands of Americans are donating money, signing petitions and making calls to elected officials to help alleviate the great suffering of the Chechen LGBT Community. This response has been swift and powerful and serves a reminder to global despots that even though [President] Obama is no longer in office – that they literally cannot get away with murder. As we yelled during the 1968 Democratic National Convention 'the whole world is watching.'"
Louisiana lawmakers send anti-LGBTQ bills to Governor Edwards
"I guess I've always believed in my heart of hearts that a decision should be made by a patient and a physician"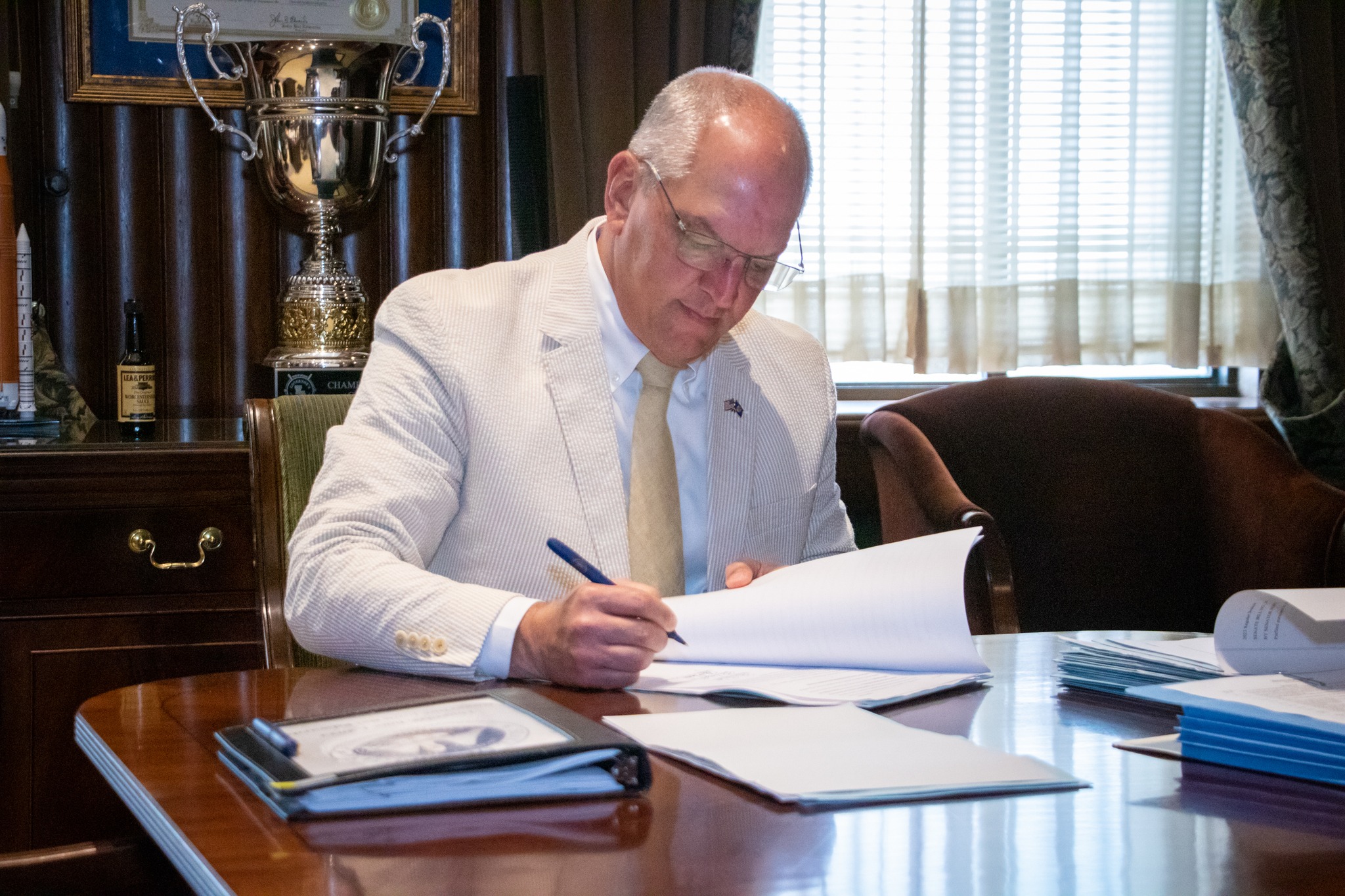 BATON ROUGE – The Louisiana state Senate on Monday, following a national conservative movement targeting LGBTQ+ youth, approved three measures that target LGBTQ+ rights. The bills now head to the state's Democratic Governor John Bel Edwards, one of which has spurred calls for the governor to veto from leading civil rights advocacy groups including the ACLU.
House Bill 648, a ban on trans youth gender-affirming health care, passed on a 29-10 vote that along party lines. HB 648 is the only bill of the three to receive a veto-proof majority vote in both House and Senate should the governor veto it, which sources say is highly likely.
"This extreme government overreach harms everyone in our state, especially transgender Louisianans, and we all deserve better," ACLU spokesperson Kari Elgin said in a statement.
The local newspaper, The Advocate reported, the Senate voted Monday for HB 466, the ban on talk of gender and sex in school classrooms, on a 29-9 vote, a two-thirds majority; and for HB Bill 81, the pronoun bill, on a 31-8 vote, also a two-thirds majority. However, the House passed each of those bills earlier in session without two-thirds majority votes.
Human Rights Campaign State Legislative Director and Senior Counsel Cathryn Oakley released the following statement:
"From doctors' offices to classrooms, Louisiana's extremist legislators show no shame in assaulting the freedoms of those different from them. Blocking teachers from providing the safe and inclusive spaces that LGBTQ+ youth so desperately need is an unconscionable act. There is absolutely nothing inappropriate about being LGBTQ+ or in acknowledging LGBTQ+ issues and people. Furthermore, denying transgender and non-binary youth access to best-practice, life-saving medical care puts their lives in very real danger.
These bills are a desperate and cruel effort by radical politicians in Louisiana to marginalize and erase the LGBTQ+ community, particularly transgender youth. The Human Rights Campaign strongly condemns these discriminatory bills and calls on Gov. Bel Edwards to veto them."
There was opposition to the trans youth healthcare ban from Senator Republican Committee Chairman Fred Mills, of Parks, joined who had joined with the Democrats in opposition. The bill killed by the Senate Health and Welfare Committee, which Mills is chair of on May 24, which was thought to have effectively killed the bill for this legislative session.
According to the Advocate after weeks of political maneuvering that saw it revived by the full Senate as political pressure mounted from conservative interest groups and then approved last week by a second Senate panel, sending it back to the full chamber.
Last month Mills, who expressed his trust in science and health care providers before joining Democrats in opposition.
"I guess I've always believed in my heart of hearts that a decision should be made by a patient and a physician," Mills said.
Speaking to the Advocate Monday, Mills said his vote was driven by his belief that decisions about medical care should remain between doctors and patients. He said Monday that blowback to his vote, which included threats from local and national conservatives, came as a surprise because he was unaware of the "cultural war" the issue was enmeshed in.
"This is probably one of the biggest blessings of my life, this controversy," he said. "I've been attacked nationwide by people with hate. But I do not hate these people. I know God blesses them."
Related: