"Matthew Bourne's Early Adventures" is a timeless delight
Sir Matthew Bourne's only appearance in the U.S. this year is a must see in Beverly Hills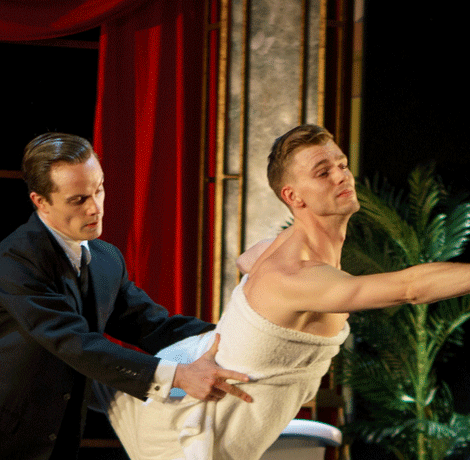 Matthew Bourne, or SIR Matthew Bourne if you prefer to be fancy, is hot.  
I don't mean that in the way that you're thinking (although he is an attractive man, to be sure), but that he is probably the most popular choreographer working in the field of dance today   – and not just in his native England, either.  
For thirty years he has created some of the freshest, most energetic, and downright fun dance productions ever imagined, and in so doing he's widened the accepted boundaries of the art form itself.  He's done it by relying on a heavy dose of influence from the film and theater he grew up watching and yoking the imagery and narrative focus from those sources to the free-form sensibilities of dance, by fearlessly infusing his work with contemporary perspectives on sex and sexuality, and- perhaps most importantly- by not taking it all too seriously.
Throughout his career so far, both with his own dance companies (originally Adventures in Motion Pictures, now New Adventures) and through his work as a director/choreographer in theater, he has continued to deliver productions that are not only graceful and athletic but clever and amusing, as cheeky and charming as they are sublime.  
Now, as part of a thirtieth anniversary celebration of his company, three pieces from the beginning of Bourne's career are gracing the stage at the Wallis Annenberg Center for the Performing Arts, allowing Los Angeles audiences to see first-hand how his unique approach to the art of dance burst forth in his work from the very first.
Those who are already dance aficionados will need no persuading to jump at the chance to see this marvelous performance, but less well-versed audiences need not fear feeling beyond their depth; Bourne's work is nothing if not eminently accessible, thanks to his theatricality and his use of popular music and culture to anchor his productions firmly in the familiar and the contemporary.  
Likewise, though all three of these "Early Adventures" are undeniably British in their sensibility, and joined by the common thread of nostalgia for a bygone era, the tropes and social observations with which they bubble are universally recognizable enough to ensure that nobody will feel left out.
First up is "Watch With Mother- Seen but not heard", a fairly brief 1991 piece about children's playtime.  Accompanied by the incongruously refined piano music of Bach, Fauré, and Australian composer Percy Grainger, a group of precocious English schoolchildren engage in the standard pastimes, games, and horseplay of a simpler time; they also engage in the kind of cliquish childhood cruelty that seems timeless- though of course, one never doubts that such well-bred youngsters will be civil to their peers in the end.  
Bourne revels in the humor of having adult dancers playing the children, which invites the obvious parallels between the immature behavior of both age brackets, and also invites the audience to recall the childish glee of being naughty (or at least not-so-nice) when noone is looking.  It's an adorable piece which perfectly sets the mood for the rest of the show.
Next comes "Town and Country- Lie back and think of England", also from 1991.  A longer segment, this one is a pastiche which explores stereotypes of English character and behavior- particularly among the so-called leisure class- through the romanticized filter of stage, film, and fiction.  
Set to the quintessentially British strains of such composers as Edward Elgar and Noël Coward, it leads us through a series of vignettes depicting English life, first in the sophisticated city and then in the pastoral countryside.  Fanciful and rife with sharp but good-natured satire, these are mostly funny and often hilarious exaggerations of the stiff-upper lip gentility that permeates popular notions of what it is to be British; nevertheless, amidst all the wry social commentary there is room for moments of unabashed sexuality (notably in a brilliantly staged bathing sequence) and unexpected sincerity (in a moving pas de deux between two male dancers).  A wholly satisfying piece that offers a perfect glimpse at Bourne's blend of wicked wit and tasteful sentimentality, this is the must-see highlight of the evening.
The final section is "The Infernal Galop- A French dance with English subtitles", dating back to 1989.  As can be inferred from the title, it's a look at France through the lens of uptight English imagination, featuring all the usual clichés of French culture presented in as exaggerated and cartoonish a style as one could hope.  
An eclectic mix of French music, from Piaf to Offenbach, provides the accompaniment to a parade of hilarious cultural stereotypes; highlights include a dance of seduction set to the iconic tune "La Mer" (in which the sea itself lures a trio of striped-shirted sailors to their doom), a hilariously homoerotic apache dance between two men who meet at a public urinal, and a finale which incorporates the obligatory can-can- performed with a characteristically French attitude of disdain, of course.  
More saucy than shocking, this high-spirited parody provides a delicious and upbeat climax to a performance which, judging by the exuberant expressions of the dancers during the lengthy standing ovation they received at the end, is clearly as joyous an experience to perform as it is to watch.
"Matthew Bourne's Early Adventures" is a superb introduction if you are new to the work of this groundbreaking (and much-beloved) artist, but it's also a great way to fill in the blanks for fans who have been following him for years, but have never been able to see the early stuff that started it all.  
Whichever category you fall into, don't miss your chance to catch these rarely-seen gems; it's their only appearance in the U.S. this year, and it only runs through this weekend.  What are you waiting for?  Get those tickets now!
TICKET INFORMATION:
Wallis Annenberg Center for the Performing Arts
Bram Goldsmith Theater
9390 N. Santa Monica Blvd, Beverly Hills, CA, 90210
Matthew Bourne's Early Adventures:
May 17 – 21, 2017
Performance Schedule: Wed – Fri at 8pm; Sat at 2pm & 8pm; Sun at 2pm
Single tickets: $39 – $99 (prices subject to change)
Online – TheWallis.org
By Phone – 310.746.4000
Box Office – Wallis Annenberg Center for the Performing Arts Ticket Service
9390 N. Santa Monica Blvd, Beverly Hills, CA, 90210
Nonbinary activist Alok Vaid-Menon; gender labels hurt everyone
"I'm nonbinary, which means it's not just that I'm challenging the binary between male, female, man and woman, but between us and them"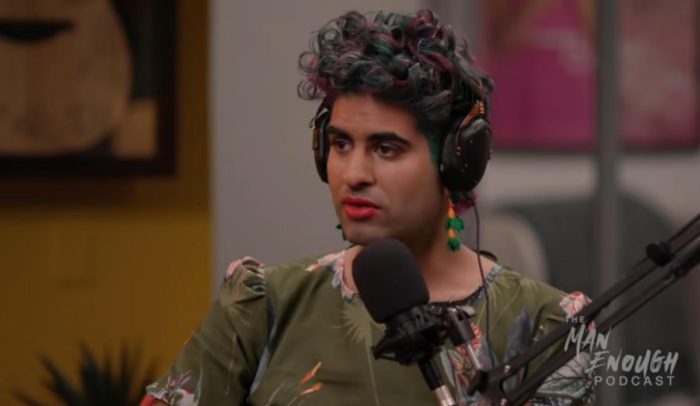 LOS ANGELES – This past week on the Wayfarer Studios new national podcast "Man Enough," nonbinary activist and poet Alok Vaid-Menon appeared alongside hosts actor Justin Baldoni, writer and MSNBC columnist Liz Plank and composer Jamey Heath.
During the broadcast Vaid-Menon noted that "people need to have compassion before "comprehension" — meaning they need to have empathy for trans people even if they don't understand them."
The activist-poet also deconstructed the gender binary — the idea that there are only two genders rather than a spectrum — and the traditional expectations associated with binary gender labels hurt everyone, not just transgender people, and these fixed ideas of what it means to be a man or a woman make it difficult for people to find out who they truly are.
In the podcast Vaid-Menon, who is the author of "Beyond the Gender Binary," said in response to Heath, who had asked what he needs to "unlearn" and what he needs to do to help other men unlearn, in order to better support them, referring to trans and nonbinary people like Vaid-Menon;
"I'm nonbinary, which means it's not just that I'm challenging the binary between male, female, man and woman, but between us and them," Vaid-Menon said, adding, "And in your statement, you said, 'Why don't I help them?' as if this struggle is not your struggle. The reason you don't fight for me is because you're not fighting for yourself fully."
Reporting on the premiere of the podcast episode, NBC News OUT contributor Jo Yurcaba noted;
They said though trans and nonbinary people face violence and death for challenging traditional gender norms, they don't want people to fight for their rights "because you want to protect me or you want to help me."
"I don't need your help," they said, adding that they "have an unshakable and irrevocable sense of who I am" and don't need to prove anything.
'The Man Enough Podcast' was launched in June in partnership with Procter & Gamble who will also co-finance and co-produce other projects with Wayfarer across film, TV and new media.
The Man Enough Podcast | ALOK | The Urgent Need for Compassion
IOC: 'Trans Women Are Women' Laurel Hubbard set to make sports history
Laurel Hubbard is set to make sports history on Monday and the International Olympic Committee clearly has her back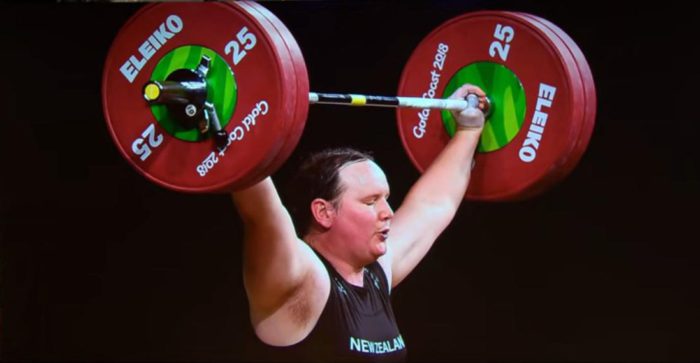 TOKYO – The director of medicine and science for the International Olympic Committee praised weightlifter Laurel Hubbard's "courage and tenacity" as she prepares for her upcoming competition as the world's first out transgender woman Olympian.
In speaking to reporters in Tokyo Thursday, Dr. Richard Budgett directly addressed those who have attacked and mocked the 43-year-old New Zealander and claimed she shouldn't be competing with cisgender women, saying "everyone agrees that trans women are women."
"To put it in a nutshell," he said, "the IOC had a scientific consensus back in 2015. There are no IOC rules or regulations around transgender participation. That depends on each international federation. So Laurel Hubbard is a woman, is competing under the rules of her federation and we have to pay tribute to her courage and tenacity in actually competing and qualifying for the Games."
Hubbard herself has not made any public comments except for a statement following her qualifying for the Summer Games, saying she was "humbled" by the support which had helped her "through the darkness" following a near career-ending injury in Australia in 2018.
Reports around the world have claimed Hubbard is the first trans Olympic athlete, which is actually not the case. As the Los Angeles Blade has reported, Quinn, a trans nonbinary soccer midfielder for Team Canada, last Wednesday became the first out trans athlete ever to complete in the Olympic Games. They posted about it on Instagram, saying, "I feel proud seeing 'Quinn' up on the lineup and on my accreditation. I feel sad knowing there were Olympians before me unable to live their truth because of the world."
The IOC is expected to review and likely revise its policies on transgender participation following Tokyo. Trans athlete and researcher Joanna Harper, who has advised the organization and other sports policy groups, told the Los Angeles Blade her recommendation will be for the IOC to continue to regulate trans athletes sport-by-sport. "There shouldn't be a one-size fits all policy," said Harper.
She also noted how the mainstream cisgender media is consumed with coverage of Hubbard and missing out on the bigger picture, and what it will mean for the next generation watching on TV and online.
"The lack of attention paid to Quinn and to Chelsea Wolfe has been interesting," said Harper.
"A few news outlets have commented on their presence in Tokyo and in Quinn's case the comments have been mostly favorable. On the other hand, the storm of mostly negative press heaped on Laurel Hubbard has been disappointing, although predictable. I hope that the negative press that Laurel has gotten won't dissuade young trans athletes from following their dreams. I think that the next trans woman to compete in the games will get less negative press, and eventually (although probably not in my life) there will come a time when trans women in sport generate little or no controversy."
Hubbard issued a statement Friday via the New Zealand Olympic Committee in which she said: "The Olympic Games are a global celebration of our hopes, our ideals and our values. I commend the IOC for its commitment to making sport inclusive and accessible."
According to a French news outlet, NZOC spokesperson Ashley Abbott told reporters the committee had seen a "particularly high level of interest" in Hubbard's Olympic debut, and much of it has been negative.
"Certainly we have seen a groundswell of comment about it and a lot of it is inappropriate," Abbott said. "Our view is that we've got a culture of manaaki (inclusion) and it's our role to support all eligible athletes on our team. In terms of social media, we won't be engaging in any kind of negative debate."
Abbott reminded the media that the NZOC's job was to support its athletes, including Hubbard. "We all need to remember that there's a person behind all these technical questions," she said. "As an organization we would look to shield our athlete, or any athlete, from anything negative in the social media space. We don't condone cyberbullying in any way."
RELATED: CBS This Morning from 22 Jun 2021
LGBTQ+ ally Jamie Lee Curtis reveals her 25-year-old child is Trans
Curtis and her husband Christopher Guest, British screenwriter, composer, musician, director, and actor have two daughters.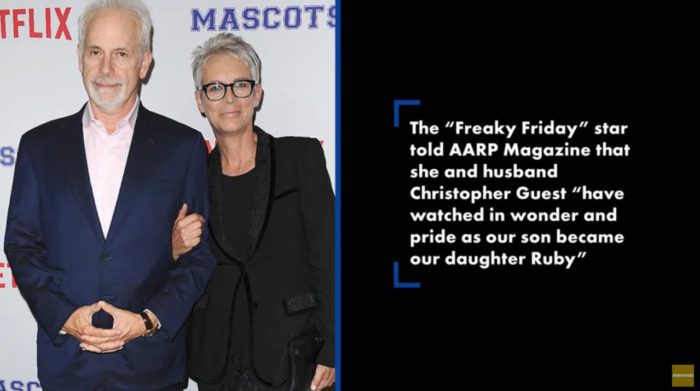 LOS ANGELES – In a new interview with the American Association of Retired Persons' magazine, Golden Globe and BAFTA winning actress Jamie Lee Curtis disclosed that her youngest child is transgender. In the interview Curtis reflected that she has "watched in wonder and pride as our son became our daughter Ruby."
Curtis and her husband Christopher Guest, British screenwriter, composer, musician, director, and actor have two daughters. Ruby, 25, works as a computer gaming editor while Curtis and Guest's 34-year-old daughter, Annie, is married and works as a dance instructor. Curtis also noted that Ruby and her fiancé are getting married next year in a wedding that Curtis will officiate.
The longtime Hollywood couple have been married for more than 36 years but have no grandchildren, "but I do hope to," she told the magazine.