May 20, 2017 at 3:41 pm PDT | by Karen Ocamb
Celebrating the Woman's Building, 'Feminist Mecca' for art and culture
Running parallel to the political civil rights and liberation movements of the 1960s and early 1970s was a counterculture movement driven by consciousness-raising, freeing the imagination and exploring the vast unknown colors of being. For women—and lesbians, in particular—shaking off the shackles of overt and inculcated male oppression promised the daring, bold, sensuous thrill of self-expression, stripped of the boundaries and language of man.
The haven for the feminist art movement in Los Angeles was the Woman's Building  at 1727 N. Spring St., founded in 1973 by artist Judy Chicago, graphic designer Sheila Levrant de Bretteville and art historian Arlene Raven. Until its closing in 1991, the building provided a safe space for artists and writers such as Judy Baca, Rachel Rosenthal, Lily Tomlin, Margaret Atwood, Alice Walker and Ntozake Shange to shape, workshop and presented their work. Madre Tierra Press also enable Chicana artists to give visibility to their cultural expression.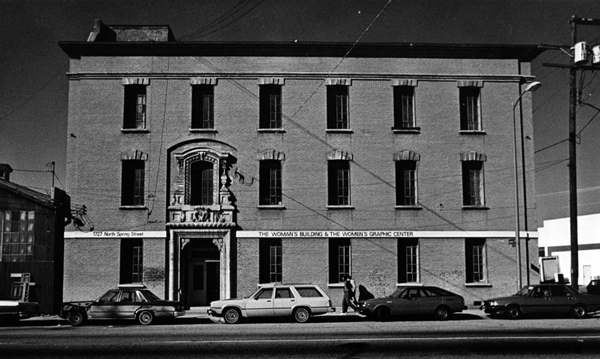 Loathed to let the vibrancy of that historic feminist art movement fade away, Lauren Bon and the Metabolic Studio developed a special project in which fifteen emerging Southern California women artists received fellowships to create new works using the Woman's Building and it's history as a reference. The exhibitions, performances, readings ad discussions under "Animating the Archives: the Woman's Building"  opened on May 13 and will run through June 3 at Avenue 50 Studio, 131 North Avenue 50, Highland Park, CA 90042.
Renowned lesbian author and poet Terry Wolverton, who served as board president and former executive director of the Woman's Building, reads from her work on Sunday, May 21. Iconic lesbian folk singer Phranc performs on June 3. (Find all events here.)
"The whole reason for the Woman's Building is that women were virtually invisible in the arts and culture; their work was not exhibited in galleries and museums; they were left out of the art history textbooks; women students in art school were told no one wanted to see work about women," Wolverton, who wrote a book on the Woman's Building entitled Insurgent Muse: Life and Art at the Woman's Building told the Los Angeles Blade. "This invisibility was even more acute for lesbians. Even among women, there was often a denial of lesbians or a pressure not to be out. In the 1970s, lesbians became very active about promoting and working together for their own visibility in the arts, and the Woman's Building was an important center for this activity."
The Woman's Building," Wolverton continued, "hosted the first conference of lesbian artists in 1975: Los Angeles League for the Advancement of Lesbians in the Arts (LALALA). In 1977, Arlene Raven founded the Lesbian Art Project (LAP) and I became its co-director. Raven conducted art historical research into lesbian artists and studied contemporary practitioners as well. We also conducted educational programs, critiques of the work of lesbian artists, social events, and performance projects such as An Oral Herstory of Lesbianism.
"In 1980, the Woman's Building hosted a national project known as the Great American Lesbian Art Show (GALAS). The project coordinated a network of lesbian exhibitions across the US and across Los Angeles, as well as an exhibit at the Woman's Building with artists such as Kate Millett, Harmony Hammond and Lili Lakich. The LA Times did a review of that show and it was the first time the LAT had ever said those two words together in print: 'lesbian artist,'" she says.
"We know how easy it is for history to be lost. Under the current administration there is a huge threat to lesbian (and women's) visibility and safety. We want the current generation of young artists to know their history and to carry forward our legacy."
Opening night of "Animating the Archives: the Woman's Building" included: Phranc, Amy Scholder (on the board of Lambda Literary and former editor at City Lights Publishing), artist Cheri Gaulke and Sue Maberry (member of Sisters of Survival group), both WB board members; artists Judie Bamber, Cheryl Swannack, Susan Silton, Kaucyila Brooke; and Mary Adair (AIDS Healthcare Foundation),
Metabolic Studio fellowships were awarded to: Johanna Breiding, CamLab, Teresa Flores, Raquel Gutierrez, Hackers of Resistance, Onya Hogan-Finlay, Carolina Ibarra-Mendoza, Marissa Magdalena, J. Alex Mathews, Felicia 'Fe' Montes, Cindy Rehm, Gladys Rodriguez, Hana Ward, Lisa Diane Wedgeworth, and Diana Wyenn.