Outfest at 35 years: Great moments remembered
Directors, actors of the LA LGBT film festival recall their favorite memories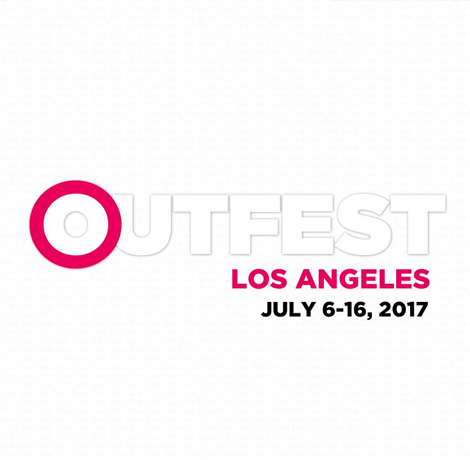 Next to Pride itself, no other summer event is as vital to LA's queer fabric as Outfest, the city's beloved and iconic LGBTQ film festival. This year's edition marks Outfest's milestone 35th birthday, with an action-packed 11-day slate that will kick off on July 6 with the Berlin- and Sundance-winning UK romantic drama "God's Own Country," and close on July 16 with "Freak Show," an adaptation of the James St. James novel, co-starring Bette Midler and Laverne Cox.
Outfest Los Angeles will be held July 6-16, and screens at state-of-the-art venues including the Directors Guild of America (DGA), the historic Orpheum Theatre and Ace Theatre, REDCAT: Roy and Edna Disney/CalArts Theater, outdoors at the Ford Theatres, and Harmony Gold Theatre.
With Outfest 2017 just around the corner, we asked several local film luminaries to share their personal favorite film or moment from Outfest's storied past.
Drew Droege, actor and comedian: A few years ago, Outfest (as part of their incredible UCLA Legacy Project) screened a restored print of the beautiful comedy "Parting Glances." I had heard of this film all my life, but was embarrassed to admit that I'd never seen it. I sat in a packed theater at the DGA with gay people of all ages and was hypnotized by these entirely human characters, the film's hazy '80s design, and the bravery that it took to make a comedy that accurately portrayed our people and our voices in the middle of the AIDS crisis. I was warned about "that moment" in the film in which it's impossible not to choke up, and of course, when we got to that moment, I was a mess. We all were. Being in that room with my people, witnessing a classic, sobbing at the truth of it, experiencing it together for the first time, I felt beyond lucky and proud to be a part of Outfest.
Jamie Babbit, director ("But I'm a Cheerleader" and "Itty Bitty Titty Committee"): My Outfest memory centers on an awesome summer night in 2003 — Richard Day's outrageous comedy "Girls Will be Girls." I saw the film at the packed outdoor Ford Theatre, and I was blown away by the jokes, the hilarious and very edgy comedy, and the awesome cast. A triumph in comedy that the audience went nuts for. So did I! Only at Outfest could such a movie be appreciated for how brilliant it is.
Jeffrey Schwartz, director ("I Am Divine," "Tab Hunter Confidential," and the just-released "The Fabulous Allan Carr"):I've been attending Outfest every year since moving to Los Angeles in 1995. This festival is a vital part of the queer film ecosystem, and brings the community together around our shared love of movies. At Outfest, we've all laughed, cried and been turned on together — and that's a beautiful thing! I will never forget Outfest's 30th anniversary opening night, when my film Vito had its premiere. We celebrated Vito Russo's life together in one of Los Angeles' grand movie palaces, the Orpheum. Vito Russo was an unapologetic Judy queen, so the fact that Judy Garland performed on the Orpheum stage when she was still little Frances Gumm is something he would have loved. In the early days of the movement, Vito Russo organized movie screenings to bring the gay community together. To watch a beloved film with fellow LGBT people was a unique and empowering experience. That night at the Orpheum, I felt Vito's spirit was alive and the seeds he planted were in full bloom.
Joe Dietl, actor and co-creator of "Where The Bears Are" Throughout my years attending screenings at Outfest, two films really stuck with me. Both of them were from Spain and centered around the bear community, which has become such a big part of my life.
The first was 2005's "Bear Cub," directed by Miguel Albaladejo. This was a lovely and touching movie about a gay bear living in Madrid with an active sex life who takes in his nephew for a couple weeks and then fights to become his legal guardian. It was exhilarating to see big, hairy, gay men on screen in lead roles. I had never experienced that before. It opened up the idea that I could do something like that.  
The other film was Juan Flahn's hysterical film "Boystown" in 2008. This film was campy, sexy, ridiculous and a mystery centered in Madrid with characters right out of an Almodóvar movie. I attended the screening with Rick Copp, and we were both just blown away. It was so funny, so well done and it kept us on the edge of our seat. I'm certain that it had an influence on our web series, "Where The Bears Are," which just finished filming its sixth season.
John Griffiths, executive director of Gay and Lesbian Entertainment Critics Association: I've seen some memorable movies and docs at Outfest through the years — "To Wong Foo," "Weekend," the sad and sexy "Undertow" come to mind — but it's the "Bound" screening way back in 1996 that really stands out. I'm a sucker for noir flicks, and I just thought its story centered on two wild lesbian lovers who were up to no good was electric. I remember being floored by its wit, its turns, and how hilariously devious Jennifer Tilly was in particular. And it was huge fun to see it with a big crowd of people who were obviously thrilled to finally see an edgy romp with gay characters actually directed with such flair and polish (by the Wachowski sisters, who at the time identified as the Wachowski brothers). Movies like that are still a rarity today. Oh, and seeing it in at one of L.A.'s grand and renovated old theaters — I think it was the Orpheum — may have been a first for me. What a fun night. 
Lucy Mukerjee-Brown, Outfest's director of programming: My standout Outfest experiences come in triplicate. In the summer of 2006, I heard about Outfest Los Angeles. I knew I had to be there but I couldn't afford to attend, so I decided to sign up as an official volunteer. As I ushered people to their seats at the various venues, I felt so happy to have discovered this LGBTQ film festival and to have found a way to be a part of it. The stories on the screen were an added bonus — what I was most focused on was the secret thrill I felt being in a theater with a bunch of strangers and knowing that they were all like me.
Six years later, I attended the Opening Night Gala at the Orpheum Theatre. Sitting in the audience on Outfest's 30th Anniversary with my wife and mother-in-law, I experienced that same thrilling rush, and I fell in love with the festival all over again. I had tears pouring down my cheeks after watching Vito, Jeffrey Schwarz's documentary about Vito Russo. The way that film conveyed the impact of activism on queer history deeply moved me. It was the first moment I felt conscious of being out and proud.
The final bookend of this trio of experiences came in 2015 when I was standing on that same stage at the Orpheum Theatre. I'd been appointed the director of programming in January of that year, and was now introducing the Opening Night film. I've been told that I was beaming in that moment, and that doesn't surprise me. I felt like I was exactly where I was meant to be. Outfest has been — and still is — a big part of who I am.
Christopher Racster, Outfest's executive director: Outfest Los Angeles has always been the place to see myself reflected on screen and to see stories that have helped me understand the experience of others in our community. That alone has had an indelible impact on my personal development and sense of self. Understanding the power of our stories to create change led me to a filmmaking career producing only LGBTQ content. When my first feature film was selected to screen at Outfest Los Angeles, I finally felt like a filmmaker. Screening at the festival brought me opportunities to work with other writers and directors that I would have otherwise never had access to. The continued support of the festival programmers and the education and professional development I received through Outfest's programs helped to launch what would be an over 12 year career as a producer. Outfest has had a profound impact on my life, and now as executive director, I have the opportunity to assure that the organization continues to shape, support and showcase the films and filmmakers that tell our stories, assuring that we are seen and heard around the world.
Turning pain into positive & using art as therapy – Carl Hopgood
He knew he wanted to embark on a path toward a "bold, exciting life" among other "creative people" while "doing amazing things and living"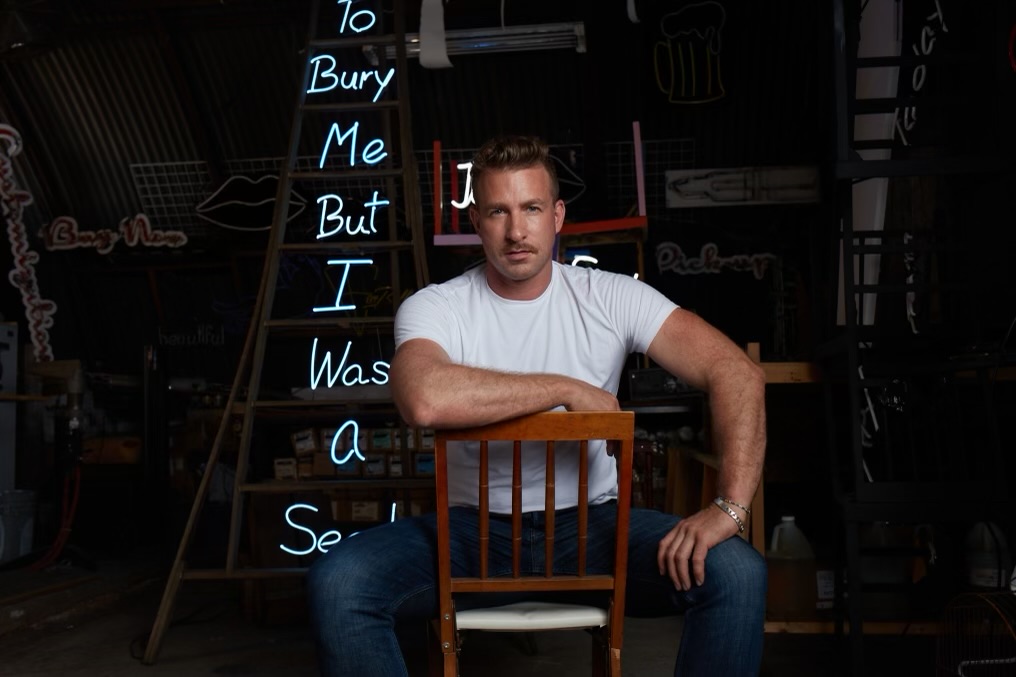 LOS ANGELES – Like many people born with an inclination toward creative expression, Carl Hopgood has known from a very young age that he wanted to be an artist.
Growing up on a small farm in rural Wales, the Cardiff-born Hopgood spent his childhood surrounded by animals and nature, letting his imagination run wild and creating worlds he envisioned with baskets, fruit boxes, flowers, stones, tabloid clippings, and other items that struck his fancy. Then, at 7, he was invited to spend an afternoon with his best friend, whose cousin was visiting; that cousin happened to be Richard Burton, and he happened to be accompanied by his even more famous wife, Elizabeth Taylor.
Hopgood was not just star-struck, he was inspired.
"My world was never the same after that day," he tells the Blade. "They told stories about Hollywood, London, glamorous parties, movies, photography… and Andy Warhol! Andy Warhol was my first artist crush. He was also born on a farm, so I felt an immediate connection."
After that experience, he knew he wanted to embark on a path toward a "bold, exciting life" among other "creative people" while "doing amazing things and living."

Four decades and one continental transplant later, it can safely be said that Hopgood has accomplished his goal.
A successfully established LA-based artist, he's created a unique body of work that includes pieces in Neon, Sculpture, Film / Video Installation, and canvas painting; his collectors include Morgan Freeman, Eugiono Lopez, The Vinik Family Foundation, The Groucho Club and Rupert Everett; and recent exhibitions of his work – like his neon art installations 'Looking For Love In All The Wrong Places', 'My Heart Is Open', and 'You Changed My Life' at the Maddox Gallery in West Hollywood, and 'Chair Therapy' at United Talent Agency's UTA Artspace LA – have garnered a flurry of enthusiasm and increasing national attention.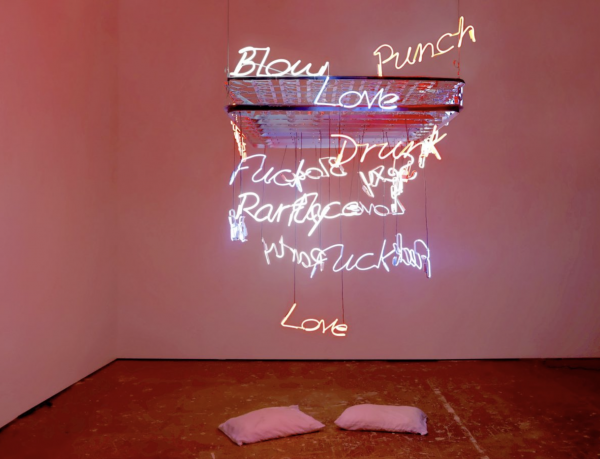 The latter installation created a particular stir with its inclusion of a controversial neon sculpture called "Just Say Gay", Hopgood's response to the draconian anti-LGBTQ legislation championed by Florida Governor Ron DeSantis; that work was acquired by prominent collector Beth Rudin DeWoody and will be on display from December 2023 at her Bunker Art Space in West Palm Beach, Florida.
When talking with the Blade, Hopgood is keen to focus the discussion on a new goal – the completion of a documentary about the creation of "Chair Therapy" – but he's certainly willing to start the conversation by talking about the sense of queer defiance behind "Just Say Gay" and many of his other works, because the two subjects go hand in hand.
"Being a gay man of Welsh and Greek heritage," he proudly proclaims, "the fight against bullying, repression, injustice and discrimination became central themes of my artistic expression."
As he explains, that fight is rooted in a traumatic childhood experience. "I was bullied by classmates," he remembers. "They would chase after me, push me to the ground and kick me in the groin. I managed to escape and found sanctuary under a stack of chairs in the school assembly hall. The school therapist helped me cope by using a technique called Empty Chair Therapy, where you would talk to an empty chair about your feelings.
"I decided turn this pain into something positive and use art as my therapy."

Much later, the young Hopgood would be inspired by the confrontational aesthetic of Damien Hirst – after reading a scathing criticism of one of his works in the paper – and follow in the controversial artist's footsteps to Goldsmiths College in London, eventually becoming part of a movement with fellow graduates like Steve McQueen, Jason Martin, Ceal Floyer, Angela De La Cruz and Alessandro Raho.
"It was an incredible moment to be a young artist in 1990s London."
Nevertheless, after 20 years in the London art scene, he decided it was time for a change.
"I had just watched a documentary featuring David Hockney," he explains. "The freedom and possibility of David's work was clearly inspired by Southern California with its beautiful palette and open, sunny skies. It was a stark contrast to the gloomy weather of the UK, and the anxiety and depression that accumulated over the years. I had heard about the growing LA art scene –LACMA, MOCA and The Broad were beginning to attract an international audience – and I decided that moving to Los Angeles would be good for both my mental health and creativity."
The choice was a fortuitous one for him – "It was the perfect time to go," he says, "and I was ready to work in new mediums and expand my repertoire." Then, like the rest of us, he had to put all his plans indefinitely up in the air.
"In early 2020, when the pandemic hit," he tells us, "I would see all the bars and restaurants shuttered in West Hollywood. It was like a ghost town. Looking through the store front windows, all I could see were chairs stacked on top of each other – and that image took me straight back to my unhappy childhood."
He decided to use it for inspiration and began work on the first sculpture in the "Chair Therapy" series ("My Heart is Open") – which as he describes, addresses "toxic masculinity, oppression and queer identity, themes I've always championed."
Those themes are doubtless also at least partly behind his desire to see the planned documentary – titled "Fragile World" – reach fruition. Filmed during the pandemic, it profiles Hopgood by charting his personal artistic journey, but centers on the development of "Chair Therapy", in which he combined found and vintage wooden chairs with neon lights shaped into positive words to provide hope, love and support for a community who were hardest hit by Covid and the shutdowns it necessitated.
"Seeing those stacked chairs and tables, in those empty establishments, I knew some would be forced to close for good. I felt so helpless, but I knew there was something I could do."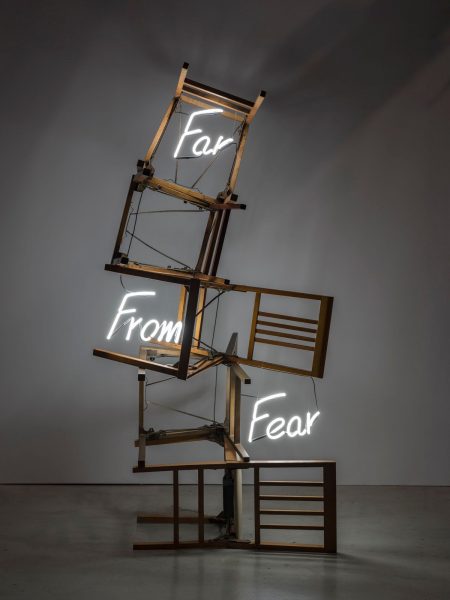 Now, with his own hard-hit community – alongside many others – facing aggressive legislative oppression from the extremist right, he's determined to see the film finished, so that the same empowering message of optimism embodied in his work can be spread to a larger audience as a reminder not to let the bullies break their spirit. To that end, the documentary's director and producer, LA-based British filmmaker Kate Rees Davies, has set up an Indiegogo campaign to raise the funding necessary to finish the project.
Another motivation, perhaps even more personal, might be found in Hopgood's revelation of a hidden influence in another work from the "Empty Chairs" series: "Twelve Steps", which explores the massive financial success of a California citrus industry made possible by the hard work of a segregated Mexican immigrant labor force. "I was also inspired in that piece by a line from Greek poet Dinos Christianopoulos," he says, "who was sidelined by the Greek literary community in the 1970s because he was gay. It's a small but powerful couplet which was included in the collection 'The Body and the Wormwood' that reads, 'What didn't you do to bury me, but you forgot that I was a seed.'"
For Hopgood, perhaps, the documentary also represents a seed, one that he himself has planted in hope of spreading its positive power into the world – and he's counting on the support of his patrons through Indiegogo for the water, light and nourishment it requires to grow.