State Dept. allows embassies, consulates to acknowledge Pride month
Rainbow flag raised over U.S. Embassy in Dominican Republic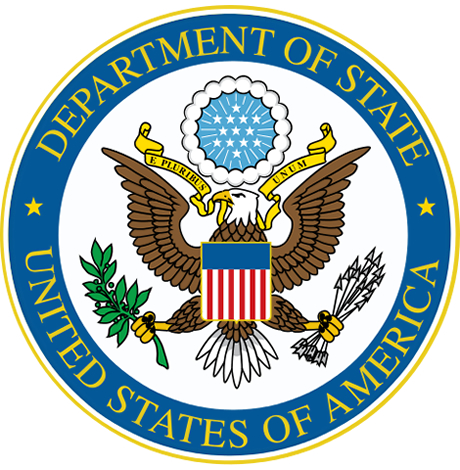 "Advancing the human rights of vulnerable groups including LGBTI persons is a core component of U.S. foreign policy," the spokesperson told the Los Angeles Blade. "All people should be protected from discrimination and violence, and must be allowed to exercise their human rights, including their rights to the freedoms of expression, association, peaceful assembly, and religion or belief."
"LGBTI Pride celebrations are an expression of these rights," added the spokesperson. "As such, the department has issued guidance to embassies and consulates allowing them to, as appropriate to their local context, recognize LGBTI Pride Month."
The rainbow flag was raised over the U.S. Embassy in the Dominican Republic on Friday.
"So incredibly proud of U.S. Embassy Santo Domingo for raising the Pride flag today," wrote former U.S. Ambassador to the Dominican Republic James "Wally" Brewster on his Facebook page.
The U.S. Embassies in Chile and Mexico in recent days have also publicly acknowledged Pride month.
The rainbow flag flew over the U.S. Embassy in Cuba on May 17 in commemoration of the International Day Against Homophobia and Transphobia.
Ivanka Trump acknowledes Pride month in tweets
The promotion of LGBT and intersex rights abroad were a cornerstone of the Obama administration's foreign policy.
Then-Secretary of State John Kerry was among those who spoke at last year's GLIFAA Pride event at the State Department. It took place less than two weeks after a gunman killed 49 people and injured 53 others inside the Pulse nightclub in Orlando, Fla.
Neither Secretary of State Rex Tillerson nor President Trump have yet to issue proclamations that officially recognize Pride month. They have also not publicly commented on the ongoing crackdown against gay men in Chechnya.
It remains unclear whether GLIFAA will hold an annual Pride event at the State Department as it has done in previous years.
Ivanka Trump on Thursday in a tweet wished "everyone a joyful #Pride2017." She also wrote she is "proud to support my LGBTQ friends and the LGBTQ Americans who have made immense contributions to our society and economy."
Activists and others on social media who oppose her father's policies quickly criticized her.
A State Department spokesperson on Friday said embassies and consulates have received guidance that allows them to recognize Pride month.
WeHo Arts unveils new holiday street pole banner by Sophie Morro
The city has also installed annual holiday lights on street poles and around trees lining Santa Monica Boulevard to make the city festive

By Paulo Murillo | WEST HOLLYWOOD – The annual holiday street pole banners went up this week throughout the city of West Hollywood. The City's WeHo Arsts unveiled the new holiday artwork by artist Sophie Morro along Santa Monica Boulevard, San Vicente Boulevard, and Melrose Avenue.
A total of 29 of the new banners were produced this year and will become part of the annual collection of holiday street pole banners on display in WeHo to celebrate the holidays. Banners include past holiday artwork by Shag (Josh Agle) and Mosa Tanksley.
The city has also installed annual holiday lights on street poles and around trees lining Santa Monica Boulevard to make the city festive around the holiday and New Year's celebrations.
Sophie Morro is an artist based in Los Angeles. Her oil paintings are largely informed by an autobiographical narrative with nods to spirituality, dreams and the otherworldly. Visit sophiemorro.com to learn more about the artist.
In April, 2022, the City of West Hollywood Arts Division made a call seeking a visual artist to provide artwork for the city's annual winter / holiday card and street pole banner display. The deadline to submit their work to WeHo's Performing Arts and Cultural Affairs Subcommittee was May, 2022.
The new artwork will also be used on the City's annual end of year Winter / Holiday card, social media promotions along with the printed street pole banners. Artists were invited to submit existing work samples to demonstrate their style and technique.
The Request for Qualifications was open to artists who live in California. Artists who live in
West Hollywood and artists of color, women, artists with disabilities, and LGBTQIA+ artists
were highly encouraged to apply. The artists who applied will remain eligible to be selected as semi-finalists for 3 calendar years without needing to reapply.
The City of West Hollywood's Arts Division and Arts and Cultural Affairs Commission believe
that all people in the City of West Hollywood have the right to celebrate and engage in meaningful and relevant arts and cultural experiences.
Each member of the community should have access to the arts which reflect and nurture individual identities, affirm personal value, and foster belonging in the community. The right to participate freely in the cultural life of the community is recognized as a basic human right.
The Division and Commission's definition of diversity includes all ways in which people
differ, including but not limited to, race, ethnicity, gender, socioeconomic status,
education, age, gender identity, gender expression, sexual orientation, ability,
geography, citizenship status, religion, language, physical appearance, and the
intersection of these various identities.
*******************************
Paulo Murillo is Editor in Chief and Publisher of WEHO TIMES. He brings over 20 years of experience as a columnist, reporter, and photo journalist.
The preceding article was previously published by WeHo Times and is republished with permission.