Outfest presents diverse, exciting lineup for 2017
'Gender parity, trans justice and racial equality'
With its just-announced 2017 schedule, Outfest presents one of its most diverse and inclusive slates ever, with nearly 200 films from more than 30 countries, and several world and regional premieres.
"I'm really excited about and invested in this year's lineup because of how socially conscious and relevant these films are," says Lucy Mukerjee-Brown, director of programming for Outfest, one of America's longest running and most important LGBTQ film festivals. ""Queer filmmakers are politically engaged with much more urgency this year, and as a result their films really demand attention." Gender parity, trans justice and racial equality are all themes that are coming though loud and clear in these films. And I'm so proud to be able to say that 50 percent of the features are directed by women. It's about time!"
Outfest kicks off this year on Thursday, July 6 with God's Own Country, a film that's received rave reviews since its debut at Sundance earlier this year, and one that many are dubbing "the British Brokeback Mountain." Twenty-five-year-old Yorkshire sheep farmer Johnny leads a bleak life resigned to lonesome toil, until romance comes along unexpectedly in the form of migrant Romanian farm worker Gheorghe. Following Outfest tradition, the opening screening takes place at DTLA's iconic Orpheum Theatre, and will be followed by the outdoor Opening Night Gala party, always one of the most important events on LA's LGBTQ summer calendar.
Closing Outfest on July 16 this year will be Freak Show, based on a young adult novel by James St. James and starring Alex Lawther, who appeared as the young Alan Turing in the "Imitation Game," and starred in 2016 Outfest entry "Departure." It's the tale of flamboyant teen Billy, who faces high school ridicule when he moves to his father's conservative town. Directed by Trudie Styler (a.k.a. Mrs. Sting), it costars Bette Midler and Laverne Cox.
Appearing as Outfest Centerpieces this year are Kevyn Aucoin: Beauty & The Beast In Me, a world premiere documentary about the famed celebrity makeup artist who died in 2002 at just 40 years old; Behind the Curtain: Todrick Hall, a doc (in its West Coast premiere here) profiling the YouTube dance and performance superstar; Close Knit (also in its West Coast premiere), the Japanese story of an 11-year-old girl being raised by her uncle and his trans girlfriend; and Strangers, a web dramedy series about newly single and bisexual Isobel and her adventures in roommate-finding.
Other premieres at this year's Outfest include the North American debut of the spooky Icelandic thriller Rift, in which someone or something is stalking a pair of young ex-boyfriends; the LA premiere of After Louie, the May-December love story between older Sam (Alan Cumming) and younger Braeden (Zachary Booth of Keep the Lights On); The Revival, a world premiere that also stars Zachary Booth, this time as a drifter who strikes up a romance with a young minister in an Arkansas town; Fathers, a Thai film about a perfect gay couple who face prejudice after they adopt a son; the first US showing of Body Electric, the sensuous debut from director Marcelo Caetano, that follows the carefree life of young Elias; Paths, a German film that traces the breakup of a longtime gay couple; and Eastsiders Season 3: Go West, the world premiere of the third series of the very popular LA-based gay web series Eastsiders.
A number of stellar documentaries are part of Outfest's lineup this year. "Chavela, Strong Island, A Womb Of Their Own, and Queercore: How To Punk A Revolution are all examples of the activist spirit that is still the beating heart of this festival," says Mukerjee-Brown. Chavela is a loving homage to hugely popular Mexican singer Chavela Vargas, who came out as a lesbian in 2000; Strong Island is a Sundance Award winner in which trans director Yance Ford explores the murder of his 24-year-old brother; A Womb Of Their Own explores the burgeoning world of pregnancy by masculine folk; and Queercore: How To Punk A Revolution (part of Outfest's annual bold and queer Platinum Section) showcases a generation of outside-the-box queer artists like John Waters, Bruce LaBruce, Pansy Division and Peaches.
Other worthy Outfest 2017 docs include The Death and Life of Marsha P. Johnson, which traces the legacy of the New York City-based LGBTQ rights champion, and probes her mysterious death in 1992; The Fabulous Allan Carr, the latest from doc genius Jeffrey Schwartz (Vito, Tab Hunter Confidential), showcasing the over-the-top LA life of the party-boy producer of Grease; The Untold Tales of Armistead Maupin, a look back on the life of the Tales of the City writer; and No Dress Code Required, which follows a gay couple from Mexicali, Mexico in their frustrating quest to get married.
A slew of additional buzz-worthy feature films will be part of Outfest 2017, including Hello Again, an adaptation of the same-named '90s musical that traces ten fleeting New York City romances across the course of a century, and stars Audra McDonald, Martha Plimpton and Cheyenne Jackson; Saturday Church, the tender musical-esque and vogue-infused coming out story of a Bronx teen; I Dream in Another Language, winner of the Audience Award at this year's Sundance Film Fest, the Mexican tale of linguist on the trail of a nearly extinct indigenous language, who discovers that its last two speakers haven't communicated in half a century due to a gay lovers' quarrel; Beach Rats, a Sundance favorite about a deeply closeted working class teen along Brooklyn's seaside who hooks up with older men; The Wound, a groundbreaking South African drama (and yet another Sundance darling) revolving around a tribal manhood initiation ceremony; The Pass, an intense and often scorching-hot UK drama featuring Looking hunk Russell Tovey as a closeted soccer player; Tamara, the fascinating biography of Venezuela's first transgender politician, Tamara Adrián.
Outfest's numerous shorts programs highlight a broad range of emerging talent this year. Programs include Girls Shorts, Boys Shorts, Trans Now!, Boys Be Trippin' (offbeat gay shorts), Girls Gone Genre (quirky shorts about queer women), LOLgbt (LGBTQ comedy shorts), Growing Up Queer (LGBTQ coming-of-age shorts), Silver Shorts (LGBTQ elder shorts), Latinx Ladies (female Latin shorts), and Q&A: Queer & Asian.
Outfest runs from July 6 to July 16, 2017. Tickets for screenings and events are on sale now on Outfest's website.
Black Deafhood: A journey at the intersection of sexuality, disability, race
Gallaudet's Bobbi-Angelica Morris on their activism and art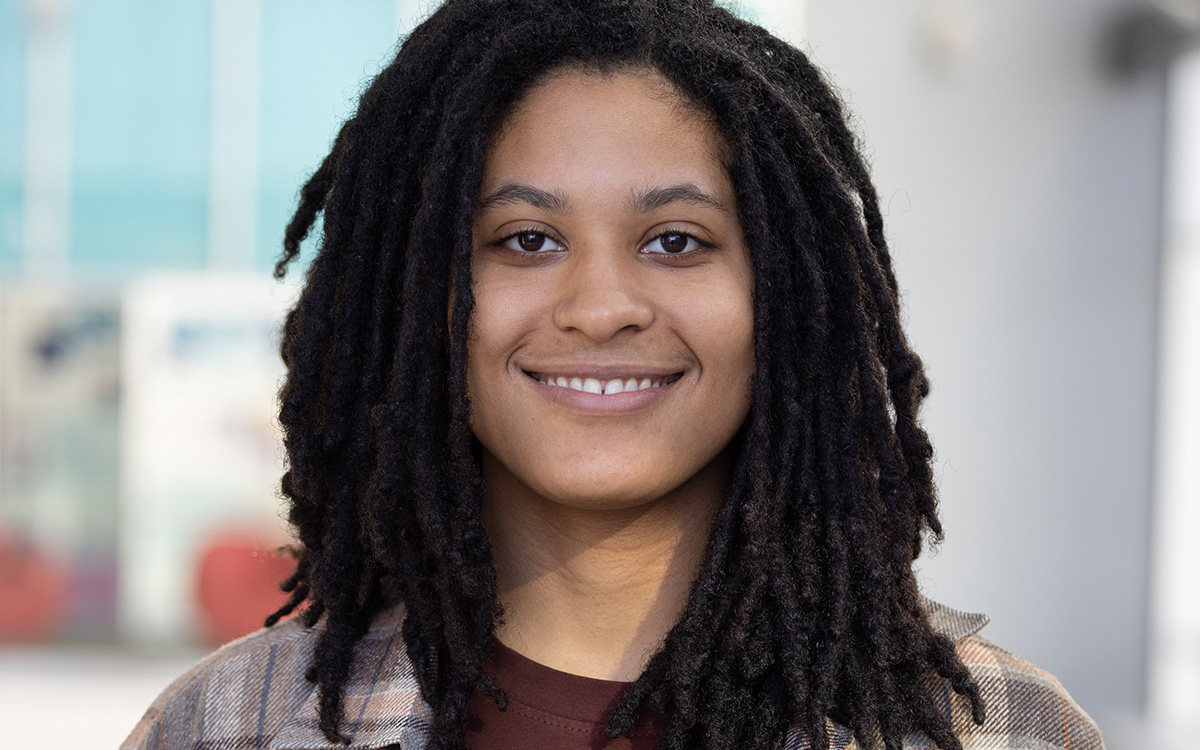 Editor's note: One in four people in America has a disability, according to the CDC. Queer and Deaf/disabled people have long been a vibrant part of the LGBTQ community. Take two of the many queer history icons who were disabled: Michelangelo is believed to have been autistic. Marsha P. Johnson, a hero of the Stonewall Uprising, had physical and psychiatric disabilities. Today, Deaf-Blind fantasy writer Elsa Sjunneson, actor and bilateral amputee Eric Graise and Obama administration Assistant Secretary of Labor for Disability Employment Policy Kathy Martinez are just a few of the people who identify as queer/Deaf/disabled. The stories of this vital segment of this queer community have rarely been told. In its series "Queer, Crip and Here," the Blade is telling some of these long unheard stories.
"My 'coming out' story looks more like me telling someone my favorite cookie flavor is chocolate chip," Bobbi-Angelica Morris, a Gallaudet University graduate student, activist, poet, photographer, videographer and visual artist, told the Blade, "than an emotional roller coaster."
"I've always embodied this carefree energy pertaining to who I am, what my purpose is, and how I show up for others," added Morris, who is Deaf/Hard of Hearing and identifies as a Black, nonbinary, queer and abolitionist artist.
Earlier this year, Morris, 23, received the Mary Bowman Arts in Activism Award from the National AIDS Memorial, the San Francisco organization that displays the internationally acclaimed AIDS Memorial Quilt.
Over the phone and in email, Morris spoke with the Blade about a range of topics – from her "Deafhood" to how she felt safe at a queer Halloween party.
Morris, who uses she/they pronouns, grew up in different parts of the East Coast. They spent most of that time in Richmond, Va.
"Growing up, most of the people around me would ask if I was gay," Morris said, "because I fit into the stereotypical realms of present day msc [masculine] presenting dykes."
"No one questioned me when I actually came to terms with my queer identity," they added.
Before enrolling in Gallaudet, Morris spent most of their time as a student with hearing people in schools, where most teachers and students didn't communicate in American Sign Language (ASL). Morris was the only Deaf student in their classes until they graduated from the University of Virginia in 2022 in Charlottesville. There, they majored in global development studies and minored in ASL with a concentration in disability studies and community development.
Growing up, Morris didn't know about ASL or the creativity and history of Deaf culture.
"It wasn't until I was in elementary school," Morris said, "that an audiologist said I qualified for hearing aids."
In their poetry, Morris, who speaks and signs their work, reflects on their family and their experience of being Deaf.
"I reflect on my own Deafhood:/ my playground fights/ with uneducated parents," Morris writes in a poem, "When little Black Deaf girl doesn't hear someone speak to her,/that someone thinks little Black Deaf girl is disrespectful."
Like many Deaf/Hard of Hearing people, who go to school when they don't know American Sign Language, and there are no ASL interpreters, Morris felt isolated.
"I had no knowledge of the Deaf community or of Black Deaf history," they said.
Some in Morris's family and community couldn't accept that Morris is Deaf. "Some, not out of maliciousness, prayed for my healing," they said.
What Morris calls her "Black Deafhood," has been a long journey at the intersection of sexuality, Deafness, disability, Blackness, gender, activism, and art.
Deafhood is a "journey that a Deaf person undertakes to discover his, her or their identity and purpose in life," according to a Deafhood Foundation statement on deafhood.org.
Hearing people often perceive of Deafness as a disease that should be cured, and of Deaf people as incompetent, second-class, less-valued, citizens.
Just as coming out helps queer people to affirm their sexuality and connect with the LGBTQ community and history, Deafhood empowers Deaf people to have pride in themselves – to connect with the Deaf community, history and culture.
As it often goes with finding and loving your queer self, Deafhood is a process.
In middle school, Morris watched "Switched at Birth," the popular TV series. The teen and family drama features Deaf and hearing actors and scenes in ASL.
The show jump-started Morris's interest in Deafness and the Deaf community. "But, I still didn't understand my connection [with the Deaf community]," Morris said.
Curious to discover something about Deaf culture, Morris started an informal class – a club. There, they and their friends learned signs from YouTube videos.
At the University of Virginia, Morris took a sign language class. They studies abroad for a time in India.
At Gallaudet, Morris began to feel connected to the Deaf community. They are a student in the Master of Social Work program at Gallaudet's School of Civic Leadership, Business, and Social Change. Morris will graduate with an M.S.W. degree in 2024.
They are equally committed to making art and activism – to working for social justice for Black, Deaf/disabled, queer, and other marginalized groups. A love of art and social change is etched in their bones.
"I am an abolitionist and an artist," Morris said, "I cannot be one without the other."
Their abolitionist identity is connected to how they experience intersectionality. Morris sees their life as connected "to the movement for total liberation of all our people, beings, and non-beings in this present day and beyond," they said.
Because they are an artist, they have a responsibility to use their skills to educate, inspire and protect "everyone and everything that abolitionists fight for daily," Morris said.
From early on, Morris loved being creative. During an unstable childhood, art helped Morris to express their feelings.
Fortunately, art ran in Morris's family. "My bio-mom is an amazing artist," Morris said, "so we would draw things together."
Later, Morris's god-mom gave Morris materials that sparked their interest in painting and photography.
In middle school, Morris got into spoken word poetry when one of their Boys and Girls Club mentors showed them a spoken word video. At the University of Virginia, Morris participated in poetry slams. In their Gallaudet social work program, they impressively deploy their artistic and activism chops.
Their advocacy projects are numerous. Morris is developing ASL G, a non-profit organization. The group's mission "is to develop community garden coalitions and programming for art and health wellness through disability justice," Morris said.
Morris was the former creative outreach coordinator of VOCA, a non-profit that supports BIPOC, Deaf artists.
"I have family members that have been incarcerated," Morris said. "Because of that, I want to fight the injustice of the prison industry and mass incarceration."
Morris is the president of Students Against Mass Incarceration (SAMI), a student club at Gallaudet.
Ableism, audism (discrimination against Deaf people), homophobia and racism are issues for Morris. "The white presence is prominent in many institutions," they said, "often they're predominantly white."
Morris likes being a Gallaudet student. But, "there's a lack of racial competency at Gallaudet as there is in the whole of America," they said.
The queer community has provided safe spaces for Morris.
Once, Morris and their partner attended a queer Halloween party in Charlottesville. "Half the people in attendance knew or were learning sign language," Morris said. "I think it was then that I realized how connected the queer community was in ensuring no one was left out."
Morris went to the party as Beast Boy, and their partner went as Raven from Teen Titans.
Follow Morris on Instagram @Blckrainbow5