Hate Crimes Up in California, Fueled by Hate-Filled Trump Era
An 11.2 percent spike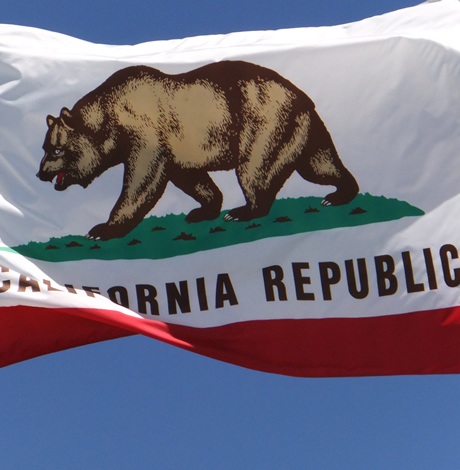 Remember that moment eons ago last June 14 when a lone gunman opened fire on Republican lawmakers practicing baseball, nearly killing House Majority Whip Steve Scalise? The two African American Special Agents prevented a potential massacre, with Agent Crystal Griner, a married lesbian, being credited with firing the fatal shot that took down the gunman. For a moment the country seemed unified as Republican and Democratic leaders came together over fear of gratuitous violence, promising restored civility.
In normal times, something of that promise might have stuck. But these are far from normal times and the uncorking of incivility, unconscionable bullying and violence that erupted out of Donald Trump's campaign last year now reeks in the Oval Office. And Trump supporters love the stench of his crude attempts at machismo, not just slamming MSNBC hosts Joe Scarborough and Mika Brzezinski on Twitter but claiming she was "bleeding badly from a face-lift." Asked about this new attack on a prominent female critic, Trump spokesperson Sarah Huckabee Sanders said: ""The president in no way, form or fashion has ever promoted or encouraged violence. If anything, quite the contrary. And he was simply pushing back and defending himself."
Fact-checkers wasted no time in disproving Sanders' assertion. Politifact, for instance noted this: "In February 2016, during his campaign for president, Trump told a crowd in Cedar Rapids, Iowa, 'So I got a little notice. We have wonderful security guys. It said, 'Mr. Trump, there may be somebody with tomatoes in the audience.' So if you see somebody getting ready to throw a tomato, knock the crap out of them, would you? Seriously. Just knock the hell …. I promise you, I will pay for the legal fees. I promise. I promise.' As a review of the video shows, Trump is not smiling or chuckling as if this was intended as a joke"
Trump disputed Sanders himself a few days later, re-tweeting a doctored video showing Trump in 2007 body-slamming and punching WrestleMania CEO Vince McMahon, whose face is replaced with the CNN logo. CNN subsequently identified the creator of the video, who apologized but received death threats from his white nationalist Reddit pro-Trump group.
Trump won't apologize since he thinks he's never wrong. As he explained to Jimmy Fallon:  "I fully think apologizing's a great thing, but you have to be wrong. . . . I will absolutely apologize sometime in the distant future if I'm ever wrong."
To be fair, while Trump and white nationalist Trump-whisperer Steve Bannon promoted the destruction of civility as we know it, they and the Republican Party are not the only purveyors of violence. California Assembly Speaker Anthony Rendon has been receiving death threats for shelving a single-payer healthcare bill, at least for this year. Leaders of the California Nurses Association have been roundly criticized for circulating an image of a California bear with a knife stuck in its back and Rendon's name on the handle. The LA Daily News reports that one tweet "said someone should check out Rendon's schedule for 'baseball practice,' alluding to the recent shooting of House Majority Whip Steve Scalise while the Republican team was practicing for the annual congressional baseball game."
Democratic gubernatorial candidate, former LA mayor and former union organizer Antonio Villaraigosa may have had his version of a "Sister Souljah" moment with his criticism.
"The organizations and leaders raising the temperature of this discussion to the boiling point should also pause and reflect on their own responsibility to dial down the rhetoric and return to a civil debate," Villaraigosa said in a statement. "The supporters of single payer are not responsible for these death threats. But we are all responsible for elevating the level of our civic discourse and speaking out at once against violence and threats."
"Is Trump teaching us that the way to get what you want is to bully them on social media and trash them in public?" asked Melissa Michelson, a political science professor at Atherton's Menlo College. "It's not working for Trump, so I'm not sure why the nurses thought it would work for them."
But the message of hate has trickled down, as evidence by the latest hate crime statistics. On Monday, July 3, the California Department of Justice released its annual report on hate crimes showing an 11.2 percent spike—the second year in a row for double-digit increases.
In 2015, hate crimes jumped to 10.4 percent, compared to 2014, with hate crimes against minorities targeted by Trump—Muslims and Latinos (ie, undocumented immigrants)—accounting for the largest increase. Hate crimes against Muslims jumped from 18 in 2014 to 40 in 2015; crimes against Latinos went from 60 in 2014 to 81 in 2015.
There were 931 total "events" (a crime report) and 1,190 total "offenses" (criminal acts). The report says: "Hate crime events involving a racial bias increased 21.3 percent from 428 in 2015 to 519 in 2016. • Anti-white bias events went from 34 in 2015 to 56 in 2016. • Anti-black or African American bias events went from 231 in 2015 to 251 in 2016, an increase of 8.7 percent. • Anti-multiple races bias events went from 17 in 2015 to 34 in 2016. Hate crime events involving a sexual orientation bias increased 10.1 percent from 188 in 2015 to 207 in 2016.• Anti-gay (male) bias events increased from 108 in 2015 to 152 in 2016, an increase of 40.7 percent."
There were also 248 offenses based on sexual orientation, 20.8 percent of the total, with gay men having the highest number at 180 offenses and 15.1 percent of the total.
Additionally, there were 25 anti-transgender events and 25 offenses with 2.7 percent and 2.1 percent of the total number of hate crimes respectively, though the report does not specific if the victims were trans women or men.
Los Angeles County reported 375 events and 437 offenses, way more than any county in California. Los Angeles had 227 events and 251 offenses; West Hollywood reported 7 events and 10 offenses; Long Beach had 8 events and 9 offenses. (Silver Lake, Atwood and Echo Park were not identified in the report and hence probably fell under Los Angeles.)
District attorneys throughout California had 118 total hate crime cases with dispositions for 2016, with 51 total convictions and 46 guilty pleas/nolo contendere pleas. Of those, LA DAs filed 43 hate crime cases, with 11 total convictions.
As is often the case after annual hate crime reports, law enforcement officials say the spike may be attributable to greater reporting. But that view does not square with the fear on the part of undocumented immigrants and their families and neighbors of being turned over by the police to ICE for possible deportation. Additionally, Muslims, African Americans and the LGBT community has a traditionally suspicious relationship with law enforcement and the broader communities, though that had been changing prior to Trump's campaign, election and continuous bigoted comments.
Additionally, perhaps because of lack of resources, staff or specific evidence, previous communications between the district attorney's office and the impacted communities have fallen to the wayside.
California Attorney General Xavier Becerra understands that hate crimes target more than just the victim of the moment. "When someone commits a crime motivated by hate, it is not just an attack on one innocent person, but an attack on the entire state and our communities," he said in a statement. "We can see from today's report that words matter."
And the federal Bureau of Justice Statistics gets it, noting in a new report that more than half the 250,000 hate crimes that occurred in each year from 2004 to 2015 went unreported and were handled in some other way. That report, too, cited racial bias as the main motivating factor for the crime, with more than 48 percent of the cases between 2011 and 2015; ethnicity was the motivation for about 35 percent; and sexual orientation accounted for about 22 percent.
US Attorney General Jeff Sessions says the administration wants people to report crimes. "Hate crimes are violent crimes," Sessions told officials, experts and advocacy groups at a summit on June 29. "No person should have to fear being violently attacked because of who they are, what they believe or how they worship."
But that's not how it works. "Many victims don't report hate crimes because of personal and institutional reasons," Brian Levin, director of the Center for the Study of Hate and Extremism, California State University, told the Associated Press. Some LGBT victims, for instance may not report a hate crime for fear of being outed and thus lose their job or family.
Levin also called into question the whole system of police departments voluntarily reporting hate crimes to the FBI. "We have Columbus, Ohio, reporting more hate crimes than the state of Florida," he said.
Does anyone care?
Visalia's city council proclaims October 'LGBTQ history month'
"Thank you to the council for doing this […] When we started this work five years ago, we didn't know how we would be received in the city"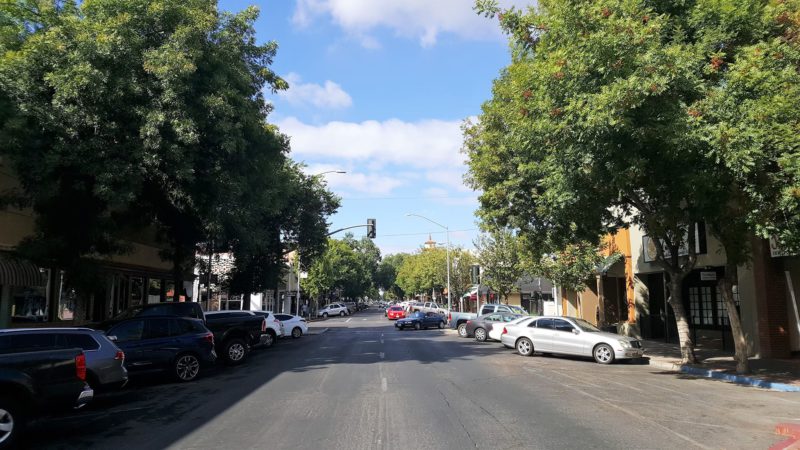 VISALIA, Ca. – In a proclamation this past Monday, the city council paid tribute to The Source LGBTQ+ Center's work in the Visalia LGBTQ+ community, including Tulare and Kings Counties over the past five years. The council also proclaimed October as LGBTQ+ history month presenting 'The Source' a plaque noting the nonprofit's recent expansion.
"In 5 years, The Source has become the largest LGBT center between Los Angeles and Sacramento," the plaque reads in part, The Visalia Times-Delta newspaper reported.
"We started with just an idea that we came up with on Main Street – back when it had antique stores," said Nick Vargas, director of development and cofounder of The Source. "From that idea, other people have joined us and I have been able to do the best work of my life, helping the citizens of Visalia, particularly the LGBTQ youth, those living with HIV, and their families."
On Saturday, the fifth annual Pride Visalia organized by 'The Source' was held at a different time of year and in a brand new location, Valley Strong Ballpark, supported by communications giant T-Mobile. The center's annual Halloween Gala was also held Saturday night at the Bello Vita Venue.
"Thank you to the council for doing this, it means a lot to us. When we started this work five years ago, we didn't know how we would be received in the city," Vargas said. "It means a lot to be here today, I would love it if you all showed up to PRIDE Visalia… but just knowing we have the support of the council and the city, is a lot."
On its website, 'The Source' specifies that the center's mission is to "provide spaces within our communities for the LGBT+ population to Learn, Grow, Belong, Transform, Question + Support."
Visalia, the Tulare County seat, is the gateway to Sequoia National Park, and only forty-one miles south of Fresno located in the conservative San Joaquin Valley region of central California. In Congress, the area, California's 22nd congressional district, is represented by Republican Devin Nunes, who has been unresponsive to LGBTQ+ concerns, having been labeled anti-LGBTQ+ by the Human Rights Campaign and Equality California.
The Times-Delta also reported that The Source is also hosting its first-ever AIDS Walk to raise awareness as well as funds. The walk is scheduled at 11 a.m. on Oct. 30 on NW 2nd Avenue.
Pride Visalia 2021 sponsored by T-Mobile:
Los Angeles City Council bans homeless camps in 54 locations
Sitting, sleeping & storing property near fire hydrants, building entrances, driveways, libraries, parks, elementary schools banned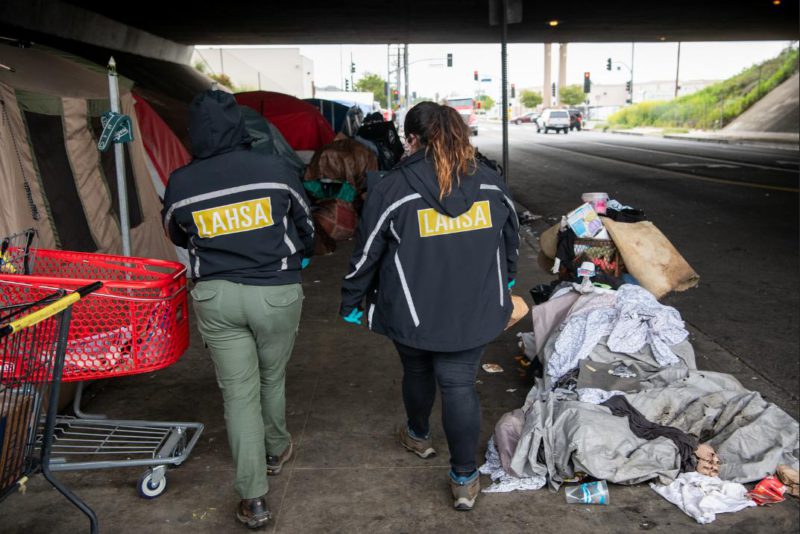 LOS ANGELES – Setting up or creating encampments by homeless persons in 54 select locations across the city is now banned after the LA City Council voted 12-2 Wednesday to outlaw sitting, sleeping and lying in those places.
Utilizing new laws passed over the summer after contentious and at times acrimonious debate, the council enacted new rules regulating sitting, sleeping and storing property near fire hydrants, building entrances, driveways, libraries, parks, elementary schools and several other locations.
The council also directed city staff to ensure that the homeless were given proper notifications prior to action and that all departments expand staff and make available resources to help those affected by the new ban.
On Wednesday, U.S. Veterans Affairs Secretary Denis McDonough announced that the VA is going to place more than 500 unhoused veterans living in Los Angeles into permanent housing.
According to McDonough, the efforts will be in two steps, the first to assist approximately 40 veterans living on the street in what is colloquially referred to as the 'Veteran's Row' encampment, located adjacent to the VA campus in Brentwood on San Vincente Boulevard.
Today, the VA has committed to quickly housing the Angelenos encamped on the federal land near the West LA campus — a big step in the right direction.

Deeply grateful to @SecVetAffairs, @LAHomeless, and @POTUS for their partnership.https://t.co/qiHNMvLm8j pic.twitter.com/R4q246RQFs

— MayorOfLA (@MayorOfLA) October 20, 2021
That encampment has been highlighted by mayoral candidates visiting it frequently including last week by U.S. Representative Karen Bass, (D) who was accompanied by the VA Secretary.
The next step is move another 500 veterans into permanent or transitional housing by December 31, the VA Secretary said.
In the last census count of homeless people conducted by the County of Los Angeles, of the nearly 66,000 people experiencing homelessness, roughly 3,900 are homeless veterans.
LA City Council votes to suspend Ridley-Thomas over corruption charges
The 11-to-3 vote to suspend vote came two days after Ridley-Thomas announced that he would "step back" from his duties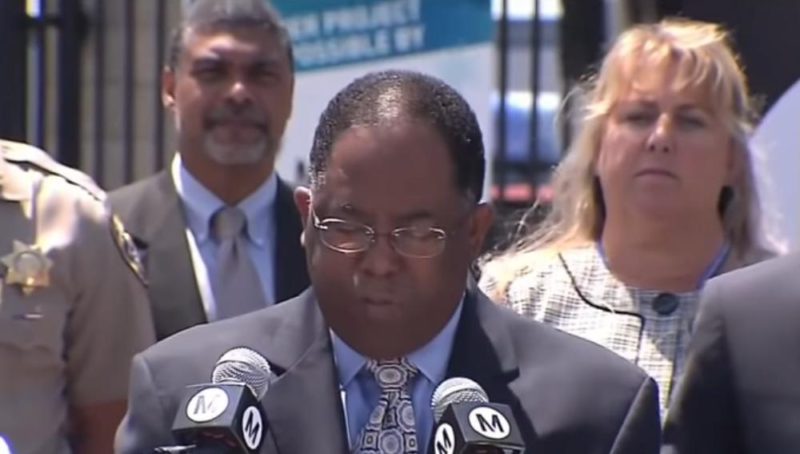 LOS ANGELES – The city council voted Wednesday to suspend Councilman Mark Ridley-Thomas, 66, who was was indicted a week ago by a federal grand jury on 20 federal counts of conspiracy, bribery, mail and wire fraud.
The 11-to-3 vote to suspend vote came two days after Ridley-Thomas announced that he would "step back" from participation in City Council meetings and committees. Ridley-Thomas, who has denied any wrongdoing, has said he will not resign and will fight the federal charges against him, KTLA and the Los Angeles Times reported.
The federal grand jury's indictment alleged that Ridley-Thomas took bribes from a former dean at the University of Southern California, (USC) when he was a member of the County Board of Supervisors.
In a letter sent to fellow councilmembers Monday, he indicated that he would step back from his duties but he declined to resign from his seat. He said that he planned to fight the "outrageous allegations" and would resume participation on the legislative body "at the earliest appropriate time."
The Los Angeles Times reported that in exchange for the payoffs, Ridley-Thomas allegedly supported awarding county contracts worth millions of dollars to USC.
In the indictment Ridley-Thomas is charged with conspiring with Marilyn Louise Flynn, 83, then dean of USC's School of Social Work, to steer county money to the university in return for admitting his son Sebastian into graduate school with a full-tuition scholarship and a paid professorship, the Times reported.