Hate Crimes Up in California, Fueled by Hate-Filled Trump Era
An 11.2 percent spike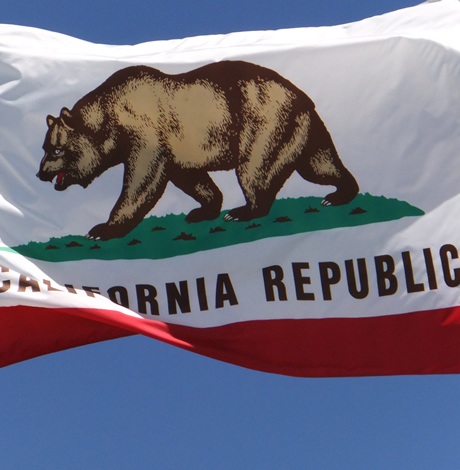 Remember that moment eons ago last June 14 when a lone gunman opened fire on Republican lawmakers practicing baseball, nearly killing House Majority Whip Steve Scalise? The two African American Special Agents prevented a potential massacre, with Agent Crystal Griner, a married lesbian, being credited with firing the fatal shot that took down the gunman. For a moment the country seemed unified as Republican and Democratic leaders came together over fear of gratuitous violence, promising restored civility.
In normal times, something of that promise might have stuck. But these are far from normal times and the uncorking of incivility, unconscionable bullying and violence that erupted out of Donald Trump's campaign last year now reeks in the Oval Office. And Trump supporters love the stench of his crude attempts at machismo, not just slamming MSNBC hosts Joe Scarborough and Mika Brzezinski on Twitter but claiming she was "bleeding badly from a face-lift." Asked about this new attack on a prominent female critic, Trump spokesperson Sarah Huckabee Sanders said: ""The president in no way, form or fashion has ever promoted or encouraged violence. If anything, quite the contrary. And he was simply pushing back and defending himself."
Fact-checkers wasted no time in disproving Sanders' assertion. Politifact, for instance noted this: "In February 2016, during his campaign for president, Trump told a crowd in Cedar Rapids, Iowa, 'So I got a little notice. We have wonderful security guys. It said, 'Mr. Trump, there may be somebody with tomatoes in the audience.' So if you see somebody getting ready to throw a tomato, knock the crap out of them, would you? Seriously. Just knock the hell …. I promise you, I will pay for the legal fees. I promise. I promise.' As a review of the video shows, Trump is not smiling or chuckling as if this was intended as a joke"
Trump disputed Sanders himself a few days later, re-tweeting a doctored video showing Trump in 2007 body-slamming and punching WrestleMania CEO Vince McMahon, whose face is replaced with the CNN logo. CNN subsequently identified the creator of the video, who apologized but received death threats from his white nationalist Reddit pro-Trump group.
Trump won't apologize since he thinks he's never wrong. As he explained to Jimmy Fallon:  "I fully think apologizing's a great thing, but you have to be wrong. . . . I will absolutely apologize sometime in the distant future if I'm ever wrong."
To be fair, while Trump and white nationalist Trump-whisperer Steve Bannon promoted the destruction of civility as we know it, they and the Republican Party are not the only purveyors of violence. California Assembly Speaker Anthony Rendon has been receiving death threats for shelving a single-payer healthcare bill, at least for this year. Leaders of the California Nurses Association have been roundly criticized for circulating an image of a California bear with a knife stuck in its back and Rendon's name on the handle. The LA Daily News reports that one tweet "said someone should check out Rendon's schedule for 'baseball practice,' alluding to the recent shooting of House Majority Whip Steve Scalise while the Republican team was practicing for the annual congressional baseball game."
Democratic gubernatorial candidate, former LA mayor and former union organizer Antonio Villaraigosa may have had his version of a "Sister Souljah" moment with his criticism.
"The organizations and leaders raising the temperature of this discussion to the boiling point should also pause and reflect on their own responsibility to dial down the rhetoric and return to a civil debate," Villaraigosa said in a statement. "The supporters of single payer are not responsible for these death threats. But we are all responsible for elevating the level of our civic discourse and speaking out at once against violence and threats."
"Is Trump teaching us that the way to get what you want is to bully them on social media and trash them in public?" asked Melissa Michelson, a political science professor at Atherton's Menlo College. "It's not working for Trump, so I'm not sure why the nurses thought it would work for them."
But the message of hate has trickled down, as evidence by the latest hate crime statistics. On Monday, July 3, the California Department of Justice released its annual report on hate crimes showing an 11.2 percent spike—the second year in a row for double-digit increases.
In 2015, hate crimes jumped to 10.4 percent, compared to 2014, with hate crimes against minorities targeted by Trump—Muslims and Latinos (ie, undocumented immigrants)—accounting for the largest increase. Hate crimes against Muslims jumped from 18 in 2014 to 40 in 2015; crimes against Latinos went from 60 in 2014 to 81 in 2015.
There were 931 total "events" (a crime report) and 1,190 total "offenses" (criminal acts). The report says: "Hate crime events involving a racial bias increased 21.3 percent from 428 in 2015 to 519 in 2016. • Anti-white bias events went from 34 in 2015 to 56 in 2016. • Anti-black or African American bias events went from 231 in 2015 to 251 in 2016, an increase of 8.7 percent. • Anti-multiple races bias events went from 17 in 2015 to 34 in 2016. Hate crime events involving a sexual orientation bias increased 10.1 percent from 188 in 2015 to 207 in 2016.• Anti-gay (male) bias events increased from 108 in 2015 to 152 in 2016, an increase of 40.7 percent."
There were also 248 offenses based on sexual orientation, 20.8 percent of the total, with gay men having the highest number at 180 offenses and 15.1 percent of the total.
Additionally, there were 25 anti-transgender events and 25 offenses with 2.7 percent and 2.1 percent of the total number of hate crimes respectively, though the report does not specific if the victims were trans women or men.
Los Angeles County reported 375 events and 437 offenses, way more than any county in California. Los Angeles had 227 events and 251 offenses; West Hollywood reported 7 events and 10 offenses; Long Beach had 8 events and 9 offenses. (Silver Lake, Atwood and Echo Park were not identified in the report and hence probably fell under Los Angeles.)
District attorneys throughout California had 118 total hate crime cases with dispositions for 2016, with 51 total convictions and 46 guilty pleas/nolo contendere pleas. Of those, LA DAs filed 43 hate crime cases, with 11 total convictions.
As is often the case after annual hate crime reports, law enforcement officials say the spike may be attributable to greater reporting. But that view does not square with the fear on the part of undocumented immigrants and their families and neighbors of being turned over by the police to ICE for possible deportation. Additionally, Muslims, African Americans and the LGBT community has a traditionally suspicious relationship with law enforcement and the broader communities, though that had been changing prior to Trump's campaign, election and continuous bigoted comments.
Additionally, perhaps because of lack of resources, staff or specific evidence, previous communications between the district attorney's office and the impacted communities have fallen to the wayside.
California Attorney General Xavier Becerra understands that hate crimes target more than just the victim of the moment. "When someone commits a crime motivated by hate, it is not just an attack on one innocent person, but an attack on the entire state and our communities," he said in a statement. "We can see from today's report that words matter."
And the federal Bureau of Justice Statistics gets it, noting in a new report that more than half the 250,000 hate crimes that occurred in each year from 2004 to 2015 went unreported and were handled in some other way. That report, too, cited racial bias as the main motivating factor for the crime, with more than 48 percent of the cases between 2011 and 2015; ethnicity was the motivation for about 35 percent; and sexual orientation accounted for about 22 percent.
US Attorney General Jeff Sessions says the administration wants people to report crimes. "Hate crimes are violent crimes," Sessions told officials, experts and advocacy groups at a summit on June 29. "No person should have to fear being violently attacked because of who they are, what they believe or how they worship."
But that's not how it works. "Many victims don't report hate crimes because of personal and institutional reasons," Brian Levin, director of the Center for the Study of Hate and Extremism, California State University, told the Associated Press. Some LGBT victims, for instance may not report a hate crime for fear of being outed and thus lose their job or family.
Levin also called into question the whole system of police departments voluntarily reporting hate crimes to the FBI. "We have Columbus, Ohio, reporting more hate crimes than the state of Florida," he said.
Does anyone care?
WeHo Pride 2023 kicks off Friday, June 2
WeHo Pride Parade will Step-Off at 12 p.m. (Noon) on Sunday, June 4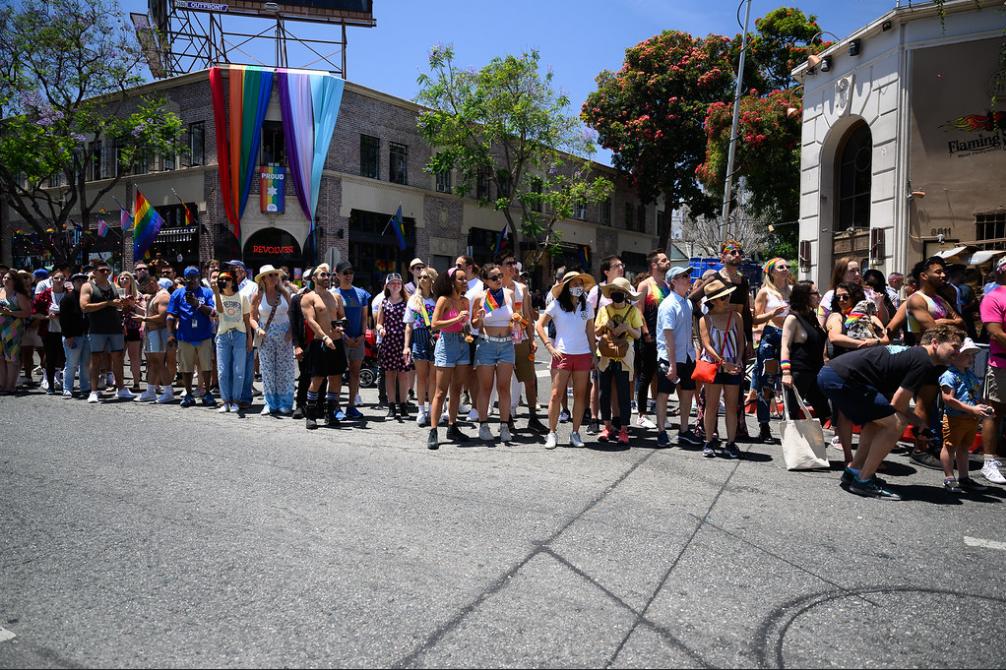 WEST HOLLYWOOD – This second year of the City of West Hollywood's own annual Pride celebration kicks off Pride month with music, arts, the parade, and a host of other activities. Starting off on Friday, June 2 to celebrate WeHo Pride Weekend, WeHo Pride presents Friday Night at OUTLOUD in a free show featuring Idina Menzel, Jessie Ware, Shangela, and Tinashe beginning at 6 p.m.
OUTLOUD at WeHo Pride presents the Ticketed Music Festival on Saturday, June 3 and Sunday, June 4. Produced by JJLA, the music series will feature headliners Grace Jones, Carly Rae Jepsen, Orville Peck, Passion Pit, and many more artists.
The Free WeHo Pride Street Fair and Women's Freedom Festival begins at 12 p.m. on Saturday, June 3 with the Annual Dyke March at 6 p.m.
Free WeHo Pride Arts Festival and Community Group Event Programming Continues through Thursday, June 30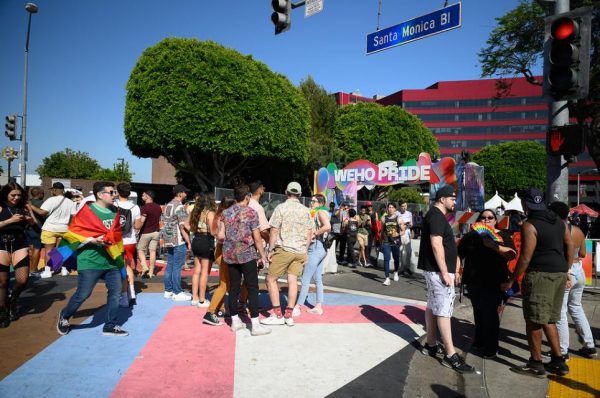 Information about WeHo Pride Weekend street and facility closures is available at www.wehopride.com/eventmap#closures.
Information about the City's Pride Ride free WeHo Pride Weekend shuttle service is available at https://go.wehopride.com/3qfnasc.
Additional information about #WeHoPride is posted at www.wehopride.com and @wehopride on Instagram and Facebook.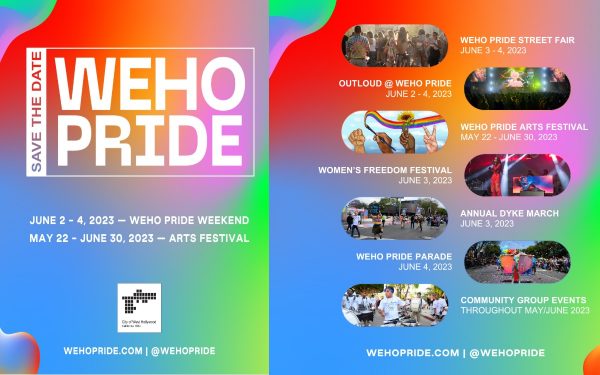 For nearly four decades, West Hollywood has been home to one of the largest Pride celebrations in the United States. Hundreds of thousands of LGBTQ+ people and allies from around the world traditionally make WeHo their annual destination during Pride season.
WeHo Pride Parade will Step-Off at 12 p.m. (Noon) on Sunday, June 4
The Icons for this year's WeHo Pride Weekend Pride Parade will be RuPaul's Drag Race, Laith Ashley, Niecy Nash-Betts & Jessica Betts, and Melissa McCarthy. WeHo Pride will honor these trailblazers and allies as this year's Icons for their work in bringing the LGBTQ community and social justice issues to the forefront, as well as expanding queer representation in mainstream pop culture.
The WeHo Pride Parade will step-off at 12 p.m. (noon) on Sunday, June 4, 2023 beginning at N. Crescent Heights Boulevard at Santa Monica Boulevard, and will travel westbound along Santa Monica Boulevard into the heart of City's Rainbow District to N. Robertson Boulevard.
Full of music, dancing, colorful floats, festive marching contingents, and creative flair, the WeHo Pride Parade is free and open to the public embracing LGBTQ representation, inclusion, and progress.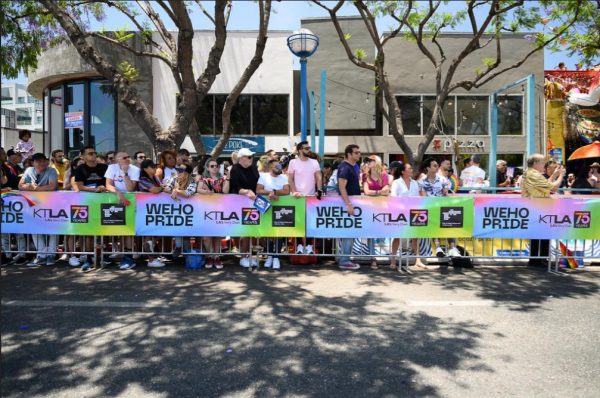 KTLA is the official broadcast partner of the 2023 WeHo Pride Parade. For those not able to attend in-person, tune-in for WeHo Pride Parade coverage on KTLA 5, KTLA + and KTLA.com featuring Cher Calvin, Pedro Rivera, the KTLA Family, and surprise special guests.
"The City of West Hollywood is pleased to kick off another WeHo Pride celebration filled with engaging activities and plenty of opportunities to celebrate the LGBTQ community," said City of West Hollywood Mayor Sepi Shyne. "Our WeHo Pride Parade Icons embody queer joy and fierce allyship by creating spaces where our community can be celebrated, whether that's on the red carpet or directly through their art and advocacy. We're thrilled to celebrate the impact our Icons have in creating a more evolved and accepting world."

RuPaul's Drag Race is being celebrated as this year's Drag Icon and will join the WeHo Pride Parade on a float accompanied by a number of fan favorites from the RuPaul's Drag Race franchise.
Long-time host and judge Michelle Visage will be receiving the Drag Icon award on behalf of the franchise. The illustrious Drag Race series has produced some of the most globally famous drag queens, and the City of West Hollywood is thrilled to include Drag Race participants in this year's parade including Angeria, Gigi Goode, Gottmik, June Jambalaya, Rock M. Sakura, Symone, and more.
Produced by MTV Entertainment Studios and World of Wonder (WOW), the franchise has reshaped international pop culture, earning 27 Emmys, and has created a global network. Fans can catch the current season of RuPaul's Drag Race All Stars 8 streaming exclusively on Paramount+.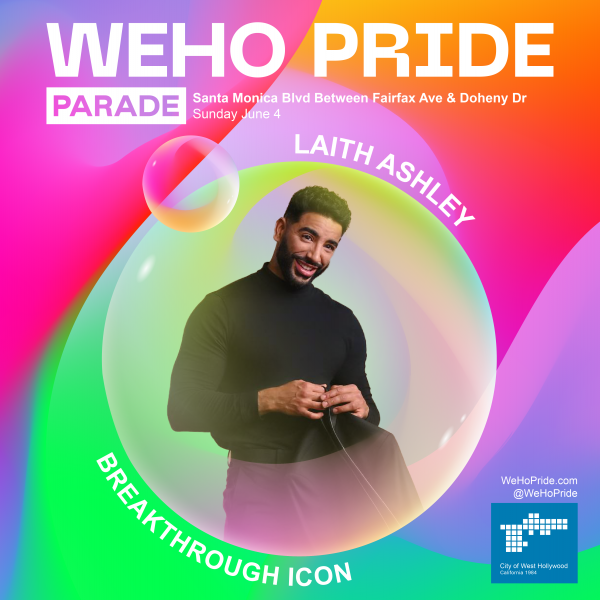 Receiving this year's Breakthrough Icon award is Laith Ashley, a model, actor, and activist who launched his career with a campaign for Barneys New York in February 2014. As of 2023, Ashley was the male lead in Taylor Swift's Lavender Haze music video, and in 2017, he was the first transgender man to be featured in an ad campaign for the Diesel brand.
Since then, he has volunteered with nonprofit organizations like FLUX and the transgender division of AIDS Healthcare Foundation (AHF). Before beginning his career in the entertainment industry, Ashley was a counselor for homeless youth in New York City and spearheaded trans sensitivity training in medical facilities and homeless shelters.
He now uses his platform to help inform others about the trans experience and other marginalized groups, as well as advocate for social justice in hopes of a more open, loving, and accepting world.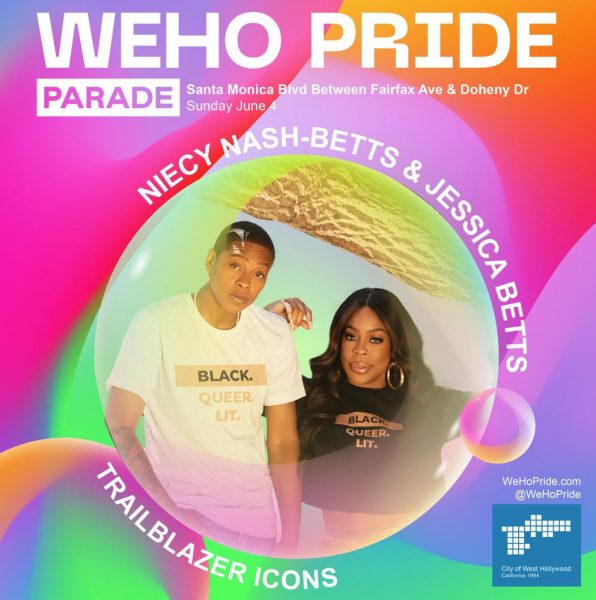 Actress Niecy Nash-Betts and singer-songwriter Jessica Betts will be honored with the title of Trailblazer Icons for blazing their own trail in Hollywood.
The married couple has made HERstory on their own terms by finding love and leaning in. In 2022, Niecy and Jessica became the first same-sex partners to appear on the cover of Essence magazine. The cover story received a nomination for a 2023 GLAAD Media Award in the category of "Outstanding Print Article."
Niecy has gained recognition as an Emmy Award®-winning producer and three-time Emmy-nominated actress best known for her roles on Comedy Central's RENO 911!, ABC's The Rookie: Feds and Netflix's Dahmer – Monster: The Jeffrey Dahmer Story. She is also the host of Don't Forget the Lyrics! on FOX.
Early in her career, Jessica was crowned the winner of Road to Stardom with Missy Elliott. She he has toured with numerous renowned artists and has been inducted into the BET Music Matters showcase.
In recent years Jessica has continued to release music and acted alongside her wife on Comedy Central's Reno 911!: It's a Wonderful Heist, TNT's Claws and ABC's The Rookie: Feds where she and Niecy played a same-sex couple.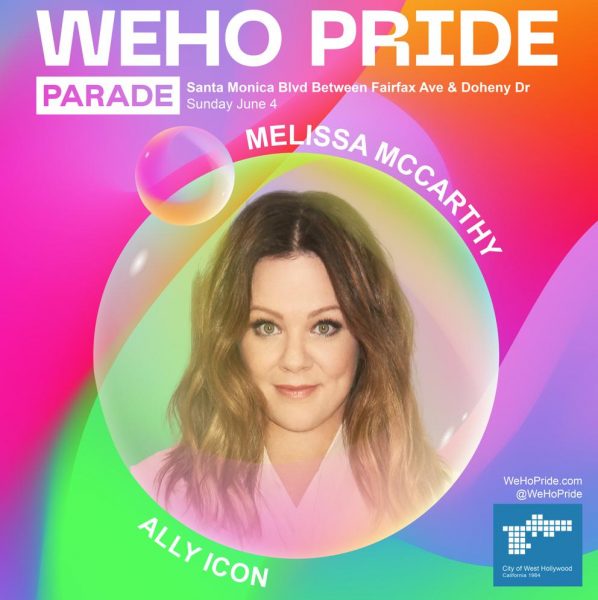 Melissa McCarthy has been named WeHo Pride's 2023 Ally Icon and is being recognized for her outspoken allyship and celebration of the LGBTQ+ community. Emmy winner and two-time Oscar nominee, McCarthy, known for her roles in Bridesmaids, Can You Ever Forgive Me, Tammy, Ghostbusters, Gilmore Girls, and much more, is a staunch advocate for the LGBTQ community and has recently been very outspoken against the anti-drag laws that are being introduced by state legislatures across the country.
West Hollywood and WeHo Pride
Pride Starts Here. For nearly four decades, the City of West Hollywood has been home to one of the largest Pride celebrations in the nation. Hundreds of thousands of LGBTQ people and allies from around the world traditionally make West Hollywood their regular destination during Pride season.
WeHo Pride Weekend (June 2 – 4) will include a free WeHo Pride Street Fair representing a diverse array of LGBTQ community groups as part of visibility, expression, and celebration; the Women's Freedom Festival; the annual Dyke March; Friday Night at OUTLOUD; OUTLOUD @ WeHo Pride music festival; and a wide range of community group programming throughout Pride month.
The 40-day WeHo Pride Arts Festival (May 22 – June 30) takes place at various locations throughout West Hollywood, along with selected online programming.
Additional information about #WeHoPride is posted at www.wehopride.com and @wehopride on Instagram and Facebook.
Since its incorporation in 1984, the City of West Hollywood has become one of the most influential cities in the nation for its outspoken advocacy on LGBTQ issues. No other city of its size has had a greater impact on the national public policy discourse on fairness and inclusiveness for LGBTQ people.
Home to the "Rainbow District" along Santa Monica Boulevard, which features a concentration of historic LGBTQ clubs, restaurants, and retail shops, the City consistently tops lists of "most LGBTQ friendly cities" in the nation.
More than 40 percent of residents in West Hollywood identify as LGBTQ and three of the five members of the West Hollywood City Council are openly gay. The City has advocated for nearly four decades for measures that support LGBTQ individuals and the City is in the vanguard on efforts to gain and protect equality for all people on a state, national, and international level. #WeHoPride @WeHoCity
For more information about WeHo Pride, please contact the City of West Hollywood's Event Services Division at [email protected].
For people who are Deaf or hard of hearing, please call TTY (323) 848-6496.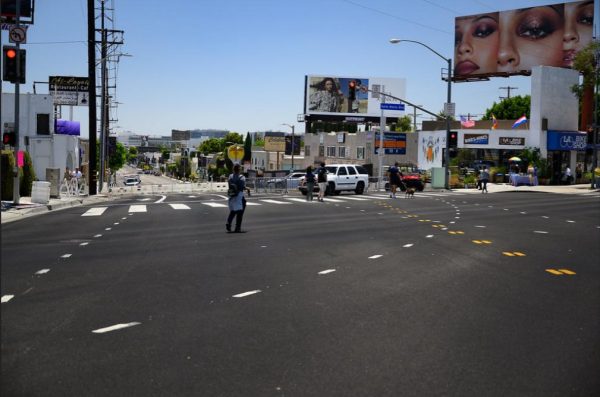 WeHo Pride Weekend Street and Facility Closures
Street and Facility Closure Information: https://www.wehopride.com/eventmap#closures
WeHo Pride reminds the local community and the greater LA region about WeHo Pride-related street and facility closures. Drivers and Metro riders can anticipate increased traffic and commute times; please plan to use alternate routes.
Street Closures:
N. San Vicente Boulevard closed from Melrose Avenue to Santa Monica Boulevard from Thursday, June 1, at 7 p.m. through Monday, June 5, at 10 a.m.
Santa Monica Blvd (Eastbound) closed from N. La Cienega Boulevard to N. Doheny Drive from Friday, June 2, at 12 p.m. (noon) through Monday, June 5, at 7 a.m.
N. Robertson Boulevard closed from Santa Monica Boulevard to Melrose Avenue from Friday, June 2, at 3 p.m. through Monday, June 5 at 7 a.m.
Santa Monica Boulevard (Westbound) closed from N. La Cienega Boulevard to N. Doheny Drive from Saturday, June 3, at 6 a.m. through Monday, June 5, at 7 a.m.
N. San Vicente Boulevard closed from Santa Monica Boulevard to Cynthia Street from Saturday, June 3, at 6 a.m. through Monday, June 5, at 10 a.m.
Santa Monica Boulevard closed from N. Fairfax Avenue to N. Doheny Drive (including side streets one block north and one block south of Santa Monica Boulevard) from Sunday, June 4 at 5 a.m. through Sunday, June 4, at 5 p.m. for the WeHo Pride Parade. Santa Monica Boulevard from N. La Cienega Boulevard to N. Doheny Drive will remain closed though Monday, June 5 at 7 a.m.
Facility Closures: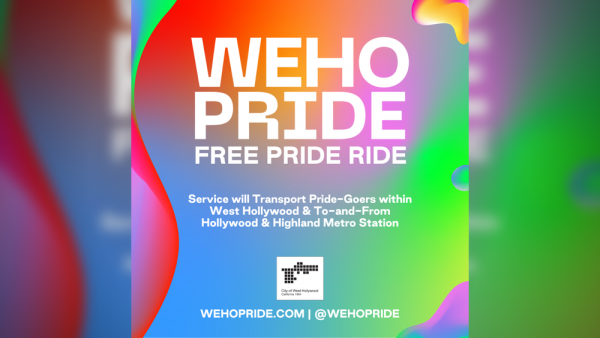 The City of West Hollywood will activate its annual Pride Ride free shuttle service during #WeHoPride Weekend.
More information is available at https://go.wehopride.com/3qfnasc.
Parking Information For WeHo Pride Weekend
Permit Parking Requirements are Suspended from 4 p.m. on Friday, June 2 through Monday, June 5 at 7 a.m.  >>> Parking Meters will be Enforced Throughout the Weekend <<<
 Permit parking requirements are lifted for WeHo Pride Weekend from Friday, June 2 at 4 p.m. through Monday, June 5 at 7 a.m., however parking meters will be enforced throughout the weekend. Drivers can anticipate increased traffic and commute times; please plan to use alternate routes based on street and facility closures.
Please note that Santa Monica Boulevard will be closed during the weekend in both directions of traffic and during closures for the WeHo Pride Parade on Sunday, June 4, 2023, there will be limited access to cross Santa Monica Boulevard for those seeking to drive around the City or access parking locations.
Attendees of WeHo Pride Weekend festivities are encouraged to observe the boundaries of the City of West Hollywood when parking; if parking occurs in the City of Los Angeles and/or the City of Beverly Hills, all parking restrictions for those cities must be observed.
Limited paid public parking near the WeHo Pride site in and around West Hollywood Park may be available on a first-come-first-served basis at the Pacific Design Center, located at 8687 Melrose Avenue; Kings Road Parking Structure, located at 8383 Santa Monica Boulevard; and Hancock Parking Structure, located at 901 Hancock Avenue.