Chilean police arrest 35 during 'Freedom Bus' protest
Anti-transgender campaign was in U.S. earlier this year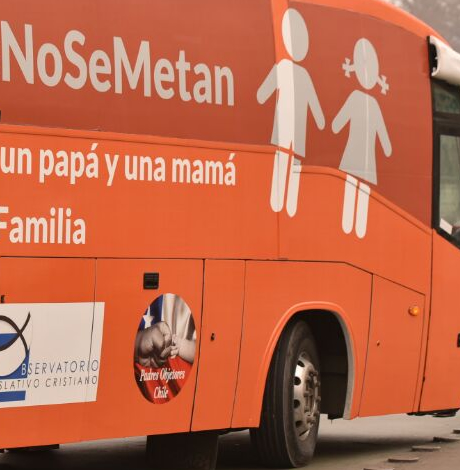 Supporters and opponents of the "Freedom Bus," which is part of a campaign that CitizenGO, a conservative Spanish organization, has launched with the support of evangelical and Catholic organizations, clashed near the presidential palace. Neo-Nazi groups are among those who reportedly took part in the protests.
A number of people were injured during the clashes. Activists also claimed they were attacked by religious groups on the street who accused them of pedophilia and used homophobic slurs against them.
The Chilean LGBTI movement has held public demonstrations for nearly two decades, but Monday's clashes are the first time the police have made arrests at them. Representatives of sexual diversity groups accused the organizations behind the "Freedom Bus" of wanting to generate chaos, pointing to what they described as an agenda of misinformation and fear.
Campaign opposes transgender student mandate
The "Freedom Bus" campaign has appeared in cities in the U.S., Mexico, Colombia and Spain.
In Chile, the campaign opposes a recent mandate from the Ministry of Education that seeks to guarantee and protect the rights of transgender children and adolescents in schools. The "Freedom Bus" traveled throughout Santiago on Tuesday and is expected to arrive in Valparaíso on Wednesday.
Marcela Aranda, director of the Christian Legislative Observatory who is the spokesperson for the "Freedom Bus" campaign in Chile, has told the press it's objective is to defend parents' rights to decide the type of education their children should receive.
"The role of the state is subsidiary, therefore it must guarantee this right," she said. "But now, will the state take care of our children? By law, it cannot impose an ideology."  
Aranda makes reference to the gender identity bill that is currently in the Chilean Congress, describing it as a violation of the family. Phrases such as, "Do not mess with my children" and "less state, more family" and "Nicolás has the right to have a dad and a mom" are printed on the side of the bus.
The last slogan is in direct response to a children's book — supported by the Movement for Homosexual Integration and Liberation, an LGBTI advocacy group — that speaks about gay and lesbian families.
Rolando Jiménez, president of the Movement for Homosexual Integration and Liberation, has claimed the "Freedom Bus" is an "incitement to hatred." He announced the tour of another bus that defends sexual diversity, with quotations from Chilean writers Pedro Lemebel and Gabriela Mistral.
Fundación Iguales launched a petition on Change.org against the "Freedom Bus" that received more than 38.000 signatures. The group's president, Juan Enrique Pi, gave them to government spokesperson Paula Narváez.
"We want an inclusive education that respects the identity of all children, without distinction," said Pi. "We need safe schools and that is why we have come to ask the government to maintain the line and stand firm in respect for all students, reaffirming its commitment to the right of education."
SANTIAGO, Chile — Police in the Chilean capital on Monday arrested 35 people during clashes that broke out around a bus that is part of an anti-transgender campaign.
Florida middle schoolers post racist photo using N-word to social media
School district officials confirmed the photo was authentic. They said it was taken by students at Hidden Oaks Middle School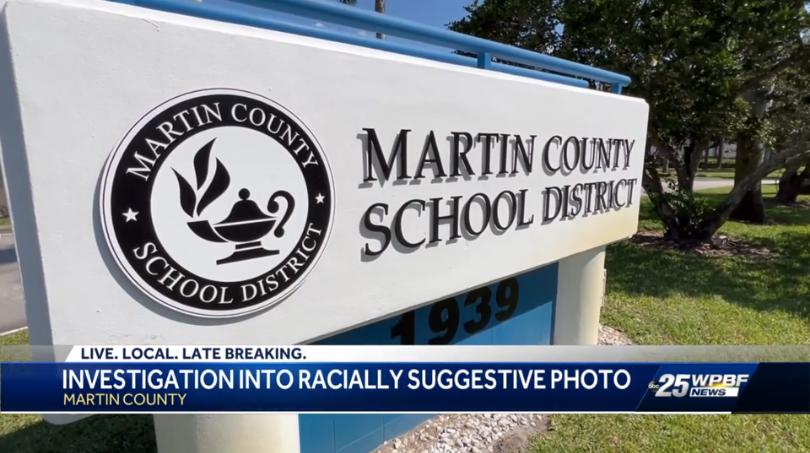 STUART, FL. – A picture of six Martin County School District middle school students, each holding up at letter that spells out the highly offensive epithet N-word is circulating on social media and has prompted an investigation by officials.
Dr. John D. Millay, Superintendent of Schools for the Martin County School District in Florida notified the district's community Tuesday evening after a board meeting regarding actions officials are taking in a statement:
"Last night, the Martin County School District launched a comprehensive investigation into the origin and authenticity of an inappropriate and disturbing photo circulating on social media. We are moving with all deliberate speed to interview all those who may have been involved in this shameful incident, and, unfortunately, can confirm that the photo is authentic. We expect to have our investigation finalized within the next 48 hours," Millay wrote.
(Editor's note; WARNING: The following image is graphic and is offensive in nature, racial slur.)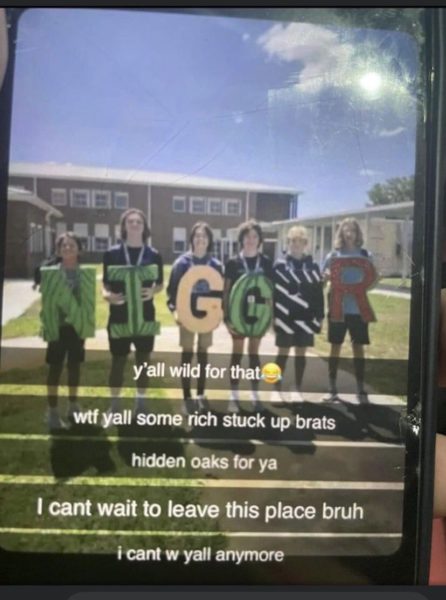 "Students who were involved in this disgraceful incident will be provided the due process afforded under federal and state law, and our investigation will not compromise those rights.
"The District is, however, appalled, and saddened by this incident which is contrary to our values, and the ideals that are instilled in our students.
"Upon the completion of its investigation, the District will mete out appropriate disciplinary consequences to any students who participated in this behavior, pursuant to the District's Code of Student Conduct. Federal law precludes us from identifying specific students and the specific disciplinary actions taken.
"The Martin County School District reaffirms, without reservation, to all our students, our families, our employees and this community that the Martin County School District is committed to promoting and maintaining a learning environment free of hateful, racist and discriminatory actions or conduct. We will not condone or allow any conduct that may harass any student or class of students, has the effect of substantially interfering with any student's educational performance, or has the effect of substantially disrupting the orderly operation of any school.
"We have and will continue to enforce a zero-tolerance policy in this regard. I will work towards partnering with the leaders in our community to reinforce our values in this regard and will continue to strive towards fostering a learning environment free of bigotry and racism," Millay said.
WPBF ABC News 25 reported Tuesday afternoon, school district officials confirmed the photo was authentic. They said it was taken by students at Hidden Oaks Middle School in Palm City.
Officials said the students made the letters in an art class.
"It's disgusting," said district spokesperson Jennifer Deshazo. "And it's against everything that the Martin County School District stands for."
The president of the Martin County chapter of the NAACP, Jimmy Smith, told 25 News it's about so much more than just a photo.
"I was very heartbroken," said Smith. "We all have made mistakes," Smith said. "But when you get to that degree and that depth to come up with an idea like that, there's something else going on."
The incident with the Hidden Oaks Middle School students comes on the heels of racially motivated violence in Buffalo, New York after a gunman radicalized by online hate groups opened fire in a predominately Black Buffalo neighborhood Tops Supermarket killing 10 people.
Newsom gets second booster dose, urges eligible Californians to get theirs
California's vaccination strategy has saved tens of thousands of lives and prevented even more cases and hospitalizations
BAKERSFIELD – Amid rising COVID-19 cases across the country, and following the U.S. Food and Drug Administration's emergency authorization of a booster dose for healthy 5- to 11-year-olds, Governor Gavin Newsom today received his second Moderna booster at a clinic in Bakersfield, and encouraged all eligible Californians to get boosted to keep their immunity strong against COVID-19.
The second booster dose of the Pfizer-BioNTech or the Moderna vaccine is available to all Californians 50 and older, as well as those who are immunocompromised or received the Johnson & Johnson vaccine.
"Vaccines have saved tens of thousands of lives in California, and with COVID-19 still prevalent, we can't afford to let our guard down," said Newsom. "The best protection against serious illness and hospitalization is getting vaccinated and boosted. I encourage all eligible Californians to get your second booster – for you, for your family, for your friends, for your community."
Under the Newsom Administration's SMARTER Plan, the state maintains operational readiness to continue the fight against COVID-19 and respond quickly, including the ability to administer 200,000 vaccinations and 500,000 tests per day. The California Blueprint includes another $2.4 billion for COVID response, which ensures California will be on the best possible footing against future waves.
According to a study analyzing California's pandemic response, COVID-19 vaccines prevented an estimated 1.5 million coronavirus infections, nearly 73,000 hospitalizations, and almost 20,000 deaths in California.
The Governor received his booster shot at Clinica Sierra Vista, one of hundreds of health clinic locations around the state where people can receive their free vaccine and booster. The Governor was joined today by California Health and Human Services Secretary Dr. Mark Ghaly and community and local leaders who have supported vaccine equity efforts in the region. To date, Clinica Sierra Vista has administered nearly 100,000 COVID-19 vaccination doses.
"Vaccines remain the best protection against hospitalization and death from COVID-19. Our state, like much of the nation, is beginning to see an increase in COVID-19 transmission. Fortunately, thanks to California's robust vaccination efforts, we are seeing relatively low hospitalization rates," said Dr. Mark Ghaly, California Health and Human Services Secretary. "This underscores the efficacy and importance of staying up to date on your COVID-19 vaccines. Californians age 50 and over are encouraged to get their additional booster dose to keep their immunity strong and strengthen their protection against COVID-19."
According to the California Department of Public Health, the statewide test positivity rate is 5 percent as of Tuesday, about double the positivity rate a month prior, with some regions seeing positivity rates as high as 9 percent. Unvaccinated people are 4.8 times more likely to get COVID-19 than fully vaccinated individuals who are boosted. Unvaccinated people are also 6.5 times more likely to be hospitalized than boosted individuals, and 7.8 times more likely to die than boosted individuals.
California's response to COVID-19 has led the nation with the lowest COVID death rate among the country's most populous states. More than 8 in 10 Californians have received at least one dose of the vaccine and more than 15.5 million Californians have received their first booster dose, representing 59.1 percent of those eligible for a booster. Additionally, 22 percent of eligible Californians have received their second booster dose.
The state's Vaccinate ALL 58 campaign continues to focus on driving vaccine efforts in lower-income and non-English speaking communities with cultural competency and in-language outreach and education. Its community-based organization network, in partnership with philanthropy, is now standing at over 700 organizations and supports outreach and appointment assistance efforts.
Clinica Sierra Vista is a comprehensive health care organization serving the primary medical, dental, and behavioral health needs of about 200,000 people in Kern and Fresno counties. With the continued support of federal, state, and local governments, they have been able to reach out to thousands of new patients, offering comprehensive programs tailored to the needs of those they serve over a vast geographical region in the heartland of California.
History making primary win- Out Lesbian could be Oregon's next governor
"This will be a three-way race for the highest office in our state, and this will be an election unlike anything any of us have ever seen"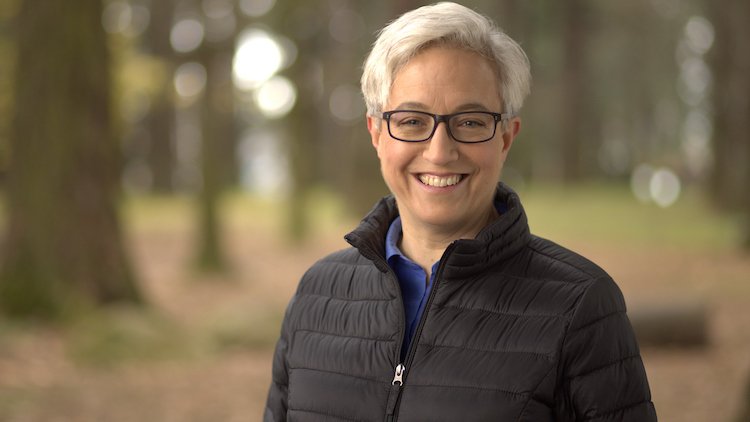 PORTLAND – The Democratic gubernatorial primary Tuesday win by Oregon Speaker of the House Tina Kotek, who had announced her run for the governor's seat to replace incumbent Democratic Governor Kate Brown, who is term limited last September 1st, 2021, positions her to become the first Out Lesbian governor in the nation should she win the general election in November.
Kotek's win comes during an uptick in the elections nationwide as more candidates running for office identify as LGBTQ". More than 600 LGBTQ candidates are on ballots this year, according to the LGBTQ Victory Fund.
According to the Victory Fund, at least 101 people ran or are running for the U.S. Senate or U.S. House – with 96 still actively running as of February 21, 2022. That marks a 16.1 percent increase in LGBTQ Congressional candidates compared to the 2020 election cycle, when 87 people ran.
Speaking to her supporters after it became clear she had won over Oregon Treasurer Tobias Read, who was polling second among Oregonian progressives, "This will be a three-way race for the highest office in our state, and this will be an election unlike anything any of us have ever seen," Kotek said.
Republican state legislator Christine Drazan along with an independent candidate, Betsy Johnson are slated to be on the November ballot.
Last Fall when she announced her candidacy, she said, "I am running for Governor because I know that, together, we can reckon with the legacies of injustice and inequality to build a great future for Oregon." She also noted, "Oregonians are living through a devastating pandemic, the intensifying impacts of climate change, and the economic disruptions that leave too many behind. We must get past the politics of division and focus on making real, meaningful progress for families across our state." 
"A victory for Tina would shatter a lavender ceiling and be a milestone moment in LGBTQ political history, yet she is running not to make history, but because there are few people as prepared and qualified to serve as Oregon's governor," said Mayor Annise Parker, President & CEO of LGBTQ Victory Fund. "Under Tina's leadership, Oregon has led in passing legislation to improve roads and education, raise the minimum wage and ensure all residents are treated fairly and equally. As governor, Tina will make Oregon a role model for the nation."