July 14, 2017 at 11:50 am PDT | by Christopher Cappiello
The physics of attraction at the Taper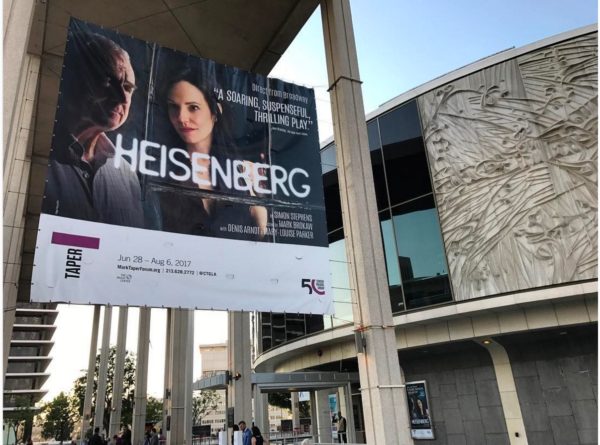 In a sign of the times for the economics of producing theater, LA's two biggest nonprofit stages are currently featuring short, quirky, two-character romances with Broadway pedigrees.
As Nick Payne's "Constellations" finishes a successful run at the Geffen (with Big Love's Ginnifer Goodwin and Downton Abbey's Allen Leech), CTG brings the Manhattan Theatre Club production of British playwright Simon Stephens' thoughtful if slender "Heisenberg" to the Taper, complete with the original New York cast of Mary-Louise Parker and Tony nominee Denis Arndt. If director Mark Brokaw's remount doesn't live up to the Big Apple hype, the production has its rewards, and your enjoyment will largely depend on the degree to which you adore (or can abide) Parker's vocal and emotional eccentricities.
Named for the German physicist whose Uncertainty Principle is alluded to obliquely in the dialogue, "Heisenberg" is a contemporary take on the mismatched couple, with Parker's kooky 40-something, single American mom Georgie Burns surprising Arndt's sturdy and ascetic septuagenarian Irish butcher Alex Priest with a kiss on the back of the neck in a random encounter at a London train station. After Georgie assaults Alex with a barrage of self-involved (and, it turns out, largely fabricated) information about herself, the quiet butcher simply asks, "Why are you talking to me?" It is one of the many moments in which dialogue mirrors the audience's thoughts, and one of many delivered with brilliant dexterity by Arndt.
We're never certain how selfish Georgie's intentions are in pursuing a man 33 years her senior, especially when we learn about her estranged grown son and her desire to track him down in New Jersey. But the ensuing May-to-December romance is explored with cleverness and more than a few touching moments. A post-coital scene is particularly real and unsentimental, while also being genuinely funny.
Arndt spent 15 seasons with the Oregon Shakespeare Festival, and his training and experience serve him well as the thoughtful Irish butcher. Watch how he turns a laundry list of musical tastes into a comedic master class. Or how he reveals so much about Alex's inner life as he flips himself into bed with surprising agility and joy. Parker, on the other hand, appears to be a hostage to her own quirkiness, delivering lines with such extended, swooping vowels and the absence of helpful consonants that it is often difficult to understand her. We accept that Georgie is, by her own admission, "exhausting but captivating," but the former often overwhelms the latter.
Stephens' script includes some lovely nuggets of observation about life, relationships, and the ultimate unknowability of our partners. As in New York, Brokaw stages the proceedings in a bare-bones, nakedly theatrical setting, with the action taking place on designer Mark Wendland's long, thin runway with two lone chairs and tables. Audience members are seated on both sides of the stage. While meant to create intimacy, this actually makes the characters' interactions feel farther away, as they are limited to a narrow plane of playing space. If you're considering tickets, splurge for the closer seats.
Fans of MLP will enjoy this chance to see her do her oddball thing, but for other theatergoers it is Arndt's quiet, nuanced, precise and deeply felt performance that will linger.
No uncertainty there.
'Heisenberg'
Mark Taper Forum
135 N. Grand Ave., L.A.
Through Aug. 6
centertheatregroup.org