July 26, 2017 at 11:12 pm PDT | by Paulo Murillo
Glitter Run 5k will make Hollywood Boulevard sparkly and gay again
We've all seen the giant billboards showing a diverse group of shiny, happy people smiling down at Los Angeles traffic with sparkly glitter illuminating their faces.
Yes, the first ever Glitter Run 5K is coming to Hollywood and it's a foot race that will sparkle brighter than any premiere.
But what exactly is the Glitter Run about, and why should we register as soon as we finish reading this article?  :)
With the politically charged #ResistMarch not so far behind us, the Los Angeles LGBT Center found a unique way to go back to where the march began on Hollywood and Highland. Glitter Run keeps the spotlight on our diverse LGBTQ community and our allies with a fun and and uplifting event.
The Los Angeles LGBT Center partnered with MZA Events, the organizing force behind the AIDS Walk, to produce Glitter Run, a 5K run, walk, or crawl (depending on your physical abilities). It promises to deliver a fun and sparkly mosaic of moving, living, breathing bodies sprinkled, sprayed, or splashed in rainbow-colored glitter against some famous Hollywood landmarks.
According to Craig Miller, the senior organizer of Glitter Run, his longtime friend and colleague, Leif Green, conceived the run.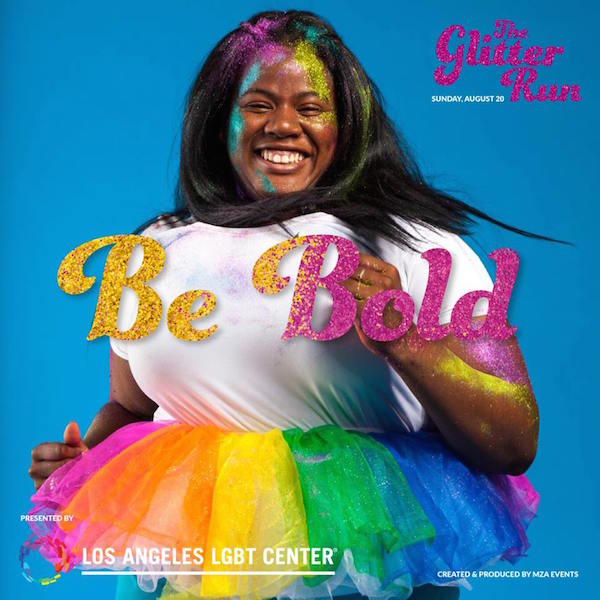 "Leif came up with the idea when he was reflecting on the times we're in and recognizing that people are feeling down," Miller told The Los Angeles Blade. "There is a real need to uplift and a need for the continued visibility and coming together in the face of people and interests that seem bound and determined to divide us."
Miller took the idea to Lorri Jean, the CEO at the LA LGBT Center. "I thought there could be no better place for this event and this concept to reside in than the LA LGBT Center," Miller said. "And now I plan on running in leaf green-colored glitter."
"Every year we have a retreat for our Board of Directors," said Mike Mueller who is a board member of the LA LGBT Center. "Lorri Jean and Darrel Cummings brought the idea to the Board at the retreat."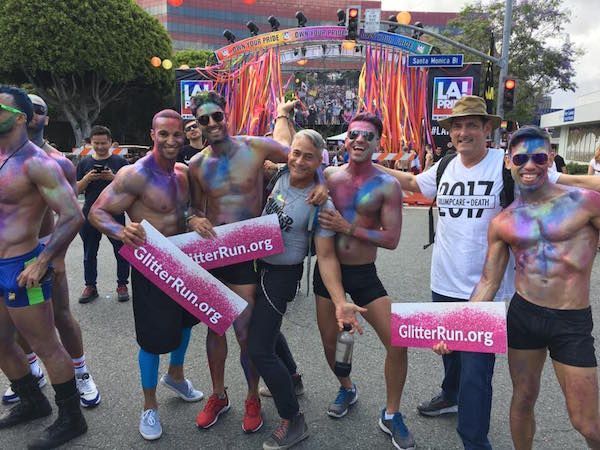 So far more than 1,200 people have registered for Glitter Run and Miller hopes to attract 2,000 to 4,000 more by August 20.
"This is not a fundraiser," says Mueller. "This is a visibility activity, so people can just buy a ticket and show up. The tickets are $70.00 for early registration or $90.00 for late registration. The funds do help support health and social services for The LA LGBT Center," Mueller explained. "Anybody can come and buy a ticket. Children under 12 register for free. It's a chance for families and groups of friends to show up and have glitter and music and activity, so it should be a fun day event."
"The registration fee includes participation in this amazing run," explained LA LGBT Center Board Member Jayzen Patria. "You get a tank top or a t-shirt that's primarily white and a towel. You can choose from a variety of different glitter stations to have glitter either burst on you or you can have it customized. Also at the end you'll receive a medal of accomplishment and you'll get entrance to this unique Hollywood dance event that will be all color and glitter with all sorts of amazing people from the community."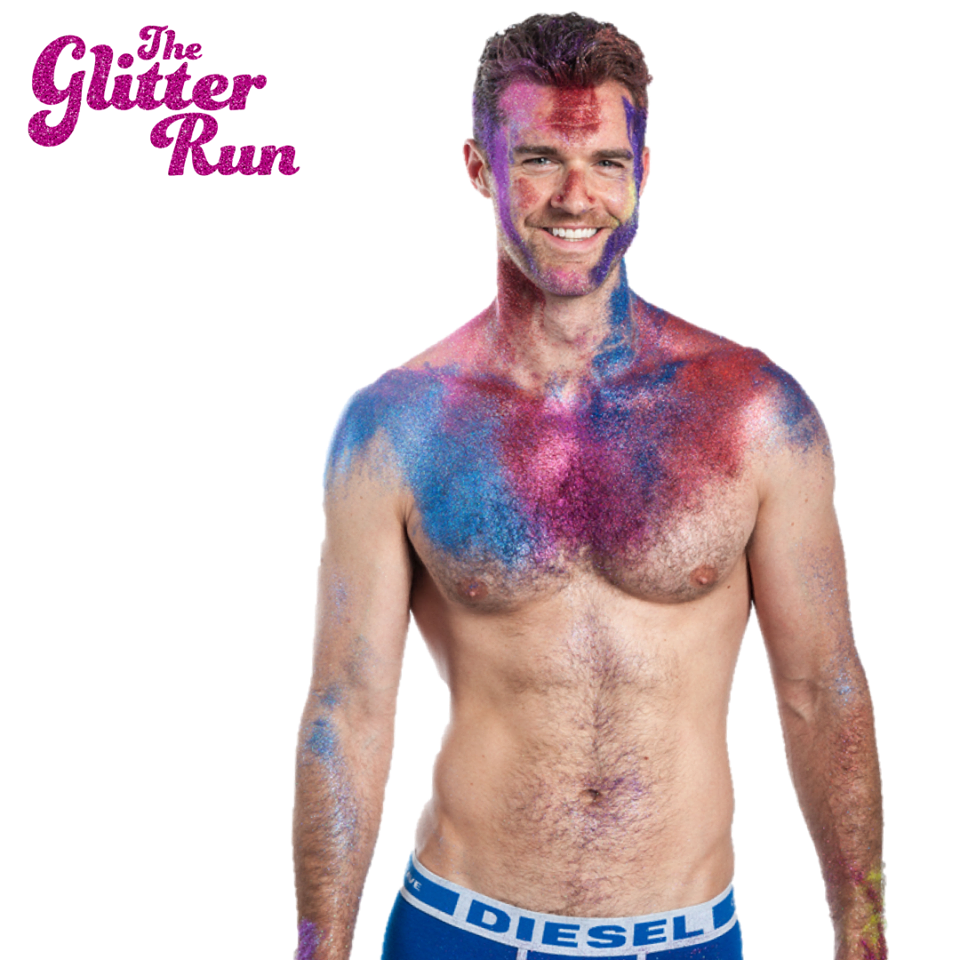 For folks who don't have the best experience with glitter and are concerned that they'll get itchy, sandy particles rolling down their crevices while trying to run in the heat of summer, the Glitter Run is using a special kind of glitter that's biodegradable and non-toxic. "It's quite benign," says Patria. "The great thing is whether you're sweating or you get wet or whatever, there is nothing hazardous. We don't recommend it, but you can actually eat it."
"You can be doused running through with your mouth open," Mueller said. "The glitter will be disseminated inside of tents so that it is contained. There will be seven different locations along the route."
"You're also given the choice to pre-glitter," Miller added. "When you arrive to the event, you'll be given a vial of glitter in the color of your choice and you can apply it yourself before you start the route."
Miller hopes the Glitter Run will be inviting and attract attention to the mission and message of the LA LGBT Center.
Glitter Run will, in a very visual way,  increase awareness of the  already enormously popular LA LGBT Center.  Glitter Run will hopefully draw new constituents of LGBT people and invite more allies into its base of support. The LA LGBT Center is, afterall,  a colorful tent open to everyone.
Glitter Run has some similarities to #ResistMarch but is focused on the joyous experience of our lives, according to one organizer.
"I was very pleased and proud to march in the Resist March," Miller said. "It was well organized and it served a vital purpose. The approach we're taking with Glitter Run is more celebratory than overtly political. But we nonetheless have the same political message, which is we're not interested in dividing people along color lines."
"The great thing about the LGBT and allied community is that politics and visibility and fun have always been sort of a hallmark of what makes this community so unique," Patria said. "What happened back in June with the Resist March was needed for people to come together to voice their political opinions. The Glitter Run is almost like a bookend to all of that for the summer. Its purpose is to come together to celebrate what's the best and brightest in our community in a fun and celebratory way. The biggest ingredient for success is for everyone to show up and have a good time. We challenge the whole community to register and be part of the Glitter Run."
To register for the Glitter Run, visit: glitterrun.org.
To learn more about the services at the Los Angeles LGBT Center, visit lalgbtcenter.org.