August 3, 2017 at 9:30 am PDT | by Karen Ocamb
UnitedHealthcare denied PrEP coverage to gay man for 'high risk homosexual behavior'
For years, federal and state governments have been advocating the use of PrEP to end the 35-year scourge of HIV/AIDS. "Pre-exposure prophylaxis (or PrEP) is when people at very high risk for HIV take HIV medicines daily to lower their chances of getting infected. PrEP can stop HIV from taking hold and spreading throughout your body. It is highly effective for preventing HIV if used as prescribed, but it is much less effective when not taken consistently," says the Centers for Disease Control.
For 10 years, Truvada has been used to treat treat people with HIV, and in 2012, became the first drug to be approved by the Food and Drug Administration to prevent HIV-negative people from becoming infected. "Without insurance, PrEP costs about $1300 per month, plus the added expenses of office visits and lab work. But most insurance providers cover at least part of the drug's cost, since it is generally cheaper to pay for prevention than to cover the costs of treating people infected with HIV," PBS reported in 2015.
But one insurance company—United HealthCare —last month decided to ignore the CDC, the FDA, scientists and healthcare advocates and denied at least one HIV-positive gay man coverage for his doctor-prescribed Truvada,  the oral medication manufactured by Gilead Sciences, because the request for the medication itself suggested he was "engaging in high-risk homosexual behavior."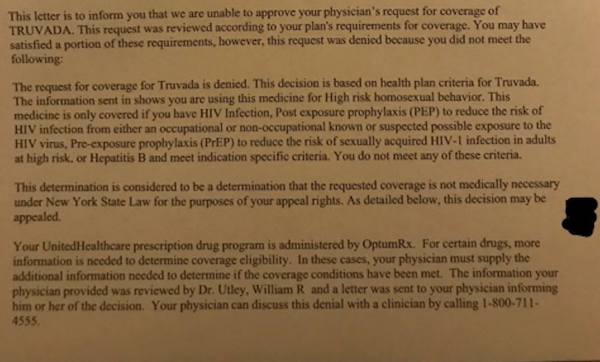 "The request for coverage for Truvada is denied. This decision is based on health plan criteria for Truvada. The information sent in shows you are using this medicine for engaging in High risk homosexual behavior," reads the letter on Unitedhealthcare letterhead posted on a Facebook site frequented by people impacted by HIV/AIDS. "This determination is considered to be a determination that the requested coverage is not medically necessary under New York State Law for the purposes of your appeal rights."
But the assertion that the denial is valid under New York state law is not true, according to HIV activist Jeremiah Johnson. "This was a malicious attempt to discourage PrEP (pre-exposure prophylaxis) uptake by people who need it most," Johnson, of the Treatment Action Group, told Raw Story.  Johnson also noted that the man's doctor appealed and the drug was eventually covered. But the intricate doctor's reports, ordering Truvada online and having it delivered through the mail "is an enormous barrier for some people," he said.
"United HealthCare has not yet responded to requests for comment," Raw Story said.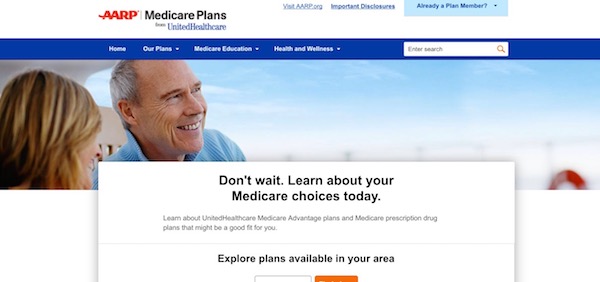 United Healthcare is the preferred insurance carrier for AARP members on Medicare,  many of whom are both HIV positive and HIV negative "baby boomer" survivors of the HIV/AIDS crisis in the 1980s. But United Healthcare does not include sexual orientation or gender identity in their non-discrimination policy.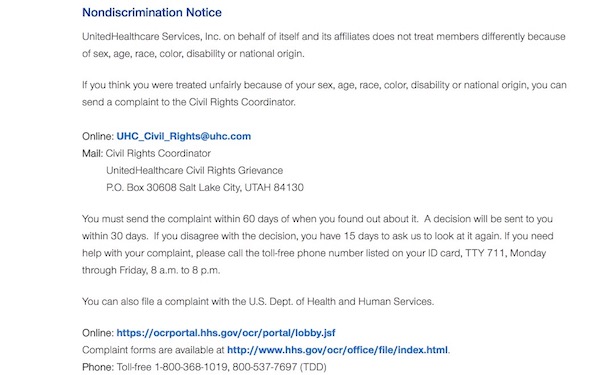 James Krellenstein has raised a red warning flag on Facebook, asking people to sign a letter asking New York State's Health Commissioner "to investigate and stop this bigoted conduct." The form to sign is here: . The text of the letter is here: https://goo.gl/5AHVrE.
"If nothing is done to stop UnitedHealthcare's blatant homophobia, we will allow a dangerous precedent to be established," Krellenstein wrote on Facebook. "There is **no** justification for denying a patient access to Truvada because of their sexual orientation or gender identity, except simple bigotry. In fact, because gay guys and trans people are more vulnerable to HIV infection, Federal and State guidelines explicitly recommend prescribing PrEP to these populations."
And he adds ominously, "We don't know how many other people have been denied PrEP by United (or other health insurers) due to their sexual orientation or gender identity."
Krellenstein asks that you please "post on UnitedHealthcare's timeline to give them a little piece of your mind."