It's the demographics, stupid.
The GOP's new immigration policy is about elections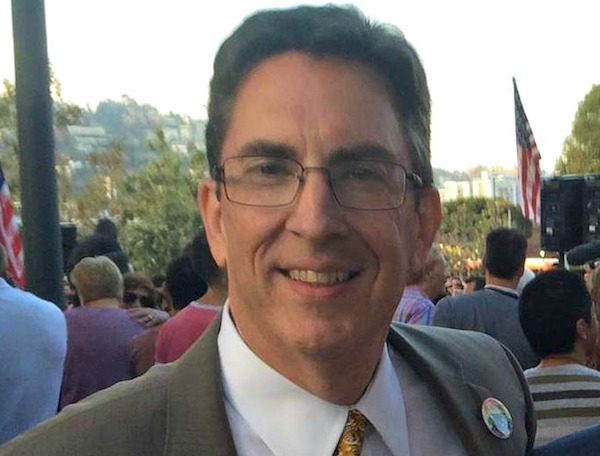 On August 2, Donald Trump threw his support behind a proposal by two Republican Senators to reduce legal immigration to the United States by half.
Trump wants to: 1) limit the types of family members of American citizens and legal residents that can be brought to the US to primarily spouses and minor children, 2) eliminate the international diversity visa lottery, and 3) limit the number of annual refugee admissions. The proposed bill would also implement a "merit-based" system that grades possible immigrants based on their skills and ability to speak English.
In announcing the policy, White House spokesperson Stephen Miller claimed that these changes are necessary to "protect US workers, protect US taxpayers, and protect the US economy."
But the real motivation is about the long term cultural and political implications of America's changing demographics. The true goal is to drastically reduce immigration by low-income and minority workers, especially from Latin America and Asia, and to increase immigration by wealthier, mostly White European workers.
Sadly, this effort, with its racist undertones, finds echoes in our history. One of the most shameful chapters in that history occurred when Congress passed the Chinese Exclusion Act of 1882. That law was implemented because, much like Latino workers today, Chinese workers were being blamed for taking the jobs of American-born workers and bringing down wages. The fear by some that places like California would be "overrun" by non-Europeans with a very different culture was also a driving force.
The official preference for White immigrants continued well into the 20th century. Before 1965, U.S. law severely restricted immigration from most Asian and Pacific Island countries and immigration from Latin American countries was subject to strict quotas. Then Congress adopted a system based on family reunification, which allowed US citizens to sponsor, not just their immediate families but their extended ones and applied a similar standard to refugees.
Over the last several decades these policies lead to a dramatic increase in the number of immigrants from Latin America and Asia. As a result, the share of the US population that is Latino and Asian has continued to rise. And, while the percentage of Latinos and Asians who are registered to vote and do vote still lags behind their respective shares of the US population, these groups are becoming a larger and larger percentage of the electorate.
These trends have not gone unnoticed in Republican or Democratic circles. It is a common refrain in politics today that "demography is destiny," and, in recent years, Democrats have been counting (perhaps too much) on the increasing ethnic diversity of our nation to deliver them victories. After all, 66% of Latino voters and a similar percentage of API voters voted for Democrat Hillary Clinton in 2016.
Younger ethnic voters are even more likely to support a Democratic candidate. For Republicans, it is imperative to reverse these trends. Change our immigrants, change America seems to be their mission. That the rhetoric around this approach appeals to White nationalists in the GOP base is a not insignificant incentive.
There is an important reason to oppose these Republican proposals. Throughout our history, people fleeing persecution, famine, war, and other calamities have found refuge in the United States. Each of them has brought his or her unique talents and contributed to the rich diverse culture that is the real America. To refuse so many that refuge now would be to abandon them to terrible fates and deprive our nation of their unique perspectives.
LGBTQ people, in particular, would be severely affected. They are discriminated against, persecuted, and often murdered in many countries throughout the world and many are desperately trying to come here. Transgender people are at particular risk for violence, often sanctioned or even carried out by their own governments. America is not perfect of course. But it is a lifeline and a hope for them. Unless they have spouses here, or are the children of current US residents, their hopes would be forever dashed.
Conventional wisdom says these proposals do not have enough support in Congress to become law anytime soon. But similar proposals have long been a staple of conservative politics—and the Republican Congress is facing increasing pressure to fulfill promises to its base. The White House may also use its power to interpret and implement immigration policy under current law or issue additional executive orders. So speaking out, being vigilant, and pressuring members of Congress to reject these proposals is desperately needed.
The very nature of who we are—a compassionate nation or a selfish nation—is at stake.
Lester F. Aponte is a lawyer and an activist. He is a founding member of the Latino Equality Alliance (LEA), and was recently elected President of the Stonewall Democratic Club.
Target & Bud Light show hypocrisy of "Corporate Pride"
Bud Light & Target came under far-right fire for including LGBTQ+ people in products & advertising. The speed at which they caved? Not good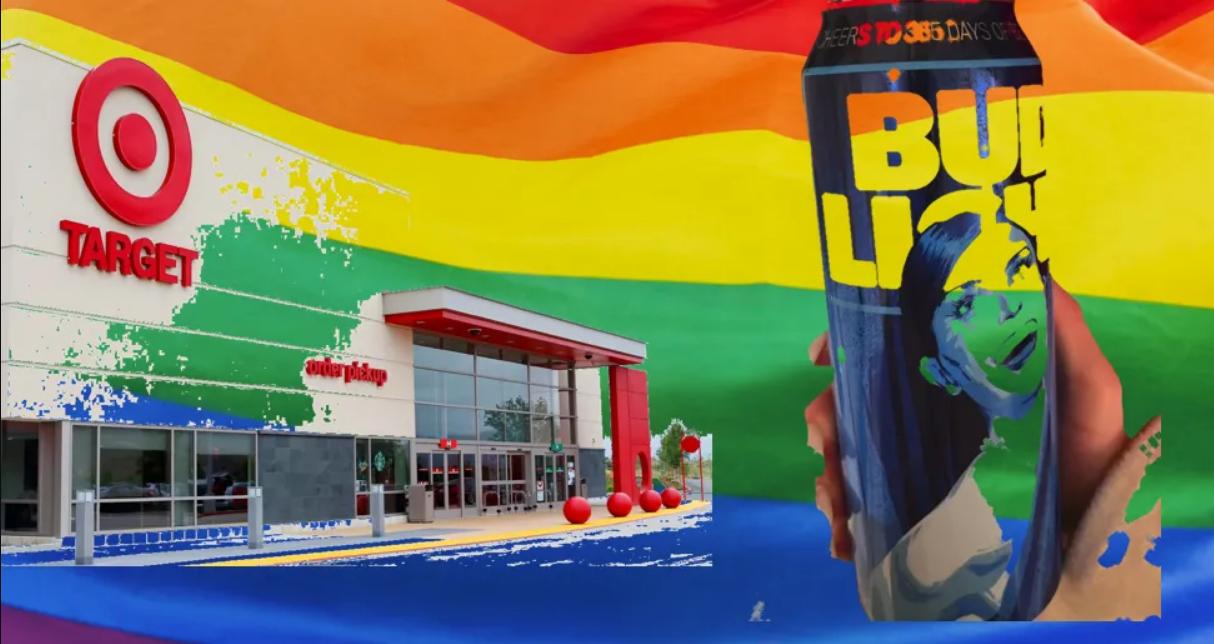 By Erin Reed | WASHINGTON – Even before Pride season has begun, evidence of corporations succumbing to far-right, anti-LGBTQ+ led boycotts is emerging.
Bud Light, for instance, recently faced pressure after featuring transgender influencer Dylan Mulvaney on its cans. The simple act incited a boycott campaign by anti-LGBTQ+ conservative activists, including Matt Walsh. In response, Bud Light placed the executives responsible for the campaign on leave.
Following this, Target faced a similar situation when it displayed its annual Pride merchandise. Calls for boycotts from the same far-right influencers ensued. Videos emerged of individuals trampling on Pride displays in stores and harassing staff members. Target's reaction was to pull several Pride items and relegate Pride displays to less visible parts of its stores.
When these companies faced anti-LGBTQ+ hostility, they backed down with little resistance. This reveals the reason why transgender people have been wary about corporatization of Pride: if corporate advocacy consists merely of rainbows that disappear at the first gust of fascist wind, it amounts to net harm. That support was never truly there.
This is all happening against the backdrop of a broader cultural climate marked by over 530 bills directed at the transgender community, withholding of medication for transgender youth and adults, bans on books featuring LGBTQ+ characters, cancellations of Pride parades, travel warnings discouraging LGBTQ+ individuals from entering certain states, and arrests of transgender individuals in restrooms.
The retreat of corporations from supporting the LGBTQ+ community, caving to anti-LGBTQ+ pressures, does more than fail to assist the community they professed to support when adversaries looked away. It actively damages the community by feeding a narrative that suggests LGBTQ+ individuals are not worth protecting.
Bud Light and Target came under far-right fire for including LGBTQ+ people in products and advertising. The speed at which they caved shows why LGBTQ+ people have warned about corporate pride.
The campaign against LGBTQ+ inclusion in stores is not grassroots, but rather a calculated move by the same far-right influencers responsible for the early anti-trans bills this year. Matt Walsh, who advised on and posted the very first anti-trans bill this year, delineated the strategy in April. His approach: "Pick a victim, gang up on it, and make an example of it. We can't boycott every woke company or even most of them. But we can pick one, it hardly matters which, and target it with a ruthless boycott campaign. Claim one scalp then move onto the next."
What followed was mass harassment and violent threats to LGBTQ+ advocates and store employees. Of Particular note is Ethan Schmidt, whose videos of walking through Target knocking down Pride signs began to reemerge. See this video from Ethan Schmidt tearing down pride signs in target, originally from 2022:
Ethan Schmidt has since promised to revive his actions, warning, "We're gonna be exposing Target… We are going to be going on hunting expeditions soon. Hunting LGBTQ+ supporters across Arizona and Phoenix." '
Numerous other videos have emerged. One person's viral tiktok expressed anger over rainbow themed and tuck-friendly clothing while going through Target racks. OAN anchor Alison Steinberg expressed dismay at cards that include two moms and two dads. Matt Walsh called for people to "make pride toxic for brands. If they decide to shove this garbage in our face, they should know they'll pay a price."
Sure enough, Target acquiesced, announcing that it would be dropping some "controversial items" and moving displays to the back of some stores. Pictures emerged of empty Pride display racks shortly after: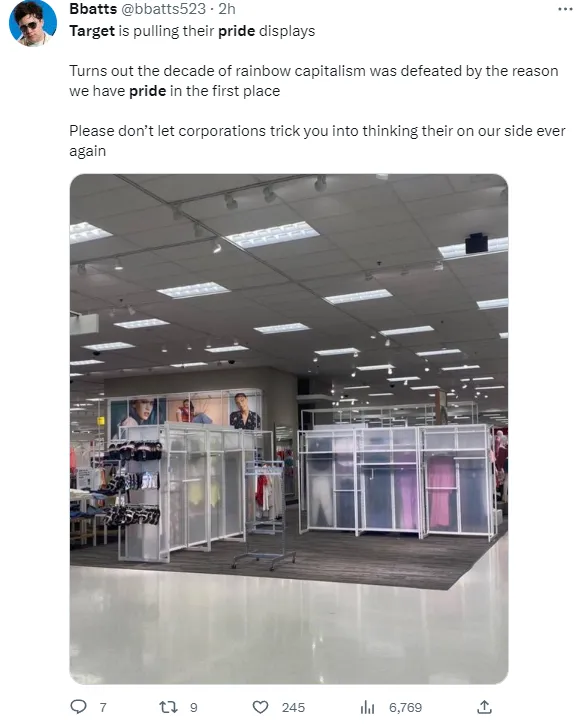 The speed in which some companies are caving to anti-LGBTQ+ sentiment shows the danger in entrusting Pride events to the care of corporations, who have no meaningful skin in the game and who are willing to pull support at moment's notice. Pride has its roots in a response to anti-LGBTQ+ oppression in 1969, particularly the raid on the Stonewall Inn.
Interestingly, both then and now, anti-drag laws proliferate and LGBTQ+ people find themselves targeted by the state and by bigotry on the streets. The first Pride was a riot, and its early celebrations were not about touting corporate advocacy or organizational support for queer people, but rather about fostering our own communities and networks to ensure that overt oppression would never prevail.
By shifting from the original spirit of Pride to Bud Light-sponsored block parties and parades filled with corporate floats where we are merely spectators rather than active participants, we risk losing sight of the essence and purpose of Pride – to forge strong bonds in the face of oppressive forces.
Target is removing LGBTQ Pride products because of terrorist behavior like this.

Yes, this is absolutely terrorism & Target should be ashamed for caving in. Just like Anheuser Busch caved in.

And people wonder why there's so much fear in our community. pic.twitter.com/0kMab9s44k

— Senator Scott Wiener (@Scott_Wiener) May 24, 2023
Moving forward, we need a new vision of Pride that is more in line with the reason Pride was first conceived. This vision of Pride should not be dependent on corporate sponsorships, but rather, should uplift the community and support the creation of social networks. Local organizations should be centered rather than multinational corporations.
This vision of pride is one where we collectively march together in solidarity and celebration and express to the world that our joy will not be eradicated. I envision a pride where local businesses are supported, where drag thrives, where our block parties truly support the locals who call those blocks home.
We must make it unequivocally clear to corporations that raising rainbow flags, only to retreat when confronted by oppressive forces, contradicts the essence of Pride. Symbols demand action to substantiate them.
Corporations wishing to demonstrate support for their LGBTQ+ employees should implement comprehensive paid family leave, include full coverage for trans-specific medical care in their insurance policies, and cease all donations to politicians endorsing anti-trans stances.
Should a company truly aim to support its LGBTQ+ employees, it must stand with queer and trans people, even in the face of harassment and abuse by right-wing aggressors. Instead of hastily retreating in the face of even a fraction of the hatred endured daily by the LGBTQ+ community from these same individuals, these corporations need to show resilient support.
****************************************************************************
Erin Reed is a transgender woman (she/her pronouns) and researcher who tracks anti-LGBTQ+ legislation around the world and helps people become better advocates for their queer family, friends, colleagues, and community. Reed also is a social media consultant and public speaker.
Follow her on Twitter (Link)
Website here: https://www.erininthemorning.com/
******************************************************************************************
The preceding article was first published at Erin In The Morning and is republished with permission.