Defend DACA demonstrations in LA, nationwide on Tuesday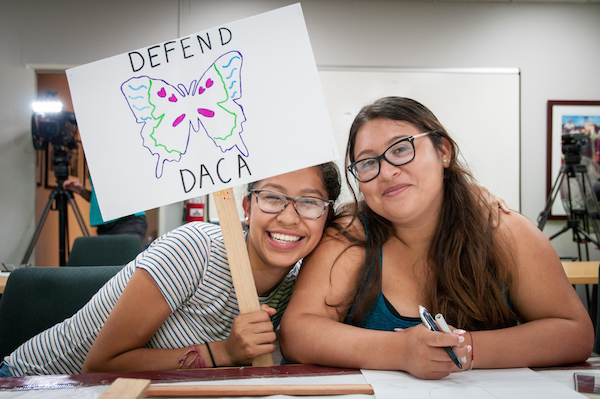 DACA recipients Jenni and Andrea prepare signs for protests. Photo courtesy Coalition for Humane Immigrant Rights (CHIRLA)
Last June—before the explosion of white supremacy in Charlottesville this weekend and President Trump's weak response—officials from 10 Republican states sent a letter to  Attorney General Jeff Sessions to end the Deferred Action for Childhood Arrivals (DACA) program by September 5 or risk a federal lawsuit.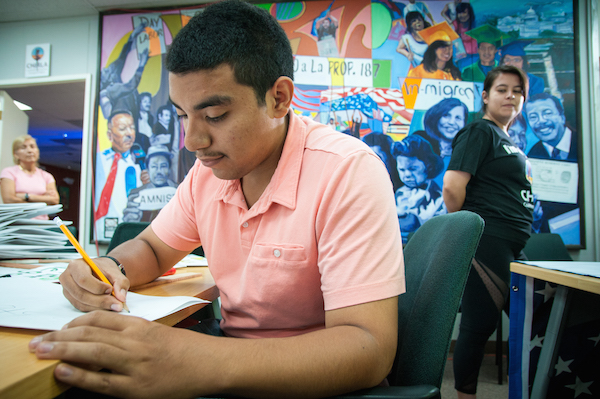 Congress returns from August recess that day, but given the national uproar over the apparent coziness between Trump and white supremacists and neo-Nazis, despite the murder of a young woman, injury of 20 and the accidental death of two troopers—establishment Republicans may stick the threat into a back drawer over the public perception of the GOP going after undocumented youth of color who were born and raised in America by undocumented parents.
Then again, the Texas attorney general is taking the lead. "We respectfully request that the Secretary of Homeland Security phase out the DACA program," Texas Attorney General Ken Paxton wrote. He was joined by the attorneys general of Arkansas, Alabama, Idaho, Kansas, Louisiana, Nebraska, South Carolina, Tennessee and West Virginia, as well as Idaho Governor C.L. Otter, VoaNews reports.
"I think we have to prepare for the worst and get ready to fight mass deportation," Democratic Rep. Luis Gutierrez of Illinois said in a statement. Guiterrez is speaking at a Defend DACA rally in Washington DC (more info below).
"DACA has been one of the most beneficial immigration programs in decades, saving over 800,000 young immigrants from deportation.   A significant number of these young DACA recipients are LGBT leaders in their communities and national vocal advocates, including Lizbeth Cuevas whose story CHIRLA highlighted recently,"Jorge-Mario Cabrera, the out Director of Communications for the Coalition for Humane Immigrant Rights (CHIRLA), tells the Los Angeles Blade. "The contributions of these young people are numerous and President Trump must stand up against those bullying immigrants and keep DACA until Congress enacts a permanent solution for these young people and their families."
"I am an undocumented, queer Latina and the first in my family to attend college. Most
importantly, I am a DACA recipient, who has benefited from DACA," says Lizbeth Cuevas Ramos. "I applied for DACA the year it came out with the support of my parents. DACA has helped me obtain a job and has open more doors for a variety of opportunities. Not only has DACA, given me a way to support myself and my family, it has also given me the privilege to travel within the U.S. Being a DACA recipient has changed my life. I've renewed my DACA twice, and each time I renew it I feel thankful because that means another two years to live with more opportunities and comfort."
Tuesday, August 15, is the 5th anniversary of the DACA immigration program, signed by President Obama. And on Tuesday, the California Table for Immigration Reform, a statewide network of more than 40 organizations and groups in support of immigration reform, is holding a Day of Action in support of DACA and Temporary Protected Status (TPS).
Activities in the LA area include a banner drop downtown, press conferences with immigrant youth and elected officials in Sacramento, San Jose, and LA, and two caravans (one leaving Sacramento and one leaving Orange County) in route to Congressional Representative offices in Orange County, LA, Santa Clarita, Modesto, Visalia, and finally Bakersfield where a final rally will be held.
Coalition members include: CHIRLA, California Dream Network, SIREN, UFW Foundation, Korean Resource Center, SEIU Local 2015, SEIU USWW, Children Over Politics, UNITE HERE Local 11, Inner City Struggle, Dolores Huerta Foundation, Monkey Wrench Brigade, OCCCO-PICO, CCC, and FIRM.
Some highlights:
FREEWAY AND STREET BANNER DROPS
Los Angeles, 7 a.m. – 8 a.m.
101 Fwy. downtown Los Angeles overpass and Federal Building on Los Angeles and Temple.  DACA recipients and allies elicit public support holding large, home-made banners and posters that read "LA Stands With DACA," "Hands Off DACA," and "DACA Defenders."
California Dream Network leads this action.
RALLIES AND PRESS CONFERENCES
Los Angeles, 9:30 a.m.
Vista Hermosa Park, 100 N. Toluca St., Los Angeles, CA 90026
Caravan leaves immediately after.
Congress Representatives Chu, Barragán, and Gómez, and LA City Councilmember Gil Cedillo speak.  CA Attorney General Xavier Becerra (invited).  DACA and TPS recipients and families offer testimony along with reactions from immigrant rights leaders including Angelica Salas and Maria Elena Durazo.
Sacramento, 7:30 a.m.
CHIRLA Sacramento office,
1225 8th Street Suite 375 Sacramento, CA 95814
Caravan heading to Central California departs immediately after
CHIRLA and CDN lead this action.
San Jose, 9 a.m.
Santa Clara County building, 70 W. Hedding St., San Jose, CA  95110
Members of Congress, County Supervisors, and DACA recipients are scheduled to speak during press conference.
SIREN leads this action.
CARAVAN STOPS
Southern California to Central California
Visit to Representative Royce, 10:30 a.m.
Corner of Brea Blvd. and Imperial Hwy. (next to Starbucks), City of Brea
A petition will be hand delivered post rally
Korean Resource Center (KRC) leads this action
Visit to Representative Knight, 11:30 a.m.
Caravan leaves Vista Hermosa Park approximately 10:30 a.m.
Rally at Rep. Knight's office 11:30 a.m.
26415 Carl Boyer Dr., #220, Santa Clarita, CA  91350
OCCCO-PICO, CHIRLA, and CDN lead this action
Visit to Representative McCarthy, 2:45 p.m.
4100 Empire Dr. #150, Bakersfield, CA  93309
UFW Foundation, CHIRLA, and CDN lead this action
Visit to Representative Valadao, 4:30 p.m.
2700 M Street, Ste. 250 B, Bakersfield, CA
Caravans from north and south meet for large final rally.
Northern California to Central California
Visit to Representative Denham, 1 p.m.
4701 Sisk Rd., Ste. 202, Modesto, CA  95356
SIREN and CHIRLA lead this action
Visit to Representative Nunes, 11 a.m.
113 N. Church St. #208, Visalia, CA  93291
UFW Foundation and CHIRLA lead this action
Visit to Representative Valadao, 4:30 p.m.
(see address and details above)
EVENTS to be LIVE STREAMED: 
Facebook Link: https://www.facebook.com/chirlausa/
Livestreaming Schedule:
Los Angeles Banner Drop @ 7 AM
Los Angeles Press Conference @ 9:30
Central Valley
Sacramento Press Conference @ 7:30
Devin Nunes @ 11 AM
Steve Knight @ 12 PM
McCarthy @ 2:30 PM
Valadao @ 4 PM
Sacramento
Denham @ 11 AM
Orange County
Ed Royce @ 11:30
The Washington Blade http://www.washingtonblade.com/will be covering the DACA events in Washington DC. Keep an eye on the Washington Blade's Facebook page: https://www.facebook.com/WashingtonBlade/
South Bend Indiana Rainbow Story Hour disrupted by Proud Boys
Seven men — all Proud Boys — entered the library and began arguing with staff and patrons. Several displayed white supremacist symbols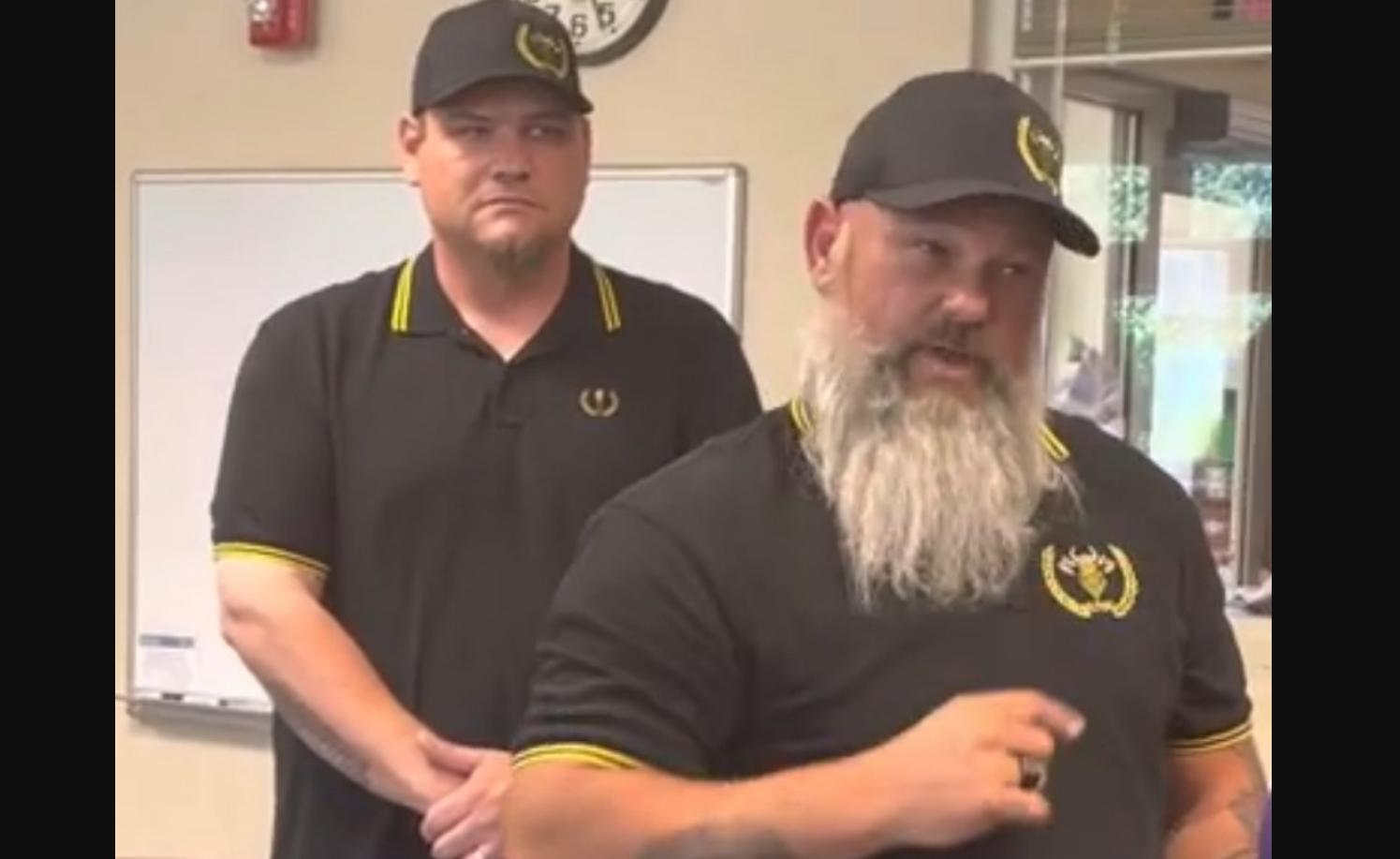 SOUTH BEND, In. – A Pride Month children's Rainbow Story Hour event at the St. Joseph County Public Library's Virginia M. Tutt Branch on Monday was disrupted after the far-right anti-LGBTQ+ group, the Proud Boys, walked in and began loudly arguing with staff and library patrons.
At one point during the confrontation, one of the group unfurled a flag reading "Michiana Proud Boys," appearing to identify the men as a local chapter of the white nationalist hate group.
This latest incident follows Proud Boys targeting LGBTQ+ Pride month events- especially Drag Queen Story Hour events- in Sparks Nevada, Wilmington North Carolina, Alameda California, Boise Idaho, many promulgated by highly influential far-right social media stars like Chaya Raichik, the Brooklyn real estate agent behind @LibsOfTikTok who has highlighted these events she calls out as inappropriate and sexualizing children to her more than 1.3 million followers on Twitter.
South Bend's NPR outlet WVPE reported that the event was a partnership between the library and TREES, a Michiana organization that provides resources for the local transgender community and operates the Tree House Gender Resource center in downtown South Bend.
But before the event was set to start, seven men — all Proud Boys — entered the library and began arguing with staff and patrons. Several displayed white supremacist symbols, according to photos posted on social media.
Police were called — and the group left after about 40 minutes — but they caused so much disruption that the event had to be canceled.
"This definitely came as a shock," library system communications manager Marissa Gebhard told WVPE. "We were not anticipating any problems."
The library plans to reschedule the event in a few months, and Gebhard said the system wants everyone to feel safe and welcome at its branches.
The Proud Boys recognized one person because Purple for Parents (a local hate group focused on schools) had doxxed her before.

This disruption is extremely concerning because it seems to be a part of coordinated disruptions of similar events across the country. 2/4 pic.twitter.com/QumqYn4Bxd

— Indiana Mutual Aid Coalition (@INMutualAid) June 28, 2022
Ketanji Brown Jackson sworn in as 116th justice of the U.S. Supreme Court
"It has taken 232 years and 115 prior appointments for a black woman to be selected to serve on the Supreme Court of the United States"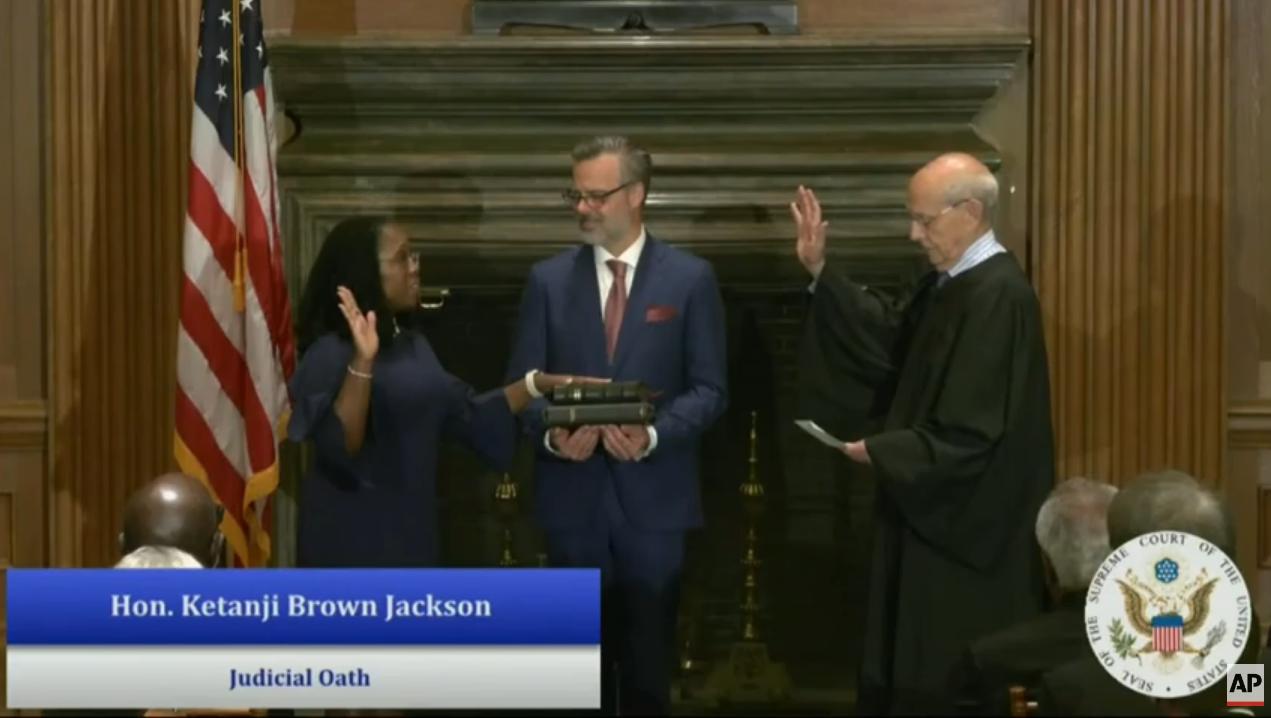 WASHINGTON – In oaths administered by the Chief Justice John Roberts and outgoing Associate U.S. Supreme Court Justice Stephen Breyer, Judge Ketanji Brown Jackson was sworn in as the 116th justice of the U.S. Supreme Court.
The 51 year-old Justice Jackson made history as the first-ever black woman sworn in as a justice on the U.S. Supreme Court. She replaces Justice Breyer, whose resignation from the Supreme Court becomes effective at noon Thursday (Eastern) after his nearly 28 years of service on the nation's high court.
In the simple ceremony held at the Court, Jackson in the constitutional oath, given by Chief Justice Roberts, solemnly swore to defend the Constitution "against all enemies, foreign and domestic," and "bear true faith and allegiance to the same."
Justice Breyer gave her the statutory oath, in which Jackson swore to "administer justice without respect to persons, and do equal right to the poor and to the rich."
The newly sworn-in Associate Justice was joined by her husband, Dr. Patrick Jackson, and their two daughters, Talia and Leila.
The court will hold another formal inaugurating ceremony, called an investiture, in the fall, Roberts said. But Thursday's ceremony allows her to immediately begin work as the newest member of the nine-seat Supreme Court.
Nominated by President Biden and confirmed by the Senate, in April at a ceremony on the South Lawn of the White House, addressing the audience of members of Congress, the Biden Cabinet, and White House staff along with family and invited guests, Justice Jackson noted;
"As I take on this new role, I strongly believe that this is a moment in which all Americans can take great pride. We have come a long way towards perfecting our union. In my family, it took just one generation to go from segregation to the Supreme Court of the United States."
As the first Black woman to be nominated to serve on the nation's highest court which she noted in her remarks:
"It has taken 232 years and 115 prior appointments for a black woman to be selected to serve on the Supreme Court of the United States. But we've made it," she said, to applause from the crowd. "We've made it, all of us, all of us. And our children are telling me that they see now, more than ever, that here in America anything is possible."
Quoting Maya Angelou, an American author, poet and civil rights activist, "I am the hope and the dream of the slave," Jackson said.
In statement issued by the White House, President Biden traveling back from the NATO conference in Madrid aboard Air Force One said:
"I am honored that the very first judicial nominee I selected as President – the brilliant lawyer who became "Judge Jackson" – has now become "Justice Jackson." 
Her historic swearing in today represents a profound step forward for our nation, for all the young, Black girls who now see themselves reflected on our highest court, and for all of us as Americans. 

The Supreme Court just gained a colleague with a world-class intellect, the dignified temperament the American people expect of a justice, and the strongest credentials imaginable.  

Justice Jackson is a former public defender who served for almost a decade as a district and circuit judge.  Her nomination was endorsed by top legal experts across the political spectrum, as well as our country's leading law enforcement organizations.  In her career, she has been confirmed four times by the U.S. Senate with bipartisan support.

She is the daughter of educators and the niece of a police chief—and she too has devoted her life to public service. 

She is also the embodiment of hard work, grace, and perseverance.

Justice Jackson's wisdom and experience, will make all of us proud for so many years to come.

Like I said after her confirmation, Justice Jackson's ascension to the highest court in the land makes the sun shine on so many of us in a new way.

Justice Jackson succeeds another extraordinarily brilliant jurist who has also devoted their life to their country, including in the U.S. Army as a teenager and on the Watergate Committee  – Justice Steven Breyer. Justice Breyer's integrity and his commitment to ensuring our nation's laws worked for the people have made him beloved by his colleagues and deeply respected across our country. I thank him again for his many years of exemplary service."    
U.S. Supreme Court upholds Biden's ability to enforce immigration laws
In its 5-4 ruling the high court said that the president may repeal the Trump-era 'remain in Mexico' policy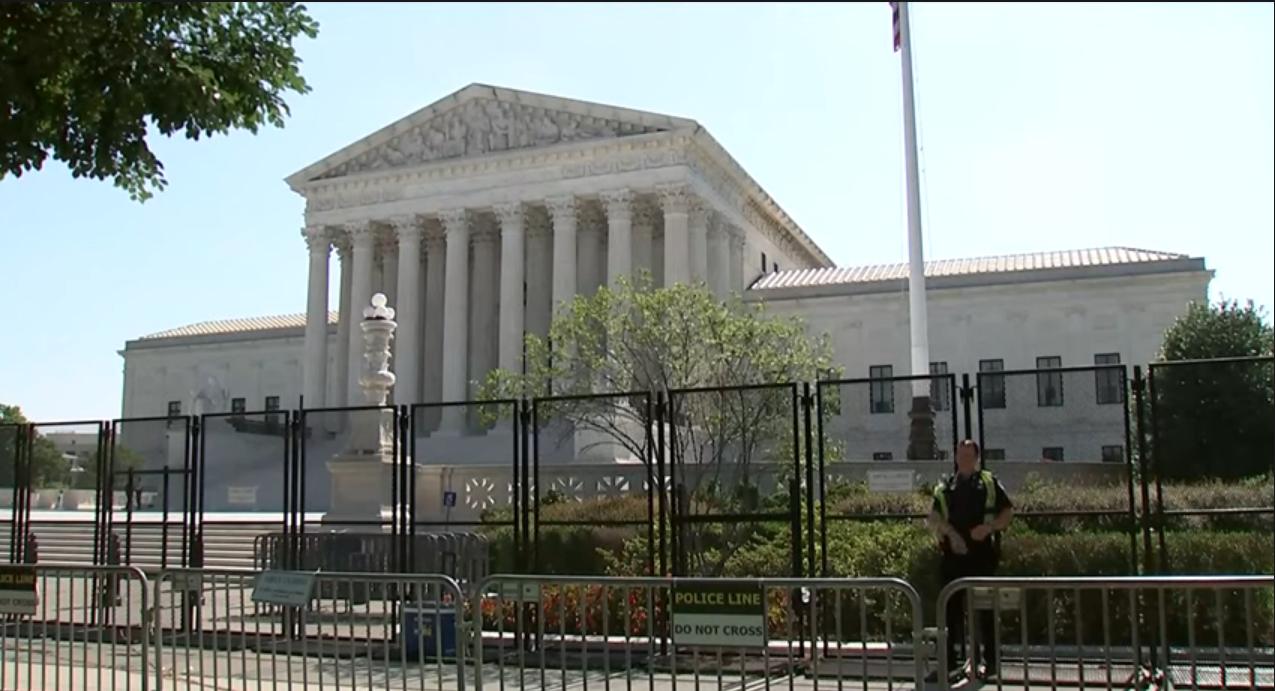 WASHINGTON – The U.S. Supreme Court on Thursday in a 5-4 ruling said the Biden administration can end a policy that forced asylum seekers to pursue their cases in Mexico.
The previous White House's Migrant Protection Protocols program, which became known as the "Remain in Mexico" policy, took effect in 2019.
The Biden administration suspended MPP enrollment shortly after it took office in January 2021. The program was to have ended six months later, but a federal judge in Texas ordered MPP's reinstatement after the state and Missouri filed suit against the Biden administration.
Thursday's ruling sends the Texas and Missouri case back to lower courts.
"As Secretary Mayorkas concluded in October 2021 after a thorough review, the prior administration's Migrant Protection Protocols (MPP) has endemic flaws, imposes unjustifiable human costs and pulls resources and personnel away from other priority efforts to secure our border," said the Department of Homeland Security in a statement. "We welcome the Supreme Court's decision affirming that the Secretary has the discretionary authority to terminate the program, and we will continue our efforts to terminate the program as soon as legally permissible."
U.S. Sen. Alex Padilla (D-Calif.) also welcomed the ruling.
"Today's Supreme Court decision correctly acknowledges the Biden administration's authority to end the unlawful and cruel 'Remain in Mexico' program," he said in a statement. "For more than three years, this horrifying policy has denied asylum seekers their right to due process and subjected them to crimes like rape, kidnapping and torture in northern Mexican border cities while they await their court hearings."
Advocates sharply criticized MPP, in part, because it made LGBTQ+ and intersex asylum seekers who were forced to live in Tijuana, Ciudad Juárez, Reynosa, Matamoros and other Mexican border cities even more vulnerable to violence and persecution based on their sexual orientation and gender identity.
[email protected] Coalition President Bamby Salcedo on Thursday told the Los Angeles Blade the Supreme Court ruling "will certainly impact our community in a positive way."
"We know that people who have to remain in Mexico to wait continue to be victims of violence," said Salcedo. "This is definitely a step in the right direction and we're grateful that this happened in this way."
Emilio Vicente, communications and policy director of Familia: TQLM, an organization that advocates on behalf of Transgender and gender non-conforming immigrants, echoed Salcedo.
"We're glad to finally have some good news from the Supreme Court after horrible rulings on abortions, climate change, Native American rights," said Vicente. "Ending 'Remain in Mexico' will allow LGBTQ+ asylum seekers who face increased discrimination and abuse during the journey to the U.S., to be able to seek asylum here."
Abdiel Echevarría-Cabán is a South Texas-based immigration attorney and human rights law and policy expert who the LGBTQ+ Bar in 2021 recognized as one of its 40 best LGBTQ+ lawyers who are under 40.
He told the Blade on Thursday the Supreme Court ruling is "a victory we must celebrate." Echevarría-Cabán also said MPP placed LGBTQ+ and intersex asylum seekers at increased risk.
"Refugees in general, but especially LGBT refugees, are extremely vulnerable to other type of harms such as kidnappings by cartel members, extortion, physical and psychological abuses from Mexican law enforcement authorities and third parties given the high levels of discrimination for LGBT refugees in Mexico," said Echevarría-Cabán.
The Supreme Court issued its ruling a day after the Justice Department filed charges against four people in connection with the deaths of 53 migrants who were found in the back of a tractor trailer truck in San Antonio.
The Biden administration in April announced its plans to terminate Title 42, a Centers for Disease Control and Prevention rule that closed the Southern border to most asylum seekers and migrants because of the pandemic. Title 42 was to have ended on May 23, but a federal judge ruled against the White House.
"This decision isn't the end of the fight for ensuring that people seeking asylum get asylum but it's an important step in protecting vulnerable people," Vicente told the Blade after Thursday's ruling. "President Biden must follow through on his commitment to end MPP and protect all asylum seekers."
Salcedo noted to the Blade the "system, as it is, particularly when it comes to trans women, needs to be completely changed so that we can be at a better place as a community." Padilla in his statement urged the Biden administration "to do everything in its power to swiftly end 'Remain in Mexico' once and for all."
"Misguided and inhumane Trump-era policies like 'Remain in Mexico' and Title 42 have only decimated an already broken immigration system," he said. "We must keep working to restore the lawful processing of asylum seekers at the border, in keeping with America's most deeply held values as a nation of immigrants."
The Department of Homeland Security in its statement notes Title 42 remains in place.
"The department also continues to enforce our immigration laws at the border and administer consequences for those who enter unlawfully, and will continue the court-mandated enforcement of the Centers for Disease Control and Prevention's Title 42 public health order," it reads.