August 14, 2017 at 8:14 pm PST | by Karen Ocamb
Defend DACA demonstrations in LA, nationwide on Tuesday
DACA recipients Jenni and Andrea prepare signs for protests. Photo courtesy Coalition for Humane Immigrant Rights (CHIRLA)
Last June—before the explosion of white supremacy in Charlottesville this weekend and President Trump's weak response—officials from 10 Republican states sent a letter to  Attorney General Jeff Sessions to end the Deferred Action for Childhood Arrivals (DACA) program by September 5 or risk a federal lawsuit.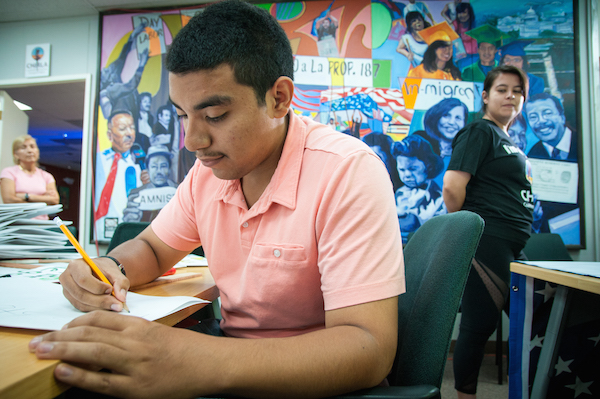 Congress returns from August recess that day, but given the national uproar over the apparent coziness between Trump and white supremacists and neo-Nazis, despite the murder of a young woman, injury of 20 and the accidental death of two troopers—establishment Republicans may stick the threat into a back drawer over the public perception of the GOP going after undocumented youth of color who were born and raised in America by undocumented parents.
Then again, the Texas attorney general is taking the lead. "We respectfully request that the Secretary of Homeland Security phase out the DACA program," Texas Attorney General Ken Paxton wrote. He was joined by the attorneys general of Arkansas, Alabama, Idaho, Kansas, Louisiana, Nebraska, South Carolina, Tennessee and West Virginia, as well as Idaho Governor C.L. Otter, VoaNews reports.
"I think we have to prepare for the worst and get ready to fight mass deportation," Democratic Rep. Luis Gutierrez of Illinois said in a statement. Guiterrez is speaking at a Defend DACA rally in Washington DC (more info below).
"DACA has been one of the most beneficial immigration programs in decades, saving over 800,000 young immigrants from deportation.   A significant number of these young DACA recipients are LGBT leaders in their communities and national vocal advocates, including Lizbeth Cuevas whose story CHIRLA highlighted recently,"Jorge-Mario Cabrera, the out Director of Communications for the Coalition for Humane Immigrant Rights (CHIRLA), tells the Los Angeles Blade. "The contributions of these young people are numerous and President Trump must stand up against those bullying immigrants and keep DACA until Congress enacts a permanent solution for these young people and their families."
"I am an undocumented, queer Latina and the first in my family to attend college. Most
importantly, I am a DACA recipient, who has benefited from DACA," says Lizbeth Cuevas Ramos. "I applied for DACA the year it came out with the support of my parents. DACA has helped me obtain a job and has open more doors for a variety of opportunities. Not only has DACA, given me a way to support myself and my family, it has also given me the privilege to travel within the U.S. Being a DACA recipient has changed my life. I've renewed my DACA twice, and each time I renew it I feel thankful because that means another two years to live with more opportunities and comfort."
Tuesday, August 15, is the 5th anniversary of the DACA immigration program, signed by President Obama. And on Tuesday, the California Table for Immigration Reform, a statewide network of more than 40 organizations and groups in support of immigration reform, is holding a Day of Action in support of DACA and Temporary Protected Status (TPS).
Activities in the LA area include a banner drop downtown, press conferences with immigrant youth and elected officials in Sacramento, San Jose, and LA, and two caravans (one leaving Sacramento and one leaving Orange County) in route to Congressional Representative offices in Orange County, LA, Santa Clarita, Modesto, Visalia, and finally Bakersfield where a final rally will be held.
Coalition members include: CHIRLA, California Dream Network, SIREN, UFW Foundation, Korean Resource Center, SEIU Local 2015, SEIU USWW, Children Over Politics, UNITE HERE Local 11, Inner City Struggle, Dolores Huerta Foundation, Monkey Wrench Brigade, OCCCO-PICO, CCC, and FIRM.
Some highlights:
FREEWAY AND STREET BANNER DROPS
Los Angeles, 7 a.m. – 8 a.m.
101 Fwy. downtown Los Angeles overpass and Federal Building on Los Angeles and Temple.  DACA recipients and allies elicit public support holding large, home-made banners and posters that read "LA Stands With DACA," "Hands Off DACA," and "DACA Defenders."
California Dream Network leads this action.
RALLIES AND PRESS CONFERENCES
Los Angeles, 9:30 a.m.
Vista Hermosa Park, 100 N. Toluca St., Los Angeles, CA 90026
Caravan leaves immediately after.
Congress Representatives Chu, Barragán, and Gómez, and LA City Councilmember Gil Cedillo speak.  CA Attorney General Xavier Becerra (invited).  DACA and TPS recipients and families offer testimony along with reactions from immigrant rights leaders including Angelica Salas and Maria Elena Durazo.
Sacramento, 7:30 a.m.
CHIRLA Sacramento office,
1225 8th Street Suite 375 Sacramento, CA 95814
Caravan heading to Central California departs immediately after
CHIRLA and CDN lead this action.
San Jose, 9 a.m.
Santa Clara County building, 70 W. Hedding St., San Jose, CA  95110
Members of Congress, County Supervisors, and DACA recipients are scheduled to speak during press conference.
SIREN leads this action.
CARAVAN STOPS
Southern California to Central California
Visit to Representative Royce, 10:30 a.m.
Corner of Brea Blvd. and Imperial Hwy. (next to Starbucks), City of Brea
A petition will be hand delivered post rally
Korean Resource Center (KRC) leads this action
Visit to Representative Knight, 11:30 a.m.
Caravan leaves Vista Hermosa Park approximately 10:30 a.m.
Rally at Rep. Knight's office 11:30 a.m.
26415 Carl Boyer Dr., #220, Santa Clarita, CA  91350
OCCCO-PICO, CHIRLA, and CDN lead this action
Visit to Representative McCarthy, 2:45 p.m.
4100 Empire Dr. #150, Bakersfield, CA  93309
UFW Foundation, CHIRLA, and CDN lead this action
Visit to Representative Valadao, 4:30 p.m.
2700 M Street, Ste. 250 B, Bakersfield, CA
Caravans from north and south meet for large final rally.
Northern California to Central California
Visit to Representative Denham, 1 p.m.
4701 Sisk Rd., Ste. 202, Modesto, CA  95356
SIREN and CHIRLA lead this action
Visit to Representative Nunes, 11 a.m.
113 N. Church St. #208, Visalia, CA  93291
UFW Foundation and CHIRLA lead this action
Visit to Representative Valadao, 4:30 p.m.
(see address and details above)
EVENTS to be LIVE STREAMED: 
Facebook Link: https://www.facebook.com/chirlausa/
Livestreaming Schedule:
Los Angeles Banner Drop @ 7 AM
Los Angeles Press Conference @ 9:30
Central Valley
Sacramento Press Conference @ 7:30
Devin Nunes @ 11 AM
Steve Knight @ 12 PM
McCarthy @ 2:30 PM
Valadao @ 4 PM
Sacramento
Denham @ 11 AM
Orange County
Ed Royce @ 11:30
The Washington Blade http://www.washingtonblade.com/will be covering the DACA events in Washington DC. Keep an eye on the Washington Blade's Facebook page: https://www.facebook.com/WashingtonBlade/