Protests, shock, warning after domestic terrorism in Charlottesville
Trump finally condemns white supremacy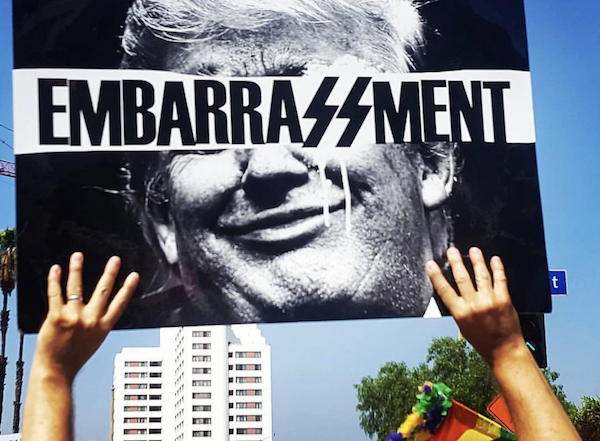 The Rainbow Flag waved colorfully against the backdrop of Los Angeles City Hall Sunday afternoon as hundreds of protesters rallied against the violence and racist hatred perpetrated by white supremacists at a gathering in Charlottesville, Virginia on Saturday that left one counter-protester dead. The LA demonstrations on Saturday at the LAPD andSunday at City Hall, a candlelight vigil in Long Beach in "solidarity" with Charlottesville, as well as in pain expressed in churches such as Holman United Methodist Church in South LA, joined demonstrations in cities around the country, including in front of the White House, that decried the violence—and President Donald Trump's tepid response to what many have called domestic terrorism.
In an awkward moment Sunday away from his "working vacation" at his golf resort in Bedminster, New Jersey, Trump seemed to blame both sides for the violence, establishing a moral equivalency between Nazi agitators and peaceful counter-demonstrators and refusing to explicitly condemn white supremacy or former KKK leader David Duke saying they were marching in Trump's name.
"We condemn in strongest possible terms this egregious display of hatred, bigotry, and violence — on many sides, many sides," Trump said before abruptly walking away without responding to reporters shouting: "Mr. President, do you want the support of these white nationalists?" "Do you call that terrorism, sir?"
The nation erupted, including Republicans. "Praying for those hurt & killed today in Charlottesville. This is nothing short of domestic terrorism & should be named as such," Colorado Sen. Cory Gardner tweeted.  "Mr. President – we must call evil by its name. These were white supremacists and this was domestic terrorism."
"We should call evil by its name. My brother didn't give his life fighting Hitler for Nazi ideas to go unchallenged here at home," Utah Republican Sen. Orrin Hatch tweeted. 
"Unite the Right," an organized coalition of neo-Nazis, KKK, Vanguard America and other white nationalist groups, gathered to protest the planned removal of a statue of Confederate general Robert E. Lee, the leader of Southern states that started the Civil War in order to perpetuate slavery.
Among the demonstrations Sunday were vigils to honor Heather Heyer, a much-loved 32-year old paralegal who was mowed down when 20-year old Nazi lover James Field Jr. from Ohio allegedly drove a car at full speed into a crowd of protesters.
Twenty other people were also injured during the white supremacist riots Saturday.  Some questioned the response of law enforcement. De'Andre Harris, 20, a hip hop artist and Charlottesville high school assistant special education teacher, was chased into a parking garage by five neo-Nazis who beat him with their fists and wooden poles as a group of police officers stood just yards away.
"They were trying to kill me out there," Harris told the LA Times.   "The police didn't budge, and I was getting beat to a pulp."
Vonzz Long, 23, implored police to help, but was ignored. "They looked at me and didn't say nothing," Long said. Eventually one officer did help Harris.
"Our police officers, the Virginia State Police and other law enforcement agencies were around the area the entire day, responding to more than 250 incidents incidents and assisting people," Miriam Dickler, a spokeswoman for the city of Charlottesville, told The Times.
No one seems to have identified the group of white supremacists chanting "Fuck You Faggots!" before the melee, though some of the signage suggests they may be part of the group Vanguard America.
"This is happening in community's across the country," former Get Equal director Heather Cronk, now with Showing Up for Racial Justice, told reporters at Field's arraignment Monday morning. "These guys are not armatures. They are professional hit-men who are out to murder people of color, Jewish folks, LGBTQ folks. This isn't a one-time story. They're coming back to Charlottesville. They've already filed for a permit in Richmond. This is going to keep continuing until folks intercede."
In a televised statement Monday, Trump finally denounced  the KKK and neo-Nazis by name, calling them "criminals and thugs," and said Attorney General Jeff Sessions has opened a civil rights investigation into Heyer's death.
"Anyone who acted criminally in this weekend's racist violence, you will be held accountable," Trump said in the Diplomatic Reception Room of the White House. "We condemn in the strongest possible terms the egregious display of hatred, bigotry and violence. It has no place in America."
Trump added, presumably under pressure: "Racism is evil and those who cause violence in its name are criminals and thugs, including the KKK, neo-Nazis, white supremacists and other hate groups that are repugnant to all that we hold dear as a nation."
The New York Times suggests that it took the resignation of Merck's black chief executive, Kenneth C. Frazier, from the president's American Manufacturing Council to get Trump's attention.
— Merck (@Merck) August 14, 2017
"America's leaders must honor our fundamental views by clearly rejecting expressions of hatred, bigotry and group supremacy, which run counter to the American ideal that all people are created equal," Frazier said in a tweet announcing his resignation.
Before his televised, scripted remarks, Trump shot back at Frazier on Twitter.
Trump tweeted: "Now that Ken Frazier of Merck Pharma has resigned from President's Manufacturing Council, he will have more time to LOWER RIPOFF DRUG PRICES!"
Now that Ken Frazier of Merck Pharma has resigned from President's Manufacturing Council,he will have more time to LOWER RIPOFF DRUG PRICES!

— Donald J. Trump (@realDonaldTrump) August 14, 2017
"It took Trump 54 minutes to condemn Merck CEO Ken Frazier, but after several days he still has not condemned murdering white supremacists," tweeted Keith Boykin, an open gay African American CNN commentator and former aide to President Bill Clinton.
The Human Rights Campaign and several other civil rights groups have called for Trump to fire alt-right/white nationalist and former Breitbart editor Steve Bannon, now Trump's White House chief strategist, and deputy assistant Sebastian Gorka, who also has ties to extremist, white nationalist groups. Additionally the groups call upon Congress to establish a bipartisan oversight committee on hate crimes and white supremacy.
On Monday, before Trump's televised remarks, Griffin issued a statement slamming Trump as being unfit to be president: "It has never been more clear that all of our fights — against racism, homophobia, transphobia, xenophobia, anti-semitism, Islamophobia and more — are inextricably linked, because we have a common oppressor. We stand in solidarity with those targeted by these white supremacist neo-Nazis — in Charlottesville and around the country.
We know that this kind of hatred is not new. But we also know that Donald Trump, Mike Pence, and their administration have consistently appealed to and relied on  the darkest and most hateful elements of society for their own cynical political gain. We have seen the results of regressive policies and rhetoric unfold for months. And in Charlottesville, the politics of hate erupted into a brazen act of domestic terrorism.
A group of radical right-wing extremists emboldened and energized by Donald Trump's very intentional and reckless rhetoric, marched through the streets of Charlottesville — many in his name — for the purposes of inciting terror, and innocent Americans lost their lives. In the hours that followed, fair-minded Americans from every political persuasion condemned the day's horrific events and the hate that motivated them. Except Donald Trump.
For generations, the American people have looked to the president of the United States to be a unifier in times of discord; to be a healer in times of pain; and to boldly condemn the bad in the name of the good.
The fact that Donald Trump would refuse to personally condemn white supremacists, white nationalists, neo-Nazis, the so-called alt-right and domestic terrorism is beyond the pale. It is a stunning failure of moral leadership. And every single American today should question whether Donald Trump is fit to serve as president of the United States.
This is a man who has criticized his own attorney general more harshly than he has white supremacists. That isn't bringing America together — it is cowardice.
Bigotry must never be met with silence or half-hearted rebukes. There are no two sides to this, as the president has implied.
As we send our condolences to the friends and families of those whose lives were taken standing up to hate and violence, we also join other civil rights organizations and call on the Justice Department and the FBI to leave no stone unturned, to commit to this domestic terrorism investigation at the highest levels, and throughout every agency.  No one in this administration should hinder this investigation in any way.
Racism, sexism, homophobia, transphobia, xenophobia, anti-semitism and Islamophobia are all long-standing barriers to real freedom and equality across our country. And we cannot allow our President to tolerate and exacerbate this kind of bigotry. We stand in locked arms with civil rights groups demanding that Donald Trump, Mike Pence and every politician confront this violent extremism, and to rid the administration of those individuals who have long fueled this kind of hatred in America."
U.S. Army considering letting LGBTQ+ troops transfer out of hostile states
This policy tweak to the existing Army regulations pertaining to compassionate reassignment would clarify the current standard rules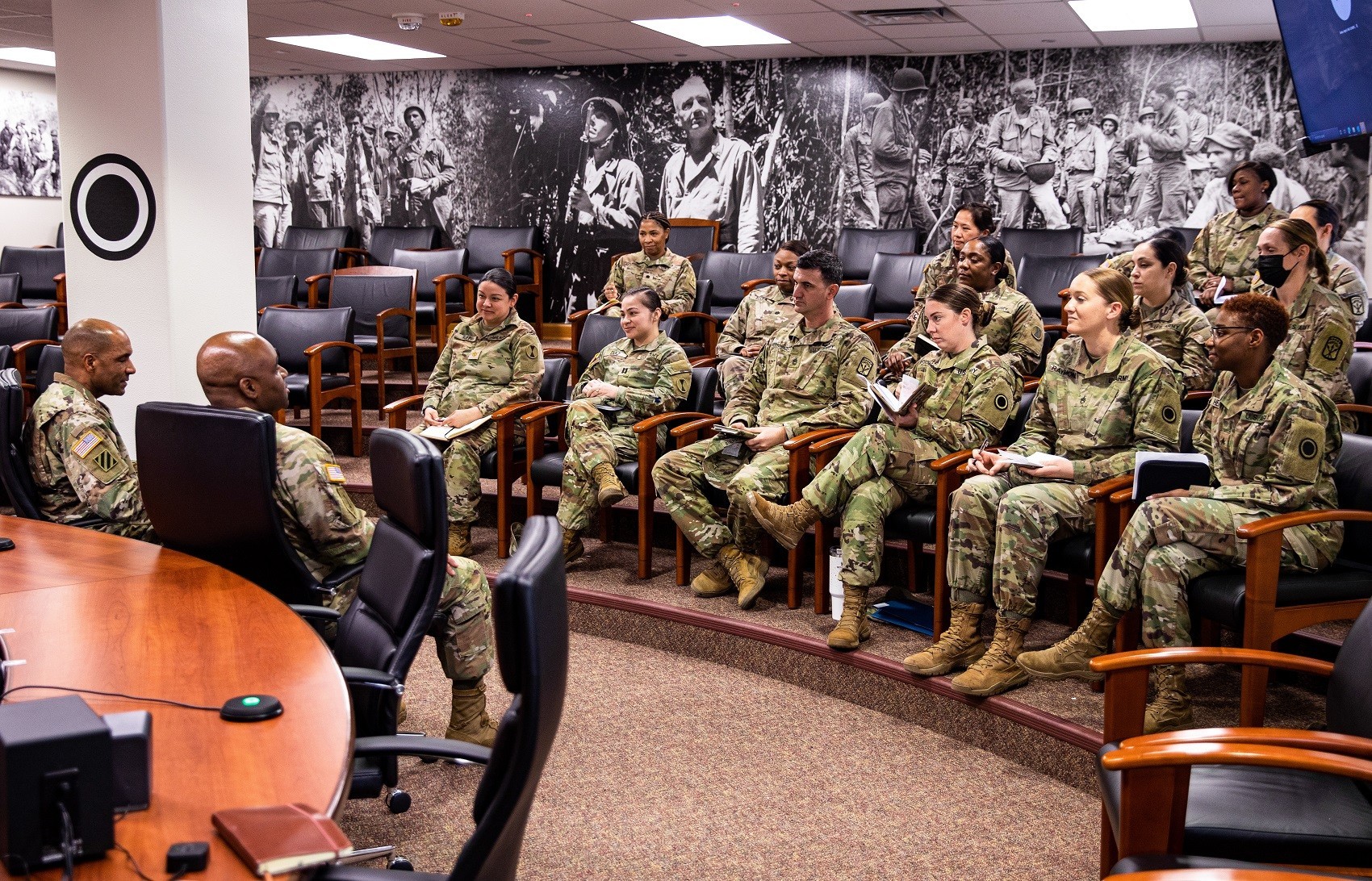 ARLINGTON, Va. – A draft policy is circulating among top officials of the U.S. Army that would allow soldiers to be able to request a transfer if they feel state or local laws discriminate against them based on gender, sex, religion, race or pregnancy.
Journalist Steve Beynon writing for Military.com reported last week the guidance, which would update a vague service policy to add specific language on discrimination, is far from final and would need approval from Army Secretary Christine Wormuth. But if enacted, it could be one of the most progressive policies for the Army amid a growing wave of local anti-LGBTQ+ and restrictive contraception laws in conservative-leaning states, where the Army has a majority of its bases and major commands.
"Some states are becoming untenable to live in; there's a rise in hate crimes and rise in LGBT discrimination," Lindsay Church, executive director of Minority Veterans of America, an advocacy group, told Military.com. "In order to serve this country, people need to be able to do their job and know their families are safe. All of these states get billions for bases but barely tolerate a lot of the service members."
This policy tweak to the existing Army regulations pertaining to compassionate reassignment would clarify the current standard rules, which are oft times fairly vague.
A source in the Army told Beynon the new guidance has not yet been fully worked out through the policy planning process or briefed to senior leaders including the Army Secretary or the Office of the Secretary of Defense Lloyd Austin.
"The Army does not comment on leaked, draft documents," Angel Tomko, a service spokesperson, told Military.com in an emailed statement. "AR 600-100 and 600-200 establish the criteria for which soldiers may request for a compassionate reassignment. The chain of command is responsible for ensuring Soldiers and Families' needs are supported and maintain a high quality of life."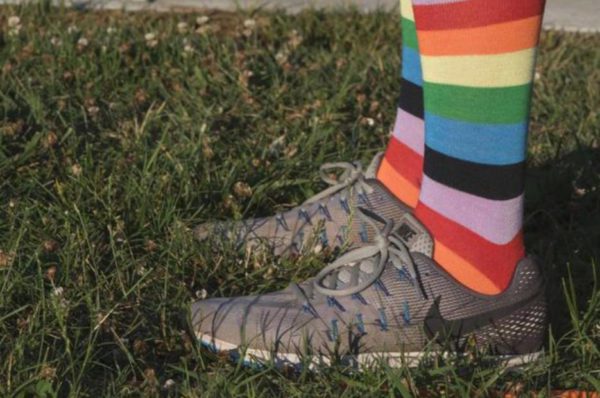 The Crystal City Virginia based RAND Corporation had published a study on Sexual Orientation, Transgender Identity, and Health Among U.S. Active-Duty Service Members in 2015 that listed approximate numbers of LGBTQ+ troops are 6% gay or bisexual and 1% is transgender or nonbinary.
A senior analyst for RAND told the Blade on background those numbers are likely much lower than in actuality as 2015 was less than 4 years after the repeal of 'Don't Ask-Don't Tell' and prior to the Trump enacted Trans service ban in 2017 which was then repealed by the Biden Administration which has had a chilling effect on open service. Another factor is that the current 18-24 year old troops colloquially referred to as 'Gen Z' are much more inclined to embrace an LGBTQ+ identity and that would cause the numbers to be higher than reported.
Also factored in is uncertainty in the tweaking of policy in light of the recent leak of the draft U.S. Supreme Court decision that would effectively repeal Roe v Wade.
According to Military.com it's unclear whether the Army's inclusion of pregnancy on the list would protect reproductive care for soldiers if Roe v. Wade is overturned. That language could be intended to protect pregnant service members or their families from employment or other discrimination, but could also be a means for some to argue for transfers based on broader reproductive rights.
One advocacy group pointed out that the current wave of anti-LGBTQ+ legislation will negatively impact the moral of service members:
"What we're seeing across the board is a small group of elected officials who are trying to politicize and weaponize LGBTQ identities in despicable ways. They're not only doing that to our youth, but the collateral damage is hurting our service members," Jacob Thomas, communications director for Common Defense, a progressive advocacy organization, told Military.com. "[Troops] can't be forced to live in places where they aren't seen as fully human."
Oklahoma Senate passes anti-Trans bathroom bill sends it to Governor
The law stipulates that all students must use bathrooms and locker rooms that match the sex listed on their birth certificates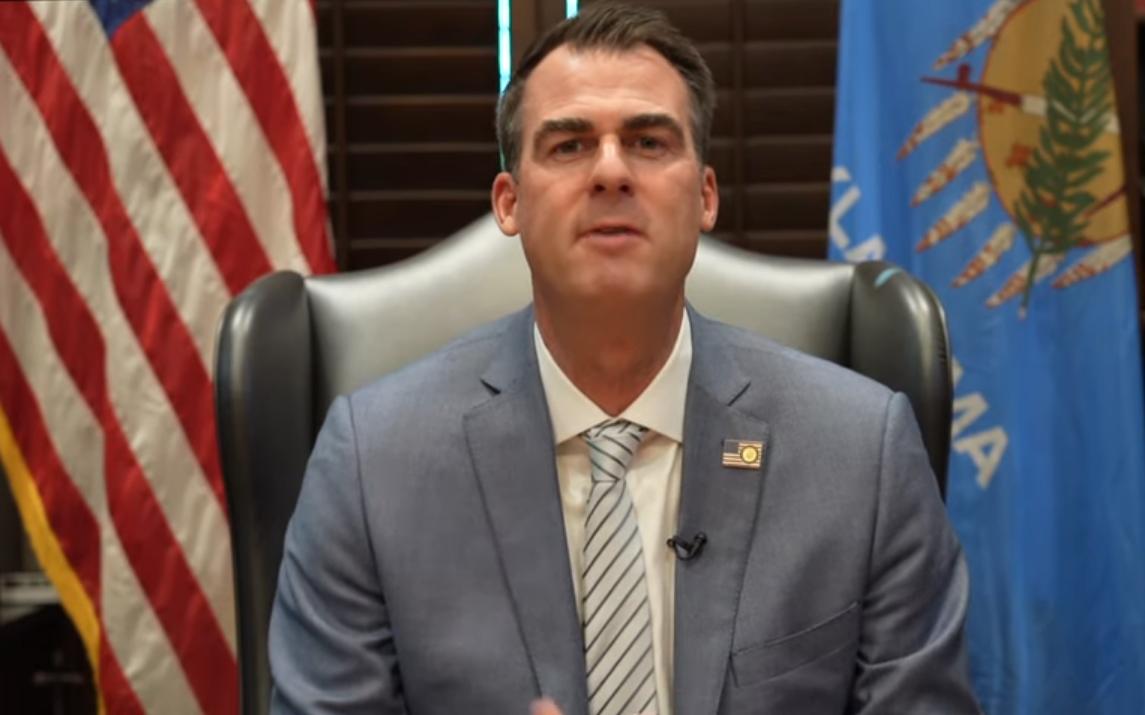 OKLAHOMA CITY – The Oklahoma Republican-majority state Senate passed SB 615 in a 38-7 vote, a measure that will bar transgender students in pre-K through 12th grade at public and public charter schools in the state from using bathrooms consistent with their gender identity.
The bill now heads to Republican Governor Kevin Stitt and will be effective upon his signature into law.
The law stipulates that all students must use bathrooms and locker rooms that match the sex listed on their birth certificates. Transgender students who decline to use the restroom required under the measure would have to use "a single-occupancy restroom or changing room" provided by the school.
At the end of April Stitt signed that explicitly prohibits the use of nonbinary gender markers on state birth certificates and in March he signed into law Senate Bill 2, a bill which would restrict transgender girls from playing on school sports teams that match their gender identity. 
New Hampshire's Republican Governor to veto "Don't Say Gay" bill
"This bill is antithetical to all the work we have done to ensure individuals in the LGBT community can live a life free from discrimination"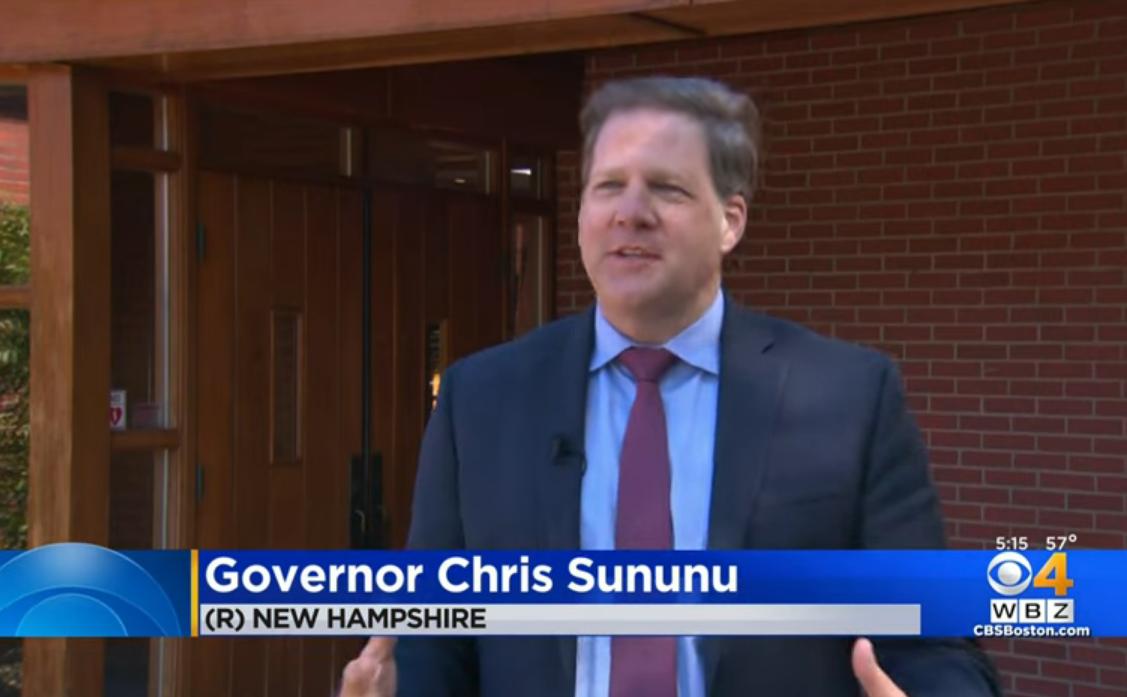 CONCORD – New Hampshire's Republican Governor Chris Sununu announced Thursday that he will veto HB 1431, titled as the "Parental Bill of Rights," legislation that would force school officials and faculty to take on the role of outing students to their families.
"This bill as written creates numerous challenges for kids," the governor said. "I share the concerns of the attorney general and, as such, will veto the bill if it reaches my desk."
The bill had undergone several changes with a final amended version working through both chambers pushed by Republican leadership.
The New Hampshire Bulletin reported Thursday that the bill has been opposed by the New Hampshire Attorney General's Office, LGBTQ+ rights groups, civil rights advocates, and teachers unions, who noted that the legislation would require schools to "out" trans students to their parents. They argued that doing so could be dangerous for some students and might discourage others from seeking help at school.
Sununu says he will veto bill critics say would force schools to out LGBT children https://t.co/iRGeXvFNTr

— WMUR TV (@WMUR9) May 19, 2022
In interviews with Manchester's ABC News affiliate WMUR-TV 9, supporters claimed it would allow parents to be more involved with their children's school lives.
"They don't know my child like I do," said state Sen. Bill Gannon, R-Sandown. "I'm the one responsible for them. The child doesn't have capacity on his own to give up whether or not he's going to get certain medical treatment. I want to know what's going on in my kid's life."
"So, there are a lot of cases where things are going on in a school system, and the parents are never informed, and this will allow for notification to the parents, and there's a long list of things that would be notified – everything from bullying to failing grades," said JR Hoell, treasurer of Rebuild NH, a group that organized around opposing COVID-19 vaccine mandates.
LGBTQ+ advocacy groups and ally lawmakers decry the measure WMUR reported:
Opponents are blasting the bill, saying it would mean that if a student joins a specific club or confides in an adviser or teacher, schools would then inform parents, essentially outing gay, lesbian and transgender students.
"This bill is antithetical to all the work we have done in the state to ensure that individuals in the LGBT community can live a life free from discrimination," said state Sen. Becky Whitley, D-Hopkinton.
"It's totally inappropriate for school officials to take on the role of outing students to their families, and coming out should always be an intimate moment within a family, not a clumsy event," said Chris Erchull, of GLBTQ Legal Advocates & Defenders.
Last December a diverse group of educators, advocacy groups, and law firms filed a federal lawsuit challenging a New Hampshire classroom censorship law, contained within state budget bill HB2, which discourages public school teachers from teaching and talking about race, gender, sexual orientation, disability, and gender identity in the classroom.
"This unconstitutionally vague law disallows students from receiving the inclusive, complete education they deserve, and from having important conversations on race, gender, disability, sexual orientation, and gender identity in the classroom," said Gilles Bissonnette, Legal Director of the ACLU of New Hampshire at the time of the lawsuit. "It is an attack on educators who are simply doing their job. Just four months into the school year, teachers are reporting being afraid to teach under this law for fear of being taken to court. This law, through vagueness and fear, erases the legacy of discrimination and lived experiences of Black and Brown people, women and girls, LGBTQ+ people, and people with disabilities."