'Hamilton:' the musical catharsis
Heads bobbing to history, rivalry, and a relatable love story thrill LA audience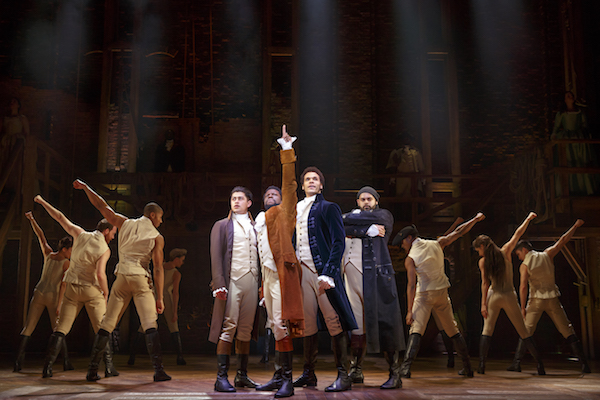 All the hype, the over-the-top praise, the spirited reviews for this infectiously positive revolutionary piece of theatre—all true. But opening night of "Hamilton" on August 16 as it officially launched its national tour at the Pantages Theatre in Hollywood was extraordinarily powerful and cathartic following the ugly remarks by the President of the United States supporting white supremacy the day before.
"Hamilton" is all about how the majesty and moral authority of the office of the presidency was created, as seen through the lens of today.
And in this exciting, moving and challenging interpretation of the American Revolution and the country's shaky beginnings by Puerto Rican Lin-Manuel Miranda, Founding Fathers George Washington, Thomas Jefferson, and forgotten Founder, Alexander Hamilton, are all played by African Americans, supported by a minority-majority cast. The visual symbolism alone stands as a profound rebuke to Trump's dystopian vision of America—which the audience celebrated.
"I believe that this play, as it moves throughout the nation, is going to change lives, change mind-sets with all the stuff we have going on right now—the hatred and all of that," Will Johnson, father of Isaiah Johnson, who plays George Washington," tells the Los Angeles Blade.
"We've got to come together. That's the only way we're going to survive. We're one United States of America. Our Founding Fathers had a vision—and in this play, they are African American!"
The embers for Miranda's imaginative musical about the war of ideas that shaped America were stoked at a poetry slam at the Obama White House in 2009. A video of the key song "Alexander Hamilton" and a mixed tape went viral, pumping up expectations for its Broadway opening two years ago.
The Los Angeles audience was primed opening night, exerting a Herculean effort to not sing along. Laughter and knowing side-glances were shared at subtle contemporary references to Beyonce, Biggie Smalls and other rap masters, as well as cheeky cultural cues such as Thomas Jefferson having a mic-drop moment during a rap battle with Alexander Hamilton over the national debt.
The reviews for "Hamilton" properly praise the stellar cast, including Michael Luwoye as Alexander Hamilton, Joshua Henry as Aaron Burr, and out Rory O'Malley—who performed in his friend David Mixner's one-man show "Oh Hell No!" in LA in 2015. O'Malley portrayed King George as a 1960s British pop star—and a white guy in a world of color who also offers comic relief.
"Hamilton" not only flips the script on casting and introduces an interweaving of musical forms but it may be the first to explore the American immigrant experience.
"I dare you to watch the video [of Miranda's White House performance]," wrote Vogue theater critic Adam Green, "and not get a chill from the sight of a son of an immigrant rapping about the son of an immigrant to a son of an immigrant who became America's first African-American president."
And in the "sanctuary city" of L.A., the opening song, "Alexander Hamilton," was greeted with the head-bouncing grasp of understanding.
"How does a bastard, orphan, son of a whore/And a Scotsman, dropped in the middle of a forgotten spot in the Caribbean by providence impoverished/In squalor, grow up to be a hero and a scholar?" sings Aaron Burr, Hamilton's frenemy who turns out to be "the damn fool who shot him."
"The ten-dollar founding father without a father/Got a lot farther by working a lot harder/By being a lot smarter, By being a self-starter…" sings John Laurens, a young officer from South Carolina with whom Hamilton served in George Washington's colonial army. Letters expressing deep affection between the two men have lead many to believe that Hamilton and Laurens had a bisexual affair, a point raised by Hamilton biographer Ron Chernow, upon whose work Manuel based his musical.
The exclamation mark on immigration comes after the rebels beat the British at the battle of Yorktown, turning the world upside down, winning the revolution, thanks in large part to Hamilton's ingenuity and help from France arranged by the Marquis de Lafayette. "Immigrants—we get things done!" they sing/say with pride as the LA audience roars its approval.
Miranda's mantra is the "political always has to be personal," he told the PBS NewsHour in 2015. The idea was to "tell the story of the first American immigrant and the formation of our country. In that sense it felt intensely personal….What it feels like to land here and make your way."
The feminist refrain "the personal is the political" is underscored by the Schuyler sisters, Eliza, Angelica and Peggy, who seem a bit Destiny's Child and a bit feminist Greek Chorus. Angelica, the feistier of the three, sings about the Declaration of Independence: "[W]hen I meet Thomas Jefferson/I'm 'a compel him to include women in the sequel!"
Aaron Burr is not the same villain portrayed in history. A few years older, already a Princeton graduate and lawyer when Hamilton arrives, Burr is a man to whom Hamilton looks for guidance and a boost for his ambition. Burr tells Hamilton to "talk less, smile more." In "Wait For It," Burr cites family as a reason for caution, and yet it is grueling to see the impetuous Hamilton succeed.
The fatal duel that ends Hamilton's life takes on an air of inevitability with Burr's imagining of the dinner party where Hamilton, Thomas Jefferson, and James Madison devise the compromise of 1790. Hamilton agrees that the location of the nation's capitol will be on the Potomac River while the two men from Virginia agree to support Hamilton's plan for a federal government that would assume the states' debts but have states pay taxes to the central government.
Burr takes that political exclusion personally, leading to the explosive song "The Room Where It Happens." He describes how political deals are still made: "No one really knows how the game is played/The art of the trade/How the sausage gets made/We just assume that it happens."
The duel becomes inevitable after Hamilton continually maligns Burr, calling him "unprincipled" and "despicable," and eventually throwing his support behind Jefferson after a tie in the electoral college in the 1800 presidential election. "If you stand for nothing, Burr – what do you fall for?" Hamilton would rather support his rival than the man he thinks has no principles—a point disputed by historians.
Interestingly, Jefferson may be the real "villain" here. Portrayed as an elitist fop who didn't fight in the war— "What'd I miss?" he asks when returning from Paris—Miranda underscores the hypocrisy of having the man who wrote "all men are created equal" being a slave-owner.
"Hey neighbor. Your debts are paid because you don't pay for labor," Hamilton snaps at him.
Later, Jefferson and Madison "get in the weeds, look for the seeds of Hamilton's misdeeds" to ruin him. Their evidence of corruption is actually Hamilton paying blackmail to hide an extramarital affair—while Jefferson has an ongoing affair with his slave mistress Sally Hemings.
Hamilton was an abolitionist (as was Burr), a fact briefly raised as an intention to end slavery after the war. In 1785, he and John Jay founded an anti-slavery organization in New York City that eventually abolished the international slave trade in that city. Hamilton wrote that slaves "natural faculties are as good as ours."
"Let me tell you what I wish I'd known/When I was young and dreamed of glory/You have not control/Who lives/Who dies/Who tells your story," sings George Washington, who insists that Hamilton write Washington's famous Farewell Address.
The audience might walk out of the theatre pumped up by the multi-layered "I am not throwing away my shot." But the lingering question is who writes history?
"I don't think there could be anything more important than this show right now," says out producer Neal Meron, who pioneered diversity casting with his producing partner Craig Zadan. "The musicality, the message, the diversity—it's everything that we're about and we should be about for the future."
"Hamilton" continues performances at the Hollywood Pantages Theatre through December 30. Call: 800-982-2787 or check online at www.hollywoodpantages.com.
Canadian soccer player first out Trans and non binary Olympian
I feel proud seeing `Quinn' on the lineup- I feel sad knowing there were Olympians before me unable to live their truth because of this world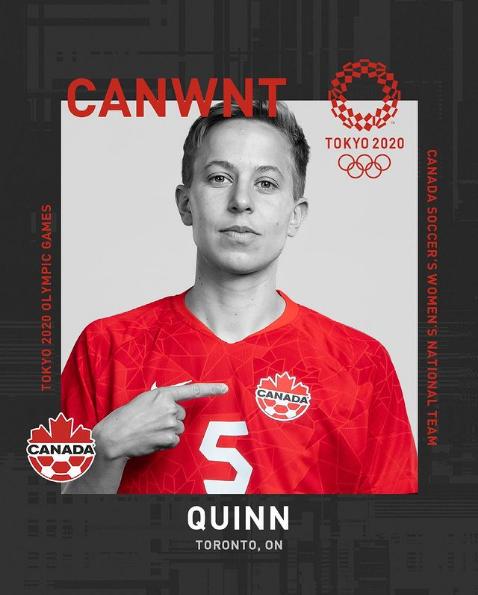 TOKYO – The Canadian professional soccer player, a midfielder for OL Reign and the Canada women's national soccer team, made history this week as the first openly transgender and non-binary athlete to participate in the Olympic games when they started Wednesday night in a 1-1 draw match in Sapporo between Canada and opposing the team Japan.
"I feel proud seeing `Quinn' up on the lineup and on my accreditation. I feel sad knowing there were Olympians before me unable to live their truth because of this world," they wrote on Instagram. "I feel optimistic for change. Change in legislature, Changes in rules, structures, and mindsets."
Quinn, who came out as trans in 2020, was also a member of the Canadian team that won the bronze medal at the 2016 Olympics held in Rio de Janeiro, Brazil.
"Mostly, I feel aware of the realities," Quinn continued. "Trans girls being banned from sports. Trans women facing discrimination and bias while trying to pursue their Olympic dreams. The fight isn't close to over […] and I'll celebrate when we're all here."
ABC News Sports reported that the International Olympic Committee has allowed transgender athletes to participate at the Olympics since 2004, but until this year, none had done so openly. In addition to Quinn, Hubbard and Wolfe, some transgender athletes are competing without discussing their transition. Some have been outed and harassed online by people who oppose transgender athletes competing.
The current rules specify certain conditions for transgender women to compete in women's sports. Among them, athletes must demonstrate lower testosterone levels for 12 months before competing, and athletes can only qualify four years after transitioning, at the earliest.
Quinn is not the only transgender athlete participating in this year's summer Olympic Games in Japan. Laurel Hubbard, a trans woman from New Zealand competing in weightlifting for the Kiwi team and Team USA women's BMX freestyle team has a trans BMX racer, Chelsea Wolfe, holding down a reserve spot on the team.
Four Olympics, 13 years, and now a Gold Medal for Tom Daley
"I hope any young LGBT person out there can see that no matter how alone you feel right now, you are not alone. You can achieve anything."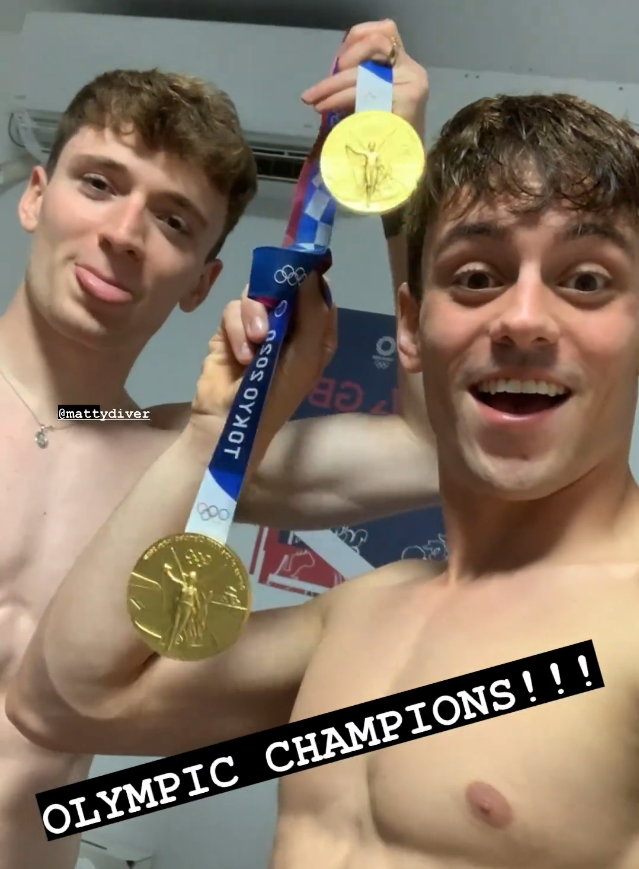 TOKYO – Standing there on the podium with tears forming in his eyes, a masked for Covid-19 British Olympic diver Tom Daley saw his dreams of Olympic Gold finally come true Monday. Watching a live-stream of the event intently, at the moment Daley secured his victory, Tom's husband, writer Lance Black and Tom's mother took in the results and jumped up screaming in joy.
Daley along with his British teammate diving partner Matty Lee won the gold with a score of 471.81 in the men's synchronized diving on Monday at Tokyo 2020 narrowly besting the defending champions, China's Cao Yuan and Chen Aisen by just 1.23 points.
"I still can't honestly believe what is happening," Daley told BBC Sport. "That moment, being about to be announced as Olympic champions, I was gone. I was blubbering."
😢

Mission accomplished.#TeamGB | @TomDaley1994 pic.twitter.com/ClyyTIm1ZP

— Team GB (@TeamGB) July 26, 2021
Daley tells young LGBTQ people: "You can achieve anything"
Later at a press conference, Daley, an openly gay athlete talked about the experience of being gay and at the games;
"In terms of out athletes, there are more openly out athletes at these Olympic Games than any Olympic Games previously. I came out in 2013 and when I was younger I always felt like the one that was alone and different and didn't fit. There was something about me that was never going to be as good as what society wanted me to be. I hope that any young LGBT person out there can see that no matter how alone you feel right now, you are not alone. You can achieve anything."
"I feel incredibly proud to say I am a gay man and also an Olympic champion."

Gold medal winner Tom Daley says he hopes his performance will inspire young LGBT people to realise "you can achieve anything".

Read more: https://t.co/9b5sr5kcZe pic.twitter.com/XCFyZR5S7A

— LBC (@LBC) July 26, 2021
They've done it!#GBR's Tom Daley and Matty Lee win the men's synchronised 10m platform final – a career first gold medal for four-time Olympian Daley!#Diving @TeamGB @fina1908 pic.twitter.com/iiwW5u4JTJ

— Olympics (@Olympics) July 26, 2021
Great Britain's Tom Daley, Matty Lee nail final dive to win gold | Tokyo Olympics | NBC Sports
Out athletes going for summer Olympic gold
At least 142 publicly out gay, lesbian, bisexual, transgender, queer and nonbinary athletes are headed to Tokyo for the Summer Olympic Games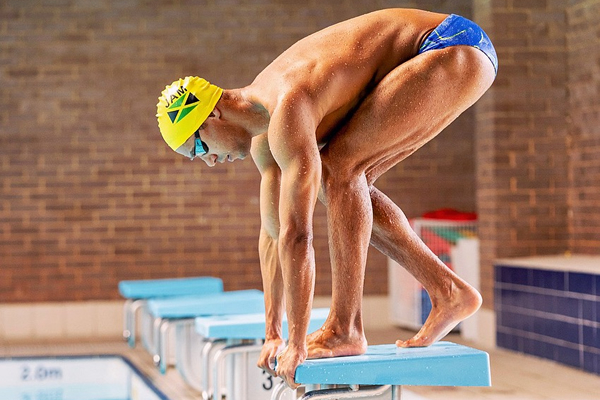 By Kevin Majoros | WASHINGTON – The 2020 Tokyo Olympic Games began on June 23, with competitions continuing through Aug. 8. The Games were postponed in March 2020 as a result of the COVID-19 pandemic.
For many aspiring Olympians, the quadrennial event is the culmination of a lifetime of sacrifices to compete against the best athletes in the world while representing their country on an international stage.
The road to get there is filled with obstacles and this Olympic cycle produced one more barrier in the form of training disruptions that happened in almost every sport.
After all the dust settled during the qualifying process, 627 athletes were named to Team USA. More than 30 of those athletes are out members of the LGBTQ community.
Regarding the other countries competing, according to a recent story by Outsports, "At least 142 publicly out gay, lesbian, bisexual, transgender, queer and nonbinary athletes are headed to Tokyo for the Summer Olympic Games."
Flashback to the 2016 Rio Olympic Games when a correspondent from The Daily Beast used hook-up apps such as Bumble, Tindr, Grindr, and Jack'd to message gay athletes. His published story went on to describe the athletes, creating potentially dangerous situations for the athletes from countries with high anti-LGBTQ violence rates.
What should we expect from the environment in Japan?
There have been a handful of Japanese athletes who have come out recently but for the most part, they are competing in other countries – notably trans soccer star Kumi Yokoyama who plays for the Washington Spirit and out lesbian Shiho Shimoyamada who plays soccer for SV Meppen in Germany.
LGBTQ activists in Japan were hoping that the worldwide attention on the Tokyo Olympics would help push their ruling Liberal Democratic Party to pass EqualityActJapan banning discrimination against LGBTQ people. Their legislature went into recess without passing the measure.
That setback did not stop Pride House Tokyo Legacy from opening in October 2020 in Shinjuku, Tokyo. It will serve as a permanent LGBTQ support center where individuals can feel safe and at home.
Pride House Tokyo Legacy has been authorized as part of the Tokyo 2020 Official Program by the Tokyo Organizing Committee of the Olympic and Paralympic Games along with full support from the International Olympic Committee. Those endorsements make it the first Pride House worldwide to achieve this status.
Visibility for the LGBTQ community is important for a variety of reasons and in the sports world, we tend to point to LGBTQ athletes as role models for younger generations.
Over the next few weeks we will bear witness to the first transgender athlete to compete in Laurel Hubbard as a weightlifter for Team New Zealand.
We will watch lesbian triple jumper Yulimar Rojas compete and carry the flag for her country of Venezuela in the Parade of Nations.
And we will sit enthralled as gay British Olympic diver Tom Daley is cheered on by his three-year-old son Robbie as he attempts to medal again in his fourth Olympics.
The last time the Blade checked in with out Tongan swimmer Amini Fonua, he was in heavy training to qualify for the 2020 Tokyo Olympics and struggling with the funding needed to complete that journey.
Fonua was one of the Olympic athletes that spoke out against The Daily Beast story from 2016, which helped to get the story retracted, with an apology. It was the first instance where the International Olympic Committee, which also chimed in, had ever acknowledged an LGBTQ presence.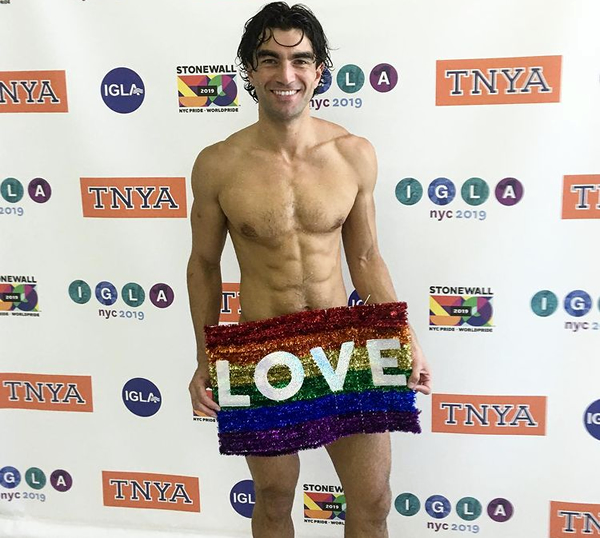 When the pandemic hit, Fonua's training pool closed and his income from teaching swimming lessons dried up. In an effort to be closer to his training group, New York Athletic Club, he moved from New Jersey to New York City mid-pandemic.
To stay in shape, he ramped up his time spent on weight training, running, biking, and yoga.
"The pandemic changed a lot of things for all of us," says Fonua. "This past year has been about survival, and I have done my best with what I have been given."
Eventually pools opened back up with limits on swimmers per lane and time spent in the water. Fonua was only allowed four 45-minute swim practices per week, which is well below the amount of time that elite swimmers spend in the pool.
He also found employment with Fitter and Faster Swim Camps with all of his travel to swim camps completed by train to minimize his exposure to the virus.
As of May 2021, Fonua was not the top Tongan swimmer that would be selected for the Olympic team. He was also facing swim meet entry barriers due to COVID restrictions to even compete for a spot on the team.
In smaller nations and those with developing swim programs, the international federation for swimming, FINA, and the International Olympic Committee allow for universalityentries into the Olympics.
The universality system allows a nation with no Olympic swimming qualifier to enter up to one man and one woman in the Olympics. The two swimmers are chosen based on FINA points, which are calculated using a cubic curve.
Fonua received a last minute entry to the Atlanta Classic swim meet on May 14 where he would have one last shot to make the team. He threw down a time in the 100 meter breaststroke that moved him past the top Tongan swimmer based on FINA points and qualified him for his third Olympics.
For this Olympic experience, Fonua will be thinking about what his father always says to him regarding sports — be competitive, do your best, and have fun.
"I will be staying in the Olympic Village but there won't be any Grindr this time because I am in love. I will be racing on the 24th and still hope to walk in the Parade of Nations the night before," Fonua says. "My mom is the team manager for the Tongan swim team, and I am looking forward to cups of tea with her and visiting Pride House Tokyo. I know it will be different this time because of COVID, but there is nothing like experiencing a city hosting the Olympics."
When you receive an email from out swimmer Michael Gunning, the signature line says Professional Athlete. He laughs when asked about it and says it is a continuation of what he used to write on his school essays — Michael Gunning, The Swimmer.
Gunning, who currently trains in Manchester, England, became fully committed to swimming at age 13 when he won a national competition in England. A few years later he was representing Great Britain on their junior national team.
"We have all heard that Black people don't swim, and I wanted to prove it could be done," says Gunning. "I began chasing those Olympic dreams at every event I swam in."
Despite swimming well in the 200 meter butterfly in the qualifying trials for the 2014 Commonwealth Games, he was left off the Great Britain team.
Jamaica reached out and said they would love for Gunning to swim for them (his father was born in Jamaica). He represented the country for the first time at the 2017 World Championships in Budapest and again at the 2019 World Championships in Gwangju.
"I was really on the fence before saying yes. I felt like I wasn't being taken seriously in the UK and this was an opportunity to do my bit and inspire," Gunning says. "That first experience in Budapest was amazing. The Jamaican team accepted me, and I finally felt good enough."
When the Blade last checked in with Gunning, he was pointing toward the 2020 Tokyo Olympics. At that time, he was the top Jamaican point earner if it came down to a FINA universality selection for the Olympics.
Then the pandemic hit. Gunning was out of the water for more than 100 days and scrambling to stay in shape with dryland training.
"Those were dark and desperate times," says Gunning. "Once I was able to get back in the water, I trained by myself for 20 weeks."
With COVID barriers for training and competitions, Gunning knew all along that another Jamaican swimmer could top his FINA points.
And then it happened.
FINA adjusted their earned points for the 200 meter butterfly downward and another swimmer earned more points in the 200 meter IM.
Gunning had one last shot in June at a meet in Glasgow but did not swim near his best times. He received the news earlier this month that he was not selected for the team.
"Swimming shapes you as a person. Whether you reach your end goals or not, you are so much stronger for it. I don't regret any of the hard work I put in," Gunning says. "Swimming prompted me to come out – swimming gave me that. We still need diversity and inclusion, especially at the grass roots level. I want to be that representation."
With the news being so fresh, Gunning is unclear on his long term path in the pool. He will continue to teach swimming and field offers that come his way. Next year, he will be a Pride House ambassador at the Commonwealth Games in Birmingham.
"The Olympics make role models, and I am excited to support and cheer for the LGBTQ athletes who are competing," says Gunning. "For now, I am going to live every day, one day at a time, being myself and being authentic."