'Hamilton:' the musical catharsis
Heads bobbing to history, rivalry, and a relatable love story thrill LA audience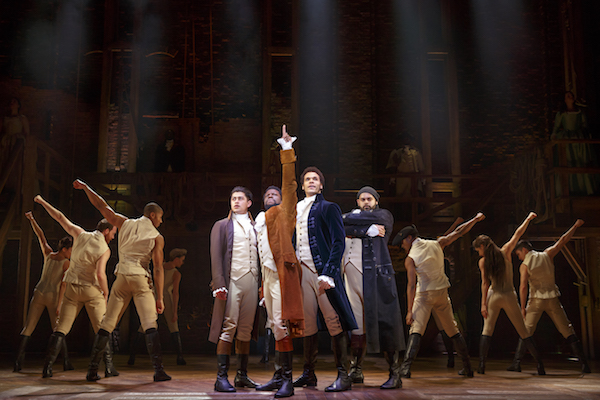 All the hype, the over-the-top praise, the spirited reviews for this infectiously positive revolutionary piece of theatre—all true. But opening night of "Hamilton" on August 16 as it officially launched its national tour at the Pantages Theatre in Hollywood was extraordinarily powerful and cathartic following the ugly remarks by the President of the United States supporting white supremacy the day before.
"Hamilton" is all about how the majesty and moral authority of the office of the presidency was created, as seen through the lens of today.
And in this exciting, moving and challenging interpretation of the American Revolution and the country's shaky beginnings by Puerto Rican Lin-Manuel Miranda, Founding Fathers George Washington, Thomas Jefferson, and forgotten Founder, Alexander Hamilton, are all played by African Americans, supported by a minority-majority cast. The visual symbolism alone stands as a profound rebuke to Trump's dystopian vision of America—which the audience celebrated.
"I believe that this play, as it moves throughout the nation, is going to change lives, change mind-sets with all the stuff we have going on right now—the hatred and all of that," Will Johnson, father of Isaiah Johnson, who plays George Washington," tells the Los Angeles Blade.
"We've got to come together. That's the only way we're going to survive. We're one United States of America. Our Founding Fathers had a vision—and in this play, they are African American!"
The embers for Miranda's imaginative musical about the war of ideas that shaped America were stoked at a poetry slam at the Obama White House in 2009. A video of the key song "Alexander Hamilton" and a mixed tape went viral, pumping up expectations for its Broadway opening two years ago.
The Los Angeles audience was primed opening night, exerting a Herculean effort to not sing along. Laughter and knowing side-glances were shared at subtle contemporary references to Beyonce, Biggie Smalls and other rap masters, as well as cheeky cultural cues such as Thomas Jefferson having a mic-drop moment during a rap battle with Alexander Hamilton over the national debt.
The reviews for "Hamilton" properly praise the stellar cast, including Michael Luwoye as Alexander Hamilton, Joshua Henry as Aaron Burr, and out Rory O'Malley—who performed in his friend David Mixner's one-man show "Oh Hell No!" in LA in 2015. O'Malley portrayed King George as a 1960s British pop star—and a white guy in a world of color who also offers comic relief.
"Hamilton" not only flips the script on casting and introduces an interweaving of musical forms but it may be the first to explore the American immigrant experience.
"I dare you to watch the video [of Miranda's White House performance]," wrote Vogue theater critic Adam Green, "and not get a chill from the sight of a son of an immigrant rapping about the son of an immigrant to a son of an immigrant who became America's first African-American president."
And in the "sanctuary city" of L.A., the opening song, "Alexander Hamilton," was greeted with the head-bouncing grasp of understanding.
"How does a bastard, orphan, son of a whore/And a Scotsman, dropped in the middle of a forgotten spot in the Caribbean by providence impoverished/In squalor, grow up to be a hero and a scholar?" sings Aaron Burr, Hamilton's frenemy who turns out to be "the damn fool who shot him."
"The ten-dollar founding father without a father/Got a lot farther by working a lot harder/By being a lot smarter, By being a self-starter…" sings John Laurens, a young officer from South Carolina with whom Hamilton served in George Washington's colonial army. Letters expressing deep affection between the two men have lead many to believe that Hamilton and Laurens had a bisexual affair, a point raised by Hamilton biographer Ron Chernow, upon whose work Manuel based his musical.
The exclamation mark on immigration comes after the rebels beat the British at the battle of Yorktown, turning the world upside down, winning the revolution, thanks in large part to Hamilton's ingenuity and help from France arranged by the Marquis de Lafayette. "Immigrants—we get things done!" they sing/say with pride as the LA audience roars its approval.
Miranda's mantra is the "political always has to be personal," he told the PBS NewsHour in 2015. The idea was to "tell the story of the first American immigrant and the formation of our country. In that sense it felt intensely personal….What it feels like to land here and make your way."
The feminist refrain "the personal is the political" is underscored by the Schuyler sisters, Eliza, Angelica and Peggy, who seem a bit Destiny's Child and a bit feminist Greek Chorus. Angelica, the feistier of the three, sings about the Declaration of Independence: "[W]hen I meet Thomas Jefferson/I'm 'a compel him to include women in the sequel!"
Aaron Burr is not the same villain portrayed in history. A few years older, already a Princeton graduate and lawyer when Hamilton arrives, Burr is a man to whom Hamilton looks for guidance and a boost for his ambition. Burr tells Hamilton to "talk less, smile more." In "Wait For It," Burr cites family as a reason for caution, and yet it is grueling to see the impetuous Hamilton succeed.
The fatal duel that ends Hamilton's life takes on an air of inevitability with Burr's imagining of the dinner party where Hamilton, Thomas Jefferson, and James Madison devise the compromise of 1790. Hamilton agrees that the location of the nation's capitol will be on the Potomac River while the two men from Virginia agree to support Hamilton's plan for a federal government that would assume the states' debts but have states pay taxes to the central government.
Burr takes that political exclusion personally, leading to the explosive song "The Room Where It Happens." He describes how political deals are still made: "No one really knows how the game is played/The art of the trade/How the sausage gets made/We just assume that it happens."
The duel becomes inevitable after Hamilton continually maligns Burr, calling him "unprincipled" and "despicable," and eventually throwing his support behind Jefferson after a tie in the electoral college in the 1800 presidential election. "If you stand for nothing, Burr – what do you fall for?" Hamilton would rather support his rival than the man he thinks has no principles—a point disputed by historians.
Interestingly, Jefferson may be the real "villain" here. Portrayed as an elitist fop who didn't fight in the war— "What'd I miss?" he asks when returning from Paris—Miranda underscores the hypocrisy of having the man who wrote "all men are created equal" being a slave-owner.
"Hey neighbor. Your debts are paid because you don't pay for labor," Hamilton snaps at him.
Later, Jefferson and Madison "get in the weeds, look for the seeds of Hamilton's misdeeds" to ruin him. Their evidence of corruption is actually Hamilton paying blackmail to hide an extramarital affair—while Jefferson has an ongoing affair with his slave mistress Sally Hemings.
Hamilton was an abolitionist (as was Burr), a fact briefly raised as an intention to end slavery after the war. In 1785, he and John Jay founded an anti-slavery organization in New York City that eventually abolished the international slave trade in that city. Hamilton wrote that slaves "natural faculties are as good as ours."
"Let me tell you what I wish I'd known/When I was young and dreamed of glory/You have not control/Who lives/Who dies/Who tells your story," sings George Washington, who insists that Hamilton write Washington's famous Farewell Address.
The audience might walk out of the theatre pumped up by the multi-layered "I am not throwing away my shot." But the lingering question is who writes history?
"I don't think there could be anything more important than this show right now," says out producer Neal Meron, who pioneered diversity casting with his producing partner Craig Zadan. "The musicality, the message, the diversity—it's everything that we're about and we should be about for the future."
"Hamilton" continues performances at the Hollywood Pantages Theatre through December 30. Call: 800-982-2787 or check online at www.hollywoodpantages.com.
Belgian Oscar contender strikes 'Close' to home
Exploring gender expectations we force upon our children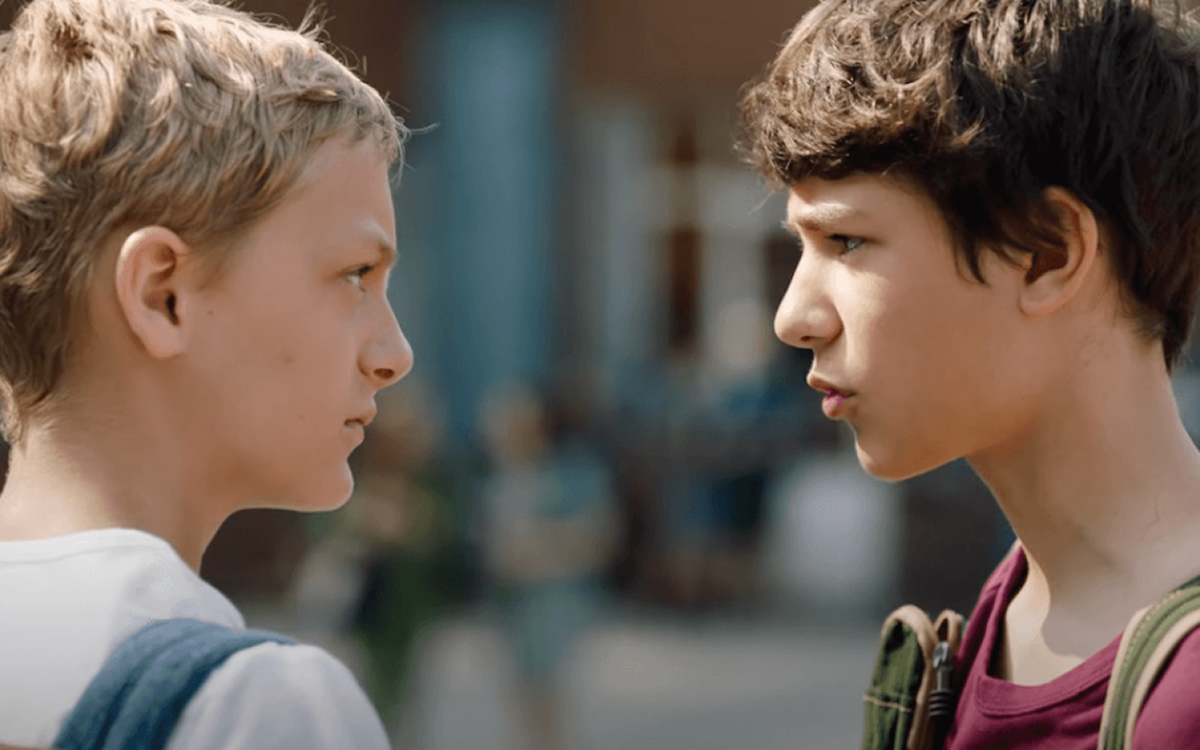 When queer Belgian director Lukas Dhont debuted his first feature film "Girl" at the 2018 Cannes Film Festival, it made quite an impression. As winner of the Caméra d'Or prize for Best First Feature, as well as the Queer Palm Award and a Jury Award for Best Performance for its star Victor Polster, it was quickly acquired by Netflix and catapulted Dhont onto the international cinema scene. He was even named on the Forbes "Europe 30 Under 30" list of business and industry professionals to watch.
Not all the attention heaped on his movie was positive, however. The tale of a teen trans girl seeking a career as a ballet dancer, it raised sharp objections from some queer and trans commentators for what they perceived as a sensationalized approach to gender dysphoria and self-harm, not to mention for the casting of cisgender actor Polster in the leading role; though other queer and trans voices – including real-life trans ballerina Nora Monsecour, who inspired the story and consulted with Dhont and co-screenwriter Angelo Tijssens during the writing process – were quick to defend the movie, the controversy nevertheless created a blemish on its reputation, and that of its filmmaker, too.
Now, Dhont is back with his second full-length film, and while it certainly marks an escalation of his success, it's not without its own detractors. "Close," based on experiences from his own childhood and again co-written by Tijssens, also took Cannes by storm, winning the Grand Prix Award this time, and has gone on to accumulate accolades from other festivals and awards bodies around the world; yet its subject matter, perhaps inevitably, has opened the filmmaker up to another round of criticism from queer observers who are uncomfortable with the story he has chosen to tell – or at least with the way he has chosen to tell it.
It centers on two young teen boys, Léo (Eden Dambrine) and Rémi (Gustav De Waele), tightly bonded best friends who start their first year of secondary school after a summer spent together in innocent but intimate companionship working on Léo's parents' farm. When new schoolmates begin to make comments about the closeness of their relationship, Léo begins to distance himself from Rémi, becoming involved with hockey and pursuing a camaraderie with the rougher, more athletic boys on his team instead; first confused, then devastated by his abandonment, the heartbroken Rémi is moved to a public schoolyard confrontation with his former friend, further driving a wedge between them and setting the stage for an unthinkable turn of events.
The film's provocative title is partly a nod to psychologist Niobe Way's book, "Deep Secrets: Boys' Friendships and the Crisis of Connection," which documents a study of intimacy among teenage boys – frequently using the term "close friendship" to describe their relationships – and was one of Dhont's inspirations for making the film. More than that, however, it's an important clue to what his movie is all about. Though the director revealed before making "Close" that it would be about a "queer character," there is no suggestion, either explicit or implicit, that its two teen friends have a sexual relationship with each other, or even that such a thing has ever crossed their minds; they are simply two boys, comfortable with each other in that tender and trusting way that only boys at their age can be. Likewise, there's no bullying, no aggressive or even "microaggressive" shaming; it's only their schoolmates' perceptions that introduce the suggestion this friendship might be something more – but that's more than enough to sour the sweetness between them, forcing us to question why some ways of being "close" are only OK for boys until they start to become men.
More to the point, perhaps, it begs the question of how this kind of low-key homophobia, so culturally ingrained that it is perpetuated without a flicker of awareness, remains persistent in a community that should know better. We don't see a lot of the adult world in "Close," but what we do see leads us to an impression that most of the grown-ups around Léo and Rémi are intelligent, educated, compassionate, and sensitive; their parents are unconditionally loving, and more than welcoming of the close companionship between their respective offspring. Yet throughout the film, throughout the boys' conflict and beyond, there is no adult figure in their lives who seems willing or able to broach the subject of sexuality, or to show by example that there's nothing about being queer – or even being perceived as queer – to be ashamed of.
These things, of course, are part of the criticism that has been leveled at the movie. Without positive messaging to counter its bleak narrative, some have seen "Close" as perpetuating a bevy of toxic tropes. Though we try to avoid spoilers, it's hard to discuss a movie like this without revealing that something tragic happens, and many have expressed disappointment that Dhont's film "punishes" its gay characters – even if we're never sure they're really gay. Further, in the absence of any affirmation of queerness (or even non-traditional masculinity), some have been troubled by an assumed reinforcement of a homophobic status quo within its narrative.
We can't – and won't – argue with any of those points. "Close" is a challenging film in the same way as "Tár," another controversial title among this year's awards contenders, in the sense that it presents a problem and doesn't offer a solution or tell you how to respond to it – yet unlike "Tár," it encourages us to feel things for its characters, and the consequences here are much more tragic. That might be especially true for queer men, certainly of older generations but still among today's youth, for whom the film may trigger traumatic memories that hit particularly close to home. That means, when it comes to deciding if you're up to the substantial challenges of watching it, you're on your own. (SPOILER ALERT: it's rough going, emotionally speaking.)
Still, "Close" is a beautiful film on a lot of levels. In the most literal sense, it's visually stunning, framed with an almost tactile up-close intimacy and brimming with the preternatural light that glows through Frank van den Eeden's delicate cinematography; in a larger sense, it strikes a resonant chord for anyone who has ever (is there anyone who hasn't?) experienced the terrible pangs of losing a childhood friendship, an unforgettable hurt it captures with heart-rending authenticity. Though we want our coming-of-age stories to be uplifting, there are some kinds of pain that cannot be erased, and it's to Dhont's credit that he doesn't try. He wants you to feel those feelings, and his movie is delicately crafted to make sure that you do, complete with the remarkable performances he elicits from his two underage stars.
That doesn't make it easy to watch, of course, but for those who are willing to take it on, it offers plenty of food for thought; and if the observations it makes about the gender expectations we force upon our children make you uncomfortable, then it's accomplished what it set out to do in the first place.