Angry reaction to Trump's anti-trans military ban
Lawsuit coming, will street protests?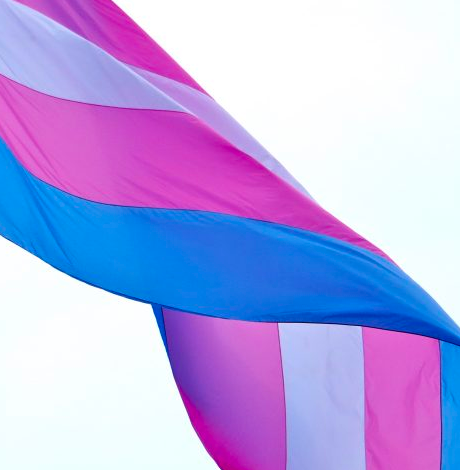 Which anti-LGBT evangelical preacher will claim the Category 4 Texas hurricane is being caused by all those damn LGBT people demanding equality?  Well, maybe they'll be heartened to know that President Donald Trump has done his part to sew hatred, discrimination and division in the US Armed Forces, just when military unity is most needed.
Click here for Chris Johnson's story on this abomination.
Here is just some of the angry reaction to Trump's pronouncement, posted on the White House website, ordering a ban on transgender military service by 2018:
OutServe-SLDN Condemns White House Purge of Trans Service Members 
(WASHINGTON) August 25, 2017– Breaking faith with top generals and admirals, President Trump's White House has issued guidance to the Department of Defense, which would effectively purge anyone found to be transgender from the armed services. This policy would purge thousands of currently serving transgender troops over the coming months and years by denying them reenlistment; threatening to cut off their healthcare; and would make permanent a ban on recruiting transgender troops that was set to expire later this year.
The following can be attributed to OutServe-SLDN Executive Director Matt Thorn:
"The President's order to remove transgender service members from the United States armed forces and deny them healthcare is nothing less than a purge. He is implementing this purge based on bigotry, motivated by agents of an ideology that has no concern for the national defense, and in blatant disregard of the experience of career officers who spent more than a year developing and implementing the current policy.
It is inconceivable that a man with a demonstrated incompetence in managing the small staff of the White House should have any credibility when it comes to making sound personnel decisions that will effect a fighting force of more than 1.8 million men and women.
We recognize this purge for what it is – a discriminatory attack on the people who have volunteered their lives for the defense of the country. It is arbitrary and capricious, a callous and questionable exercise of constitutional authority which is beneath the dignity of a Commander-in-Chief.
We condemn the actions of the White House in initiating this purge. We condemn the disregard that the President has shown to transgender men and women who wear the uniform. We condemn the intent of any person who would make it the mission of United States military to discriminate against the very citizens they are charged to defend. And we condemn the indifference of any elected official who does not now stand up for both military personnel and the LGBT community by opposing this purge.
OutServe-SLDN along with Lambda Legal will swiftly be filing a lawsuit in federal court to challenge this action."
OutServe-SLDN's legal team will provide any and all advocacy and legal assistance possible to ensure the transgender community is able to openly serve our country in its armed forces. Individuals seeking assistance may contact the legal department directly at 800-538-7418or [email protected]
President Trump Orders Pentagon to Implement His Transgender Military Ban 
WASHINGTON, D.C. — Today, the American Military Partner Association (AMPA), the nation's largest organization of LGBT military spouses and their families, responded to news that the White House has issued a directive in order to carry out President Trump's transgender military ban. The outrageous and unprecedented policy indefinitely extends the ban on qualified transgender recruits from entering the military and rips away at least some medically necessary, transition-related health care from currently serving transgender troops.
"This horrifying, vicious assault on thousands of actively serving troops has turned from reckless tweets into an unabashedly discriminatory policy aiming to purge the military of thousands of transgender men and women," said AMPA President Ashley Broadway-Mack. "We unequivocally condemn this ban as an unpatriotic attack on currently serving troops and qualified transgender recruits who want to serve their country. It is imperative that Congress immediately takes action or a judge issues an injunction stopping this unprecedented assault from moving forward."
Since June 2016, the Department of Defense has allowed transgender members of the armed forces to serve openly and authentically. Estimates show there are thousands of transgender individuals currently serving in the military. Implementation of the open service policy involved more than a year of planning, and the President's decision to change the policy without formal review is the definition of arbitrary and capricious.
The people motivating this purge are the same people who have opposed LGBT equality in every corner of American life. Their end goal is to deny the reality that LGBT people exist by forcing them out of any place where they might be visible, and there is nothing that better communicates the commitment of LGBT people to American values than openly serving in the military.
The far majority of Americans believe transgender people should be allowed to serve, and the bipartisan outrage over the President's ban has been swift and severe. Fifty-sex retired generals and admirals warned that the ban, if implemented, would degrade military readiness. On Friday, more than 50 House Armed Services, Judiciary, and LGBT Equality Caucus Democrats urged Secretary Mattis and the Joint Chiefs of Staff not to comply with an unconstitutional ban.
Military commanders have already gone on the record as being opposed to this move. CNN has reported that Secretary Mattis worked against efforts to impose this policy via the National Defense Authorization Act. Chairman of the Joint Chiefs, Joseph Dunford, issued a public statement that indicated policy would not be implemented on the basis of tweets. And the Commandant of the Coast Guard, Adm. Paul Zukunft, made a point to indicate that he would stand by transgender service members. None of these public statements are likely to have been made if the Pentagon supported the President's position.
The American Military Partner Association (AMPA) is the nation's largest non-profit organization of LGBT military spouses, their families, and allies. With more than 50,000 members and supporters, AMPA is committed to education, advocacy, and support for "modern military families." For more information, visit www.MilitaryPartners.org
NCLR and GLAD Say Their Current Lawsuit Will Stop Ban
(WASHINGTON, DC, August 25, 2017) —Attorneys from the National Center for Lesbian Rights (NCLR) and GLBTQ Legal Advocates and Defenders(GLAD) representing five servicemembers who recently filed a federal lawsuit challenging President Trump's transgender military ban issued the following statement in response to White House guidance provided to the Pentagon today.
"Two weeks ago, NCLR filed a lawsuit with GLAD that has the power to stop Trump's transgender military ban. This is a senseless and unprecedented attack on dedicated service members who have played by the rules," said Shannon Minter, NCLR Legal Director. "Our military already has standards and  systems in place to ensure our troops are qualified and fit to serve. Trump's ban is about politics, not military policy, and it will make our country less secure."
"This policy is a shameful slap in the face to people who put their lives on the line everyday to defend our country," said Jennifer Levi, GLAD Transgender Rights Project Director. "Our military is strongest when all people who are fit to serve have the opportunity to do so. This unprecedented policy amounts to a purge of qualified, contributing troops, and will serve only to undermine unit cohesion and weaken military readiness. We are moving quickly with our plaintiffs to see that a court puts a stop to this latest demonstration of President Trump playing politics with people's lives."
NCLR and GLAD filed the federal lawsuit Doe v. Trump on August 9, on behalf of 5 transgender service members with nearly 60 years of combined military service across a range of military branches. The plaintiffs are preparing to file a motion asking the court to block implementation of the ban while the suit proceeds.
The complaint in Doe v. Trump, NCLR and GLAD's federal challenge to President Trump's transgender military ban, can be viewed here. The lawsuit rests on claims of equal protection, due process and estoppel, based on the inequity of the reversal of military policy after thousands of service members followed protocol and informed their chain of command that they are transgender. In addition to NCLR and GLAD, the plaintiffs in Doe v. Trump are represented by lawyers from Foley, Hoag LLP and WilmerHale.
###
The National Center for Lesbian Rights is a national legal organization committed to advancing the human and civil rights of the lesbian, gay, bisexual, and transgender community through litigation, public policy advocacy, and public education. www.NCLRights.org
Servicemembers, Partners, and Allies for Respect and Tolerance for All (SPARTA)
"As transgender service members, we are and have always been soldiers, sailor, airmen, Marines, and Coast Guardsmen first. We serve our country honorably, in good faith.
Transgender service member are currently deployed to various locations around the world in defense of our Nation. The average transgender service member has eight years of service and has had two or more deployments. Deployments are a staple of military life. Transgender service members have shown they are fully capable of doing the job they are called upon to do, and so we will continue until directed otherwise."
About SPARTA: Founded in 2013, SPARTA is an association of lesbian, gay, bisexual, and transgender people who currently serve or have served in the U.S. armed forces and their families. SPARTA's membership includes over 600 transgender Americans actively serving in the U.S. Armed Forces. The name SPARTA originated as an acronym for "Servicemembers, Partners, and Allies for Respect and Tolerance for All."
DEMOCRATIC NATIONAL COMMITTEE: Tom Perez on Trump Signing Transgender Military Ban
Tonight the White House announced President Trump signed a formal order banning transgender military recruits, potentially authorizing the Department of Defense to discharge service members who are transgender, and banning transition-related medical regimens for transgender people currently serving openly in the military. In response, DNC Chair Tom Perez released this statement:
"This order is a moral abomination, a threat to our national security, and an outright betrayal of all those who wear our nation's uniform. Transgender Americans already bravely serve in our armed forces and risk their lives every day to protect the American people, but yet, our president turns a blind eye.
"Democrats will fight this enormous step backwards and won't stop until LGBTQ people have full equality in America and all capable people can serve our country openly."
LGBTQ+ Asian American candidate in Texas attacked with racist ad
"At a time when the AAPI community is the target of an unprecedented surge in attacks, it is not only hateful, but dangerous"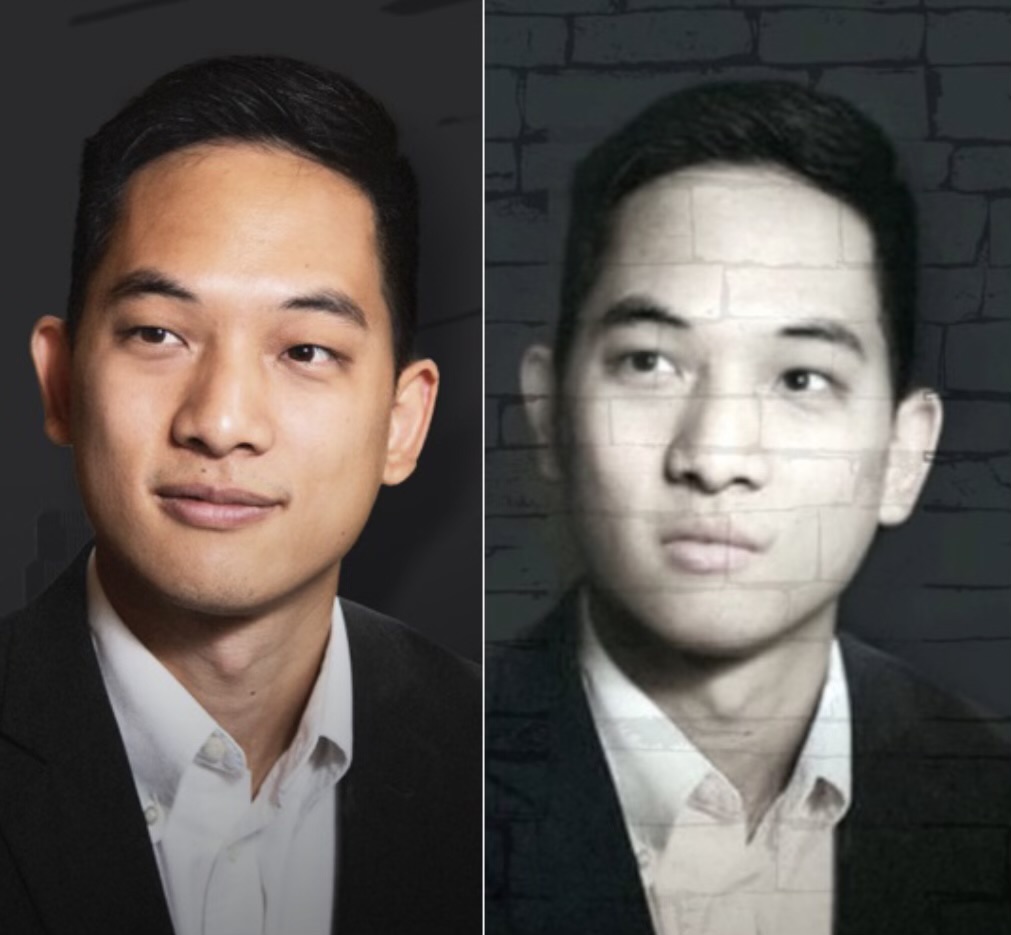 HOUSTON – An Out Asian American LGBTQ+ candidate the seat of Harris County Commissioner representing Precinct 4 in the Northeastern neighborhoods of Houston was the target of a series of negative ads on Facebook and Instagram earlier this week.
Democratic candidate Ben Chou, who hopes to be elected in the precinct that is home to the largest Asian American population in Harris County, accounting for 13% of the district's population, was angered over the blatant racial stereotyping in the ads released on social media by his run-off opponent Lesley Briones.
The negative ads on Facebook and Instagram, doctored Ben Chou's eyes, nose, and lips, and white-washed his skin. In a phone call with the Blade Thursday, Chou noted that such depictions of Asian-Americans and Asians follows a long history of doctoring images of people of color to make them look angry or menacing, reinforcing negative stereotypes that have been peddled about Asian Americans in the United States for more than a century.
"I am saddened to see my opponent stoop to leveraging racist stereotypes that have been used to attack Asian Americans for more than 150 years. With anti-Asian hate rising, Briones should know better than to redraw my eyes and face to suit her campaign," Chou told the Blade.
"During Asian Pacific American Heritage Month, Houstonians of all backgrounds should be celebrating diversity instead of changing our features to fit someone else's narrative. The Briones Campaign owes an apology to not just the Asian community but to all Harris County voters for her vicious, hateful propaganda. I will be spending the last 6 days of this runoff election focused on the issues that matter in this race: protecting our voting rights and improving ethics in government," he added.
His opponent who identifies as a native Texan, proud Latina, and a Democrat fired back on Twitter Thursday accusing Chou of lying. "Shame on Ben Chou. Rather than answering for his false attacks and defamatory lies, he is spreading even more lies," Briones wrote in a tweet attaching a press release from her campaign: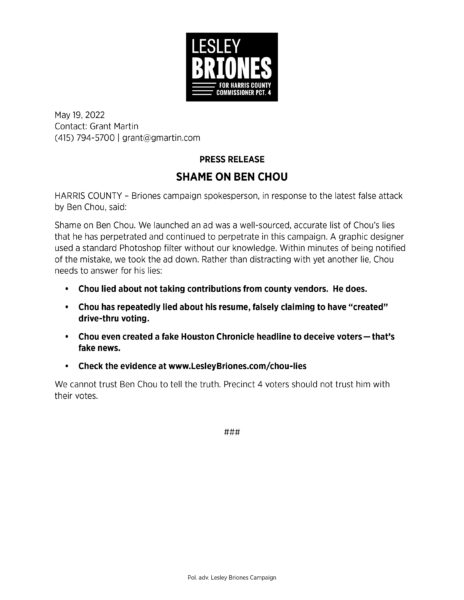 "This racist attack against Ben – who would be the first out LGBTQ Asian American elected to Harris County government – is disgusting and morally reprehensible. At a time when the Asian American and Pacific Islander community is the target of an unprecedented surge in attacks, it is not only hateful, but dangerous. Anyone who peddles in racism and bigotry is clearly unfit for office," Albert Fujii, LGBTQ Victory Fund spokesperson, told the Blade in an email.
According to the Victory Fund there are only 32 LGBTQ elected Asian American, Pacific Islander (AAPI) officials in the United States currently.
NPR poll: Supreme Court leak firing up Democratic voters
Two-thirds of Democrats say the contents of the Supreme Court leak make them more likely to vote in November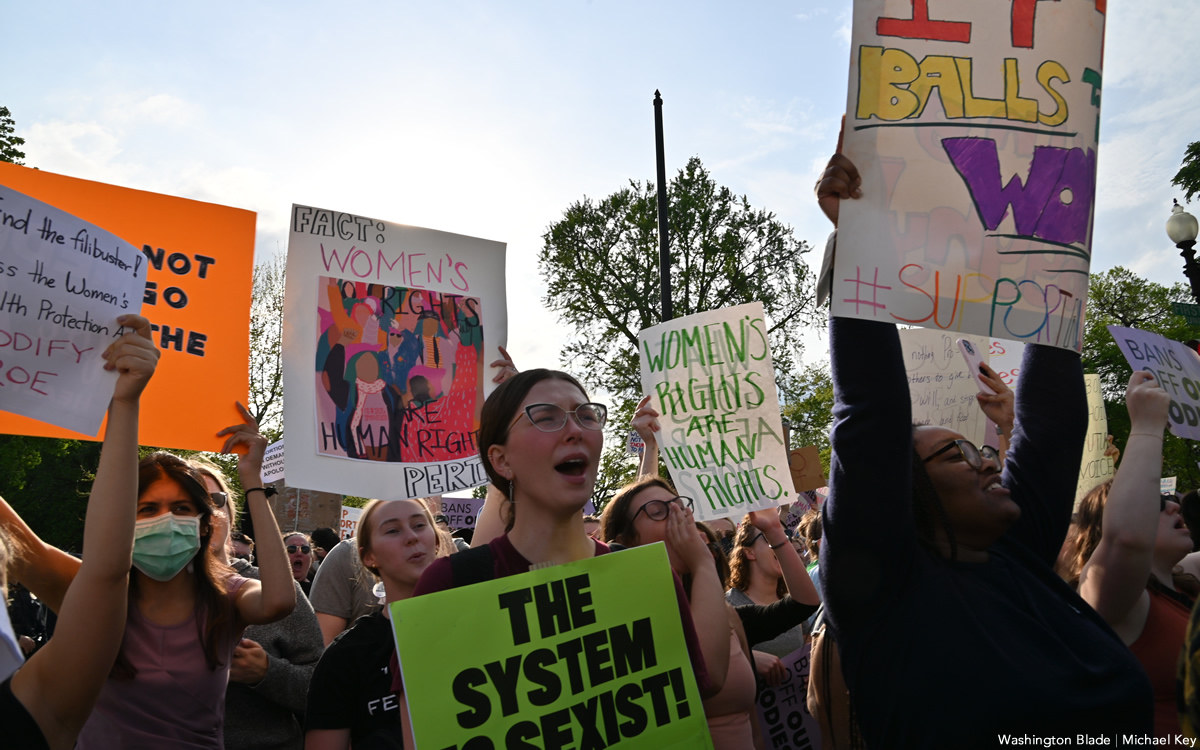 WASHINGTON – The latest NPR/PBS NewsHour/Marist poll released Thursday showed that two-thirds of voters do not support overturning Roe v. Wade. However, the poll also revealed that in this mid-term election year cycle, the leak of the draft U.S. Supreme Court opinion that indicated the court's willingness to overturn the landmark ruling on abortion rights has fired up Democrats.

NPR reported that the poll shows that two-thirds of Democrats say the contents of the leak make them more likely to vote in November, as compared to just 40% of Republicans who said so.
"It definitely has them [Democrats] focused as no other issue in the recent months has," said Lee Miringoff, director of the Marist Institute for Public Opinion, which conducted the poll. "And to have a gap of that magnitude over the Republicans is something that, at this point, should not go unnoticed."
The survey of 1,304 adults, including 1,213 registered voters, has a margin of error of +/- 3.9 percentage points when adults are referenced and +/- 4.1 percentage points when referring to voters. That means results could be about 4 points higher or lower. The poll was conducted from May 9 to 13 by live interview callers, who reached respondents via cell phone and landline in English and in Spanish.
History making primary win- Out Lesbian could be Oregon's next governor
"This will be a three-way race for the highest office in our state, and this will be an election unlike anything any of us have ever seen"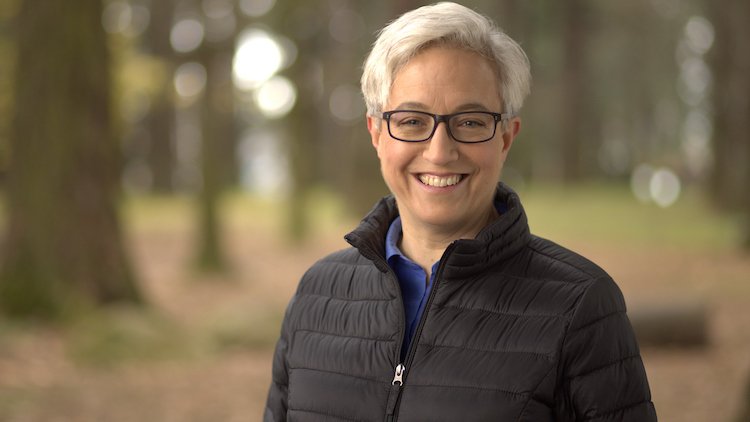 PORTLAND – The Democratic gubernatorial primary Tuesday win by Oregon Speaker of the House Tina Kotek, who had announced her run for the governor's seat to replace incumbent Democratic Governor Kate Brown who is term limited last September 1st, 2021, positions her to become the first Out Lesbian governor in the nation should she win the general election in November.
Kotek's win comes during an uptick in the elections nationwide as more candidates running for office identify as LGBTQ. More than 600 LGBTQ candidates are on ballots this year, according to the LGBTQ Victory Fund.
According to the Victory Fund, at least 101 people ran or are running for the U.S. Senate or U.S. House – with 96 still actively running as of February 21, 2022. That marks a 16.1 percent increase in LGBTQ Congressional candidates compared to the 2020 election cycle, when 87 people ran.
Speaking to her supporters after it became clear she had won over Oregon Treasurer Tobias Read, who was polling second among Oregonian progressives, "This will be a three-way race for the highest office in our state, and this will be an election unlike anything any of us have ever seen," Kotek said.
Republican state legislator Christine Drazan along with an independent candidate, Betsy Johnson are slated to be on the November ballot.
Last Fall when she announced her candidacy, she said, "I am running for Governor because I know that, together, we can reckon with the legacies of injustice and inequality to build a great future for Oregon." She also noted, "Oregonians are living through a devastating pandemic, the intensifying impacts of climate change, and the economic disruptions that leave too many behind. We must get past the politics of division and focus on making real, meaningful progress for families across our state."
"A victory for Tina would shatter a lavender ceiling and be a milestone moment in LGBTQ political history, yet she is running not to make history, but because there are few people as prepared and qualified to serve as Oregon's governor," said Mayor Annise Parker, President & CEO of LGBTQ Victory Fund. "Under Tina's leadership, Oregon has led in passing legislation to improve roads and education, raise the minimum wage and ensure all residents are treated fairly and equally. As governor, Tina will make Oregon a role model for the nation."