Equality California filing suit to stop the transgender military service ban
The state with the most military and the most LGBT people is jumping into the constitutional fray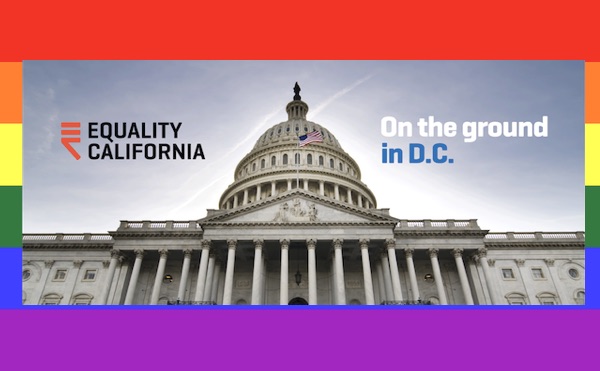 Equality California is filing a federal lawsuit Tuesday, Sept. 5, challenging the directive Aug. 25 by President Donald Trump ordering the Sec. of Defense and Sec. of Homeland Security to return to the pre-Obama policy of banning open transgender military service in the US Armed Forces. Equality California now joins with NCLR/GLAD, Lambda Legal/OutServe-SLDN and the ACLU in taking Trump to court on behalf of trans servicemembers. The suit seeks an injunction against the order and its implementation.
As of May 2016, California has the most military bases and installations in the country, 32, with the most active duty and reserves members of the military, 190,160, making the challenge by EQCA logical. That number goes up to more than 360,000 employed by the Department of Defense in California when civilian employees are included.
And, Equality California Executive Director Rick Zbur tells the Los Angeles Blade, "California is the state with the largest LGBTQ community. We're also the state with most LGBTQ people serving in the military and obviously, a state in which are members are really harmed by this directive. So we decided we wanted to bring a suit of our [800,000] members that are effected by this ban. We thought It was important that there be a case in California."
An injunction would most likely be welcomed by a Defense Department facing a slew of critical issues, not the least of which is a bellicose President Trump Twitter-sparring with North Korean dictator Kim Jong-un.On Monday, UN Ambassador Nikki Haley told an emergency meeting of the UN Security Council that Kim is "begging for war" after conducting a hydrogen bomb test. The New York Times reported it was "a blast that experts said was far more destructive than the bombs that the United States dropped on the Japanese cities of Hiroshima and Nagasaki during World War II." 
Meanwhile, Trump's bombastic attacks on Twitter against diplomacy have disturbed seven decades-old ally South Korea, and Hawaii is preparing for a missile attack.
Additionally, a military website notes that https://militarybases.com/california/ on July 25, a US Navy vessel fire warning shots at an armed Iranian patrol boat under the command of the Iranian Revolutionary Guard Corps situated in the Persian Gulf.
That's in addition to Trump ordering about 4,000 new troops sent to Afghanistan to finally win the 16-year old war there.
It is in this context that Trump has ordered a complete personnel change in the US Armed Forces.
"The cases seek to block the order," says Zbur. "The order is one that doesn't give the military discretion about whether to allow service of transgender people in the military, despite some of the communications that have come out by (Defense Sec) Gen. James Mattis that appear to indicate that there is some discretion. In fact, the President's directive leaves no discretion to the military and requires that they take action to discharge members of the military currently serving and to also enlistment of people that would want to serve and have taken steps to join the military. And it prohibits medical care that's necessary for transgender servicemembers. So our case raises a number of claims that the order violates the Constitution of the United States and is obviously motivated by animus towards transgender people and on a variety of Constitutional grounds, seeks to block the order."
Some see a loophole in the line in the order that says the old policy should be re-instated "until such time as a sufficient basis exists upon which to conclude that terminating that policy and practice would not have the negative effects discussed above. The Secretary of Defense, after consulting with the Secretary of Homeland Security, may advise me at any time, in writing, that a change to this policy is warranted." (Emphasis added) Some LGBT military-watchers think that could come as a result of recommendations made by an expert panel Mattis is putting together.
Zbur, an attorney, is not among them. "The directive is very clear and it does not give the military leadership discretion. It gives them a certain amount of time into either February or March to implement it but there is no discretion in the president's order," he says emphatically.
"The period that Gen. Mattis has indicated they will be studying this issue is consistent with the timing in the President's order and the order does not leave discretion for the military to not implement the ban and discharge members of the military or prevent re-enlistment or to allow for necessary medical care."
Zbur is keenly aware of the politics being played by the White House. Tony Perkins, head of the anti-LGBT Family Research Council, confirmed as much on a media call with reporters July 26 after Trump issued the order.
"This announcement by the president today has shown once again that our nation's military is no longer marching to the liberal drumbeat of Barack Obama," Perkins said. "This decision restores the readiness and the war-fighting capabilities of our nation's military to the priority that it should be."
Trump Perkins said, makes decisions based upon what he believes is right, but more importantly, what he committed to." Trump is "committed, along with the Republican Party platform, that the social engineering that has been in our military that the previous administration foisted upon the military would stop."
"That's what he's doing. He's only doing what he committed he would do," Perkins said.
Zbur sees things very differently. Trump's order "disrupts military planning that has gone on for well over a year. The entire military has already been trained about the inclusion of transgender people to serve in the military," he says. "I think effecting the order is going to be really disruptive and harm military readiness so I imagine they are going to have to have time to prepare for that."
"We believe this is unconstitutional," he says. "All four cases raise these constitutional claims and it's our hope that by means of one of these four lawsuits, that an injunction will be issued to block this directive" and allow the current Obama policy to remain in place.
"Training has happened in the entire military already," Zbur says. "It has happened without controversy. Commanding officers from many of the transgender servicemembers who are serving are supportive of their service. They are serving in key roles in the military and I think within the military there has been a recognition among many, at least retired military officers and others, that are currently serving about the importance of allowing people who want to serve their country to serve."
"This is disruptive," Zbur continues. "It is harmful to military readiness. It is expensive for the military—essentially they will be ripping transgender servicemembers out of key and important roles and will be in a position where they will have to identify people to replace them and train them. So there's no justification for this order. There's no justification in terms of cost or military readiness. In fact, if anything, all arguments go in the other direction. This is harmful."
Zbur will announce the names of the plaintiffs in the Equality California lawsuit at the news conference Tuesday morning.
CDC extends eviction ban as White House pushes to get relief money out
The order expires on October 3 & applies in U.S. counties experiencing substantial & high levels of community transmission levels of COVID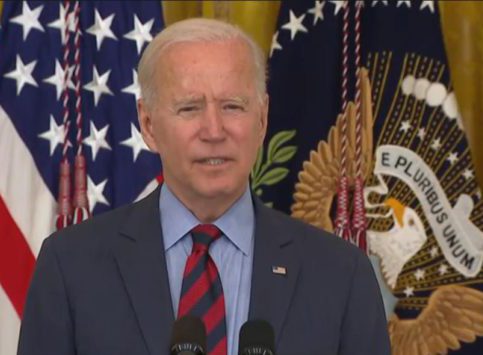 ATLANTA – The Centers for Disease Control and Prevention, CDC, on Tuesday issued a new moratorium on evictions that would last until October 3, while the White House spent the day trying to tamp down rising critique from Democrats and other groups angered over the decision to let the ban expire over the weekend.
Progressive lawmakers including Rep. Alexandria Ocasio-Cortez, (D-NY) and Missouri Democratic Representative Cori Bush, who has been camped outside on the steps of the U.S. Capitol building since Saturday midnight, were leading a passionate protest urging the White House to do more to prevent about 3.6 million Americans at risk of saying that the administration was allowing vulnerable renters to lose their homes during a pandemic by not acting.
The freshman congresswoman once lived in her car as a young mother and identified with those Americans that would be negatively impacted. A point made in a tweet by MSNBC anchor and host Mehdi Hasan Tuesday after the evictions ban was extended.
When you elect people like @CoriBush to Congress, who comes from a very different background to most other members of Congress, you get very different tactics – and very different results. 👏🏽https://t.co/djgWifY26M

— Mehdi Hasan (@mehdirhasan) August 3, 2021
CDC Director Dr. Rochelle Walensky signed the order determining the evictions of tenants for failure to make rent or housing payments could be detrimental to public health control measures to slow the spread of SARS-CoV-2, the virus that causes COVID-19.
This order will expire on October 3, 2021 and applies in United States counties experiencing substantial and high levels of community transmission levels of SARS-CoV-2.
The eviction moratorium allows additional time for rent relief to reach renters and to further increase vaccination rates. In the context of a pandemic, eviction moratoria—like quarantine, isolation, and social distancing—can be an effective public health measure utilized to prevent the spread of communicable disease, the statement from the CDC read.
During an afternoon press conference, President Joe Biden addressed the extension of the ban by his administration.
Biden was asked, "On the evictions and the moratorium that lapsed on Saturday night: What is your strategy to prevent potentially millions of people from being evicted from their homes, given what we are told your administration is considering — a targeted moratorium — is likely to face legal challenges?"
 
In response the President said;  "Any call for a moratorium based on the Supreme Court recent decision is likely to face obstacles.  I've indicated to the CDC I'd like them to look at other alternatives than the one that is in pow- — in existence, which the Court has declared they're not going to allow to continue.  And the CDC will have something to announce to you in the next hour to two hours."
Another reporter asked, "Mr. President, a question on COVID, if I could, really quickly.  It's the eviction moratorium.  Can you explain a little bit more why it took so long to have a possible eviction moratorium be put into place?  There was — there are people — this expired on Saturday.  I'm wondering — there are folks who are saying it took too long for this to happen."
Biden responded; "Well, look, the courts made it clear that the existing moratorium was not constitutional; it wouldn't stand.  And they made that clear back in, I guess, July 15th or July 18th. 
 
In the meantime, what I've been pushing for and calling for is we have billions of dollars that were given to states to provide for rent and utilities for those people who can't afford to stay in their homes because they can't — an apartment — they can't pay their rent.  And so, we're urging them to distribute those funds to the landlords.  I believe that would take care of the vast majority of what needs to be done to keep people in their — in their ho- — in their apartments now. 
 
And so that's what we're working on.  Some states have done it and some communities have, but they have not.  The money is there.  It's not — we don't have to send it out.  It's been sent out to the states and counties — billions of dollars — for the express purpose of providing for back rent and rent for the people who are in the middle of this crisis.  And that's there; that's what we're pushing now.  And we've been pushing that.  That's the immediate thing to do."
The CDC identified a legal authority for the new, different moratorium for areas with high and substantial increases in COVID-19 infections. 
There have been difficulties ensuring the federal housing aid makes it to renters and landlords with many saying that some states are reporting a lot of logistical problems in dispersing their funds, from websites getting overloaded and crashing to renters not being able to track down all the verification documents. 
During a teleconference briefing Tuesday with House Democrats, Treasury Secretary Janet Yellen told lawmakers the work was underway to ensure the federal housing aid makes it to renters and landlords. She provided data so that lawmakers could see how their districts and states are performing with distributing the relief, according to a person on the call, Voice of America reported.
The Chair of the House Financial Services Committee, Democratic California Congresswoman Maxine Waters, has been urging the Treasury secretary to use her influence to push states to get the money out to renters and landlords. 
After the CDC's announcement, Rep. Waters released a statement thanking President Biden "for listening and for encouraging the CDC to act! This extension of the moratorium is the lifeline that millions of families have been waiting for." 
Delivering justice and equity, Jasmyne Cannick has 'the receipts'
This fight is about getting justice for Ed Buck's victims & also calling out all of the people along the way who failed them & enabled him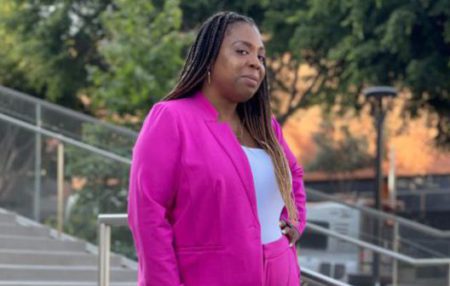 LOS ANGELES – In the world of popular culture the use of the slang phrase 'has the receipts' translates to bringing proof that someone was/is lying. Conversely it also is used to define that a person is being genuine.
Over the past several years as the crimes committed by West Hollywood resident and political activist Ed Buck, as he preyed on Black men were made public, the person holding the receipts was journalist turned advocate Jasmyne Cannick.
Frustrated and angered by what she perceived as lack of serious engagement by local law enforcement in the initial stages of the investigation into the death of 26-year-old Gemmel Moore, Cannick rallied the community and publicly called out law enforcement to take more aggressive action.
She orchestrated and led a grass-roots effort to get the criminal justice system of Los Angeles to listen to Gemmel's mother LaTisha Nixon's plea for justice. She used Gemmel's own words, written in his journal to alert authorities to the depths of the debauchery occurring inside that second floor flat in West Hollywood. She pleaded with law enforcement including the District Attorney for the County of Los Angeles Jackie Lacey to take action.
Her activism and fueling the rage of the greater community finally received the attention of Federal law enforcement and action that culminated in Buck's arrest and the trial.
She stood by the families even as to the horror of many, another Black man died nearly two years after Gemmel (2017) in January of 2019 and like that young life snuffed out too early, Timothy Dean, 55, was found deceased on the trash strewn floor of Buck's flat.
"The lives of Black gay men matter — no matter if they're homeless, survival sex workers or escorts — this is a case that transcends race, class, wealth. Our lives matter, our community matters, and just because someone is unhoused, an addict, may be a survival sex worker, or an escort, or HIV positive does not mean their lives don't matter and we should look the other way when they show up dead in a white Democratic donor's home." ~ Jasmyne Cannick.
In her owns words Cannick writes after the jury delivered guilty verdicts on nine separate federal counts; "It's been a long four years on this road for justice–justice that a guilty verdict would be but one small part off. Real justice is making sure that this never ever happens again. We can't do that with the enabling parties still acting like Ed Buck didn't happen"
She adds, "Ed Buck only got away with it for so long because he was white and because we still don't believe Black victims–even when they tell us what happened to them.
Gemmel Moore told us in his diary, "Ed Buck is the one to thank, he gave me my first injection of chrystal [sic] meth. It was very painful."
Buck was not all that he was portrayed as in the media, but he parlayed his influence, funneled through donations from others, and did ingratiate himself into the Democratic party in California over the years. There is plenty of photographic evidence to substantiate those claims to fame showing Buck rubbing elbows with politicians from all quarters.
Worse though was that rumours of Buck's fetishes were well known and yet even after the death of Gemmel Moore there seemed to be a collective shrugging of shoulders and zero calls for accountability. Cannick however, wasn't having it.
"Former district attorney Jackie Lacey was sitting on a mountain of evidence and still did nothing to prosecute Ed Buck for the deaths of Gemmel Moore and Timothy Dean," she said.
Appearing on BNC's Black News Tonight anchored by journalist Marc Lamont Hill last week, Cannick told Hill that the case intersected race and sexual orientation.
"As much as this case is about Ed Buck, it's also about our housing crisis, and what it makes people feel they have to do — play Russian roulette with their lives just to have a roof over their heads," she stressed.
Cannick is not just a gadfly community activist, in fact far from it. She is a powerful voice for those who have had no voice reminding people that Buck happened because the community allowed him to happen.
In her own words she points out, "Paul Koretz, a candidate for Controller in 2022, who is backed by the Black Democratic establishment and has taken thousands from Ed Buck, told a group that Buck's victims were all "disadvantaged Black hustlers."
"So while this fight is as much about getting justice for Ed Buck's victims it's also about calling out all of the people and entities along the way who failed them and enabled Ed Buck. Not doing so ensures a repeat of this situation because Ed Buck isn't the only Ed Buck," she pointed out. "Entities like the L.A. County Sheriff's Department who many of Ed Buck's victims said didn't take their complaints about Ed Buck seriously."
"But even though Ed Buck's crimes have been made public throughout his trial, not much has changed. The silence in Los Angeles' is deafening. If I wasn't sitting in the courtroom myself, I probably wouldn't know the trial was happening.
There's been no mention of the trial or justice for Ed Buck's victims from the Los Angeles County Democratic Party, California Democratic Party, Stonewall Democratic Club, or any of the dozens of elected officials he gave his money to," she noted.
In a conversation with the Blade on Monday Cannick said that the next phase for her advocacy is to seek financial compensation for Buck's victims. But beyond that is challenging community leaders and elected officials to address the very causes of what gave Buck ready access to the disadvantaged Black men in the first place; homelessness and helping the unhoused is her top priority.
She also serves now as an elected "At-Large" member of the leadership team of the Stonewall Democratic Club, the very place where Buck donated sums of money and rubbed elbows with Democratic Party leadership who gave Buck credibility and status.
For now there are some community leaders who are stepping up to acknowledge Cannick's holding the receipts including the City Council and Mayor of West Hollywood who honoured her community work during a regularly scheduled Council meeting Monday.
West Hollywood Mayor Linsey Horvath tweeted afterwards, "Thank YOU for your fearless leadership in pursuit of truth and justice, @Jasmyne Our community is safer, and survivors have more confidence that they will be heard & believed, because of you."
Thank YOU for your fearless leadership in pursuit of truth and justice, @Jasmyne Our community is safer, and survivors have more confidence that they will be heard & believed, because of you. #weho #believesurvivors #BlackLivesMatter #blackgaylivesmatter #AllBlackLivesMatter https://t.co/vq4t8IjLij

— Lindsey P Horvath (@LindseyPHorvath) August 3, 2021
Peru LGBTQ activists express concern over country's new government
Prime minister has made homophobic, transphobic comments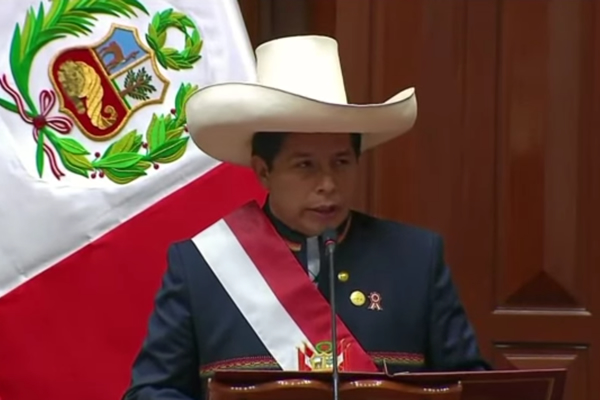 LIMA, Peru — Activists in Peru have expressed concern over their country's new government and whether it will actively oppose LGBTQ rights.
President Pedro Castillo, a teacher from Cajamarca region of northern Peru who is a member of the leftist and socialist Free Peru party, in June narrowly defeated Keiko Fujimori, his right-wing opponent who is the daughter of former President Alberto Fujimori, in the second round of Peru's presidential election. Castillo's inauguration took place in Lima, the Peruvian capital, on July 28.
The Associated Press reported Castillo during his campaign expressed his opposition to marriage rights for same-sex couples, but stressed LGBTQ issues "are not a priority."
Castillo named Congressman Guido Bellido, an indigenous man who represents Cuzco, as his prime minister.
Bellido in a 2019 Facebook post praised former Cuban President Fidel Castro and specifically his 1963 comments in which he said "the (Cuban) revolution does not need hairdressers and work will make them men. The 'new man' cannot be a faggot. The socialist society cannot allow this type of degenerates."
Media reports indicate Bellido in 2020 made transphobic comments in response to gender-based coronavirus prevention measures that activists said discriminated against trans people. Bellido also reportedly said "the woman is so destructive and ruthless when it comes to mixing her grudges and selfishness" and "I don't see any lesbian or gay (person) mobilizing" against it.
"Violence is going to intensify every day if things continue as they are," Bellido said.
Bellido has also been criticized for his previous comments in support of the Shining Path rebel group.
"(Shining Path) has been the biggest violator of human rights in the history of Peru and it concerns me a lot," Alberto de Belaúnde, an independent congressman from Lima who is openly gay, told the Los Angeles Blade on Monday as he discussed Bellido's comments. "It is not a good scenario for the human rights agenda in general and specifically for the LGBT agenda."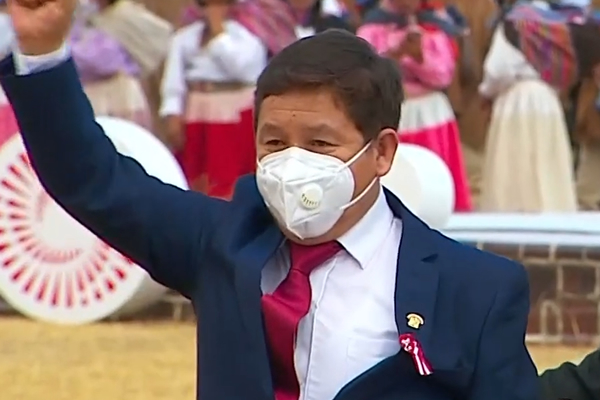 Gabriela Oporto Patroni, a Peruvian human rights lawyer, described Bellido's comments as "concerning." George Hale of Centro de Promoción y Defensa de los Derechos Sexuales y Reproductivos (PROMSEX), an LGBTQ and women's rights group in the South American country, echoed Oporto.
"Prime Minister Bellido's previous comments that reflect his homophobia, transphobia and misogyny are unfortunate," Hale told the Blade.
Bellido, for his part, in recent days has said he "categorically rejects all forms of violence and terrorism in all of its extremes." Hale noted to the Blade that Finance Minister Pedro Francke has publicly said his government will support LGBTQ rights.
"I will fight for equality of opportunities without discrimination based on gender, ethnic identity or sexual orientation," said Francke on July 31. "I will combat homophobia and I will strongly support the fight against the killer (Shining Path), in line with the public promise that our prime minister has made."
Asimismo, lucharé por la igualdad de oportunidades sin discriminación de género, identidad étnica u orientación sexual. Combatiré la homofobia y apoyaré una lucha firme contra el senderismo asesino, en línea con el compromiso público hecho por nuestro Primer Ministro. pic.twitter.com/3ycacbrXxM

— Pedro Francke (@pedrofrancke) July 31, 2021
The Latin American and Caribbean Network of Trans People (REDLACTRANS) on Tuesday noted Foreign Affairs Minister Héctor Béjar has said his government supports the Yogyakarta Principles, a set of global LGBTQ rights principles that advocacy groups adopted in 2006.
"We support the 2016 Yogyakarta Principles' 29 principles about the application of international human rights norms for sexual orientation and gender identity to avoid abuses and to protect the human rights of lesbians, gays, bisexuals and transsexuals," said Béjar. "The human rights of sex workers will also be part of our agenda."
#Peru Celebramos las palabras del Ministro de Relaciones Exteriores Sr. Héctor Béjar Rivera. ¡Por los derechos de las personas Trans, la población LGBTI, por los derechos sexuales y reproductivos! Que estas palabras se traduzcan en una política exterior por los #DerechosHumanos pic.twitter.com/jBd1Erjbi4

— RedLacTrans (@REDLACTRANS) August 3, 2021
Miluska Luzquiños is a transgender activist who lives in Lambayeque, a city in northern Peru.
She told the Blade on Monday the situation for LGBTQ Peruvians remains "very complicated and uncertain" because of the pandemic. Luzquiños also noted the country does not have a trans rights law.
"It is necessary for the LGBTIQ movement to keep doing advocacy in government spaces as (part of) civil society," she said.