September 4, 2017 at 7:00 pm PDT | by Karen Ocamb
Equality California filing suit to stop the transgender military service ban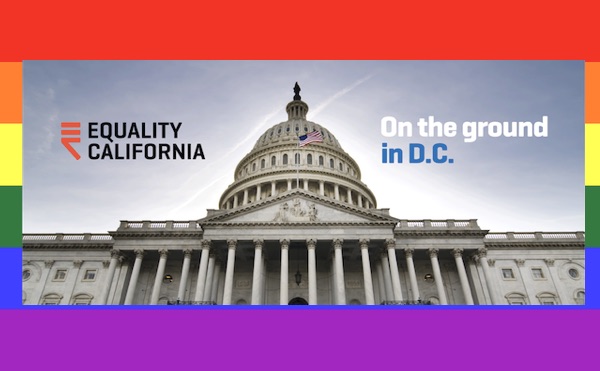 Equality California is filing a federal lawsuit Tuesday, Sept. 5, challenging the directive Aug. 25 by President Donald Trump ordering the Sec. of Defense and Sec. of Homeland Security to return to the pre-Obama policy of banning open transgender military service in the US Armed Forces. Equality California now joins with NCLR/GLAD, Lambda Legal/OutServe-SLDN and the ACLU in taking Trump to court on behalf of trans servicemembers. The suit seeks an injunction against the order and its implementation.
As of May 2016, California has the most military bases and installations in the country, 32, with the most active duty and reserves members of the military, 190,160, making the challenge by EQCA logical. That number goes up to more than 360,000 employed by the Department of Defense in California when civilian employees are included.
And, Equality California Executive Director Rick Zbur tells the Los Angeles Blade, "California is the state with the largest LGBTQ community. We're also the state with most LGBTQ people serving in the military and obviously, a state in which are members are really harmed by this directive. So we decided we wanted to bring a suit of our [800,000] members that are effected by this ban. We thought It was important that there be a case in California."
An injunction would most likely be welcomed by a Defense Department facing a slew of critical issues, not the least of which is a bellicose President Trump Twitter-sparring with North Korean dictator Kim Jong-un.On Monday, UN Ambassador Nikki Haley told an emergency meeting of the UN Security Council that Kim is "begging for war" after conducting a hydrogen bomb test. The New York Times reported it was "a blast that experts said was far more destructive than the bombs that the United States dropped on the Japanese cities of Hiroshima and Nagasaki during World War II." 
Meanwhile, Trump's bombastic attacks on Twitter against diplomacy have disturbed seven decades-old ally South Korea, and Hawaii is preparing for a missile attack.
Additionally, a military website notes that https://militarybases.com/california/ on July 25, a US Navy vessel fire warning shots at an armed Iranian patrol boat under the command of the Iranian Revolutionary Guard Corps situated in the Persian Gulf.
That's in addition to Trump ordering about 4,000 new troops sent to Afghanistan to finally win the 16-year old war there.
It is in this context that Trump has ordered a complete personnel change in the US Armed Forces.
"The cases seek to block the order," says Zbur. "The order is one that doesn't give the military discretion about whether to allow service of transgender people in the military, despite some of the communications that have come out by (Defense Sec) Gen. James Mattis that appear to indicate that there is some discretion. In fact, the President's directive leaves no discretion to the military and requires that they take action to discharge members of the military currently serving and to also enlistment of people that would want to serve and have taken steps to join the military. And it prohibits medical care that's necessary for transgender servicemembers. So our case raises a number of claims that the order violates the Constitution of the United States and is obviously motivated by animus towards transgender people and on a variety of Constitutional grounds, seeks to block the order."
Some see a loophole in the line in the order that says the old policy should be re-instated "until such time as a sufficient basis exists upon which to conclude that terminating that policy and practice would not have the negative effects discussed above. The Secretary of Defense, after consulting with the Secretary of Homeland Security, may advise me at any time, in writing, that a change to this policy is warranted." (Emphasis added) Some LGBT military-watchers think that could come as a result of recommendations made by an expert panel Mattis is putting together.
Zbur, an attorney, is not among them. "The directive is very clear and it does not give the military leadership discretion. It gives them a certain amount of time into either February or March to implement it but there is no discretion in the president's order," he says emphatically.
"The period that Gen. Mattis has indicated they will be studying this issue is consistent with the timing in the President's order and the order does not leave discretion for the military to not implement the ban and discharge members of the military or prevent re-enlistment or to allow for necessary medical care."
Zbur is keenly aware of the politics being played by the White House. Tony Perkins, head of the anti-LGBT Family Research Council, confirmed as much on a media call with reporters July 26 after Trump issued the order.
"This announcement by the president today has shown once again that our nation's military is no longer marching to the liberal drumbeat of Barack Obama," Perkins said. "This decision restores the readiness and the war-fighting capabilities of our nation's military to the priority that it should be."
Trump Perkins said, makes decisions based upon what he believes is right, but more importantly, what he committed to." Trump is "committed, along with the Republican Party platform, that the social engineering that has been in our military that the previous administration foisted upon the military would stop."
"That's what he's doing. He's only doing what he committed he would do," Perkins said.
Zbur sees things very differently. Trump's order "disrupts military planning that has gone on for well over a year. The entire military has already been trained about the inclusion of transgender people to serve in the military," he says. "I think effecting the order is going to be really disruptive and harm military readiness so I imagine they are going to have to have time to prepare for that."
"We believe this is unconstitutional," he says. "All four cases raise these constitutional claims and it's our hope that by means of one of these four lawsuits, that an injunction will be issued to block this directive" and allow the current Obama policy to remain in place.
"Training has happened in the entire military already," Zbur says. "It has happened without controversy. Commanding officers from many of the transgender servicemembers who are serving are supportive of their service. They are serving in key roles in the military and I think within the military there has been a recognition among many, at least retired military officers and others, that are currently serving about the importance of allowing people who want to serve their country to serve."
"This is disruptive," Zbur continues. "It is harmful to military readiness. It is expensive for the military—essentially they will be ripping transgender servicemembers out of key and important roles and will be in a position where they will have to identify people to replace them and train them. So there's no justification for this order. There's no justification in terms of cost or military readiness. In fact, if anything, all arguments go in the other direction. This is harmful."
Zbur will announce the names of the plaintiffs in the Equality California lawsuit at the news conference Tuesday morning.