Fauci: More resources needed to end global HIV/AIDS epidemic
Proposed budget cuts threaten HIV and AIDS programs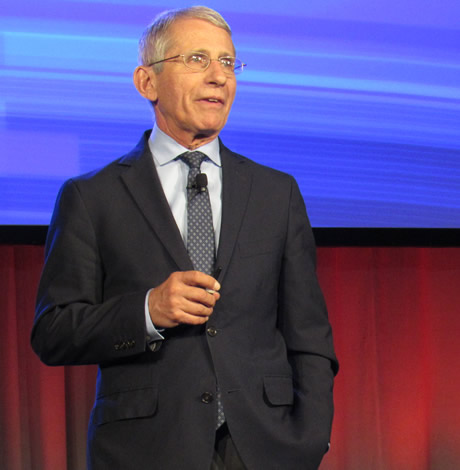 Dr. Anthony Fauci in a presentation he gave at the U.S. Conference on AIDS at the Marriott Marquis Hotel in D.C. noted "individual countries" have met UNAIDS targets of having 90 percent of people with HIV knowing their status, receiving antiretroviral therapy and having undetectable viral loads by 2020. He pointed out "globally as a whole we are still far from the mark at 44 percent."
"We need to do much better," said Fauci. "You do much better with resources."
Fauci said 19.5 million of the more than 36 million people around the world who are living with HIV are on antiretroviral drugs. He noted there is a "treatment gap" of 17.2 million people.
"We are really far off the mark. so we need to so something at a global epidemiological level that involves not only people in this room, but governments, our own, international organizations that need to pull together for that," said Fauci.
House Minority Leader Nancy Pelosi (D-Calif.) in her remarks at the conference's opening plenary on Thursday noted President Trump's proposed budget for the 2018 fiscal year would cut $850 million from the President's Emergency Plan for AIDS Relief (PEPFAR) and $225 million from the Global Fund for AIDS, Tuberculosis and Malaria. She also criticized the White House for proposing cuts to the Ryan White Comprehensive AIDS Resource Emergency Act that provides assistance to low-income people with HIV and their families, the Housing Opportunities for People with AIDS (HOPWA), the U.S. Department of Health and Human Services' Office of Minority Health and the National Institutes of Health itself.
Fauci in his remarks did not specifically refer to the proposed cuts. He did say, however, there is a need for an HIV vaccine "to achieve what I call durable end of the HIV pandemic."
"We're not talking about the individual person who's living with HIV or what we can do for at the at-risk purpose, even in the absence of a vaccine," he said. "But globally and epidemiology if we want to end the epidemic, if it's durable we're going to need a vaccine."
'We are a movement for social justice'
Roughly 3,000 people attended the conference that NMAC — formerly known as the National Minority AIDS Council — organized.
NMAC Executive Director Paul Kawata on Saturday discussed Trump's proposed budget, noting it "has been a very difficult time in Washington."
"We are a movement for social justice," he said. "We are a movement for social justice that is dependent upon government funding."
Kawata in his remarks referenced last month's white supremacist rally in Charlottesville, Va., last month that left a 32-year-old woman dead and more than a dozen others injured. He also noted the Trump administration's decision to rescind the Deferred Action for Childhood Arrivals (DACA) program that has allowed roughly 800,000 young documented immigrants to remain in the U.S. and obtain work permits.
"A lot of us are really hurting right now," said Kawata. "There's so many messages that we're getting."
"We're being told in the outside world that we're second-class citizens," he added. "Goddamn it we are not second-class citizens and we deserve to fight and we deserve to stand up for who we are."
Members of the U = U campaign — which describes itself as "a health equity initiative to end the dual epidemics of HIV and HIV-related stigma by empowering people with and vulnerable to HIV with accurate and meaningful information about their social, sexual, and reproductive health" — took to the stage before Kawata spoke and protested.
"I'm so happy today as a gay black man to be able to say that U = U," said Roscoe Boyd of Detroit. "I've been taking my medication every day and because of that I cannot transmit the virus to my partner. That empowers me to live a life that's full and free."
AIDS Alabama CEO Kathie Hiers echoed Boyd when she spoke.
"If you are undetectable. you are not a danger," said Hiers. "You can have a healthy sex life. you can have babies. the sky is the limit."
Fauci on Saturday noted his support for the campaign.
"The science does really verify and validate that U = U," he said.
Conference organizers on Friday allowed a group of five transgender rights advocates who interrupted a plenary to speak on the stage for nearly 20 minutes. One man who attended Saturday's plenary interrupted Kawata and criticized conference organizers for not providing "space for the Latino community."
"You call this a family reunion, but I have not seen one Latino voice on that main stage," said the man, who did not identify himself. "It's very heartbreaking to come here once again and not see a Latino presence on the main stage."
"Our people are hurting too," he added. "We're brown and undocumented. we're brown and gay. we're brown, gay and undocumented . . . our voice is important."
Kawata acknowledged the man from the stage after he stopped speaking.
"Thank you for standing up and speaking your truth," said Kawata. "Thank you for speaking up and for holding me accountable."
The director of the National Institute of Allergy and Infections Diseases at the National Institutes of Health on Saturday said more resources need to be devoted to ending the global HIV/AIDS epidemic.
Federal blood donation study recruiting gay, bi men
The study is aimed at assessing the individual risk of a gay or bisexual man transmitting HIV if they donate blood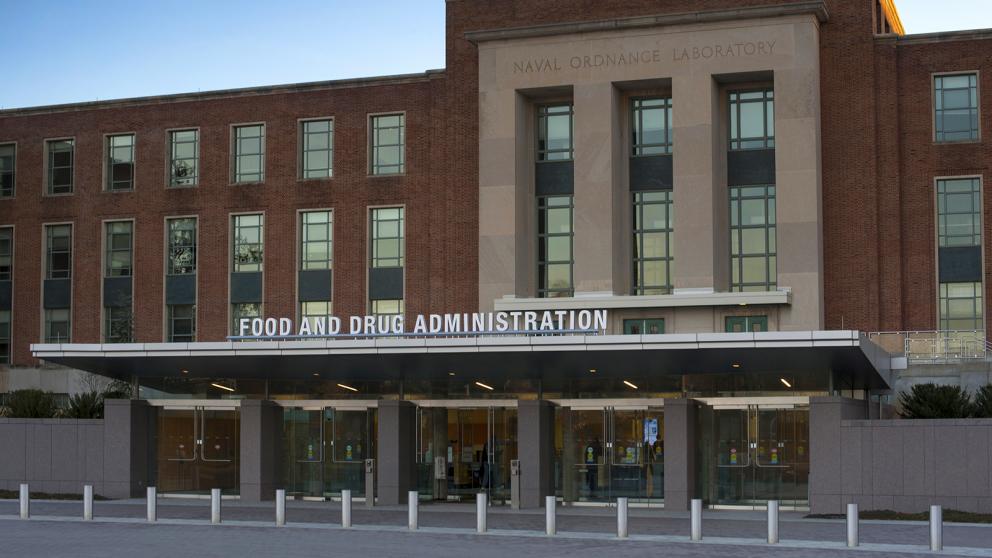 SILVER SPRING, Md. – Washington D.C.'s Whitman-Walker Institute and the Los Angeles LGBT Center are among LGBTQ supportive organizations in eight U.S. cities working with the nation's three largest blood donation centers on a study to find a way to significantly ease blood donation eligibility for men who have sex with men or MSM.
The study, which is funded by the U.S. Food and Drug Administration, calls for recruiting a total of 2,000 gay and bisexual men in eight U.S. cities selected for the study to test the reliability of a detailed donor history questionnaire aimed at assessing the individual risk of a gay or bisexual man transmitting HIV if they donate blood.
A statement released by the study organizers says the questionnaire, which could be given to a gay or bisexual person showing up at a blood donation site, could be a replacement for the FDA's current policy of banning men who have had sex with another man within the previous three months from donating blood.
In the early years of the AIDS epidemic in the 1980s, the FDA put in place a permanent ban on blood donations by men who have sex with men. In 2015, with advanced HIV testing and screening techniques readily available, the FDA lifted its permanent ban on MSM blood donations and replaced it with a 12-month restriction for sexual activity between MSM.
The FDA further reduced the time of sexual abstinence for MSM to three months in 2020.
LGBTQ rights organizations and others advocating for a change in the current FDA restriction point out that at a time when the nation is facing a severe shortage of blood donations due to the COVID pandemic, the three-month donation deferral requirement for MSM is preventing a large number of blood donations from men whose risk of HIV infection is low to nonexistent.
Under the FDA-funded and initiated study, the American Red Cross, Vitalant, and OneBlood — the nation's three largest blood donation centers — have been conducting the questionnaire testing since the study was launched in March 2021.
"To gather the necessary data, the blood centers will partner with LGBTQ+ Centers in Washington, D.C., San Francisco, Orlando, New Orleans/Baton Rouge, Miami, Memphis, Los Angeles, and Atlanta," the study organizers say in a statement on a website launched to help recruit volunteers for the study.
"The study will enroll a total of 2,000 gay and bisexual men (250 – 300 from each area) who meet the study eligibility criteria," the statement says.
Among the criteria for being eligible, the statement says, is the person must be between 18 and 39 years old, have expressed an interest in donating blood, must have had sex with at least one other man in the three months before joining the study, and must agree to an HIV test. A negative test result is also required for acceptance into the study.
The study is officially named ADVANCE, which stands for Assessing Donor Variability And New Concepts in Eligibility.
"The ADVANCE study is a first step in providing data that will help the FDA determine if a donor history questionnaire based on individual risk would be as effective as time-based deferral, in reducing the risk of HIV in the blood supply," the study organizers statement says.
"If the scientific evidence supports the use of the different questions, it could mean men who have sex with men who present to donate would be assessed based upon their own individual risk for HIV infection and not according to when their last sexual contact with another man occurred," the statement continues. "The ADVANCE study is groundbreaking because it's the first time a study is being conducted that could result in individual risk assessment for men who have sex with men to donate blood," the statement says.
The Whitman-Walker Institute, which is among the community-based organizations involved in helping organize and conduct the study, is an arm of Whitman-Walker Health, the LGBTQ supportive D.C. health center.
Christopher Cannon, director of Research Operations for Whitman-Walker Institute, said that since the D.C.-based part of the study was launched early last year prior to the official announcement of the study on March 20, D.C. has surpassed the original city goal of recruiting 250 participants for the study.
"We are currently at 276 as of last Friday's report," Cannon told the Blade in a Jan. 13 interview. "And the current goal is now 300," he said. "So, we're hoping to push this over that goal line in the coming days and weeks.
Cannon said that like the community organizations involved in the study in other cities, Whitman-Walker Institute's role has been focused on recruiting gay and bisexual men to participate in the study and to send them to the American Red Cross headquarters building at 430 17th St., N.W. near the White House. That site, which serves as a blood donation center, is also serving as the site where study participants are screened, interviewed, and presented with a detailed questionnaire.
"We promote the study within ," Cannon said. "We promote it to our networks. We did social media promotions across the city.'
Although Whitman-Walker doesn't have the final draft of the questionnaire being presented to study participants, Cannon said he has seen "bits and pieces" of it.
"They ask very direct questions about the person's sex life, sexual partners, sex acts, numbers of partners," Cannon said. "There are questions about condom use, PrEP use, drug use. How recently have you had sex? Lots of related questions," he said.
"It's really about trying to figure out effectively which are the best questions," according to Cannon. "The hope is by analyzing the questions and identifying maybe the best 10 to 12 questions that can be universally used…to get the best answers that identify the individuals that may have the highest risk," he said. Doing that, he points, out can help determine which men who have sex with men should be eligible to safely donate blood.
A statement released by Whitman-Walker last March calls the study a "monumental research effort" that has the potential to lift the stigma imposed on gay and bisexual men whose ability to donate blood is currently based on their sexual orientation.
"The ADVANCE study is designed to understand if, by asking carefully crafted and research-informed research questions, blood collectors can screen potential blood donors for their individual HIV risk factors rather than applying a ban against sexually active gay and bisexual men," the statement says.
"The goal is to move away from overly broad questions that exclude potential donors and spread stigmatizing messages about MSM and their HIV risks," it says.
Cannon said that as of last week, study organizers had recruited a total of 879 study participants nationwide out of the goal of 2,000 participants needed to complete the study. He said issues related to the COVID pandemic created delays in the recruitment efforts, but study organizers were hopeful the study could be completed by this summer.
Information about participating in the study or learning more about it can be obtained at advancestudy.org.