September 22, 2017 at 1:49 pm PDT | by Michael Jortner
Straight director takes on Tom of Finland
I'm speaking with Finnish film director Dome Karukoski via phone. He's in Europe shooting his new project, a biopic of "Lord of the Rings" author J.R.R. Tolkien.
"I'm in England," he says. "Unfortunately, I can't tell anything about that project other than that."
Luckily for us, "Tom of Finland," his recently completed feature telling the story of Finland's infamous homoerotic export, is a lot more accessible.
Finland's entry for the 2018 Academy Awards, having screened at Outfest this past July, will now premiere Oct. 13 in New York City, and Oct. 20 in San Francisco and Los Angeles (The Nuart). A national release will follow.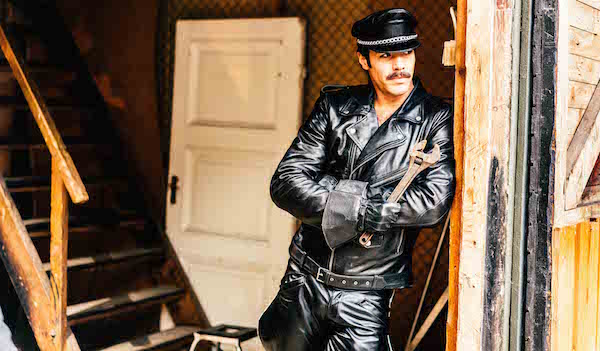 The film is really good – strong Finnish cast, traditional three-act structure, beautiful cinematography and some unique dialogue. When was the last time you heard a character declare, "My cock is the boss?"
Karukoski has always felt like he doesn't quite belong. It's a theme tying his oeuvre of seven feature films together. Yes, seven. And he's only 40.
"I've always done films about people who are longing to find a home, either spiritual or a complete home," Karukoski explained. "A lot of my characters have been outsiders."
Born on the island of Cyprus, he grew up in Finland. "I became bullied because I was an outsider. I traveled and I try to find a home, [but] it doesn't really help when you travel 200 days a year."
Touko Laaksonen (aka Tom of Finland) fought mightily for a home to call his own. He found it in the hills of Echo Park. Karukoski's film uses the contrast of dim white light in Helsinki with that of sunny LA to accentuate the point.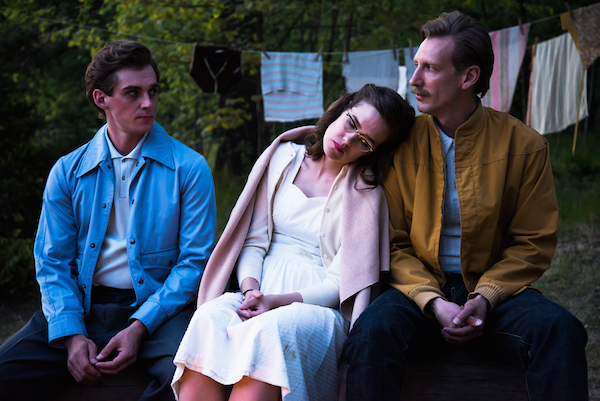 "How did Tom feel arriving in LA in the late 70s?" Karukoski wondered. "We wanted to portray [the] feelings that he's actually arriving into [a] movie world-slash-utopia."
"That must have felt like liberation for him because his community had to hide in Finland." The Nordic nation "was a really dark place at that time. It wasn't legal to be gay until 1971."
S.R. Sharp is vice president at the Tom of Finland Foundation. He and his "kinda like my boyfriend" Durk Dehner run what can only be called the largest and most passionate fan club for the erotic artist in the world.
"We're collaborators on the film," said Sharp. "We went with a Finnish production company for obvious reasons."
In some ways, Tom of Finland, like the artist himself, is the latest example of a fabulous Finnish export.
"Tom humbly admitted before he died," said Sharp, that "he had a global recognition in the queer community, but he didn't have very much recognition in Finland." In addition to petitioning the Finnish government for a Tom of Finland postage stamp (approved in 2014), the Foundation "just came back from a Finland 100 celebration in Stockholm. People are much more aware of Tom of Finland."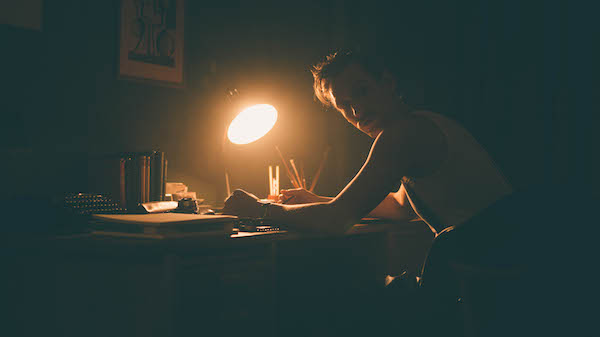 Karukoski, lead actor Pekka Strang, and the film's art director all made trips to "TOM House," as Sharp calls it, to bone up on what it was that made Tom tick.
"We pulled out work from the safe," Sharp said. "It's not framed. It's the actual paper." Even through the phone line Sharp's voice conveyed solemnity. The filmmakers "were able to experience how incredibly exquisite these pieces of work are."
Karukoski acknowledged this. "A lot of research was done [there]," he said. "Those were people that met Tom in the later part of his life, a lot of people that worked with him."
Actor Strang returns to LA for The Nuart premiere. Sharp has a wish. "Hopefully, he will be staying here at TOM House," he said. "He's been here a few times before, doing research…but I don't think he's stayed overnight…in Tom's bed."
If Strang brings his wife, that might be revolutionary.
Kake, a major, recurring character in Tom of Finland's work appears throughout the film as a private, only-seen-by-the-artist, tongue-in-cheeks (sorry) muse.
Described by specialty publisher Taschen, Kake is "a sort of post-Stonewall, hyper-masculine Johnny Appleseed traveling the world on his motorcycle to spread the seeds of liberated, mutually satisfying, ecstatically explicit gay sex."
"It's always a question of how do you show," Karukoski asked, "especially in films about artists, what's going on in the artist's head?"
Kake, which translates into "Butch" in English, is a fantasy character appearing throughout the movie. "The equivalent of the most beautiful man [Tom] can envision, [what] he wants every man to be."
Kake "was also an homage," said the director. "'I think that's something [Tom] would have valued."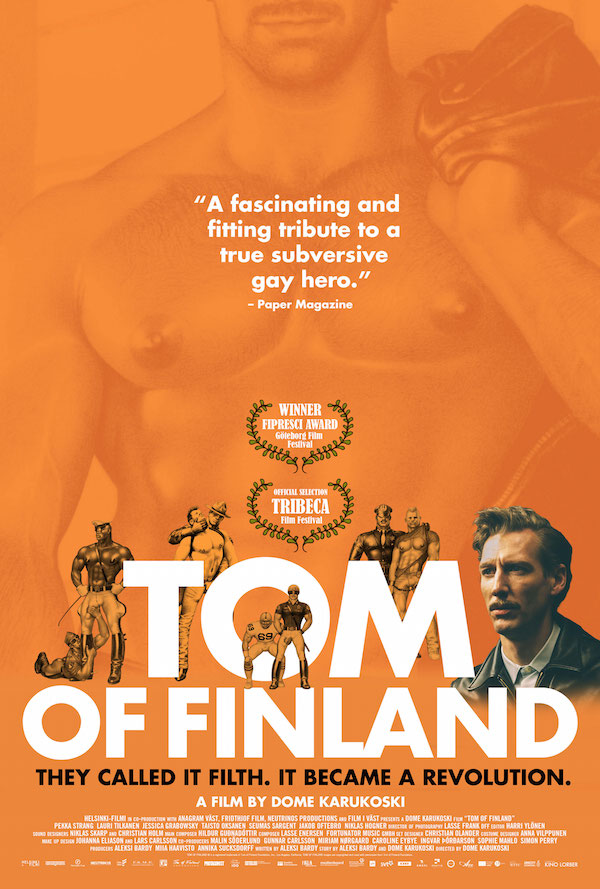 Karukoski is not casual about filmmaking. He's all about preparation.
Over a five-year period he traveled to the Tom of Finland Foundation. "You learn," Karukoski said. "When you are a straight director doing a film about a gay icon, you have to kind of rehearse your sensibility. You have to understand the beauty of a man's neck, a man's thighs, or the bulge…just the portraiture of a man." Even more plainly: "Basically, what is the appraisal of the dick?"
Karukoski got it right. His sexuality as director never intruded upon my experience viewing the film. I assumed he was gay. He's not. He has a son, Oliver, with his wife Nadia. They live in Helsinki most of the time.
"I'm a…How do you say?" Karukoski wondered. "I'm a straight guy…but I'm as gay as a straight guy can get."
Really?
"Part of the research is also watching hot guys," Karukoski admitted. "A lot, a lot of hot guys." The director felt compelled to understand how his hero looked at men. Apparently, there have been some long-lasting effects.
"This morning I was walking with my assistant," he said, "who's a woman." "We were walking in the studios and there's a really good-looking guy. I said to [her], in Finnish, 'That's a hot guy.'"
And she says, "I was just thinking the same thing."