Gay is Good!  So was 'Hef' 
1950s activist took advantages of the doors Hefner opened, leading to advances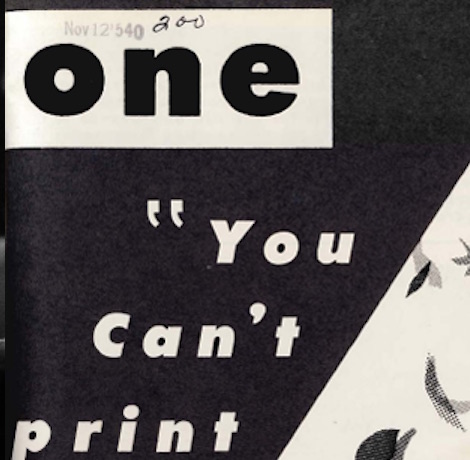 What can the passing of Hugh Hefner possibly mean to LGBT Americans? "Hef's" world at the Playboy mansion in Los Angeles was a dazzling Sixties mash of hetero sex and consumerism, in another universe from the world of supposed gay "deviance" and "perverts" targeted by American culture, psychiatry and politics of the era.  Playboy's debut issue featuring Marilyn Monroe was in 1953, the year President Eisenhower signed an Executive Order that defined gays and lesbians as "sexual perverts," banned from federal employment and civil equality for decades to come.
Two developments helped set in motion our liberation from this dark world:  access to the U.S. mail and Hugh Hefner's "Playboy Philosophy."
First, it was imperative LGBT publications gain complete access to the mail.  Otherwise, our speech and ideas would be declared "obscene" and confined to mimeograph bar-handouts and bulletin boards or to social organizations like LA's "Gay Girls Riding Club;" or the early Mattachine Society where the use of pseudonyms was the norm.  For the exercise of our First Amendment right to educate and persuade, publications had to defeat the U.S. Post Office—goaded on by FBI Director J. Edgar Hoover –which declared in 1954 that "ONE, The Homosexual Magazine" was obscene and unmailable, even though ONE carried no nude photography or drawings.
Thanks to the tenacity of ONE Inc and its superb pro bono Los Angeles attorney Eric Julber, the Supreme Court decided One Magazine's obscenity case in ONE's favor, allowing it to thrive as the leading gay magazine of ideas.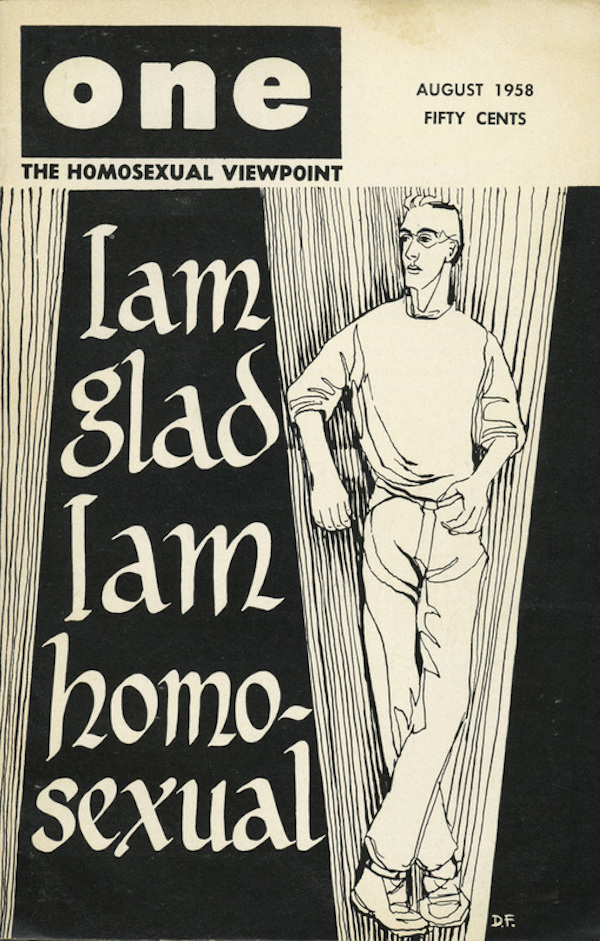 ONE launched in the same year as Playboy and fought the U.S. Post Office to the mat, with superb legal work backed by bold cover stories about its case.  Could any of this have been lost on Hugh Hefner?  I doubt it.  It is not a long walk to Playboy from ONE, if you are a capitalist publisher, as he was, of gorgeous nude photography reliant on the Postal Service in the 1950s.
But more than ravishing photography, Hefner had a ravishing idea:  the "Playboy Philosophy." He made Playboy about something larger than centerfolds.
"The Playboy Philosophy" challenged American Puritanism. It began with his "conviction of the importance of the individual in our increasingly standardized society, the privilege of all to think differently from one another and to promote new ideas and the right to hoot irreverently at the herders of sacred cows and keepers of stultifying tradition and taboo."
Hefner's "right to hoot irreverently" grew into a classically liberal, pro-science, anti-puritanical worldview that helped another pioneer lay the popular foundation for the LGBT civil rights movement, itself.
Gay civil rights pioneer Dr. Franklin E. Kameny understood Playboy and launched one of his trademark barrages of powerfully argued letters to The Playboy Forum. The Forum became "what may have been the country's most influential forum for the public discussion about homosexuality during this period," according to historian Mark Stein in his book, "Sexual Injustice."
And Frank Kameny took full advantage of it.
In the March 1969 issue, just months before the Stonewall riots, the Forum focused on whether a "cure" for homosexuality to "recondition sex deviants" was possible in therapy or a nightmare for patients.  Psychiatrists and psychologists like Dr. Gerald Davison, today a professor at the University of Southern California, and Dr. David Barlow, a past President of Clinical Psychology for the American Psychological Association (APA,) discussed this in a series of letters with homosexual groups and advocates like Kameny.
Barlow and Davison had been working at the time on a variety of behavioral aversive conditioning therapies to change sexual orientation. (Both have long since recanted and apologized to the LGBT community.)  The Forum questioned them "about the alleged cruelty of chemical and electrical aversion-therapy techniques." Barlow responded: "[Our therapy] seems an improvement over previous chemical and electrical techniques that, like early crude surgery, were sometimes painful."
Outraged, Kameny wrote, "There is no valid scientific evidence to show that homosexuality is a sickness, illness, neurosis or pathology of any kind."
Kameny concluded with his populist slogan for a new movement.  "Barlow and his professional colleagues would be of greater service to the harassed homosexual minority if they ceased to reinforce the negative value judgments of society and instead adopted a positive approach in which therapy for homosexuals would consist of instilling in him a sense of confident, self-acceptance so he could say with pride, "Gay is Good."
This is not to say that Playboy took Kameny's side. The Forum Editor ended the exchange with a final note that homosexuality is "a compulsion based on phobic reactions to heterosexual stimuli!"
True to the "Playboy Philosophy," the magazine and "Hef" had given Kameny his introduction to a national audience for "Gay is Good."
Two months after publication, an Assistant Editor of the Forum circled back to Kameny with an offer to share with him "Xerox copies of replies to your letter." Kameny accepted that offer and one can read those anguished responses today at the Library of Congress in Washington, D.C.
Kameny prevailed. Then came Stonewall.
—  Charles Francis is President of The Mattachine Society of Washington, D.C., a history society that conducts original archival research, in partnership with pro bono legal counsel McDermott Will & Emery, into the forgotten or erased LGBT political past.
How twisted and amoral has America become?
We will all die in some version of stone cold obscurity if we let compassion die quietly. Silence Still = Death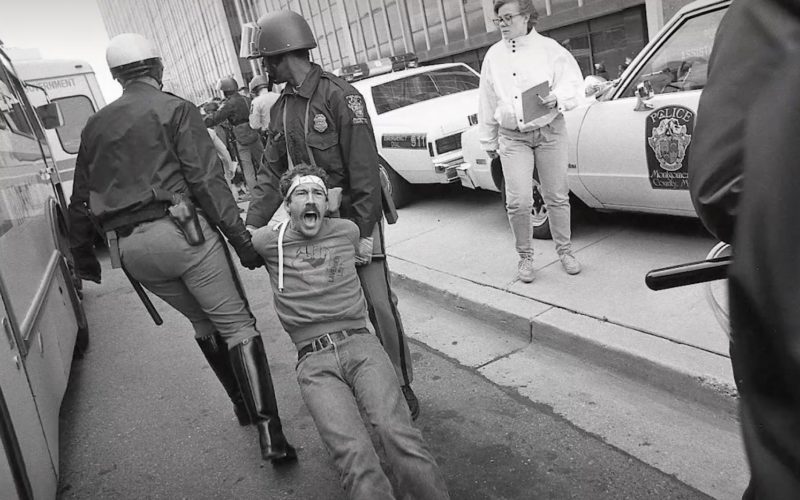 By Karen Ocamb | WEST HOLLYWOOD – Dec. 1, 2021 – a date that will live in infamy for so many reasons, not the least of which is the announcement of the new Omicron variant coronavirus case in the US.
Yesterday, the Los Angeles Times reported it's in LA. The Times also reported: "The Omicron variant, now present in at least 23 countries around the world, was probably incubated in the body of a person with an immune system battered by HIV or another immune-compromising condition that can cause a prolonged coronavirus infection, according to the South African scientist who detected the fast-spreading genetic mutant."
From the beginning of COVID, those of us with some familiarity with the AIDS crisis have been stunned by the odd similarities. COVID is, in fact, the mysterious fatal airborne disease everyone first thought HIV/AIDS was.
Remember how people panicked and were afraid to be in the same space, touch an object owned by a person with AIDS, share a cigarette or a straw or eating utensils with someone infected with HIV lest the user catch AIDS? Eventually, the CDC said that's not how HIV is transmitted – it's not airborne.
Nonetheless, people with HIV/AIDS were stigmatized, shamed and ostracized – which is why we had to take care of our own. Today, the CDC is begging the public to recognize that COVID and its variants ARE airborne and easily transmitted. But instead of panic, too many Americans inconceivably believe wearing a mask to protect themselves and others somehow deprives them of their freedom.
And scientists tethered to the so-far fruitless search for an HIV/AIDS vaccine applied that work to creating COVID vaccines with unprecedented speed – which has been met with loud hostile protests from millions of anti-vaxxers who search Google for remedies that conform to their conspiracy theories.
This is just mind-boggling to those of us who witnessed, protested and survived the AIDS crisis. I vividly remember the shouting match that broke out between Project Inform's Martin Delaney and Being Alive's Dave Johnson in 1989 over who should get experimental HIV drugs first as the foot-dragging FDA started to consider compassionate release of experimental AIDS drugs on a parallel track while continuing their efficacy tests.
Delaney was in West Hollywood to discuss the very controversial drug Compound Q that Jim Corti smuggled out of China. Despite some dire news reports, gay men clinging to life were clamoring to get into Delaney's trials. Desperation was choking the hope out of everyone in that WeHo Park Auditorium as HIV-negative Delaney and HIV-positive Johnson debated whether experimental AIDS drugs should be triaged so only those with the best chance of getting better should get the drugs first or they should go to the people closest to death.
Let that sink in. West Hollywood Park Auditorium was the frontline bunker in a virtual war zone with young gay squad leaders arguing over who gets saved and who's left to die.
This Dec. 1, World AIDS Day, occurred during the 40th anniversary of the first CDC article announcing the arrival HIV/AIDS. Among the many commemorations by AIDS Healthcare Foundation, APLA Health, The Wall Las Memorias, In The Meantime Men, and the AIDS Monument in WeHo — ACT UP/LA announced they are creating a new oral history project (see actupla.org), including leader Mark Kostopolous (h/t Ann Bradley).
In a press release, ACT UP/LA recalled: "Activists took a stand to confront and demand redress of attitudes like those of Los Angeles County Supervisor Pete Schabarum, when he dismissed the recommendations of the County AIDS Commission [demanding an AIDS Ward at County Hospital] stating: "If you were to poll the man on the street, I think you would find the vast majority of the public really has no interest in the subject of AIDS and certainly could care less about the public financing, the needed programs that you've articulated."
But we cared. And in addition to protesting, pushing elected officials and creating institutions and agencies to meet the needs, we loved and took care of our brothers and sisters in a thousand small ways.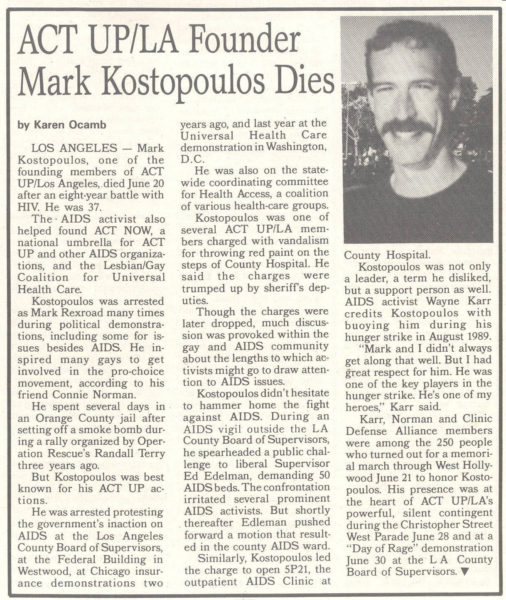 Allen is but one gay man whose name has been lost to all but his Latino lover. I knew Allen from our shared 12 Step program. One night he called in a panic, crying because he'd thrown up and soiled himself. His partner and his partner's mother – who didn't like Allen – were out for a dinner break in Silver Lake. I jumped in the car and dashed over. The lover left the door open in case paramedics needed to be called. Allen was so humiliated and afraid, he would have sunk into the bed and disappeared if he could have.
As I cleaned him up and gagged over the vomit on the floor, he kept apologizing for being a burden. And then he started talking about how he knew he was dying but couldn't talk to his partner about it. His partner was having difficulty watching Allen waste away, not knowing how to make it all stop and go back to their glorious time together. I just listened and stroked Allen's arm and wiped his fevered brow.
The partner and the mother were shocked to see me when they walked in, almost as if I was an intruder. As I explained why I was there, I could see Allen go from being happy to see them to looking like he was a hostage with Stockholm Syndrome. I stroked his hair back from his forehead as I said goodbye. He thanked me with his frightened eyes. I never saw or heard from or about him again.
Cut to today. So far, 777,000 people have died from COVID and its variants since the first case in California in Feb. 2020. To repeat: of 48.1 million COVID cases, 777,000 have DIED in 22 months, most in obscurity like Allen. Where's the protest? How twisted and amoral has America become?
We will all die in some version of stone cold obscurity if we let compassion die quietly. Silence Still = Death.
ACT UP Los Angeles Oral History Project
***********************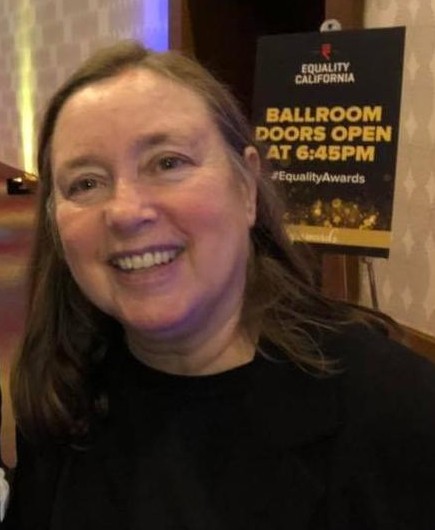 The end of LGBTQ+ rights is maybe here
The court is signaling that we are returning to a time where "community morals" are sufficient basis for law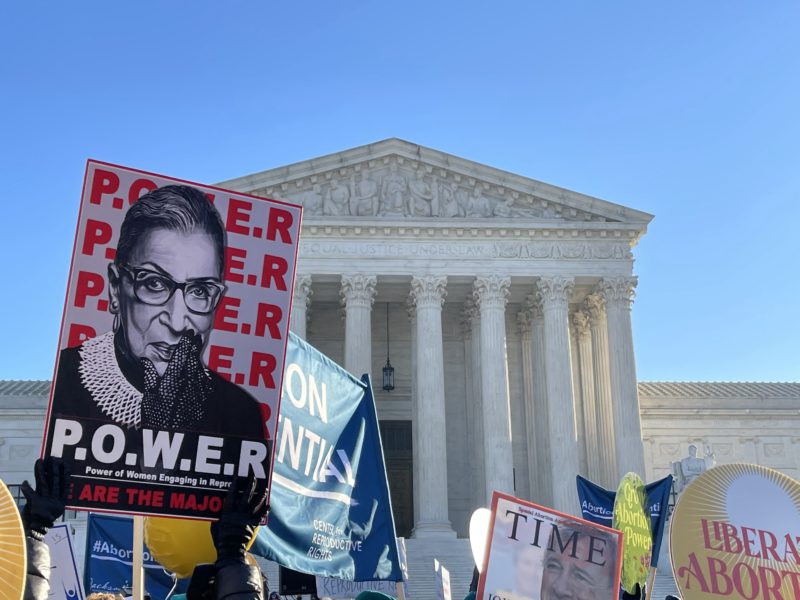 By Brynn Tannehill | FAIRFAX COUNTY, Va. – On Wednesday, December 1, 2021 the U.S. Supreme Court heard oral arguments in the case of Dobbs v. Jackson on whether to uphold Mississippi's ban on abortions after 15 weeks. This would effectively overturn Roe v. Wade, which holds that states cannot limit access to abortion "pre-viability".
The court appears poised to either overturn Roe v. Wade, or render it moot. This would reverse 50 years of precedent in the U.S..
It is also a sign that LGBTQ+ rights in the U.S are about to go backwards as quickly and irrevocably. During arguments, Associate Justice Brett Kavanaugh asked, "Why should this court be the arbiter rather than Congress, the state legislatures, state supreme courts, the people being able to resolve this?" He also suggested that the court should, "return to a position of neutrality on that contentious social issue rather than continuing to pick sides…"
The conservative majority of the court is declaring that anything that remains controversial should be overturned and kicked back to the states (or Congress) to be decided. Associate Justice Sonia Sotomayor noted under this theory cases like Obergefell (marriage equality) and Griswold (access to contraception) would have to be overturned as well.
The Mississippi solicitor general hand-waved away these questions by claiming that Obergefell was no longer controversial, so there would be no push to overturn it.
This is a lie, however. An amicus brief in Dobbs v. Jackson, submitted by the former Texas Solicitor General Jonathan Mitchell (one of the architects of Texas "abortion bounties" law), explicitly calls for the court to overturn Roe v. Wade, and Obergefell, Lawrence v. Texas, and Griswold along with it under the same legal theories.
Twelve states have "trigger laws" banning abortion that will go into effect the moment that Roe v. Wade is overturned. Similarly, 31 states still have laws or constitutional amendments banning same-sex marriage on the books that would go back into effect if Obergefell goes down, including California, Oregon, Colorado, and Virginia.
Fourteen states still have anti-sodomy laws that would make gay sexual relations illegal again if Lawrence is overturned.
Given that the bans on abortion are primarily based on religious beliefs, the court is signaling that we are returning to a time where "community morals" are sufficient basis for law, and that the Supreme Court will be reluctant to intervene.
Given that deceased anti-gay Associate Justice Antonin Scalia decried legalizing consensual sex between adults as a matter of equal rights or fairness, "The law is constantly based on notions of morality," he opined.
We are now at a moment where Scalia's vision of the law is dominant at the Supreme Court. Obergefell rests on Lawrence rests on Roe rests on Griswold. With Roe gone or rendered impotent, the house of cards will almost certainly fall, Pandora's Box will open, and all the horrors in hell will pour out of it.
States like Texas would dearly love to overturn Obergefell and will almost certainly file to do so within weeks of the court releasing its decision in the Summer of 2022. This sets us on a course for Obergefell to be overturned in 2024, and Lawrence a few years later.
Conservative states would also target the 1996 case of Romer v. Evans, which ruled that states cannot pass laws targeting minorities without a rational basis beyond "community morals". With these re-established as a basis for law, Romer is probably doomed as well, allowing red states to pass all sorts of nasty laws that deliberately target LGBTQ+ people.
For example, they could pass laws banning transition related care for all trans people, not just youth. Or, they could pass a law forbidding the state, or state contractors, from hiring "known homosexuals". Or create a special "potential sex offender" list for anyone diagnosed with gender dysphoria and make most health care professionals and teachers mandatory reporters.
The list of potential horrors once Obergefell, Lawrence, and Romer are gone is almost endless. All three of them are almost certainly doomed if the signals we're getting from the court are an accurate indication.
It's reasonable to believe all three will be gone by 2028, if not sooner. When they're gone, the only thing preventing states dominated by the GOP from going for the metaphorical jugular is if they somehow, inexplicably, decide that they're going to tolerate LGBTQ+ people in their midst, when they don't have to.

Our community's continued existence is counting on the GOP to collectively develop empathy for us and forgo the chance to "Make America Great Again" by going back to 1954 when queers had no rights and were all confined to the closet.
That's a sucker's bet if I ever saw one.
*********************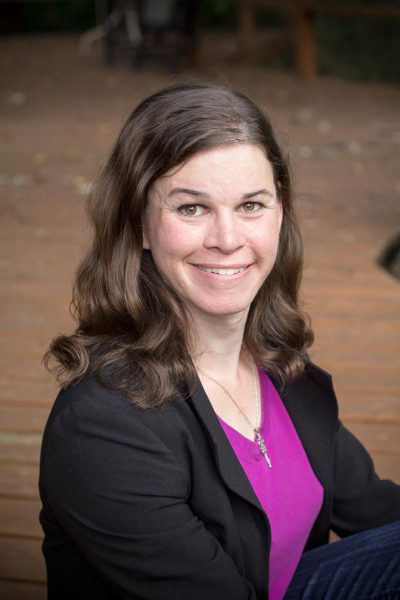 Brynn Tannehill is a senior analyst at a Washington D.C. area think-tank, and is the author of "American Fascism: How the GOP is Subverting Democracy."
Abortion access is an LGBTQ+ issue
The anti-abortion movement is about controlling the bodies of women. It's about controlling the bodies of trans folks and nonbinary people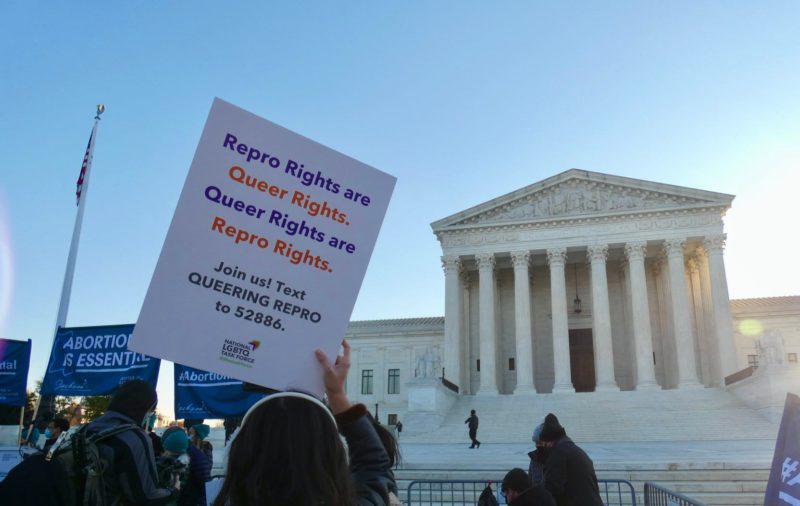 By Tony Hoang | LOS ANGELES – On Wednesday, the State of Mississippi asked the U.S. Supreme Court to overturn Roe v. Wade — the landmark 1973 decision that affirmed a constitutional right to privacy and protected abortion access in America for the last five decades.
This is not the first challenge Roe has faced at the Supreme Court. But given the 6-3 conservative majority on the court, the Mississippi case is the gravest threat Roe has faced in decades.
This window of opportunity to overturn Roe has prompted anti-abortion extremists have worked overtime to pass extreme new laws limiting abortion access all across the country this year — with state legislatures passing a record-breaking 106 new abortion restrictions. And this September, Texas implemented the nation's most extreme abortion law since 1973, effectively banning all abortions after six weeks of pregnancy.
Preventing abortion access and abortion care would have devastating consequences – especially for the LGBTQ+ community.
LGBTQ+ people who can get pregnant — which may include lesbian and bi+ women, transmasculine people and nonbinary people — need access to safe, legal abortion care. They need access to contraception, HIV testing and treatment and pregnancy care. The right to access all of these essential health services is protected by Roe and the fundamental right to privacy.
Indeed, LGBTQ+ community — especially people of color — face disproportionate rates of discrimination and violence. Studies suggest that around half of transgender people and bisexual women will experience sexual violence at some point in their lifetimes. The Mississipi abortion law, which bans most abortions after 15 weeks, significantly before fetal viability, would not allow survivors of sexual assualt enough time to make a critical life-altering decision.
But that's not all — Roe v. Wade also serves as the constitutional foundation for other LGBTQ+ civil rights. The Court relied heavily on precedent set by Roe when it decided Lawrence v. Texas, the ruling that overturned so-called "sodomy laws" — laws that criminalized LGBTQ+ relationships.— in states across America. Roe and Lawrence in turn fueled two decades of Court decisions safeguarding the civil rights of LGBTQ+ Americans.
LGBTQ+ people — especially those who are low-income or live in rural areas — also rely on the same clinics that anti-abortion extremists are trying to shut down, often as the only affordable provider of culturally competent basic medical care, reproductive healthcare, gender-affirming care and more. If these clinics are shuttered because of extreme anti-abortion restrictions, millions of people won't just lose access to abortion — they'll lose access to other affordable and affirming services, including cancer screenings, STI testing and treatment and gender-affirming healthcare.
Just two months ago in October, supporters poured into the streets in cities across the country to protest Texas's extreme abortion ban. In Los Angeles, Equality California and Planned Parenthood Advocacy Program Los Angeles County, along with Planned Parenthood affiliates everywhere turned out thousands in support of reproductive freedom.
Let's be clear, most anti-abortion extremists aren't trying to protect life. If they were, they'd advocate for nutrition assistance and affordable childcare, expanded access to healthcare, gun safety reform and an end to the barbaric death penalty. They certainly wouldn't pass legislation that endangers the lives of women and people who give birth — as experts warn the Texas ban does.
The anti-abortion movement is about controlling the bodies of women. It's about controlling the bodies of trans folks and nonbinary people. And if we allow far-right extremists to control pregnant people's bodies — to deny them basic agency over themselves — then where does that control stop?
As Justice Sonia Sotomayor incredulously asked during yesterday's arguments, "Will this institution survive the stench that [overturning Roe v. Wade] creates in the public perception that the Constitution and its reading are just political acts?"
Abortion access is a women's issue. But it's also an LGBTQ+ issue. It's a gender equity issue, a racial justice issue and an issue of economic empowerment. It's an issue for which no one can afford to sit on the sidelines because our democracy is not a spectator sport.
If the U.S. Supreme Court won't protect reproductive freedom and access to abortion, then Congress must act immediately to pass the Women's Health Protection Act. And voters should hold those who fail to act or stand in the way accountable.
Eighty percent of Americans — and majorities of both major political parties — support legal abortion. One in three women will access abortion care in her life. There's no question that the American people have the power to safeguard abortion in America. The question is: will we use it?
********************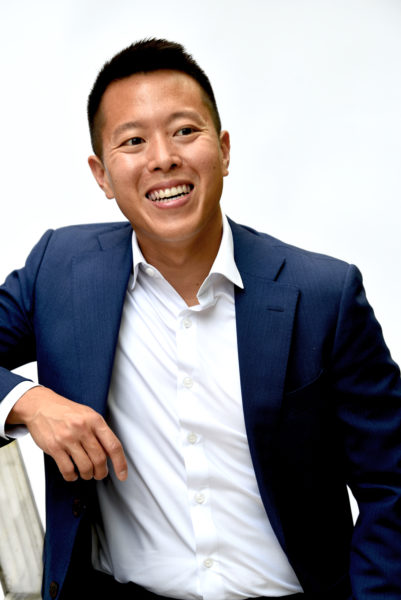 Tony Hoang is the Executive Director of Equality California, the nation's largest statewide LGBTQ+ civil rights organization.