Gay is Good!  So was 'Hef' 
1950s activist took advantages of the doors Hefner opened, leading to advances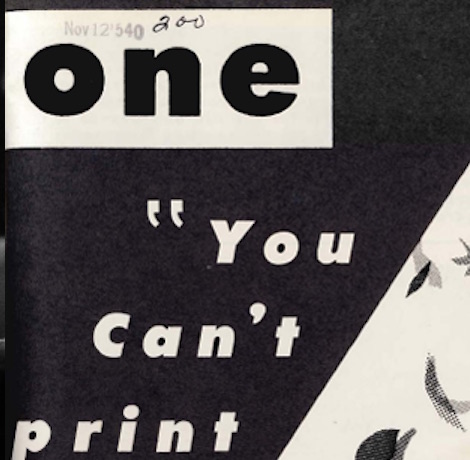 What can the passing of Hugh Hefner possibly mean to LGBT Americans? "Hef's" world at the Playboy mansion in Los Angeles was a dazzling Sixties mash of hetero sex and consumerism, in another universe from the world of supposed gay "deviance" and "perverts" targeted by American culture, psychiatry and politics of the era.  Playboy's debut issue featuring Marilyn Monroe was in 1953, the year President Eisenhower signed an Executive Order that defined gays and lesbians as "sexual perverts," banned from federal employment and civil equality for decades to come.
Two developments helped set in motion our liberation from this dark world:  access to the U.S. mail and Hugh Hefner's "Playboy Philosophy."
First, it was imperative LGBT publications gain complete access to the mail.  Otherwise, our speech and ideas would be declared "obscene" and confined to mimeograph bar-handouts and bulletin boards or to social organizations like LA's "Gay Girls Riding Club;" or the early Mattachine Society where the use of pseudonyms was the norm.  For the exercise of our First Amendment right to educate and persuade, publications had to defeat the U.S. Post Office—goaded on by FBI Director J. Edgar Hoover –which declared in 1954 that "ONE, The Homosexual Magazine" was obscene and unmailable, even though ONE carried no nude photography or drawings.
Thanks to the tenacity of ONE Inc and its superb pro bono Los Angeles attorney Eric Julber, the Supreme Court decided One Magazine's obscenity case in ONE's favor, allowing it to thrive as the leading gay magazine of ideas.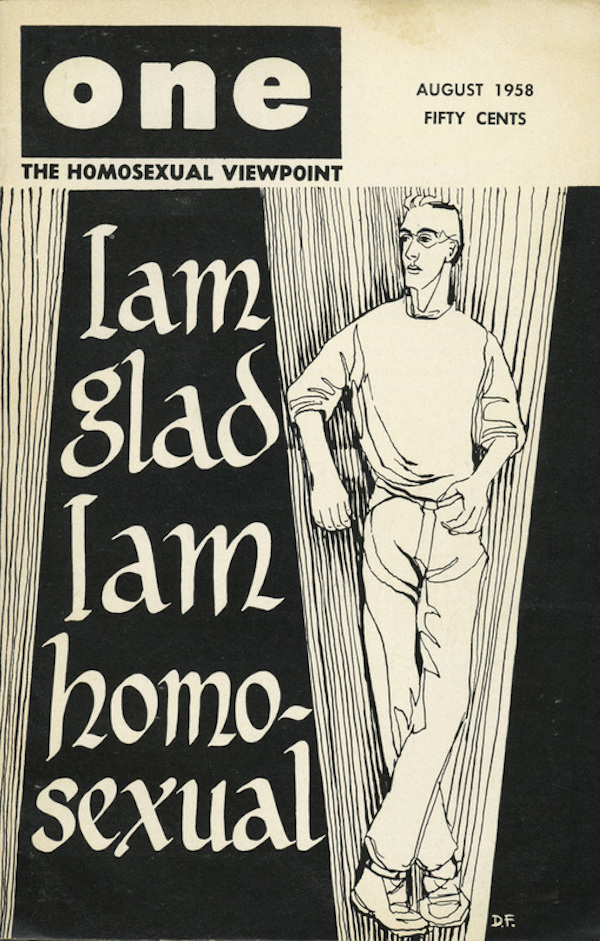 ONE launched in the same year as Playboy and fought the U.S. Post Office to the mat, with superb legal work backed by bold cover stories about its case.  Could any of this have been lost on Hugh Hefner?  I doubt it.  It is not a long walk to Playboy from ONE, if you are a capitalist publisher, as he was, of gorgeous nude photography reliant on the Postal Service in the 1950s.
But more than ravishing photography, Hefner had a ravishing idea:  the "Playboy Philosophy." He made Playboy about something larger than centerfolds.
"The Playboy Philosophy" challenged American Puritanism. It began with his "conviction of the importance of the individual in our increasingly standardized society, the privilege of all to think differently from one another and to promote new ideas and the right to hoot irreverently at the herders of sacred cows and keepers of stultifying tradition and taboo."
Hefner's "right to hoot irreverently" grew into a classically liberal, pro-science, anti-puritanical worldview that helped another pioneer lay the popular foundation for the LGBT civil rights movement, itself.
Gay civil rights pioneer Dr. Franklin E. Kameny understood Playboy and launched one of his trademark barrages of powerfully argued letters to The Playboy Forum. The Forum became "what may have been the country's most influential forum for the public discussion about homosexuality during this period," according to historian Mark Stein in his book, "Sexual Injustice."
And Frank Kameny took full advantage of it.
In the March 1969 issue, just months before the Stonewall riots, the Forum focused on whether a "cure" for homosexuality to "recondition sex deviants" was possible in therapy or a nightmare for patients.  Psychiatrists and psychologists like Dr. Gerald Davison, today a professor at the University of Southern California, and Dr. David Barlow, a past President of Clinical Psychology for the American Psychological Association (APA,) discussed this in a series of letters with homosexual groups and advocates like Kameny.
Barlow and Davison had been working at the time on a variety of behavioral aversive conditioning therapies to change sexual orientation. (Both have long since recanted and apologized to the LGBT community.)  The Forum questioned them "about the alleged cruelty of chemical and electrical aversion-therapy techniques." Barlow responded: "[Our therapy] seems an improvement over previous chemical and electrical techniques that, like early crude surgery, were sometimes painful."
Outraged, Kameny wrote, "There is no valid scientific evidence to show that homosexuality is a sickness, illness, neurosis or pathology of any kind."
Kameny concluded with his populist slogan for a new movement.  "Barlow and his professional colleagues would be of greater service to the harassed homosexual minority if they ceased to reinforce the negative value judgments of society and instead adopted a positive approach in which therapy for homosexuals would consist of instilling in him a sense of confident, self-acceptance so he could say with pride, "Gay is Good."
This is not to say that Playboy took Kameny's side. The Forum Editor ended the exchange with a final note that homosexuality is "a compulsion based on phobic reactions to heterosexual stimuli!"
True to the "Playboy Philosophy," the magazine and "Hef" had given Kameny his introduction to a national audience for "Gay is Good."
Two months after publication, an Assistant Editor of the Forum circled back to Kameny with an offer to share with him "Xerox copies of replies to your letter." Kameny accepted that offer and one can read those anguished responses today at the Library of Congress in Washington, D.C.
Kameny prevailed. Then came Stonewall.
—  Charles Francis is President of The Mattachine Society of Washington, D.C., a history society that conducts original archival research, in partnership with pro bono legal counsel McDermott Will & Emery, into the forgotten or erased LGBT political past.
The people I remember on Trans Day of Remembrance
Brianna Ghey, Eden Knight, and Ariyanna Mitchell all lost their lives because they dared show the world who they were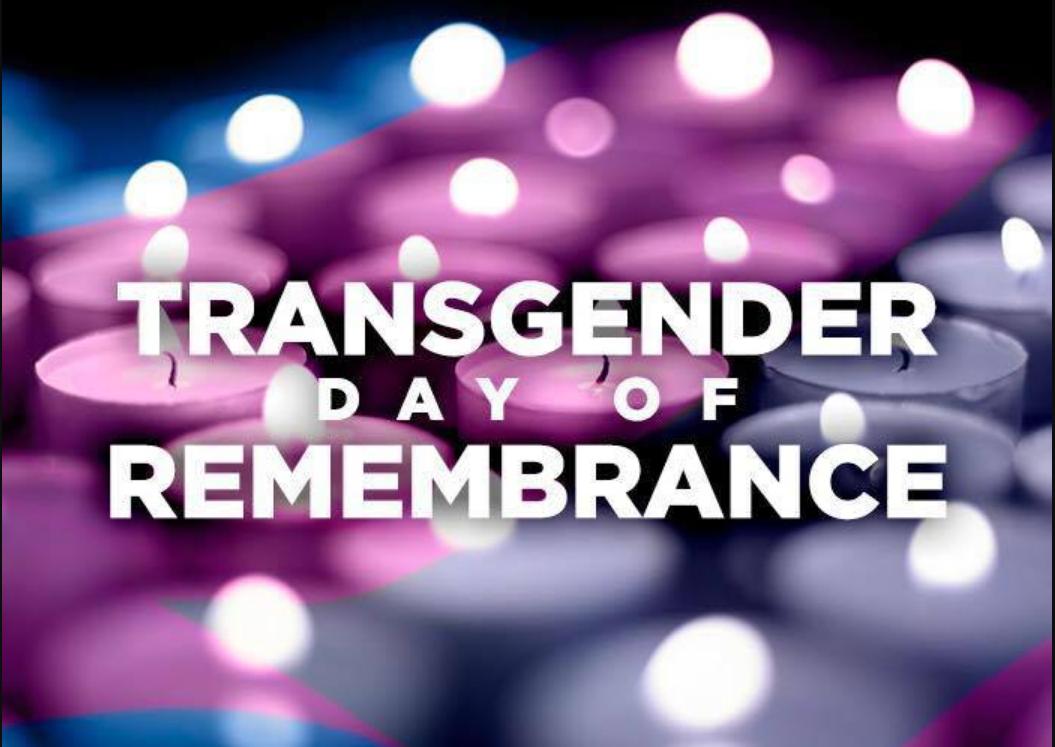 By Erin Reed | MISSOULA, Mt. – Whenever I travel from state to state to discuss the latest wave of anti-trans legislation, one of the most common questions I am asked is about the people who made the biggest impact on me. I never answer with the names of famous politicians or influential activists.
Instead, I think back to the stories of the people we lost along the way in pursuit of a world where transgender people can feel safe and dignified. Brianna Ghey, a young British trans girl who had been heavily bullied, who was murdered on her walk back from a local park. Eden Knight, who successfully escaped brutal oppression in Saudi Arabia by fleeing to the United States, only to be trafficked back there, leading to her suicide. Ariyanna Mitchell, a trans girl, who was gunned down at a party after she was asked about her gender identity.
Every transgender person you meet has lost someone; most of us have lost many. This is a reality I believe is often misunderstood by most cisgender individuals. The cold statistics of suicides and murder rates, frequently cited in studies and debates against right-wing media figures, can obscure the personal impact.
For us, these statistics represent living, breathing individuals we knew: Discord users whose status no longer turns green, phone numbers that will never send another text or call, faces in photographs that resurface every November 20th, only to be gradually overshadowed by newer images of more people who we've lost.
On days like today, my thoughts turn to Ariyanna Mitchell, a vibrant and beautiful young black teenager who excelled in dancing. Cherished by her friends, Ariyanna's courage shone brightly when a gunman invaded the party she was attending. Bravely stepping between the assailant and her fellow partygoers, she was asked about her gender: "Are you a boy or a girl?" Tragically, her response led to her being shot. Ariyanna's only 'crime' was protecting those around her while embracing her true self. She was just 17 years old.
Ariyanna's story brings to mind the numerous 17-year-old transgender individuals I've met while speaking with parents. Witnessing the joy on their faces upon being recognized for who they truly are is a profound experience. I've seen parents who, after a journey of understanding, not only accept but also celebrate their child's gender identity. Reflecting on my own days as a 17-year-old, unable to transition, I think about our collective efforts to create a world where young people like Ariyanna could freely do so. The injustice of stripping away such joy and light from a person is immeasurably cruel.
In March 2023, I learned about a transgender girl named Eden Knight who tragically took her own life in Saudi Arabia. Her story went viral as numerous trans individuals who knew her turned to Twitter, pleading for media coverage of her death. This story resonates with me profoundly because, when mainstream media failed to amplify her friends' voices, they approached me, hoping I could bring her story to light. I did just that when I became the first journalist to cover her story, a story that would leave a mark on me for the rest of my career. The narrative they shared about Eden was both beautiful and heart-wrenching. As I listened and wept, I connected with those who had witnessed her vibrant life and felt the profound injustice of its loss.
Eden Knight was the daughter of a wealthy Saudia Arabian official. When she went to school in the United States, she came out as transgender, and quickly realized that her identity was incompatible with a government that refuses to recognize the existence of transgender people and incompatible with her father's role in that government. So she fled, transitioned, and was fully embraced by her queer friends and family.
Eden Knight's intention to seek asylum was tragically undermined. Her hopes were shattered when she was allegedly lured back to Washington, D.C., by two American fixers, Michael Pocalyko and Ellen Cole. Subsequently, she was sent back to Saudi Arabia, where she faced the terrifying ordeal of forced detransition. The anguish of being forced off of her medication and forced into a male identity proved too overwhelming, leading to her taking her own life. Eden left behind a community that had stood with her throughout her entire ordeal and had grown to love her. Her memory is a driving force in our continued fight against such injustices.
In February of this last year, news made it around the world of a young teen trans girl who was murdered on her walk through a park. Brianna Ghey, a 16 year old girl who made TikToks about her day to day life set to beautiful music, had her life taken by two people her same age. We would later learn that she was heavily bullied in school. When news of her death became widespread, her videos became makeshift memorials with millions of likes. Her life and the way that it was taken shook the community.
Her death did not occur in a vacuum. In the years surrounding her death, the United Kingdom had become a harsh place for trans people. Trans youth like her face waiting lists for medication that can be up to 20 years long. Legal documents are impossible to obtain for those under 18, and the dignity of trans people is debated daily in the UK Media. Just before he death, Scotland passed a measure that would have lowered the minimum age for legal gender recognition to 16 years old… this would have been old enough for Brianna to be recognized. However, the United Kingdom overturned Scotland's efforts and kept its own age for gender recognition as 18 years of age. As such, Brianna Ghey's death certificate officially recorded her as male. Sadly, the government rejected a campaign with the hashtag #DignityForbrianna which would have given her posthumous gender recognition.
On Trans Day of Remembrance, we remember Brianna for who she actually was. We remember her gender, regardless of what final indignity her government did to her. We remember all the lives lost, and all of the people who were misgendered in their deaths by their family or on their official documents. We remember these things to try to make the world better for kids like her. In an interview with Vice, one of her close friends stated, "If Bri would have wanted anything from her passing, it would be change."
Each of these stories has profoundly impacted me. They all depict trans individuals enduring injustices that remain unresolved. Today, black trans women continue to face rampant violence, with gun violence affecting them disproportionately. The misgendering of trans individuals in death reports persists, a situation worsened by recent legislative actions in states like Montana and Kansas, where laws mandate the incorrect legal gender designation for trans individuals.
The neglect of trans and queer refugees continues, and the same system that facilitated Eden Knight's tragic trafficking out of the United States remains in place. Currently, thousands of trans youths are being forced into detransition by laws banning their care, enduring the same trauma as Eden. Our efforts must persist until the day we no longer need to add another photograph to the memorial of those lost to such injustices on the day we honor the memory of the trans individuals who are no longer with us.
*************************************************************************************
Erin Reed is a transgender woman (she/her pronouns) and researcher who tracks anti-LGBTQ+ legislation around the world and helps people become better advocates for their queer family, friends, colleagues, and community. Reed also is a social media consultant and public speaker.
Follow her on Twitter (Link)
Website here: https://www.erininthemorning.com/
******************************************************************************************
The preceding article was first published at Erin In The Morning and is republished with permission.