September 29, 2017 at 5:25 pm PDT | by Charles Francis
Gay is Good!  So was 'Hef' 
What can the passing of Hugh Hefner possibly mean to LGBT Americans? "Hef's" world at the Playboy mansion in Los Angeles was a dazzling Sixties mash of hetero sex and consumerism, in another universe from the world of supposed gay "deviance" and "perverts" targeted by American culture, psychiatry and politics of the era.  Playboy's debut issue featuring Marilyn Monroe was in 1953, the year President Eisenhower signed an Executive Order that defined gays and lesbians as "sexual perverts," banned from federal employment and civil equality for decades to come.
Two developments helped set in motion our liberation from this dark world:  access to the U.S. mail and Hugh Hefner's "Playboy Philosophy."
First, it was imperative LGBT publications gain complete access to the mail.  Otherwise, our speech and ideas would be declared "obscene" and confined to mimeograph bar-handouts and bulletin boards or to social organizations like LA's "Gay Girls Riding Club;" or the early Mattachine Society where the use of pseudonyms was the norm.  For the exercise of our First Amendment right to educate and persuade, publications had to defeat the U.S. Post Office—goaded on by FBI Director J. Edgar Hoover –which declared in 1954 that "ONE, The Homosexual Magazine" was obscene and unmailable, even though ONE carried no nude photography or drawings.
Thanks to the tenacity of ONE Inc and its superb pro bono Los Angeles attorney Eric Julber, the Supreme Court decided One Magazine's obscenity case in ONE's favor, allowing it to thrive as the leading gay magazine of ideas.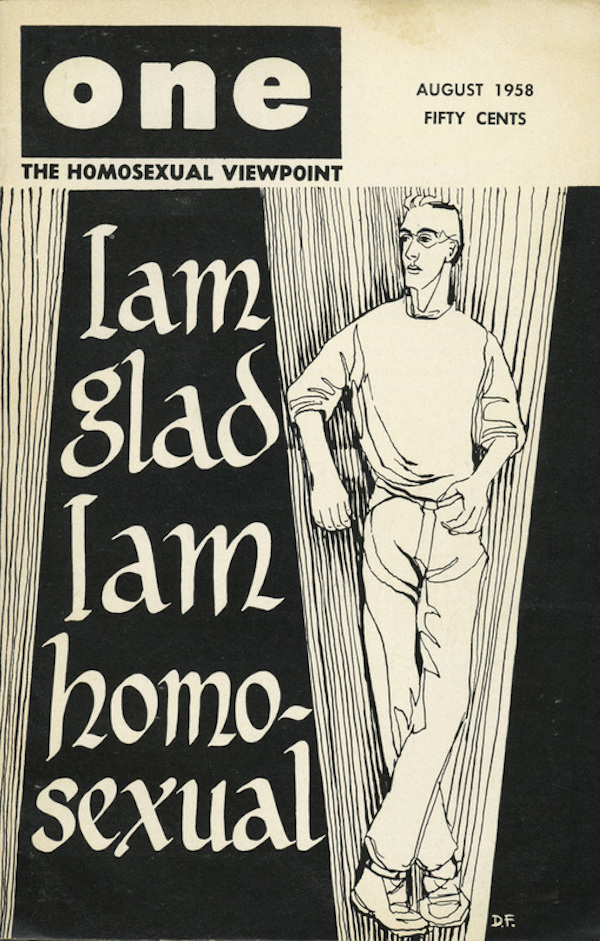 ONE launched in the same year as Playboy and fought the U.S. Post Office to the mat, with superb legal work backed by bold cover stories about its case.  Could any of this have been lost on Hugh Hefner?  I doubt it.  It is not a long walk to Playboy from ONE, if you are a capitalist publisher, as he was, of gorgeous nude photography reliant on the Postal Service in the 1950s.
But more than ravishing photography, Hefner had a ravishing idea:  the "Playboy Philosophy." He made Playboy about something larger than centerfolds.
"The Playboy Philosophy" challenged American Puritanism. It began with his "conviction of the importance of the individual in our increasingly standardized society, the privilege of all to think differently from one another and to promote new ideas and the right to hoot irreverently at the herders of sacred cows and keepers of stultifying tradition and taboo."
Hefner's "right to hoot irreverently" grew into a classically liberal, pro-science, anti-puritanical worldview that helped another pioneer lay the popular foundation for the LGBT civil rights movement, itself.
Gay civil rights pioneer Dr. Franklin E. Kameny understood Playboy and launched one of his trademark barrages of powerfully argued letters to The Playboy Forum. The Forum became "what may have been the country's most influential forum for the public discussion about homosexuality during this period," according to historian Mark Stein in his book, "Sexual Injustice."
And Frank Kameny took full advantage of it.
In the March 1969 issue, just months before the Stonewall riots, the Forum focused on whether a "cure" for homosexuality to "recondition sex deviants" was possible in therapy or a nightmare for patients.  Psychiatrists and psychologists like Dr. Gerald Davison, today a professor at the University of Southern California, and Dr. David Barlow, a past President of Clinical Psychology for the American Psychological Association (APA,) discussed this in a series of letters with homosexual groups and advocates like Kameny.
Barlow and Davison had been working at the time on a variety of behavioral aversive conditioning therapies to change sexual orientation. (Both have long since recanted and apologized to the LGBT community.)  The Forum questioned them "about the alleged cruelty of chemical and electrical aversion-therapy techniques." Barlow responded: "[Our therapy] seems an improvement over previous chemical and electrical techniques that, like early crude surgery, were sometimes painful."
Outraged, Kameny wrote, "There is no valid scientific evidence to show that homosexuality is a sickness, illness, neurosis or pathology of any kind."
Kameny concluded with his populist slogan for a new movement.  "Barlow and his professional colleagues would be of greater service to the harassed homosexual minority if they ceased to reinforce the negative value judgments of society and instead adopted a positive approach in which therapy for homosexuals would consist of instilling in him a sense of confident, self-acceptance so he could say with pride, "Gay is Good."
This is not to say that Playboy took Kameny's side. The Forum Editor ended the exchange with a final note that homosexuality is "a compulsion based on phobic reactions to heterosexual stimuli!"
True to the "Playboy Philosophy," the magazine and "Hef" had given Kameny his introduction to a national audience for "Gay is Good."
Two months after publication, an Assistant Editor of the Forum circled back to Kameny with an offer to share with him "Xerox copies of replies to your letter." Kameny accepted that offer and one can read those anguished responses today at the Library of Congress in Washington, D.C.
Kameny prevailed. Then came Stonewall.
—  Charles Francis is President of The Mattachine Society of Washington, D.C., a history society that conducts original archival research, in partnership with pro bono legal counsel McDermott Will & Emery, into the forgotten or erased LGBT political past.