CDC: Undetectable HIV+ people do not transmit HIV
CDC confirms what HIV/AIDS groups say anecdotally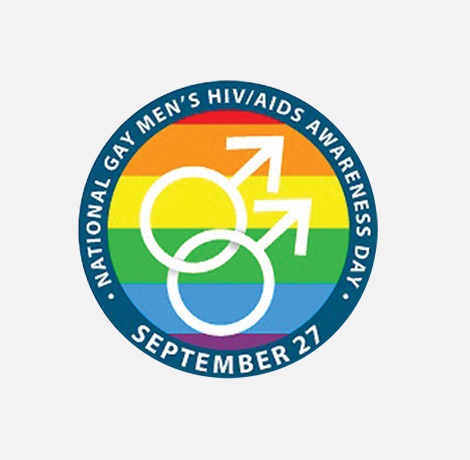 First, the good news. In a "Dear Colleague" letter issued Sept. 27 in recognition of National Gay Men's HIV/AIDS Awareness Day, the Centers for Disease Control and Prevention (CDC) confirmed that the daily prescribed use of pre-exposure prophylaxis (PrEP) by people who are HIV-positive and undetectable results in no HIV transmission to HIV negative partners.
"When ART (antiretroviral therapy) results in viral suppression, defined as less than 200 copies/ml or undetectable levels, it prevents sexual HIV transmission," write Dr. Eugene McCray, Director
of the Division of HIV/AIDS Prevention
at the CDC's National Center for HIV/AIDS, Viral Hepatitis, STD, and TB Prevention, and Dr. Jonathan H. Mermin, Assistant Surgeon General and the National Center's director.
"Across three different studies, including thousands of couples and many thousand acts of sex without a condom or pre-exposure prophylaxis (PrEP), no HIV transmissions to an HIV-negative partner were observed when the HIV-positive person was virally suppressed. This means that people who take ART daily as prescribed and achieve and maintain an undetectable viral load have effectively no risk of sexually transmitting the virus to an HIV-negative partner, McCray and Mermin write.
The CDC letter could have important political implications as Congress considers funding for federal agencies working on HIV/AIDS and for state and local legislators debating archaic HIV criminalization laws in light of new scientific evidence.
"This is the moment we have been waiting for! The CDC agreed today there is 'effectively no risk' of sexually transmitting HIV when on treatment and undetectable. The overwhelming data clearly shows that taking our medication daily protects our health and our partners," Bruce Richman, executive director of the Prevention Access Campaign's "Undetectable=Untransmittable campaign told HIV Plus magazine. However, he added, "this isn't advising people with HIV and their partners to abandon condoms or PrEP.  Being undetectable is another powerful option in the HIV prevention toolbox to be used in combination with other prevention options or independently depending on the circumstances."
The CDC reports that more than 26,000 gay and bisexual men tested HIV positive in 2015, two-thirds of all new cases in America. Diagnoses increased among Hispanic/Latino gay and bisexual men from 2010 to 2014, but, after years of increases, diagnoses among African American gay and bisexual men remained stable. HIV diagnoses fell among white gay and bisexual men in the same time period.
The CDC also notes bad news, though not a surprise to longtime HIV/AIDS advocates. "Among gay and bisexual men living with diagnosed HIV, 61% have achieved viral suppression, more than in previous years, but well short of where we want to be," according to a recent "Morbidity and Mortality Weekly Report." "More work is needed to close this gap and to address the barriers that make it more difficult for some gay and bisexual men, including African American and Hispanic/Latino men, to get HIV care and treatment. For example, socioeconomic factors such as lower income and educational levels and cultural factors such as stigma and discrimination may affect whether some gay and bisexual men seek and are able to receive HIV treatment and prevention services."
Indeed, the CDC estimates that more than 1.1 million people in the U.S. are living with HIV today, and 1 in 7 of them don't know it.
In the "Dear Colleague" letter, the CDC officials note that "under current cooperative agreements, CDC has awarded at least $330 million per year to health departments for HIV prevention among the most affected populations and is awarding nearly $11 million per year to CBOs to provide HIV testing to young gay and bisexual men of color and transgender youth of color."
Additionally, the CDC is supporting PrEP and post-exposure prophylaxis (PEP), as well as other prevention efforts. But the current chaos at the Department of Health and Human Services suggests contract and messaging confusion may lie ahead.
Worse yet, longtime AIDS journalist Laurie Garrett noted in Foreign Policy last July that "the world cannot treat its way out of AIDS."
Indeed, Garrett writes that: "without a revolutionary breakthrough in either vaccines or the entire model of HIV control, a massive second global wave of AIDS will come, perhaps within the next 10 years."
Garrett identifies three problems: "First, new infections increasingly involve forms of the virus that are already resistant to the primary drugs used to treat and prevent HIV infection. Second, the world is fast approaching the limits of manufacturing capacity for anti-HIV first-line drugs, and the ceiling is far lower for second- and third-line treatments. And third, there aren't sufficient financial resources applied to the AIDS problem now, and signals from major donors — especially the U.S. government — offer a grim future of diminished resources and greater demands on very poor countries to finance their own HIV fights without outside help."
Before Nov. 8, 2016, many AIDS advocates believed there was a real possibility of ending AIDS in our lifetime. Now, while the science may be there, the political will may not.
President's Emergency Plan for AIDS Relief marks year 20
Achievements PEPFAR have been remarkable, well-documented by outside evaluators, and hugely applauded throughout the advocacy community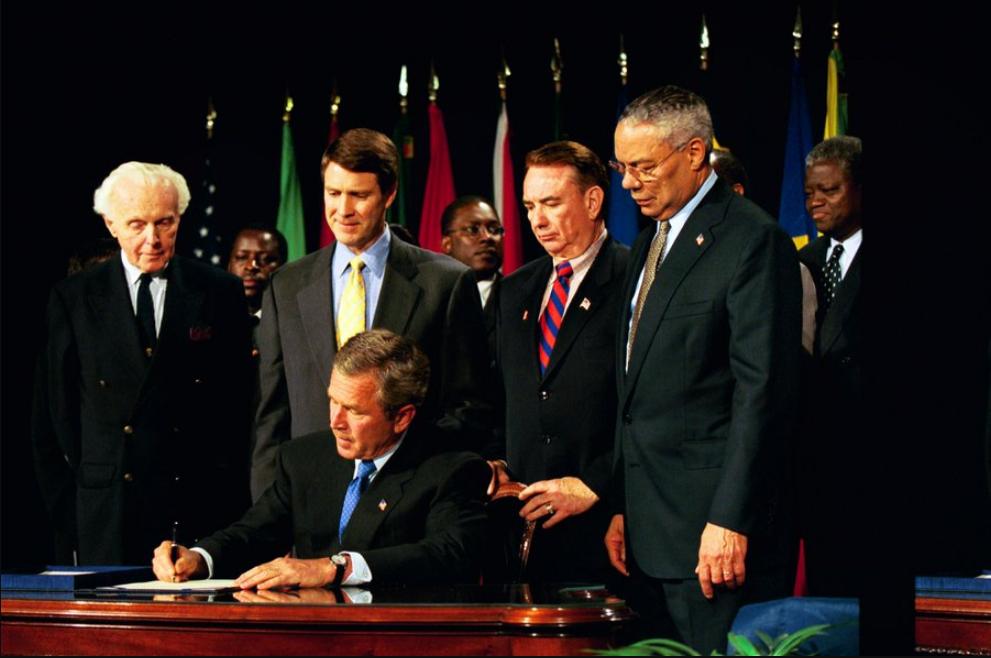 WASHINGTON – The President's Emergency Plan for AIDS Relief (PEPFAR) marks its twenty year anniversary today, marking the largest commitment by any nation to address a single disease in the world.
The initiative which was personally led and launched by former President George W. Bush in 2003, its funding has totaled more than $110 billion to date, including funding for the Global Fund to Fight AIDS, Tuberculosis and Malaria (Global Fund), to which the U.S. government is the largest donor.
PEPFAR is credited with saving millions of lives and helping to change the trajectory of the global HIV epidemic. The White House today released a statement by President Joe Biden marking the 20th Anniversary:
Twenty years ago today, President George W. Bush declared that preventing and treating HIV/AIDS was a foreign policy priority of the United States. At a time when nearly 30 million people were HIV positive, but very few were receiving life-saving medicines, the President's Emergency Plan for AIDS Relief (PEPFAR) transformed the global AIDS response and laid a marker for America's commitment to countries that were impacted the hardest by the AIDS epidemic. Helping lead the bipartisan effort in Congress to authorize PEPFAR is among my proudest achievements from my time in the Senate. To this day, PEPFAR remains a powerful example of America's unmatched ability to drive progress and make life better for people around the world.

Since 2003, PEPFAR has saved more than 25 million lives and dramatically improved health outcomes in more than 55 partner countries. AIDS-related deaths have declined by 68 percent since their peak in 2004, and new HIV infections are down 42 percent. PEPFAR investments have ensured that 5.5 million babies have been born HIV-free. And two decades of investment in partner nations' health systems played a critical role in countries' ability to respond to other health crises such as COVID-19, Mpox, and Ebola.

Today, PEPFAR continues to support 20.1 million people around the world with HIV/AIDS treatment, and my Administration is committed to continuing to lead the global HIV/AIDS response. We will build on our decades of progress to reach the Sustainable Development Goal of ending AIDS by 2030, work to eliminate the stigma and inequities that keep people from accessing care, and keep the voices of people living with HIV/AIDS at the center of our response. I look forward to working with Congress on PEPFAR's reauthorization this year.
PEPFAR is overseen by the U.S. Global AIDS Coordinator, who is appointed by the President, confirmed by the Senate, and reports directly to the Secretary of State, as established through PEPFAR's authorizing legislation.
PEPFAR's original authorization established new structures and authorities, consolidating all U.S. bilateral and multilateral activities and funding for global HIV/AIDS. Several U.S. agencies, host country governments, and other organizations are involved in implementation.
Dr. John Nkengasong, the current coordinator was sworn in on June 13, 2022, and holds the rank of Ambassador leading the Office of the Global AIDS Coordinator (OGAC) at the U.S. Department of State.
Twenty years ago this month, President George W. Bush announced #PEPFAR during his State of the Union address. Since then, the U.S. government has invested $100B+ in the global HIV/AIDS response through PEPFAR, saving 25M lives & bringing us closer to #EndAIDS2030. #PEPFAR20 pic.twitter.com/SMAOHWPZ03

— PEPFAR (@PEPFAR) January 11, 2023
Nobel Prize winning scientist Harold Varmus, who served as Director of the National Institutes of Health (NIH) from 1993 to 1999 and currently the Lewis Thomas University Professor of Medicine at Weill Cornell Medicine in New York City, wrote in an article honoring World Aids Day 2013:
[…] "the PEPFAR story must begin with George W. Bush and his wife, Laura, and their interests in AIDS, Africa, and what Bush termed "compassionate conservatism." According to his 2010 memoir, Decision Points, the two of them developed a serious interest in improving the fate of the people of Africa after reading Alex Haley's Roots and visiting The Gambia in 1990.3 In 1998, while pondering a run for the U.S. presidency, he discussed Africa with Condoleezza Rice, his future secretary of state; she said that, if elected, working more closely with countries on that continent should be a significant part of his foreign policy. She also told him that HIV/AIDS was a central problem in Africa but that the United States was spending only $500 million per year on global AIDS, with the money spread across six federal agencies, without a clear strategy for curbing the epidemic."
Key Facts (As provided by Kaiser Health & Family Foundation)
Although the U.S. has been involved in efforts to address the global AIDS crisis since the mid-1980s, the creation of the President's Emergency Plan for AIDS Relief (PEPFAR) in 2003 marked a significant increase in funding and attention to the epidemic.
PEPFAR is the largest commitment by any nation to address a single disease in the world; to date, its funding has totaled more than $110 billion, including funding for the Global Fund to Fight AIDS, Tuberculosis and Malaria (Global Fund), to which the U.S. government is the largest donor. PEPFAR is credited with saving millions of lives and helping to change the trajectory of the global HIV epidemic.
U.S. funding for PEPFAR grew from $2.2 billion in FY 2004 to $7.0 billion in FY 2022; FY 2022 funding includes $5.4 billion provided for bilateral HIV efforts and $1.6 billion for multilateral efforts ($50 million for UNAIDS and $1.56 billion for the Global Fund).
As the COVID-19 pandemic continues to have profound effects across the world, PEPFAR has acted to respond to COVID-19 in countries that receive support in order to minimize HIV service disruptions and leverage the program's capabilities to address COVID-19 more broadly.
Looking ahead, PEPFAR faces several issues and challenges, including how best to: address the short- and long-term impacts of COVID-19 on PEPFAR and the HIV response; accelerate progress toward epidemic control in the context of flat funding; support and strengthen community-led responses and the sustainability of HIV programs; define its role in global health security and broader health systems strengthening efforts; and continue to coordinate with other key players in the HIV ecosystem, including the Global Fund.
Key Activities and Results (As provided by Kaiser Health & Family Foundation)
PEPFAR activities focus on expanding access to HIV prevention, treatment, and care interventions. These include provision of antiretroviral treatment, pre-exposure prophylaxis, voluntary male circumcision, condoms, and other commodities related to HIV services. In addition, PEPFAR has launched specific initiatives in key strategic areas. For example, in 2015, PEPFAR launched DREAMS, a public-private partnership that aims to reduce HIV infections in adolescent girls and young women.
The latest results reported by PEPFAR indicate that it has:
supported testing services for 63.4 million people in FY 2021;
prevented 2.8 million babies from being born with HIV, who would have otherwise been infected;
provided care for more than 7.1 million orphans and vulnerable children (OVC);
supported training for nearly 300,000 new health care workers; and
supported antiretroviral treatment for 18.96 million people.
In the 15 countries implementing the DREAMS initiative, new diagnoses among adolescent girls and young women have declined with most DREAMS areas (96%) experiencing declines greater than 25% and nearly two-thirds with declines greater than 40%.
The achievements of the PEPFAR program have been remarkable, well-documented by outside evaluators, and hugely applauded throughout the advocacy community and the developing world. In general, milestones have been met, the program has been enlarged (for instance, to include some research on implementation of medical assistance), the roster of PEPFAR countries has grown and spending plans have not been exceeded.