U.S. opposes UN resolution against death penalty for same-sex relations
The resolution condemns the imposition of the death penalty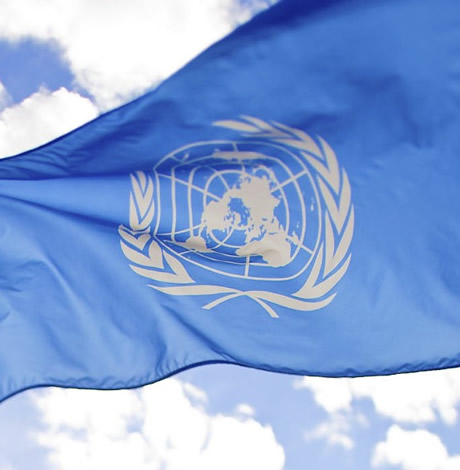 The U.S. on Sept. 29 voted against a U.N. Human Rights Council resolution that condemns the death penalty for those found guilty of committing consensual same-sex sexual acts.
The resolution — which Belgium, Benin, Costa Rica, France, Mexico, Moldova, Mongolia and Switzerland introduced — passed by a 27-13 vote margin.
Congo, Cote d'Ivoire, Ghana, Rwanda, South Africa, Togo, Kyrgyzstan, Mongolia, Albania, Croatia, Georgia, Hungary, Latvia, Slovenia, Bolivia, Brazil, Ecuador, El Salvador, Panama, Paraguay, Venezuela, Belgium, Germany, the Netherlands, Portugal, Switzerland and the U.K. supported the resolution. Botswana, Burundi, Egypt, Ethiopia, Bangladesh, China, India, Iraq, Japan, Qatar, Saudi Arabia and the United Arab Emirates joined the U.S. in opposing it.
Kenya, Nigeria, Tunisia, Indonesia, the Philippines, South Korea and Cuba abstained.
The resolution specifically condemns "the imposition of the death penalty as a sanction for specific forms of conduct, such as apostasy, blasphemy, adultery and consensual same-sex relations" and expresses "serious concern that the application of the death penalty for adultery is disproportionately imposed on women." It also notes "poor and economically vulnerable persons and foreign nationals are disproportionately subjected to the death penalty, that laws carrying the death penalty are used against persons exercising their rights to freedom of expression, thought, conscience, religion, and peaceful assembly and association, and that persons belonging to religious or ethnic minorities are disproportionately represented among those sentenced to the death penalty."
ILGA in a press release noted Egypt, Russia and Saudi Arabia sought to amend the resolution and "dilute its impact." These amendments failed, even though the U.S. supported two of them from Russia that stated the death penalty "does not per se mean a (human rights) violation, but may lead to . . . (human rights) violations" and "in some cases the (death penalty) leads to torture, rather than that many states hold that the (death penalty) is a form of torture."
The U.S. also backed a proposed amendment from Egypt that stated "a moratorium (on the death penalty) should be a decision after domestic debate." The U.S. abstained from voting on a proposed amendment from Saudi Arabia that said countries have the right to "develop their own laws and penalties (in accordance with international law.)"
Iran, Saudi Arabia, Mauritania and Sudan are among the handful of countries in which consensual same-sex sexual activity remains punishable by death. The so-called Islamic State has executed dozens of men in Iraq, Syria and Libya who were accused of committing sodomy.
"It is unconscionable to think that there are hundreds of millions of people living in states where somebody may be executed simply because of whom they love" said ILGA Executive Director Renato Sabbadini in a press release, referring to the resolution. "This is a monumental moment where the international community has publicly highlighted that these horrific laws simply must end."
The vote took place nine days after Maltese Prime Minister Joseph Muscat, Costa Rican Vice President Ana Helena Chacón and other world leaders attended a U.N. LGBT Core Group event that coincided with the opening of the U.N. General Assembly.
Kelly Currie, the U.S. representative to the U.N. Economic and Social Council, attended the event but did not speak. Former Vice President Biden is among those who spoke at last year's U.N. LGBT Core Group event.
U.S. Ambassador to the U.N. Nikki Haley in April said the U.S. remains "disturbed" by the ongoing crackdown against gay men and lesbians in Chechnya. Caitlyn Jenner in July met with Haley at her office in New York.
President Trump traveled to Saudi Arabia in May. He made no mention that consensual same-sex sexual relations remain punishable by death in the kingdom in a speech he gave in the Saudi capital of Riyadh.
Trump has also not publicly commented on the ongoing crackdown against LGBT Chechens.
The U.S. and 24 other countries in 2014 voted for a resolution against violence and discrimination based on sexual orientation and gender the U.N. Human Rights Council adopted. The body in 2011 narrowly approved a resolution in support of LGBT rights that South Africa introduced.
Padilla, local leaders celebrate passage of Respect for Marriage Act
"There's no better place than San Francisco to celebrate passage of the Respect for Marriage Act & affirm lives of millions of LGBTQ people"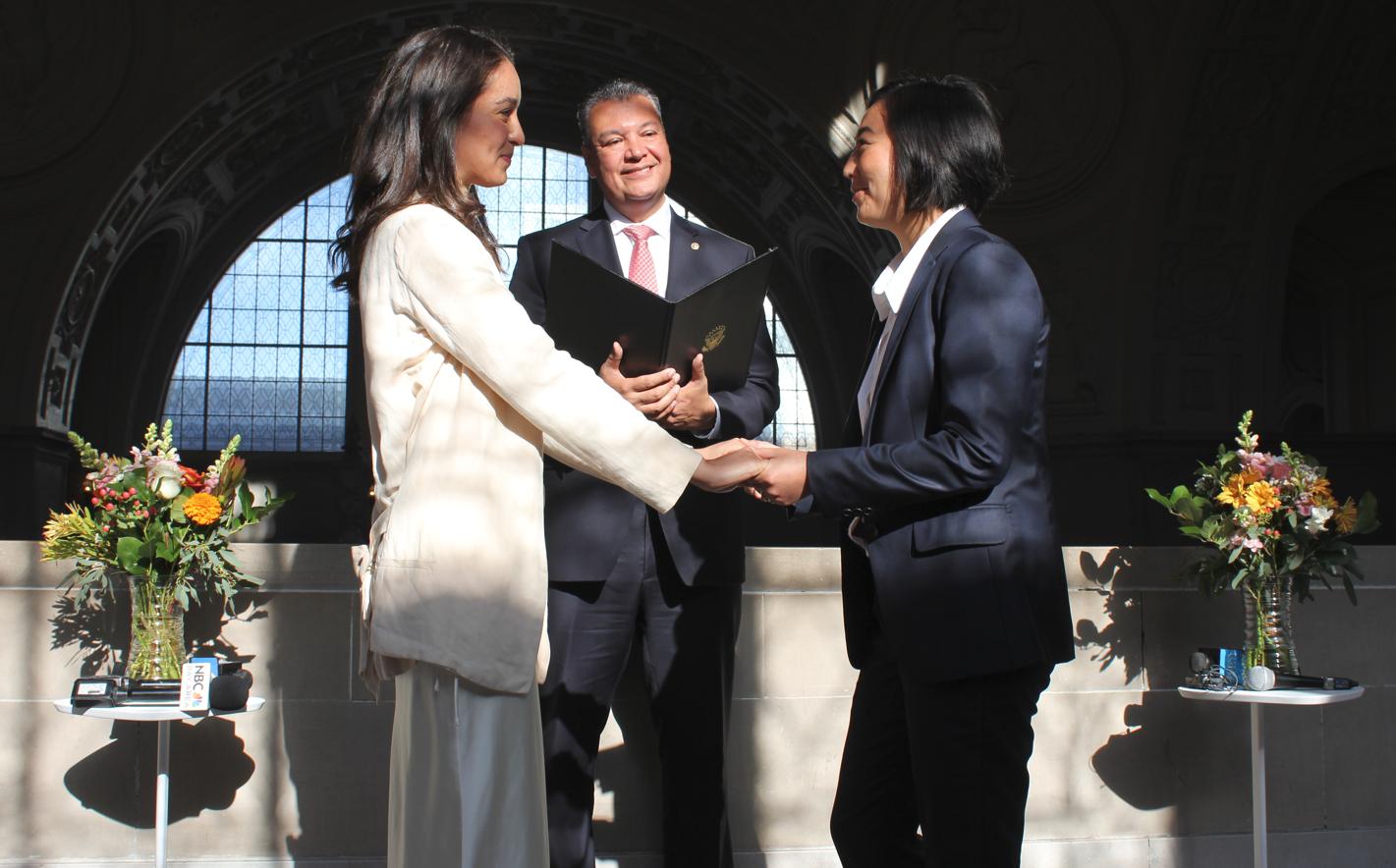 SAN FRANCISCO —  U.S. Senator Alex Padilla (D-Calif.) on Friday hosted a press conference with San Francisco Mayor London Breed, State Senator Scott Wiener, Equality California Executive Director Tony Hoang, and local leaders following the Senate passage of the Respect for Marriage Act.
Senator Padilla also officiated a vows renewal ceremony of Cyn Wang and Tessa Chavez, a local lesbian couple, at San Francisco City Hall to mark the historic occasion.
The Respect for Marriage Act requires the federal government to recognize a marriage between two individuals if the marriage was valid in the state where it was performed and guarantee that valid marriages between two individuals are given full faith and credit, regardless of the couple's sex, race, ethnicity, or national origin. The legislation passed the Senate by a vote of 61-36.
"There is no better place than San Francisco to celebrate the passage of the Respect for Marriage Act and unequivocally affirm the lives of millions of LGBTQ people and interracial couples across our country," said Senator Padilla. "We celebrate the progress that we have made today, but recognize the work still left undone to fully protect the rights of LGBTQ Americans. I'll continue working to build on our efforts until we ensure that every American is treated equally under the law, free from discrimination."
"I was proud to introduce the Respect for Marriage Act over the summer, and I'm even more pleased that the bill passed the Senate this week with strong bipartisan support," said Senator Dianne Feinstein. "The Respect for Marriage Act will guarantee legal protections for millions of marriages in the United States. Simply put, Americans should be free to marry the person they love, regardless of sexual orientation or race, without fear of discrimination or fear that their marriages will be invalidated. This was a historic vote and one that every proponent of equality can be proud of."
"The Respect for Marriage Act is an important step forward in the continued fight for LGBTQ and racial equality in America," said State Senator Scott Wiener. "Today, we celebrate this victory for our civil rights, and tomorrow we recommit to fight even harder against the right-wing Supreme Court's efforts to legalize discrimination in this country."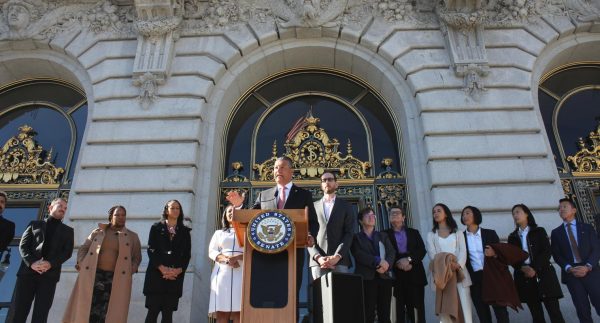 "San Francisco's history is inseparable from the history of the LGBTQ community and the movement for marriage equality locally, at the state level, and nationally," said Mayor Breed. "As we celebrate the passage of the Respect for Marriage Act, we honor those who have endured discrimination and hate, and the many who lost their lives in the quest for equality. We recommit ourselves to protect the fundamental rights of all people regardless of who they are or whom they love. Thank you to Congressional leaders, especially Senators Dianne Feinstein and Alex Padilla, and Speaker Pelosi for their leadership to pass this historical legislation."
"Equality California applauds this historic vote and the critical leadership of Senators Baldwin, Feinstein and Padilla, in getting this bill across the finish line," said Equality California Executive Director Tony Hoang. "While this is an important step in affirming the dignity of the LGBTQ+ community, it will not end all discrimination against LGBTQ+ people or erase the hateful rhetoric of anti-LGBTQ+ politicians and extremists. Equality California will continue to fight for full, lived equality for all LGBTQ+ people until the work is done."
"The Respect for Marriage Act removes an ugly, discriminatory stain on our federal law books – the 1996 so-called "Defense of Marriage Act" – and replaces DOMA with a rule requiring government at all levels to treat all married couples equally nationwide," said Jenny Pizer, Chief Legal Officer, Lambda Legal. "We hope we never need it.  But if the U.S. Supreme Court were, outrageously, to erase the constitutional protection for the freedom to marry, this law will substantially reduce the harms. Yet, even if the Respect for Marriage Act were to become necessary, it would not be sufficient. We still urgently need the Equality Act to become law, to protect LGBTQ people from the widespread discrimination that persists in the commercial marketplace and in public services with harsh, unacceptable consequences."
"It is a historic moment for the advancement and preservation of basic civil rights for all Americans, but by no means is our work done," said Kris Perry, Prop 8 Plaintiff & Nonprofit Director. "Our family and thousands of families like ours can breathe easier tonight knowing our fundamental rights are protected."
"After the Supreme Court overturned a woman's right to choice, we feared same-sex marriages were next," said Cyn Wang and Tessa Chavez. "The Respect for Marriage Act gives our family clarity and a sense of relief that our marriage, and those of all married couples regardless of sexual orientation or race, will be protected in this country."
The Respect for Marriage Act now goes to the House of Representatives for passage and then to the President's desk to be signed into law.
Senator Padilla is committed to pursuing equality for the LGBTQ community, including in employment, housing, and credit lending.
Earlier this year, Padilla introduced the LGBTQ Business Equal Credit Enforcement and Investment Act, legislation that would protect the 1.4 million LGBTQ-owned businesses in the nation from lending discrimination to ensure equal access to economic opportunities. Padilla also joined Senate Democrats in introducing a resolution recognizing June as LGBTQ Pride Month to highlight the work of the LGBTQ community in fighting to achieve full equality, including for marriage.