Rev. Darlene Garner, 'You're Fired!'
Since 1999, Rev. Garner has been the first and only black person as part of the MCC Senior Staff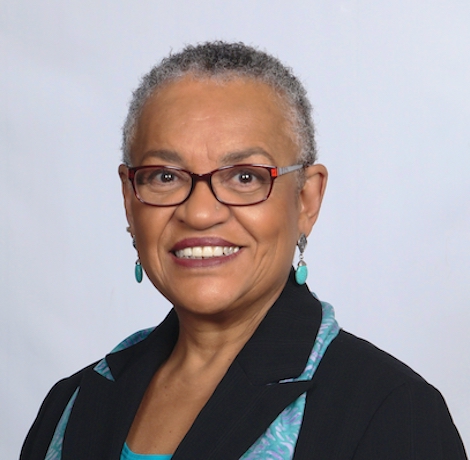 I am shocked and I am not easily shocked! Too many powerful, competent women have been attacked and vilified.
The best example, of course, is Hillary Clinton. As qualified as she was to be president of the United States, she was considered "pushy," suspicious, untruthful, and other derogatory adjectives heaped upon brilliant, successful women by men and some women.
Another example is attorney Gloria Allred. She is admired as much as she is vilified. But men are never accused of wanting or getting 'too much publicity.'
Then there's Jill Abramson, the first female executive editor of The New York Times. She was fired after complaining that her salary and benefits were considerably lower than the male editor she replaced.
So I know of the struggle that competent women face.
But when I heard that after 41 years of working at Metropolitan Community Churches (MCC), my good friend Rev. Elder Darlene Garner had been "fired" on her birthday, I felt stunned and shocked.
MCC called it "restructuring." But that usually means shifting people around, not eliminating them without warning or seeking possible alternatives. Instead, Darlene was told "goodbye" with no warning.
This LGBT church says its core values are "Inclusion (love is our greatest moral value), Community, Spiritual Transformation, and Justice (standing with those who suffer under the weight of oppressive systems, being guided always by our commitment to Global Human Rights)."
Excuse me? Discarding a 69-year-old African-American lesbian like yesterday's trash is justice? Of course, they wanted her to sign a non-disclosure agreement and since she has been the first and only black person as part of the MCC senior staff since 1999, I'm sure they are rushing to find African Africans to hire and put on the board so they don't look bad. Too late.
But why was Darlene fired? At the MCC General Conference in Vancouver last year, Darlene came in second when they voted for moderator, the top position in the organization. She's popular and has paid her dues.
Darlene joined MCC in 1976. She has been pastor of churches in Baltimore, Maryland, and Fairfax, Va., in the United States and in Cape Town, Western Cape in South Africa. First recognized as an MCC spiritual leader in 1993, she was serving as the Convener of the MCC Conference for People of African Descent and as director of the MCC Office of Emerging Ministries when she was dismissed.
Darlene started out as a senior adviser to the mayor of Philadelphia in the mid-to late '80s, including providing diversity and HIV/AIDS training to city departments. But after studying for her Masters in Divinity, she focused on strategies for how to provide governance, innovation, risk and conflict management and leadership development to MCC, its global emerging ministries and the religious and civic organizations with which MCC dealt.
Darlene was a co-founder of the National Coalition of Black Lesbians and Gays; chair of the first International Conference for Gay and Lesbian People of Color; president of the board of North Virginia AIDS Ministry; and so much more. Darlene attended Ohio State University, Samaritan College, and Lancaster Theological Seminary.
I worked for Darlene when she was based in Los Angeles. I produced the 31st anniversary of MCC. She is one of the most competent, professional, fair, intelligent women I have ever worked with. That is when I learned what kind of person and leader she truly is.
At the time of Darlene's dismissal, the governing board of MCC was three white men, one African-American man, one white trans-masculine person, and four white women. Two of the women and the African-American man have now resigned.
Despite the good work of founder Rev. Troy Perry and past Moderator Rev. Nancy Wilson, MCC has had issues with racism and sexism. MCC was started when there was nothing for LGBT Christians to comfortably participate in. Now that many churches have changed their attitudes, this primarily gay male, primarily white organization has to be struggling. But this is not the way to attract parishioners.
Darlene was going to retire next year and would then have qualified for full Social Security benefits.
So it has happened again. After 41 years of service to and with MCC churches, without cause or consideration, a strong, brilliant woman is discarded and her legacy erased.
I hope God is watching. We are.
— Robin Tyler is a longtime Los Angeles-based LGBT rights activist.
The end comes soon: Drums, drums in the deep
"We cannot get out. The end comes. Drums, drums in the deep. They are coming." – J.R.R. Tolkien, The Fellowship of the Ring
By Brynn Tannehill | FAIRFAX COUNTY, Va. – To be trans in the US is to know fear. It is a companion that travels with us constantly: from the moment we realize we are trans, to coming out, to transitioning, and now into our lives long past the point where we should have faded away into anonymity in days past.
We are in the midst of a second Lavender Scare, and in many ways this is far more dangerous: even Christine Jorgenson wasn't barred from receiving hormones or being within 2500 feet of children simply for being transgender. 
I have been called a doomsayer who profits from prognosticating an inevitable end. This is not precisely true: there is hope, if precious little of it. We can all clearly see the situation deteriorating rapidly in red states, with (at best) spotty resistance from the Democratic Party as a whole. We can see the effects of this deterioration as transgender people not only ask how to flee, but actively do so now. But most in a poverty-stricken community, however, lack the money or resources to flee.
There's an eerie similarity to 1933, when people sold everything they owned, with no job waiting for them, just to get away from what they saw happening and coming. Others look at what it will take to get to another country, even as those countries are not yet ready to grant trans people asylum or refugee status. Most can only tell you that it's getting bad, and that they're afraid of what their government is preparing to do to them, even if they don't know exactly what that will be. However, with nowhere to go, and no country particularly wanting transgender people, I find myself dreading another S.S. St. Louis moment in history.
There's an authoritarian party in permanent power in half of the U.S. They're making it clear that intend to seize permanent federal control and bring their vision of a shiny, Godly America to the rest of the country by any means necessary. They're ready to destroy the Union and our democracy to save it from "wokeness". And they have sold their base on the idea that the number one threat that the country must be saved from is transgender people.
State level anti-transgender bills are becoming both more numerous and draconian year after year. The Overton Window of anti-trans legislation keeps shifting further and further to the right. For example, first they wanted to ban transition-related health care for everyone under the age of 18. Then the bills started putting the age at 21. Then, this year, we saw Oklahoma propose banning it for anyone under 26. Texas followed by passing a resolution condemning it for people of all ages.
Now, Oklahoma has proposed a law that would ban providers who take state or federal money of money of any sort (e.g. Medicare or Medicaid) from providing transition-related care to anyone of any age. This means thousands of people who transitioned years ago will no longer be able to refill their prescriptions. Access to medical care will become a right that exists in theory but not in practice, like suffrage in the Jim Crow South.
It's not just medical care. It's sports, bathrooms, birth certificates, driver's licenses, bans on "drag", required misgendering, and forced outing. The creativity of this performative cruelty seems endless. Of these though, the "drag" bans are the most devastating. These laws are deliberately written as to be so vague and overly broad that a symphony orchestra with a transgender 2nd clarinet, or a family with a trans child doing a sing along in the car would be considered obscene. In West Virginia, SB252 and 278 single out transgender people (and not just drag performers) to declare that their mere presence in public is obscene.
Not only are the scope of laws increasing; the sheer number is growing exponentially. In 2018, there were 19 anti-trans bills proposed in state legislatures. By 2020 it was 60. Last year it was 155. Now, in 2023, we surpassed the 2022 total by the middle of January and are well on our way to more than 200. Even so, these numbers don't tell the full tale.
In years past, only perhaps 10% of these bills would pass, usually after opposition and debate. Now, we're seeing bills introduced, sent to committee, debated, and sent to the floor in 24 hours. There is simply so much happening so fast that trans people cannot put together opposition in time to speak against these bills, whereas conservative legislators coordinating with religious legal groups always have "experts" lined up and ready, since they know exactly when and where the bills will be heard ahead of time. The result is that in a year where a record number of anti-transgender bills are introduced, a record percentage, and a record total, will be passed.
Trans people are not doomed, but we're clearly on an accelerating trajectory to the end of the community in at least half of the US. Reversing these trends, and preventing a nation-wide destruction of the community, requires numerous highly improbable things to happen. This includes Republicans moving on from the moral panic about trans people, deciding that they've gone far enough already with their oppression at the state level, or the courts overturning anti-trans laws. None of these seems likely.
Additionally, there remains the fear that even states with sanctuary laws, like California, will not remain safe forever. Republicans in Congress have made it clear that should they take power in 2024, they intend to pass nationwide laws similar to those at the state level. The odds of the GOP taking full control are frighteningly high: the Senate map in 2024 for Democrats is very bad, Biden's net approval is where Trump's was in 2020, and gerrymandering makes taking back the House difficult.
Masha Gessen's rules for surviving autocracy state that "your institutions will not save you." This is true for trans people now in several ways: neither courts, the Democratic party, nor the media seem prepared to stand up for us as the situation goes from hostile to non-survivable. There's the open question of whether the courts will uphold sanctuary laws. When Texas demands the arrest and extradition of trans people (or parents of trans youth) who have fled to a sanctuary state, it seems unlikely that the current Supreme Court will do anything but what their Christian Nationalist masters tell them to. It's also unknown whether a state like California would defy the courts and break the union over trans people or women seeking an abortion.
Then there's the news media, the fifth estate that is supposed to be the light of truth shining on darkness. Instead, half of the media ecosystem is leading the charge to brand transgender people as an existential threat to women, children, and society. The other half, like Reuters, The New York Times, and The Atlantic, produce poorly thought out "both-sideism" and concern troll pieces that amplify and reinforce the narratives of the side that believes the ideal number of transgender people in the US is zero.
Trans people have precious few people that they know will go to the mattresses for them. We're already seeing who on the left and center is stepping aside, or even joining in, to let self-proclaimed Christian fascists like Matt Walsh have their way. Not only can it happen here, but it is happening now, at this very instant, to the sound of deafening silence from the people who swore without irony "never again."
The American public, for their part, either doesn't know or doesn't care. It's just happening to "those people". Most trans people cannot enunciate all the factors that have them afraid, and why they form an interlocking system of failures that make recovery from the trajectory we're on improbable. They just know that things are getting worse, and they don't see how it will get better. Like animals before an earthquake, they know something is very wrong, even if they can't explain why, or get anyone to listen.
All they know is that they cannot get out, the unstoppable power of the government is coming, and no one is coming to the rescue. For those who cannot flee, and cannot survive the laws about to be passed, the end comes soon. Drums, drums in the deep.
*******************************************************************