Scientology wants to recruit you
How gay protesters are working to expose the anti-LGBT cult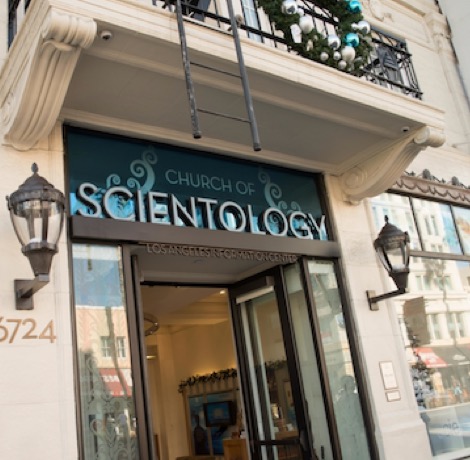 LGBT pioneer Morris Kight would have loved these gay guys, snarkily pestering the Church of Scientology staff, security, and recruiters with a video camera and an annoying confrontational lilt to their jibes. Kight would have applauded their bravery, dramatically shrugging off the fear factor shrouding the cult and giving the famously anti-LGBT organization a jolt of its own harassment.
Holidays are particularly special—such as this year's Hollywood Christmas Parade down Hollywood Boulevard, passing the Hollywood Inn at North McCadden Place where Kight used to live and from whence the first Gay Pride Parade set off in 1970. This Nov. 26, Thanksgiving weekend, the Scientology recruiters were out in force, offering free "Personality Tests" as a lure into the "Everyone's Welcome" Information Center. That night their annual Winter Wonderland aimed to entice Latino children to sit on Santa's lap and get a cheap toy and L. Ron Hubbard pulp fiction.
There, too, were the merry band of gay pranksters, calling out Scientology's homophobia and squaring off with annoyed guards.
Though Kight and others had sneered at the shadowy organization for years, Scientology managed to stay out of the publicity spotlight through donations to community and civic organizations. Rumors about celebrities such as John Travolta and Tom Cruise were aggressively squashed through threats of lawsuits. But the institution took an unexpected PR hit in 2008 with an explosion of unwanted publicity—which also turned out to be a kind of rude gay awakening. The Angry Gay Pope (Don Myers), Nasty Nathanial (Nathanial Thomas), and others joined the Guy Fawkes mask-wearing hacktivist collective Anonymous in confronting Scientology after a secret internal video of celebrity Scientologist Tom Cruise was posted online.
"Being a Scientologist, when you drive past an accident it's not like anyone else. As you drive past you know you have to do something about it, because you know you're the only one that can really help," Cruise said.
The church said the tape was intended for members only and was copyrighted, asking YouTube and other sites to take it down, NPR reported. That infuriated Anonymous, which saw the church's response as an attack on freedom of speech. Members researched the religion and reacted by hacking the group's websites, protesting the church's requirement that members in good standing "disconnect" from family and friends who leave the church.
"We are at war with the Church of Scientology. Our sole target is the church as a corporate entity. We vow to avoid any collateral damage to any member," an Anonymous spokesperson said in a video.
The church retorted. "It's very reminiscent of days gone by and current days with the KKK, wearing masks, hiding, having secret meetings on the Internet," Bob Adams, vice president of the church, told NPR.
And then came Paul Haggis. After receiving a letter from his two lesbian daughters about the church's endorsement of anti-gay marriage Prop 8, the Oscar-winning director/writer wrote to Tommy Davis, chief spokesperson for the Church of Scientology International (and son of his friend, actress Anne Archer) asking that the church renounce its support and stand against Prop 8.
"I feel strongly about this for a number of reasons," Haggis wrote. "You and I both know there has been a hidden anti-gay sentiment in the church for a long time. I have been shocked on too many occasions to hear Scientologists make derogatory remarks about gay people, and then quote L.R.H. [Scientology founder L. Ron Hubbard] in their defense."
Haggis noted that daughter Katy lost friends after coming out, which started a whispering campaign about how "Katy is '1.1.'" That number on Hubbard's emotional Tone Scale in "The Science of Survival" classifies a gay person as "Covertly Hostile" — "the most dangerous and wicked level"— equating "homosexuality with being a pervert." (Such remarks don't appear in recent editions of the book, the New Yorker reported in 2011.)
Scientology has since been trying to spruce up its PR image, with popular straight actresses such as Elizabeth Moss and Lauren Prepon saying they are Scientologists and they support LGBT people.
But former church spokesperson Mike Rinder, who co-hosts the Emmy-award winning A&E series, "Leah Remini: Scientology and The Aftermath" disputes that characterization.
"In today's world, where it is no longer socially acceptable to be anti-gay, Scientology has taken steps to attempt to portray itself as tolerant and welcoming of the LGBT community. But similar to Scientology's claims that disconnection 'doesn't exist' or is simply a 'personal choice,' the PR smokescreen hides an ugly and unpleasant reality. At its heart, scientology IS very homophobic."
Rinder cites specific quotes about homosexuality from Hubbard's works, including this from "Science of Survival:" "There are only two answers for the handling of people from 2.0 down on the tone scale, neither one of which has anything to do with reasoning with them or listening to their justification of their acts. The first is to raise them on the tone scale by un-enturbulating some of their theta by any one of the three valid processes. The other is to dispose of them quietly and without sorrow."
Rinder cautions against taking the passage literally but notes that Scientologists revere Hubbard's words as gospel and therefore the passage "does inform Scientologists in how to think about such people. According to Hubbard, they should be treated like lepers."
Before he submitted his resignation letter, Haggis did his homework. He was dumbstruck by what he found, including this public declaration on CNN in May 2008: "There's no such thing as disconnection as you're characterizing it," Davis told anchor John Roberts. "[S]omeone who is a Scientologist is going to respect their family members' beliefs," he explained, "and we consider family to be a building block of any society, so anything that's characterized as disconnection or this kind of thing, it's just not true. There isn't any such policy."
Haggis knew that wasn't true. His wife had been ordered to disconnect from her parents "because of something absolutely trivial they supposedly did 25 years ago when they resigned from the church," he later reminded Davis. "Although it caused her terrible personal pain, my wife broke off all contact with them." Haggis continued, "To see you lie so easily, I am afraid I had to ask myself: What else are you lying about?"
Haggis also read an exposé in the St. Petersburg Times reporting that senior church executives subjected other Scientologists to physical violence. In his Aug. 19, 2009 resignation letter, made public by a third party, Haggis wrote that he felt "dumbstruck and horrified," adding, "Tommy, if only a fraction of these accusations are true, we are talking about serious, indefensible human and civil-rights violations."
Haggis had enough. "As you know, for ten months now I have been writing to ask you to make a public statement denouncing the actions of the Church of Scientology of San Diego. Their public sponsorship of Proposition 8, a hate-filled legislation that succeeded in taking away the civil rights of gay and lesbian citizens of California — rights that were granted them by the Supreme Court of our state — shames us," read his opening paragraph. "Silence is consent, Tommy. I refuse to consent." Haggis ended: "I hereby resign my membership in the Church of Scientology."
The media went wild. On Oct. 27, 2009, Davis finally responded to Haggis in a statement to Today. "I don't want any misunderstanding," Davis said. "The church supports civil rights for everybody, regardless of sexual orientation, race, color or creed. We are a minority, too; we understand what it's like to be persecuted, so to the extent that anything prohibits or inhibits on civil rights, we don't agree with it."
Davis said the Prop 8 endorsement was a mistake. "Church of Scientology San Diego had been put on a list of churches that supported Proposition 8 out in California. It was incorrectly included and named when it should have never been on the list to begin with," he said, especially since the church wouldn't jeopardize its tax-exemption.
But the dam of silence broke. In 2009, the Tampa Bay Times started writing in-depth stories "on the inner workings of the secretive church, which has its spiritual headquarters in Clearwater" — investigations that continue today.
Other journalistic enterprises include a five-year, 24-part series in the Los Angeles Times — with consequences. When Joel Sappell wrote an explosive story about secret Scientology documents in 1985, "The Times told Sappell and his colleague, Robert Welkos, to disappear for a few days until things cooled down." Though he had been warned by sources to watch out for their pets, Sappell returned to find his dog had died.
Though undeterred by the "unnerving experiences," in Dec. 2012, Sappell wrote a piece for Los Angeles Magazine about what happened after that first story. He got a call from LA Superior Court Judge Ronald Swearinger, the judge presiding over a "nasty civil trial" he was covering that "pitted the Church of Scientology against a former church member who claimed he'd been relentlessly harassed. Thousands of Scientologists from across the country had converged on downtown Los Angeles to protest the trial and what they perceived as Swearinger's religious bigotry."
Sappell wrote of the call: "'I hear your dog was poisoned,' the judge said softly. I was startled. It's highly unusual for judges to contact reporters during a trial, especially when they've already been accused of bias. There was a pause as Swearinger took a breath. 'My dog was drowned,' he said, referring to his collie. 'We found him dead in our pool. He'd never go near the water on his own.'"
They learned "how the church and its leaders—first Hubbard and then his successor, David Miscavige—had made psychological warfare a spiritual imperative."
Actually, Scientology founder L. Ron Hubbard made a point of it: "If attacked on some vulnerable point by anyone or anything or any organization, always find or manufacture enough threat against them to cause them to sue for peace," Hubbard said. "Don't ever tamely submit to an investigation of us. Make it rough, rough on attackers all the way."
It took trans icon Kate Bornstein until May 2012 to escape the fear of retaliation to publish and promote her memoir, "A Queer and Pleasant Danger: The true story of a nice Jewish boy who joins the Church of Scientology, and leaves twelve years later to become the lovely lady she is today."
Kate joined Scientology at age 22, in 1970. "I couldn't figure out who or what I was," she said in a July 2016 video interview with Broadly.
"What I was didn't make sense. I knew I wasn't 'boy.' And I started looking for some kind of spiritual answer. What attracted me about it was Scientology's notion of a spiritual being. They told me – you are not your body. You're not your mind, you're not your brain. You are your own immortal soul. They called that soul a 'thetan.' So are there girl thetans and boy thetans? No, of course not. I thought, ah – this makes sense. Nothing else in Scientology made sense – but that made sense."
As Al Bornstein, she rose through the ranks of the Sea Org, becoming first mate to Hubbard on the yacht Apollo in the early 1970s. Scientology tried to "fix" her but Kate was unwilling. "They offered me a choice and the way they described it was – I would be sleeping on the garage floor outside. I couldn't eat any food in the dining room. I had to wait until everybody else had eaten and then I could eat the scraps they'd left over. It was either that or I could be ex-communicated forever. Ex-communicate me," she said.
But that meant she had to leave ex-wife Molly and daughter Jessica Baxter, then 9, behind and they had to disconnect with the "suppressive person. Kate hasn't seen daughter since 1980. She did try to see Jessica in Dec. 2016 when filming I Am Cait. Caitlyn Jenner suggested they go to the big blue Scientology worldwide administrative headquarters on Sunset Boulevard—but they left unfulfilled. As of Nov. 28, Kate hasn't seen Jessica for 12,825 days.
Many media outlets have written about Scientology without the self-censorship of fear—including former Village Voice editor/investigative reporter Tony Ortega. On Nov. 28, Ortega posted "Ugh. We just found a troubling L. Ron Hubbard Scientology lecture about little boys and sex." The post features video excerpts of Hubbard's comments, which Ortega then helps translate for those unfamiliar with Scientology jargon. Even with the translation, however, the thinking is hard to comprehend.
On, Sept. 2, 2012, while still at the Village Voice, Ortega wrote a difficult story: "Scientology's Homophobia: Even the Church's Token Gay Guy Was Disgusted." Ortega writes of the whole-hearted belief West Hollywood gay Keith Relkin had in Scientology. He came out in Nov. 2000 and successfully argued that he should do a rebuttal to a story critical of the church. "Relkin asserted that Scientology was actually
a leader in human rights, the Beverly Hills
mission in particular was welcoming to gays, and that it was his mission to help Scientology reach out to the gay community," Ortega writes.
Reklin, who worked in the movie industry, convinced the church to let him do an outreach party and distribute thousands of gay-specific versions of "The Way to Happiness" booklet. He was crushed when the event was shut down and he had to find and destroy all the booklets.
"He spent the next year and a half going through intense Scientology interrogations that convinced him the entire debacle had been his own fault. Then, over the last four years of his life, he continued to struggle through his church training, trying to understand where he'd gone wrong," Ortega writes. Reklin died on Feb. 3, 2012 of natural causes.
On March 21, 2016, the UK Daily Mail Online published the horrific story of Nora Crest, who says she worked at Los Angeles Celebrity Centre taking care of John Travolta and Tom Cruise's children and taught Scientology courses. "But she says that all changed when she kissed another girl – and liked it. Even though it never went any further than kissing, Nora was put into the Rehabilitation Project Force [RPF]," The Mail reports.
She spent years under constant watch in grueling circumstances, sometimes getting beaten up by other women for imagined slights. She tried to commit suicide and tried to escape—finally downing a bottle of bleach as the last resort.
"It was the most horrific time of my life. I was battered and bruised, pushed around and nearly died trying to leave the Church and all because I had the audacity to desire another woman," she said. "I was brainwashed into believing I'd done wrong and had to live in horrific conditions for three years before I was finally allowed to leave. This can't be allowed to happen to another person, hence why I'm speaking out. Homosexuality in the Church is the lowest of the low, you're treated like scum."
"Nora Crest was dismissed from her position in the Church of Scientology nearly 15 years ago for misconduct," a church spokesperson told the Mail. "The serious allegations that she makes about the Church are without any foundation in fact and are not supported by any credible documentary evidence. The Church premises in Los Angeles where Ms Crest lived are routinely inspected for compliance with health, fire and safety regulations with no concerns arising."
The spokesperson continues: "The claims Ms Crest makes about the Church's position on homosexuality are also unfounded. The Church is opposed to discrimination of any sort, including on the basis of sexual orientation."
Now 39, Crest is happy, married to a man named Cameron with whom she has two children. She continues to address Scientology on her YouTube Channel.
But the fear factor remains real, which is why Leah Remini and Mike Ringer praise the former Scientologists who bare their souls and share information on camera. One episode included a discussion of how cruel Hubbard was to his son Quentin, who many believed was gay. Quentin committed suicide on Nov. 12, 1976. He was 22.
Another heartbreaking episode dealt with the suicide of Aaron Poulin at the Hollywood Inn on Hollywood Boulevard. Marie Bilheimer met Aaron when she was 15 and he was 17 serving together in the Sea Org. They married July 16, 2000. However, their career paths diverged as she got promoted and he got demoted for getting caught doing little things—like putting highlights in his hair or going out dancing. Marie was surprised when the Director of Inspections and Reports brought her to security at the Hollywood Inn where she was told, "Aaron hung himself last night." "Did he die?" "Yeah." And that was it. She was surrounded by 25 people, none of whom comforted her as she fell apart.
Marie returned to work, forbidden to say anything lest she get written up as Scientology turned Aaron into "just a bad person."
Later Marie found a ticket in Aaron's sock drawer—for prostitution. He killed himself three weeks before his pending court date. "I feel like he was trapped," Marie says through tears, "and for years I felt a responsibility and I felt the blame and I felt like I had missed it and it was my fault and that he did it because of me. Because I was so dedicated and he didn't have anywhere to turn to."
In 2004, two months after Aaron died, Marie left the Sea Org. In 2010, she left Scientology. The show put up a disclaimer: "The Church of Scientology states that Marie Bilheimer signed an affidavit stating the Church was not responsible for her husband's suicide."
Scientology has repeatedly slammed Remini and the show. For instance, there's this statement to People: "As we said before, desperate for attention with an acting career stuck in a nearly decade-long tailspin, Leah Remini needs to move on with her life. Instead, she seeks publicity by maliciously spreading lies about the Church using the same handful of bitter zealots who were kicked out years ago for chronic dishonesty and corruption and whose false claims the Church refuted years ago, including through judicial decisions. Please see our full statement at www.scientologynews.org/leah-remini."
The Angry Gay Pope and Nasty Nathaniel continue their prankster harassment without Anonymous—and have stayed out of major trouble and beaten back Scientology harassment, thanks to gay lawyer Graham Berry.
Pope, aka Don Myers, who has also been on two Emmy-winning teams as an animator and contributor (to Remini's show), was featured in Business Insider as the protester who took photos of the heightened security around the Twin Peaks compound in Hemet, where many believe Miscavige's wife Shelly might be sequestered. He also produces video for an ex-Scientology website for www.survivingscientology.com.
Nasty Nathaniel is an independent journalist who does "First Amendment audits" of "the evil, very secretive cult" of Scientology and the police for CopBlock.org.
"I am a police accountability activist," he says. "I film the police in public as well conducting First Amendment audits of public buildings, such as police stations, correctional facilities, courthouses, post offices, military bases, etc. The purpose of these audits is to make sure that public officials respect our right to record in public."
Morris Kight would have been proud of the gay protesters sticking with the cause. "Morris didn't like what Scientology did to unsuspecting, vulnerable youths," says Mary Ann Cherry, Kight's biographer. "He saw from his apartment how Scientology recruited young runaways, gave them a place to sleep and a bit to eat in exchange for continual servitude, often for a lifetime," losing their gay identities.
Kight's longtime friend Miki Jackson concurs, saying he counseled many young LGBT people "who had fallen under the influence and the captivity of Scientology. Morris called Scientology a menace," Jackson tells the Blade. "They were particularly predatory towards vulnerable young gay people. They scoured the streets of Hollywood looking for runaways and people in distress," she says. "It was a fertile hunting ground" for exploitation.
Angry Gay Pope, who is HIV positive and does videos of other people with HIV/AIDS, says he's really just an "ordinary Joe." But he hates homophobia. "I do this because I'm morally offended. Eventually, they're going to come for me so I go for them first," Myers says frankly. "I might as well fight for a better tomorrow."
Gay couple assaulted in D.C. by teens shouting 'monkeypox faggots'
The men were treated and released at Howard University Hospital for head and facial bruises, with one receiving stitches for a deep cut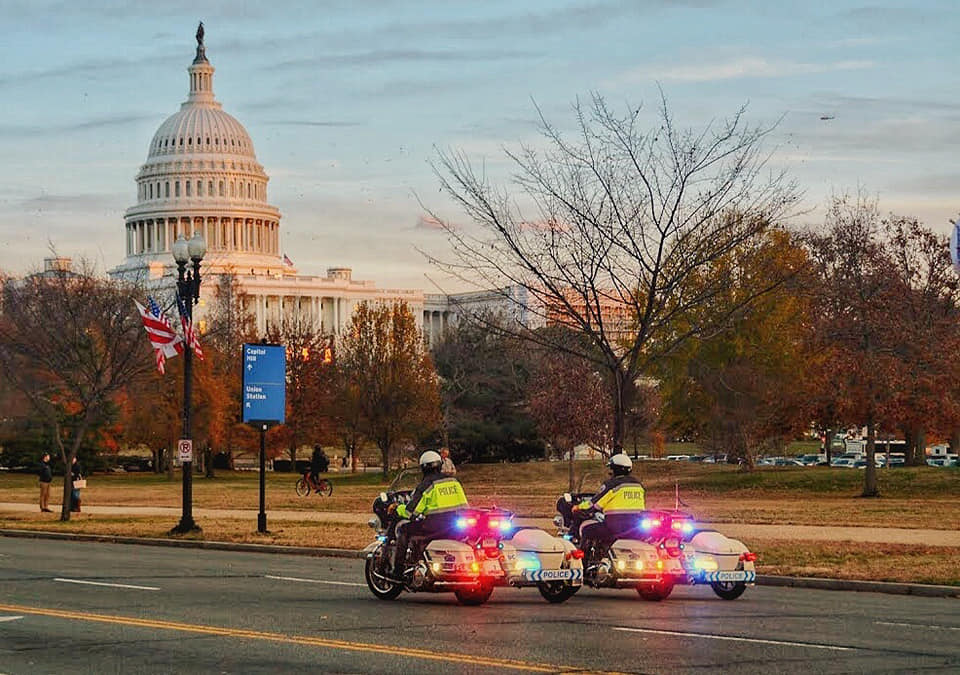 WASHINGTON – Two young men appearing in their late teens shouted the words "monkeypox faggots" at a gay male couple walking along 7th Street, N.W. in the city's Shaw neighborhood on Sunday, Aug. 7, before punching the two men in the face and head in an incident that D.C. police have called a suspected hate crime.
The gay men were treated and released at Howard University Hospital for head and facial bruises, with one of the two receiving stitches for a deep cut on his upper lip, according to one of the victims who spoke to the Washington Blade.
The victim, an Alexandria resident who asked that he and his partner, a D.C. resident, not be identified by name, said the attackers were part of a group of four or five young men appearing to be between 17 and 19 years old and two young women accompanying them. He said the group crossed paths with the gay couple around 5:40 p.m. in front of a store on the 1700 block of 7th Street, N.W., as the couple was walking to a nearby bus stop on Rhode Island Avenue.
The victim who spoke to the Blade said a nearby witness called D.C. police, who arrived within a few minutes as the two attackers and the other young men with them fled the scene. He said although an ambulance arrived on the scene, one of the police officers drove the couple to nearby Howard University Hospital, where they spent about six hours in the emergency room.
The couple had spent part of that 90+ degree day at the city's Banneker Pool and later stopped at the Kiki gay bar on U Street, N.W. before taking what the victim who spoke to the Blade said was a leisurely walk from Kiki via 7th Street on their way to the bus stop, where they planned to take the bus to his boyfriend's Northeast D.C. house.
As the couple walked south on 7th Street about a block from their destination on Rhode Island Avenue they crossed paths with the group of teenagers in front of a store that a D.C. police report says was at 1731 7th St., N.W.
"They were about 17 to 19 years old," the victim who spoke to the Blade said. "And one of them started saying stuff like, hey, look at these monkeypox faggots and some not so nice stuff like that," he said.
"We turned around to walk away and one of them came up behind me and got my attention and then sucker punched me and then hit me again and then hit my boyfriend in the face," the victim said. "And another person hit him in the face as well," he said. "And then someone across the street called the cops. And then the cops came, and they scattered off."
To the couple's surprise, the two young women remained on the scene and apologized for the actions by the guys they were with.
"So, I said something like thanks for the apology, but this is the kind of people you hang out with," the victim recounted. "And one of them said their dad was gay, and they kind of walked away before the cops got there," he said. "It was nice of them to apologize I guess for the other people."
The D.C. police report lists the incident as having two offenses, a simple assault against the two men and a misdemeanor destruction of property related to the destruction of a pair of sunglasses worn by one of the two men that were damaged in the assault against him.
The report also lists the incident as a suspected "Sexual orientation – Anti-Gay" hate crime.
As in all incidents of violent crime, D.C. police call on members of the public to contact the police with information about an incident like this to call police at 202-727-9099 or text a tip to the department's TEXT TIP LINE at 50411.
Biden administration ends 'Remain In Mexico' policy for asylum seekers
DHS had held off lifting the MPP protocols until after the Supreme Court's ruling and then until the U.S. District Judge lifted his injunction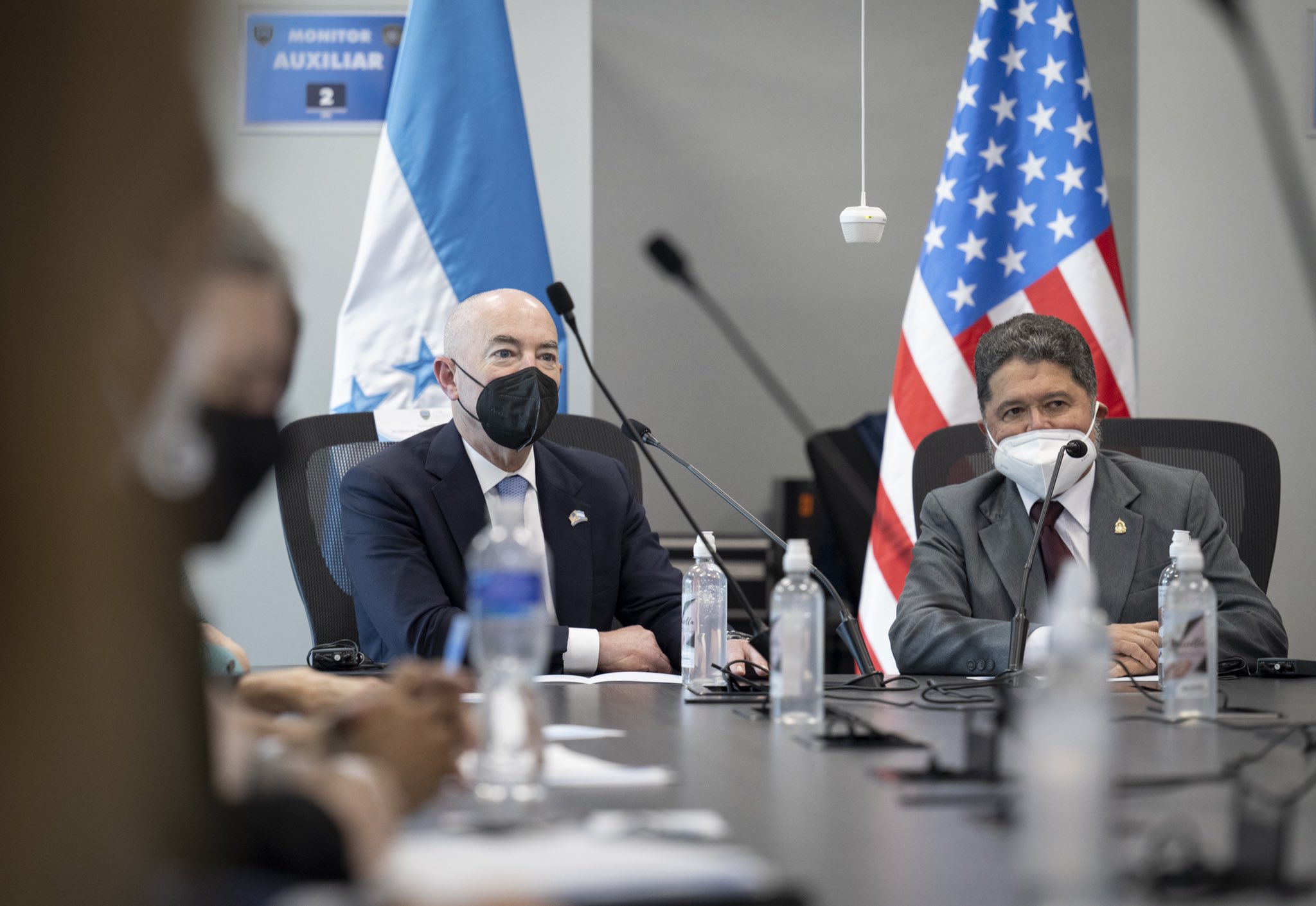 WASHINGTON – The U.S. Department of Homeland Security (DHS) announced Monday that the Migrant Protection Protocols (MPP) colloquially referred to as the 'Remain-in-Mexico' policy for asylum seekers at the nation's Southern border has ended.
In a statement issued yesterday, DHS noted;
"We welcome the U.S. District Court's decision, which follows the U.S. Supreme Court's June 30th decision, to lift the injunction that required DHS to reimplement the Migrant Protection Protocols (MPP) in good faith.
DHS is committed to ending the court-ordered implementation of MPP in a quick, and orderly, manner. Individuals are no longer being newly enrolled into MPP, and individuals currently in MPP in Mexico will be disenrolled when they return for their next scheduled court date.  Individuals disenrolled from MPP will continue their removal proceedings in the United States."
DHS officials had held off lifting the MPP protocols until after the Supreme Court's ruling and then additionally until U.S. District Judge Matthew Kacsmaryk, a Trump appointee in Amarillo, Texas, had lifted his injunction. 
"MPP has endemic flaws, imposes unjustifiable human costs, and pulls resources and personnel away from other priority efforts to secure our border," Secretary of Homeland Security Alejandro N. Mayorkas said as DHS removed the MPP policy.
The DHS statement also noted that the Department will provide additional information in the coming days. "MPP enrollees should follow the directions on their court documents and tear sheets to appear for their scheduled court date as required."
DHS continues to enforce our nation's immigration and public health laws, including the Centers for Disease Control and Prevention's Title 42 public health order as required by court order. Individuals encountered at the Southwest Border who cannot establish a legal basis to remain in the United States will be removed or expelled, the statement added.
Conservative group sues Iowa school district over trans-inclusive policy
The policy covers years 7-12, allowing students to freely communicate with faculty members and school staff about their gender identity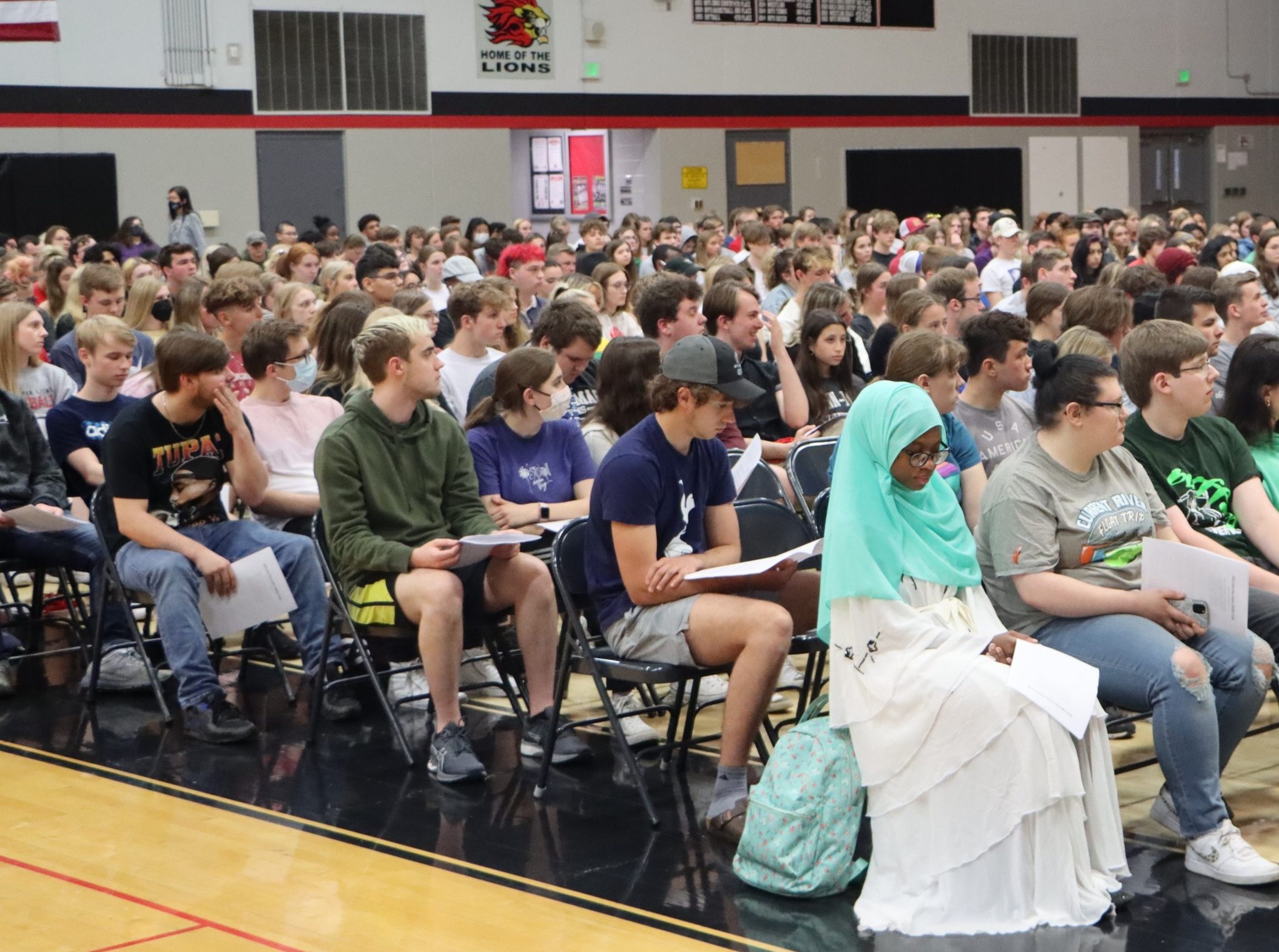 CEDAR RAPIDS, Ia. – The Parents Defending Education (PDE), a conservative right-wing nationwide nonprofit membership association, sued an Iowa school district in federal court last week over the district's gender support plan approved last Spring by the school board.
The Linn-Mar Community School District (LMCSD) policy (504.13-R) covers year 7 through year 12, allowing students to freely communicate with faculty members and school staff about their gender identity. The policy protects those conversations from their parents if they wish.
The policy also states students and staff should identify a student by their chosen name and pronouns, and allow students to participate in activities as their assigned gender.
PDE's suit alleges LMCSD's "parental exclusion policy" violates violates parent's First and Fourteenth Amendment rights. "Nearly a century of Supreme Court precedent makes two things clear: parents have a constitutional liberty interest in the care, custody, and control of their children, and students do not abandon their First Amendment rights at the schoolhouse gate. The Linn-Mar Community School District is flouting both of these constitutional guarantees through its recent adoption of Policy 504.13-R"
The suit also claims, "The Policy authorizes children to make fundamentally important decisions concerning their gender identity without any parental involvement and to then hide these decisions from their parents. […] These actions can happen without any knowledge or input from the child's parents. Instead, these decisions will be made solely by the child and "school administrators and/or school counselors." And it is not just secrecy through silence. The District will withhold this information even if it is specifically requested by parents."
"Linn-Mar's gender policy demonstrates a deep contempt for the constitutional rights of its students and families," said Parents Defending Education President Nicole Neily in a statement. "It has been clearly established by the federal court system over the past 100 years that parents have a right to direct the upbringing of their children, and we are proud to fight on behalf of our members to put a stop to these unconstitutional policies."
LGBTQ + advocates maintain the LMCSD policy is necessary means ensuring that LGBTQ students can seek help about questions they might have, and also protect them from bullying and harassment.
The lawsuit alleges though that the policy is too broad when it comes to bullying and harassment, and that it violates 1st Amendment protections for those persons who choose to not identify a student by their chosen gender or name.
Since the LMCSD Board passed the policy the community of around 6,000 people has been divided. One parent writing in a Facebook post on the LMCSD page: [Tina Gaby]
"I think every parent at Linn Mar that is uncomfortable with this decision can start with Asking for a separate partition for their child to be able to change in the locker room. Biological males and females have just as much right as transgender kids to feel comfortable"
Another parent, Joseph Stutler, answered: "Tina Gaby Or they could just learn to be decent humans and mind their own business in the facilities."
The Linn-Mar Community School District did not respond to media requests for comment.