Troubling signs for LGBT people from Supreme Court in cakeshop arguments
Justice Kennedy: "Tolerance is essential in a free society. Tolerance is most meaningful when it's mutual."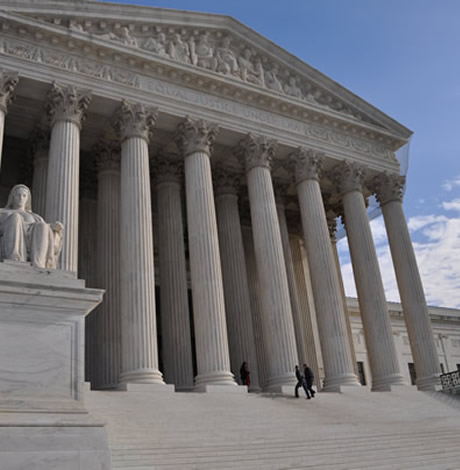 The U.S. Supreme Court concluded arguments Tuesday in the Masterpiece Cakeshop case with no clear indication of how it would rule as swing-vote Associate Justice Anthony Kennedy expressed skepticism of the Colorado non-discrimination law, but also sent conflicting messages.
As the American Civil Liberties Union's national legal director David Cole argued before the bench, Kennedy remarked the attorney's claim the baker, Jack Phillips, denied a wedding cake to the same-sex couple based on their identity, rather than objections to same-sex marriage, was "just too facile."
Kennedy also maintained "tolerance is essential" in society and accused the Colorado Civil Rights Commission of being "neither tolerant, nor respectful of Phillips' religious beliefs," noting a line in the commission's ruling calling the baker "despicable." Kennedy also mentioned "other good bakery shops that were available."
But Kennedy also questioned whether the denial of a wedding cake compromised the dignity of the couple — a principle of significant importance to the justice — and questioned why selling ready-made cake to the couple wouldn't be speech as opposed to a custom cake. Kennedy also envisioned after a ruling in favor of the baker religious groups sending messages to bakeries to "not make cakes for gay weddings."
In the aftermath of the hearing, reporters in the Supreme Court press room speculated the court could remand the case to the Colorado Civil Rights Commission with instructions to be more tolerant of Phillips' religious beliefs. Another possibility was a ruling specifically crafted to apply to Colorado's non-discrimination law without nationwide implications.
The petitioner in the case, Phillips, argues that making a wedding cake is inherently an artistic act of expression protected under the First Amendment, therefore he should be able to deny wedding cakes out of religious objections to same-sex couples like Charlie Craig and David Mullins, who sought to buy a cake for their wedding in 2012.
The Colorado Civil Rights Commission determined Phillips' denial of service to the couple amounted to unlawful anti-gay discrimination under the Colorado Anti-Discrimination Act. Although state courts have affirmed that ruling, the Supreme Court agreed to take up the case earlier this year.
U.S. Associate Justices Elena Kagan and Sonia Sotomayor, the Obama-appointed justices, made the strongest case for the Colorado non-discrimination law and at times were seemingly trying to coax Kennedy, who has a long history of ruling in favor of gay rights, to side with the same-sex couple.
When Kristen Waggoner, senior vice president of U.S. advocacy for the law firm Alliance Defending Freedom, approached the issue of dignity by saying "in this case, dignity cuts both ways" and the Colorado law is demeaning to Phillips, Sotomayor shot back that wasn't the case.
"It's not denigrating someone by saying, as I mentioned earlier, to say: If you choose to participate in our community in a public way, your choice, you can choose to sell cakes or not," Sotomayor said. "You can choose to sell cupcakes or not, whatever it is you choose to sell, you have to sell it to everyone who knocks on your door, if you open your door to everyone."
Asserting society has "competing beliefs," Sotomayor recognized LGBT people "have been humiliated, disrespected, treated unequally" and enumerated the history of discrimination against them, such as LGBT people being denied medical treatment. That history, Sotomoyor said, justifies a non-discrimination law in public accommodations.
"We've always said in our public accommodations law we can't change your private beliefs, we can't compel you to like these people, we can't compel you to bring them into your home, but if you want to be a part of our community, of our civic community, there's certain behavior, conduct you can't engage in," Sotomayor said. "And that includes not selling products that you sell to everyone else to people simply because of their either race, religion, national origin, gender, and in this case sexual orientation."
Kagan peppered Waggoner with questions on why wedding cake would be considered inherent, but not other wedding services such as a jeweler or a hairstylist. Waggoner said neither of those cases would be the same as a wedding cake because they're not speech.
"I'm quite serious, actually, about this, because, you know, a makeup artist, I think, might feel exactly as your client does, that they're doing something that's of great aesthetic importance to the wedding and that there's a lot of skill and artistic vision that goes into making a somebody look beautiful," Kagan said.
In one telling moment when Kagan enumerated other professions and brought up chef, Waggoner denied a chef at a wedding was engaged in expressive speech, prompting her to exclaim "woah" in disbelief.
"The test that this court has used in the past to determine whether speech is engaged in is to ask if it is communicating something, and if whatever is being communicated, the medium used is similar to other mediums that this court has protected," Waggoner replied.
U.S. Chief Justice John Roberts, who was sympathetic to the baker's claims, had his own hypothetical question that he posed both to Cole and Colorado Solicitor General Frederick Yarger: Could a Christian legal group be forced under Colorado law to represent a client in support of same-sex marriage? Both Cole and Yarger said the answer would be "yes."
"It's clearly covered by Colorado's law," Roberts said. "It's not primarily religious. It's primarily legal. It's provided to all faiths. And there's nothing in the law that I can see that says it's limited to for-profit organizations."
Sotomayor sought to cast doubt on whether Phillips was seeking to deny same-sex couples only wedding cakes because they're inherently an act of expression, referencing an incident when he refused to sell cupcakes to a lesbian couple. Waggoner said that alleged incident was never included in the initial complaint, the formal charges against Phillips or the resolution against him.
Representing the Trump administration during arguments was U.S. Solicitor General Neil Francisco, who solicited and obtained time to argue on behalf of Masterpiece Cakeshop. It was the first time since his confirmation he argued before the Supreme Court during oral arguments.
Francisco made the case the First Amendment allows an individual to deny a wedding cake to a same-sex couple, but not for an interracial or black couple because that act would be based on identity, not the act of same-sex marriage.
"I think pretty much everything but race would fall in the same category, but as this court made clear in the Bob Jones case, the IRS could withdraw tax-exempt status from a school that discriminated on the basis of interracial marriage, but I'm not at all sure that it would reach the same result if it were dealing with a Catholic school that limited married student housing to opposite-sex couples only," Francisco said.
When Kagan asked whether denying a wedding cake to a couple was an affront to the LGBT community, Francisco conceded dignity issues were at stake, but sometimes there's "dignity interest on the other side."
Both Francisco and Waggoner made heavy use of the Supreme Court precedent in the case of Hurley v. Irish American Gay, Lesbian, and Bisexual Group of Boston, a 1995 decision which held the state can't compel individuals in a public demonstration to include groups who impart a message the organizers don't want in their demonstration.
Francisco called the decision against Masterpiece Cakeshop the "flipside of Hurley" because in this case Colorado was essentially forcing Phillips to take part in the metaphorical parade of supporting same-sex marriage.
U.S. Associate Justice Neil Gorsuch tried to steer the court toward instituting an abstract rule that could guide businesses on whether they could deny service to customers under the First Amendment, bringing up Jackson Pollock as the kind of artist who would be able to deny service because his art is inherently expressive.
The Trump-appointed justice also questioned why the punishment for Phillips, being forced to undergo training with his employees, shouldn't be considered compelled speech.
"Why isn't that compelled speech and possibly in violation of his free-exercise rights?" Gorsuch said. "Because presumably he has to tell his staff, including his family members, that his Christian beliefs are discriminatory."
In addition, Gorsuch echoed Kennedy's concerns about the Colorado Civil Rights Commission being disrespectful of Phillips, pointing to a second commissioner who suggested if he doesn't like the law, he could change his religious beliefs.
There was little time for attorneys to make their cases before the Supreme Court without interruption as justices continually peppered them with inquiries and challenges, but on occasion were able to make the points they had prepared.
Cole, representing the American Civil Liberties Union and the same-sex couple, emphasized the far-reaching implications of a ruling in favor of being allowed to deny wedding cakes to LGBT people.
"We don't doubt the sincerity of Mr. Phillips's convictions, but to accept his argument leads to unacceptable consequences," Cole said. "A bakery could refuse to sell a birthday cake to a black family if it objected to celebrating black lives. A corporate photography studio could refuse to take pictures of female CEOs if it believed that a woman's place is in the home. And a florist could put a sign up on her storefront saying we don't do gay funerals, if she objected to memorializing gay people."
Waggoner said forcing Phillips to make wedding cakes contrary to his beliefs would be the "gravest offense to the First Amendment."
"A wedding cake expresses an inherent message that is that the union is a marriage and is to be celebrated, and that message violates Mr. Phillips' religious convictions," Waggoner said.
More to come…
Alabama School District agrees to adopt critical LGBTQ protections
"There is no amount of money in the world that could ever replace Nigel," said Nigel's mother. "You can't put a price on a child"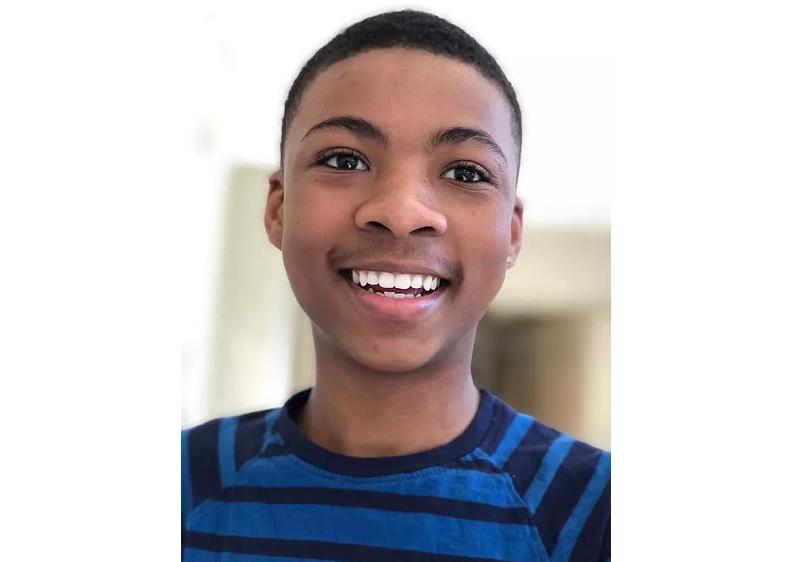 HUNTSVILLE, Al. – The family of Nigel Shelby, a Black, openly gay teenager who died by suicide after experiencing severe, unchecked anti-gay harassment and race discrimination while attending Alabama's Huntsville High School, reached a settlement with the Huntsville City Board of Education, concluding the federal civil rights lawsuit brought by Shelby's parents following his tragic death.
Nigel was 15 when he died by suicide on April 18, 2019. His parents and estate subsequently filed a federal lawsuit against the Huntsville City Board of Education and school administrator Jo Stafford for violating Nigel's civil and constitutional rights.
Their complaint, filed in July 2021, alleged that Nigel was deprived of educational opportunities, and ultimately his life, because of deliberate indifference by the Board and Stafford to the anti-gay peer harassment Nigel was experiencing.
The lawsuit also cited a lack of adequate training to prevent and address such harassment, and school officials' own intentional discrimination against Nigel based on his sexual orientation, nonconformance with sex-stereotypes, and race.
The settlement announced today requires the Board to implement a series of policy and training changes designed to better protect lesbian, gay, bisexual, transgender and queer (LGBTQ) students from sex-based harassment, including by:
Making Title IX policy changes clarifying that sex-based discrimination includes conduct based on a person's sexual orientation and nonconformity to gender stereotypes;
Ensuring additional, readily accessible resources and information on how to identify and report bullying and harassment, including harassment of LGBTQ students, are available for all district students and parents;
Implementing professional development and external training on best practices for all school administrators, faculty and other personnel who regularly interact with students or are involved in receiving or investigating bullying and harassment complaints, including harassment of LGBTQ students;
Hiring external consultants with expertise in schools' prevention and response to LGBTQ harassment and racism to conduct a comprehensive review of the district's relevant policies, practices, procedures, and training; conduct climate assessments; and make recommendations for improvement;
Conducting annual school climate surveys to identify and assess harassment and bullying in the district's schools;
Developing and implementing district-wide procedures for electronically recording and tracking all incidents of bullying and harassment;
Continuing to implement a suicide prevention program for students and considering any improvements recommended by the external consultants; and
Providing annual reports for three years to counsel for Nigel's family showing compliance with the non-monetary terms of the settlement.
The settlement also includes $840,000 in financial compensation to the family, including damages and attorneys' fees.
The family's legal complaint noted that students at his school routinely subjected Nigel to anti-gay slurs and told him that he should kill himself for being gay, resulting in him never feeling safe in the school environment.
Additionally, the complaint alleges that the school's lead administrator for the freshman class, Jo Stafford, knew about the anti-gay harassment Nigel was experiencing, and the self-harm and suicidal ideation that resulted, yet took inappropriate action to address it, instead blaming Nigel for his own harassment, saying it was the price he had to pay for being gay.
The complaint notes that Stafford also mocked Nigel's depression, telling Nigel and a classmate dance to "black people's music" to make Nigel feel better. Stafford never informed Nigel's parents about the harassment or mental health crisis he was experiencing, nor did she offer Nigel any professional help.
Nigel died by suicide approximately one week after a classmate had taken Nigel to Stafford for help out of concern over Nigel's self-harming conduct and Nigel had told Stafford how deeply upset he was over the anti-gay harassment he was experiencing.
"There is no amount of money in the world that could ever replace Nigel," said Camika Shelby, Nigel's mother. "You can't put a price on a child. This lawsuit was about bringing change. It was about acknowledging that there needs to be change. It was about saving someone else's child so that they don't have to go through the horrible tragedy that I have. I hope this settlement will help bring about that change."
With more than 300 anti-LGBTQ bills introduced by state lawmakers in the past year, Alabama lawmakers have sought to advance a record number of bills targeting LGBTQ rights, including passing one of the most anti-transgender legislative packages in history. Currently, Alabama joins 24 other states that don't have laws protecting LGBTQ students from bullying on the basis of sexual orientation and gender identity.
"We're very pleased that Huntsville City Schools has agreed to make substantial changes to ensure that students like Nigel are protected during a time when LGBTQ students are under attack nationwide," said Public Justice Students' Civil Rights Project Director Adele Kimmel. "We know that LGBTQ students and students of color experience discrimination at disproportionately high rates, so it's critical that schools take proactive steps to protect these students. By amending its Title IX policies to clarify that sex-based discrimination includes conduct based on sexual orientation and nonconformity to gender stereotypes, Huntsville is taking an important step in the right direction."
In a press release, officials say the school board approved the agreement Tuesday.
"First and foremost, we continue to extend our thoughts and prayers to Nigel's family, friends and school community," Huntsville City Schools superintendent Christie Finley said. "While we understand nothing can replace the life of a student, it is our hope that the settlement will bring a sense of peace and closure for all involved."
"All students have the right to go to school without fear of bullying and harassment for who they are," said Joseph Wardenski, Founder & Principal of Wardenski, P.C., a civil rights law firm based in New York. "Nigel was denied that right. By bringing this lawsuit, Nigel's parents are honoring his memory by ensuring that Huntsville will create a safer, more inclusive environment for LGBTQ+ students."
"While Camika and Patrick lost a son, the world lost a smart, handsome, funny young person with limitless potential," said retired district judge Martha Lynn Sherrod, who served as co-counsel. "We will not know what or who Nigel would have become, but his legacy inspires all of us to cherish, protect and advocate for our children without regard to sexual orientation. Dr. Martin Luther King said 'Injustice anywhere is a threat to justice everywhere. Whatever affects one directly, affects all indirectly.' Injustice or insensitivity aimed at the LGBTQ community affects all of us, and we must continue to work to eradicate prejudice in any form. Schools are not an exception to this rule, but must remain at the forefront to protect our children."
Nigel's family is represented by Adele Kimmel, Alexandra Brodsky, and Mollie Berkowitz of Public Justice; Joseph Wardenski of Wardenski P.C.; and M. Lynn Sherrod and Kenneth B. Cole, Jr. of Conchin, Cole, Jordan & Sherrod.