Jon Davidson is leaving Lambda Legal
Shock hits LA activists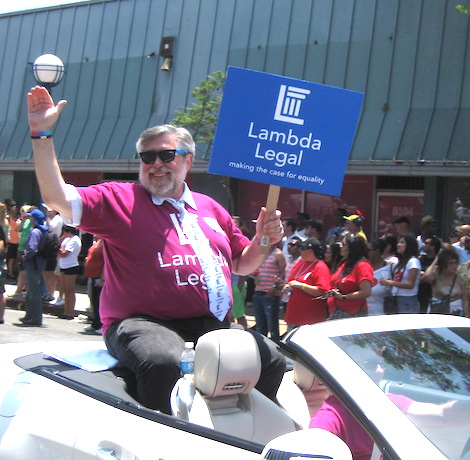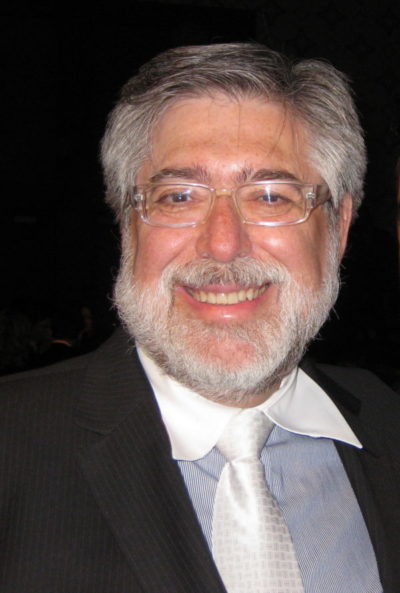 About half way through Chris Johnson's Washington Blade story about Lambda Legal staff seeking to unionize came this unobtrusive little note: "Jon Davidson, who's been legal director for Lambda for 22 years, was set to depart the organization on Wednesday."
Wait—what? Jon Davidson leaving Lambda Legal? The sentence struck the brain like a cathedral bell stuck clanging high noon. At a time when the LGBT community needs quietly strong continuity, the Atlas of one of the movement's most dependable organizations is laying down the weight of Lambda litigation and walking away. Why?
He wouldn't say. But Davidson did send the Los Angeles Blade a statement for the record.
"Yes, I am leaving," Davidson said in an email. "I am incredibly grateful to have had the opportunity to work with my wonderful colleagues at Lambda Legal and its sister organizations these many years on behalf of so many courageous clients and our brave LGBTQ community. It's been an honor to be part of the incredible progress we have made. I am proud to have built a terrific team of talented lawyers at Lambda Legal, who I am confident will protect our gains and continue to advance equality, dignity, and justice for all LGBTQ people and for everyone living with HIV. I'm currently exploring a number of different next steps in my career. Wherever I end up, I plan to continue to be part of the more critical than ever fight for social justice in our country," says Davidson, 62, who is still on his sabbatical leave and official departs on Dec. 15.
Acting Legal Director Camilla Taylor wrote a very comprehensive farewell tribute to the gay man who worked at Lambda Legal for 22 years, serving as legal director for the past 13 years, with a thoughtful list of many of his accomplishments.
"If I had a nickel for every time I've witnessed JD up at ungodly hours to work, sifting through legal materials and strategizing with his colleagues about how to conquer a problem or action against our community, mastering every minute detail, we could shut down Lambda Legal, colonize Mars and turn it into the queer utopia of everyone's dreams," Taylor wrote.
"During Jon's tenure, Lambda Legal secured nationwide marriage equality, along with massive advances in the rights of LGBTQ and HIV+ people at work, at school, in health care, in immigration and criminal justice and beyond.
Under his leadership, Lambda Legal hired the organization's first openly transgender lawyer and launched its Transgender Rights Project. It expanded its consideration of intersectional and racial equity issues and dramatically increased the representation of people of color and trans and gender-nonconforming people on Lambda Legal's staff," she said.
"He inspired us every day through his courage and integrity," Taylor wrote. "He encouraged us to litigate bravely, fiercely and always honorably. He fearlessly took calculated litigation risks, buoyed by his faith in the goodness of other people."
Taylor lists cases with which Davidson was involved while at Lambda since he joined the LGBT legal firm in 1995. Not included in the otherwise excellent personal post is a really critical point that makes the shock of his leaving so important: Jon Davidson has also been the LGBT people's lawyer.
A graduate of Stanford University and Yale Law School, Davidson was a partner at the important LA law firm Irell & Manella when he left in 1988 to join the ACLU of Southern California. He wanted—he needed to be of service to the LGBT community during the horrendous wave of the AIDS crisis. And that meant not only litigation but working on the ground, directly with the community, to explain what was going on, what could and could not be done and working with local leaders and community partners such as the LA Gay & Lesbian Community Services Center to find solutions for desperate people.
Davidson translated legalese into language hurting and frightened people could understand, such as holding seminars to explain why gay couples needed legal protections for their relationships so a lover could see his dying partner in the hospital, make medical decisions and stay in their shared house as the anti-gay family swooped in to claim everything.
He was also on the street during demonstrations, from the massive AB 101 protests after Gov. Pete Wilson vetoed the gay rights bill he promised to sign in 1991 to protests against Don't Ask, Don't Tell and the Defense of Marriage Act, to name a few. He was a brainiac lawyer who was accessible to the people.
And while he was an extraordinary explainer-in-chief, Davidson was someone with whom other brainiacs, politicos and everyday LGBTs could argue without the long knives of revenge or forever-grudges interfering with the "greater good" of the LGBT people.
While surely one of Davidson's crowning achievements (with Shannon Minter from the National Center for Lesbian Rights, among others) was the marriage victory on May 15, 2008 with the consolidate In re Marriage Cases, there were two other cases with significant ripple effects that need to be acknowledged—his long, long fight against the LAPD with the Sgt. Mitch Grobeson case and the Boy Scout cases, especially their first one with Tim Curran.
Macho-macho man LAPD Chief Daryl Gates had publicly declared that "homosexuality is unnatural" and rejected gay officers because "Who would want to work with one?" The LAPD also housed Deputy Chief Mark Kroeker and his secret "God Squad" that fast-tracked the careers of like-minded anti-gay Christians.
"After he was outed and harassed at work, falsely accused of misconduct, and had his life put at risk when members of the department intentionally refused to send backup to assist him in a life-threatening situation, Grobeson felt he had to take action, even knowing that doing so would surely lead to further character assassination," Davidson told the Los Angeles Blade, describing his work with civil rights lawyer Dan Stormer on Grobeson's behalf in what turned out to be 25 years of litigation starting in 1988. "Grobeson didn't want what happened to him to happen to anyone else." The lawsuits led to numerous reforms in the LAPD's hiring, personnel, and policing practices.
But it was Jon Davidson who brought Grobeson's case and the silent plight of other LGBT police officers to the attention of the independent Christopher Commission in 1991, which investigated the LAPD in-depth after the riots following the acquittal of four officers accused of videotaped beating Rodney King. In addition to looking at discrimination against the lesbian and gay officers, the Commission—which included attorney and later ambassador David Huebner—found that LAPD officers held homophobic bias toward LGBT citizens.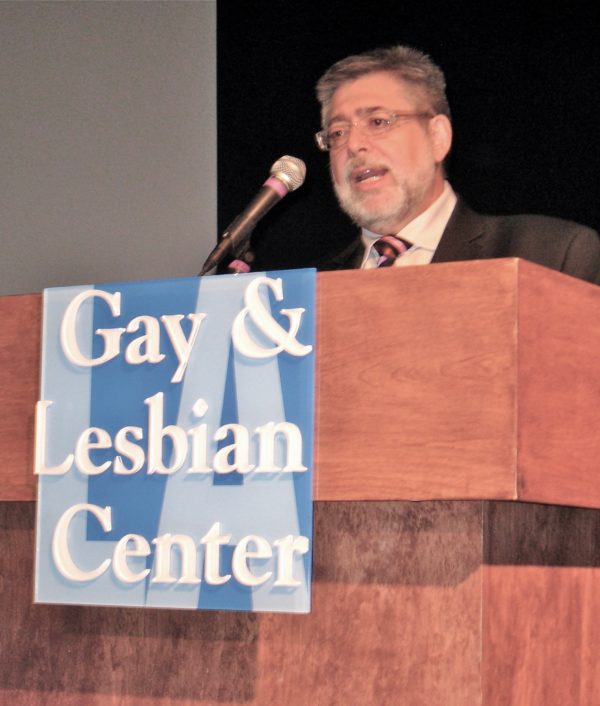 "There's an important lesson here," Davidson told The Los Angeles Blade on the anniversary of the riots. "When racism and police violence against black and brown communities are tolerated, homophobia, transphobia, and violence against LGBTQ people often are present, as well. Efforts to end certain forms of official bias can diminish other forms, as well. All Angelenos, including those of us who are part of the queer community, are better off because of the reforms of the last 25 years."
When Warren Christopher—the former Sec. of State who led the investigation—died in 2011, Davidson wrote a remembrance that places him in LGBT history.
"The Christopher Commission's 228-page report documented virulently anti-gay sentiments of LAPD officers, such as mobile digital police car transmissions referring to crimes against gay people as 'NHI, "meaning 'no humans involved." The Commission's detailed examination of police records also proved false LAPD claims that anti-gay sting operations in Griffith Park were justified by frequent complaints," Davidson wrote. "When I and others pressed the Commission to hear testimony from current and former lesbian and gay officers, they agreed and took steps to protect those who were still in the closet. That testimony showed a widespread pattern of discrimination and harassment based on perceived sexual orientation against both LAPD employees and civilians."
The Christopher Commission's report was used to pressure homophobic LAPD Police Chief Daryl Gates to leave. Davidson and Christopher later worked together when his law firm, O'Melveny & Myers, helped Lambda Legal represent a gay youth harassed at his high school. "Christopher had stood behind his firm (which was long considered a conservative institution) taking on that case, and he expressed great pride in the result we jointly obtained—establishing a constitutional right of lesbian and gay youth to be out at school as well as the largest pretrial settlement ever of a case of this nature," Davidson wrote. "[O]ur community should remember him for helping make tackling inequality based on sexual orientation a mainstream concern."
Another case with far-reaching ripple effects was the fight against discrimination in the Boy Scouts of America. Tim Curran was excited to get his Eagle Scout patch in 1980. But, as he notes in his website about the wrenching experience, "Little did we know that only a few months later, the troop would be forced to excommunicate me after the local Mount Diablo Council found out I was gay. My own troop leaders had known for some time, and had continued to accept my leadership as an Assistant Scoutmaster," Curran writes. "I was shocked when the letter from the Council arrived at my UCLA dorm room. But it didn't take too long before I got mad. I called the ACLU of Southern California, and they agreed to take the case."
The BSA, largely funded by members of the Church of Latter day Saints, had a policy excluding all "known or avowed homosexuals" from membership, which the ACLU and Lambda asserted violated California's law prohibiting discrimination by business establishments. Between 1981 and 1998, attorneys Sue McGreivy and the late George Slaff early on, then Davidson and Paul Hoffman fought for that case until the California Supreme Court finally ruled on March 23, 1998 in favor of the Boy Scouts.
The court also handed Davidson another loss that day with a decision against two 9-year-old twin brothers, Michael and William Randall, who were denied membership to an Orange County Cub Scout den in 1990 because they refused to declare a belief in God.
"This is the end of the line for this decision," Davidson told The New York Times about the Curran case, "but not for this question nationally." He was right. Even people who could care less about scouting became angry about the blatant discrimination against gays and got involved. Eventually, through a succession of openly gay LA Police Commissioners, the LAPD was forced to change it's alliance with a youth mentoring front group with ties to BSA and the national organization has since struggled with its admission policies.
Through it all, Davidson remained loyal to the cause and the people who needed help.
"Jon became my lawyer when he joined the ACLU of Southern California in the late 80s," Curran, who became a filmmaker and journalist, told the Los Angeles Blade. "He was young, daring, and extremely capable – and managed to push the Boy Scout case forward through obstacles that would have made other attorneys give up. John's a tremendous legal talent, a great guy, and the LGBT community—and I—owe him a great debt of gratitude that stretches back many decades."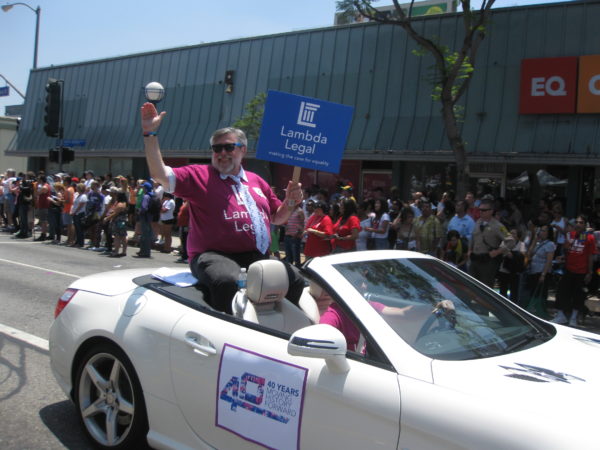 Lambda Legal still has many stalwart attorneys, but with Davidson's leaving, the torch has been passed to a new generation, members of advocacy organizations or the law firms from whence they came—but no one knows who they are, other than Jenny Pizer, who is also a community activist.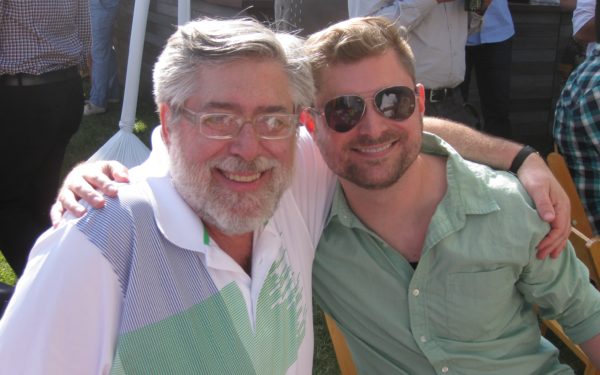 Davidson is now deciding what to do in the next stage of his remarkable life, as he celebrates 13 years with Syd Peterson. But it is imperative that we not forget all the experience, the institutional knowledge, the inspiration, and the out-of-the-box thinking that Davidson has contributed to the LGBT community for so many years. If he's no longer a fit for Lambda Legal, where might he land? Because this gay dude ain't done yet!
All photos by Karen Ocamb
Alabama School District agrees to adopt critical LGBTQ protections
"There is no amount of money in the world that could ever replace Nigel," said Nigel's mother. "You can't put a price on a child"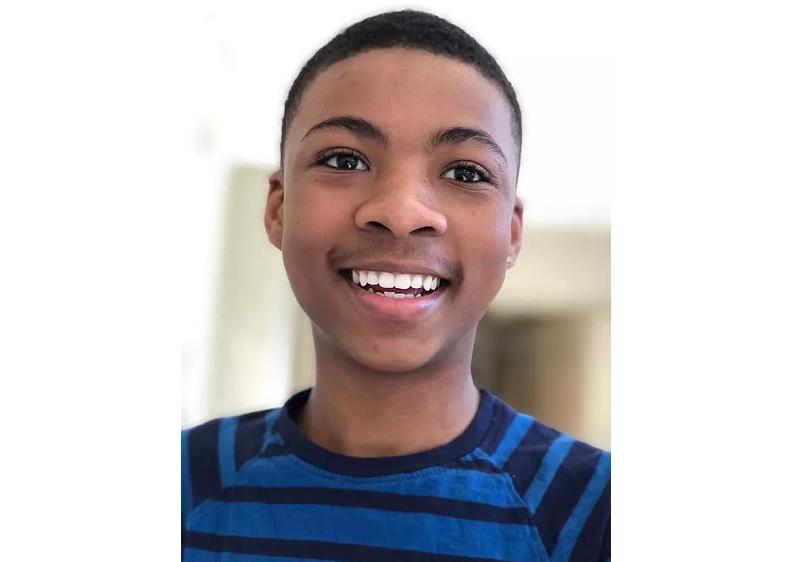 HUNTSVILLE, Al. – The family of Nigel Shelby, a Black, openly gay teenager who died by suicide after experiencing severe, unchecked anti-gay harassment and race discrimination while attending Alabama's Huntsville High School, reached a settlement with the Huntsville City Board of Education, concluding the federal civil rights lawsuit brought by Shelby's parents following his tragic death.
Nigel was 15 when he died by suicide on April 18, 2019. His parents and estate subsequently filed a federal lawsuit against the Huntsville City Board of Education and school administrator Jo Stafford for violating Nigel's civil and constitutional rights.
Their complaint, filed in July 2021, alleged that Nigel was deprived of educational opportunities, and ultimately his life, because of deliberate indifference by the Board and Stafford to the anti-gay peer harassment Nigel was experiencing.
The lawsuit also cited a lack of adequate training to prevent and address such harassment, and school officials' own intentional discrimination against Nigel based on his sexual orientation, nonconformance with sex-stereotypes, and race.
The settlement announced today requires the Board to implement a series of policy and training changes designed to better protect lesbian, gay, bisexual, transgender and queer (LGBTQ) students from sex-based harassment, including by:
Making Title IX policy changes clarifying that sex-based discrimination includes conduct based on a person's sexual orientation and nonconformity to gender stereotypes;
Ensuring additional, readily accessible resources and information on how to identify and report bullying and harassment, including harassment of LGBTQ students, are available for all district students and parents;
Implementing professional development and external training on best practices for all school administrators, faculty and other personnel who regularly interact with students or are involved in receiving or investigating bullying and harassment complaints, including harassment of LGBTQ students;
Hiring external consultants with expertise in schools' prevention and response to LGBTQ harassment and racism to conduct a comprehensive review of the district's relevant policies, practices, procedures, and training; conduct climate assessments; and make recommendations for improvement;
Conducting annual school climate surveys to identify and assess harassment and bullying in the district's schools;
Developing and implementing district-wide procedures for electronically recording and tracking all incidents of bullying and harassment;
Continuing to implement a suicide prevention program for students and considering any improvements recommended by the external consultants; and
Providing annual reports for three years to counsel for Nigel's family showing compliance with the non-monetary terms of the settlement.
The settlement also includes $840,000 in financial compensation to the family, including damages and attorneys' fees.
The family's legal complaint noted that students at his school routinely subjected Nigel to anti-gay slurs and told him that he should kill himself for being gay, resulting in him never feeling safe in the school environment.
Additionally, the complaint alleges that the school's lead administrator for the freshman class, Jo Stafford, knew about the anti-gay harassment Nigel was experiencing, and the self-harm and suicidal ideation that resulted, yet took inappropriate action to address it, instead blaming Nigel for his own harassment, saying it was the price he had to pay for being gay.
The complaint notes that Stafford also mocked Nigel's depression, telling Nigel and a classmate dance to "black people's music" to make Nigel feel better. Stafford never informed Nigel's parents about the harassment or mental health crisis he was experiencing, nor did she offer Nigel any professional help.
Nigel died by suicide approximately one week after a classmate had taken Nigel to Stafford for help out of concern over Nigel's self-harming conduct and Nigel had told Stafford how deeply upset he was over the anti-gay harassment he was experiencing.
"There is no amount of money in the world that could ever replace Nigel," said Camika Shelby, Nigel's mother. "You can't put a price on a child. This lawsuit was about bringing change. It was about acknowledging that there needs to be change. It was about saving someone else's child so that they don't have to go through the horrible tragedy that I have. I hope this settlement will help bring about that change."
With more than 300 anti-LGBTQ bills introduced by state lawmakers in the past year, Alabama lawmakers have sought to advance a record number of bills targeting LGBTQ rights, including passing one of the most anti-transgender legislative packages in history. Currently, Alabama joins 24 other states that don't have laws protecting LGBTQ students from bullying on the basis of sexual orientation and gender identity.
"We're very pleased that Huntsville City Schools has agreed to make substantial changes to ensure that students like Nigel are protected during a time when LGBTQ students are under attack nationwide," said Public Justice Students' Civil Rights Project Director Adele Kimmel. "We know that LGBTQ students and students of color experience discrimination at disproportionately high rates, so it's critical that schools take proactive steps to protect these students. By amending its Title IX policies to clarify that sex-based discrimination includes conduct based on sexual orientation and nonconformity to gender stereotypes, Huntsville is taking an important step in the right direction."
In a press release, officials say the school board approved the agreement Tuesday.
"First and foremost, we continue to extend our thoughts and prayers to Nigel's family, friends and school community," Huntsville City Schools superintendent Christie Finley said. "While we understand nothing can replace the life of a student, it is our hope that the settlement will bring a sense of peace and closure for all involved."
"All students have the right to go to school without fear of bullying and harassment for who they are," said Joseph Wardenski, Founder & Principal of Wardenski, P.C., a civil rights law firm based in New York. "Nigel was denied that right. By bringing this lawsuit, Nigel's parents are honoring his memory by ensuring that Huntsville will create a safer, more inclusive environment for LGBTQ+ students."
"While Camika and Patrick lost a son, the world lost a smart, handsome, funny young person with limitless potential," said retired district judge Martha Lynn Sherrod, who served as co-counsel. "We will not know what or who Nigel would have become, but his legacy inspires all of us to cherish, protect and advocate for our children without regard to sexual orientation. Dr. Martin Luther King said 'Injustice anywhere is a threat to justice everywhere. Whatever affects one directly, affects all indirectly.' Injustice or insensitivity aimed at the LGBTQ community affects all of us, and we must continue to work to eradicate prejudice in any form. Schools are not an exception to this rule, but must remain at the forefront to protect our children."
Nigel's family is represented by Adele Kimmel, Alexandra Brodsky, and Mollie Berkowitz of Public Justice; Joseph Wardenski of Wardenski P.C.; and M. Lynn Sherrod and Kenneth B. Cole, Jr. of Conchin, Cole, Jordan & Sherrod.