December 13, 2017 at 6:56 pm PST | by Karen Ocamb
8 Year old Gabriel Fernandez gets justice
Jurors deliberated for seven hours over three days before recommending the death penalty for Isauro Aguirre, 37, convicted of first-degree murder on November 15 for fatally torturing and murdering his girlfriend's 8 year old son, Gabriel Fernandez, who Aguirre thought was gay. The disturbing evidence of torture prompted reforms to the Los Angeles County child-welfare system.
"We were plucked out of our everyday lives and brought together to serve," the jury forewoman read in a joint statement. "We came together to bring justice for Gabriel.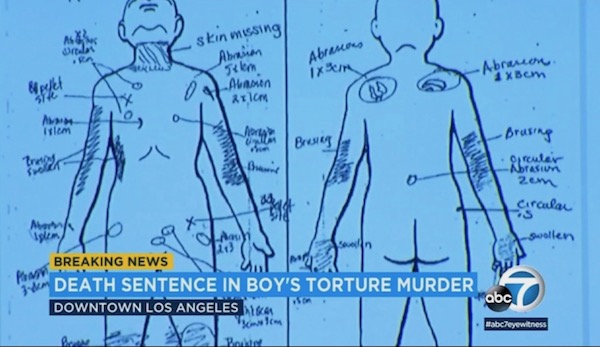 "When paramedics arrived at the boy's Palmdale home on May 22, 2013, Gabriel was unconscious and had a cracked skull, broken ribs, burned and bruised skin, missing teeth and BB pellets lodged in his groin. He died two days later after being removed from life support," the Los Angeles Times reported.  "During closing arguments in the penalty phase of Aguirre's trial, Deputy Dist. Atty. Jonathan Hatami told jurors that in the months leading up to the boy's death, the defendant had reveled in his brutalization, forcing Gabriel to eat cat feces and his own vomit. The boy slept in a small cabinet, the prosecutor said, with his ankles handcuffed, his hands bound and his mouth gagged with a sock."
"No human with a heart and soul could do that to an innocent little boy," Hatami told jurors, asking the jurors to "show the defendant the exact.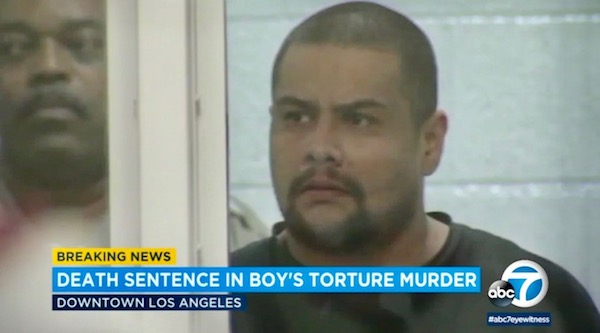 "Mercy isn't something that's ever earned," Deputy Public Defender John Alan said, asking for life in prison without the possibility of parole for Aguirre. "It's something that is freely granted."
The Times reported that after the recommendation was presented, "a juror, who asked to be identified only as a 25-year-old who works in social media, said even a death sentence didn't seem like 'enough justice.' Throughout the trial, she said, she woke up each morning with Gabriel on her mind — he was there, too, as she fell asleep each night. The photographs of his small, battered body — the bruises and blood on his neck — will stay with her forever, she said. 'It's heartbreaking,' she said."
The judge will sentence Aguirre on March 8.