'A great day for Alabama'
Jones stuns homophobe Moore in win seen as rebuke of Trump, Bannon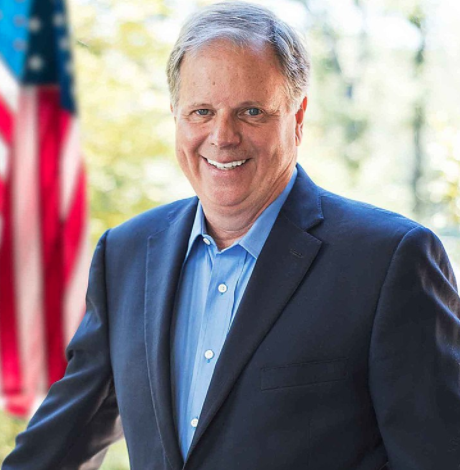 In a stunning political development celebrated by LGBT rights advocates, Democrat Doug Jones defeated notorious homophobe Roy Moore in an Alabama special election Tuesday for a U.S. Senate seat.
According to New York Times estimates, Jones, a former U.S. prosecutor, won 50 percent of the vote over Moore, who has a long career as an attorney and judge and who captured about 48 percent of the vote. Major media outlets called the election for Jones at 10:25 p.m. EST.
Jones told supporters in Birmingham after his win he thinks he's "been waiting for this all my life, and now I just don't know what the hell to say."
"I have always said that the people of Alabama have more in common than what divides," Jones said. "We have shown the country the way that we can be unified."
Jones gave thanks to the black community in Alabama, which had a large turnout widely seen as a major factor in his win, as well as Latinos. Jones also wished his Jewish friends a "happy Hanukkah."
Concluding his remarks, Jones said Alabama has often been at the crossroads of U.S. history, but voters that night "took the right road." The audience chanted "U-S-A! U-S-A!"
Jones pulled off a stunning win against Moore in a deep red state that President Trump won by a handy margin in 2016. Jones is the first Democrat to win statewide election in Alabama since 1992.
Endorsed by the Human Rights Campaign, Jones has expressed support for LGBT rights. The senator-elect was caught on camera telling a supporters the Trump administration was "wrong" to have rescinded Title IX guidance assuring transgender kids access to the school restrooms consistent with their gender identity. Further, Jones said Trump's transgender military ban was "wrong."
Chad Griffin, president of the Human Rights Campaign, said in a statement the election demonstrates "attacking and demonizing the LGBTQ community is a sure-fire way to get yourself beat on Election Day."
"Doug Jones' victory in Alabama is monumental, and was made possible by the overwhelming and unprecedented, grassroots resistance of ordinary Alabamians against the politics of hate and division," Griffin said. "From our victories in North Carolina, Virginia, and now in Alabama, equality voters have proven that LGBTQ people and our allies are a voting bloc to be respected, sought-after and feared by candidates on both sides of the aisle."
Moore faced accusations of sexual misconduct from nine women over his campaign, including three accusations of sexual assault, which likely affected Alabama voters.
The most prominent accuser was Leigh Corfman, who said Moore sexually assaulted her in 1979, when she was 14 and he was 32. Another, Beverly Young Nelson, said when she was 15 in 1977 she received unwelcome attention from Moore. Nelson said one year later Moore sexually assaulted her. Other women accused of him pursuing inappropriate relationships with them when they were teenagers.
Moore was already well known in the LGBT community for his hostility toward LGBT rights, even when it meant abandoning the rule of law. Many LGBT observers predicted a Moore win would have been tantamount to a revival of late Sen. Jesse Helms of North Carolina, who championed homophobic policies during his tenure in Congress.
After he started his run for the U.S. Senate, a tape emerged from 2005 in which Moore said same-sex relationships, which were illegal in many states just two years earlier before the U.S. Supreme Court ruling in Lawrence v. Texas, should be criminalized.
On the day of the election, CNN reporter Jake Tapper questioned Moore spokesperson Ted Crockett if the candidate still believes homosexuality should be illegal. His response: "Probably."
Asked what the punishment should be, Crockett replied, "It's just a sin, OK? That's what it is." Pressed further, Crockett said, "It's what my Bible tells me. Both the Old Testament and the New Testament." (Although the Old Testament calls when a "man lies with a male as with a woman" an "abomination," the admonitions in the New Testament on homosexuality are sometimes seen instead as prohibitions on male prostitutes and pederasty.)
"That's what this is about," Crockett added. "You people want to take the whole two or three thousand years of our history, and ya'll just want to throw it out the window as if you're just going to make your own rules, your own man-made rules, and do whatever you want in sin. And that's part of the problem we've got in Washington, D.C., today."
Lane Galbraith, a transgender activist in Mobile, Ala., said the election results were a step forward for his state.
"Alabamians can hold their heads high," Galbraith said. "We overcame white supremacy, bigotry, ignorance and religious oppression."
The most prominent part of Moore's anti-LGBT record was his opposition to the U.S. Supreme Court's ruling for same-sex marriage. Moore called the decision "an immoral, unconstitutional and tyrannical opinion" and instructed Alabama state judges to ignore federal rulings in favor of marriage equality.
Last year, Moore issued a directive saying despite the U.S. Supreme Court's decision for same-sex marriage, probate judges should still deny marriage licenses to gay couples because the Alabama Supreme Court never withheld its 2015 ruling upholding the state law against gay nuptials.
For encouraging state officials to defy federal courts, the Alabama judicial court suspended Moore for the remainder of his term from the Alabama Supreme Court, determining Moore "failed to uphold the integrity and independence of the judiciary." (It wasn't the first time Moore was suspended from the bench. It happened in 2003 when he refused to remove a monument of the Ten Commandments from the Alabama Judicial Building.)
Out U.S. Rep. introduces bill to create U.S. LGBTQ history museum
"It is vital to remember our collective past when certain states seek to constrain & repeal existing rights by passing laws that harm LGBTQ+"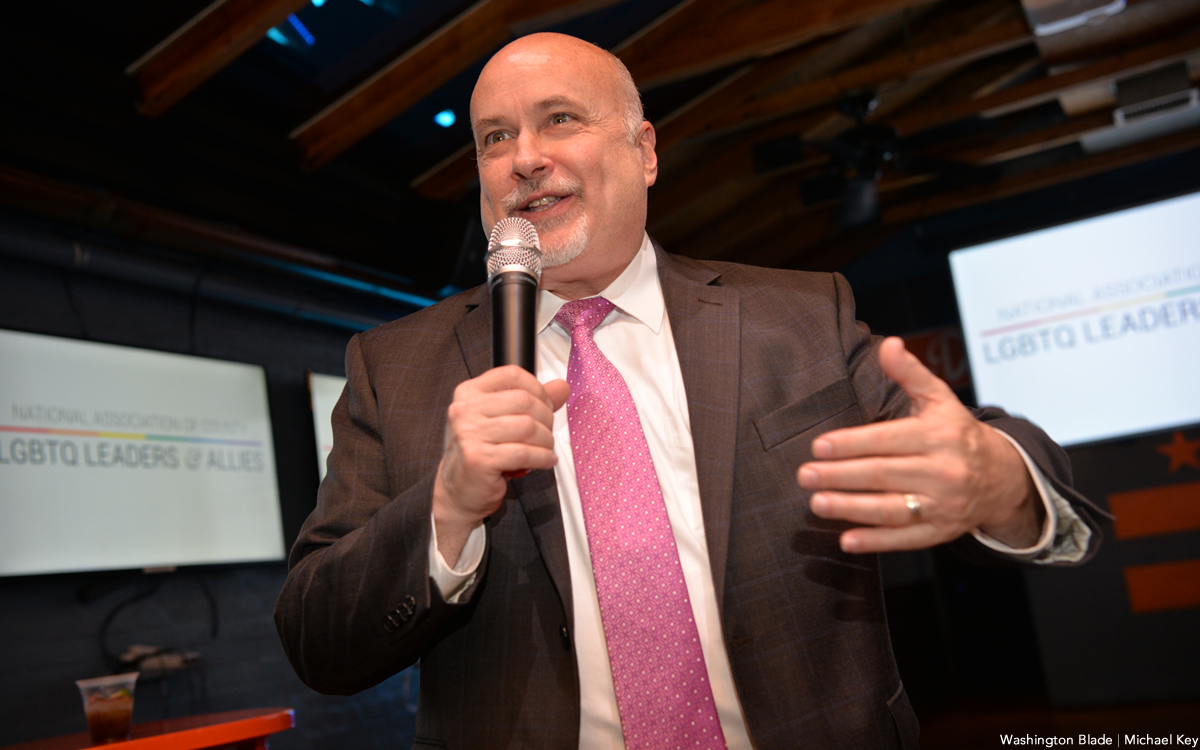 WASHINGTON – U.S. Rep. Mark Pocan (D-Wis.) has introduced legislation that would set up the process to create a National Museum of American LGBTQ+ History & Culture, potentially as an official site within the Smithsonian Institution in Washington, D.C.
Pocan, one of nine openly gay members of the U.S. House and co-chair of the LGBTQ+ Equality Caucus, said in a statement Thursday the measures would are effort to preserve LGBTQ history "as our community faces unprecedented attacks and attempts to erase our history." The pair of bills is H.R.9070 and H.R.9071.
"It is vital to remember our collective past – particularly when certain states seek to constrain and repeal existing rights by passing bills that harm LGBTQ+ youth and our community at large," Pocan said. "Let's tell these stories, and honor the many contributions the LGBTQ+ community has made to this nation with a museum in Washington, D.C."
The first bill, according to a news statement, would creates an eight-member commission of individuals with expertise in museum planning or LGBTQ+ research and culture "to look into the viability of establishing such a facility in the nation's Capital."
Among other things, the commission would be charged with recommending a plan on action for museum, including fundraising for the museum, and submitting to Congress a plan for construction of the museum, the statement says.
The bill would also instruct the commission to address whether the museum should be part of the Smithsonian Institution, based in the nation's capital and the world's largest museum and research complex, per the news statement. The full study, the statement says, would have to be completed in 18 months.
If the Smithsonian were to adopt the a museum on LGBTQ history and culture, it would be similar to other museums under its jurisdiction focused on minority populations in the United States, including the National Museum of African American History & Culture and the National Museum of the American Indian.
The second bill, according to a news statement, would be eligible for consideration by Congress after the commission completes its work and issues its recommendations and allow for formal creation of the museum. More than 50 lawmakers, including all nine openly gay members of the U.S. House, co-sponsor the legislation.
New survey shows 72% of Utah residents back same-sex marriage
Troy Williams, executive director of Equality Utah said he's not surprised to see that a majority of Utahns now support marriage equality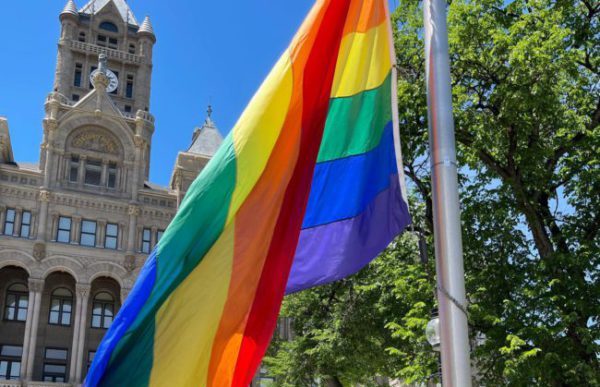 SALT LAKE CITY – The results of a poll run by the Hinckley Institute of Politics and the Desert News found 72% of Utah's residents agree that marriages between same-sex couples should be recognized by law as valid, with the same rights as cis-gender marriages.
"For a state that less than 20 years ago passed laws and a constitutional amendment prohibiting same-sex marriage, there has been a seismic shift in opinion," said Jason Perry, director of the Hinckley Institute of Politics at the University of Utah.
The Deseret News/Hinckley Institute of Politics survey also found that 23% of those surveyed disagreed, while 5% expressed that they don't know.
The poll shows Utahns are aligned with the nation as a whole on the issue. A Gallup poll in May found 71% of Americans say they support legal same-sex marriage, a new high.
Troy Williams, executive director of Equality Utah, told the Desert News that he's not surprised to see that a majority of Utahns now support marriage equality.
"Utah is a pro-family state, and we recognize that families come in all shapes and sizes. When we see loving, committed couples joining in matrimony, our natural impulse is to support and encourage that love. This gives me great hope for the future," he said.
A new poll shows nearly three-fourths of Utahns support legal same-sex marriage. | By @dennisromboy #utpolhttps://t.co/DBJHHNgmnJ

— Deseret News (@Deseret) September 30, 2022
Art spotlights people of color lost to AIDS in the South
The conference was attended by LGBTQ activists from the South, featured 100 quilt panels. Attendees participated in quilt-making workshops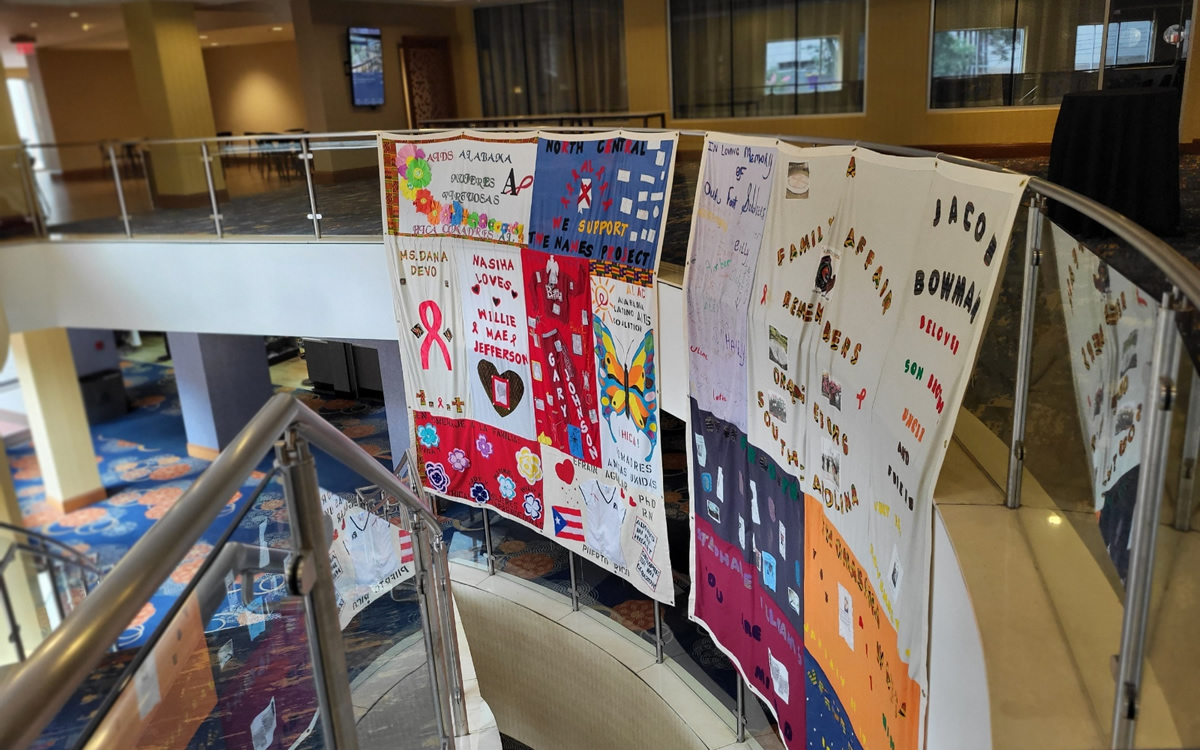 JACKSON – The National AIDS Memorial has joined forces with the Southern AIDS Coalition to stage a series of art exhibitions and educational forums to honor Black and Brown people in the South who have been lost to HIV/AIDS.
The initiative, titled Change the Pattern, began in Jackson, Miss., on Wednesday with curated quilt exhibitions, displays, educational forums, advocacy, storytelling and quilt-making, according to a press release from the National AIDS Memorial. A $2.4 million grant from the biopharmaceutical company Gilead Sciences, Inc., funded Change the Pattern.
More than 500 hand-stitched quilt panels from the area were featured in what the National AIDS Memorial says is "the largest display of the AIDS Memorial Quilt ever" in Mississippi.
"By creating an empowering message and safe spaces for conversation, we can uplift, inspire and make progress toward ending the HIV epidemic, challenge cultural stigmas and continue the legacy of advocacy that the quilt represents," said National AIDS Memorial CEO John Cunningham in the release.
Change the Pattern was announced in honor of Southern HIV/AIDS Awareness Day during the Southern AIDS Coalition's annual Saving Ourselves Symposium that took place in August.
The conference, which was heavily attended by LGBTQ activists from the South, featured 100 quilt panels, and attendees participated in quilt-making workshops to make new quilt panels representing their loved ones.
Interested LGBTQ advocacy organizations in the South were invited to apply for funding to support local quilt-making workshops in their communities so as to ensure that the legacies of Black and Brown people are captured through newly-sewn panels on the quilt through the Memorial's Call My Name program, according to the National AIDS Memorial press release.
The application process opened on Sept. 15 with up to 35 eligible organizations receiving as much as $5,000 to support hosting local workshops.
The first major Change the Pattern Quilt was founded 35 years ago as a visual representation of the need to end stigma and provide equitable resources to communities most impacted by HIV/AIDS, according to Southern AIDS Coalition Executive Director Dafina Ward.
"Change the Pattern is a call to action and change in the South," said Ward. "Quilt-making has such a deep cultural connection in the Black community and in the South. The sharing and telling of these powerful stories through the quilt, coupled with advocacy and open dialogue, can help end HIV-related stigma and bring the stories of those we've lost to light."
As the Change the Pattern initiative occurs, conversations about how to handle health epidemics within LGBTQ communities of color have become national topics, especially with the prevalence of monkeypox cases amongst Black gay men.
Despite earlier panic about the disease, the Centers for Diseases Control and Prevention in a report released on Wednesday said that individuals who were vaccinated against the disease were less likely to be affected over the summer compared to those who weren't.
The effectiveness and duration of immunity after a single dose, however, is not known, and few individuals in the current outbreak have completed the recommended two-dose series, according to the report.
The most recent CDC data reports that 25,509 monkeypox cases have thus far been confirmed in the U.S. Only one death has been reported.