December 26, 2017 at 11:35 am PST | by Karen Ocamb
Steve Mnuchin's on this guy's sh*t list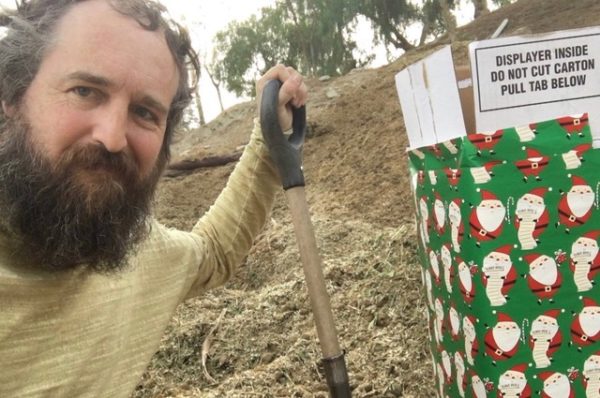 Treasury Secretary Steven Mnuchin, a former Hollywood producer and
Goldman Sachs banker, and his former actress wife Louise Linton apparently adore Donald Trump's greedy aspirational "Apprentice" theme—"money, money, money." It was enough to drive Los Angeles County psychologist Robert Strong to protest with a smelly Christmas present: a nicely wrapped box of horseshit.
An exemplar of the richest 1%, the Mnuchin's posed  with a sheet of $1 bills at the Bureau of Engraving and Printing in Washington, D.C. in mid-November in a photo the twitter-verse dubbed as villainy personified.
When "Fox News Sunday" host Chris Wallace raised the viral villainy meme with  him in an interview about tax reform, Mnuchin said: "I guess I should take that as a compliment that I look like a villain in a great, successful James Bond movie."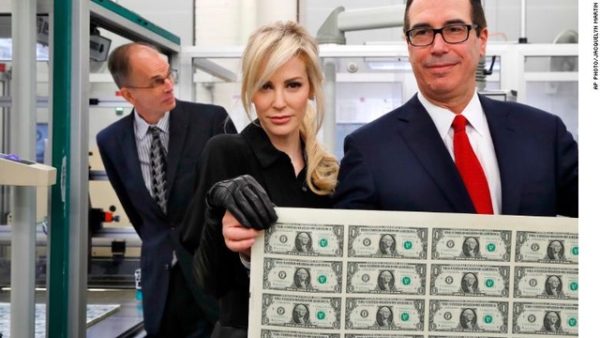 But for all the snark on Twitter, it was a New York Times fashion reporter who drove the point home. "Actresses of a certain fame are generally pretty canny about their visual messaging," wrote Vanessa Friedman, especially part-time former actress Linton who got into a social media war last August over an Instagram photo she posted, stepping off a taxpayer-funded government plane bragging about her designer dresses.
With her "long leather dominatrix gloves, a long leather skirt, wide black belt, black blouse and black stilettos," Linton is either "the most tone-deaf image maker in the administration or its most Machiavellian," the fashion reporter wrote.
Black leather, after all, said Friedman, "is the de facto outfit of villains everywhere, from generic Nazis with their black leather trench coats to Hermann Goering's black leather boots, The Terminator (Version 1), Darth Vader and assorted Disney witches. Indeed, Disney has a propensity for using leather on its baddies, which should suggest the extent to which the material has become a popular signifier of low character."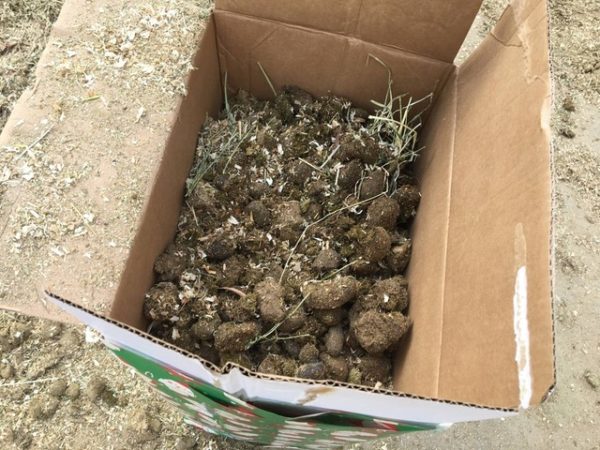 But that ostentatious "greed is good"  display was not the last straw for Los Angeles County psychologist Robert Strong: it was the recently passed tax bill. As a sign of political protest, Strong collected a batch of horse manure and left it as a festively-wrapped Christmas package outside Mnuchin's Bel-Air home.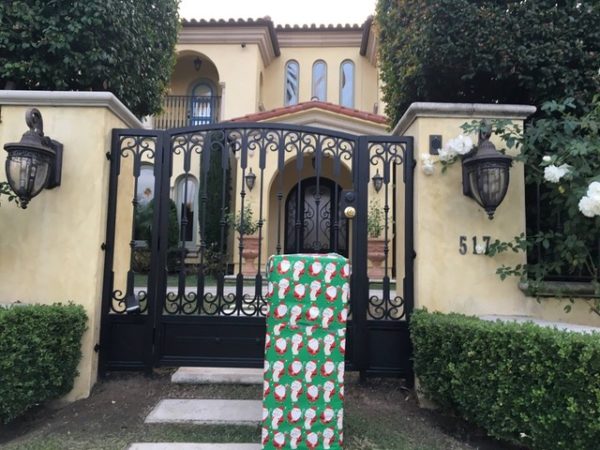 Strong also posted a number of photos of his "Secret Santa project" on Facebook and Twitter documenting what he called his frat-boy style "prank."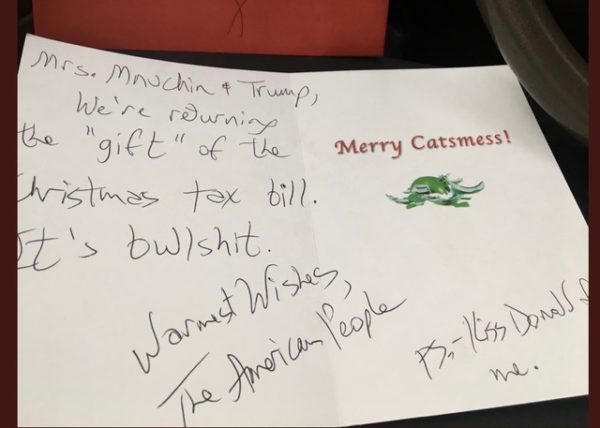 One photo showed an envelope addressed "To Stevie." Another photo showed a note saying "Merry Catsmess!" addressed to Mrs. Mnuchin & Trump." It reads: "We're returning the 'gift' of the Christmas tax bill. It's bullshit. Warmest Wishes, The American People," A postscript requests they kiss Trump for him.
Strong posted a YouTube video on Christmas Day calling himself "the prophet of poo." He reminds people that "the prophets of old often did shocking things to highlight the injustice." And for him, "that was delivering a gift-wrapped box of [horse manure] to parallel the idiocy of the complete … bill that's been passed."
"The thing I live by is a rule of transparency and I was exercising my First Amendment rights," Strong told AL.com, the Alabama outlet first to discover his identity. "A few years ago when [a Supreme Court ruling] said that corporations are persons and money equals free speech, that is so absurd and my rule of thumb is now that if corporations are free speech, then so is horses***t."
The Secret Service acknowledged they have investigated the incident but have not made an arrest. "The United States Secret Service takes all threats, both alleged and confirmed, seriously," public affairs specialist Cody Starken wrote in an email to the LA Times.  "As a matter of practice we do not comment on our protective intelligence, possible criminal investigations, and interviewing practices."
Strong told AL.com that he intended to inspire others to engage in political activism. "The fact that [Republicans] can be so brazen and act with such impunity tells me that we have to be more brazen with our activism and maybe a bit more aggressive," he said.