DOJ gives up on appealing court rulings against Trump's trans ban
Will continue to argue behalf of Trump's policy at the district court level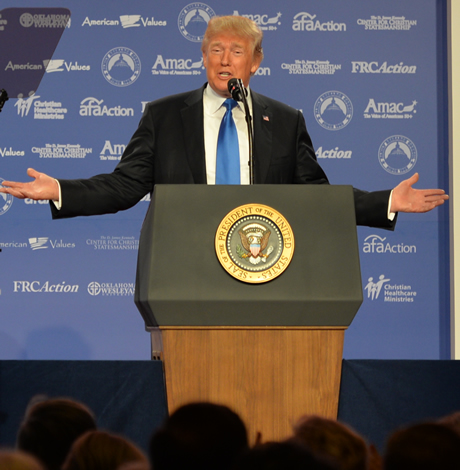 With multiple court rulings ensuring the Pentagon must admit qualified openly transgender people into the U.S. military starting Monday, the U.S. Justice Department is giving up on litigation fighting those decisions in federal appeals courts and won't seek a stay from the U.S. Supreme Court.
A Justice Department official told the Blade on Friday evening the administration won't fight preliminary injunctions against Trump's ban in appeals courts, but will still argue on behalf of Trump's policy at the district court level.
"The Department of Defense has announced that it will be releasing an independent study of these issues in the coming weeks," the DOJ official said. "So rather than litigate this interim appeal before that occurs, the administration has decided to wait for DOD's study and will continue to defend the president's and secretary of defense's lawful authority in district court in the meantime."
The Justice Department on Friday withdrew its appeals of three court rulings against Trump's transgender military ban — one from a federal court in D.C., another from a federal court in Maryland and another from a federal court in Washington State. A federal court in California also ruled against Trump's trans ban, but the Justice Department had yet to appeal that decision.
With these district courts denying stay on their decisions and the U.S. Court of Appeals for the Federal Circuit and the U.S. Fourth Circuit Court of Appeals also refusing to grant stays, the Justice Department could have sought relief from U.S. Chief Justice John Roberts as litigation proceeded. The announcement from the Justice Department, however, means the Trump administration won't take that option.
In July, Trump announced via Twitter he would ban transgender people from the armed forces "in any capacity," following up with a directive making good on that promise. As a result of litigation from LGBT legal groups, court enjoined the Pentagon from enforcing that directive. The Justice Department sought a stay on those decisions, but only as it pertained to allowing openly transgender people to enlist in the armed forces.
The Pentagon had announced earlier this month it was prepared to allow openly transgender people to enlist in the armed forces beginning on Jan. 1 as a result of court orders against Trump's ban. With the Justice Department giving up on seeking stays of those decisions, there is no doubt the U.S. military will start to admit qualified openly transgender people at that time.
Peter Renn, senior attorney at Lambda Legal who led litigation against Trump's ban in Washington State, said the decision means "we don't have to hit pause on the constitutional rights of transgender people" who want to enlist in the U.S. military.
"Federal district courts in D.C., Maryland, Seattle, and Los Angeles have seen through the administration's hollow arguments in support of discrimination and rejected them, as have the federal appeals courts," Renn said. "The war isn't over, but the government has waived the white flag before this battle even got started. The administration clearly saw the writing on the wall and withdrew its desperate effort, for now, to block transgender people from openly enlisting in the armed services and serving their country."
The decision from the Justice Department doesn't mean the litigation is entirely resolved. The administration will continue to argue in district court in favor of Trump's ban as the Pentagon implements openly transgender service, although the chances of the administration succeeding are slim in the aftermath of trial courts granting preliminary injunctions against Trump's policy.
Joshua Block, senior staff attorney with the American Civil Liberties Union who led the litigation in Maryland, said the move was "a victory for our country and all of the brave men and women who are transgender, and are ready, willing, and able to serve."
"Thousands of men and women who are transgender are already serving and meeting the same standards of fitness and deployability that apply to everyone else," Block said. "We will continue to fight for our clients until a final judgment is issued striking down President Trump's unconstitutional ban for good."
Black & LGBTQ+ inclusive wall mural cited for multiple code violations
The idea was to make a mural that addressed pending legislation in Tallahassee that would affect the rights of minorities & the LGBTQ+ people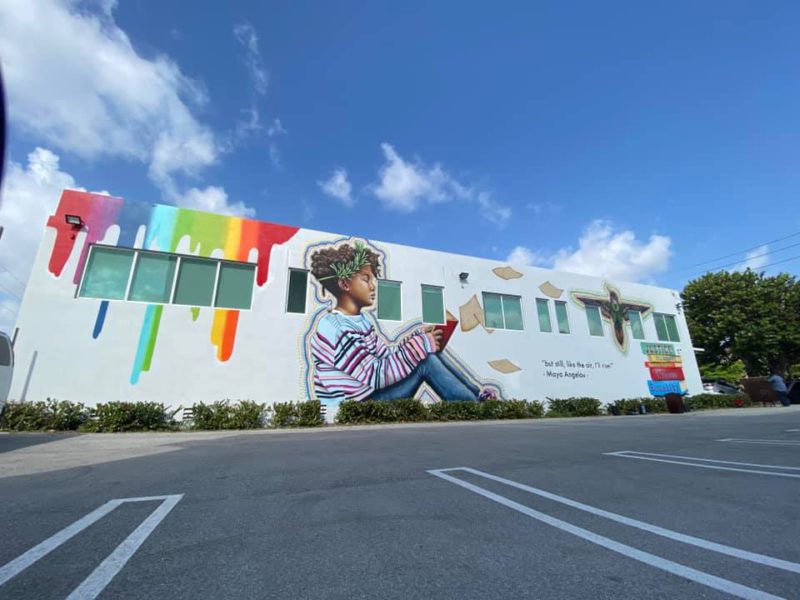 MIAMI SPRINGS, Fl. – A colourful wall mural in Dade County has attracted the ire of municipal authorities who say the mural, which includes a child of color reading a book, a verse from a Maya Angelo poem, and an LGBTQ Pride rainbow symbol, violates building codes.
The United Teachers of Dade union has been cited by Miami Springs for code violations after it unveiled the mural on its office building the Miami Herald reported this past week.
"If you do not see the word mural on an ordinance this does not mean it's allowed, means you should make an inquiry with the Building & Zoning department first and present your mural," Miami Springs Councilwoman Jacky Bravo said in an email to the Herald. "We are not talking about a small stamp on the wall. Seems like they took a blind eye on this one, and unfortunately has caused an issue to be dealt with."
The Herald reported that was it unveiled last March, and was titled 'Rise' to send a message to lawmakers in Florida's capitol in Tallahassee as a series of laws were being introduced that negatively impacted the minority and LGBTQ+ communities in the state.
Today, we unveiled "RISE", an art mural that depicts the importance of #publiceducation and its crucial role to ensure a functioning #Democracy; it symbolizes the resilience of our community and their continuous fight for #justice and #equality. Stop by UTD and check it out ! pic.twitter.com/hfS94WoYhl

— United Teachers of Dade (@UTD_AFT1974) March 19, 2021
Luis Valle, a Miami-based artist who was commissioned by the United Teachers of Dade union to paint the mural told the paper, "The idea was to make a mural that addressed pending legislation in Tallahassee, at the time, that would affect public schools, as well as the rights of minorities and those in the LGBTQ+ community. It is about inclusivity for all people and all cultures."
Although the UTD Union had submitted and paid for a permit, the Miami Springs City Code Compliance Department, which requires permits be obtained before work commences, had already issued a "notice of violation" on March 25 to the union site's property owner, UTD Building Corp., for violations that included:
–improper size of wall sign
–improper placement and/or width of wall sign
–improper construction of sign
–failure to comply with applicable color palette
"Failure to correct the violations by the time due shall cause this case to be set for hearing before the code compliance board and may result in fines, costs and/or a lien levied against you and the property," the notice said. "Fines imposed shall not exceed $250 per day for a first-time violation."
The city gave UTD until April 24 to correct the violations, according to the notice. Potential fines, as of Oct. 13, could run as high as $43,000 the Herald noted.
Currently discussions are ongoing. "UTD reviewed all the codes before contracting our mural artist in order to perform our due diligence," United Teachers of Dade President Karla Hernandez-Mats said in an emailed statement to the Herald on Oct. 11. "Additionally, we spoke to a former council member to double check our findings and that individual also concluded that the Miami Springs City Codes did not address this topic."
"The art piece is not a sign for the building or our organization; it has no logo or company name on it because it is an artistic expression in the form of a mural with no other intent," Hernandez-Mats' added.
Attempts by the Miami Herald to reach Miami Springs Mayor Maria Mitchell, and City Council members had been unsuccessful by this past Thursday afternoon, however the next Miami Springs City Council meeting is at 7 p.m. on Monday, Oct. 25.
Vermont high school homecoming halftime show turns into a 'drag show'
"The crowd was decked out in LGBTQ+ affirming clothing- the stands were completely packed. It was just so heartwarming to see"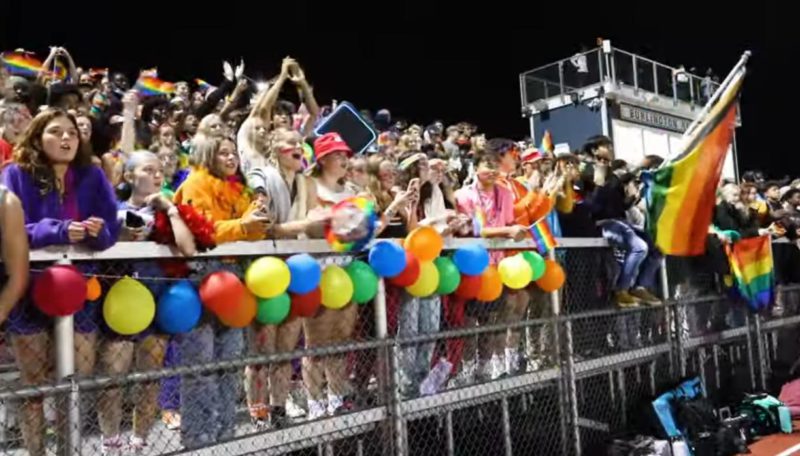 BURLINGTON, Vt. – A quintessential annual Fall time-honored tradition held across America's on high school football fields are homecoming games. This year a mix of students and faculty members Burlington High School, along with some participants from South Burlington High School, added a touch of 'drag' to the halftime show.
"Things went amazing," Ezra Totten, student leader of the Gender Sexuality Alliance at Burlington High School, told the Associated Press, speaking about Friday night's event. "The stands were completely packed. It was just so heartwarming to see."
The school's principal, its Athletic Director, and other staff were fully supportive with Andrew LeValley, an English teacher and GSA adviser, the faculty member who created the idea along with a boost from Burlington High Athletic Director Quaron Pinckney suggested that the show be held at the homecoming game's halftime.
Pinckney, who is Black, told the AP that the school gave him the space to "uplift my voice" and that he was able to reciprocate and "uplift the voices of another marginalized group and share a space in the athletics realm that doesn't normally get shared."
The crowd was decked out in LGBTQ+ affirming clothing, costumes and waving Pride flags raucously cheering as the 'drag ball's' performers paraded and danced to show support for LGBTQ+ students and the larger LGBTQ+ community. They commenced the halftime show with a runway-style event while they lip-synced to singer Todrick Hall's "Rainbow Reign."
Burlington High School's halftime drag show
LGBTQ+ Non-profit will build 8 homes for LGBTQ youth in Western states
Encircle is a non-profit organization with the mission to bring the family and community together to enable LGBTQ+ youth to thrive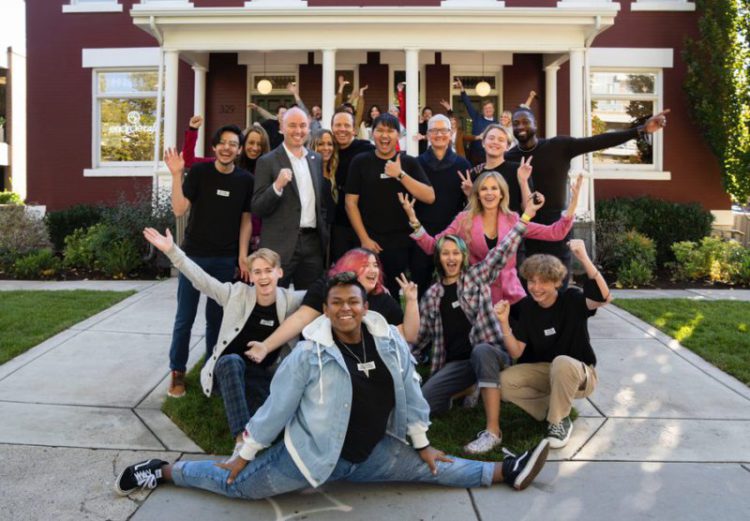 SALT LAKE CITY – A Utah-based non-profit announced Wednesday that the organization has raised more than $8 million dollars to build eight new homes in four Western states to provide services for LGBTQ youth.
Encircle, which provides mental health services for LGBTQ youth, will build the new homes with locations in Arizona, Idaho, Nevada and Utah. The new homes are dedicated for providing safe spaces, resources and preventing teen suicide. The organization currently has locations in Salt Lake City, Provo and St. George, Utah, and recently construction has begun on locations in Heber, Logan and Ogden, as well as in Las Vegas, Nevada.
The fundraising efforts had kicked off this past February with donations from NBA Basketball's Utah Jazz team owners Ryan and Ashley Smith and Apple CEO Tim Cook, the first openly gay CEO of a Fortune 500 firm. The lead singer of Imagine Dragons Dan Reynolds and his wife, recording artist Aja Volkman, and retired NBA superstar and Jazz part-owner Dwayne Wade, whose 14-year-old daughter Zaya is Trans, all partnered together to give a total of $4 million.
In a press conference Wednesday, "Encircle's mission is very personal to me because I see myself in so many of these young people," Apple CEO Cook told reporters. "It's not easy when you're made to feel different or less than because of who you are or who you love. It's a feeling that so many LGBTQ people know far too well."
Proud to support @encircle2gether's life-saving work providing resources to LGBTQ+ youth in Utah & surrounding states. Great to be with @GovCox, @AbbyPalmerCox, @RyanQualtrics, Ashley Smith, @DwyaneWade, and @stephylarsen as we celebrate the opening of Encircle's first cafe. pic.twitter.com/E6nN23Uc4m

— Tim Cook (@tim_cook) October 13, 2021
Encircle executives and the group of celebrities were joined by Utah Republican Governor Spencer Cox who praised Encircle's efforts.
"What Encircle has done is provided that piece of acceptance, even if — especially if — there is no acceptance anywhere else," the governor said. "There is a place where they can go where they can feel loved."
Wade, reflecting on being the parent of a Trans child, "I stand here as a proud parent of a beautiful daughter that's a part of the LGBT-plus community," he said. "I don't have all the answers. I don't know everything, but I'm willing to listen."
Today is what it's all about. Thank you @encircle2gether for your commitment to the LGBTQ+ community! https://t.co/jisSsqbYfc

— DWade (@DwyaneWade) October 13, 2021
Encircle is a non-profit organization with the mission to bring the family and community together to enable LGBTQ+ youth to thrive.
On its website the non-profit lists its current support services including its new café which is open "Monday through Friday between 3-8 PM folks ages 12-25 are welcome to just drop-in, hang out and enjoy our safe space. Friendship Circles, its weekly groups [which] allow you to tell your story and connect with peers in a safer space facilitated by our community, and LGBTQ affirming therapy."