Los Angeles Blade's top 10 news stories of 2017
Civil rights under attack, what do we do but fight back?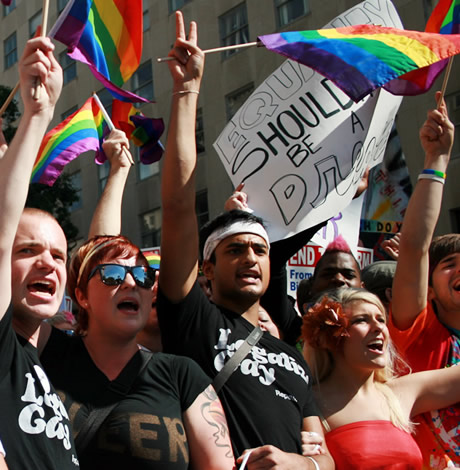 The year 2017 will go down as a watershed in human history with the apparent breaking apart of traditional European alliances, the rise of Russia, China and the nuclear threat of North Korea, as well as the resurgence of white identity populism, best signified by the disruptive presidency of Donald Trump. California became a bulwark for progressive values with the Los Angeles LGBT community reflecting both the ills of the larger society and serving as a bright beacon of hope. Here are our staff picks for the top 10 LA LGBT stories of the year.
10. LGBT AIDS invisibility
Donald Trump, whose mentor and attorney Roy Cohn died from AIDS, signed his first World AIDS Day Proclamation and failed to mention the LGBT community. Out scholar Masha Gessen compared it to Trump's Holocaust Remembrance Day statement in which he neglected to mention Jews. The Centers for Disease Control reports that gay and bisexual men account for an estimated 70 percent of new HIV infections in the U.S.; an estimated 22 percent of transgender women have HIV. While Trump stated his commitment to ending the global HIV/AIDS pandemic, he's threatened to cut the President's Emergency Plan for AIDS Relief (PEPFAR) budget by $1 billion. Meanwhile in LA, AIDS Healthcare Foundation celebrated its 30th anniversary with a free concert for staff, board and volunteers at The Shrine Auditorium, featuring singer Mariah Carey. AHF now has 841,293 patients in care in 39 countries and provided generators, not paper towels, to devastated Puerto Rico.
9. Hollywood's diversity problem
Feb. 26, 2017. Gasp! Oscar presenters Warren Beatty and Faye Dunaway accidentally name La La Land as best picture. "There's a mistake. Moonlight, you guys won best picture. This is not a joke," said La La Land producer Jordan Horowitz, beckoning the stunned winners onstage. "One of the things that I hope doesn't get overshadowed is this was a $1.5 million indie film about a black, gay, poor man … and that's a very significant thing," director Ava DuVernay said later. "I'm proud of the Academy for honoring that." Indeed, Hollywood applauded at the Oscars. But Moonlight was the only film in 2016 with a gay protagonist. An August 2017 USC-commissioned report analyzed the top 100 films of 2016 and found that only 1.1 percent of speaking characters were LGB with no trans speaking characters. Advocacy has been unsuccessful, concluded study author Professor Stacy L Smith. "Film paints a distressing portrait of exclusion."
8. The death of Gemmel Moore
Gemmel Moore died on July 27 in the West Hollywood apartment of Stonewall Democratic Club donor/activist Ed Buck. The LA County coroner ruled Moore's death an accidental overdose from crystal meth, prompting concerns about the silent meth crisis among black gay men. The Sheriff's Department conducted an initial investigation and learned that Moore, a 26-year old escort, frequently visited Buck, 62. But local black activists and Moore's mother were not satisfied with the findings and agitated for the Sheriff to investigate whether Buck, who is white, might have a sexual fetish: injecting young black escorts with drugs—raising the question of murder. Buck's attorney vigorously denied their allegation, but Sheriff Jim McDonnell ordered Homicide detectives to reopen the investigation. "We felt it was our obligation to look into those issues," McDonnell told the LA Blade. As of mid-December no new report was made public.
7. The murder of 8-year old Gabriel Fernandez
The torture-murder of 8-year-old Gabriel Fernandez was so disturbing, LA County was forced to reform its child-welfare system. "When paramedics arrived at the boy's Palmdale home on May 22, 2013, Gabriel was unconscious and had a cracked skull, broken ribs, burned and bruised skin, missing teeth and BB pellets lodged in his groin. He died two days later after being removed from life support," the LA Times reported. Months before his death, Gabriel was forced to eat cat feces and his own vomit. He slept in a small cabinet, his ankles handcuffed, hands bound and mouth gagged with a sock. On Nov. 15, Isauro Aguirre, 37, was convicted of first-degree murder for killing his girlfriend's son, who he thought was gay. Jurors gave Aguirre the death penalty; he will be sentenced March 8. Gabriel's mother and the negligent social workers still face trial.
6. The plight of LGBT DREAMers
Donald Trump ran for president on a platform of hatred for immigrants. Building "the wall" and deporting anyone who is undocumented is a base rallying cry. But Democrats and some Republicans in Congress want to pass the DREAM Act of 2017 (Development, Relief, and Education for Alien Minors) to prevent undocumented young people, including LGBT youth, from being deported to countries where their lives are at risk from governmental and cultural homophobia and transphobia. A large percentage of LGBT DREAMers (28%) live in California and more than 75,000 young people identify as LGBT in Los Angeles—with nearly half of them actively participating in the upended Deferred Action for Childhood Arrivals (DACA) program, according to the Williams Institute at UCLA. "Deportation is comparable to a death sentence for LGBTQ people in many parts of the world," says Dave Garcia, LA LGBT Center Director of Policy and Community Building.
5. California Democratic Party run by gays
The Republican Party is now stained by white supremacy and its leader is perhaps beholden to the Russians. Aghast, Democrats want to break the conservative Republicans' one-party rule by winning back the House in the 2018 midterm elections, with help from the California Democratic Party. At least six vulnerable GOP incumbents are up for reelection, including longtime anti-LGBT legislators Darrell Issa and Dana Rohrabacher. Leading the charge into electoral battle are Eric Bauman, the out chair of the CDP and Mark Gonzalez, the out chair of the LA County Democratic Party, both of whom have track records with electoral experience. Add to the leadership mix kickass Toni Atkins of San Diego, the first lesbian Assembly Speaker, who will become the first lesbian/woman President Pro Tem of the Senate next year. Get ready to rumble.
4. Calif. groups oppose trans military ban
President Trump's July 26 tweet announced that his administration "will not accept or allow transgender individuals to serve in any capacity in the U.S. Military." The major policy shift was orchestrated by Vice President Pence with help from Family Research Council head Tony Perkins. Four lawsuits were quickly filed to stop the proposed ban from taking effect and to challenge its constitutionality. On Dec. 11, a federal judge in Washington State became the third court to rule the ban unconstitutional and issued a preliminary injunction, allowing trans service members to continue serving with admission of trans enlistees starting Jan. 1.The fourth lawsuit filed by Equality California, with the State of California as a plaintiff, is pending before a federal court in California—which has the most active duty and reserve military than any other state. "Marginalizing transgender service members or any transgender American who wishes to serve our country faithfully and courageously will not occur on our watch," said Attorney General Xavier Becerra.
3. Transgender electoral wins
The battle for transgender civil rights was difficult in 2017— marked by an uptick in hate crimes against trans people — 31 reported in Los Angeles (30 were violent), a 72 percent increase from 2016 with the majority, 69 percent, against trans Latinas. But an unprecedented political outpouring yielded positive results: eight trans candidates won their elections around the country. Danica Roem's election to the Virginia House of Delegates will make her the first openly transgender woman seated in legislative office; Minneapolis elected two trans people of color—Andrea Jenkins and Phillipe Cunningham—to their city council; Stephe Koontz, Raven Matherne, Tyler Titus, and Gerri Cannon also won their local elections. And in Palm Springs, Lisa Middleton, a lesbian, became the first transgender person elected to a non-judicial office in California. Her victory, with bisexual Christy Holstege, makes the Palm Springs City Council the first American city government with an all LGBT council.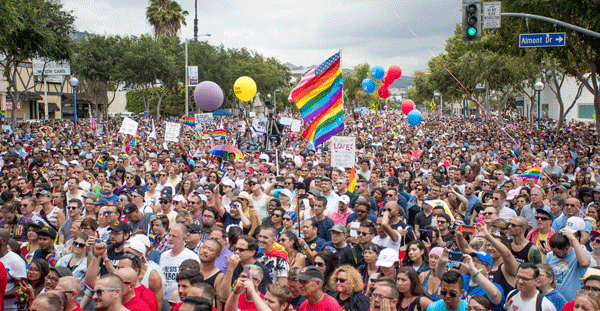 2. Resist!
Talk about taking back offensive words — the pink "pussy" hat, created by two LA-area-based women artists, was ubiquitous at the massive Women's March, the day after Donald Trump's ugly and sparsely attended inauguration. A multi-pronged grassroots resistance movement sprung up to protest Trump, his GOP cronies, and the white nationalist/supremacist ideas they stand for. Resistance morphed into action, exquisitely symbolized by the defeat of Trump/Steve Bannon Alabama candidate, accused pedophile Judge Roy Moore. Locally, resistance took the form of a refutation of CSW's tone-deaf approach to transgender issues. The #ResistMarch, created by Brian Pendleton, started at Hollywood and Highland, invited everyone to join, and culminated in West Hollywood with lesbian Black Lives Matter co-founder Patrisse Cullors, House Minority Leader Nancy Pelosi, House Russia-investigation-hero Rep. Adam Schiff and impeachment-calling Rep. Maxine Waters underscoring how much is at stake with a Trump presidency. LA LGBT felt the #Resist!
1. A tipping point on sexual harassment
"Casting couch" allegations leveled against Hollywood heavyweights Bill Cosby and Harvey Weinstein scorched the traditional assumption that men have the innate right to sexually exploit women, which women endured to get or keep their jobs. While equally upset over the power dynamics of the economics of "consent," the gay community grappled with more nuanced issues after gay actor Anthony Rapp revealed that closeted gay actor Kevin Spacey, then 26, tried to "seduce" him when Rapp was 14 years old. Old Gay Sexual Liberation assumptions were shaken: not all gay teens welcome sex with an older man as a rite of passage and groping is not equivalent to a handshake. What had been routinely dismissed as a gay bitchy grievance is now part of a movement for respect, boundaries, consideration and human dignity.
Caitlyn Jenner: A one percenter gets one percent (actually 1.1%)
"If he doesn't get recalled, I pity the people of California- It's a shame, honestly you kind of get the government you deserve."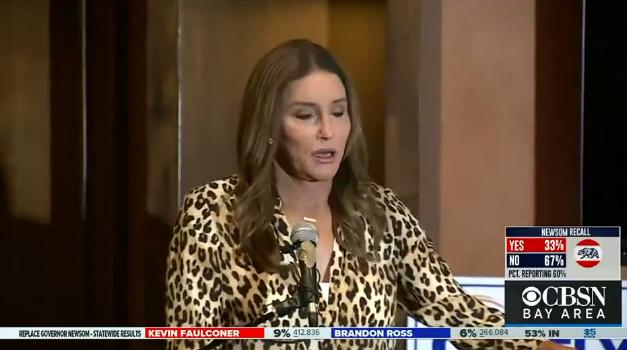 LOS ANGELES – It was not the measured tones of a seasoned politician who had experienced the successes and failures inherent with any campaign for public office. Instead, in a speech given to a small gathering of supporters once it became clear that the recall effort against Democratic California Governor Gavin Newsom had failed, reality television celebrity Caitlyn Jenner took to the microphone and groused.
Sounding bitter Jenner said; "He didn't campaign on not one of his successes, because he doesn't have any," she said. "I can't believe that this many people actually voted to keep him in office. It's a shame, honestly, it's a shame. You kind of get the government you deserve."
Caitlyn Jenner, a GOP candidate in California's recall, speaks after the vote to remove Gov. Newsom failed: "I can't believe that this many people actually voted to keep him in office. It's a shame." https://t.co/cagDpkFQdS pic.twitter.com/2cONQbrtMu

— CBS News (@CBSNews) September 15, 2021
Jenner's 'it's a shame' echoed remarks she had made earlier during the day Tuesday when she told right-wing media outlet Newsmax; "For me, it's just so up in the air [with] what is going to happen," she said. "Number one, we gotta get Gavin Newsom outta there. I think it's going to be difficult doing that, but I'm hoping for the best […] If he doesn't get recalled, I pity the people of California."
In the accumulated vote count tabulations listed Wednesday evening, Jenner had placed 12th in the field of candidates after fellow Republican frontrunner, conservative right-wing radio-talk show host Larry Elder, who had garnered 2,386,710 votes and 46.92% to Jenner's 56,016 votes and 1.1%. (72.65 % Precincts Reporting | 74% expected vote as of Sep. 15, 2021 8:48 pm)
The Newsmax host also asked if she would consider running in 2022 in the regular gubernatorial race or a potential congressional race, Jenner indicated she "would keep her options open."
"One thing I can say is I have thoroughly enjoyed this process," she said. "It has been uplifting, rewarding. I'm a compassionate person. I love the people. The process has been great. Once this is over with, we're gonna evaluate, see where we're at."
Draft of new Cuba family code has marriage equality provision
National Assembly expected to vote on proposal in December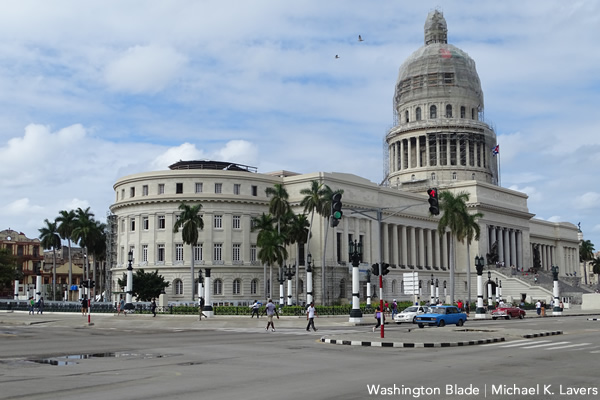 HAVANA — Cuba's Justice Ministry on Wednesday released a draft of a proposed new family code that would extend marriage rights to same-sex couples in the country.
Tremenda Nota, the Los Angeles Blade's media partner in Cuba, reported the proposed Article 61 of the new family code defines "marriage as a union of two people with legal aptitude who voluntarily agreed to enter into it in order to build a life together based on affection and love."
The Justice Ministry, according to Tremenda Nota, released the draft a week after a commission that has been charged with writing the new family code met with President Miguel Díaz-Canel and other officials.
Tremenda Nota reported the National Assembly is expected to vote on the new family code in December. The Associated Press noted a referendum on it would then take place.
"It protects all expressions of family diversity and the right of each person to establish a family in coherence with the constitutional principles of plurality, inclusion and human dignity," National Union of Jurists of Cuba Vice President Yamila González Ferrer told the Associated Press.
The draft's release comes nearly three years after the government removed an amendment from a draft of Cuba's new constitution that would have extended marriage rights for same-sex couples after evangelical groups on the Communist island publicly criticized it. Cuban voters in February 2019 overwhelmingly approved the new constitution without marriage equality.
Cuba would join Costa Rica, Colombia and a handful of other Latin American countries with marriage equality if the new family code draft becomes law.
Former President Fidel Castro in the years after the 1959 revolution that brought him to power sent gay men and others to work camps known by the Spanish acronym UMAP. His niece, Mariela Castro, the daughter of former President Raúl Castro who spearheads LGBTQ-specific issues as director of Cuba's National Center for Sexual Education (CENESEX), and Díaz-Canel both publicly support marriage equality.
Tremenda Nota Director Maykel González Vivero is among the hundreds of people who Cuban police arrested on July 11 during anti-government protests that took place in Havana and across the country. Luis Ángel Adán Roble, a gay man who was once a member of the National Assembly, is among those who have been banned from leaving the country.
AHF Donates SARS COV-2 viral sequencing machine to the Caribbean
"The current need and demand for genomic surveillance in the region has increased significantly, so we are extremely grateful"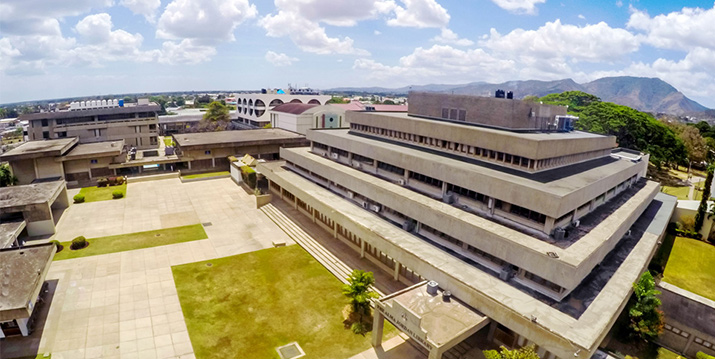 LOS ANGELES – The Los Angeles based AIDS Healthcare Foundation (AHF), the largest global AIDS organization, signed an agreement with the University of the West Indies (UWI), St. Augustine Campus, Trinidad and Tobago to provide a gene sequencing analyzer and reagents to expand the capacity of the university to test for new and emerging variants of the coronavirus.
This will improve the region's sequencing capacity and contribute to reducing testing turnaround times. Jamaica and many of the countries in the Region are now experiencing severe upsurges of Covid-19 caused by the Delta variant, with many hospitals exceeding capacity and others running out of oxygen. More recently five cases of the Mu variant were also identified in St. Vincent.
Dr. Kevin Harvey, the Caribbean Regional Director at AHF, in welcoming the agreement, noted that the machine is already on order and should be in place within the next two to three weeks. "The Mu variant has since been isolated in samples from Jamaica as well, making the timeliness of AHF's donation of the gene sequencing analyzer and reagents all the more critical," noted Dr. Harvey.
"Our COVID-19 IMPACT project, a UWI-led collaboration with CARPHA (the Caribbean Public Health Agency) and the Trinidad and Tobago Ministry of Health, established local capacity for virus whole genome sequencing in December 2020, and our laboratory at UWI has been carrying out genomic surveillance for SARS-CoV-2 variants for Trinidad and Tobago and 16 other CARPHA member states," said Dr. Christine Carrington, Professor of Molecular Genetics and Virology at the UWI.
"The current need and demand for genomic surveillance in the region has increased significantly, so we are extremely grateful for the AHF's support. The device they are providing is faster and can also do five times as many samples as the device we started off with, so it will help to increase our throughput."
Dr. Jorge Saavedra the executive Director of the AHF Global Public Health Institute at the University of Miami, highlighted the project as part of a larger initiative by AHF to improve the early detection of new variants to enable proper planning, and in some cases, expansion of existing genomic sequencing initiatives and implementation of mitigation measures in several of the countries served by AHF that can inform public policy. "AHF is also now in final negotiations to provide support to establishing genomic sequencing capacity in Jamaica to reduce the need for all samples to be sent to Trinidad and Tobago."
AHF has also previously provided similar support to Brazil, Uganda, Mexico, India, Argentina, and before the end of the year, will undertake other similar initiatives in Nigeria, Peru, Ukraine and Pakistan.