These two anti-LGBT Republicans may run for Senate in 2018
Romney, Bachmann consider pursuing open seats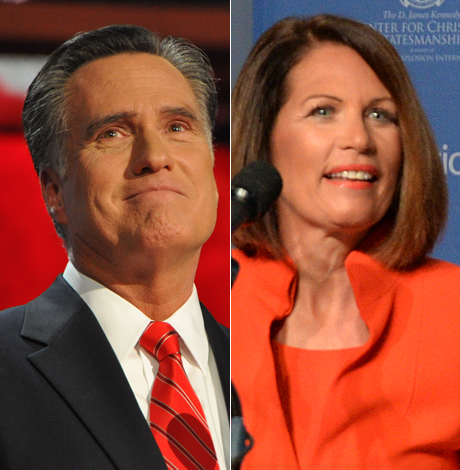 Shakeups in the U.S. Senate led to news Tuesday that two prominent Republicans and former presidential candidates who have anti-LGBT records — Mitt Romney and Michele Bachmann — may run in 2018.
Following passage of tax reform legislation, Sen. Orrin Hatch (R-Utah) announced he'd retire after four decades in the Senate, opening the door for Mitt Romney, who had publicly mulled the idea of running for the seat.
Meanwhile, former Rep. Michele Bachmann said on the Christian Broadcasting Network she's considering a run for the seat in Minnesota being vacated by Sen. Al Franken (D-Minn.) amid allegations of sexual misconduct against him.
Bachmann, however, said she's not certain and would consult God on whether she's being called to pursue the open seat.
"If you're going against the tide in D.C., if you're trying to stand for biblical principles, and you stick your head up, the blades come whirring and they try to chop you off," Bachmann said during the interview. "We're trying to be wise. Should we do this? Shouldn't we do this?"
Both Romney and Bachmann have extensive anti-LGBT records as public officials.
As Massachusetts governor, Romney most famously sought to limit the 2003 Goodridge decision at the Massachusetts Supreme Court making the Bay State the first with marriage equality and became a national spokesperson in favor of the Federal Marriage Amendment, which would have banned same-sex marriage nationwide.
According to MassEquality, Romney abolished the Governor's Commission on GLBT Youth and rescinded an executive order prohibiting sexual orientation discrimination in the state workforce.
True to his reputation as a flip-flopper, Romney has also stated contradictory positions on LGBT issues. As a U.S. Senate candidate in 1994, Romney told Log Cabin Republicans he'd co-sponsor the Employment Non-Discrimination Act and would seek to expand it to include housing and credit, but later in 2006 said he doesn't support ENDA and in 2007 called it a state issue.
A longtime favorite of social conservatives, Bachmann has an anti-LGBT record that has animated her career as far back as 2004 when she also championed the Federal Marriage Amendment and said "Gays live a very sad life" and "it's part of Satan."
In the course of her career in Congress, Bachmann voted against hate crimes protections legislation, repeal of "Don't Ask, Don't Tell," and a version of the Employment Non-Discrimination Act. She was elected to Congress too late to have voted on the Federal Marriage Amendment in either 2004 or 2006.
In 2012, both Romney and Bachmann in pursuit of the Republican presidential nomination staked out anti-LGBT positions and continued their push for a U.S. constitutional amendment that would have banned same-sex marriage nationwide. Bachmann ended up losing the nomination to Romney, but Romney came up short in his bid to unseat President Obama, who went on to serve a second term.
Both candidates signed a pledge with the anti-LGBT National Organization for Marriage committing themselves to back a Federal Marriage Amendment; defend the anti-gay Defense of Marriage Act in court; support legislation allowing D.C. residents to vote on its same-sex marriage law; and appoint a presidential commission to "investigate harassment of traditional marriage supporters."
But after his defeat in the 2012 election, Romney made some surprising statements that struck a different tone in contrast to his anti-LGBT record. Romney recommended Arizona Gov. Jan Brewer veto a "religious freedom" bill seen to enable anti-LGBT discrimination. (Brewer took that advice and vetoed the bill, unlike Mike Pence, who as Indiana governor signed a similar measure and was forced to sign a "fix" amid criticism from the LGBT community and business advocates.)
After the mass shooting in 2016 at the gay nightclub in Orlando, Fla., that killed 49 people and wounded 58 others, Romney took to Twitter to say he and his wife would "say a special prayer for the LGBT community that was the focus of this attack."
But Romney hasn't publicly turned around from his opposition to same-sex marriage. In 2014, Romney said he still opposes same-sex marriage and it could be "generations" before the negative impact of marriage equality is determined.
Fred Karger, a gay consultant to Republican presidential candidates and himself a candidate for president in 2012, said Hatch is retiring to make room for Romney because the Mormon Church pushed out the former "in favor of a more obedient Mormon Church member."
"Mormon Church leaders have been on a full-time mission for over a year to do just that," Karger said.
Noting the history of antagonism between President Trump and Romney, who has called him unfit to serve in the White House, Karger predicted friction between the two if Romney is elected.
"It's a case of the Mormon Church trumping Trump and his desire to keep Mitt Romney 2,000 miles away from Washington," Karger said. "It will be fun to see Romney try and take on President Trump as he has in the past, only to be annihilated by the far more savvy politician."
Bachmann hasn't changed her tune at all. Earlier this year, Bachmann said President Trump was elected to the White House despite the odds against him because the Obama administration issued guidance requiring schools to allow transgender kids to use the restroom consistent with their gender identity, or as she put it "just issued a sheet of paper and said, overnight, every single public school in the country would have to have the girls' bathrooms open to the boys and the boys' bathrooms open to the girls."
The advancement of transgender rights, Bachmann said, was too much for God, whom she "answered the prayers of believers beseeching him, and he's given us a reprieve."
Both Romney and Bachmann would be running in a mid-term when Democrats have considerable momentum amid discontent with Trump. But Romney might be a shoe-in to win in the conservative state of Utah. Bachmann would likely run against Minnesota Lt. Gov. Tina Smith, whom Gov. Mark Dayton tapped to succeed Franken on an interim basis.
Lucas Acosta, director of LGBT media for the Democratic National Committee, said voters won't forget the anti-LGBT records of Romney and Bachmann as they head to the polls in the congressional mid-terms.
"Americans have already rejected the anti-LGBTQ extremism of Republicans like Michele Bachmann and Mitt Romney," Acosta said. "Not only are their hateful views out-of-step with the country, but with a majority of Utahns and Minnesotans alike. Voters deserve candidates who will fight to protect their freedom to serve, work and love whomever they choose regardless of gender."
New York Governor Cuomo signs Gender Recognition Act into law
"New York continues to lead the way in ensuring LGBTQ people are treated equally in every part of the law and society"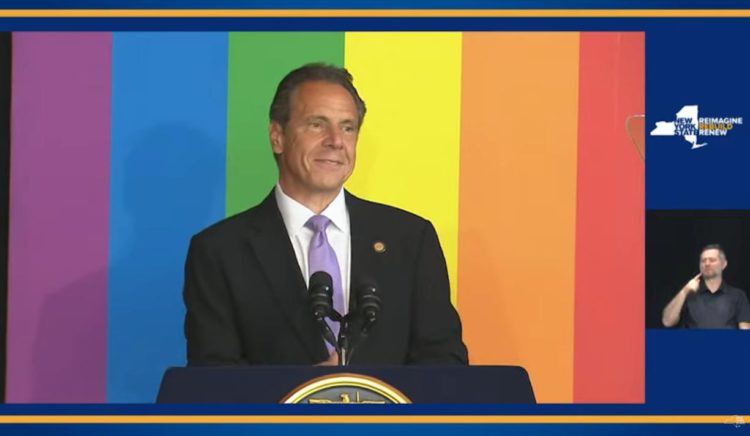 ALBANY, Ny. – New York Democratic Governor Andrew Cuomo signed into law the state's Gender Recognition Act Thursday. With a final push shepherded by openly gay New York State Assemblymember Daniel O'Donnell, (D), the New York State Assembly passed New York Senate Bill S4402 and its Assembly companion bill A5465, (GRA) two weeks ago in early June.
"Every New Yorker deserves to be free from discrimination and have state-issued identification and processes that respect them for who they are, recognize their gender identity and protect their safety," Governor Cuomo said. "New York continues to lead the way in ensuring LGBTQ people are treated equally in every part of the law and society, and this bill is another landmark that ensures New Yorkers can express ourselves for who we are."
On Wednesday, Lambda Legal and Governor Cuomo reached an agreement that puts on hold the lawsuit Lambda Legal filed on behalf of Sander Saba, a nonbinary transgender New Yorker seeking an "X" gender marker on their New York state driver's license. In exchange for putting Mx. Saba's lawsuit on hold, the State has committed to update its legacy computer system to be able to issue state ID cards and official driver's licenses with X gender markers by May 24, 2022.
"Lambda Legal applauds the signing of the Gender Recognition Act (GRA) into law, an important and long-awaited bill we strongly supported for years. […] This long-awaited law will remove the publication requirement for name changes, allow for a self-attestation system for DMV-issued IDs, including drivers' licenses, allow for gender-neutral X markers on state-issued IDs, and codify into law several recent legal wins by Lambda Legal and others such as allowing for self-attestation and X gender markers on NY State birth certificates, permitting corrections to the gender marker on minors' birth certificates, and permitting parents to correct the parent's name and gender on their child's birth certificate, among other important updates. We welcome Governor Cuomo signing this bill and hope the state continues to ensure all transgender, nonbinary, and gender non-conforming New Yorkers have access to correct documentation," Ethan Rice, Senior Attorney with the Fair Courts Project at Lambda Legal said.
"This change will bring New York up to date with the 19 other states and the District of Columbia that maintain policies respecting the lives of nonbinary people and giving them access to accurate identity documents and the ability to be fully themselves in their day-to-day lives," Rice added.
"We are thrilled to know that after years of advocacy, transgender and nonbinary people in New York now finally have many more of the critical protections we need. The Gender Recognition Act makes updating ID documents easier and less expensive by removing both the requirement for a doctor's note to change gender markers and the publishing requirement for court-ordered name changes" said Charlie Arrowood, the Transgender Legal Defense & Education Fund's  Name Change Project Counsel. "Having accurate ID documents that reflect who you are is critical for the health and safety of transgender and nonbinary New Yorkers."  
WATCH: Governor Cuomo Signs the Gender Recognition Act
Transgender immigrant activists march to White House
Marchers demanded end to ICE detention of trans, HIV-positive people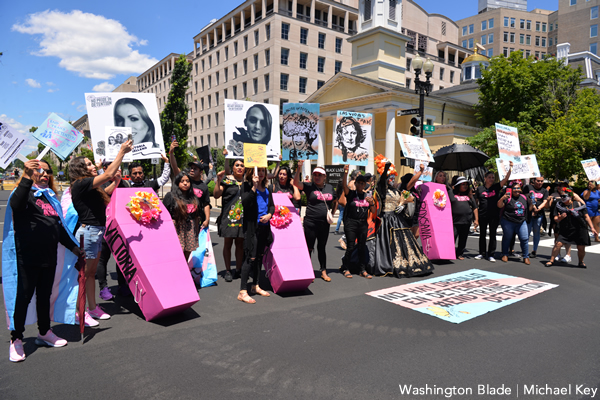 WASHINGTON — More than 100 people marched to the White House on Wednesday to demand the Biden administration end the detention of transgender people and people with HIV/AIDS in U.S. Immigration and Customs Enforcement facilities.
Casa Ruby CEO Ruby Corado and other marchers left National City Christian Church in Thomas Circle after organizers held a "funeral" for three trans women — Roxsana Hernández, Victoria Arellano and Johana "Joa" Medina Leon — who died while in ICE custody or immediately after the agency released them.
Hernández, a trans woman with HIV from Honduras, died in a hospital in Albuquerque, N.M., on May 25, 2018, while in ICE custody. Arellano, a trans woman with HIV from Mexico, passed away at a hospital in San Pedro, Calif., while in ICE custody.
ICE released Medina, a trans woman with HIV from El Salvador, from its custody on May 28, 2019, the same day it transferred her to a hospital in El Paso, Texas. Medina died three days later.
Hernández's family has filed a lawsuit against the federal government and the five private companies that were responsible for her care.
Isa Noyola, deputy director of Mijente, one of the immigrant advocacy groups that organized the march, emceed the "funeral." Noyola played a message that Hernández's nephew in Honduras recorded.
"The state does not recognize our humanity," said Noyola, who became emotional at several points during the service.
A press release that announced the events said 25 trans women who had previously been in ICE custody participated. They, along with other participants, blocked traffic at the intersection of 16th and H Streets, N.W., near Black Lives Matter Plaza for several minutes before they marched into Lafayette Square.
March participants also carried three pink coffins that represented Hernández, Arellano and Medina. They propped them up on a security fence along Pennsylvania Avenue before they staged a die-in.
The march took place a week after Mijente and seven other immigrant advocacy groups in a letter to Homeland Security Secretary Alejandro Mayorkas and acting ICE Director Tae Johnson demanded the release of all trans people and people with HIV who are in immigrant detention facilities.
The White House on Tuesday announced asylum seekers who saw their cases closed under the previous administration's "Remain in Mexico" policy will be allowed to enter the U.S. in order to pursue them. Vice President Kamala Harris, who traveled to Guatemala earlier this month, has also acknowledged anti-LGBTQ violence is one of the "root causes" of migration from Central America's Northern Triangle.
'Our only crime is to seek opportunities, to seek refuge'
Li An "Estrella" Sánchez, a trans woman from Mexico's Veracruz state who the U.S. has granted asylum, is among those who participated in the march.
She told the Los Angeles Blade during an interview in Lafayette Square after the march that she spent 13 months in ICE custody at three Georgia detention centers — the Atlanta City Detention Center, the Irwin County Detention Center and the Stewart Detention Center — before her release in 2013. Sánchez, who founded Community Estrella, an Atlanta-based organization that advocates for ICE detainees who identify as LGBTQ, said she and other trans ICE detainees face inadequate access to health and solitary confinement, among other things.
"I know first hand what they felt," said Sánchez, referring to the three trans women who died in ICE custody or immediately after their release. "I wouldn't wish it upon my worst enemy to be in a jail."
"Our only crime is to seek opportunities, to seek refuge, to seek protection, to seek security," she added.
Sánchez also had a message for President Biden.
"Listen, because the people are continuing the fight," said Sánchez. "You have promised to support the LGBT community and you are really forgetting the immigrant community."
Chaos erupts at Virginia school board meeting over trans students rights
Two people arrested, two others injured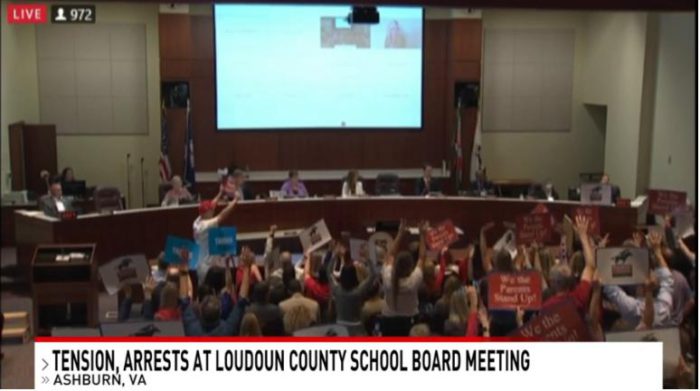 LEESBURG, Va. — The Loudoun County School Board abruptly ended its meeting Tuesday as chaos erupted after parents who were against the school district's implementation of Policy 8040 failed to observe rules regarding disruptions and decorum.
Loudoun Now reports Vice Chair Atoosa Reaser made the motion to curtail public comment about an hour after that portion of the meeting began. A brawl then broke out between members of the public, and Loudoun County Sheriff's Department deputies were called to clear the room.
Two people were arrested, and two people also suffered minor injuries. The names of those who were taken into custody and injured have not been made public.
The school board resumed its meeting at 6:30 p.m. after it ended the public comment session and deputies cleared the room. The school board entered into closed session to meet with legal counsel and discuss negotiations involving a bid award.
In light of the events that transpired at the school board meeting, a group of LGBTQ groups in neighboring Fairfax County in a statement called upon prominent community members to condemn the anti-transgender hate in Loudoun County.
"A coalition of organizations based in Northern Virginia is calling on local officials … to condemn the rise of anti-LGBTQIA+ hate, in particular animosity towards transgender and gender-expansive students, on display in Loudoun County," reads the statement
"In addition, the coalition is asking for the denouncement of support for this hate from other local groups, including the Fairfax County Republican Committee, the Family Foundation of Virginia and the Family Research Council," it adds. "Finally, the members of these organizations are requesting visible displays of support for LGBTQIA+ students, particularly trans and gender-expansive students, in both words and deeds."
More than 300 people attended the school board meeting, with many of them opposing Policy 8040 which would allow transgender students to use their preferred name and pronouns regardless of the name and gender in their permanent education record. The proposed policy would also not require them to provide any substantiating evidence.
Parents also expressed their support for Policy 8040 during the public comment session.
They spoke in favor of inclusivity and equality in the Loudoun County School District.
Parents who were against the policy cited the need to respect biology and privacy as their arguments. In addition, some speakers, including former state Sen. Dick Black expressed anger at the previous school year's events such as the suspension of physical education teacher Tanner Cross after he refused to refer to trans students using their preferred pronouns.
"The crowd repeatedly cheered public speakers who lashed out at school board members and denounced the plan that would provide bathroom and locker room access based on a student's gender identity," WTOP News reports.
Only 51 of the 249 speakers who had signed up for public comment ended up speaking before Reaser's motion was passed.