"Star Wars" comes of age with "The Last Jedi"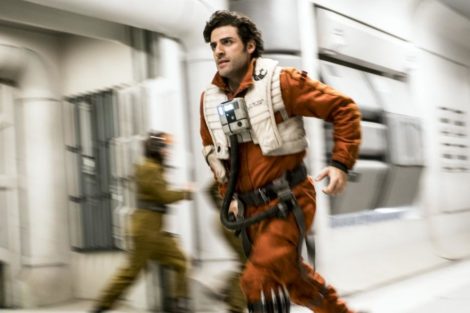 When George Lucas conceived the first "Star Wars" movie, it was as a nostalgic homage to the space-cowboy movie serials of old, shaped by his own cinematic influences and informed by classical myth; but along with all that, it was also a sort of political parable that captured the zeitgeist of a society emerging from the polarizing murkiness of the Nixon administration and the Vietnam War.  In its tale of plucky rebels standing up to an oppressive regime, it expressed a yearning for a better world, and, through two sequels, carried that hope to a triumphant conclusion.
In the intervening years, much of this context has been lost on audiences introduced to these movies after the fact; what was once an expression of optimism for the future came to be considered mere escapist fantasy, a commercial enterprise designed to reinforce a kind of juvenile idealism while raking in unimaginably huge amounts of cash.
With J.J. Abrams' "The Force Awakens," the rebooted saga regained much of its sense of giddy joy and excitement, echoing the original in its playful tone while hinting at deeper payoffs to come –  but nothing in it prepared us for the way "The Last Jedi" boldly reclaims the urgency and relevance that made the series a cultural touchstone in the first place.
As hero-turned-recluse Luke Skywalker says in the film, "this is not going to go the way you think."
Throughout Johnson's iconoclastic film, every preconception is undercut and undermined.  He plays on the audience's familiarity with the territory, serving up all the comfortable tropes only to smash them and send the story careening off into unforeseen directions.  Heroes make bad choices, missions fall apart, daring plans backfire; everything we think we know about "Star Wars" is challenged and summarily dismissed.
The archetypes that populated this saga are humanized in his vision; weary, conflicted, blinded by hubris, and full of regret, they are haunted by the mistakes of the past – just like the tragic heroes of the Greek myths which have been the blueprint for these continuing adventures all along.  The "Force," instead of being treated like a super power, regains its mystical status – a cosmic mystery to be grasped, rather than a magic weapon to be wielded.
The movie's biggest departure, however, has to do with the way that Johnson dismantles the black-and-white morality that has always been a defining condition of these films.  The lines between the good guys and the bad are suddenly blurred, and we begin to see elements of each in the other.  In this way, "The Last Jedi" approaches the maturity that has always been waiting, just out of sight, within the "Star Wars" mythology.
That doesn't mean the movie doesn't retain all the good-natured charm of its predecessors, or that it discards all their recognizable elements.  Indeed, it's full of the kind of quippy one-liners and self-referential humor that has marked these films from the beginning.  Chewbacca is still around, of course, along with the anticipated menagerie of fanciful creatures and all your favorite droids. There are dazzling special effects, imaginative new worlds, breathtaking space battles, and plentiful light saber action, all accompanied by the mandatory strains of John Williams' soaring musical score.
Still, it's Johnson's determination to tear down the old and make way for the new that allows his film to strike a resounding chord that fits the era just as deeply as the one sounded by the iconic original back in 1977.
The most obvious reverberation comes from the unabashed parallels between real world politics and the situation portrayed in the film's conflict between an alliance of freedom fighters (notably called "the Resistance") and a fascistic regime bent on enslaving the galaxy.  In Trump's America – despite the film having been written months before the 2016 election – the allegory seems almost too perfect; and the film's emphatic rejection of a conventional narrative underscores its clear message that it's time to discard old ways of thinking that no longer serve us and open ourselves up to new ideas.
It also offers up a clear suggestion of where to look for those ideas.  While past incarnations of the "Star Wars" world have been dominated by white male characters, the newer films have made a deliberate effort to introduce diversity into this galaxy far, far away.  "Jedi" takes that even further by emphasizing a host of strong, brave, and intelligent women among its throng of protagonists.  It is they who provide the true leadership, while the "traditional" heroes – stuck in their old patterns – are trying to blow things up or turning away from the fight in disgust.  This is not to say that Luke Skywalker doesn't live up to his reputation and enjoy his day in the sun (or rather, suns); but it is notable that the movie takes pains to remind us that women are more than deserving of their place at the table.
Although acting has never been the first hallmark of any of these films, there are some truly impressive performances.  Mark Hamill, taking delight in the opportunity to strip away the shine of his iconic character, gives us the best performance of his onscreen career as the older, crankier Luke; and Adam Driver doubles down on the brooding instability he brought to Kylo Ren in "Force," continuing to evoke the angsty millennial even as he develops this complex character into one of the most compelling movie villains in recent memory.
Of course, special mention must be made of the late Carrie Fisher, making her final appearance in the role that made her a star.  Princess (now General) Leia is an important presence in "The Last Jedi," allowing the actress the chance to leave a lasting and vivid impression of both herself and a character that has become a symbol of hope and empowerment for women – and rebels – the world over.
Ultimately, though, the true MVP of "The Last Jedi" is the man at its helm.  Director Johnson has brought a fresh, contemporary style to his undertaking that makes this arguably the most elegantly cinematic "Star Wars" entry to date.  Exquisitely framed, artfully staged, and poetically orchestrated, his movie is both exciting and eloquent – a visually stunning piece of filmmaking that transcends pop entertainment to become art.
It's also proven a slap in the face to some fans, who have taken to the internet to accuse "The Last Jedi" of betraying the "Star Wars" heritage; such is the nature of popular culture in an age where everyone has instant access to a public forum to express their disappointment when things don't turn out the way they want.
LGBTQ fans may have their own reason to be disgruntled.  Despite hopeful theories from fans, [MINOR spoiler alert] Finn (John Boyega) and Poe (Oscar Isaac) don't become a couple in "The Last Jedi."  To be fair, there's not much time in the action for romance, and the possibility remains that at least one of these characters may yet come out as the franchise's sole representative of the gay community.  Lucasfilm head Kathleen Kennedy – the ultimate decision maker for the franchise – has said more than once that she is open to introducing a gay character, so there's still good reason to hope that the concluding film of this current trilogy may finally bring a queer presence to the universe of "Star Wars," and at last round out the inclusive environment its creative team has taken such pains to bring to "The Last Jedi."
Of course that message of inclusivity, though it may be welcomed by the majority of fans, has drawn the ire of some in the "Alt-Right" community – so much so, in fact, that a group called "Down With Disney's Treatment of Franchises and its Fanboys" took it upon themselves to subvert the movie's audience approval score on the popular (and influential) Rotten Tomatoes website by using "bots" to post thousands of negative reviews and skew the percentage.  A moderator for the group admitted to the campaign to trash the film because of its "feminist agenda."
Any true fan knows, of course, that "Star Wars" has always had social justice at its core – and the effort  Johnson's movie makes to embrace that ideal and bring it to the forefront is reason enough to celebrate "The Last Jedi."
The fact that it annoys the Alt-Right is just icing on the cake.
British Olympian Tom Daley knits his way to success with a new enterprise
A journey for me that started when I first picked up my knitting needles- fast forward 18 months & I'm so proud to introduce these kits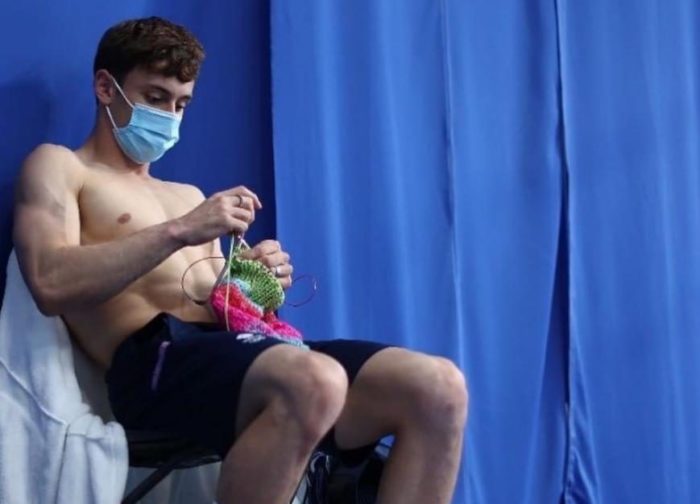 LONDON – During the entire course of the Olympic games in Tokyo 2020 this past summer, audiences following the diving competitions were certain to see British Olympian Tom Daley quietly and intently focused in-between matches- on his knitting.
The Gold medalist diving champion only picked up his first set of knitting needles in March of 2020 as the coronavirus pandemic first spread across the globe, strangling normal daily routines in its deadly grip.
Now, the 27-year-old British athlete has launched a company to encourage others to take up the hobby.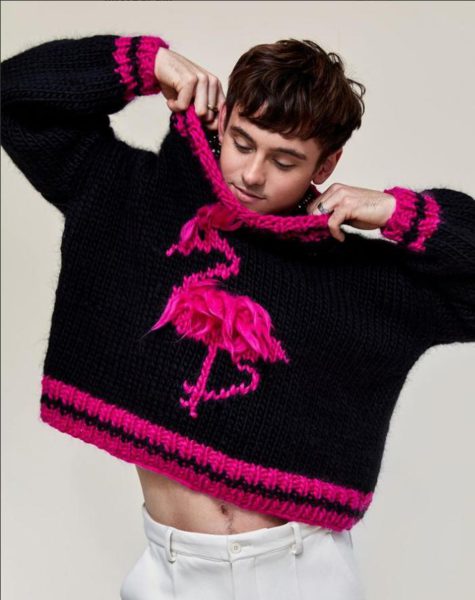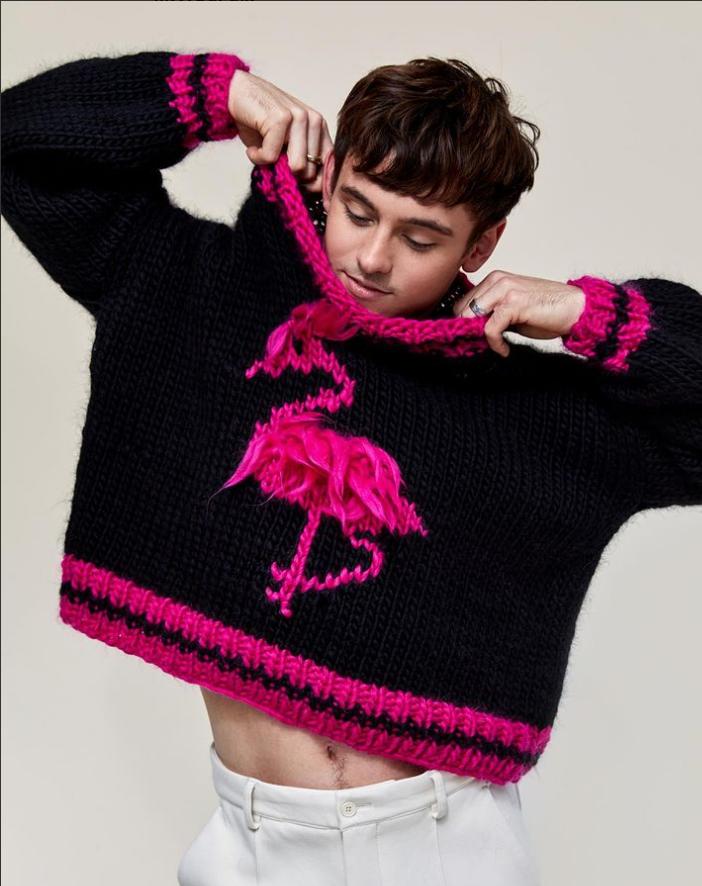 "It's been a journey for me that started when I first picked up my knitting needles in March 2020. Fast forward 18 months and I'm so proud to introduce these kits to you all so that you can experience the joy I found learning to knit," Daley said on his newly launched website.
"I designed these knit kits to help encourage you to pick up those needles, learn the basics, and fall in love with knitting at the same time – all whilst creating something to show off or pass on.
Ready? Pick up your needles, learn the basics and let's have some fun!"
The website offers various kits for beginners, intermediate and experienced knitting and crocheting enthusiasts. One of the kits, a winter warmer hat already sold out but the collection ncludes a vest, scarves, cardigans, jumpers, stockings, and a blanket.
Kits include needles, biodegradable yarn made of Merino wool, and knitting patterns.
Critics call gay Santa ad 'creepy' accusing it of 'sexualizing' Christmas
The ad was posted to Youtube on November 22 to pay tribute to the 50th anniversary of Norway's decision to decriminalize homosexuality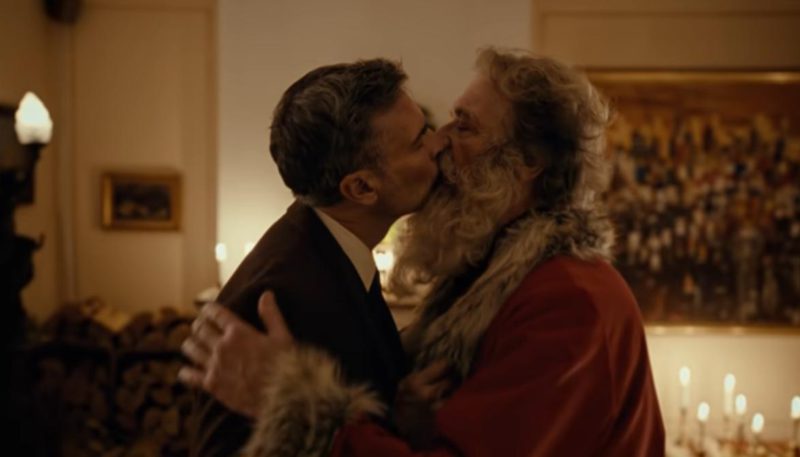 OSLO – A Norwegian Christmas ad for Norway's postal service, Posten Norge, that depicts a gay Santa struggling to balance his Christmas day duties and a male love interest has sparked an online debate with critics saying it "sexualizes" the holiday figure. 
The ad, titled "When Harry met Santa," shows a burgeoning romance between Santa and Harry that starts when the two meet one Christmas Eve. As leaves the house through the chimney that night, fireworks fill the night sky.
Over the years, the two continue to see each other on Christmas Eve and fall in love. Frustrated with only getting to see his lover once a year, Harry pens a letter to Santa that says, "Dear Santa: All I want for Christmas is you."
At the end of the nearly 4-minute ad, Santa and his lover engage in a seconds-long kiss. During their embrace, the camera pans out and a message that reads, "In 2022, Norway marks 50 years of being able to love who we want," appears.
The ad, posted to Youtube on November 22 to pay tribute to the 50th anniversary of Norway's decision to decriminalize homosexuality, has garnered over 1 million views.
"In addition to showing the flexibility of our services, we want to put it in a socially relevant setting," Posten Norge said in a statement, according to Reuters.
"Everyone should feel welcome, seen, heard, and included. This year's Christmas ad embraces this," it said.
Many have responded positively to the ad.
Canadian Member of Parliament Randall Garrison called it "strong and moving," saying the ad caused him to break his "no Xmas before December rule."
Former U.S. ambassador to Denmark Rufus Gifford tweeted: "Oh man I love Scandinavia. Imagine if the US Post Office put out an ad like this."
Others have voiced issues with the ad, calling it "creepy" and arguing that it "sexualizes" Santa.
English journalist Dawn Neesom, a columnist for the Daily Star, said as much on TalkRadio with James Max.
"This is an advert for the Norwegian postal service celebrating 50 years of being able to love who you want. However, they have sexualized Santa," Neesom said.
Max interrupted her, saying, "No they haven't sexualized Santa, this is a nonsense and you are jumping on a tabloid bandwagon. If Santa came in and kissed Mrs. Claus, you wouldn't say a word."
Neesom pushed back and maintained her point, adding that it was different because Santa married Mrs. Claus. She also argued that Harry was cheating on his spouse, but there is no indication in the ad that he has one.
Commentator Melanie Blake made a similar argument, tweeting: "If #Santa is gay these days then good for him but should we be seeing him getting off with anyone in Christmas adverts?! Seems a bit of an odd concept to me – if he was snogging a woman, it's still sexualising a figure that's mainly around for children which looks creepy to me."
In response to such comments, the Independent published an article that said, "Really? I mean … really?! Now, I know that woke-bashing has become de rigueur, and that, after the backlashes against the #MeToo and BLM campaigns, we're supposed to protect our precious and delicate cultural icons from the clutches of the baying woke mob – but are we really saying that the heartwarming romance between Harry and Santa is a woke step too far? Has Posten sexualised Santa? Oh, go and stuff your face with a selection box and give it a rest!"
It continued: "The truth is that Christmas and Santa have been sexualised for years already, and few people have batted an eye."
Broadway gathers to honor Sondheim in Times Square
They were gathered to pay homage to legendary Tony, Academy Award, and Grammy Award-winning composer and lyricist Stephen Sondheim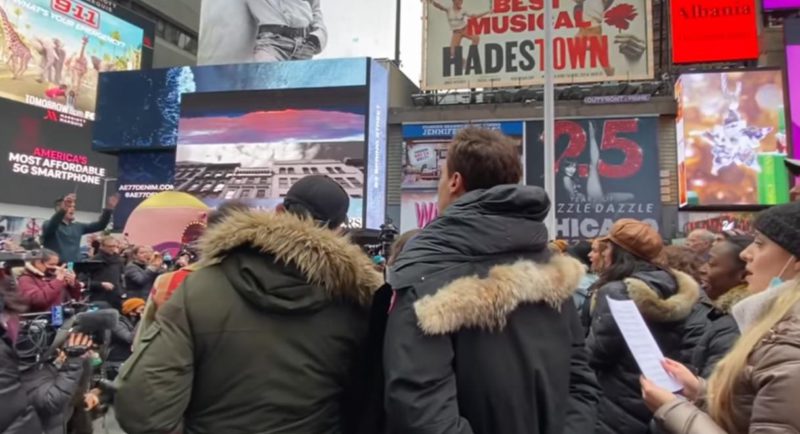 NEW YORK – Light snow flurries swirled around the stars of theatre and stage of New York City's 'Great White Way' as they gathered Sunday in Times Square- members of every Broadway company assembled singing in a powerful chorus "Sunday," the powerfully emotional act one finale to "Sunday in the Park with George."
They were gathered to pay homage to legendary Tony, Academy Award, and Grammy Award-winning composer and lyricist Stephen Sondheim. That piece being performed had garnered Sondheim a Pulitzer Prize for Drama in 1985.
Broadway's best were joined by Lin-Manuel Miranda, Sara Bareilles, Josh Groban, Kathryn Gallagher and Lauren Patton at 'Sunday' Performance in Times Square.
The man who was heralded as Broadway and theater's most revered and influential composer-lyricist of the last half of the 20th century died at 91 Friday at his home in Roxbury, Connecticut.
"This felt like church," Bareilles told Variety after the performance on Sunday. "In his remembrance, we did what theater does best. We sang and raised our voices and came together in community."
Variety also noted that during the celebration, Miranda offered a sermon of sorts. Foregoing a speech, he opened Sondheim's "Look I Made A Hat," an annotated anthology of the composer's lyrics, and read from a few passages before the crowd.
Lin-Manuel Miranda, Josh Groban and Sara Bareilles Honor Stephen Sondheim at 'Sunday' Performance in Times Square https://t.co/LgrYPyMnv0

— Variety (@Variety) November 28, 2021
"Sunday" from Sunday in the Park with George memorial for Stephen Sondheim