GLAAD Media Awards 2018 releases nominees
Netflix raked in the highest number of nominations for TV shows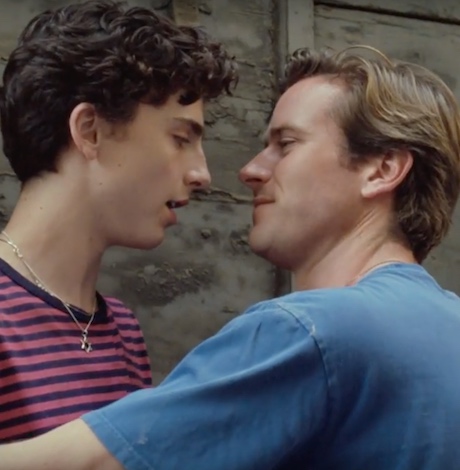 The 29th annual GLAAD Media Awards announced its 2018 nominees at the Sundance Film Festival on Friday via Trace Lysette ("Transparent") and Wilson Cruz ("Star Trek: Discovery").
Netflix raked in the most nominations for television with seven nominations. ABC, CBS and NBC came in at a close second with six nominations. This was also the first time the category Outstanding Kids & Family Programming was introduced which recognizes "Andi Mack," and "Doc McStuffins," among others, for their LGBT inclusion.
Critically-acclaimed films "Call Me By Your Name," "Lady Bird" and "The Shape of Water" also scored nominations.
For music, Miley Cyrus, Sam Smith, Halsey and Kesha all earned nominations for Outstanding Music Artist.
Special recognition was also given to the animated short film "In a Heartbeat," written and directed by Esteban Bravo and Beth David, as well as Jay-Z's track "Smile," about his mother's coming out, from his album "4:44."
Check out the full list of nominees below.
OUTSTANDING FILM – WIDE RELEASE
"Battle of the Sexes" (Fox Searchlight)
"Call Me by Your Name" (Sony Pictures Classics)
"Lady Bird" (A24)
"Professor Marston and the Wonder Women" (Annapurna Pictures)
"The Shape of Water" (Fox Searchlight)
OUTSTANDING FILM – LIMITED RELEASE
"BPM" (The Orchard)
"A Fantastic Woman" (Sony Pictures Classics)
"God's Own Country" (Samuel Goldwyn Films/Orion Pictures)
"Thelma" (The Orchard)
"The Wound" (Kino Lorber)
OUTSTANDING COMEDY SERIES
"The Bold Type" (Freeform)
"Brooklyn Nine-Nine" (FOX)
"Crazy Ex-Girlfriend" (The CW)
"Modern Family" (ABC)
"One Day at a Time" (Netflix)
"One Mississippi" (Amazon)
"Superstore" (NBC)
"Survivor's Remorse" (Starz)
"Transparent" (Amazon)
"Will & Grace" (NBC)
OUTSTANDING DRAMA SERIES
"Billions" (Showtime)
"Doubt" (CBS)
"The Handmaid's Tale" (Hulu)
"Nashville" (CMT)
"Sense8" (Netflix)
"Shadowhunters" (Freeform)
"Star" (FOX)
"Star Trek: Discovery" (CBS All Access)
"This Is Us" (NBC)
"Wynonna Earp" (Syfy)
OUTSTANDING INDIVIDUAL EPISODE (in a series without a regular LGBTQ character)
"Chapter 8", "Legion" (FX)
"Grace", "Pure Genius" (CBS)
"Lady Cha Cha", "Easy" (Netflix)
"The Missionaries", "Room 104" (HBO)
"Thanksgiving", "Master of None" (Netflix)
OUTSTANDING TV MOVIE OR LIMITED SERIES
"American Horror Story: Cult" (FX)
"Feud: Bette and Joan" (FX)
"Godless" (Netflix)
"Queers" (BBC America)
"When We Rise" (ABC)
OUTSTANDING KIDS & FAMILY PROGRAMMING
"Andi Mack" (Disney Channel)
"Chosen Family", "Danger & Eggs" (Amazon)
"The Emergency Plan", "Doc McStuffins" (Disney Channel)
"The Loud House" (Nickelodeon)
"Steven Universe" (Cartoon Network)
OUTSTANDING DOCUMENTARY
"Chavela" (Music Box Films)
"Gender Revolution: A Journey with Katie Couric" (National Geographic)
"Kiki" (Sundance Selects)
"Real Boy"- "Independent Lens" (PBS)
"This is Everything: Gigi Gorgeous" (YouTube Red)
OUTSTANDING REALITY PROGRAM
"Gaycation with Ellen Page" (Viceland)
"I Am Jazz" (TLC)
"RuPaul's Drag Race" (VH1)
"Survivor: Game Changers" (CBS)
"The Voice" (NBC)
OUTSTANDING MUSIC ARTIST
Miley Cyrus, "Younger Now" (RCA Records)
Halsey, "Hopeless Fountain Kingdom" (Astralwerks Records)
Honey Dijon, "The Best of Both Worlds" (Classic Music Company)
Kehlani, "SweetSexySavage" (TSNMI/Atlantic Records)
Kelela, "Take Me Apart" (Warp Records)
Kesha, "Rainbow" (Kemosabe/RCA Records)
Perfume Genius, "No Shape" (Matador Records)
Sam Smith, "The Thrill of It All" (Capitol Records)
St. Vincent, "MASSEDUCTION" (Loma Vista Recordings)
Wrabel, "We Could Be Beautiful" (Epic/Sony Records)
OUTSTANDING COMIC BOOK
"America," written by Gabby Rivera (Marvel Comics)
"The Backstagers," written by James Tynion IV (BOOM! Studios)
"Batwoman," written by Marguerite Bennett, James Tynion IV (DC Comics)
"Black Panther: World of Wakanda," written by Roxane Gay, Ta-Nehisi Coates, Yona Harvey, Rembert "Browne" (Marvel Comics)
"Deadman: Dark Mansion of Forbidden Love," written by Sarah Vaughn (DC Comics)
"Goldie Vance," written by Hope Larson, Jackie Ball (BOOM! Studios)
"Iceman," written by Sina Grace (Marvel Comics)
"Lumberjanes," written by Kat Leyh, Shannon Watters (BOOM! Studios)
"Quantum Teens are Go," written by Magdalene Visaggio (Black Mask Comics)
"The Woods," written by James Tynion IV (BOOM! Studios)
OUTSTANDING DAILY DRAMA
"The Bold and The Beautiful" (CBS)
"Days of Our Lives" (NBC)
"The Young & the Restless" (CBS)
OUTSTANDING TALK SHOW EPISODE
"Australia Marriage Equality", "Last Week Tonight with John Oliver" (HBO)
"Danica Roem", "The Opposition with Jordan Klepper" (Comedy Central)
"Laila and Logan Ireland, Transgender Military Couple", "The Ellen DeGeneres Show" (syndicated)
"Laverne Cox and Gavin Grimm", "The View" (ABC)
"Trans Veterans React to Ban", "The Daily Show with Trevor Noah" (Comedy Central)
OUTSTANDING TV JOURNALISM – NEWSMAGAZINE
"A Boy Named Lucas", "20/20" (ABC)
"China Queer", "The Naked Truth" (Fusion)
"Gay Purge?", "Nightline" (ABC)
"The Pulse of Orlando: Terror at the Nightclub", "Anderson Cooper 360" (CNN)
"Trans Youth", "VICE on HBO" (HBO)
OUTSTANDING TV JOURNALISM SEGMENT
"The Abolitionists Face the Love Army" KAPP-KVEW Local News (KAPP-35/KVEW-42 [Tri Cities/Yakima, Wash.])
"DJ Zeke Thomas Goes Public", "Good Morning America" (ABC)
"Murders Raise Alarm for Transgender Community", "NBC Nightly News with Lester Holt" (NBC)
"Transgender Murders in Louisiana Part of Disturbing Trend", "CBS Evening News" (CBS)
"Transgender Rights under Fire in Trump Era", "AM Joy" (MSNBC)
OUTSTANDING NEWSPAPER ARTICLE
"Fearfully and Wonderfully Made: The Journey of a Transgender Man" by Lauren McGaughy (The Dallas Morning News)
"Lesbian College Coaches Still Face Difficult Atmosphere to Come Out" by Shannon Ryan (Chicago Tribune)
"Pulse Victims' Families in Puerto Rico: 'We Have to Cry Alone'" by Jennifer A. Marcial Ocasio (Orlando Sentinel)
"Revised Guidance on HIV Proves Life-Transforming" by Lenny Bernstein (The Washington Post)
"The Silent Epidemic: Black Gay Men and HIV" [series] (The Atlanta Journal-Constitution)
OUTSTANDING MAGAZINE ARTICLE
"America's Hidden H.I.V. Epidemic" by Linda Villarosa (The New York Times Magazine)
"Beyond 'He' or 'She': The Changing Meaning of Gender and Sexuality" by Katy Steinmetz (Time)
"Forbidden Lives: The Gay Men Who Fled Chechnya's Purge" by Masha Gessen (The New Yorker)
"Free Radical" by Nathan Heller (Vogue)
"Trans, Teen, and Homeless" by Laura Rena Murray (Rolling Stone)
OUTSTANDING MAGAZINE OVERALL COVERAGE
The Advocate
Billboard
People
Teen Vogue
Time
OUTSTANDING DIGITAL JOURNALISM ARTICLE
"The Ballad of Bobby Brooks, the First Gay Student-Body President of Texas A&M" by Lauren Larson (GQ.com)
"For Those We Lost and Those Who Survived: The Pulse Massacre One Year Later" by James Michael Nichols (HuffPost Queer Voices)
"'I Am a Girl Now,' Sage Smith Wrote. Then She Went Missing." by Emma Eisenberg (Splinter)
"Meet the Transgender Student Who Fought Discrimination at His Maryland High School (and Won)" by Nico Lang (INTO)
"Why Bisexual Men Are Still Fighting to Convince Us They Exist" by Samantha Allen (Splinter)
OUTSTANDING DIGITAL JOURNALISM – MULTIMEDIA
"Former Patriots and Chiefs Tackle Ryan O'Callaghan Comes Out as Gay" by Cyd Zeigler (Outsports/SB Nation)
"Made to Model: Trans Beauty in Fashion" (LogoTV.com)
"'This Is How We Win': Inside Danica Roem's Historic Victory" by Diana Tourjée (Broadly.Vice.com)
"Transgender Day of Remembrance" by Saeed Jones (AM to DM, BuzzFeed News)
"US Travel Ban Leaves LGBT Refugees in Limbo" by Nina dos Santos (CNN.com)
OUTSTANDING BLOG
Autostraddle
Gays With Kids
My Fabulous Disease
Pittsburgh Lesbian Correspondents
Transgriot
OUTSTANDING SCRIPTED TELEVISION SERIES
"Las chicas del cable" (Netflix)
"La doble vida de Estela Carrillo" (Univision)
"Ingobernable" (Netflix)
OUTSTANDING TV JOURNALISM – NEWSMAGAZINE (Spanish Language)
"Así viven los estudiantes transgénero después de que Trump anulara la ley de baños de Obama para escuela públicas" , "Primer Impacto" (Univision)
"Pulse, huellas de la masacre", "Docufilms" (CNN en Español)
"Ser transgénero en Latinoamérica: sus experiencias y crecimiento", "Vive la Salud" (CNN en Español)
OUTSTANDING TV JOURNALISM SEGMENT (Spanish Language)
"Comunidad LGBTQ vulnerable bajo nuevo gobierno", "Perspectiva Nacional" (Entravision)
"Entrevista con Daniela Vega", "Showbiz" (CNN en Español)
"Joven transgénero tiene un mensaje para las familias: 'Acepten a sus hijos'", "Al Punto" (Univision)
"El triunfo de una diseñadora mexicana transgénero en Nueva York", "Noticias Telemundo" (Telemundo)
"Unidos contra la discriminación y el acoso contra la comunidad LGBT", "Despierta América" (Univision)
OUTSTANDING DIGITAL JOURNALISM (Spanish Language)
"La compleja realidad de ser gay en América Latina" (cnnespanol.cnn.com)
"'No aprobar el Dream Act significaría una sentencia de muerte', jóvenes LGBT y DACA" (laopinion.com)
"Padres de familia de Dallas luchan por los derechos de su hija transgénero" (aldiadallas.com)
"Primera senadora trans aspira a impulsar medidas para sectores discriminados" (efe.com)
"Tres hermanitos para dos papás" (laopinion.com)
Nonbinary activist Alok Vaid-Menon; gender labels hurt everyone
"I'm nonbinary, which means it's not just that I'm challenging the binary between male, female, man and woman, but between us and them"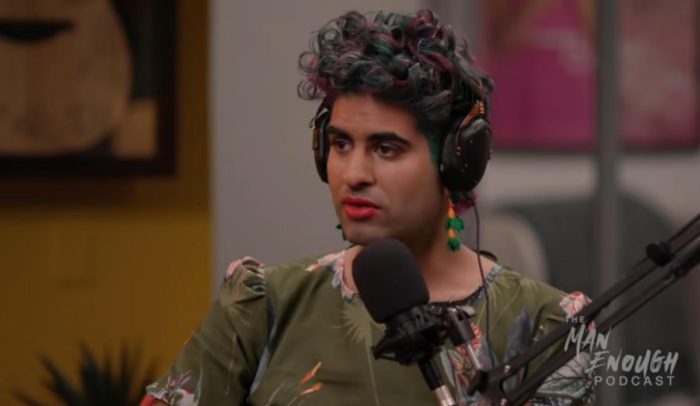 LOS ANGELES – This past week on the Wayfarer Studios new national podcast "Man Enough," nonbinary activist and poet Alok Vaid-Menon appeared alongside hosts actor Justin Baldoni, writer and MSNBC columnist Liz Plank and composer Jamey Heath.
During the broadcast Vaid-Menon noted that "people need to have compassion before "comprehension" — meaning they need to have empathy for trans people even if they don't understand them."
The activist-poet also deconstructed the gender binary — the idea that there are only two genders rather than a spectrum — and the traditional expectations associated with binary gender labels hurt everyone, not just transgender people, and these fixed ideas of what it means to be a man or a woman make it difficult for people to find out who they truly are.
In the podcast Vaid-Menon, who is the author of "Beyond the Gender Binary," said in response to Heath, who had asked what he needs to "unlearn" and what he needs to do to help other men unlearn, in order to better support them, referring to trans and nonbinary people like Vaid-Menon;
"I'm nonbinary, which means it's not just that I'm challenging the binary between male, female, man and woman, but between us and them," Vaid-Menon said, adding, "And in your statement, you said, 'Why don't I help them?' as if this struggle is not your struggle. The reason you don't fight for me is because you're not fighting for yourself fully."
Reporting on the premiere of the podcast episode, NBC News OUT contributor Jo Yurcaba noted;
They said though trans and nonbinary people face violence and death for challenging traditional gender norms, they don't want people to fight for their rights "because you want to protect me or you want to help me."
"I don't need your help," they said, adding that they "have an unshakable and irrevocable sense of who I am" and don't need to prove anything.
'The Man Enough Podcast' was launched in June in partnership with Procter & Gamble who will also co-finance and co-produce other projects with Wayfarer across film, TV and new media.
The Man Enough Podcast | ALOK | The Urgent Need for Compassion
IOC: 'Trans Women Are Women' Laurel Hubbard set to make sports history
Laurel Hubbard is set to make sports history on Monday and the International Olympic Committee clearly has her back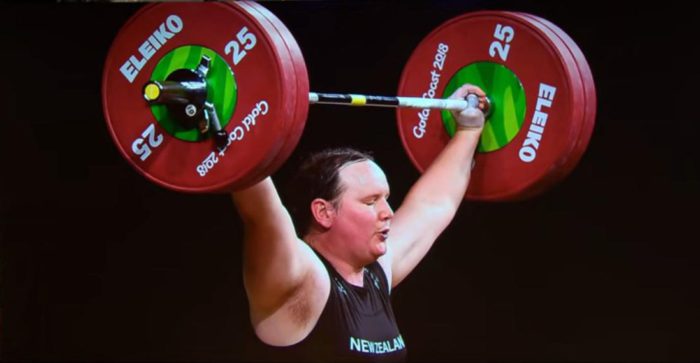 TOKYO – The director of medicine and science for the International Olympic Committee praised weightlifter Laurel Hubbard's "courage and tenacity" as she prepares for her upcoming competition as the world's first out transgender woman Olympian.
In speaking to reporters in Tokyo Thursday, Dr. Richard Budgett directly addressed those who have attacked and mocked the 43-year-old New Zealander and claimed she shouldn't be competing with cisgender women, saying "everyone agrees that trans women are women."
"To put it in a nutshell," he said, "the IOC had a scientific consensus back in 2015. There are no IOC rules or regulations around transgender participation. That depends on each international federation. So Laurel Hubbard is a woman, is competing under the rules of her federation and we have to pay tribute to her courage and tenacity in actually competing and qualifying for the Games."
Hubbard herself has not made any public comments except for a statement following her qualifying for the Summer Games, saying she was "humbled" by the support which had helped her "through the darkness" following a near career-ending injury in Australia in 2018.
Reports around the world have claimed Hubbard is the first trans Olympic athlete, which is actually not the case. As the Los Angeles Blade has reported, Quinn, a trans nonbinary soccer midfielder for Team Canada, last Wednesday became the first out trans athlete ever to complete in the Olympic Games. They posted about it on Instagram, saying, "I feel proud seeing 'Quinn' up on the lineup and on my accreditation. I feel sad knowing there were Olympians before me unable to live their truth because of the world."
The IOC is expected to review and likely revise its policies on transgender participation following Tokyo. Trans athlete and researcher Joanna Harper, who has advised the organization and other sports policy groups, told the Los Angeles Blade her recommendation will be for the IOC to continue to regulate trans athletes sport-by-sport. "There shouldn't be a one-size fits all policy," said Harper.
She also noted how the mainstream cisgender media is consumed with coverage of Hubbard and missing out on the bigger picture, and what it will mean for the next generation watching on TV and online.
"The lack of attention paid to Quinn and to Chelsea Wolfe has been interesting," said Harper.
"A few news outlets have commented on their presence in Tokyo and in Quinn's case the comments have been mostly favorable. On the other hand, the storm of mostly negative press heaped on Laurel Hubbard has been disappointing, although predictable. I hope that the negative press that Laurel has gotten won't dissuade young trans athletes from following their dreams. I think that the next trans woman to compete in the games will get less negative press, and eventually (although probably not in my life) there will come a time when trans women in sport generate little or no controversy."
Hubbard issued a statement Friday via the New Zealand Olympic Committee in which she said: "The Olympic Games are a global celebration of our hopes, our ideals and our values. I commend the IOC for its commitment to making sport inclusive and accessible."
According to a French news outlet, NZOC spokesperson Ashley Abbott told reporters the committee had seen a "particularly high level of interest" in Hubbard's Olympic debut, and much of it has been negative.
"Certainly we have seen a groundswell of comment about it and a lot of it is inappropriate," Abbott said. "Our view is that we've got a culture of manaaki (inclusion) and it's our role to support all eligible athletes on our team. In terms of social media, we won't be engaging in any kind of negative debate."
Abbott reminded the media that the NZOC's job was to support its athletes, including Hubbard. "We all need to remember that there's a person behind all these technical questions," she said. "As an organization we would look to shield our athlete, or any athlete, from anything negative in the social media space. We don't condone cyberbullying in any way."
RELATED: CBS This Morning from 22 Jun 2021
LGBTQ+ ally Jamie Lee Curtis reveals her 25-year-old child is Trans
Curtis and her husband Christopher Guest, British screenwriter, composer, musician, director, and actor have two daughters.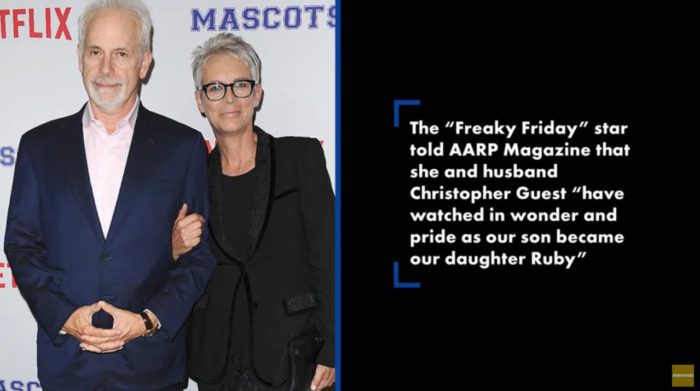 LOS ANGELES – In a new interview with the American Association of Retired Persons' magazine, Golden Globe and BAFTA winning actress Jamie Lee Curtis disclosed that her youngest child is transgender. In the interview Curtis reflected that she has "watched in wonder and pride as our son became our daughter Ruby."
Curtis and her husband Christopher Guest, British screenwriter, composer, musician, director, and actor have two daughters. Ruby, 25, works as a computer gaming editor while Curtis and Guest's 34-year-old daughter, Annie, is married and works as a dance instructor. Curtis also noted that Ruby and her fiancé are getting married next year in a wedding that Curtis will officiate.
The longtime Hollywood couple have been married for more than 36 years but have no grandchildren, "but I do hope to," she told the magazine.